Steal the Look – Dress Like Kat Hernandez from Euphoria
Add a touch of cinematic magic to your wardrobe with our roundup of daring and hip movie-inspired outfits. We'll show you how to dress like Kat Hernandez from Euphoria with our selection of chic and stylish pieces. Slip them on and step into the spotlight like a star with these iconic looks from Euphoria.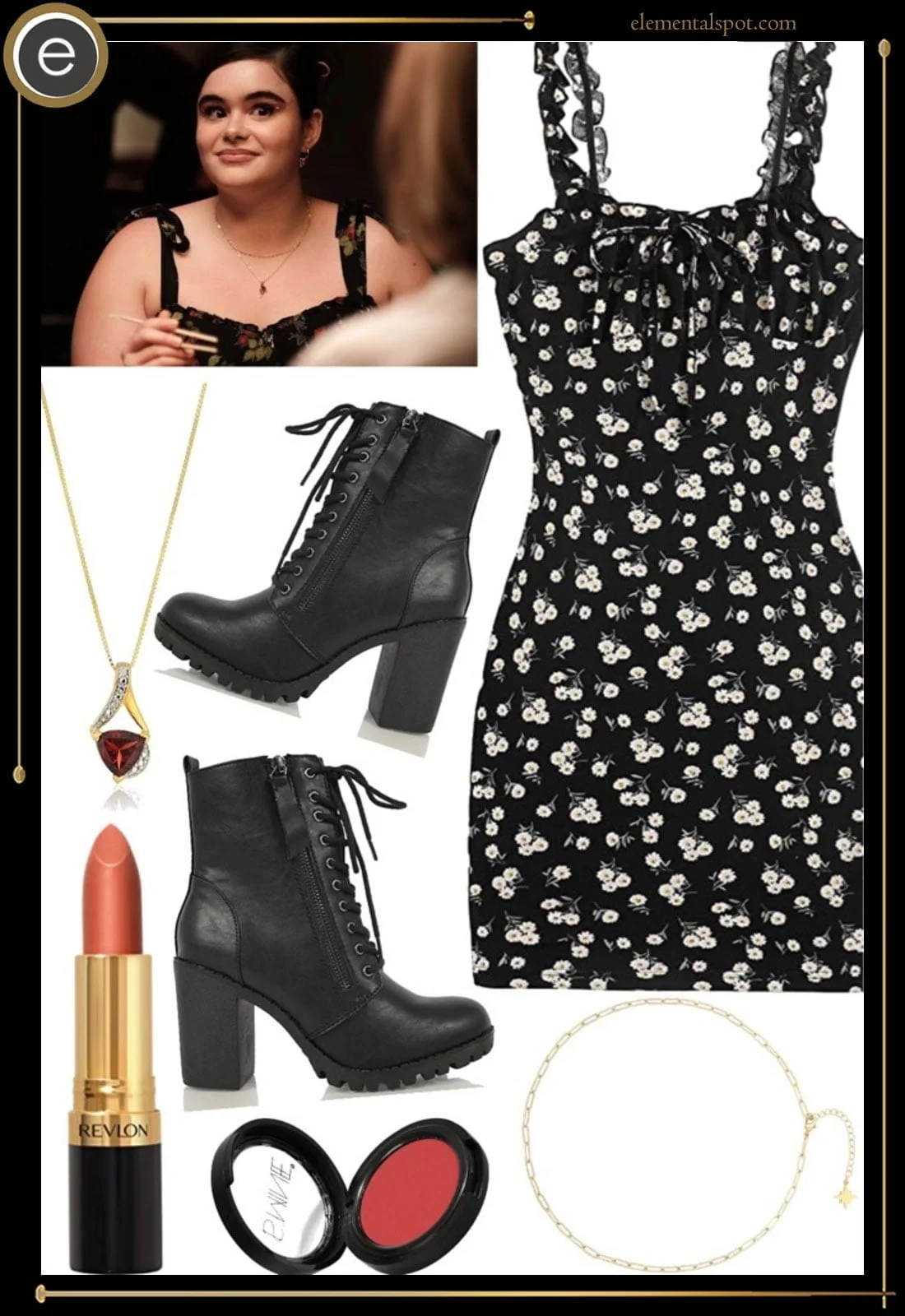 Shopping List for Kat Hernandez from Euphoria Outfit
With as many critics as fans, you either love or hate Euphoria (2019 – Present) for its raw representation of life as a teenager in today's society. One of HBO's most popular shows, the Sam Levinson high-school drama, based on the Israeli miniseries of the same name, has raised eyebrows for its grown-up depictions of drugs, sex and violence in a show aimed at young adults.
But the one thing everyone agrees on, is the flawless wardrobes of bold colors, gorgeous fabrics and stealable looks the show is renowned for. With fashionistas fully invested in the character's journeys and their fashion choices, like a Kat Hernandez Euphoria outfit of statement pieces, that is used to highlight her transformation and growing self-acceptance.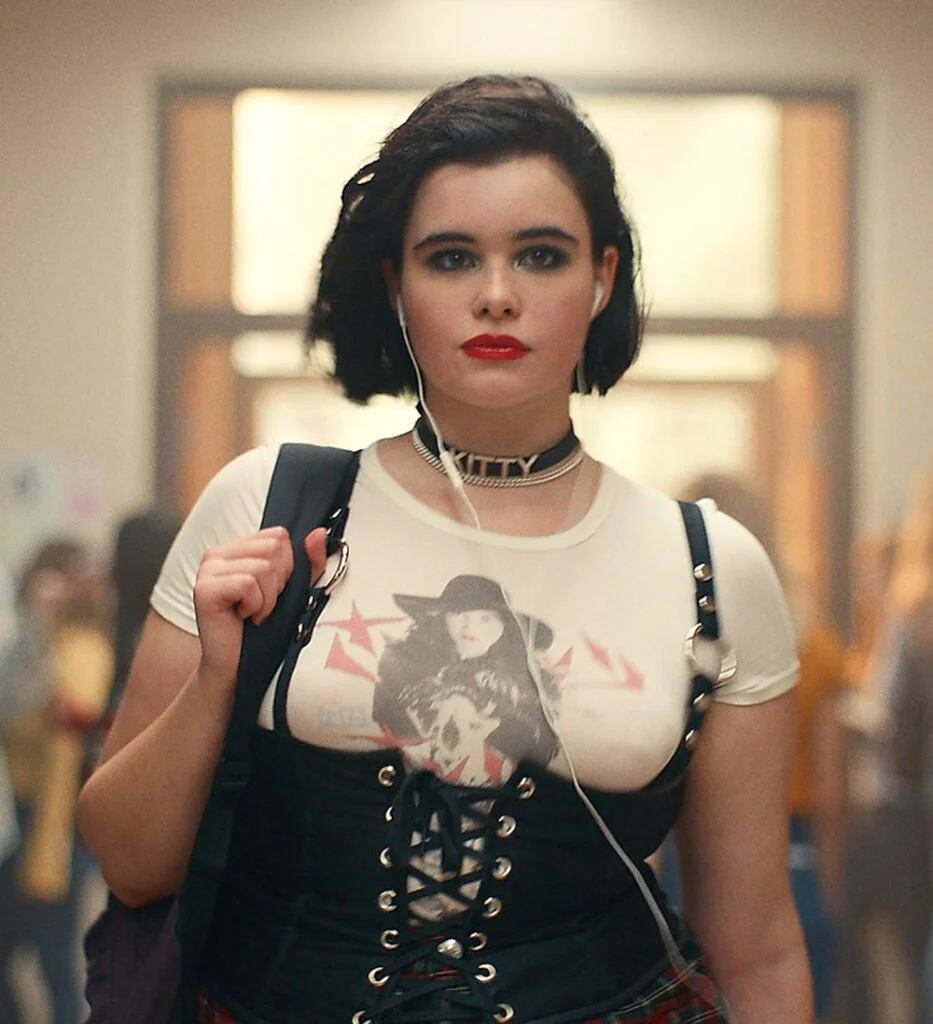 Revolving around life in East Highland California, Kat Hernandez played by Barbie Ferreira, is the shy and body-concious teen who is looking to empower herself and change her reputation at East Highland High.
From a happy childhood, and first love with Daniel Dimarco, to gaining 20 lb on holiday after drinking 72 virgin Piña Coladas and being dumped, Kat hates her life. Teased about her weight and with no love life to speak of, she uses the internet as a form of escapism. 
Firstly to become a secret erotic fanfiction writer, then as a cam-girl after she is encouraged to seek out her sexual awakening by the new girl in town, Jules (whose delicate feminine look you can steal here). With a new level of confidence in herself that is reflected in all aspects of her life, especially her wardrobe, it isn't until her Dominatrix work starts impacting her friendships that she realizes it hasn't made her life any better.  
Embracing Female Empowerment: Studying the Kat Hernandez Euphoria Outfit
To steal a Kat Hernandez Euphoria outfit first we need to understand how costume designer Heidi Bivens used the character's journey of self-acceptance and body-consciousness to create her changing style.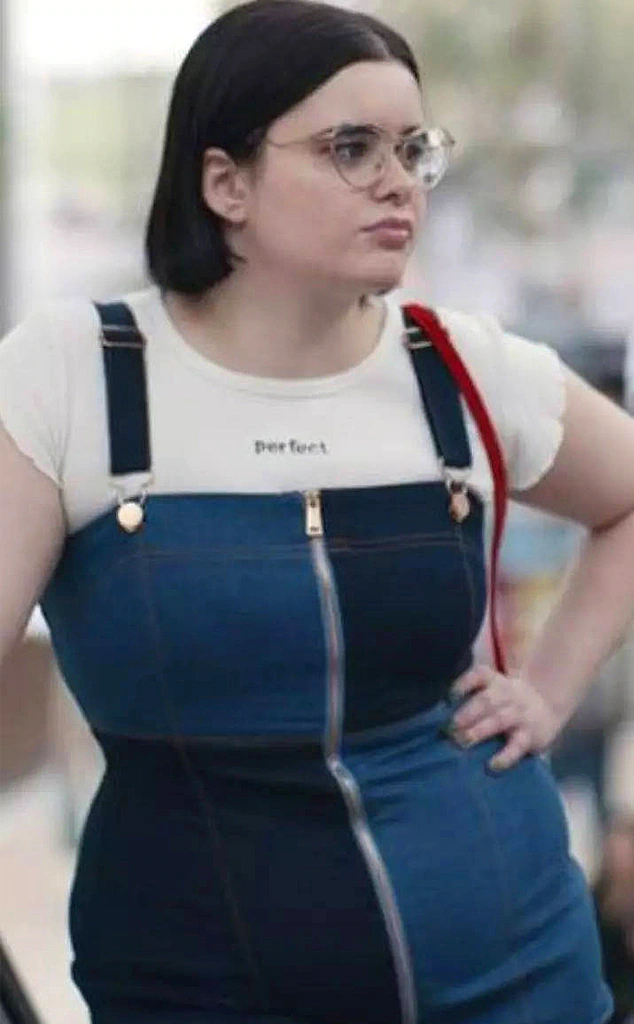 Desperate to have a life to rival that of her extroverted friends, Kat's story follows her journey of self-discovery and sexual awakening. But unlike Cassie Howard (her outfits) (ou, who we see change her style in order to impress Nate, Kat overhauls her look for herself, embracing her female empowerment and body confidence. 
But when we first met her in Euphoria's pilot episode, years of endless teasing over her appearance, has left her uncomfortable in her own skin. With an original Kat Hernandez Euphoria outfit made up of simple shirts and t-shirts layered under dresses in unremarkable shapes and colors, so as not to draw attention to herself.
Missing an Outfit Inspo? Submit your idea and we'll make it happen!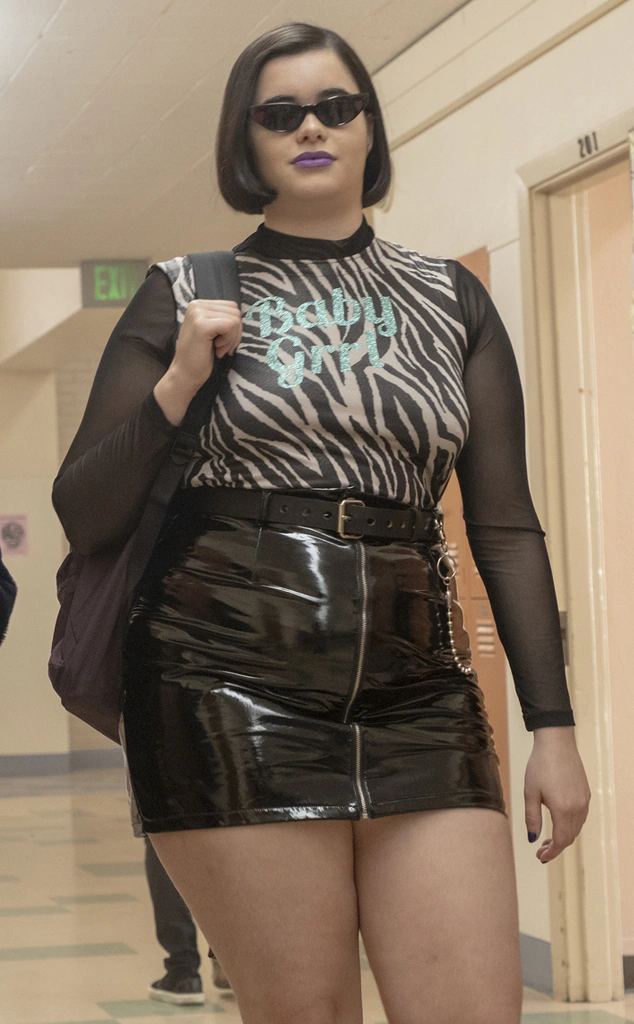 However at East Highland High blending into the background is hard, and when her compromising hook-up video is leaked she retreats back into her secret online world. Before deciding that maybe now is the time to transform and revamp her look, becoming a popular online Dominatrix.
Kats new confidence and outspoken persona lets her explore her sexuality, in particular through her wardrobe of revealing clothes. With just enough leather and attitude to get the approval of Lucifer's Mazikeen (outfits), everything from mesh to latex makes an appearance. In mini-skirts to corsets to lacy underwear sets under slogan t-shirts and long sleeved mesh tops.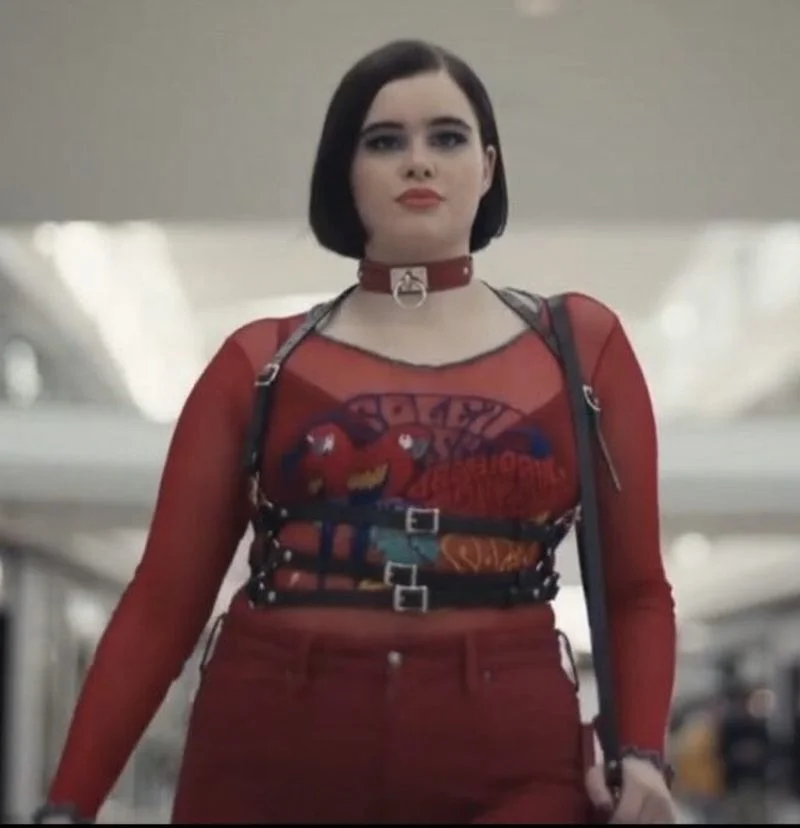 With her new risky fashion choices, Kat isn't afraid to add some bold colors and accessories to her looks. Whether she is wearing scarlett red jeans, or is in black head to toe, some bondage gear is the perfect finish to all her outfits. Harnesses, straps and even metal chains adorn her day to day looks, spilling over from her nightly cam-girl activities.
But when she pushes it too far and realizes being a Dominatrix didn't actually give her empowerment or body confidence, her wardrobe goes through one more change. Gone are the overly sexualized looks of suspenders, harnesses and chokers, replaced instead by midi-skirts, cropped cardigans and flared pants. Still colorful and bold, this final look for the Kat Hernandez Euphoria outfit is stylish and fashionable, making her one of the best dressed characters on the show.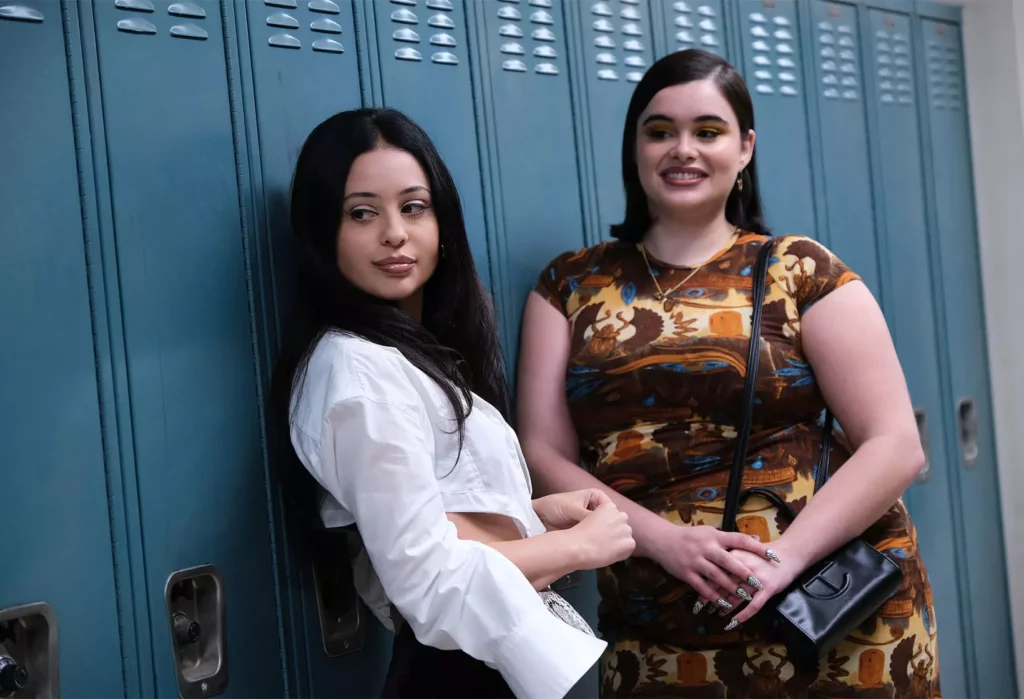 Bobs, Statement Eyes and Chokers: The Kat Hernandez Make-up and Accessories
No doubt her chin length, almost black bobbed hair would easily be described as one of the Kat Hernandez Euphoria outfit defining features. But the other one would definitely be her intense, and often very colorful make-up looks courtesy of head of the make-up department, Doniella Davy.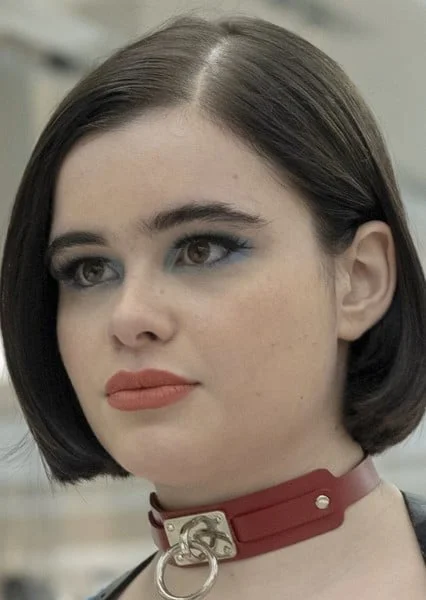 Unlike the Maddy Perez look (which you can steal here) with her severe winged eyeliner, Kats make-up has a much more rebellious glamor to it. Going for subtle foundation and rosy blush to give her a glowy complexion, it is her eyes where she adds all the drama. From bold eyeliner, to layered green eyeshadows, Kat is not scared of wearing bright or clashing colors, and in typical Euphoria style there is plenty of glitter to elevate even the most simple of looks.
But just as bold as her eyes, the Kat Hernandez Euphoria outfit she is most recognised for features a signature scarlet red lip and a chunky choker around her neck. 
From her first season transformation into her Dominatrix persona when Kat was often seen with harnesses and corsets she also wore a selection of leather chokers. Red or black, with the word Kitty on them or decorated with silver rings they weren't for the faint of heart, and gave Kat quite the empowered look.
Romantic and Rebellious: Steal Kat Hernandez's Black Floral Mini-dress Outfit
When it came to picking a Kat Hernandez Euphoria outfit to steal, there were just so many different styles to choose from. However this Season two look featured in our collage above, is a much more realistic representation of Kat's real personality.
Unlike her rebellious looks from the first season and her time as a Dominatrix, this outfit is less about feeling empowered through sexualisation or revealing clothes. Instead she has gone for a more romantic and subtle look, while still keeping it sexy and fashionable.
Recreate the Kat Hernandez Euphoria Outfit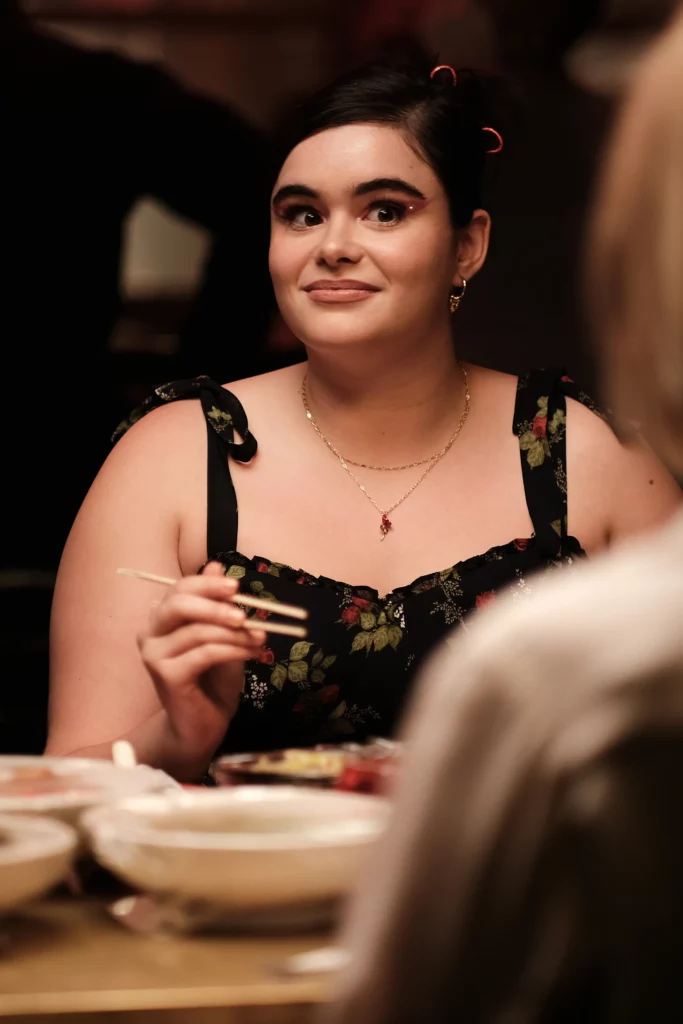 This Kat Hernandez Euphoria outfit screams delicate and feminine with the black floral mini-dress she is wearing. But the all over simple flower and leaf pattern, understated neck edge ruffles and soft floaty fabric are elevated and injected with some of Kat's rebellious streak with a pair of chunky black leather boots.
Like most of Kat's looks throughout the show, her chin length dark hair is glistening and styled to perfection. Parted to the left, her hair has been pulled back and away from her face before being clipped into place. Revealing delicate gold hoop earrings and one of her intense make-up looks.
Her face is made-up with her usual light touch of foundation and soft rosy blush to give her a youthful glow. Even going for a subtle peachy pink lipstick, allowing the drama to be focused on her eyes, and that red eyeshadow.
Swooping Maddy style wings (like she wears here) are created with no eyeliner but instead just some deep red eyeshadow. Adding a touch of extra drama with a negative space mini heart to the side of her heavily mascara coated eyelashes. With a little diamante placed in the middle of each heart.
Then all that is needed to finish Kat's simple fashionable and romantic look, is a gold paperclip chain and a matching gold garnet pendant necklace to sit around her neck.
This could be the perfect Kat Hernandez Euphoria outfit to steal if you love her body-conscious attitude but aren't quite brave enough for her full Dominatrix inspired looks. For even more female empowerment, you could check out our article about Sex Educations Maeve Wiley's wardrobe of rebellious looks.
Monthly Newsletter
Add some spice to your style with movie set-inspired designs.