Steal the Look – Dress Like Nora Hildegard from The Vampire Diaries
Add a touch of cinematic magic to your wardrobe with our roundup of daring and hip movie-inspired outfits. We'll show you how to dress like Nora Hildegard from The Vampire Diaries with our selection of chic and stylish pieces. Slip them on and step into the spotlight like a star with these iconic looks from The Vampire Diaries.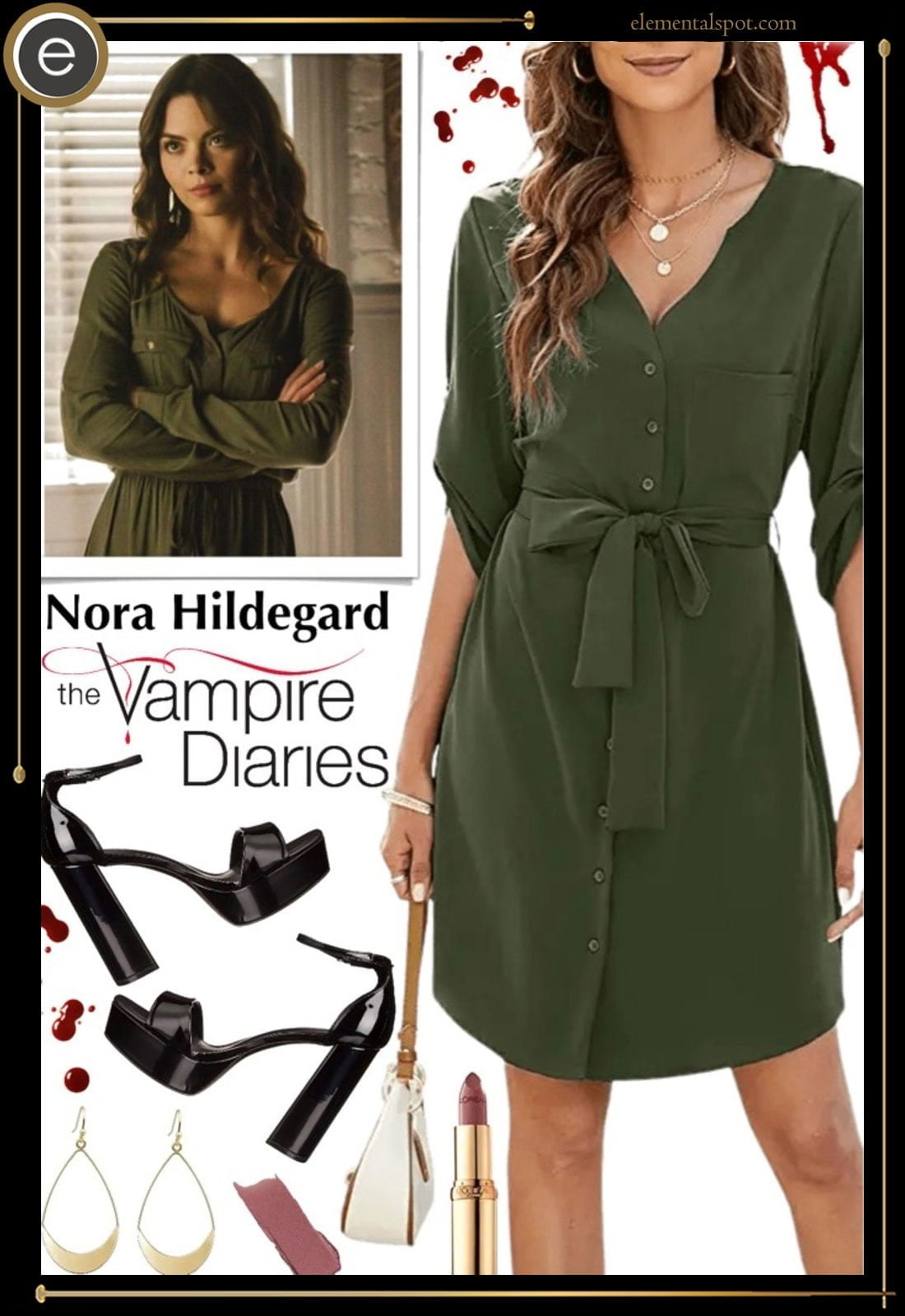 Shopping List for Nora Hildegard from The Vampire Diaries Outfit
Based on the L.J Smith book series of the same name, The Vampire Diaries, the story of love triangles, doppelgängers and supernatural beings drew the audience in and gave the show its cult following. But the pairing of vampires, witches and werewolves with high school drama was only part of the show's charm. With the other being the stealable costumes that every fashionista coveted, from leading lady Elena to the vampire hybrid in her Nora Hildegard The Vampire Diaries outfit.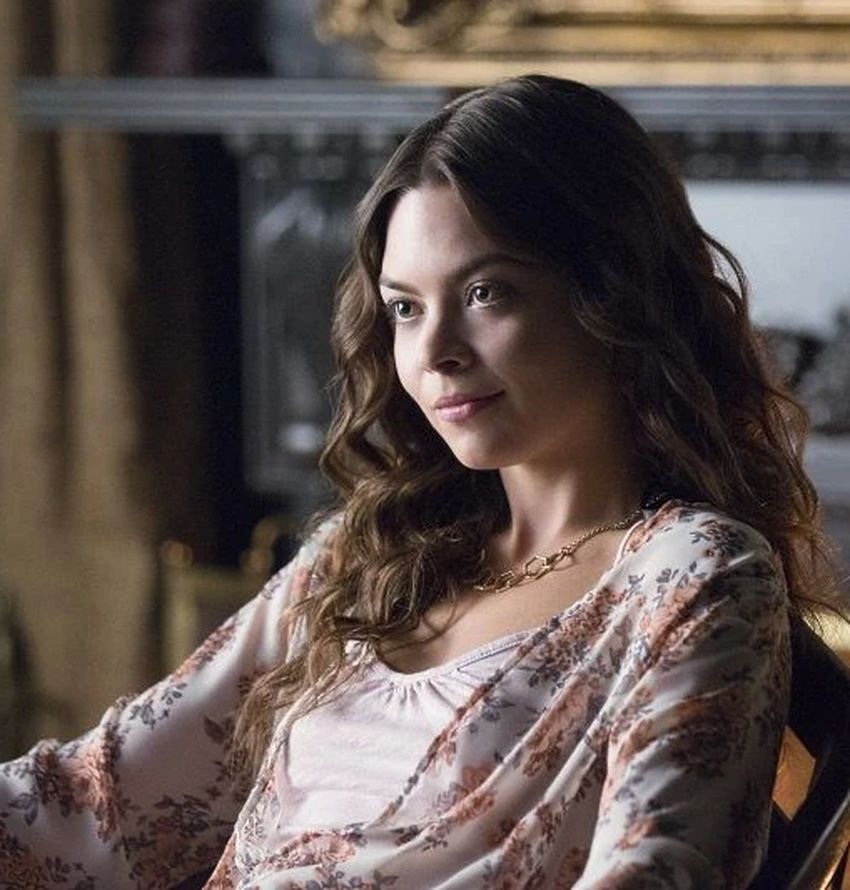 Set in the fictional town of Mystic Falls, The Vampire Diaries revolves around the troubled life of high school star student Elena Gilbert (whose style we have studied here). Surrounded by a supernatural world she never knew about until she fell in love with a vampire, the estranged Salvatore brothers who use her in a game of love and revenge, will need to join forces to protect her and their home.
Nora Hildegard, the siphoner witch-vampire hybrid, like Valerie Tulle, was stuck in the Prison world of 1903 with her coven the Heretics until their release into the 21st century.
Exiled for more than just her abilities to siphon magic, Nora is at last embracing her relationship with Mary Louise. Clashing over the fact they no longer have to hide their love, Nora the Heretic with the most humanity, tries to fit into the modern world. But a vampire for many years, with no need for restraint, she is quick to turn to violence making her a danger to everyone.
Feminine and Girly, with a hint of Unrestrained Violence: Studying the Nora Hildegard TVD outfit
Translating Tradition into Modernity
Similarly to many of the other supernatural beings on The Vampire Diaries, Nora has lived for many years. But born into a time of fitted bodices and full skirts, it was the job of costume designer Leigh Leverett to translate that look into a more modern Nora Hildegard The Vampire Diaries outfit without losing her defining characteristics.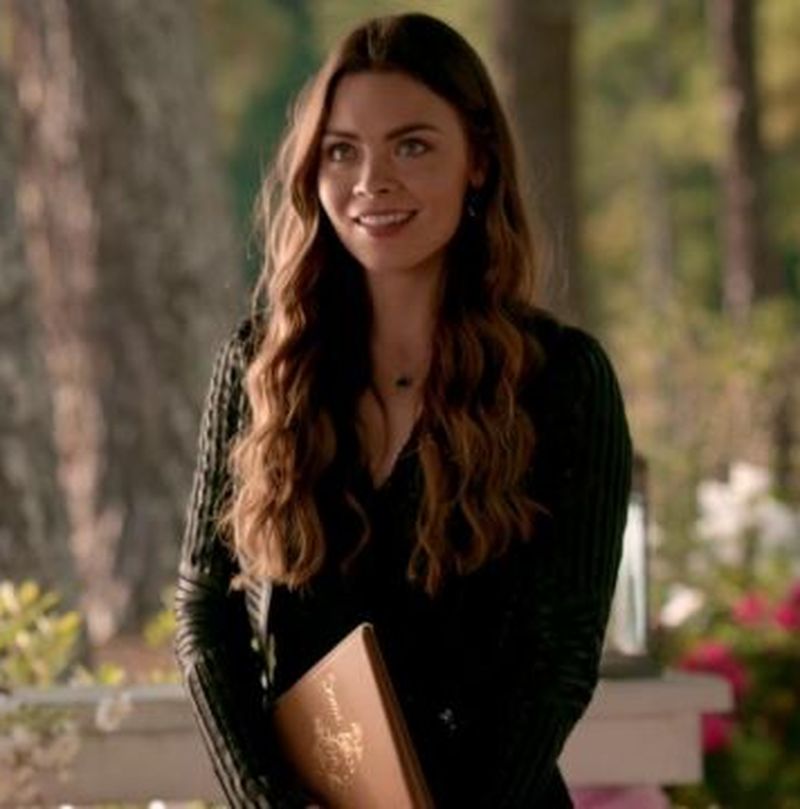 Nora, played by Scarlett Byrne, might be the member of the Heretics coven with the most humanity and heart, going to college and attempting to befriend the Mystic Falls gang. But her quick temper and violent tendencies make her unpredictable, even if she has adapted quickly to life, and the fashions of the 21st century.
Which includes a wardrobe full of trend driven, scene stealing pieces just like we see on Haley Dunphy from Modern Family, and whose style we have broken down for you here.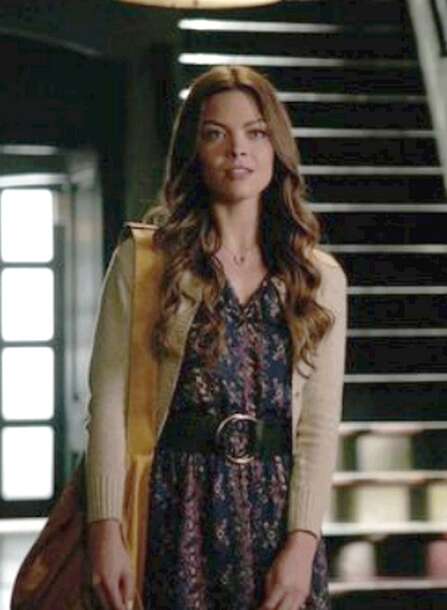 Girly Twist on Vampire Fashion
With the Nora Hildegard The Vampire Diaries outfit not afraid of using bright colors or bold prints, the typical blacks and dark blues of the traditional vampire way of dressing are given a girly and feminine twist. Soft creams and pinks are paired with standout shades of purple and moody greens to define her modern wardrobe of easy and fashionable pieces.
Missing an Outfit Inspo? Submit your idea and we'll make it happen!
From her effortless blouses and kimono robes in simple floral prints to her abstract patterned cami tops, Nora wants her girly silhouettes to appear unfussy and like she has just thrown them together. When in fact she spends time on her outfits, going for styles that emphasize her pretty looks and enviable figure.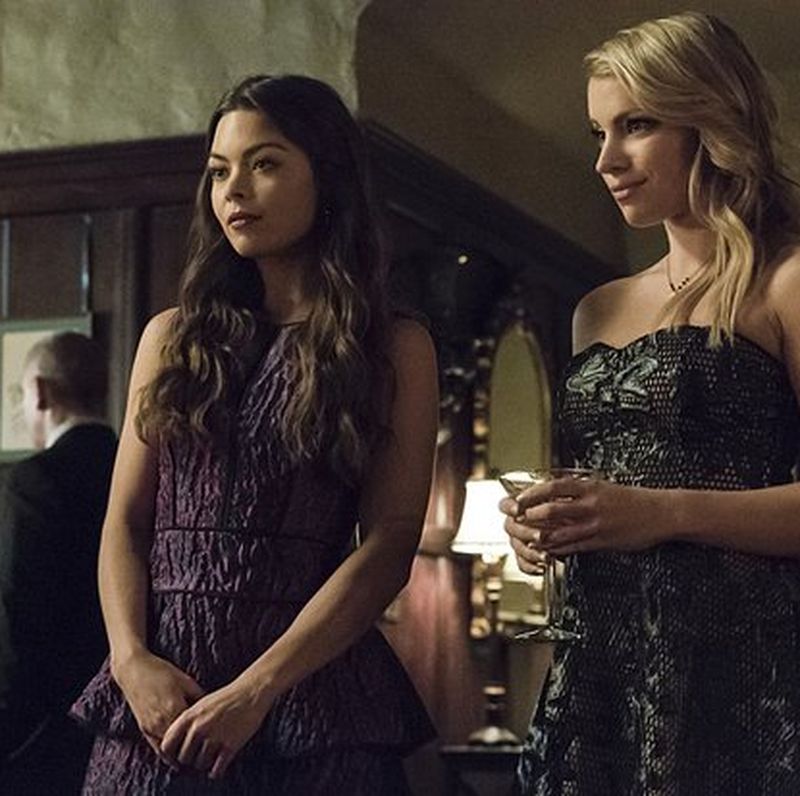 The Intriguing Contrast
A fan of shirt dresses, rompers and soft fitted cardigans, a Nora Hildegard The Vampire Diaries outfit relies on the reserved wardrobe staples of jeans, jackets and boots just as much as her trendy pieces. But the contrast of the delicate lace, chiffon and knit fabrics pinched in with leather belts and accessorized with statement heeled shoes and knee-high boots, hints back to that unrestrained violence that lies just behind her feminine and girly demeanor.
Nora's Dark Hair, Vampish Make-up and Array of Jewelry
Often described as a gorgeous young woman, who was only in her mid-20s when she was turned into a vampire, Nora's wavy dark brown hair is one of her most distinctive features. Worn parted down the center and long below her shoulders, she styles her shiny locks with loose curls. Leaving it simply to flow over her shoulders and frame her pretty face.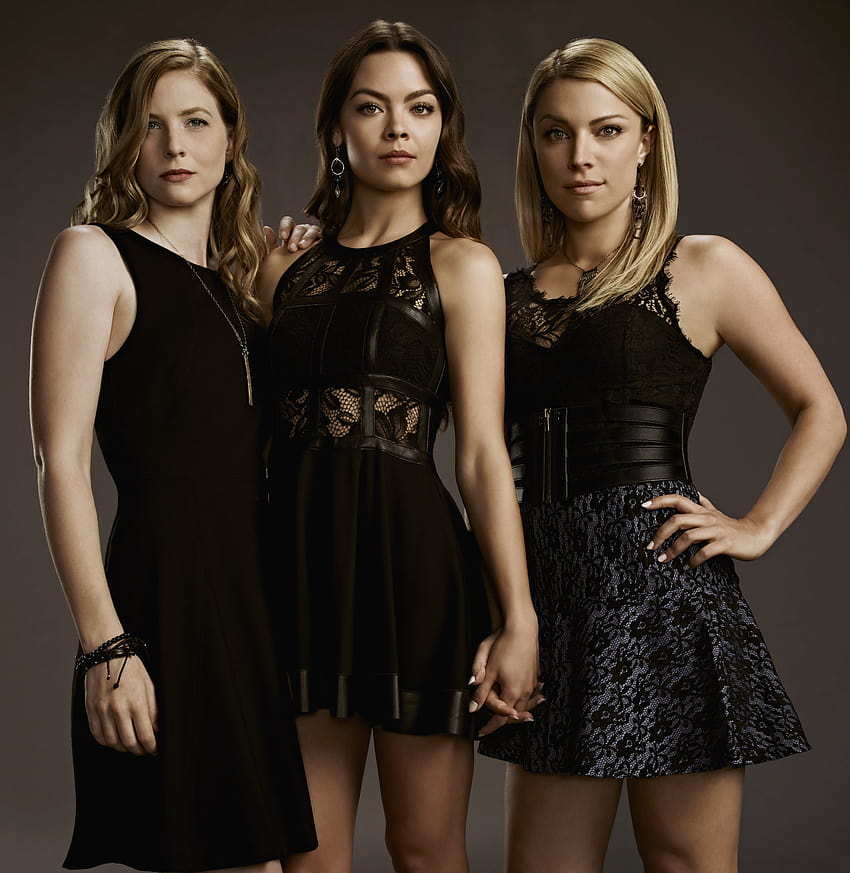 A pretty face that is normally enhanced by some subtle vampish make-up looks. Keeping her flawless complexion simple with some foundations, conclears and a hint of bronzer on her cheeks, Nora's eyes are where all the drama is.
Soft smokey eyes are framed with black eyeliner, coats of volumizing mascara and sharply groomed dark eyebrows. Sticking to the sultry look, she even goes for a deep mauve on her lips to add just a hint of color.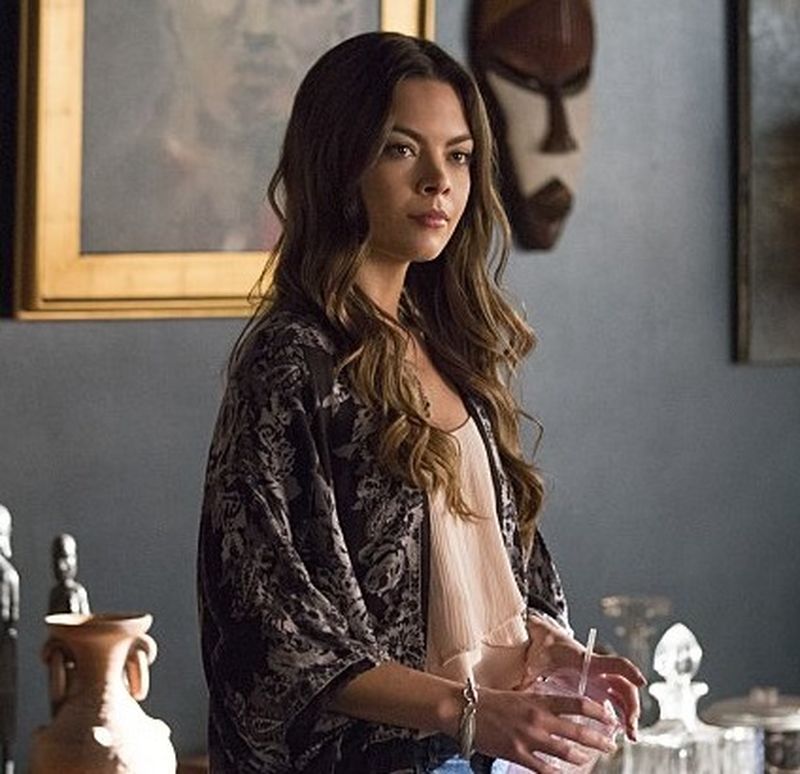 Yet no Nora Hildegard The Vampire Diaries outfit would be complete without an array of jewelry. Dangle earrings of gold or silver, with crystals and jewels often make an appearance, along with an assortment of necklaces. With no favorite pieces she commonly wears, Nora mixes her looks up with silver chains and pendants, or simple drop crystal necklaces, but no matter what, her fashionable outfits always need a little something extra.
A Grown-Up Girly Look: Steal Nora's Green Shirt Dress Outfit
The Nora Hildegard The Vampire Diaries outfit that we have chosen for our collage above works perfectly to show off her feminine aesthetic. While being the ideal outfit to steal with only four pieces needed to replicate it.
Like all of Nora's outfits this one uses her bolder color palette and stays away from the traditional moody blacks of a typical vampire's wardrobe. While still hinting at her unrestrained violent side that is hidden behind her feminine and girly demeanor.
Recreating the Nora Hildegard TVD outfit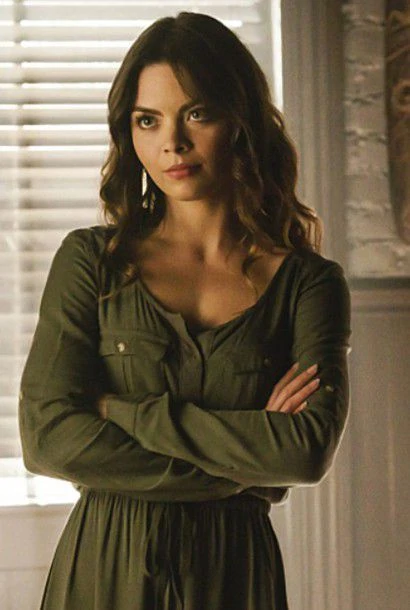 Starting with the Understated Green Shirt Dress
Simply start your Nora Hildegard The Vampire Diaries outfit with her understated green shirt dress.
Look for one in that dark army green with long sleeves, a low front neckline and belted waist that loosely skims over the hips and falls to around knee length. Button embellishments and front bust pockets are also a nice little finishing touch, before you add some heeled black sandals to this grown-up girly look.
Perfecting the Vampish Style
Her long dark brown hair is worn in its usual center parting, with loose softly brushed out curls falling down over her shoulders to frame her face. Which has been made-up in her usual vampish style with her statement eyes and sultry lips.
Nora's pretty face and flawless complexion has been enhanced with some bronzer to add a hint of color to her otherwise pale looks. Letting all the drama fall on her eyes that have her statement brown smokey eye framed with a touch of black eyeliner and a few coats of mascara to give some definition and volume. A sultry deep mauve lipstick adds the finishing feminine touch.
The last thing is a simple pair of gold dangle hoop earrings to complete your perfect Nora Hildegard The Vampire Diaries outfit, that only needs four pieces.
But if you were looking to steal something a little less girly and feminine, you could follow our guide to dressing like tomboy Heretic Valerie Tulle in her motorcycle jacket and black leggings.
Monthly Newsletter
Add some spice to your style with movie set-inspired designs.