Outfit Inspo: How to Get Elena Gilbert's Chic Casual Look
Add a touch of cinematic magic to your wardrobe with our roundup of daring and hip movie-inspired outfits. We'll show you how to dress like Elena Gilbert from The Vampire Diaries 1 with our selection of chic and stylish pieces. Slip them on and step into the spotlight like a star with these iconic looks from The Vampire Diaries 1.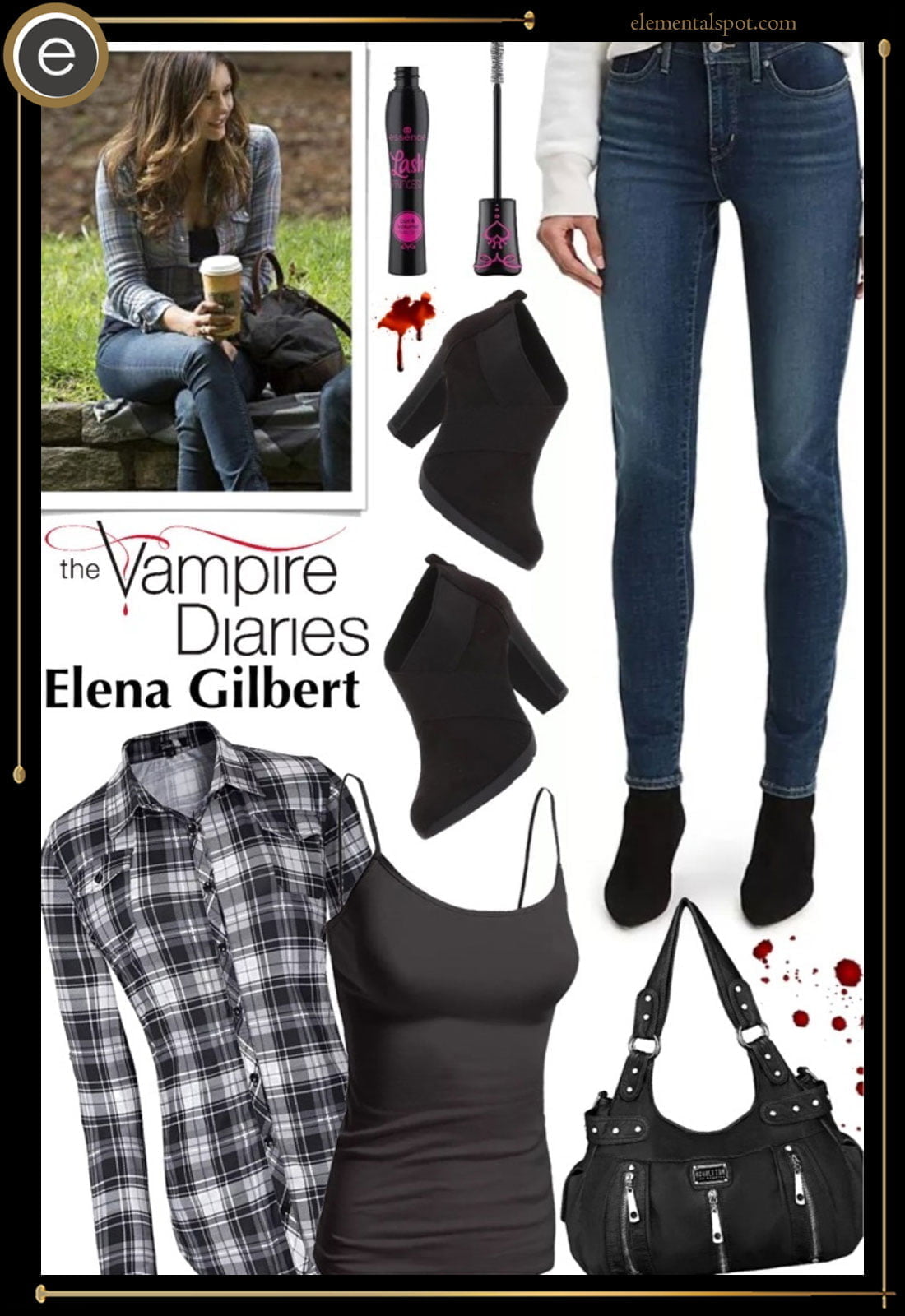 Shopping List for Elena Gilbert from The Vampire Diaries 1 Outfit
With love triangles, doppelgängers and a cast of various supernatural villains, it was no wonder that the show became the go to teen drama of the moment. But along with all the typical and not so typical teen antics, the anticipation of the dark and brooding costumes drew the fashionistas in and none more so than the show's leading lady in her girl-next-door Elena Gilbert The Vampire Diaries casual outfit.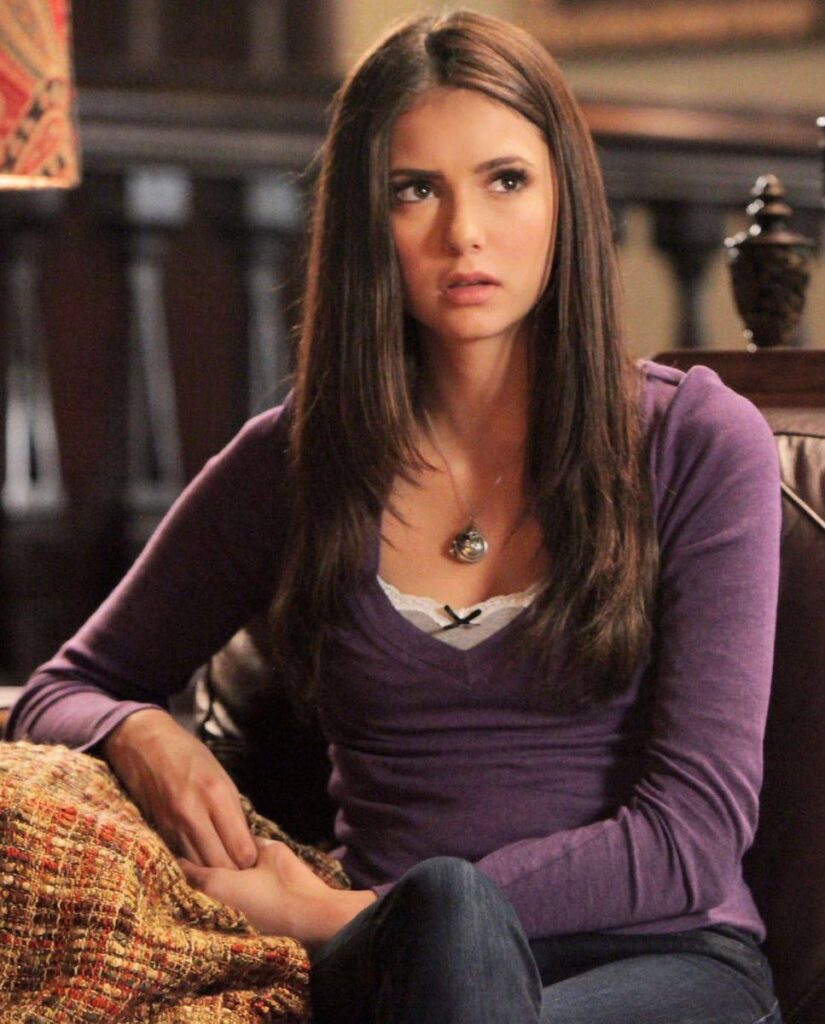 Elena Gilbert, the popular star student of Mystic Falls High, is already struggling to live a normal life after losing her adoptive parents in a car crash, when she is thrust into the world of the supernatural.
Set in the fictional town of Mystic Falls, The Vampire Diaries focuses on the troubled life of high school student Elena. With the return of the quarreling Salvatore brothers, Stefan and Damon, Elena's life takes an unexpected turn. While falling for one brother, the other sees an opportunity of romantic sabotage to get pay back on the brother who turned him into a vampire.
But her natural girl-next-door damsel in distress personality often makes people think that she is helpless with no way of protecting herself. Although after coming face to face with the less than innocent Katherine Pierce (whose style you can steal here (LINK)) and finding out she is one of the Petrova Doppelgängers, Elena shows she can be just as ruthless as her ancestor.
Exploring the Elena Gilbert The Vampire Diaries Casual Outfit
Before we can steal an Elena Gilbert The Vampire Diaries outfit, first we need to explore how costume designer Leigh Leverett created such a definitive look for our show's protagonist. A look that is about comfort more than anything else, but still radiates that leading lady energy.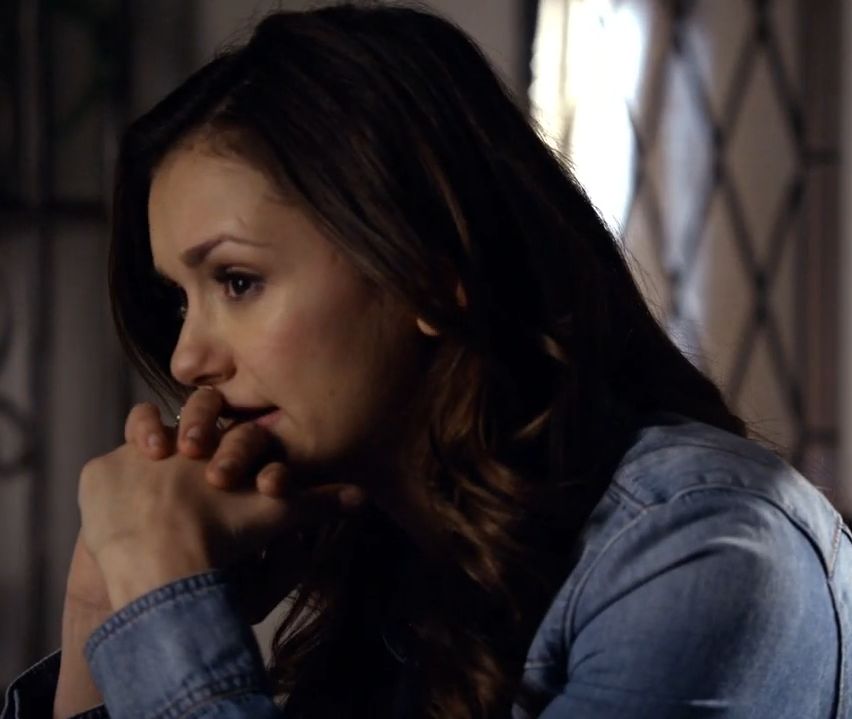 When you look back over the six seasons of The Vampire Diaries that Elena is in, one thing that is apparent is her adapting style and personal growth. Starting out as a high school student and going on to study at college, it is easy to see how her wardrobe changes as she matures and learns some tough life lessons. Yet she never moves away from her relaxed casual comfortable way of dressing.
Even as a vampire the Elena Gilbert The Vampire Diaries outfit sticks to hassle-free casual attire. In the same way that Twilight's Bella Swan, whose life she shares a number of similarities with, also dresses.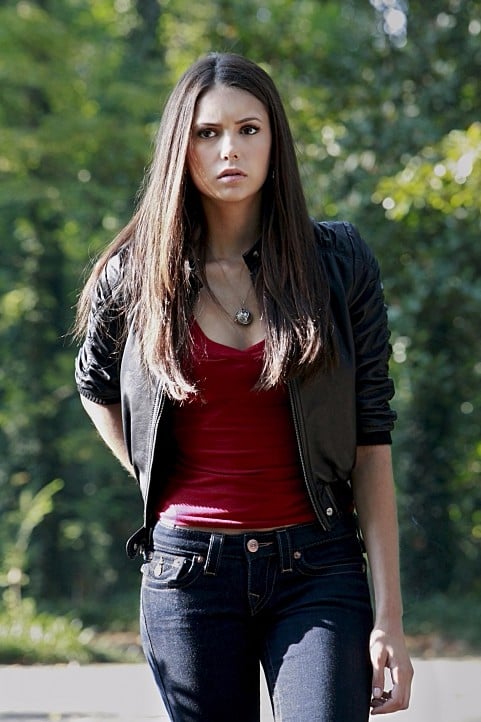 But despite the fact that Elena Gilbert, portrayed by Nina Dobrev, favors a dark and chic color palette for her wardrobe staples, she isn't afraid to play around with a pop of brightness or add in a few simple patterns.
Missing an Outfit Inspo? Submit your idea and we'll make it happen!
Starting with darker hues of black, slate gray or even some deep blue, Elena pairs them with jewel toned greens and violets. Even throwing in the odd startling red, hidden under a darker jacket so she doesn't stand out from the crowd.
With her early season wardrobe full of dark skinny jeans, fitted v-necks and soft button-up cardigans, with enough henley shirts to rival even Klaus Mikaelson wardrobe (find all his style secrets here) Elena's casual look has a sporty athletic feel to it.
Easily paired and lowkey, the Elena Gilbert The Vampire Diaries outfit is all about that simple typical American teen style of dressing to blend into the crowd. Even sticking with comfortable converse sneakers and low heeled ankle boots to finish her looks along with her slim fit leather or denim jackets she can throw over any outfit.
However as Elena matures and moves on to college, her wardrobe of casual staples, that ultimately stays the same, start to get a little bit brighter and more pattern focused. Small dainty prints on her new skater dress silhouettes and more colorful pinks and yellows in the forms of easy fitting tops, still pair well with her selection of jackets, jeans and ankle booties
Elena Gilbert's Simple Hair and Make-up Styling
Known for her long dark brown hair worn below her shoulders, parted in the middle and left down and perfectly straight, Elena only styles her hair up for formal events. Which is the opposite of her doppelgänger Katherine Pierce who hates Elena's styling and prefers her almost identical long dark hair curled, and left to fall around her shoulders.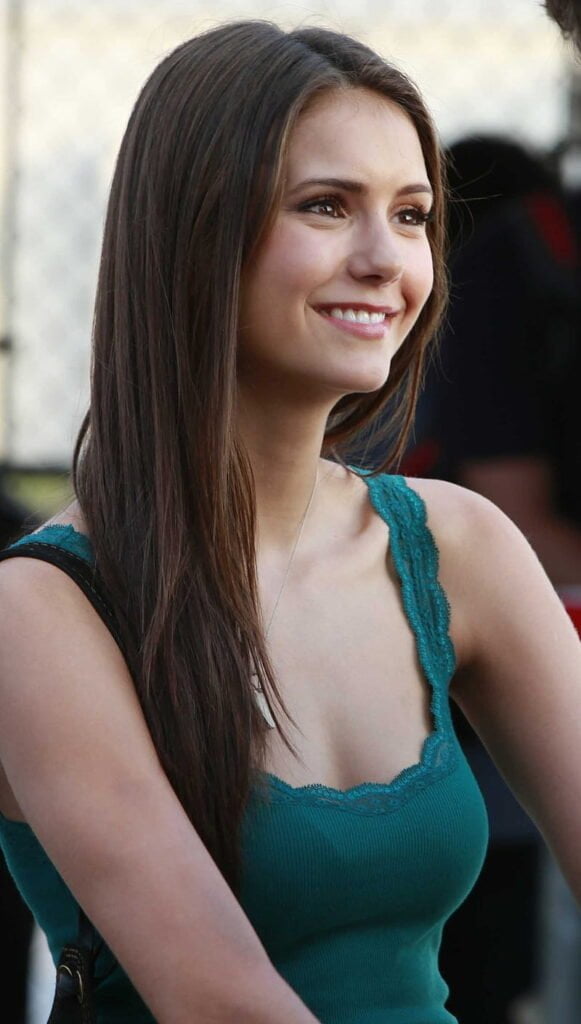 A simple difference between the two, that can easily be copied when either of our Petrova doppelgängers impersonates the other. With the same easily true of the rest of the Elena Gilbert The Vampire Diaries outfit styling.
Subtle, barely there make-up is all Elena wears day to day. Her soft glowing complexion evened out with foundations and concealers and a touch of rosy blush to give her youthful skin a bit of color. With no fancy eye make-up other than some muted brown and gold eyeshadows to add some depth to her eyes. Along with a coating of black mascara and an almost skin toned lipstick to add a hint of color.
The Elena Gilbert Jewelry
Still no Elena Gilbert The Vampire Diaries outfit would be complete without her vervain necklace. Gifted to her by her original vampire boyfriend Stefan, to protect her from the compulsions of vampires.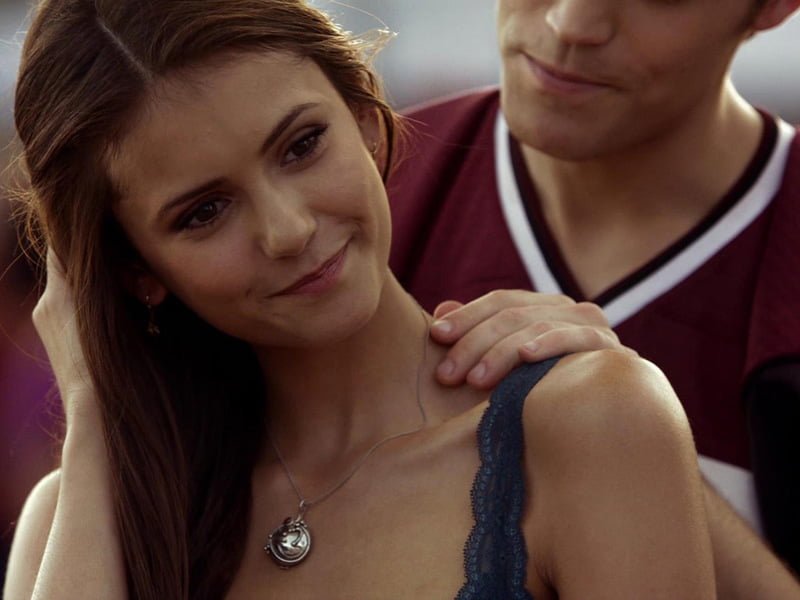 Although she returned it to Rebekah Mikaelson (whose feminine and romantic wardrobe you might want to check out here), Elena who started accessorizing more as a vampire herself also gained a Lapis Lazuli daylight ring for protection.
A More Mature Grown-up Look: Steal Elena Gilbert's Plaid Shirt, Cami and Jeans Outfit
When it came to picking an Elena Gilbert The Vampire Diaries outfit to steal, there were so many to choose from. However the look we went for in the collage above has her signature simple casual and comfortable energy we have come to expect of our leading lady.
In typical Elena style this look has a very sporty and athletic feel to it, with her dark and chic color palette. Along with the simple wardrobe staples that embody her desire for comfort and not standing out from the crowd.
Recreating the Elena Gilbert The Vampire Diaries outfit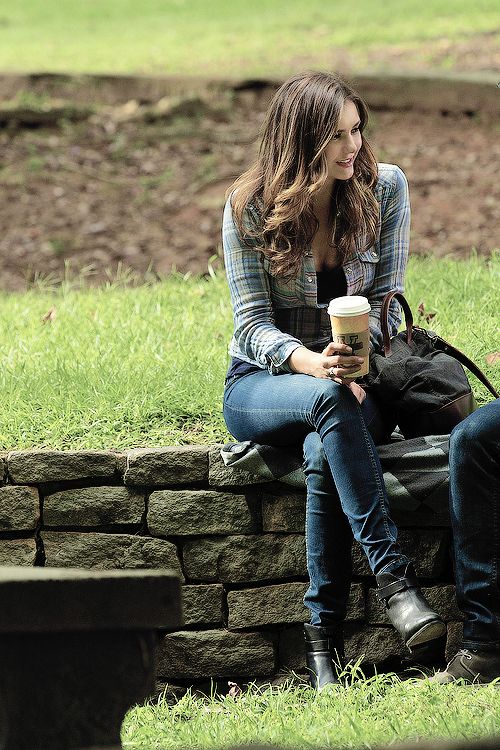 Going with her darker hues and typical Elena casual staples, she starts with a black cami tank top, before pairing it with a long sleeved plaid shirt.
Look for a shirt with a check pattern in a muted colourway of black, gray and white, to stick to her favored darker tones. Wearing the shirt unbuttoned and open, with the long sleeves down, over a pair of dark blue skinny jeans.
Stick with the black of the cami top and pair your jeans with some heeled black ankle booties, tucking the hems in and adding a matching leather black handbag. Go for one that would have been very of the time with a short shoulder strap and numerous silver studs, pockets and visible zippers.
One of Elena's more grown-up and mature looks, her shiny dark brown hair has been parted slightly to the left with an ever so slight curl to the tips. A departure from her normal middle parted straight hair, but she does still wear it down loose around her shoulders.
Her barely there make-up of soft foundation paired with a delicate rosy blush, gives Elena a youthful look to her complexion. But her eye make-up is kept simple with some brown eyeshadows adding some depth and her black mascara coating her lashes to give them some volume.
A simple rosy tint from a lip balm, and your casual Elena Gilbert The Vampire Diaries casual outfit is complete.
If you are loving Elena's comfortable, easily paired staples you could also check out our guide to stealing another of her more mature looks. This time her burgundy cardigan and indigo jeans outfit.
Looking for more outfit inspiration with Nina Dobrev? Check out her 'Love Hard' outfits.
Monthly Newsletter
Add some spice to your style with movie set-inspired designs.