Steal The Look-Cassie Salazar's Purple Hearts Outfits
Add a touch of cinematic magic to your wardrobe with our roundup of daring and hip movie-inspired outfits. We'll show you how to dress like Cassie Salazar from Purple Hearts with our selection of chic and stylish pieces. Slip them on and step into the spotlight like a star with these iconic looks from Purple Hearts.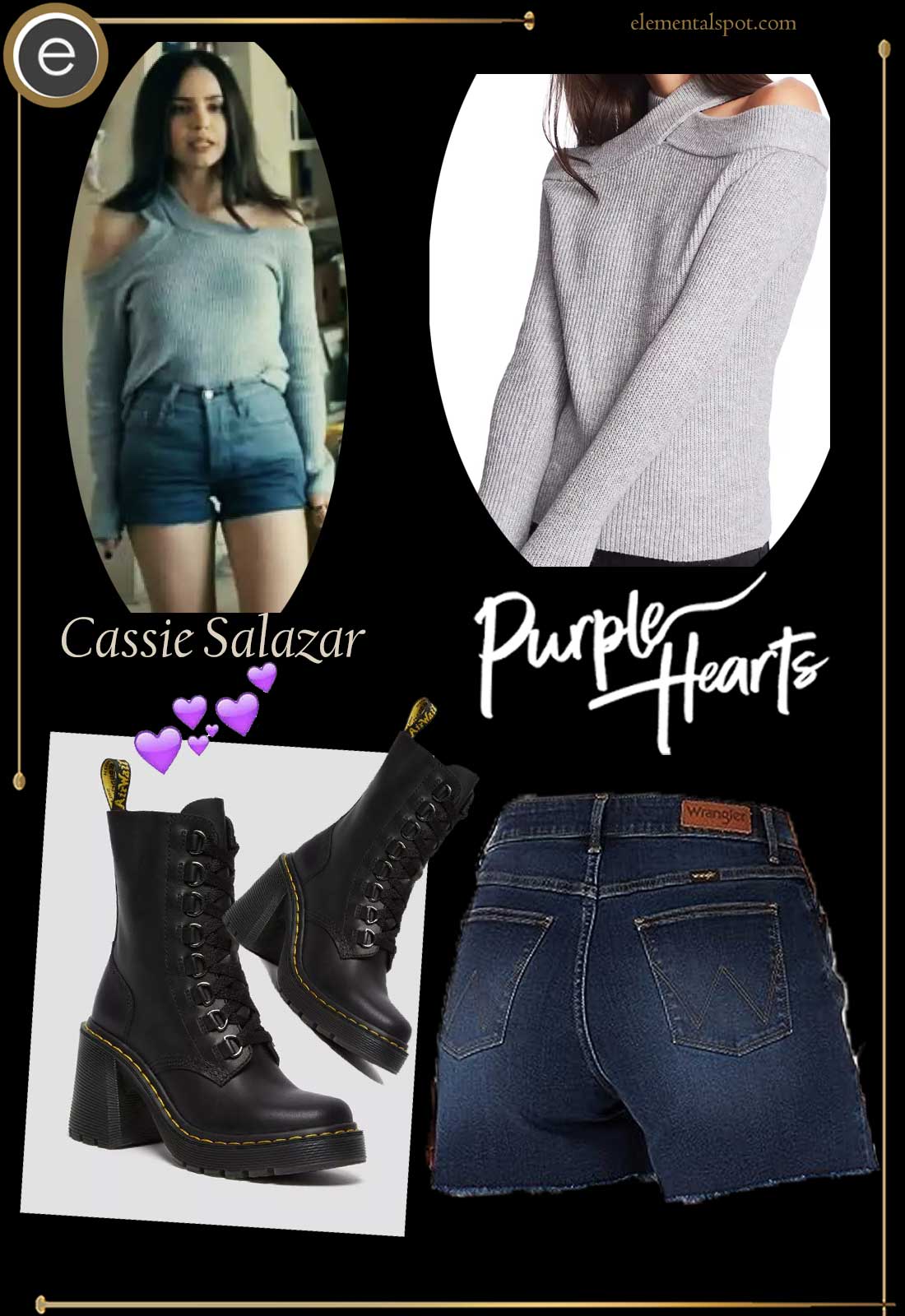 Shopping List for Cassie Salazar from Purple Hearts Outfit
If you have ever watched a romantic movie, or frantically turned the pages of a happily-ever-after story then the plot and conclusion of Netflix's Purple Hearts (2022) won't come as a surprise. Two opposite souls, a marriage of convenience and a tragedy set the stage for this music infused love story to play out. Let's not forget to mention Cassie Salazar's Purple Hearts outfits

Spoilers ahead: Cassie and Luke's Purple Hearts love story.
With mixed reviews for the glamorized plot from real military spouses, the movie based on the Tess Wakefield novel stars the all singing, all dancing Sofia Carson, of Disney Channel musical Descendants fame. Using their passionate love to hate story for a slow burning romance, thankfully the same can't be said for our inspiring musician Cassie Salazar's Purple Heart outfits. Simple basics and rockstar worthy show stoppers, make up her endlessly fashionable wardrobe from the minute you press play on this streaming smash hit.
Cassie Salazar's The Future is Female T-Shirt in Purple Hearts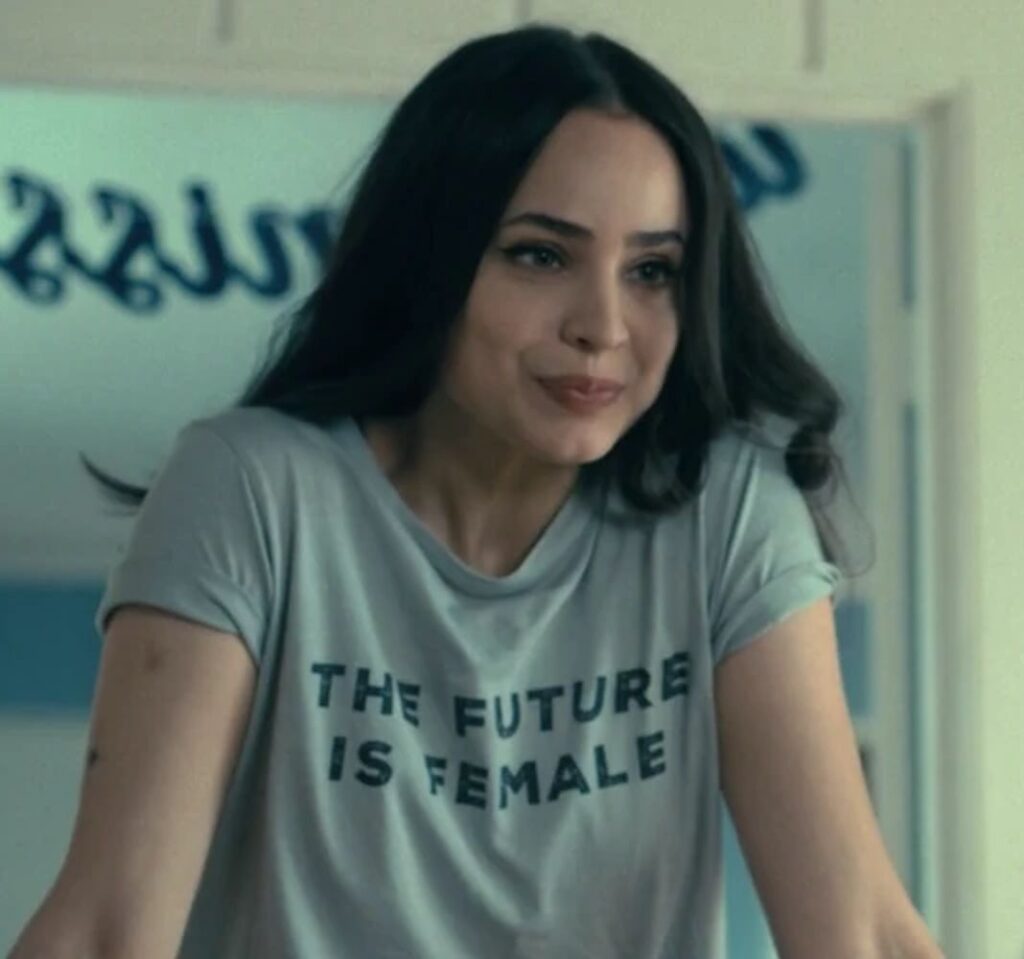 Oddly, for a movie crammed full of fashion statements, it was actually Cassie Salazar's 'The Future is Female' t-shirt that made one of the biggest impressions, while setting the tone for the love story to come. A true representation of Cassie's fiery temperament and stubborn personality, the printed slogan had her butting heads with Luke over feminism, and her opinion of men.
Cassie's Heeled Dr. Marten Lace-Up Boots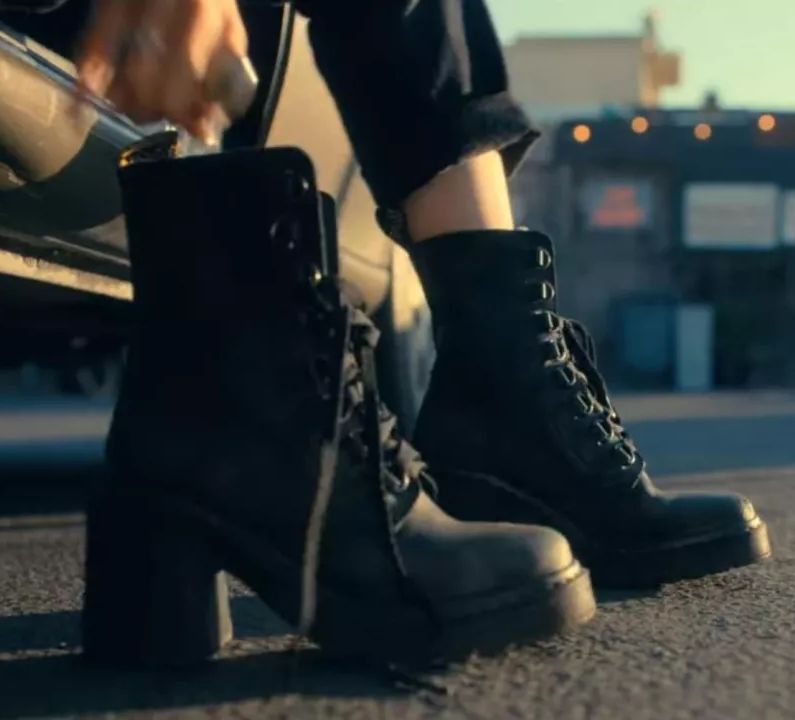 Back in the days of post-war Germany, Klaus Märtens who could be rightly referred to as Dr. Martens released a pair of cushioned soled boots. A popular choice for housewives of the time, it wasn't long until they were the universal sign of punks, rockers and musicians like Cassie. With chunky soles and flared heels Cassie's Purple Hearts outfits pair well with the eye-catching boots and add a level of resilience that matches her personality.
A White Wedding Dress For Cassie and Luke in Purple Hearts
When you mention Cassie Salazar's Purple Hearts wedding dress, women everywhere let out a little sigh, and not just because of Lance Corporal Luke Morrow in his dress uniform. Reluctant to put any effort in for their marriage of convenience Cassie is persuaded into a simple white chiffon and lace midi-dress. The delicate, figure-skimming dress with a subtle sheerness was perfect for the inspiring rockstar, and it's no wonder it was the start for their slow burning romance.
Gray Cold Shoulder Sweater worn by Sofia Carson as Cassie in Purple Hearts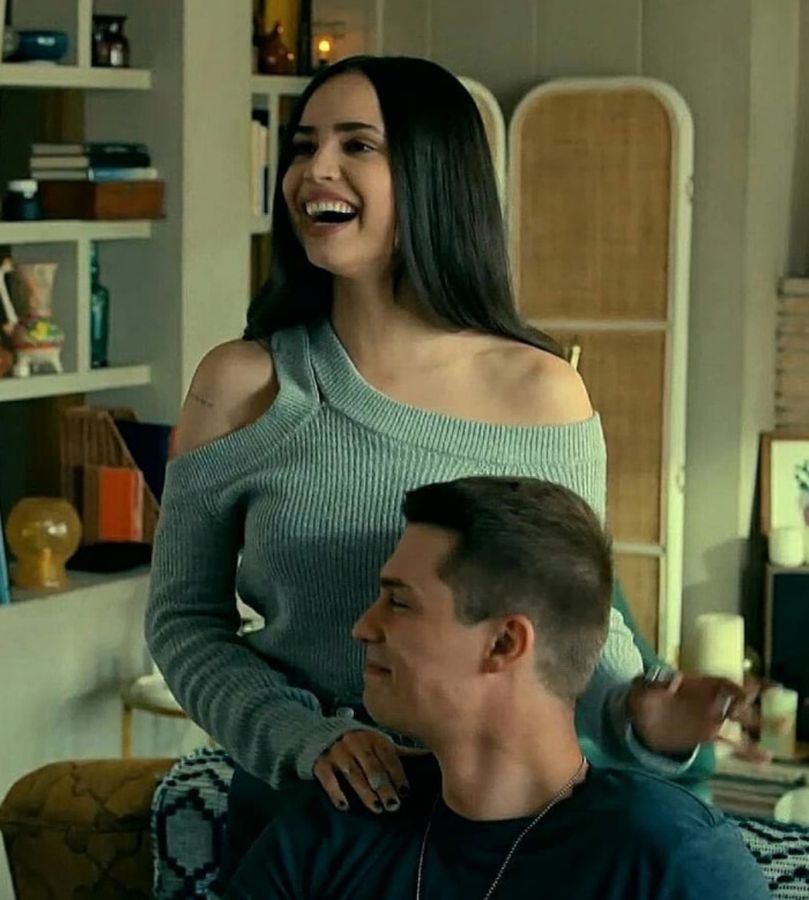 When you take some time, as we have, and study Cassie's Purple Hearts outfits you will notice that she sticks to a very neutral color palette in her wardrobe, with a lot of soft grays, whites and blacks. But as well as choosing simple and relaxed t-shirts and tank tops, she also wears a lot of knitted sweaters. Including this eye-catching gray ribbed cold shoulder knit that effortlessly pairs with denim and her subtle make-up and long dark hair.
Cassie Salazar's Silver Chain Ear Cuff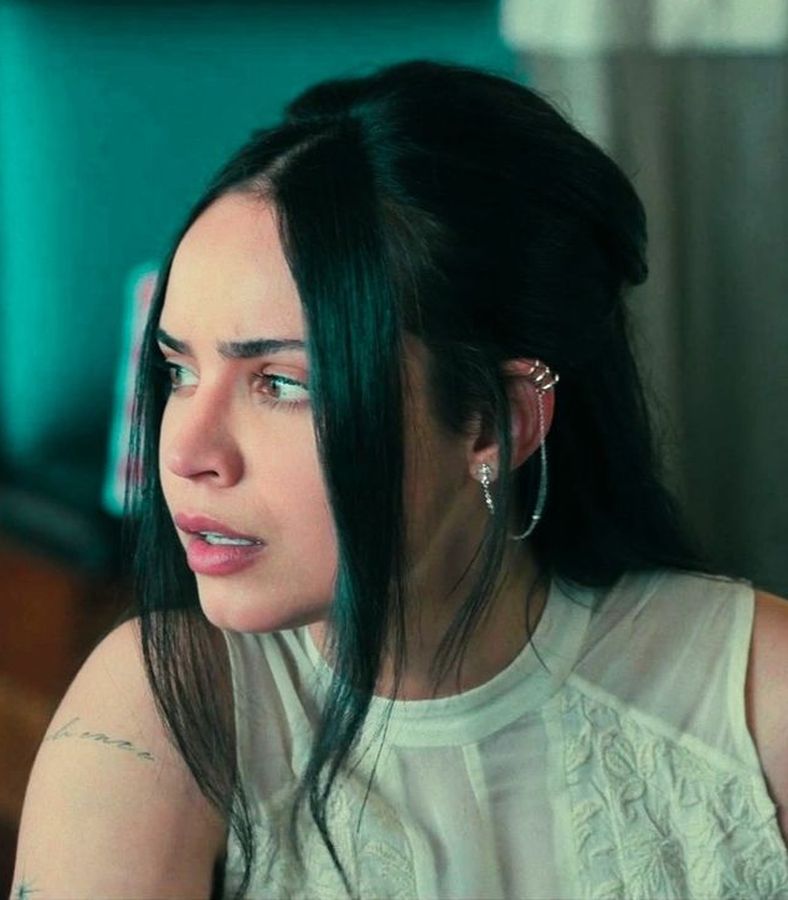 Cassie doesn't see the point in putting in any effort for her and Luke's wedding, firmly still in the hate part of their love/hate relationship. But her lack of foreplanning means her look is much truer to her personality. With her simple silver stud and chain ear cuff along with her bold statement rings, contrasting the delicate white floaty dress and bewitching us with its simplicity.
Missing an Outfit Inspo? Submit your idea and we'll make it happen!
Jeans, a Simple Tank Top and That Kiss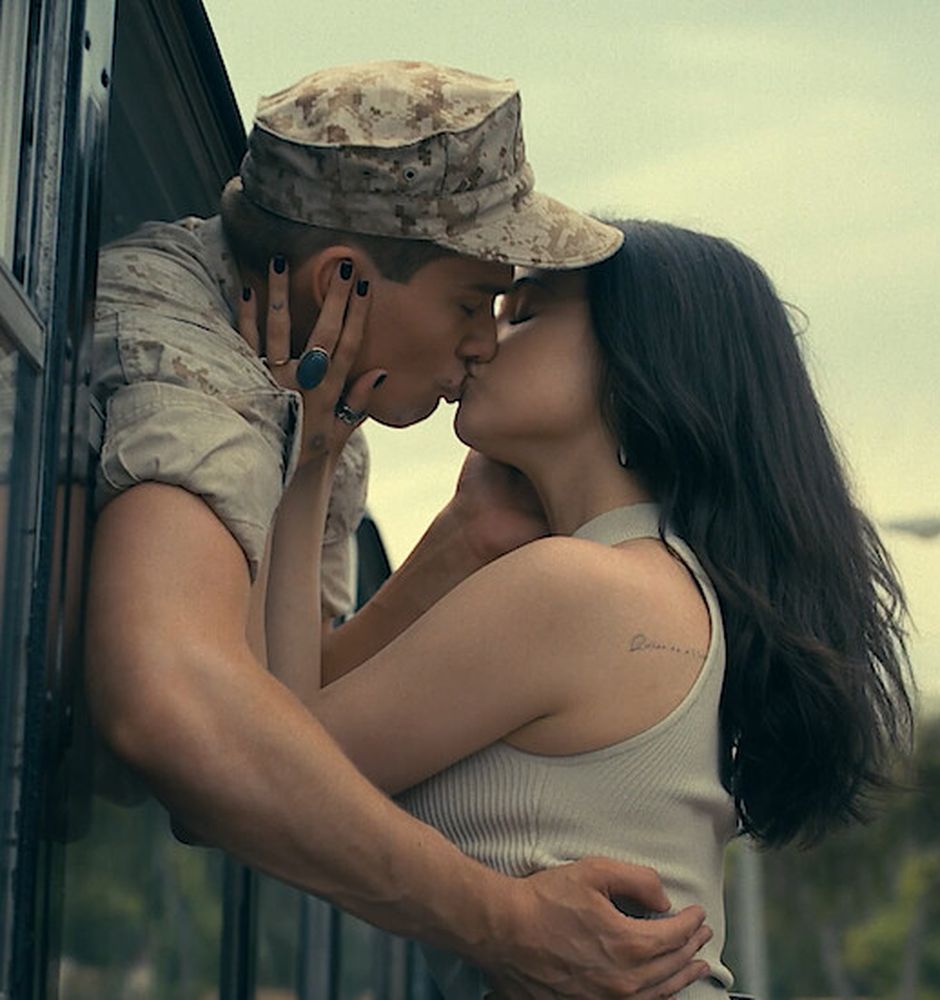 For Cassie the only thing more prominent in her wardrobe than her stage worthy looks are her simple tank tops and basic blue jeans. Just like this casual, understated and youthful look with her favored gray halter neck racer back tank top and high waisted fitted jeans in a blue denim. Although, to be honest in this scene Cassie's Purple Hearts outfit almost goes unnoticed, with all eyes on that temperature raising kiss.
Cassie's Rockstar Fringed Jacket in Purple Hearts
Cassie might prefer a relaxed and casual way of dressing, but putting on her show stopping gowns or fringed jackets are all part of her performance. Giving her that extra edge on stage. Purple Hearts, Netflix.
With so many simple, basic pieces making up Cassie's Purple Hearts outfits, when she does put on those show stopping items it isn't hard to see why they quickly become fan favorites. Reserving her best looks for her performances with her band The Loyal, Cassie's statement suede fringed jacket definitely falls into that category. Whether worn over a simple t-shirt and jeans or a stage worthy little black dress, the jacket adds that rockstar edge our inspiring musician wants.
Even the least romantic will find it hard not to fall in love with Cassie Salazar and Luke Morrow's slow burning love story, and her simple yet statement wardrobe is a big part of that. Although there aren't many other characters, especially main plot females, for Cassie's Purple Hearts outfits to compete with, if there were she would still be the one turning heads. So channeling your inner fiery, stubborn and creative soul, while stealing some style tips from the inspiring musician ( here we recommend Julie and the Phantoms Outfit: 90's Inspired Rock Chick Style) might just help you find your own happily-ever-after. 
Monthly Newsletter
Add some spice to your style with movie set-inspired designs.