Nora Brannock's The Watcher Outfits: Minimalist, Luxurious, Timeless
Add a touch of cinematic magic to your wardrobe with our roundup of daring and hip movie-inspired outfits. We'll show you how to dress like Nora Brannock from The Watcher with our selection of chic and stylish pieces. Slip them on and step into the spotlight like a star with these iconic looks from The Watcher.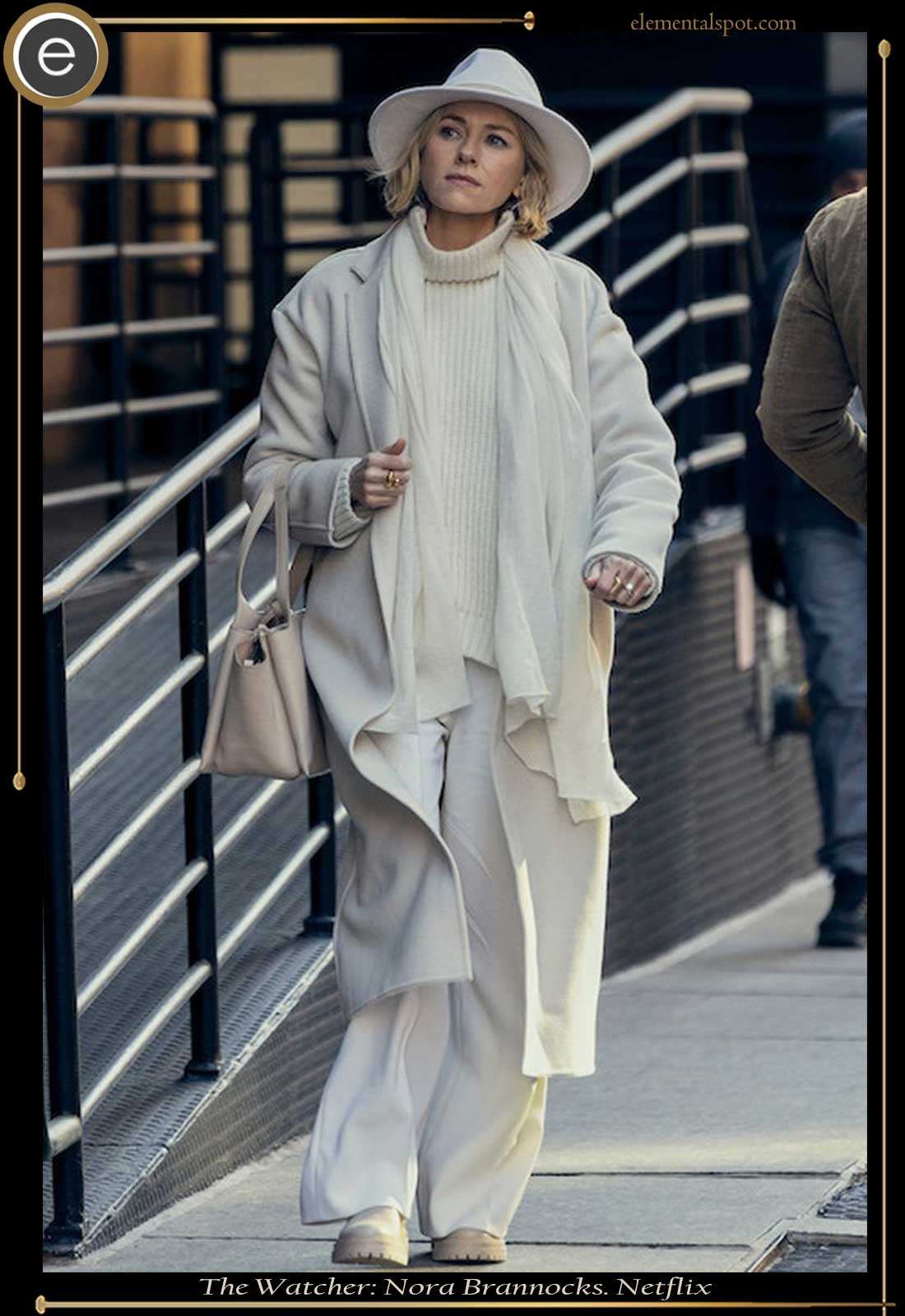 Shopping List for Nora Brannock from The Watcher Outfit
Although, with the first season's episodes crammed full of inevitable knits, timeless jewelry and statement pieces, it is hard to pick your favorite Nora The Watcher outfits. So have a look below and see which of Naomi Watts' easy minimalist looks we think should be in your wardrobe too.
When Netflix announced their new mystery thriller, headed up by Ryan Murphy, the whispers of anticipation expecting another of his masterpieces were deafening. With credits to his name like American Horror Story and Scream Queens, which saw Emma Roberts play two of tv's best self-centered fashionistas, Madison Montgomery and Chanel Oberlin, he never let the viewers down.
But when The Watcher eventually arrived on the streaming platform in October 2022 the reviews were less than favorable. With critics pointing out its over-stuffed plotlines, and calling it unremarkable fiction. However it turns out the underwhelming whodunit story, based on real events, had let Naomi Watts' flawless Nora The Watcher outfits flourish, amassing quite a fashionable following.
A study in luxurious fabrics and the signature minimalist style that has become instantly recognisable as Nora Brannocks, the harassed wife and mother of 657 Boulevard.
Nora Brannock's White Cashmere Coat in The Watcher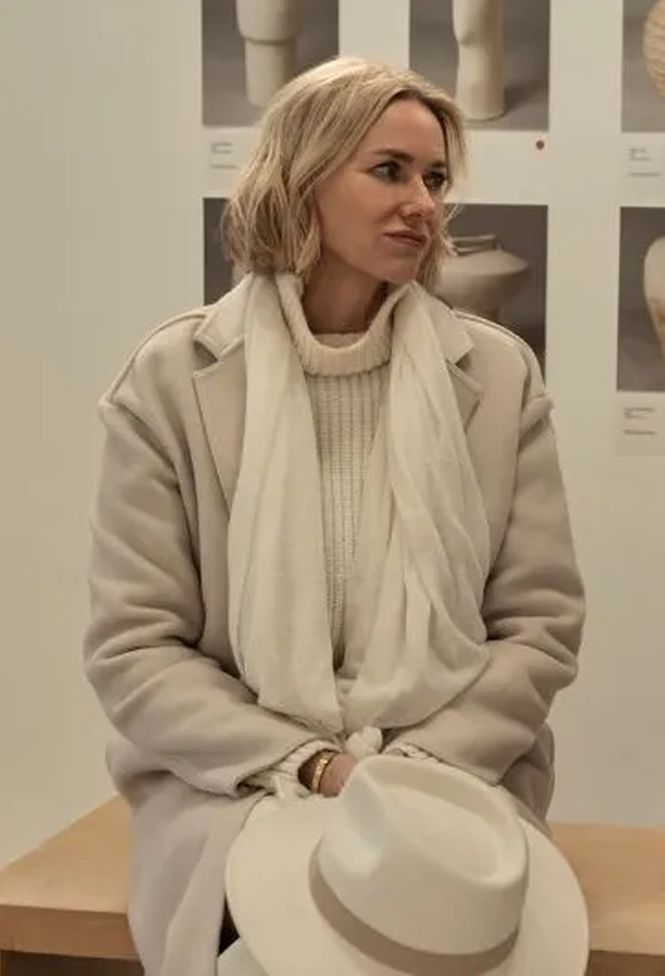 Who knew there were so many different shades of white? Or that a wardrobe of only neutral tones could make such a statement? Well, Nora Brannock did. With her The Watcher outfits almost exclusively sticking to soft and innocent whites, oatmeal browns and subtle grays, in luxurious fabrics and minimalist cuts. Just like this striking white cashmere coat, layered over a turtleneck knit and oozing the wealth and class most of us can only dream of in our wardrobe.
The Watcher White Fedora Hat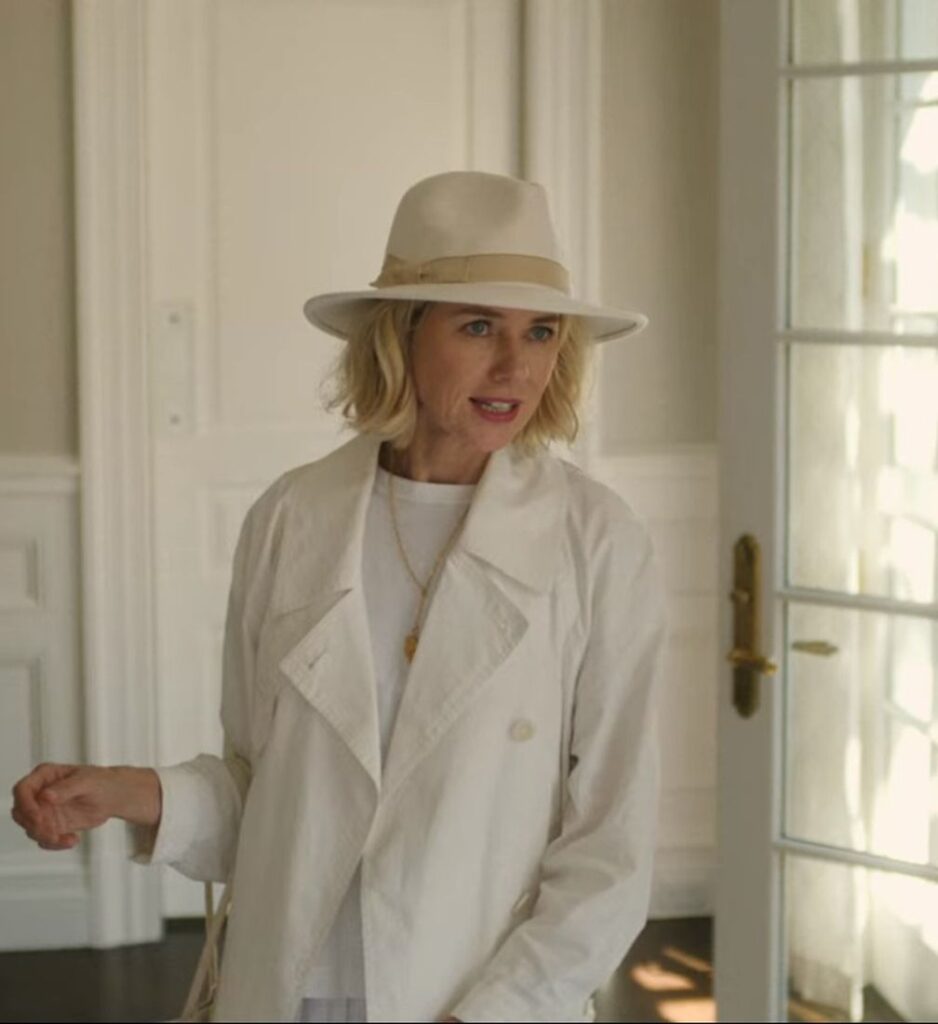 Nora, the demure art school graduate and pottery maker, knows how to accessorize her wardrobe of timeless classics to give them a modern feel. Without straying from her favored neutral color palette, Nora's put-together look of matching whites is given an arty twist with a wide-brimmed fedora.
Nora Brannock's Minimalist Polo Knit Sweater From The Watcher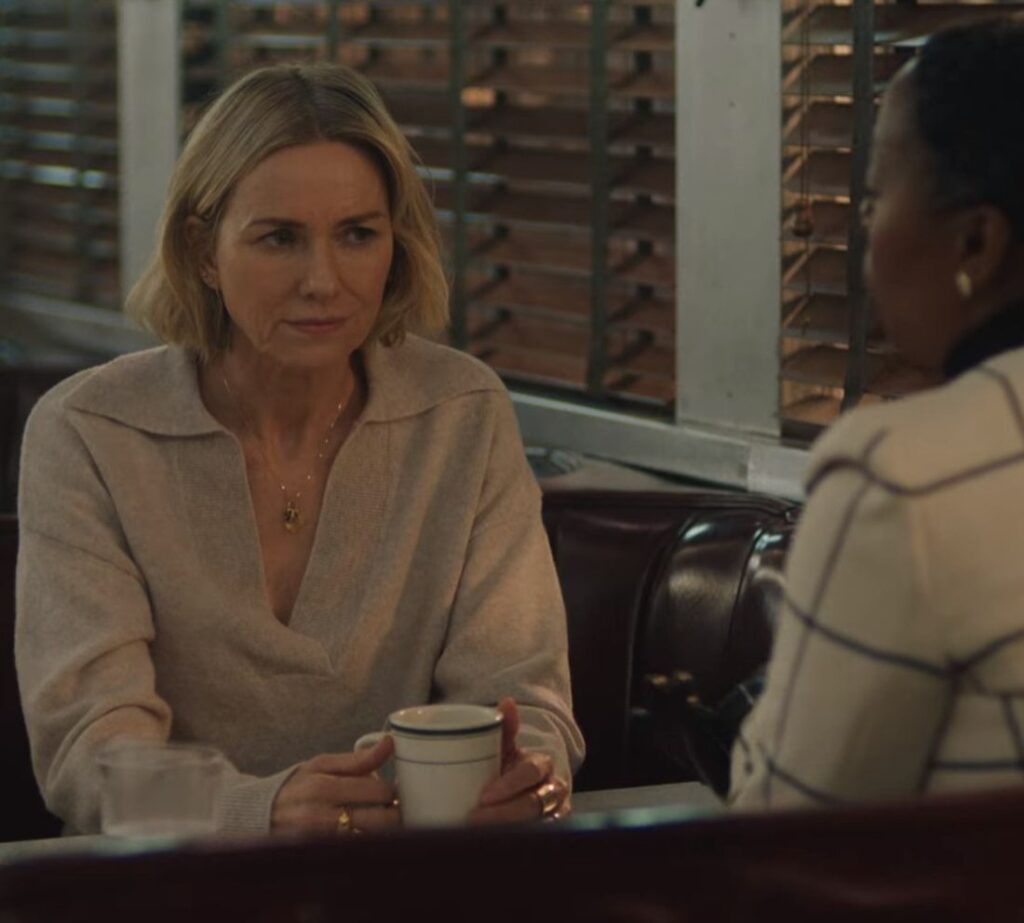 Always sticking to a neutral color palette of whites, creams and gray, this subtle oatmeal brown adds a touch of murkiness to hint at Nora's stormy life behind her perfect facade.. With classic elegance and simple sharp tailoring, each piece of Naomi Watts' The Watcher outfits could be a staple in every woman's wardrobe. Nora's signature minimalist clothes and pure colors are a symbol of her innocence as the victim of a stalker. Therefore this oatmeal brown polo sweater muddies the waters to remind us of the darker side behind the perfect facade of life at 657 Boulevard.
Gold Chains Nora Brannock Wore in The Watcher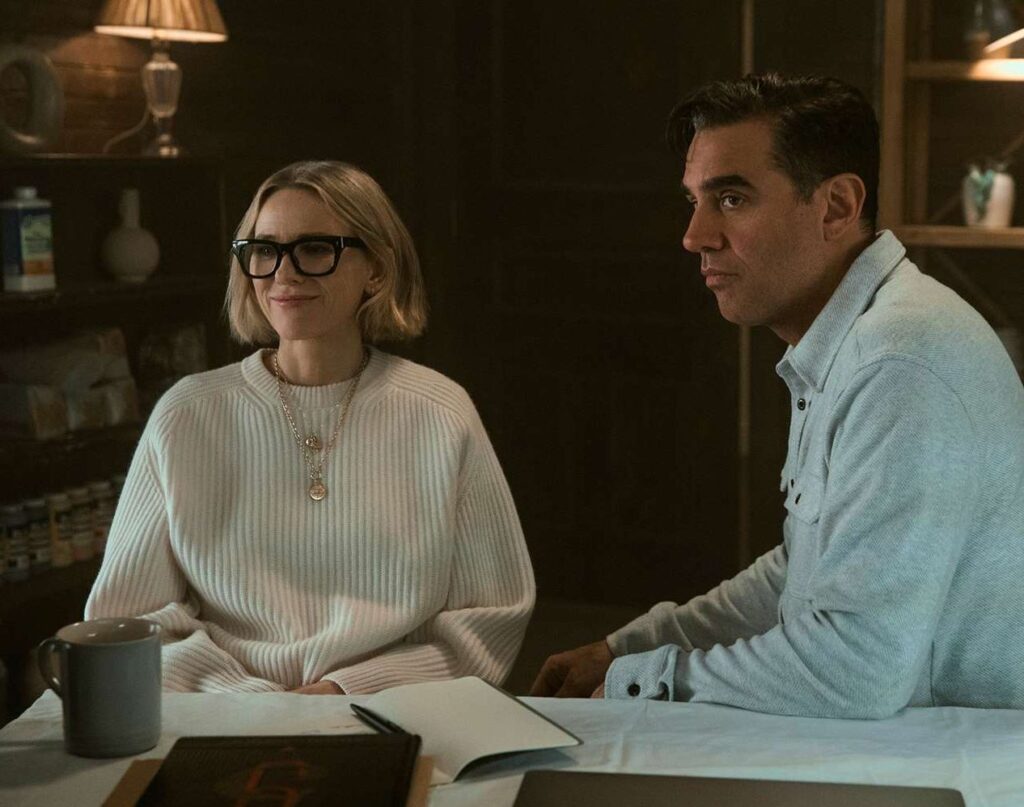 As much as Nora's knitted sweaters might be the star of her The Watchers wardrobe, just like this pure white ribbed knit, it is her timeless gold jewelry that really adds the finishing touches to her looks. Layered over her sweaters, and each other, her selection of expensive gold chains and delicate necklaces add more luxury to her already flawless wardrobe and reinforce her class and financial status.
The Watcher Nora Brannock's Velvet Paneled Skirt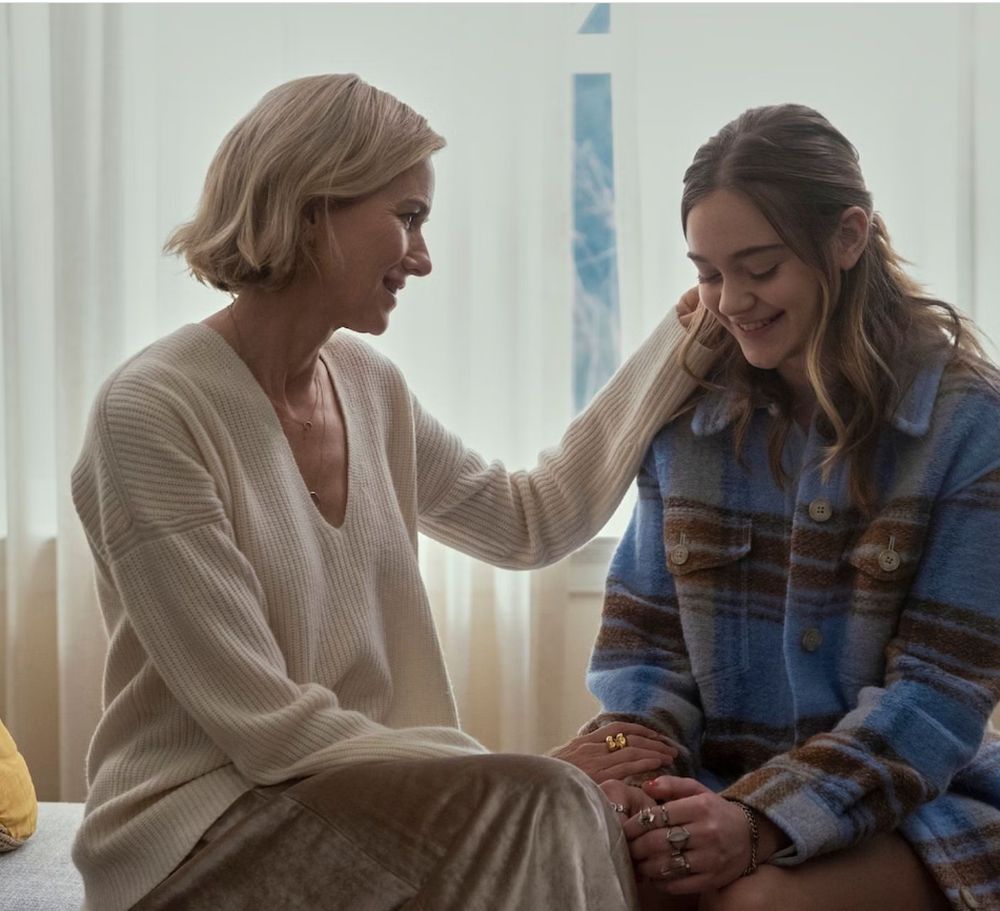 As well as noting the luxury fabrics and soft neutral color palette of Naomi Watts' flawless Nora The Watcher outfits, it is also important to recognise her wardrobe for its classic and timeless tailoring. With no alluring figure-hugging garments, instead Nora chooses clothes that skim her body and innocently highlight her slender figure. None more than the Vince paneled midi-skirt she wears in a beige velvet during episode five. With a subtle and expensive appeal, it is no surprise the original is sold out but try this alternative Vince skirt below.
Missing an Outfit Inspo? Submit your idea and we'll make it happen!
Jacques Marie Mage Glasses Nora Wore in The Watcher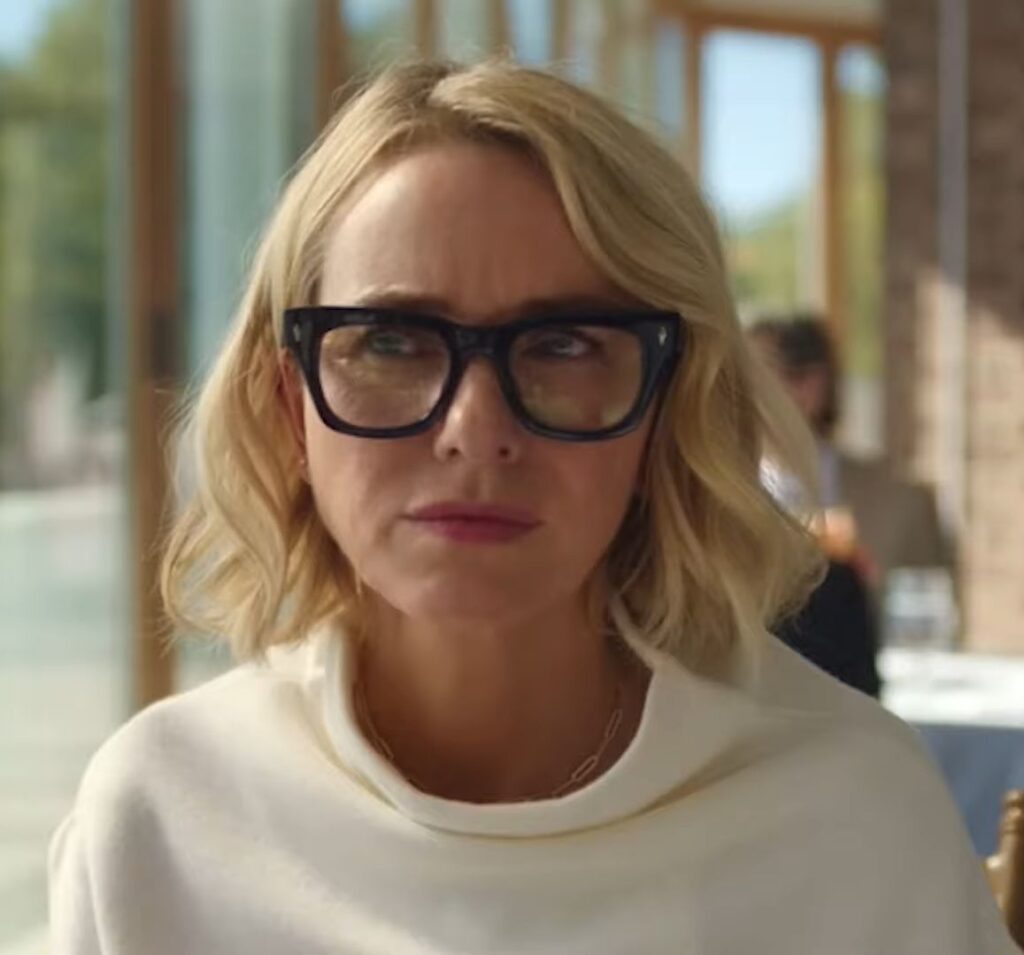 Naomi Watts' Nora always wore the best of everything, even when it came to her eyewear. The exact black square framed Jacques Marie Mage Dealan glasses are almost impossible to find now, but The Watcher and Nora Brannock have helped make the boxy shaped eyewear on trend again. So finding a replica pair shouldn't be a problem.
Naomi Watts' Timeless Turtleneck Sweater worn by Nora in The Watcher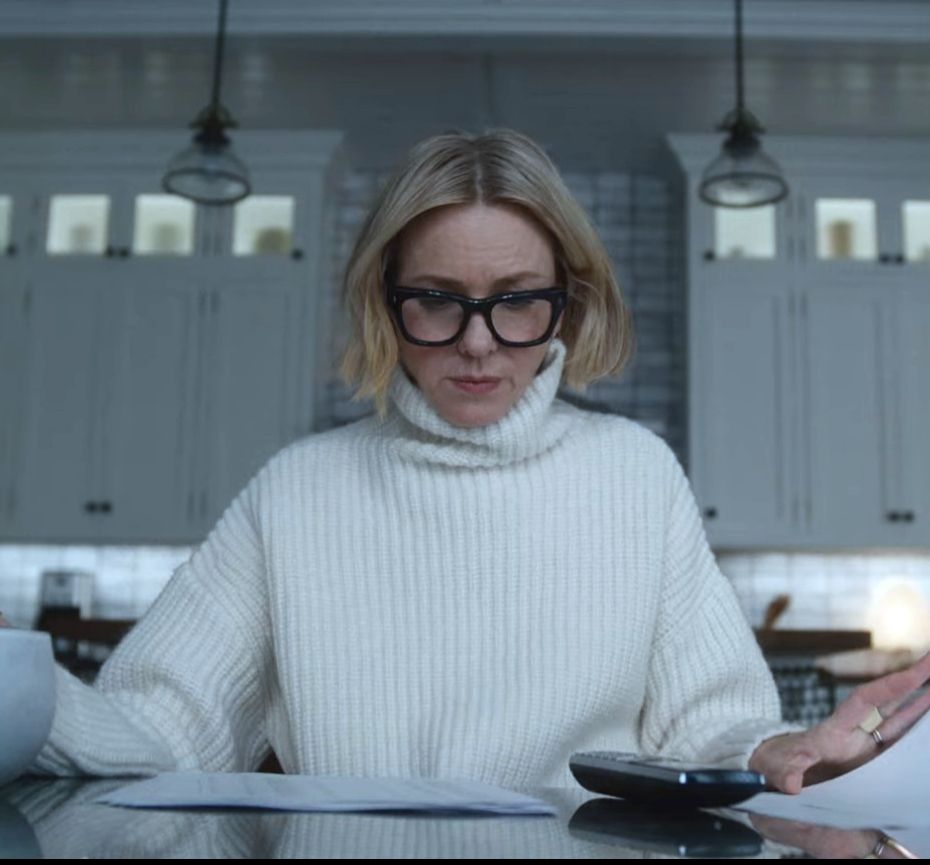 Like we said, Nora's The Watcher outfits could make up the staples of any woman's wardrobe, and none are more of a timeless classic than a turtleneck sweater. A symbol of casual comfort, Nora has elevated her simple cream high-necked roll sweater by wrapping herself in a matching cashmere wool blanket. Maybe one of the few times we see the always put-together Nora Brannock looking fragile and like the victim she had become.
Nora and Dean Brannocks Complementary Wardrobes on The Watcher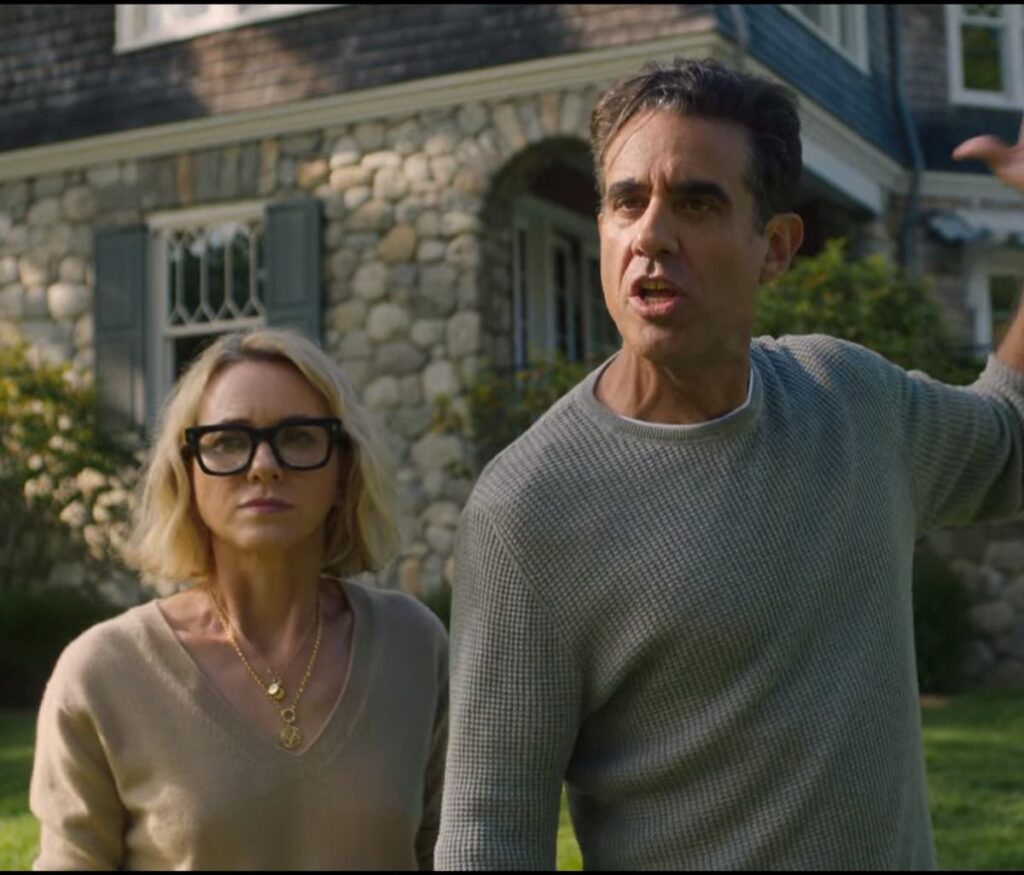 Just as Nora's The Watcher outfits are full of luxury fabrics, neutral colors and timeless classics, so are the rest of the Brannock family's wardrobes, especially her husband Dean's. Whether it is their matching cashmere knits or couples white t-shirts, their looks are always complementary. Also being dressed in similar shades, with Dean particularly favoring gray and cream tones, the matching looks help to make the family stand out and highlight them as the show's victims.
Behind the Scenes of Elegance: Crafting Nora's Timeless Look
Emmy-winning costume designer Lou Eyrich stands as the creative genius behind these stunning ensembles. Collaborating with Rudy Mance and Catherine Crabtree, our team embarked on a journey of inspiration, ceaseless sourcing, monochromatic ingenuity, and an array of perfectly coordinated his-and-hers tracksuits nationwide, she reveals to Tudum by Netflix.
Monthly Newsletter
Add some spice to your style with movie set-inspired designs.