Julie and the Phantoms Outfit: 90's Inspired Rock Chick Style
Add a touch of cinematic magic to your wardrobe with our roundup of daring and hip movie-inspired outfits. We'll show you how to dress like Julie from Julie and The Phantoms with our selection of chic and stylish pieces. Slip them on and step into the spotlight like a star with these iconic looks from Julie and The Phantoms.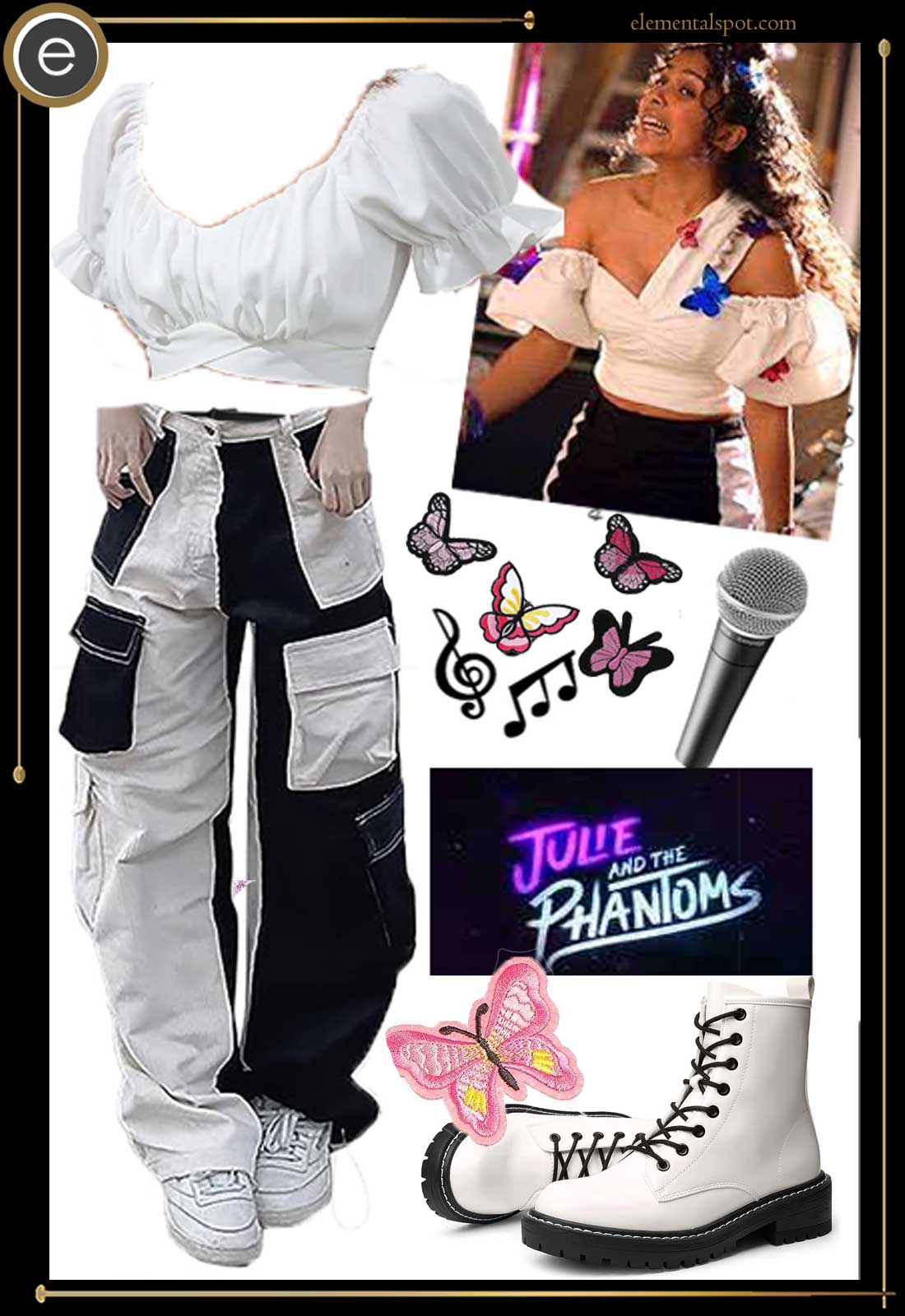 Shopping List for Julie from Julie and The Phantoms Outfit
When Julie and the Phantoms hit Netflix in 2020, you would have been hard pushed to name another show where the main star's on-screen debut was more suited to the actress's skillset.As Julie effortlessly takes center stage, her outfits in the series become a captivating reflection of her character's evolving journey and personal style.
With singing sensation Madison Reyes portraying Julie, the surprised teen who finds the cute ghosts of three teenage boys, who have been dead for 25 years, in her mothers music studio. Having lost her passion for life and music the unlikely foursome come together as Julie and the Phantoms, to face unfinished business, perform and reignite that love once again.
Julie confronts the three cute teenage boy ghosts who have just appeared in her mothers music studio, and are unaware they have actually been dead for 25 years.
But falling victim to the Netflix canceling curse, the fan favorite won't be returning for a second season. So we will never learn what unfinished business the phantoms had, or see how costume designer Soyon An would develop Julie's ever increasing 90's inspired wardrobe. Instead we will just have to re-binge season one and soak up the Julie and the Phantom Julie outfits that turned her into the rockstar she is.
Julie's Smiley Face Jumper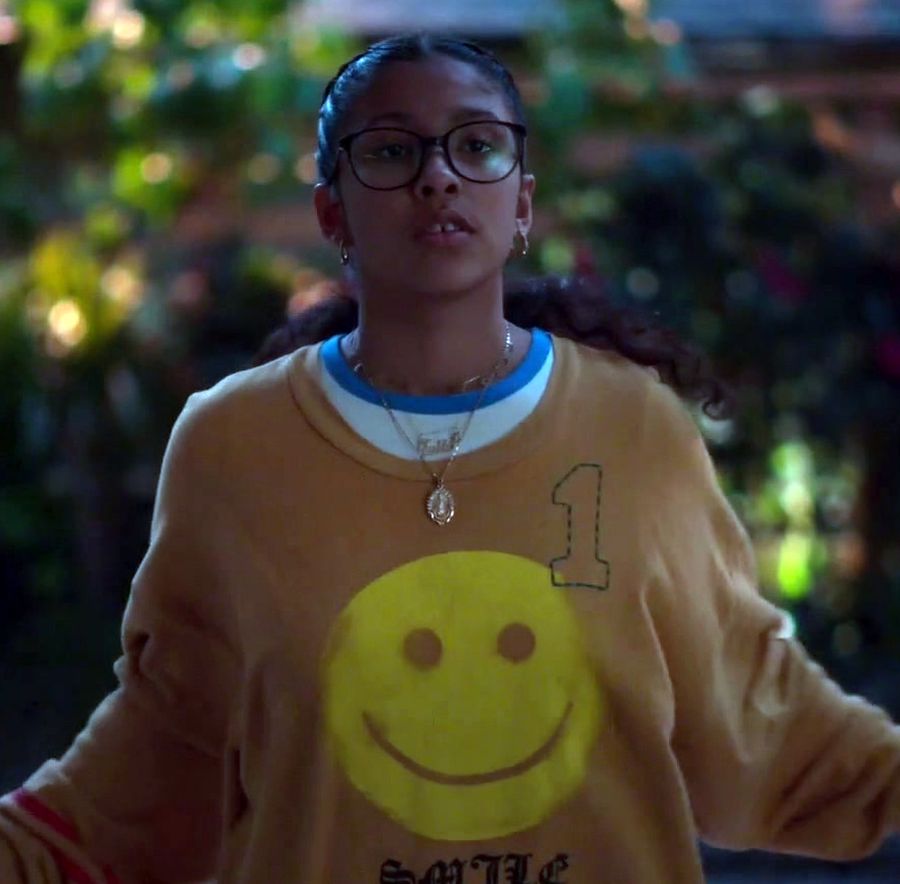 When we first meet Julie, our young musician is mourning the loss of her mother and hasn't played any music for over a year. Showing this hidden trauma and pain on-screen through Julie's Julie and the Phantom outfit choices of basic understated t-shirts and jeans, baseball caps and oversized baggy jumpers. Just like her sunshine yellow sweater with a large smiley face that flawlessly hid Julie's true trauma and feelings.
A Julie Basic T-Shirt and Jeans Look From Julie and the Phantoms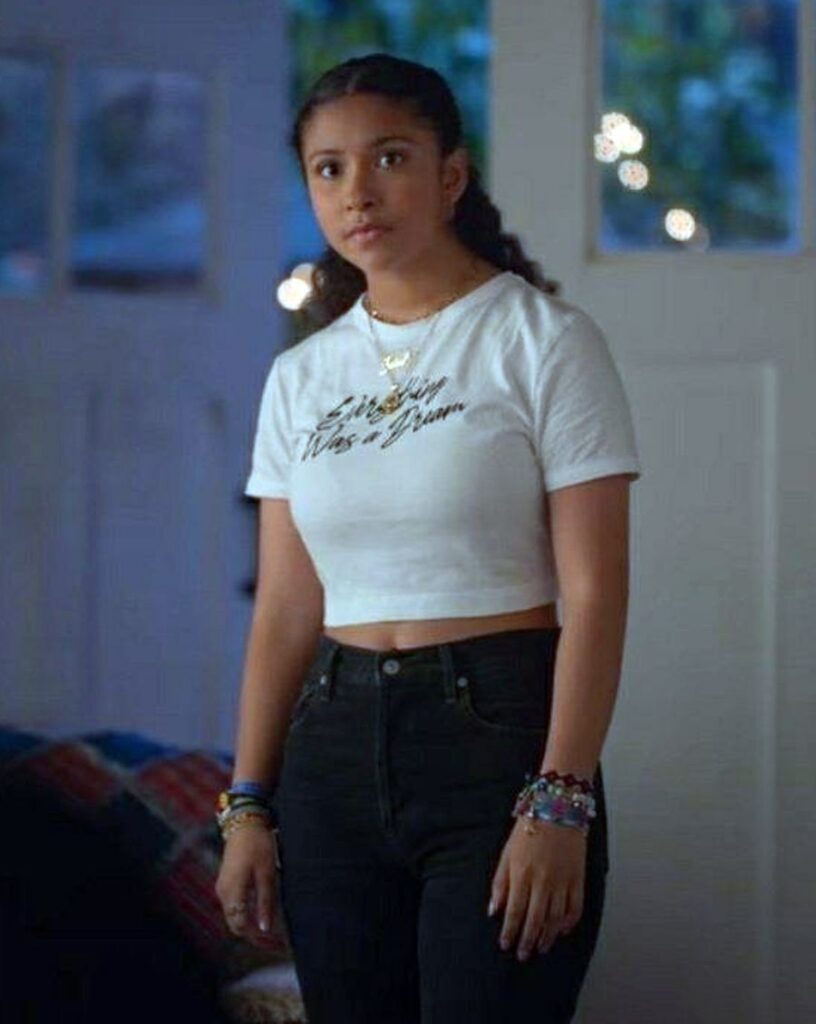 Julie's performance-worthy outfits might be one of the highlights of Julie and the Phantoms, but it is her use of simple t-shirts and classic jeans, an essential of all teenage wardrobes, that are the most memorable. With an inspiring slogan, no doubt a nod to the crazy premise of the show, the cropped white tee and black fitted jeans combo are a subtle reminder of her youth, and innocent nature.
A Very 90's Tie-dye Moment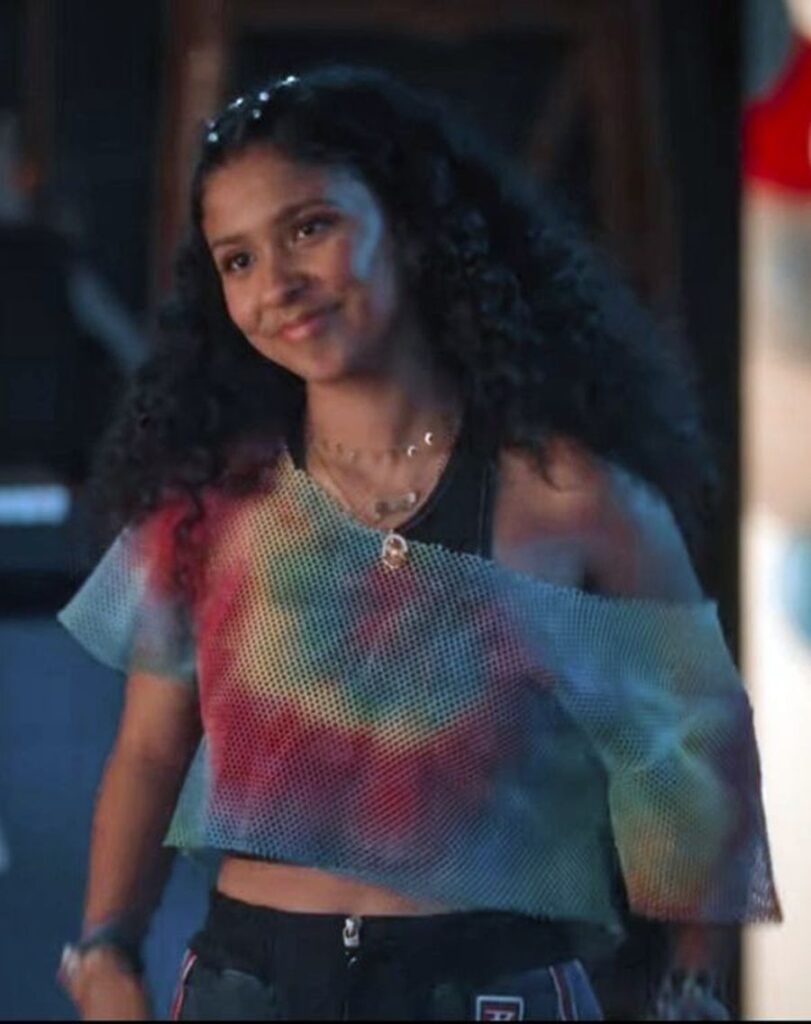 If you've already binged the show then you know that it isn't long before Julie's outfits in Julie and the Phantoms start to have a real vintage 90's vibe to them. Obviously our three ghosts, Alex, Luke and Reggie, who died in the mid 1990's are really rubbing off on our modern day musician, because is there anything more retro than a tie dye crop top?
Camo Print Jumpsuit worn by Madison Reyes in Julie and the Phantoms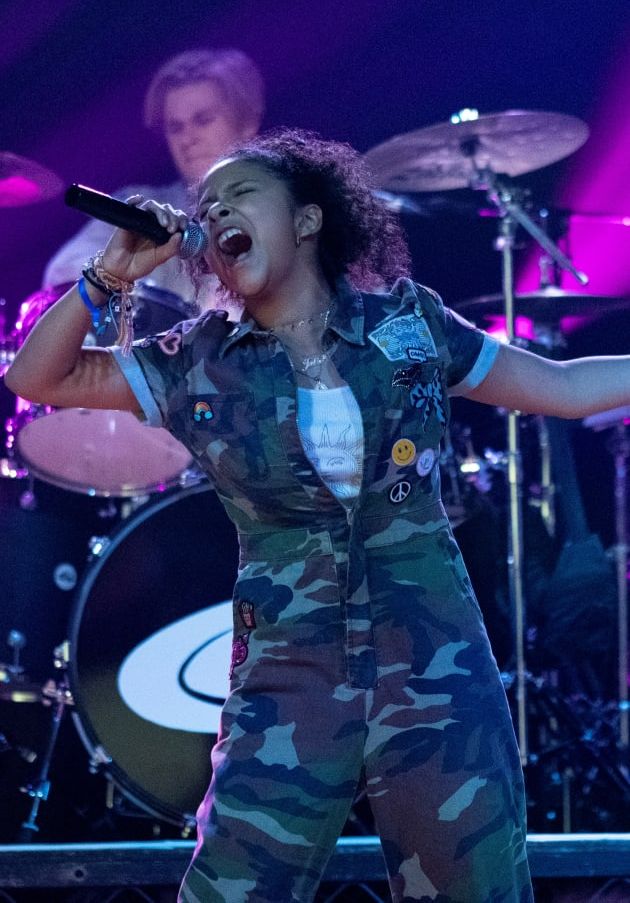 As the Julie and the Phantom Julie outfits transform and we watch her reignite her passion for music and performing we start to see it reflected in her new bolder clothing choices. This fitted camouflage print jumpsuit from episode three, that is embellished with fun and youthful patches is perfect for the wannabe rock chick. As well as being a super easy steal for your own wardrobe.
Missing an Outfit Inspo? Submit your idea and we'll make it happen!
Julie's 90's Inspired Color Block Sweater in Julie and the Phantoms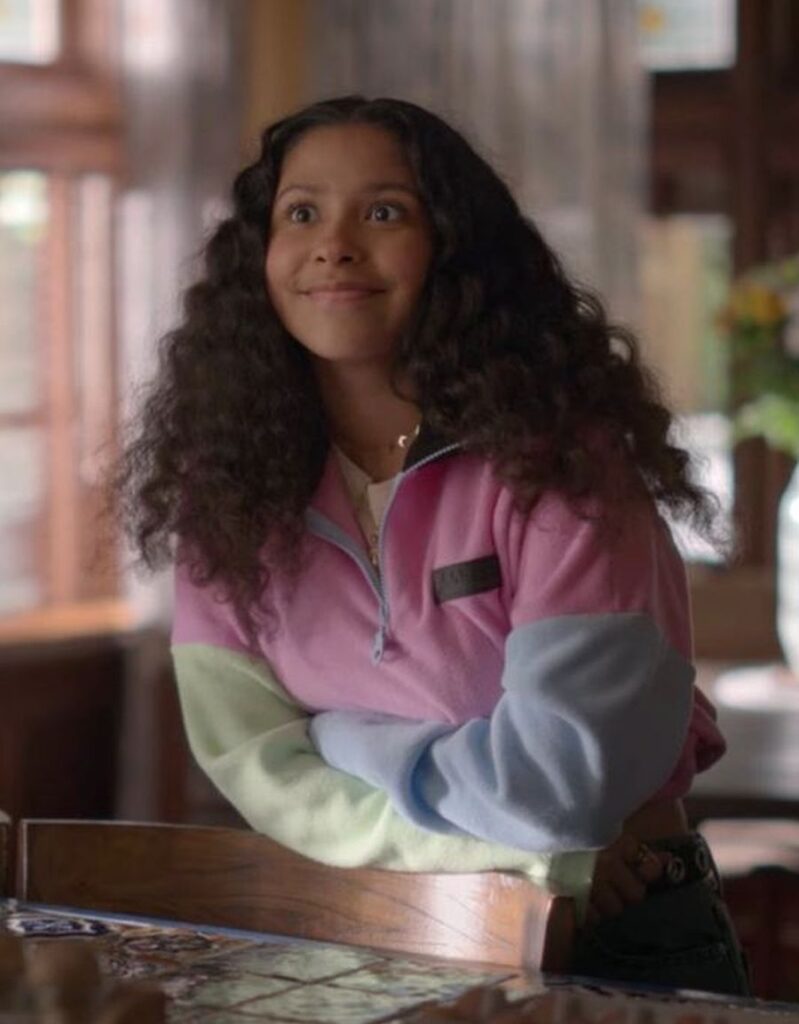 If you thought that Julie's tie dye cropped mesh top was the highlight of her 90's inspired looks, then wait until you see her color block sweatshirt. A style that has been making a comeback for a few years now, it is the mix of bright green and blues with the pink that makes this so retro. Modernizing it with a drawstring waist just adds to that feel, and no doubt will have all the 90's kids clamoring for this nostalgic look too.
That Rockstar Purple Dress and Leather Jacket from Julie and the Phantoms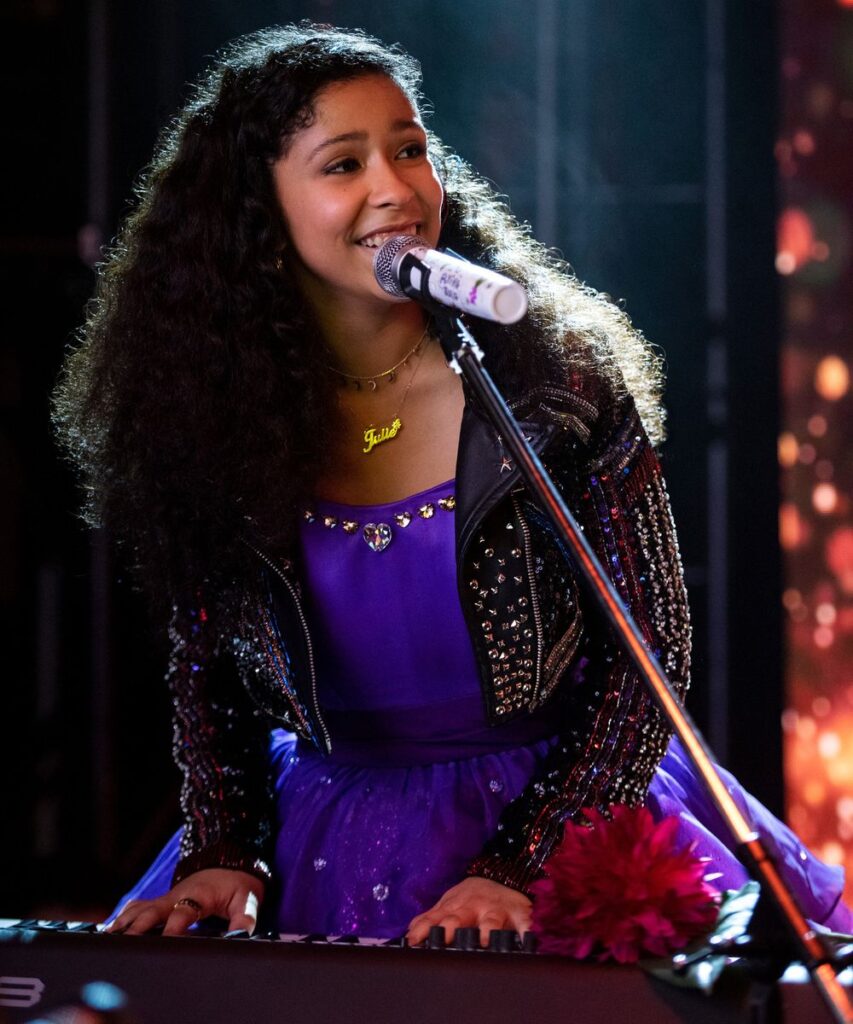 Julie's wardrobe might have been transforming episode by episode, but there is only one Julie and the Phantoms outfit that we could end with, and that's her purple dress and leather jacket. The custom made dress and embellished jacket are Julie in full performance mode and show off her confidence with real sparkle. A callback to her use of crystals, sequins and even fun patches to embellish her clothes throughout the show. However, if you want to steal her stage look first you might want to grab your glue gun.
It might have been Madison Reyes' debut acting performance but she has clearly shown that she is a double threat with her acting and music talents on what will no doubt become a cult classic. It is just a shame that Netflix didn't give it a second season, so we can only imagine how her wardrobe would have developed and what new inspiration she would have taken from the 1990s (have a look at roller skating outfits from the 90s). But instead we will just have to be content with season one's rock chick vibes in the flawless Julie and the Phantoms Julie outfits that we did get. 
Monthly Newsletter
Add some spice to your style with movie set-inspired designs.