Steal Robin Buckley's Stranger Things Outfits
Add a touch of cinematic magic to your wardrobe with our roundup of daring and hip movie-inspired outfits. We'll show you how to dress like Robin-Buckley from Stranger Things with our selection of chic and stylish pieces. Slip them on and step into the spotlight like a star with these iconic looks from Stranger Things.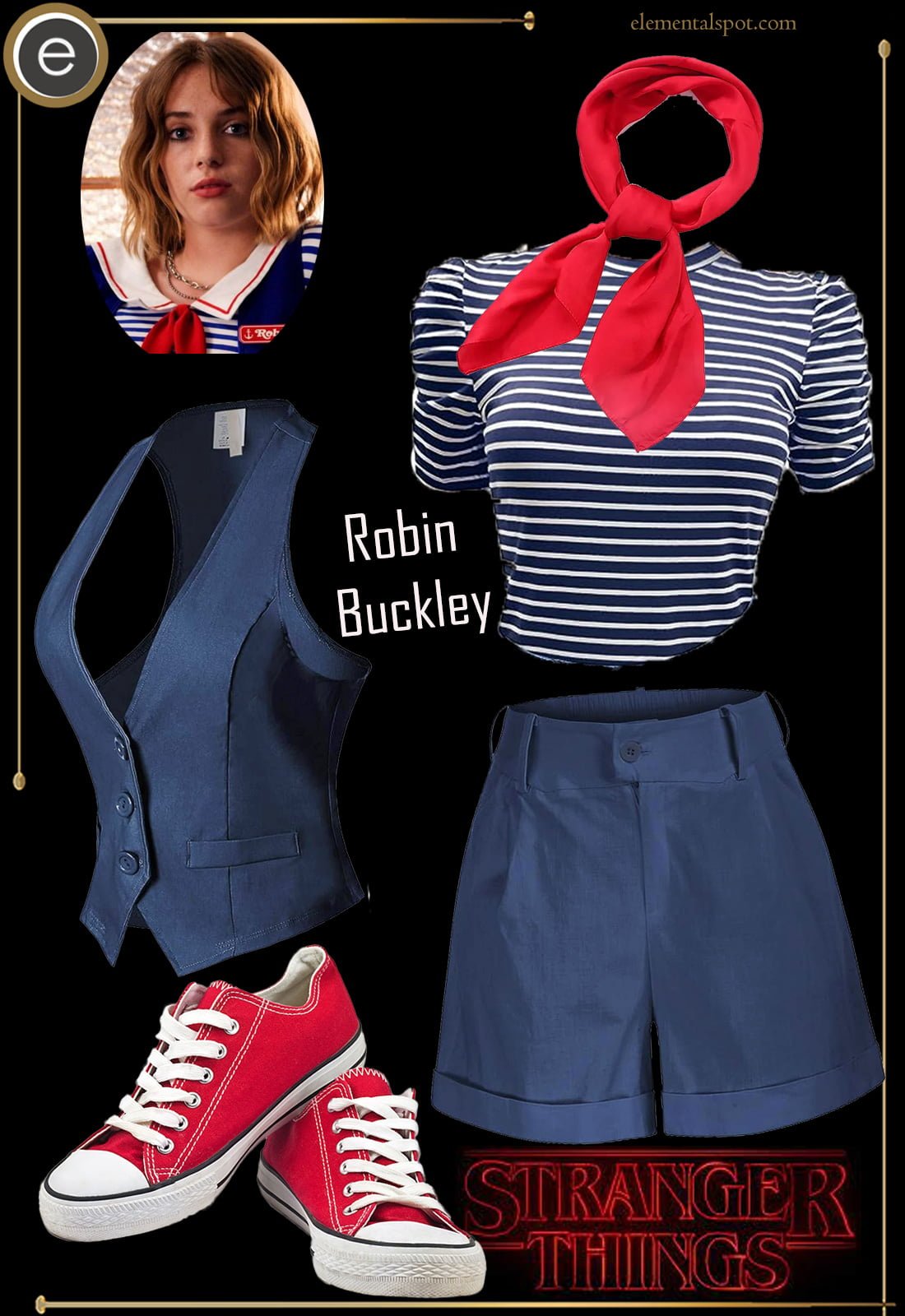 Shopping List for Robin-Buckley from Stranger Things Outfit
Joining a well established show for its third season can be a daunting prospect. However by the way Maya Hawke just slotted right into the cast of the Duffer Brothers major Netflix smash hit Stranger Things, you would never have known she was the new girl on set. 
However life imitated art with us first meeting Maya's Robin Buckley as Steve's colleague at Scoops Ahoy, the ice cream parlor in the doomed Starcourt mall, before she pitched in to help save the world. So by season four Robin is firmly one of the gang, and with the mall gone and a new job to worry about we finally get a glimpse of the teens androgynous fashion style.
Yet, with only two seasons of looks to work with, compared to other characters like tomboy Max Mayfield (whose 80's fashion choices we discuss here), we still had a dilemma picking out the Robin Buckley Stranger Things outfits that we think best express the sarcastic and witty teens desirable style.
Stranger Things Robin Buckleys's Scoops Ahoy Uniform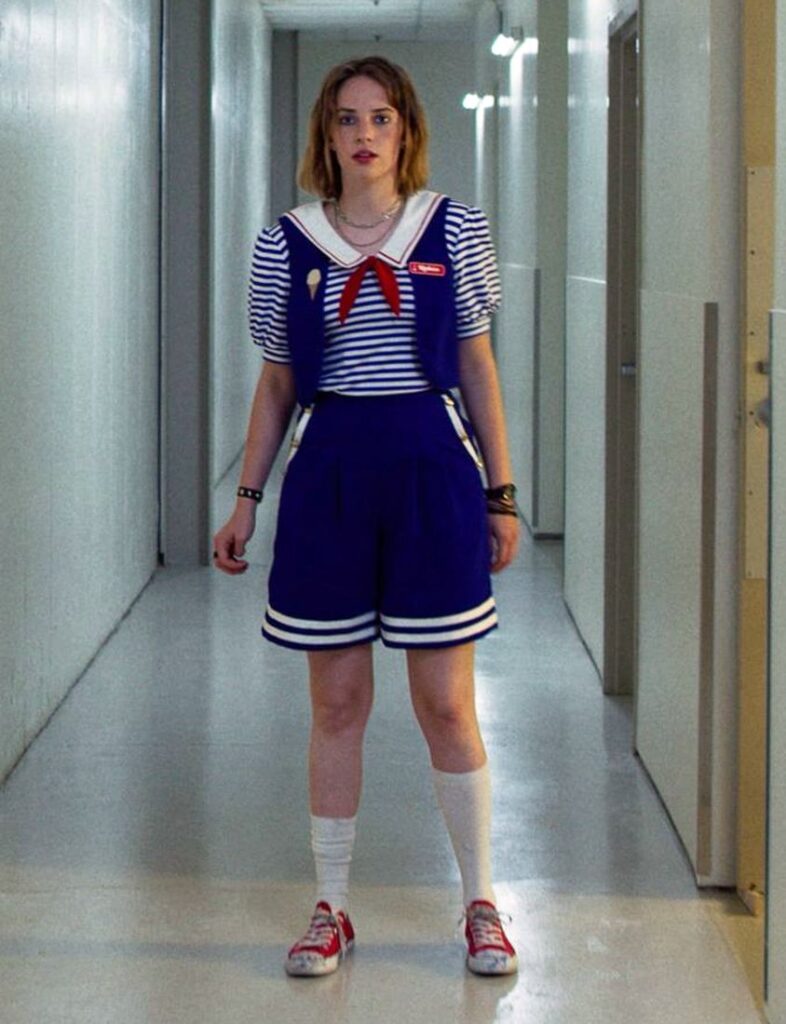 It seems only right to start our discussion of Robin Buckley's Stranger Things outfits with the first one that we see her in, and the look she ends up wearing for the whole of season three.
Less of a style choice and more of a dresscode Robin, and Steve Harrington's Scoops Ahoy uniform has quickly become a fan favorite, but is definitely more suited for Halloween and dressing up. However a stylish pair of tailored shorts and striped t-shirt would give you the essence of the look while still keeping it fashionable.    
Red Converse Sneakers from Stranger Things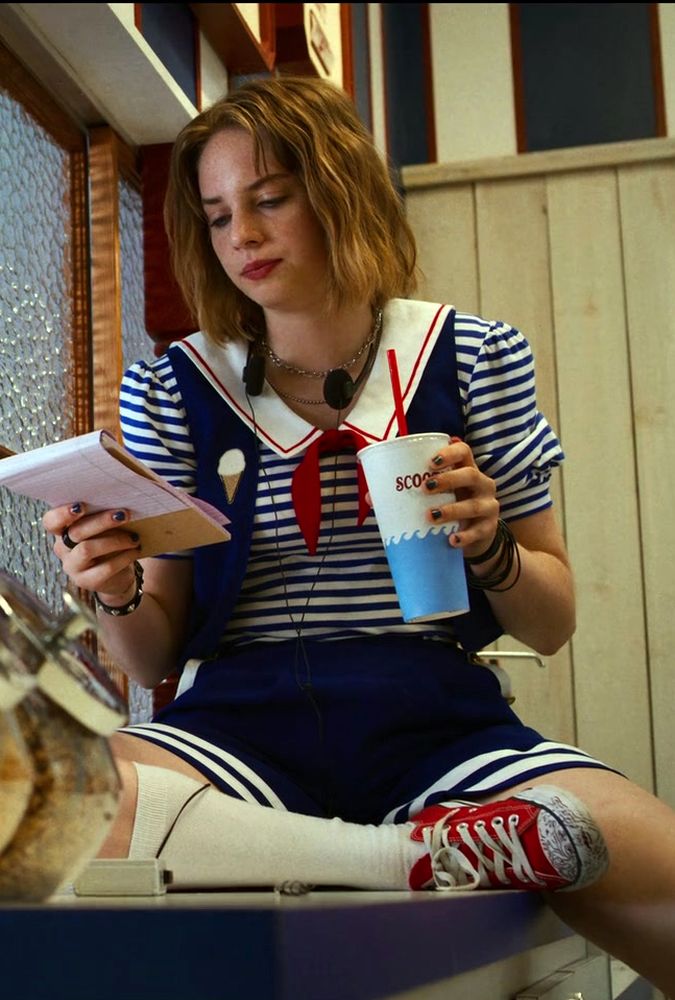 A lot of the final looks we see on screen for the Stranger Things cast, and particularly Robin, involve some element of diy. So if you look closely you might just notice that Maya has had a little doodle all over those classic red All Star Chuck Taylor sneakers. Which according to costume designer Amy Parris, had a subtle hidden meaning even she was unaware of until she watched the show.
Robin's Leaf Print Button-up Shirt in Stranger Things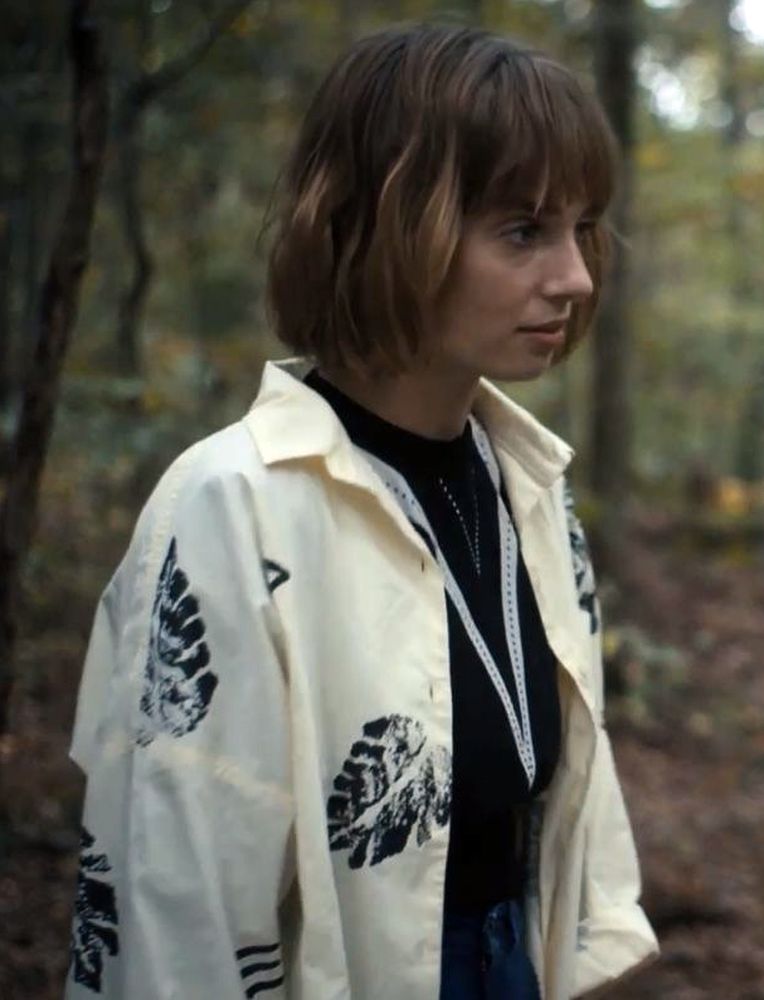 The Robin Buckley Stranger Things outfits have a much more masculine edge to them than a feminine one, and apart from her Scoops Ahoy uniform normally consist of either darker colors or plenty of prints. Just like this yellow button-up shirt with a bold black hand printed leaf design. Something that the costume department on the show customized with symbols to represent Robin and her quirky characteristics. So why not replicate her oversized baggy shirt look with our mens leaf print one we have found below. 
Missing an Outfit Inspo? Submit your idea and we'll make it happen!
Checked Oversized Blazer Robin Buckley Wears in Stranger Things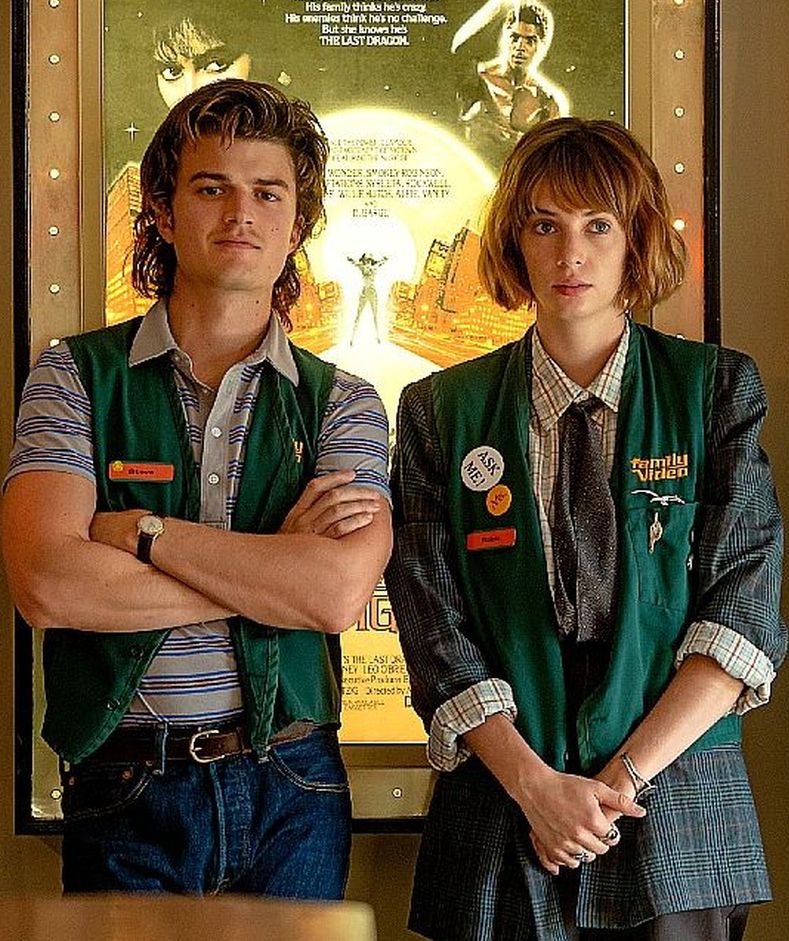 Back in the days of neon lycra, floral prints and knitted leg warmers, Robin's checked patterned blazer got its oversized feel from being bought in the men's store of the shopping mall. Paired with an equally masculine, clashing check print shirt and high waisted slacks was what gave the Robin Buckley outfits her androgynous style. But it's not the 80's now, so check out some of the   perfect female oversized blazers we have found to steal her look below.  
Transforming into Nancy Wheeler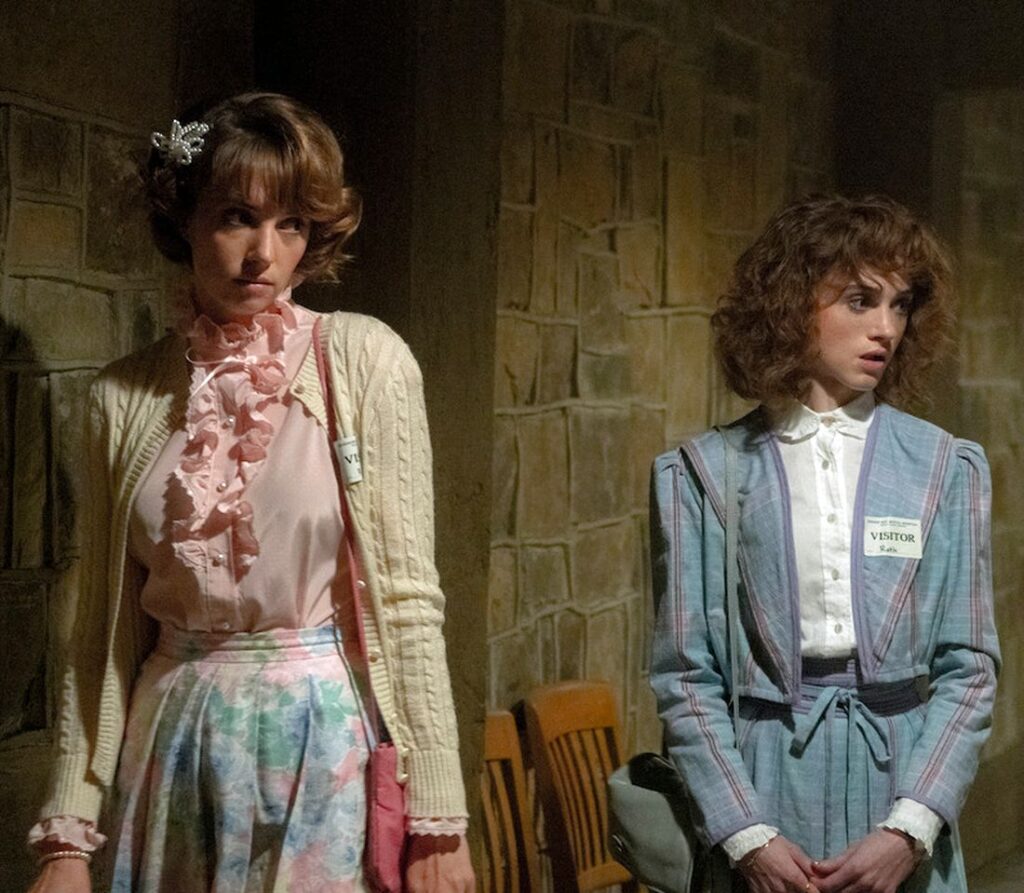 Without a doubt one of the Robin Buckley outfits that is the most memorable from season four would be her style make-over by Nancy, to look just like Nancy.
The two older teen girls' relationship had gotten off to a rocky start, but it seems that working together to save the world can be a real bonding experience and we eventually see them team up to interview assumed family killer Victor Creel. She might be uncomfortable in her cute pink ruffle blouse, flowery skirt and kitten heel pumps but Robin's unease adds some extra drama to the scene and definitely brought some memories back for every 80's teen girl out there.    
Robin's Wrangler Black Sherpa Jacket Worn in Stranger Things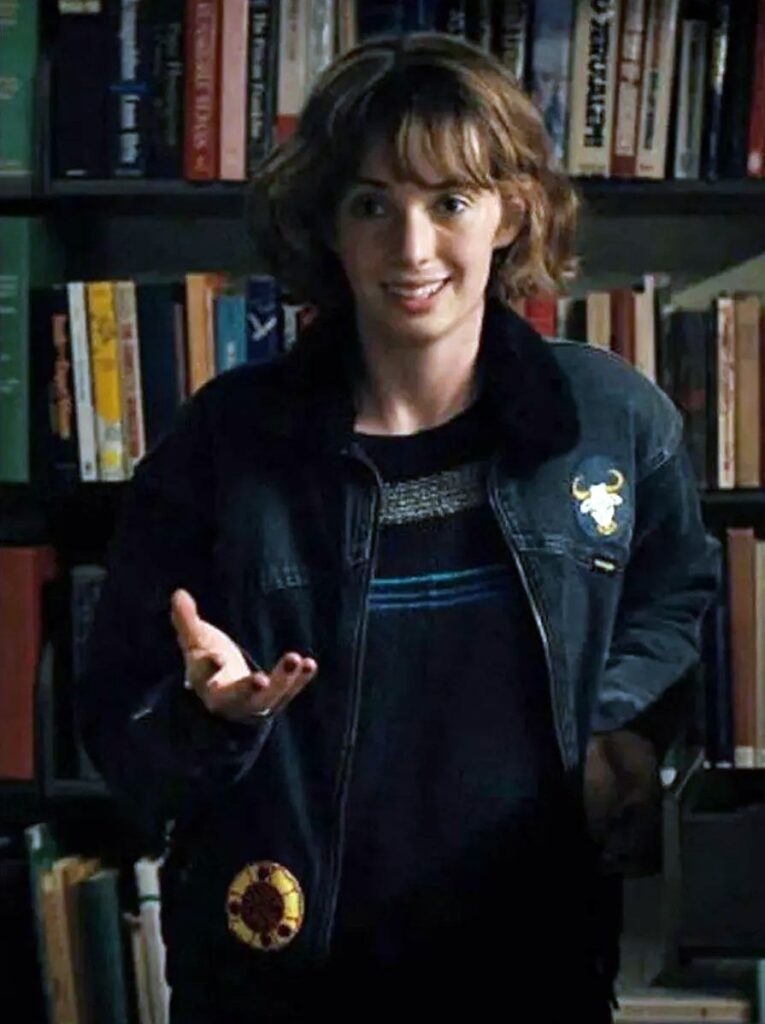 Every 80's teen from school heartthrob, Steve Harrington (who you can learn to dress like here), to Robin Buckley with her witty alternative girl attitude needed some denim in their wardrobe. With Robin's classic Black Wrangler Sherpa jacket the perfect canvas for her to do some more diy customizing. Adding a selection of vintage patches let her express her personality, sexuality and teen obsessions, and there's no reason why you couldn't steal the look with your own individually styled denim sherpa jacket.  
Robin Buckley's Clashing Patterns and Trouser Braces From Stranger Things Season 4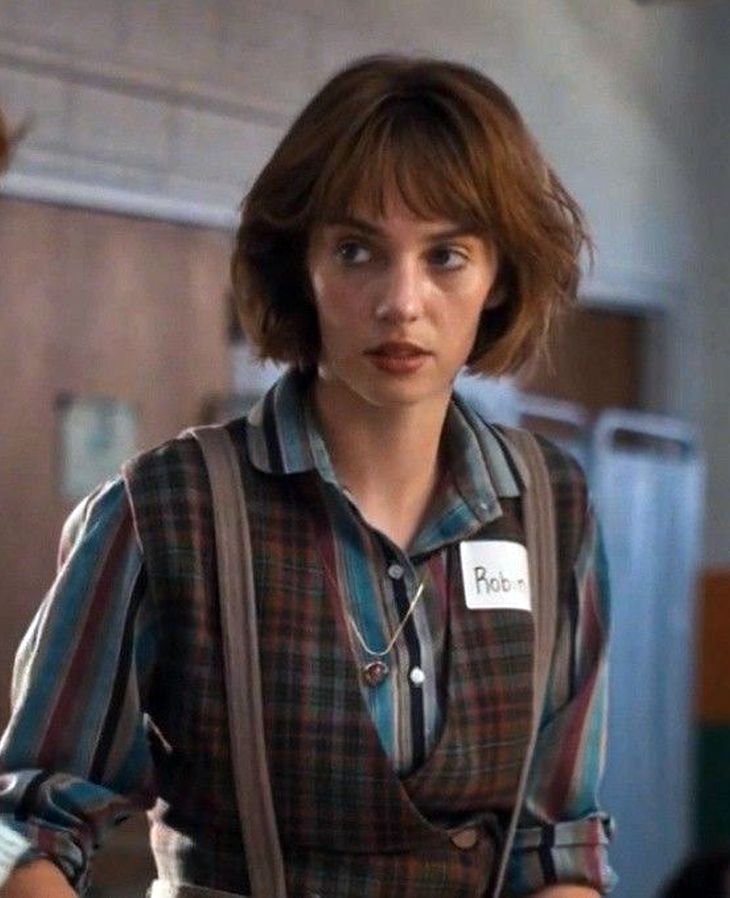 It would seem that the only thing more important to the Robin Buckley Stranger Things outfits than her masculine fits would be her use of clashing patterns and prints. Most of Robin's wardrobe is made up of either stripes or checks, but this androgynous look manages to use both patterns. Which ultimately works great and fits her style well. But while many of us would question wearing a striped shirt with a clashing checked vest, Robin leans into the tailored mens look and even accessories with some trouser braces. 
Although she has only been in Stranger Things since season three, and has some stiff competition from the rest of the cast, Maya Hawke's Robin Buckley's outfits definitely are some of the most memorable. With her unique style and masculine feel to her clothes, it might be hard to imagine yourself stealing her looks for your own wardrobe. But you don't need to dress exactly like Robin to channel her fashion style, instead all you need to remember is that she never worries about what other people think of her, at least when it comes to her clothes anyway.  
Monthly Newsletter
Add some spice to your style with movie set-inspired designs.