Steal the Look – Dress Like Max from Stranger Things
Add a touch of cinematic magic to your wardrobe with our roundup of daring and hip movie-inspired outfits. We'll show you how to dress like Max Mayfield from Stranger Things with our selection of chic and stylish pieces. Slip them on and step into the spotlight like a star with these iconic looks from Stranger Things.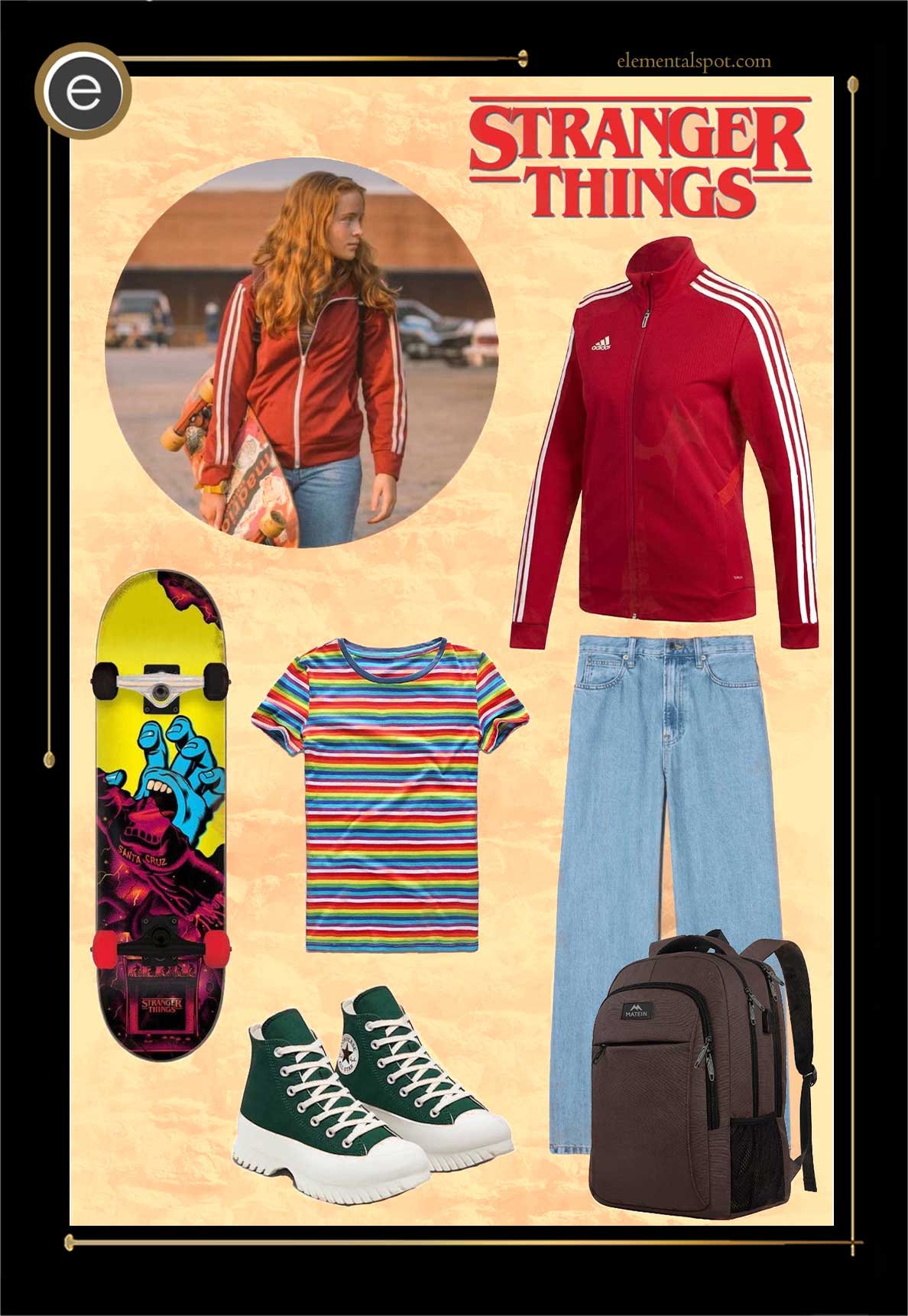 Shopping List for Max Mayfield from Stranger Things Outfit
If you are a fan of neon colors, short shorts and the mom jeans look, then Stranger Things (2016- Present) might just be your fashionista dream come true. No show worships, or recreates, the 1980's and its pop culture more accurately than the Duffer Brothers Netflix masterpiece. Full of powerful female characters and a wardrobe department to match, it is no wonder that all the tomboys out there wish they could look as fierce and relaxed in a Max Stranger Things outfit as our young demon fighter does.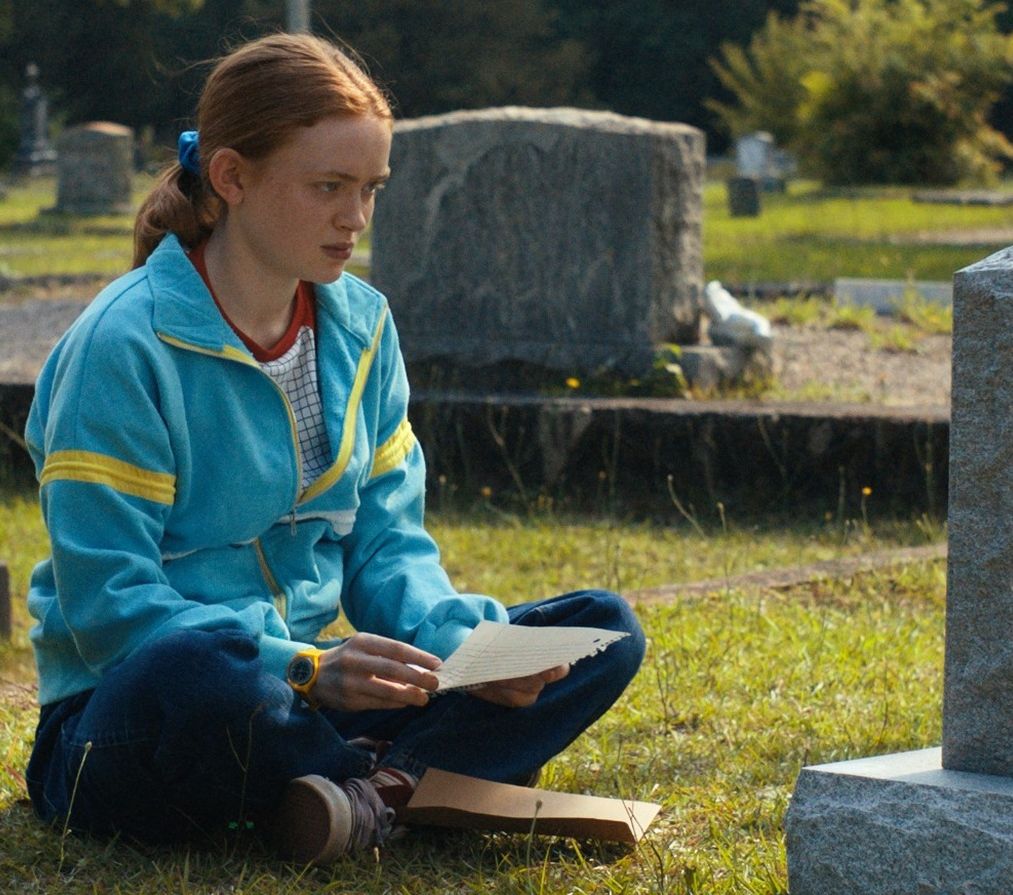 Opening in November 1983, our first introduction to Hawkins, Indiana comes with the abduction of Will Byers and the appearance of the young psychokinetic Eleven. With Will's disappearance the starting point for the Stranger Things plot, it isn't long before we learn all there is to know about Hawkins and the Upside Down.
Max Mayfield the skateboarding, arcade game playing tomboy might not have moved to Hawkins to make friends, but that won't stop the gang from trying to change her mind.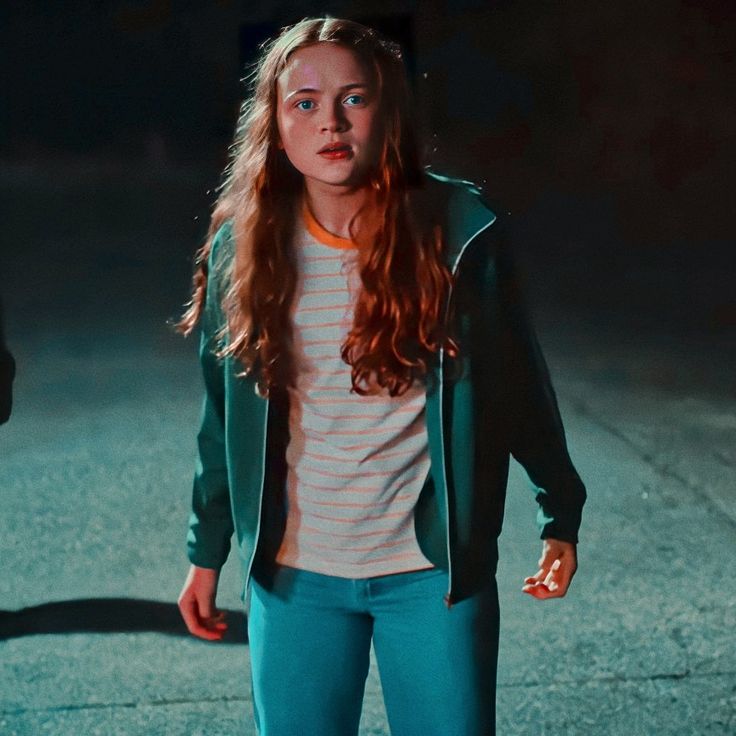 More comfortable as one of the boys, her relationship with Eleven takes some time. But coming together to fight the supernatural, which Max is still skeptical about, is all fun and games until that evil is your step-brother. Max might have thought it couldn't get any worse than Billy sacrificing himself to save her friend, but her hiding her feelings about it only ends up bringing a bigger, scarier evil, right into her mind.
A Classic 80's Tomboy: Exploring The Max Stranger Things Outfit
With a wardrobe of classic 80's looks to design, recreate and thrift, costume designer Amy Parris and her team, really had their work cut out for them.
So let's take a look and see how they created the perfect Max Stranger Things outfit.
Max Mayfield, played by rising star Sadie Sink who also plays Ziggy Berman in Fear Street, has been forced to move to Hawkins with her mum, stepfather Neil and his son Billy. The initial shyness we see from her, some of which is the result of her bullying step-brother, doesn't stop Max from fully embracing the bright colors and prints of the decade. Often seen wearing a rainbow of colors from sunshine yellows and bold lilacs to deep reds and greens.  
With a tomboy style that closely reflects her lack of interest in perms, make-up and nail polish, Max instead has a wardrobe full of baggy jeans, denim shorts and t-shirts. All easily layered with her sports jackets and hoodies to give her a casual and relaxed feel to her character, and allow her to be invisible to the superficial popular high schoolers.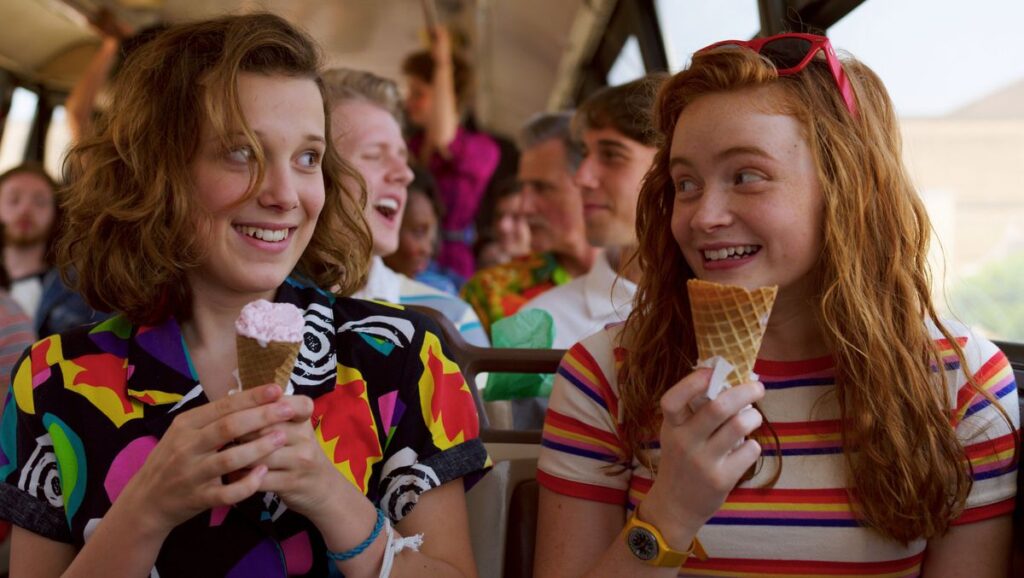 Although, just because a Max Stranger Things outfit has a tomboy style, doesn't mean she isn't up on the latest fashion trends, unlike her eventual best friend Eleven. When we see them hit the Starcourt Mall together in Season three it is Max who helps Eleven find her new style, including that now well known geometric print romper.
But as each season of Stranger Things brings the gang more untold sadness and horrors, nobody feels the loss quite like Max. Especially after she loses her step-brother Billy. Explaining why we see her start to dress in darker tones with more jackets and loose baggy clothes to hide herself away as she mourns.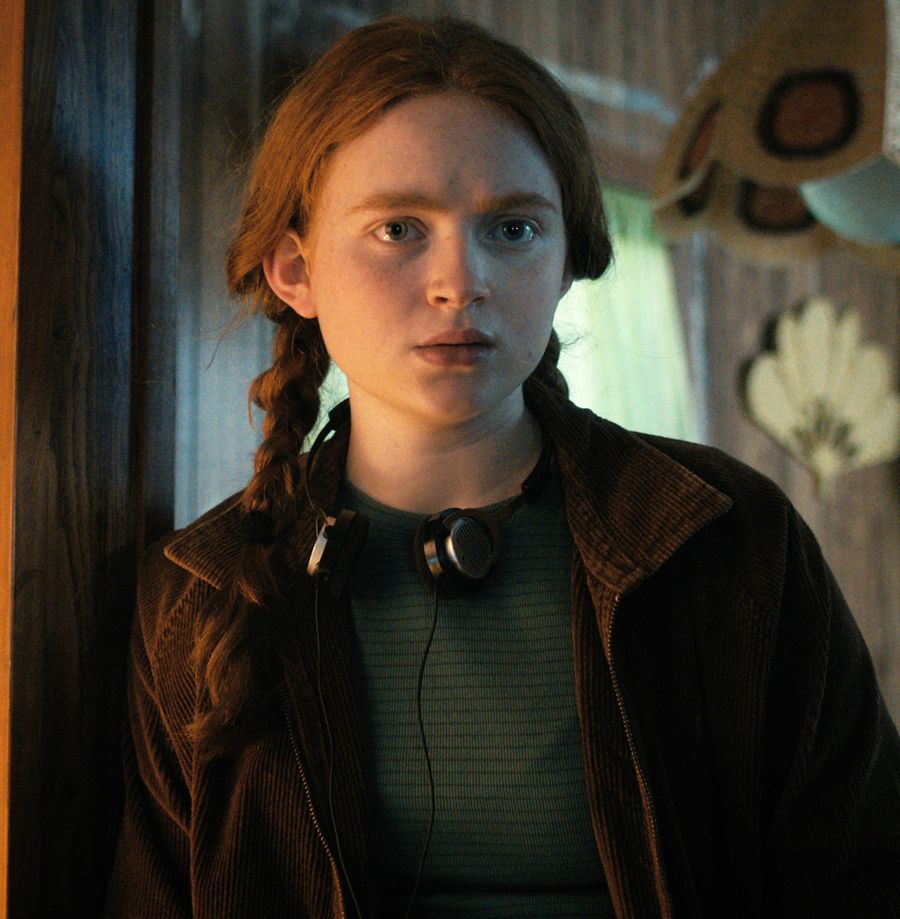 But one thing that never changes is her love of sneakers, she could probably give Jordan Baker from All American a run for his money. Although Max prefers Vans sneakers, in particular a pair of SK8-Hi Slim Windsors in a dark brown suede that were one of the company's most iconic skate shoe silhouettes of all time. So much so they recently reissued the SK8-Hi sneaker.
The Max Hair and Accessories
Max's natural red hair is without a doubt one of her character's most defining features. Seen mostly down, with a slight wave through it, her long hair falls loosely over her shoulders framing her face.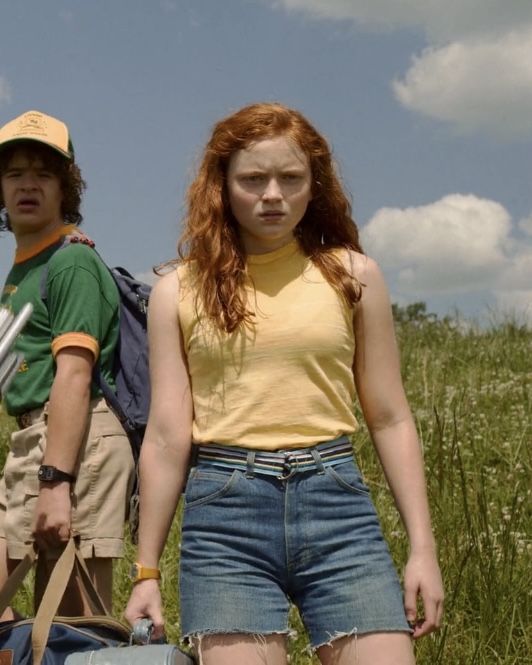 With no need for much styling to fit with her casual look, the most Max ever does with her hair is tie it up in a ponytail or throw it in braids. But she is an 80' girl, tomboy or not, so she never forgets a scrunchie to finish off her look.
No fancy jewelry is needed for a Max Stranger Things outfit with her only recurring piece her yellow swatch watch.
But when it comes to accessories it is a completely different story. Aside from her skateboard, which she takes everywhere with her, she is rarely seen without her Sony walkman attached to her hip. And if you are up to date with your Stranger Things watching then you know exactly what she is listening to.
Embracing the Tomboy Look: Steal Max's Baggy Jeans and Red Sports Jacket Outfit
The Max Stranger Things outfit from our collage above, is an early season look when Max was still trying to fit into the world of Hawkins and a new friendship group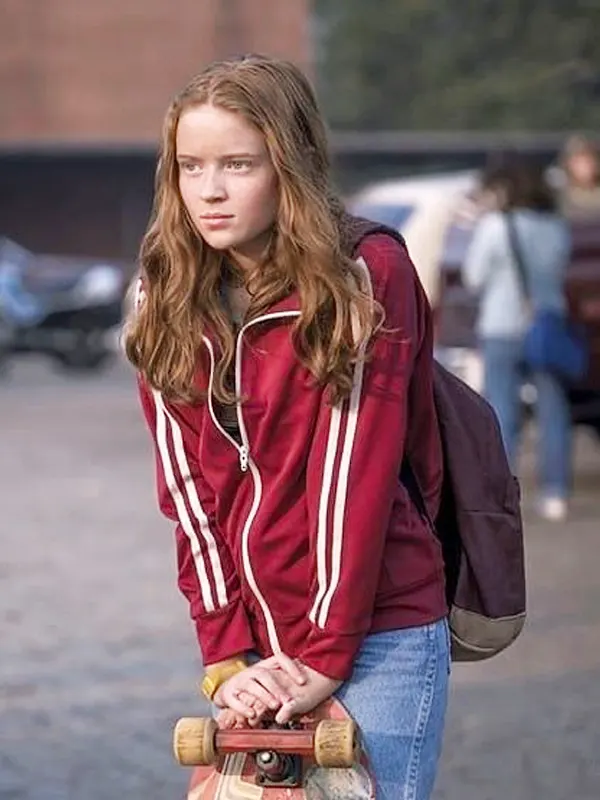 In typical Max fashion this look has a very relaxed and casual tomboy feel to it with her use of baggy clothes and her signature layered styling. Starting with her pairing a rainbow striped short sleeved t-shirt with some light blue denim jeans in her normal loose baggy fit.
Max stays with her sporty look and layers a red zipper sports jacket with her t-shirt and jeans before adding in a pair of sneakers, such as a pair of dark converse high tops.
A school backpack thrown over her shoulder finishes her 80's high school look.
Her long red hair is left natural and wavy, parted to the center and worn loose down around her shoulders with no styling or accessories. Her relaxed, casual look completed with her yellow swatch watch and well used skateboard tucked under her arm.
If you are a fan of 80's fashion then this Max Stranger Things outfit with her sporty tomboy style might seem like a bit of a safe choice. With no neon colors or stretchy lycra in sight, you could say it's a more subtle look for the decade.
Monthly Newsletter
Add some spice to your style with movie set-inspired designs.