Steal the Look – Dress Like Katherine Pierce from The Vampire Diaries
Add a touch of cinematic magic to your wardrobe with our roundup of daring and hip movie-inspired outfits. We'll show you how to dress like Katherine Pierce from The Vampire Diaries with our selection of chic and stylish pieces. Slip them on and step into the spotlight like a star with these iconic looks from The Vampire Diaries.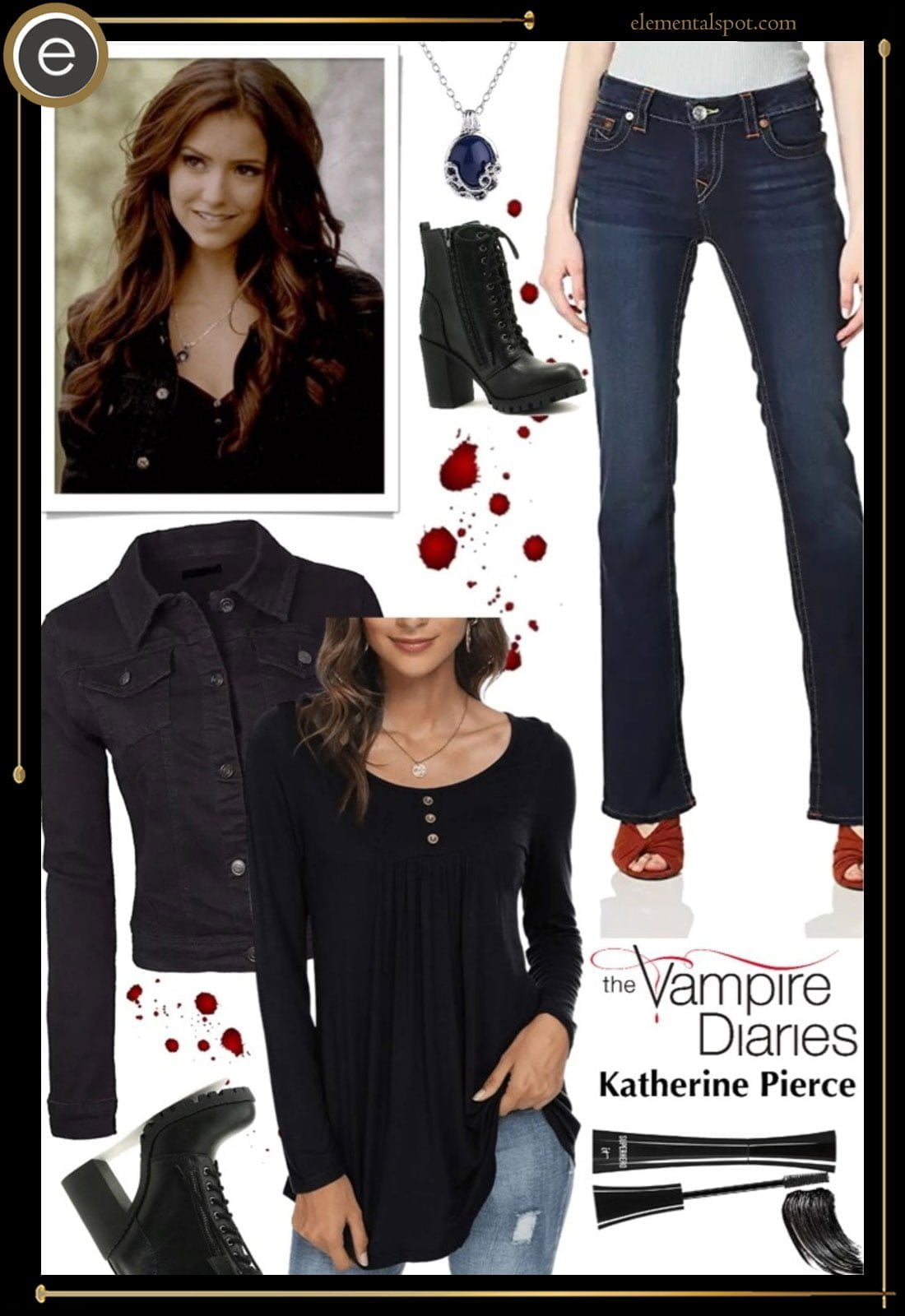 Shopping List for Katherine Pierce from The Vampire Diaries Outfit
From vampires and witches to werewolves, The Vampire Diaries captivated viewers with its enthralling plot and impeccable character costumes. Having wardrobe departments of dark, brooding looks, alongside typical girl-next-door fashion, the Katherine Pierce The Vampire Diaries outfit which can do a bit of both, quickly became a fan favorite.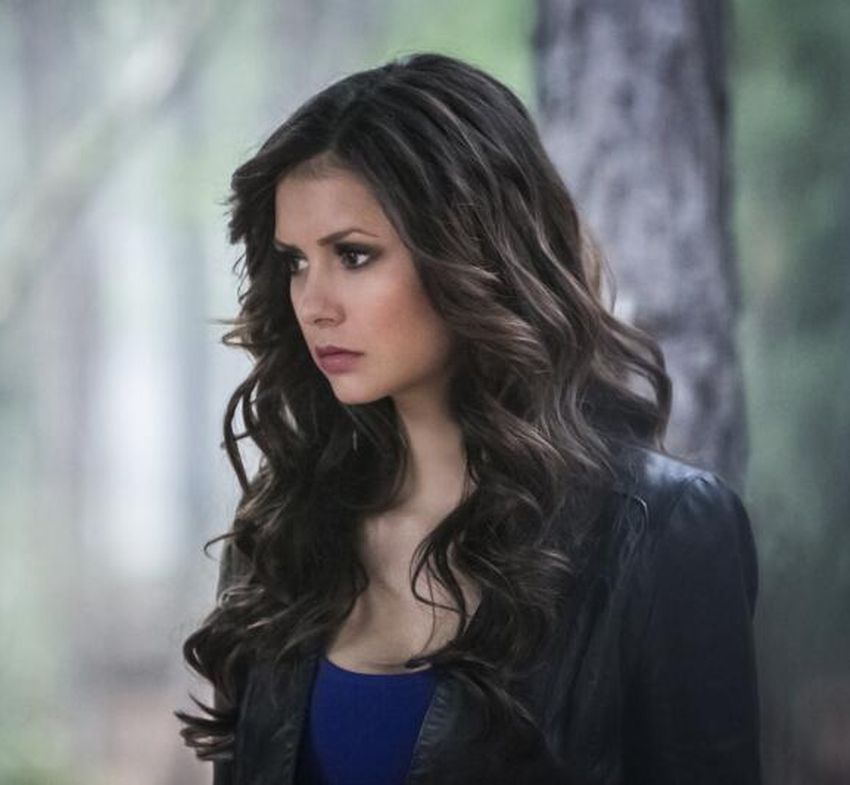 When we first step into the world of The Vampire Diaries, the quarreling Salvatore brothers have returned to Mystic Falls, Virginia. The once breeding ground of supernatural occurrences, where they each meet and fall in love with Elena Gilbert. Who just happens to be a Petrova Doppelgänger they have met before, and actually has more than just her identical looks in common with her ancestor Katherine Pierce.
Born Katerina Petrova, the one time witch has lived her centuries of life as a vampire after being disowned and exiled to England by her Bulgarian family in 1490, for having a child out of wed-lock. 
Unknowingly continuing her family's bloodline, the second known Petrova Doppelgänger, has been on the run for 500 years after betraying Klaus Mikaelson (whose style you can steal here). Wanting to sacrifice her to break his own curse that binds his werewolf side, Katherine returns to Mystic falls seeking his forgiveness. Aware it is her doppelgänger blood he needs, she offers him the life of Elena instead.  
Modern and Sexy: Studying the Katherine Pierce The Vampire Diaries Outfit
Before we can steal a typical Katherine Pierce The Vampire Diaries outfit, first we need to find out how costume designer Leigh Leverett developed her style through her centuries of life, and finally settled on her modern day, sexy attire. 
In the same way Rebekah Mikaelson, Klaus' sister, has adapted her stylish and classic wardrobe (steal her looks here) to suit the trends of the time, Katherine has also altered her looks to fit the fashions of the eras she has lived through. Initially told through flashbacks, Katherine's story hints at her independent and rebellious nature, with cleavage baring, skin showing sexy gowns normally reserved for evening wear, that quickly became her signature style. 
Yet Katherine who once wore her colorful dresses made of the finest silks, satins and velvets, in beautiful tones of greens, blues and reds, now favors a palette of dark and moody shades. Staying away from color and prints, instead her present day Katherine Pierce The Vampire Diaries outfit embraces the stereotypical black garments of a vampire.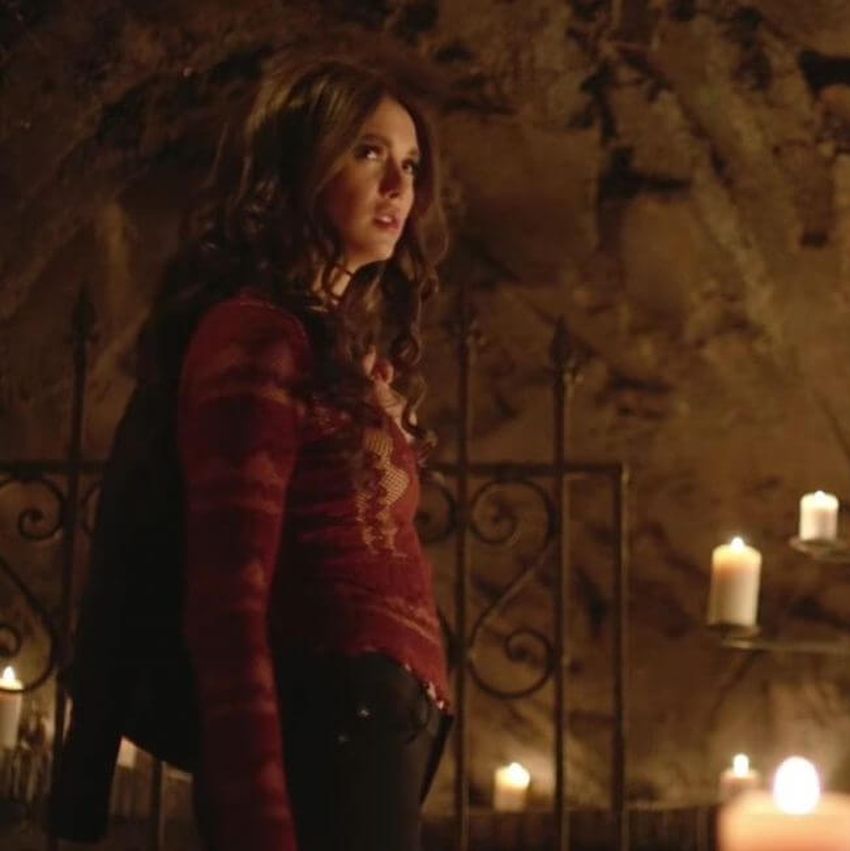 Perceived to be identical to Elena, which isn't hard to believe when both are played by actress Nina Dobrev. If you look carefully the subtle differences between the two Doppelgängers are easy to spot.
Missing an Outfit Inspo? Submit your idea and we'll make it happen!
Although similar in their color palettes of chic dark hues, Elena as we have discussed here, also favors dainty prints, skater dress silhouettes and having a wardrobe full of henley shirts. Yet a Katherine Pierce The Vampire Diaries outfit is much more about her black skinny jeans and rich colored tank tops. Sticking to deep blues, purples and reds, her clothes are always super fitted with real sex appeal, elevating her untrustworthy dangerous nature.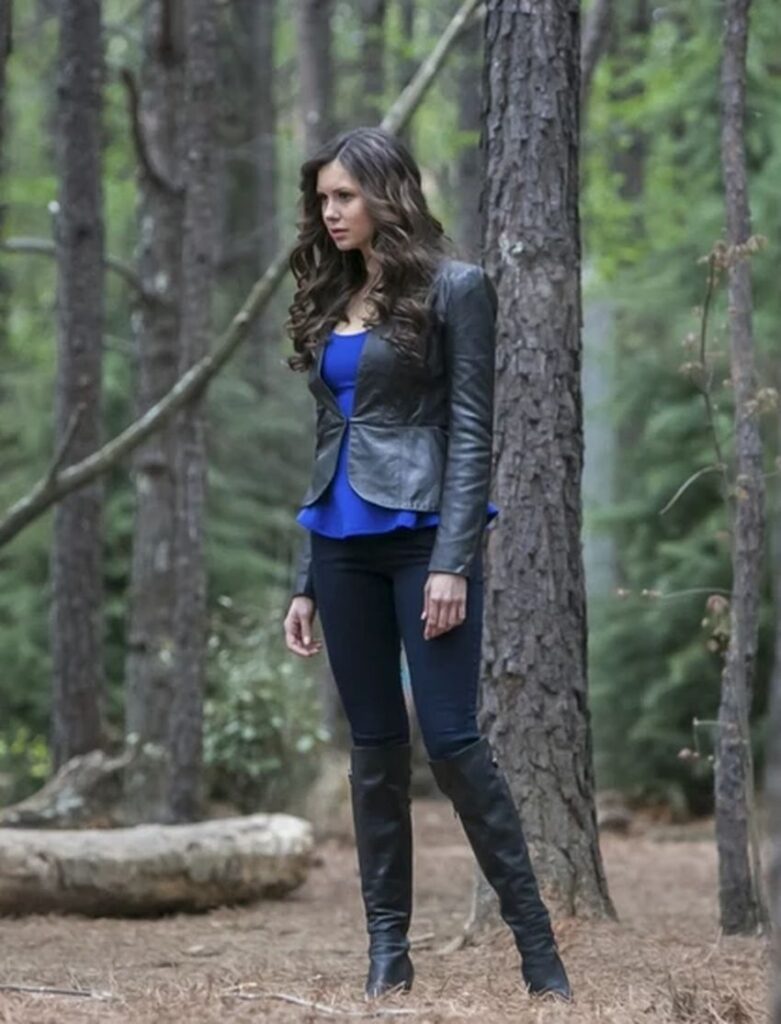 But Katherines one defining outfit feature isn't her typical black leather or dark denim jackets that she is rarely seen without, it is her shoes.
 Even after living for more than 500 years Katherine isn't looking for comfort, so no Converse high top sneakers for this vampire, instead it is all about her black boots. No matter if they have stiletto or chunky block heels, are ankle length or knee-high, they always compliment her sexy attire, and give off some real attitude.
Subtle Differences of Two Petrova Doppelgänger's: Katherine Pierce's Hair and Make-up Styling
Throughout The Vampire Diaries, anyone who met more than one of the Petrova Doppelgänger's always remarked how identical they were. Particularly bad boy Damon (whose style we discuss here) who has fallen in love with both Katherine and Elena over the centuries.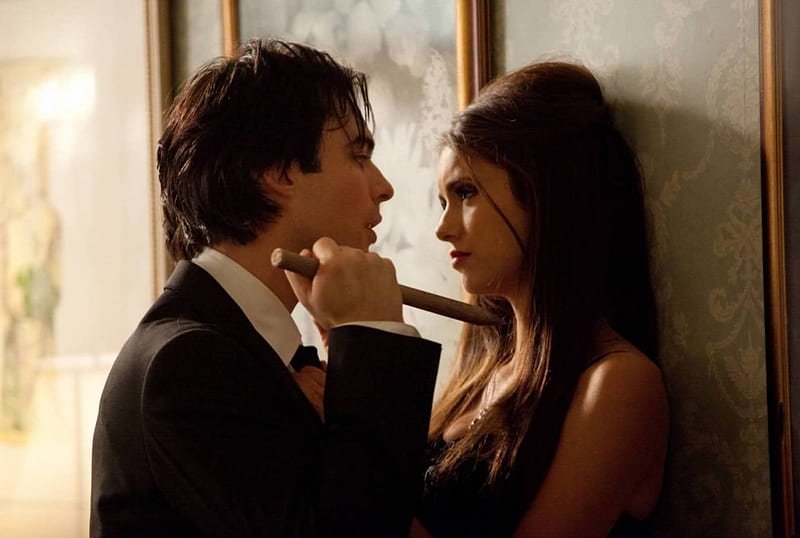 But Katherine, who is indifferent to Elena and hates that she got the life she believes she deserved, always styles herself to look different. Detesting the way Elena does her hair, a typical Katherine Pierce The Vampire Diaries outfit normally has her similarly long dark brown hair loosely curled and parted on the left.
Subtle, barely there make-up might work for Elena, but Katherine is all about that sexy, sultry look she creates with her dark smokey eye make-up. A base layer of simple foundations and concealers give her the flawless complexion we have come to expect of a vampire, with just enough rosy blush to bring her look some warmth.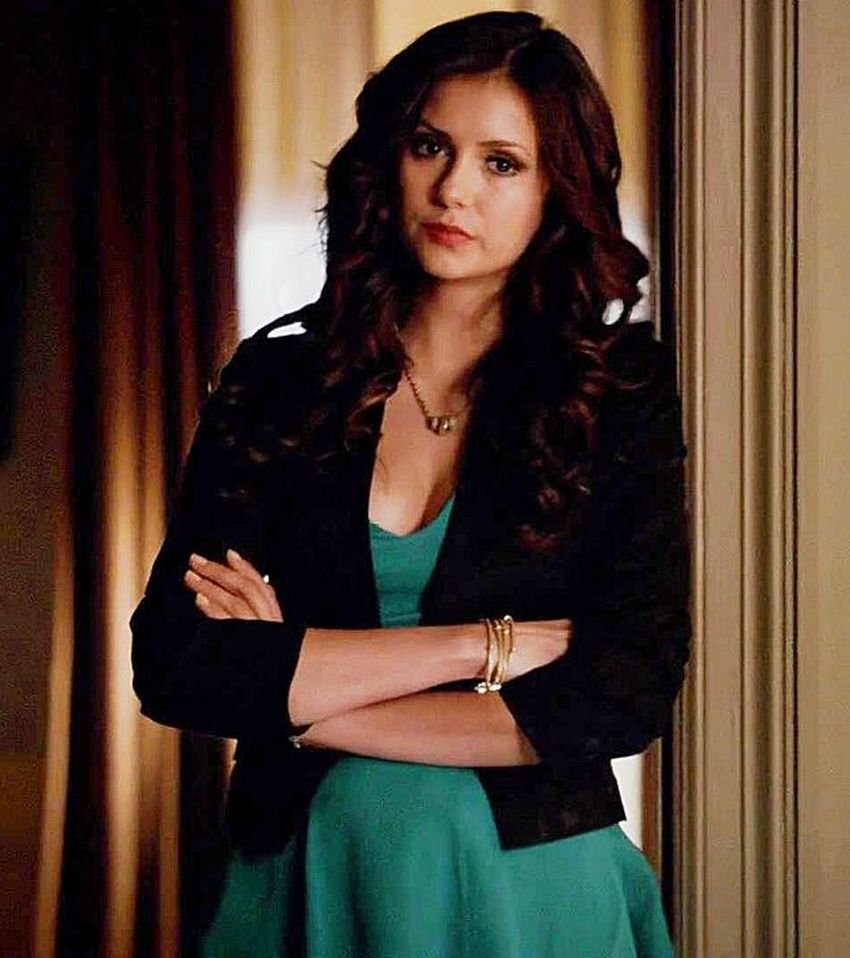 Then favoring dark smokey eyes and black winged eyeliner to create drama, just like confident and sexy fashionista Maddy Perez in Euphoria. With Katherine even going for a dark and sultry pink on her lips to finish her look.
Independent and Rebellious by Nature: Steal Katherine's Black Denim Jacket, Top and Jeans Outfit
When it came to picking a Katherine Pierce The Vampire Diaries outfit to steal, there were quite a few of her modern looks that stood out. In Particular the look we have featured in the collage above, that captures her signature sexy and confident style perfectly.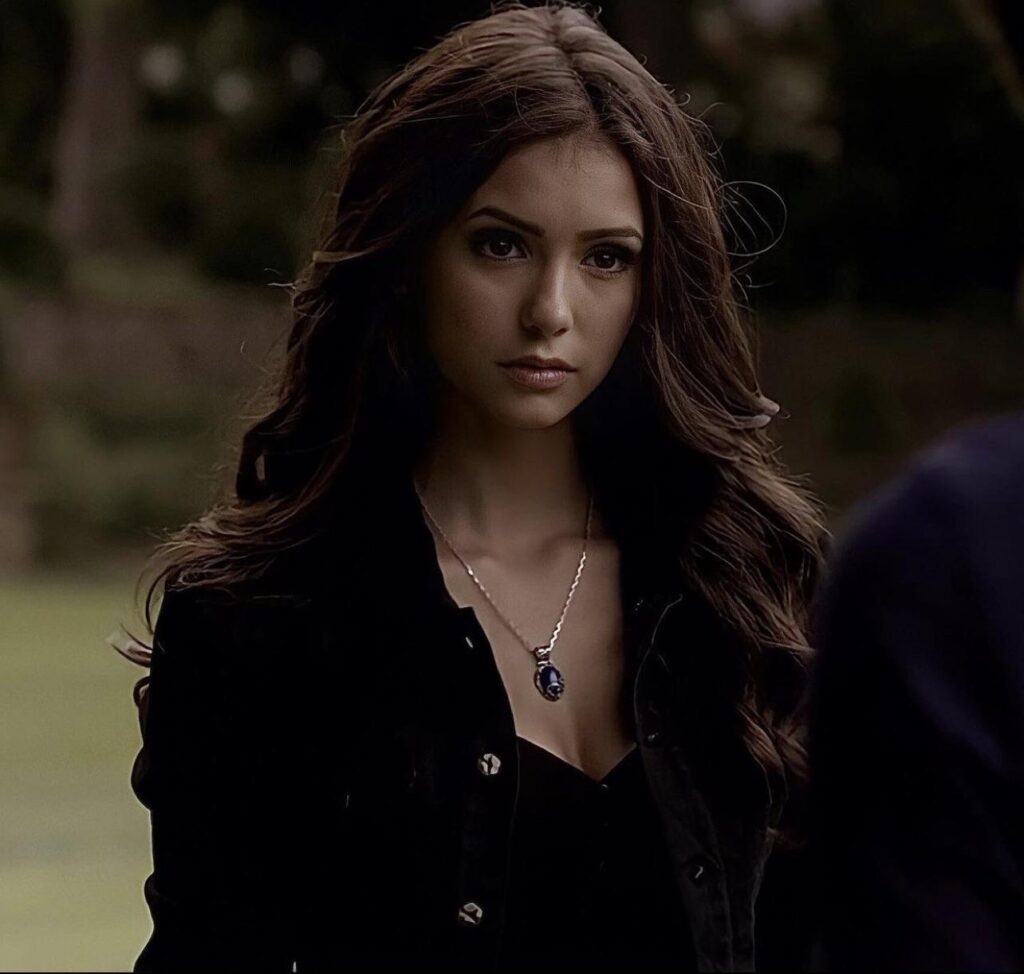 In typical Katherine style this look sticks with her dark and chic color palette. Along with her figure hugging style staples and statement pieces that give every modern day Katherine Pierce outfit an independent and rebellious nature.
Recreating the Katherine Pierce The Vampire Diaries outfit
Going for dark hues head to toe to elevate her casual staples, Katherine starts with a black henley swing top. Look for one with a low scoop neckline, long sleeves and ever so slightly fitted waistline flaring out over the hips to replicate her easy sex appeal.
Especially when the henley is paired with dark blue bootcut jeans, giving the only pop of subtle color to the outfit. Before returning to her signature shade of black for her all important lace-up heeled boots.
Sticking with black, she layers a vintage denim jacket over her top and jeans, with that fitted silhouette that we are used to seeing in Katherines wardrobe.
Her chic outfit is intensified with her dark and impactful styling, including her left parted dark brown hair that is worn in loose curls falling over her shoulders and framing her perfectly made-up face. 
Sultry and intense, she has created a smokey dark eye to give some real drama. Brown, cream and black eyeshadow, black eyeliner and generous coats of mascara work together to make her eyes stand out against her pale flawless complexion. Finished with a simple rosy blush, deep mauve lipstick and a perfect pout.
Then simply complete this Katherine Pierce The Vampire Diaries outfit with an opal pendant in blue and silver. Normally much more of a jewelry wearer than her doppelgänger Elena, it is once she is turned into a vampire that we see Elena raiding the jewelry box like Katherine. Particularly in her burgundy cardigan and indigo jeans outfit, that we have shown you how to steal here.
Monthly Newsletter
Add some spice to your style with movie set-inspired designs.