Steal the Look – Dress Like Maddy Perez from Euphoria
Add a touch of cinematic magic to your wardrobe with our roundup of daring and hip movie-inspired outfits. We'll show you how to dress like Maddy Perez from Euphoria with our selection of chic and stylish pieces. Slip them on and step into the spotlight like a star with these iconic looks from Euphoria.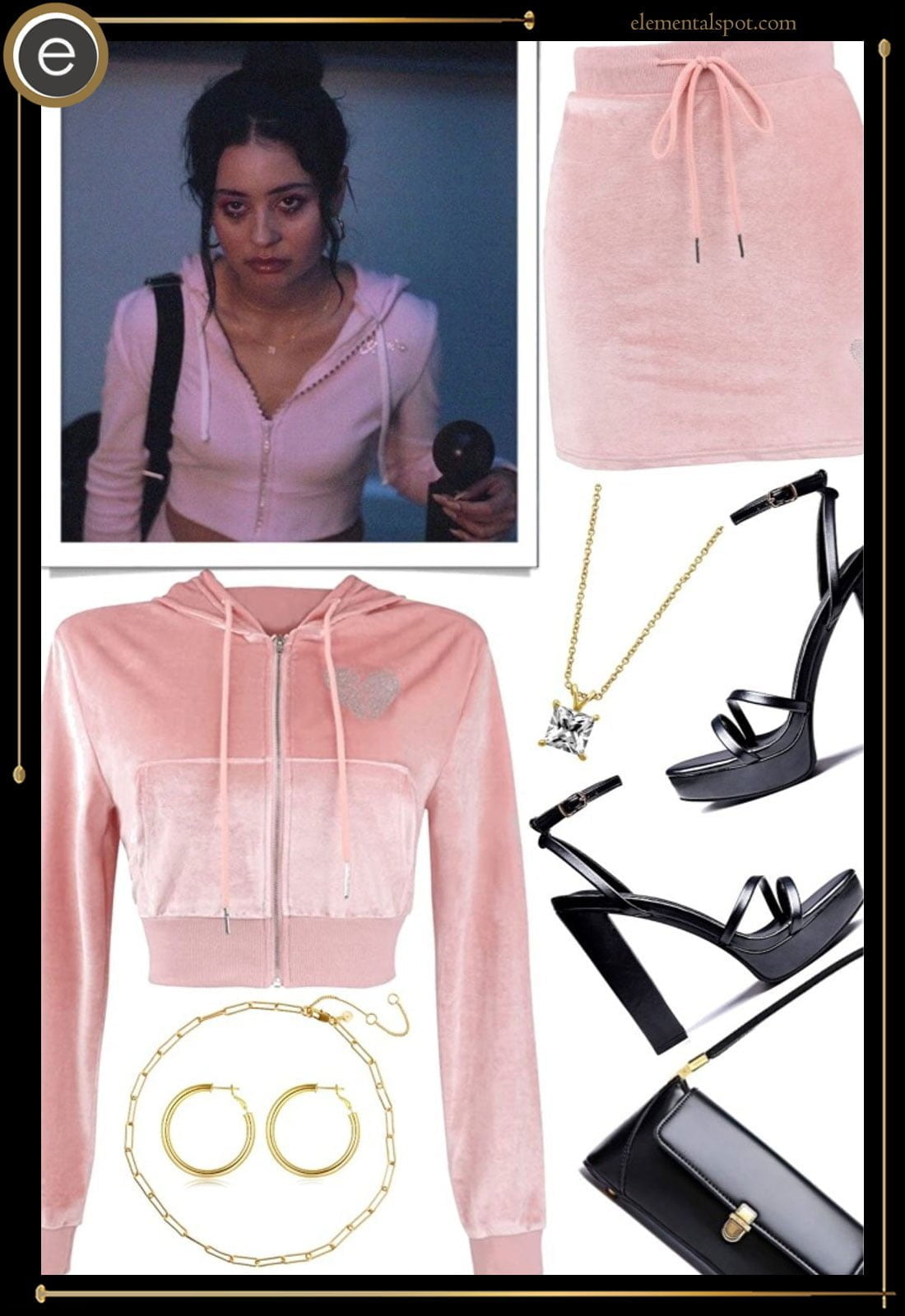 Shopping List for Maddy Perez from Euphoria Outfit
In 2019 when HBO released the Sam Levinson teen drama Euphoria (2019 – Present), based on the Israeli miniseries of the same name, no one could have predicted it would become one of the networks most watched shows ever.
A raw representation of being a teenager in today's society of unfiltered internet and social media, the show gained as many critics for its depiction of drugs, sex and violence as it did fans. Although one thing everyone can agree on is the show's gorgeous artistic direction that has allowed the flawless and influential costumes to play a big part in the story.
With none more so than the Queen Bee in her coveted Maddy Perez Euphoria outfit.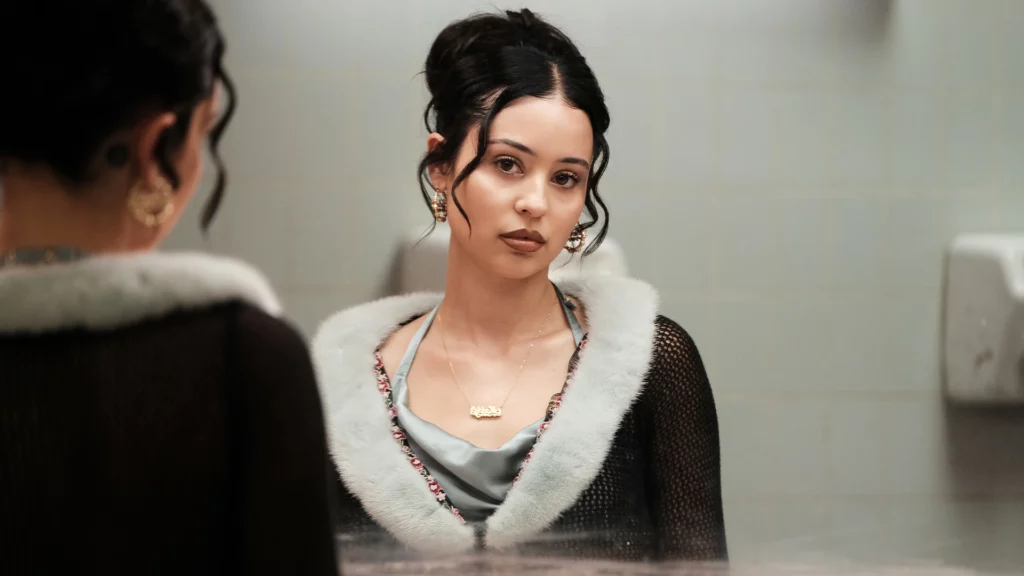 Played by Alexa Demie, the confident and fashionable character of Maddy Perez has gained a reputation as East Highland High's selfish Queen Bee, when really that is only part of her story.
A child beauty pageant queen, from a working class family where love is scarce, Maddy has learnt to use her looks to get what she wants and fully intends to wield this power to a life of luxury and riches.
But the straight talking popular high schooler isn't like most Queen Bee's. With a gang still made up of her childhood friends, and a heart full of compassion, Maddy made herself into someone that people have respect for. Always standing up for her friends and only using cruelty when it is justified, she knows how important friendship is especially when she is betrayed by her soul mate Cassie, whose style you can steal here and here.
Under Control and Confident: Studying the Maddy Perez Euphoria Outfit
To follow in her stylish footsteps and recreate the perfect Maddy Perez Euphoria outfit first we need to know her style secrets, and study how costume designer Heidi Bivens developed her wardrobe of sexy, confident looks.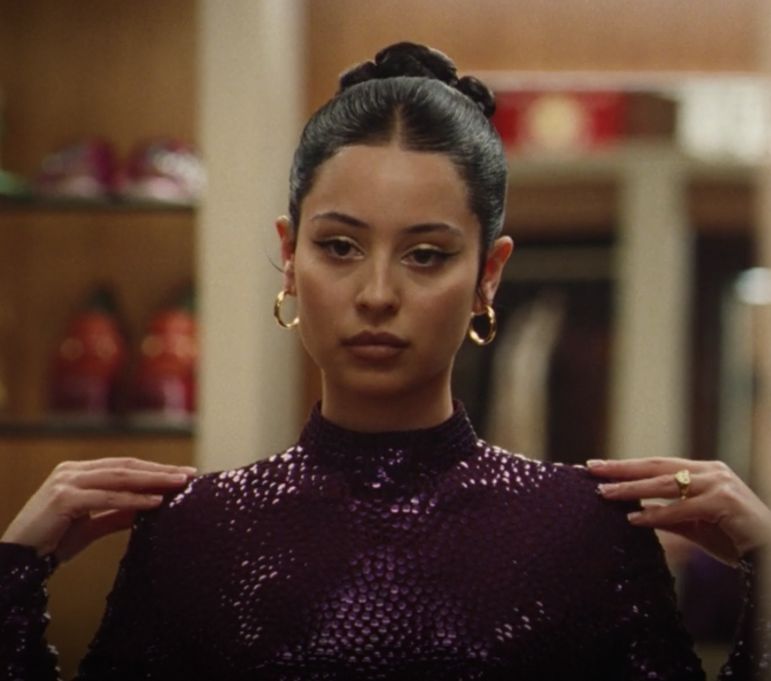 In a similar way to the show Riverdale, each character on Euphoria has a signature color to represent their personality and journey. Yet unlike Riverdales mean girl, Cheryl Blossom in her scarlet red, Maddy started with a more understated purple. Which it can't be a coincidence is the color of royalty and power.
Missing an Outfit Inspo? Submit your idea and we'll make it happen!
Desperate to have that picture perfect life that follows society's norms of what we expect for the school Queen Bee, Maddy chooses to build it for herself. But her relationship with the volatile and violent Nate, is something she tries to hide away, before his ultimate betrayal.
With it even tainting her wardrobe, we see her mourning their relationship and what it could have meant for her. Going from the soft purples and pinks that her character is originally known for, to more vampy extroverted looks in black.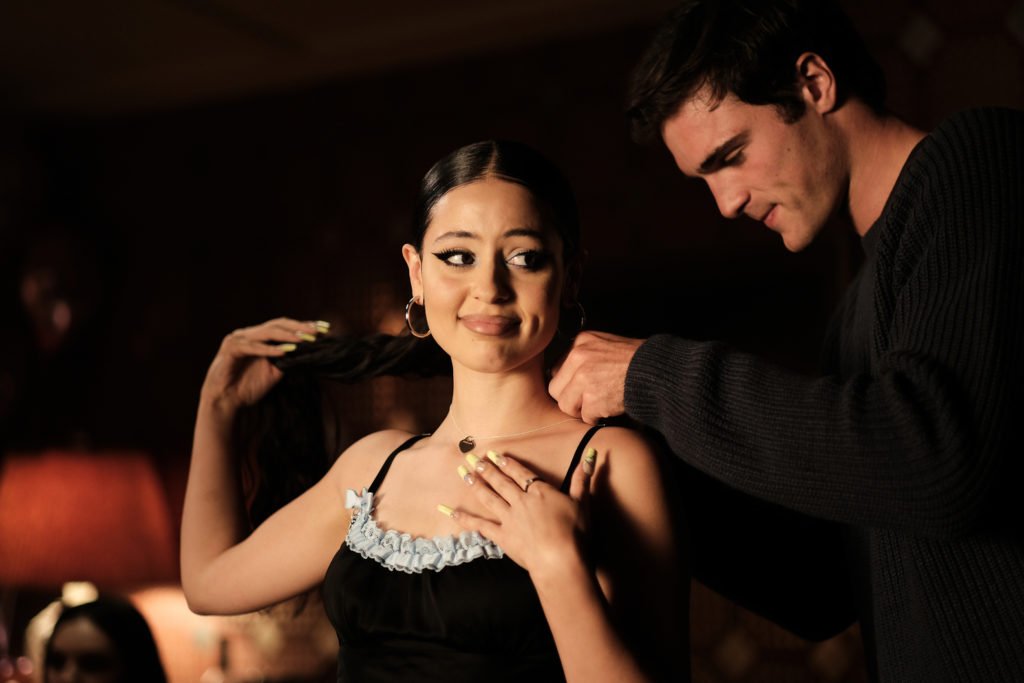 Having a typical popular girl status, Maddy always looks fashionable in her wardrobe of fitted tops, mini-skirts and jeans. But her most used fashion look is the matching set. Not only a symbol to represent a Queen Bee, they also radiate a level of control and having your life in order.
From matching lilac skirts, tops and cardigans, to bralettes and daring cutout trousers, Maddy is the expert at wearing matching co-ords. So much so Cassie even tries to emulate her. But without her confidence, she can't pull off the Maddy Perez Euphoria outfit.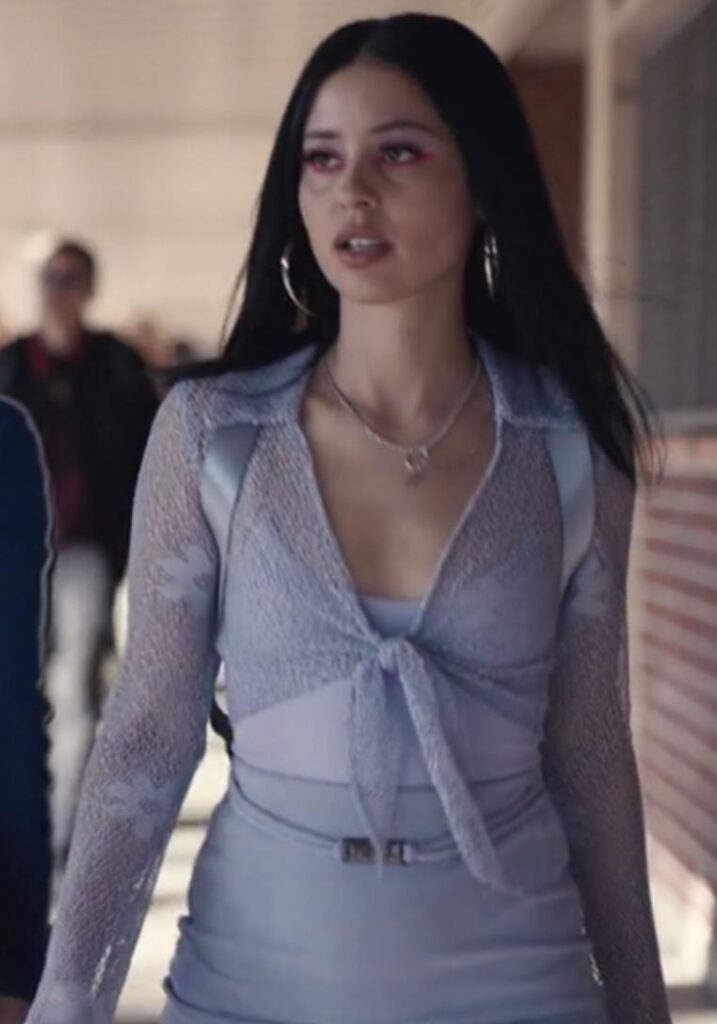 As nobody realizes that for Maddy, fashion is a weapon that she uses to prove her confidence, wearing the most daring inappropriate outfits to school without even a second thought.
Lethal Winged Eyeliner, Bold Eyes and Perfect Hair: The Maddy Perez Styling
Always dressed flawlessly, with a real edge of sleekness to her, Maddys black hair is one of her most recognisable features. Worn long and straight, falling below her shoulders, it is always perfectly styled no matter if it is down and loose or up in a high ponytail. But one thing is for sure, just like Patience from All American, her edges are always done and on point.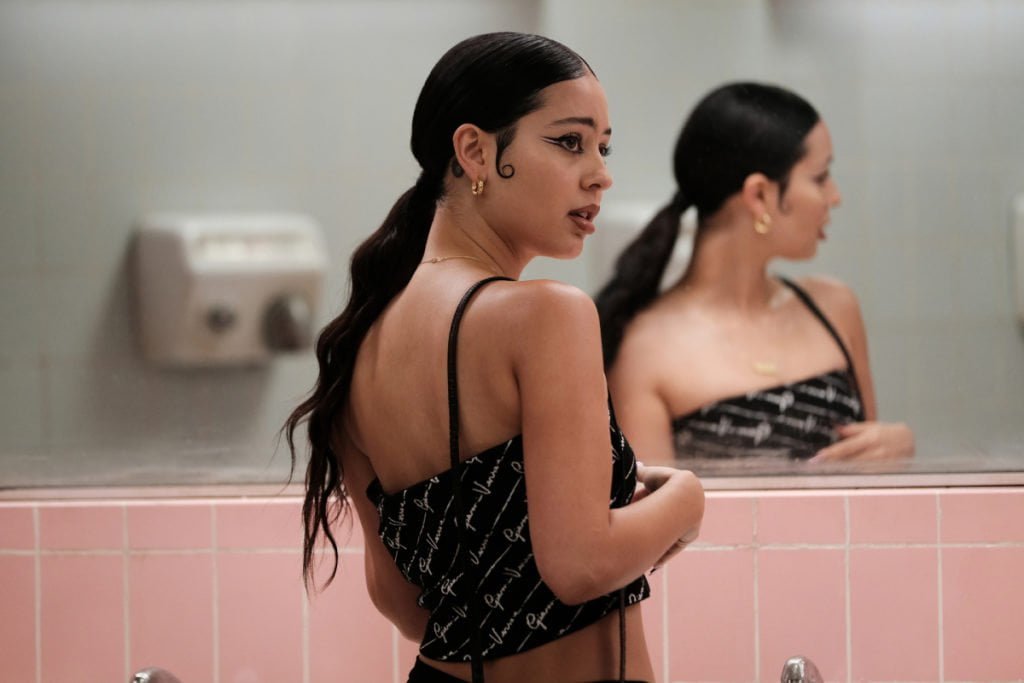 However no Maddy Perez Euphoria outfit is complete without her winged eyeliner and hoop earrings. As for other jewelry she keeps it simple, with a few delicate chains or her iconic Maddy nameplate necklace. With even a dainty silver ring or two to highlight her perfectly manicured nails.
But when it comes to her make-up she focuses on her eyes and the bold looks she painstakingly creates as an armor to display a confident and perfect persona to the world. Glowing smooth skin and soft peachy blush, paired with shimmering silvers or eye-catching blue eyeshadows, are finished with heavy black eyeliner and mascara.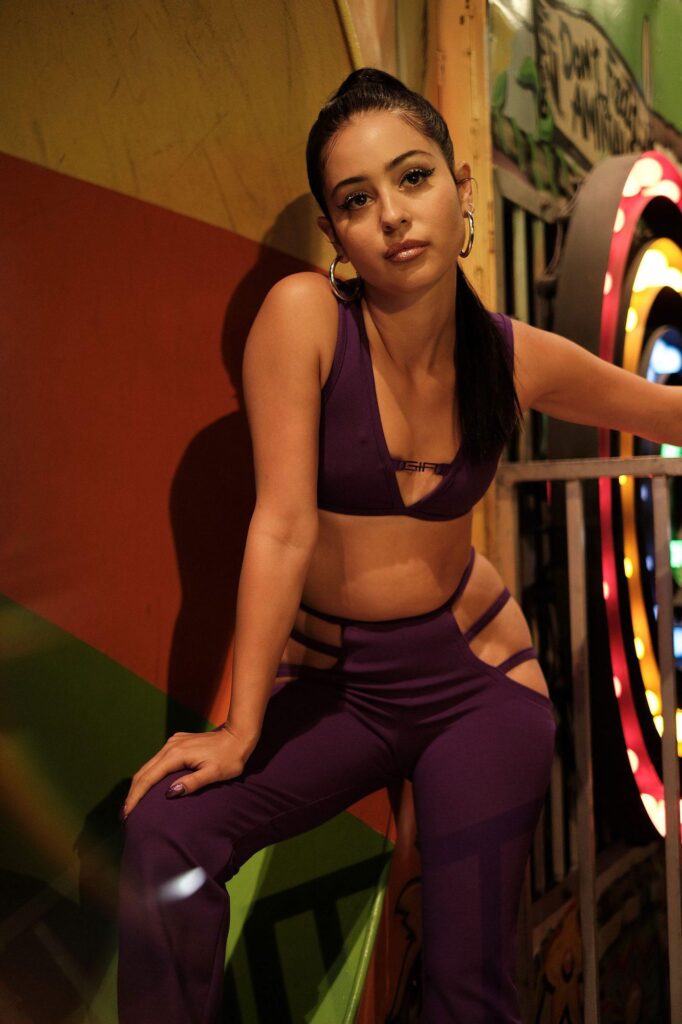 Before she adds her lethal winged eyeliner, sticking almost straight out from the outer edge of her eye. Giving a Maddy Perez Euphoria outfit a tough but fashionable exterior that tells the world she shouldn't be messed with.
The Queen Bee: Steal Maddy's Matching Baby Pink Velour Co-ord Outfit
When it came to picking a Maddy Perez Euphoria outfit to steal, there were just so many to choose from. But when you are known as the Queen Bee you might as well represent that control and confidence you have in the clothes that you wear.
However unlike most of her outfits this one is less about that daring confidence than her usual looks, with no bra tops, cutouts or slinky fabrics. Instead this is a more casual look for Maddy, while still being young, sexy and fashionable in its simplicity.
Recreate the Maddy Perez Euphoria Outfit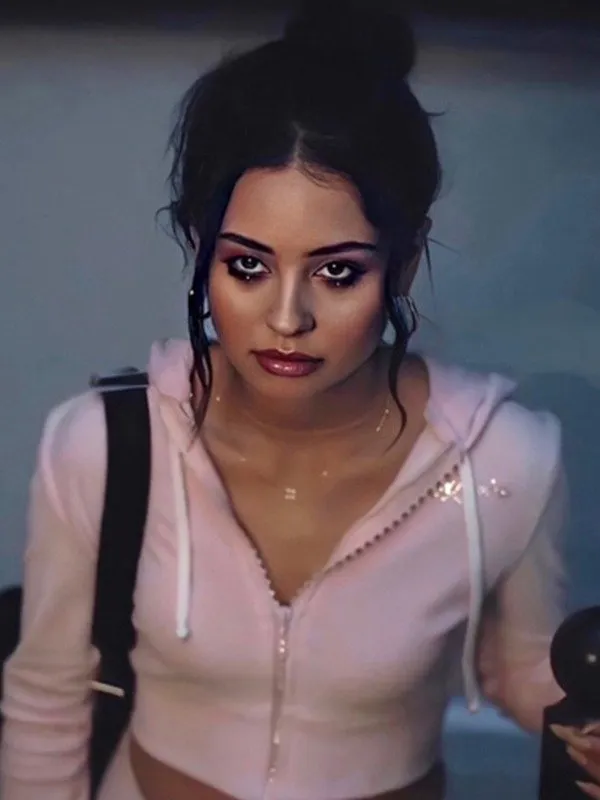 This Maddy Perez Euphoria outfit gets its simple feel from the matching two piece co-ord set that she is wearing. Consisting of a baby pink velour mini-skirt and a matching pink cropped velour tracksuit jacket, with a hood, front zipper and drawstrings.
While black platform heeled sandals elevate the look from too casual to inject some of Maddys usual confidence and vampy style.
Like most of Maddy's looks, her long black hair is perfectly styled, this time pulled up into a high bun with some loose strands gently curled and framing her face. Which is made up flawlessly with her typical youthful glowing complexion, heavy eye make-up of light and dark purples paired with her bold black eyeliner and mascara.
Before her make-up is finished with her statement sharp eyeliner wing and a deep brown glossy lipstick. A black shoulder bag worn tucked under her arm, some large hoop earrings and a princess cut diamond necklace around her neck are all that is needed to finish Maddy's look to perfection.
Like most of Maddy's looks, her long black hair is perfectly styled, this time pulled up into a high bun with some loose strands gently curled and framing her face. Which is made up flawlessly with her typical youthful glowing complexion, heavy eye make-up of light and dark purples paired with her bold black eyeliner and mascara.
Monthly Newsletter
Add some spice to your style with movie set-inspired designs.