Steal the Look – Dress Like Cassie Howard from Euphoria 2
Add a touch of cinematic magic to your wardrobe with our roundup of daring and hip movie-inspired outfits. We'll show you how to dress like Cassie Howard from Euphoria 2 with our selection of chic and stylish pieces. Slip them on and step into the spotlight like a star with these iconic looks from Euphoria 2.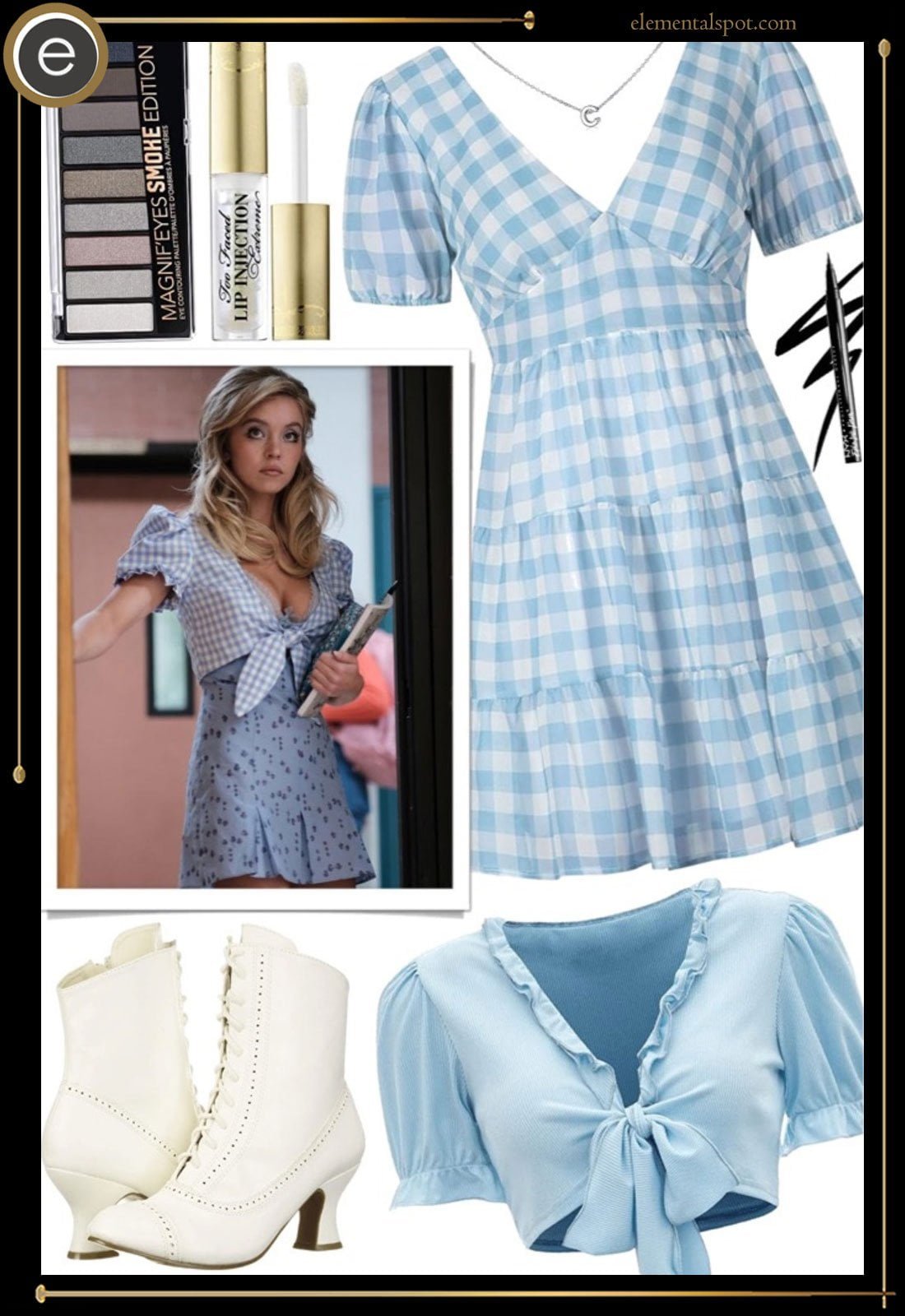 Shopping List for Cassie Howard from Euphoria 2 Outfit
When HBO released the Sam Levinson teen drama Euphoria in 2019, nobody could have predicted that it would become one of the networks most watched shows ever. Yet the same couldn't be said about the clothes. With the sudden rush from fashionistas to steal the character's distinctive looks, coming as no surprise to anyone who had indulged in even one episode of the show.
Cassie's Oklahoma inspired outfit that she wears in the third episode of season two could definitely be described as one of the show's most recognisable looks. Straying from her usual traditional American teen attire with this whimsical Cassie Howard Euphoria outfit that might actually be a better dress-up costume than a day to day look. Unless of course Dolly Parton is your style muse.
Blue Gingham: The Oklahoma Dress
It was thanks to the collaboration between Euphoria's costume designer Heidi Bivens and Seth Pratt (@sethpratt), that we got this Oklahoma, country music star inspired look for Cassie. With a picture of Dolly Parton serving as the initial inspiration.
The custom made floral dress and short sleeved gingham shrug, is just one of the many strange wardrobe choices that Cassie, played by Sydney Sweeney, makes over the course of the second season. Described in Grazia, as 'her completely losing sight of herself' the ever crazier and out of character looks are all a ploy to attract the attention of her secret lover Nate.
But this outfit's success comes from the pale blue color, one of Cassie's signature shades throughout the show, as well as the mix of patterned fabrics. To easily replicate the look you can mix and match in whichever way works for you, but just make sure gingham plays a big part, like with an all over gingham patterned dress.
Look for one with short sleeves, a low V-front neckline and layers or ruffles around the mini-skirt length hem. Before adding in a similarly short sleeved tie front cropped shrug and maybe even a For Love & Lemons bustier with the lace peeking over the dresses neckline, for some added frill just like our inspiration Cassie did.
The Cassie Howard Accessories
However with this pale blue gingham ensemble paired with the white calf boots you are about to add, to replicate this Cassie Howard Euphoria outfit, it isn't hard to see why her original look was mistaken as a costume from the farm based Rodgers and Hammerstein musical, Oklahoma!
"Wait, I don't understand. If you're not auditioning for Oklahoma, then why do you look like that?"

Missing an Outfit Inspo? Submit your idea and we'll make it happen!

Kat Hernandez. Euphoria – Ruminations: Big and Little Bullys
The shoes really do reinforce the 60's, country music star look that Cassie never actually intended to use as her inspiration. But when you are recreating the look, go all in and get a pair of calf length booties in a white leather. Look for ones with a chunky heel, rounded toe and lace-up front opening.
Yet the one place Cassie does keep her look simple is with her jewelry. A delicate pair of silver hoop earrings are hidden under that teased and styled hair, that perfectly pair with her silver initial 'C' necklace around her neck.
The Cassie Howard Hair and Make-up Styling
Cassie might be losing herself, with her life on the brink of completely falling apart, but spending three hours getting ready really has paid off. With her pulling it together and getting her hair and make-up just right for this Cassie Howard Euphoria outfit.
All thanks to the magic touch of Euphoria's talented make-up department head Doniella Davy who created Cassie's dreamy make-up look. Which you can recreate with this easy Youtube tutorial below.
Staying with that 60's aesthetic, create a soft, glowing flawless complexion with foundation, a little bit of contouring and a coral rose blush before you go on to tackle her eye make-up.
With the shimmering pastel blue eyeshadow and extra glitter seeming like a terrible combination, hold your judgment until you pair them with some black eyeliner double wings (no doubt a nod to Maddy) and mascara covered false lashes. Slicking on some lip plumping gloss and layering it with a taupe brown matt lipstick to complete your perfect make-up look.
Finally the key to any country music star's outfit is the big hair, but Cassie has kept her long blond locks from tipping too far into looking like a costume by going more subtle. Curled and hanging loose around her shoulders, parted to the side and with her side swept bangs framing her face she has only teased the hair at the roots of her crown to add a bit of volume and height in a very Dolly-like look.
Stealing The Cassie Howard Euphoria Outfit
We aren't all going to be able to pull off this Oklahoma country music star outfit, especially not for an everyday school look. But although this is one of her more extreme Cassie Howard Euphoria outfits, Cassie's other looks, also have a similar color palette and sweet and innocent feel to them, which may be exactly what you loved about this one.
Monthly Newsletter
Add some spice to your style with movie set-inspired designs.