Steal the Look – Dress Like Patience from All American
Add a touch of cinematic magic to your wardrobe with our roundup of daring and hip movie-inspired outfits. We'll show you how to dress like Patience from All American with our selection of chic and stylish pieces. Slip them on and step into the spotlight like a star with these iconic looks from All American.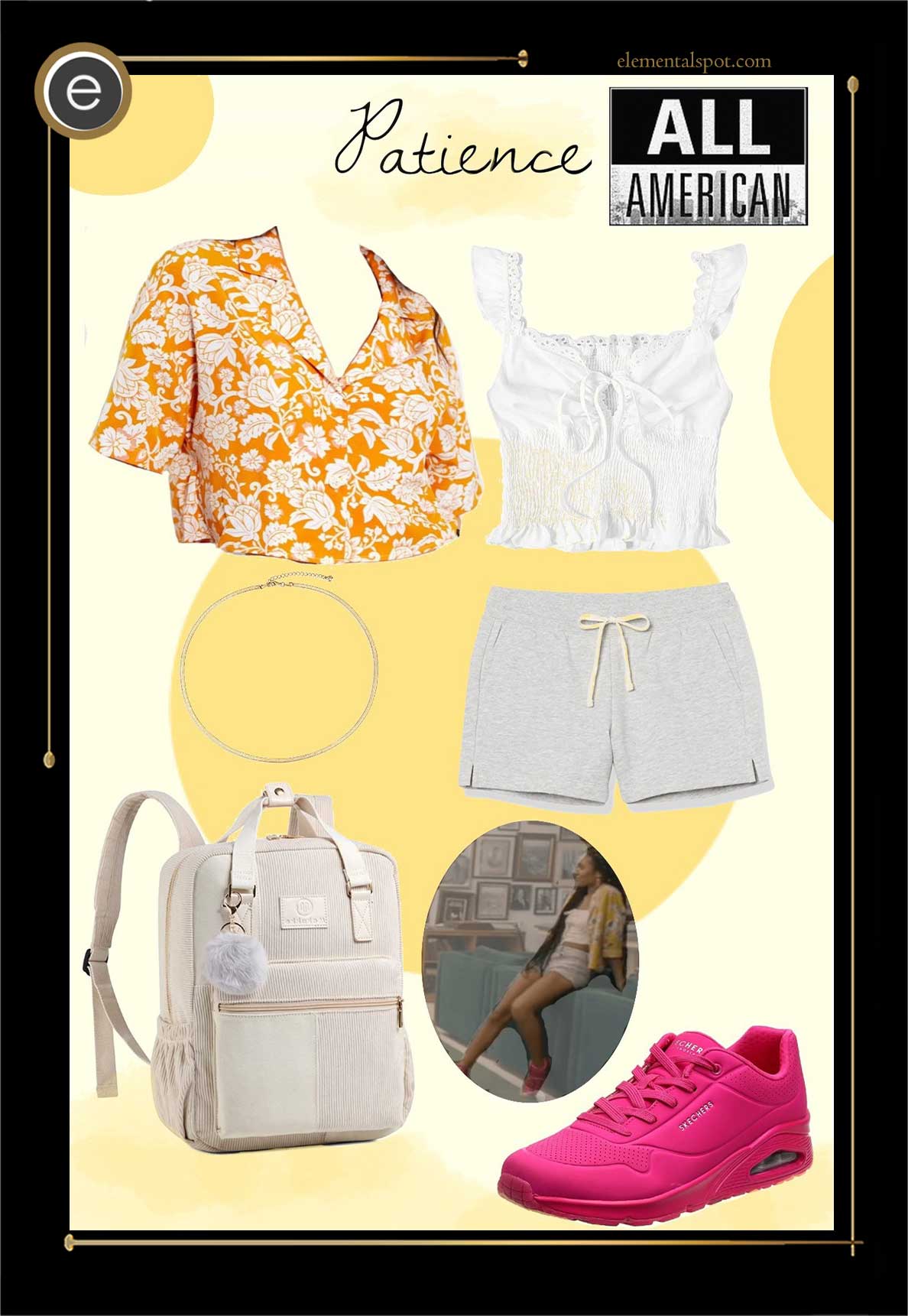 Shopping List for Patience from All American Outfit
The CW's All American (2018 – Present) is the sports drama of the moment, inspired by the true story of American football player Spencer Paysinger. However the show, created by April Blair, spends just as much time off the football pitch as it does on it, following the loves and lives of its teenage protagonists. All while giving us the perfect wardrobe of Patience All American outfits to satisfy any fashionista.
With so many different styles being represented in the show through the costume designs of Olivia Miles, let's take a moment to look at South Crenshaw high graduate Patience Robinson. As an aspiring musician and love interest of Coop, Patience lives her life on her terms, unashamed and fiercely loyal to the ones she loves. All while still being the definition of fashionable.
Here you write your short text…..one sentence to a maximum of two sentences is enough. Stick to the topic (outfits, fashion, makeup,style,costume design)
How to Dress like Patience from All American
Before we even look at what it takes to steal a Patience All American outfit, first we need to study how she effortlessly styles herself through her clothes, hair and jewelry.
Patience, played by Chelsea Tavares, is a rising star when it comes to her music, having fought every step of the way to get to where she is and to be allowed to do her music, her way. She never shies away, even when it comes to fashion wearing bright colors and bold prints, choosing to stand out from the crowd at every opportunity.
Favoring no specific clothes, it isn't hard to see that when dressing like Patience nothing is off the table. Between her love of casual comfort with hoodies and jeans to her more adventurous use of color and shapes with printed blouses and chic dresses, shopping her style will be a dream come true.
Missing an Outfit Inspo? Submit your idea and we'll make it happen!
Her look is the definition of the idea that you can never look overdressed in Beverly Hills, while still giving us those California Girl vibes of throwing on some sneakers with a floral dress. Patience, like all strong independent women, dresses for herself picking clothes that flatter and suit her personality. But if that means all eyes are on her in a crowded room, then all the better, there's no point being shy if you are as talented as our musician is.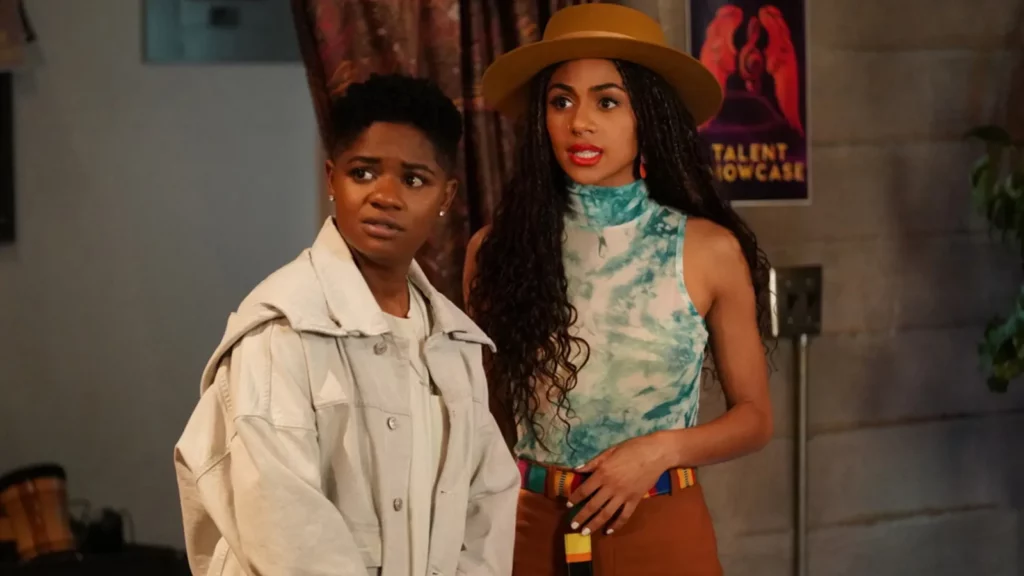 Styling your Hair and Accessories like Patience from All American
Known to be as adventurous with her hair styling as she is with her clothes, Patience doesn't like to stick to the same hairstyle, instead trying out different looks to suit her outfits. Sometimes changing it numerous times within one episode of All American.
But whether she is going for her natural defined curls, braids or even her hair straightened, one thing we know is that Patience is never seen without her edges done. This online Teen Vogue article talks about the styling of those baby hairs and how they are an important part of a black women's culture.
Gold jewelry is an easy way to accessorize any Patience All American outfit. Particular with some gold hoop earrings, the bigger the better. But she also favors gold chains, a nose ring or two and a selection of gold rings on her fingers. Often for Patience more is more when it comes to accessorizing with jewelry so don't be afraid to keep adding a few extra pieces.
Steal Patience's Look from All American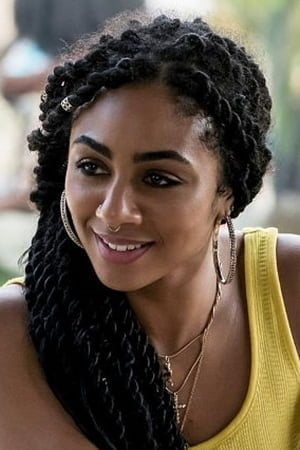 Now we know her style, it's easy to steal the Patience All American outfit pictured in the collage above. One of her casual looks that gives those California girl vibes of comfort and ease, like she threw it on at the last minute.
Unusually for Patience a lot of this look is actually not all colorful and bold, like we have become accustomed to seeing from her. Instead, it sees her in gray fleece shorts and a white tank top. Even styling the outfit with a matching beige backpack.
She does pair her shorts and a tank top with a yellow floral print blouse and bright pink sneakers to give a pop of color and adds some gold jewelry. As the overall look is casual a gold chain necklace and some hoop earrings should be just the right finishing touch for this stolen look.
A Patience All American outfit might seem a bold choice, as they are all about having fun with clothes and accessories. Choosing to go for youthful prints and being on trend. But we aren't all as adventurous when it comes to fashion, so maybe one of Beverly Highs 'It Girls' Layla Keatings outfits would be more suited to your style
Monthly Newsletter
Add some spice to your style with movie set-inspired designs.