Steal the Look – Dress Like Rebekah from The Originals
Add a touch of cinematic magic to your wardrobe with our roundup of daring and hip movie-inspired outfits. We'll show you how to dress like Rebekah from The Originals with our selection of chic and stylish pieces. Slip them on and step into the spotlight like a star with these iconic looks from The Originals.
Shopping List for Rebekah from The Originals Outfit
When L.J Smith's book series was adapted into The Vampire Diaries (2009 – 2017) and became one of The CW's most popular shows, it wasn't hard to see why the network wanted to try and recreate that magic again with a spin-off show. So in 2013 when they released the darker, more grown-up The Originals (2013-2018) people were hooked and not just for the family drama of the Mikaelson trio. Their flawless modern day vampire looks drew us in just as much, with an anticipation for each new episode and in particular each new Rebekah The Originals outfit.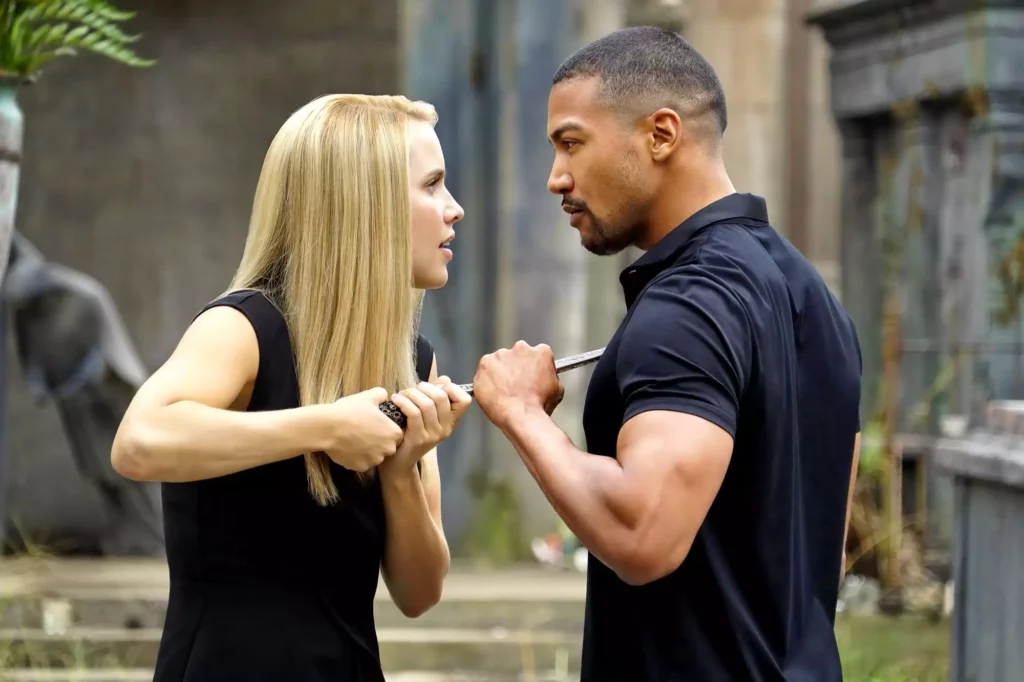 When we return to the world of vampires, witches and werewolves the setting has changed from the small town of Mystic Falls to the sprawling Louisiana city of New Orleans. Where the Mikaelson trio have returned to reclaim what was once theirs, the whole city.
Named The Originals for their legacy as the first vampires, Rebekah and her siblings who were once human, were turned by their parents with their mothers dark magic. Yet even over a thousand years later, she still resents this cursed life and missing out on the normality of finding true love and having a family of her own.
Stylish and Mature: Exploring Rebekah's The Originals Closet
With her style already established from her time as a character on The Vampire Diaries, it was up to season one costume designer Jennifer Bryan to translate her signature style into a more mature Rebekah The Originals outfit for the spin-off.
So let's see how she did it…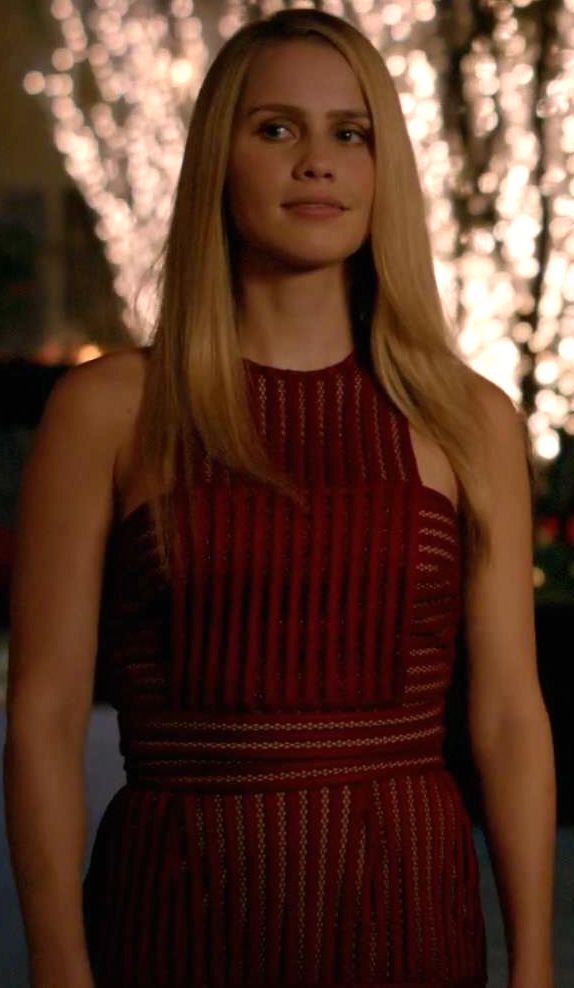 Unlike her brother Klaus (we discussed his fashion style here), whose modern casual style we discussed how to steal here, Rebekah is much more fashion conscious. We know from the show's flashbacks that for every decade Rebekah lives through she changes her style to suit the trends of the time. Now in modern day America she has settled for a stylish and mature look, with a mix of classic and trendy pieces. 
Rebekah, portrayed in the show by Claire Holt lives up to her title as an Original and her lineage as a vampire with a wardrobe full of neutral toned garments paired with plenty of black to hint to her darker side. Shades of browns, grays and whites are brightened with the odd deep red or rich purple, but never with patterns or prints.
Instead a Rebekah The Originals outfit uses embellishments, such as delicate and pretty beading or edgier metal studs and eyelets to show off her dual personality through her clothes. Playing with feminine textures such as lace and chiffon and adding stylised leather jackets to show her somewhat cursed hopeless romantic side.
Missing an Outfit Inspo? Submit your idea and we'll make it happen!
With a closet bursting with jeans, blouses and embellished tank tops, Rebekah goes for trendy pieces often opting for expensive designer garments. Her glamorous style reflects her years of life and a keen eye for the finer details, needing no excuse, she is the first to dress-up when the occasion calls for elegant formal attire.
Rebekah's Hair and Make-up Style Secrets
Without a doubt Rebekah's natural blond hair will be recognised as one of her defining features. Just like her clothes her hair styles have changed through the decades, moving away from the waist-length blond braids she had as a human and instead wearing her long glossy hair loose and down around her shoulders.
Either straight or loosely curled and always a light blond, her shimmering locks are the perfect finishing touch along with some subtle make-up for any Rebekah The Originals outfit.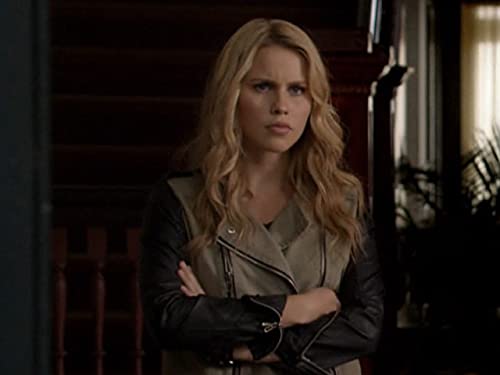 She focuses on using soft brown and gold eyeshadows to work with her pale complexion before adding a touch of black eyeliner and full lashes to give her eyes impact. Favoring a pale rosy pink lipstick, Rebekah's make-up almost hides the fact she was just 18 years old when she was turned into a vampire.
A Feminine and Romantic Vampire: Steal Rebekah's Lace Top and Skinny Jeans Look
The Rebekah The Originals outfit featured in our collage above is a typical look for our hopeless romantic vampire. Made up of a number of layers, from the delicate to edgy, that could all be mixed and matched into some of Rebekah's other looks.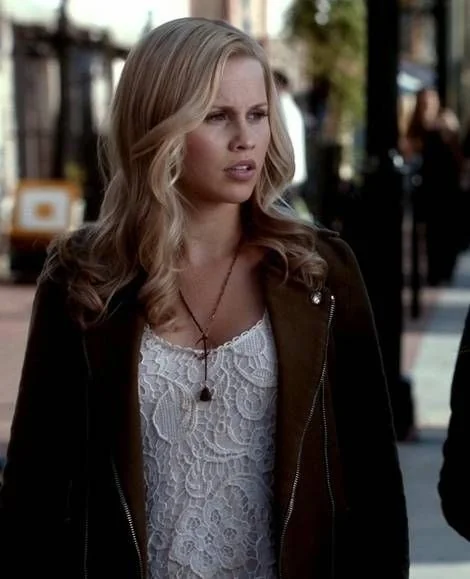 Like most of her outfits this one also has that modern blend of trendy and classic pieces, that gives Rebekah her mature and fashionable appearance. With plenty of garments that no doubt her niece Hope has her eye on borrowing for her own wardrobe.
How to Style the Look
Rebekah has paired some dark skinny denim jeans with a delicate white lace top to emphasize her feminine side. Staying away from too much black she has chosen to go with her favored neutral color palette.
Using browns to finish her look by layering a brown suede biker jacket worn open over her skinny jeans and lace top. Before adding in a matching brown crossbody bag. Finishing the look with her only pop of black, some lace-up ankle boots with a chunky block heel and a suede choker necklace.
Rebekah has paired her outfit with her shiny long blond hair down around her shoulders, with a loose curl through the ends. She has added her usual golden brown eyeshadows and black eyeliner make-up with her soft rosy pink lipstick, which contrasts her mature wardrobe by playing on her young and innocent look.
So if you love this Rebekah The Originals Outfit then you will definitely want to check out Hope's stylish cropped jacket and jeans outfit.
More Rebekah's The Originals Outfits:
Monthly Newsletter
Add some spice to your style with movie set-inspired designs.