Steal the Look – Dress Like Hope Mikaelson from The Originals
Add a touch of cinematic magic to your wardrobe with our roundup of daring and hip movie-inspired outfits. We'll show you how to dress like Hope Mikaelson from The Originals with our selection of chic and stylish pieces. Slip them on and step into the spotlight like a star with these iconic looks from The Originals.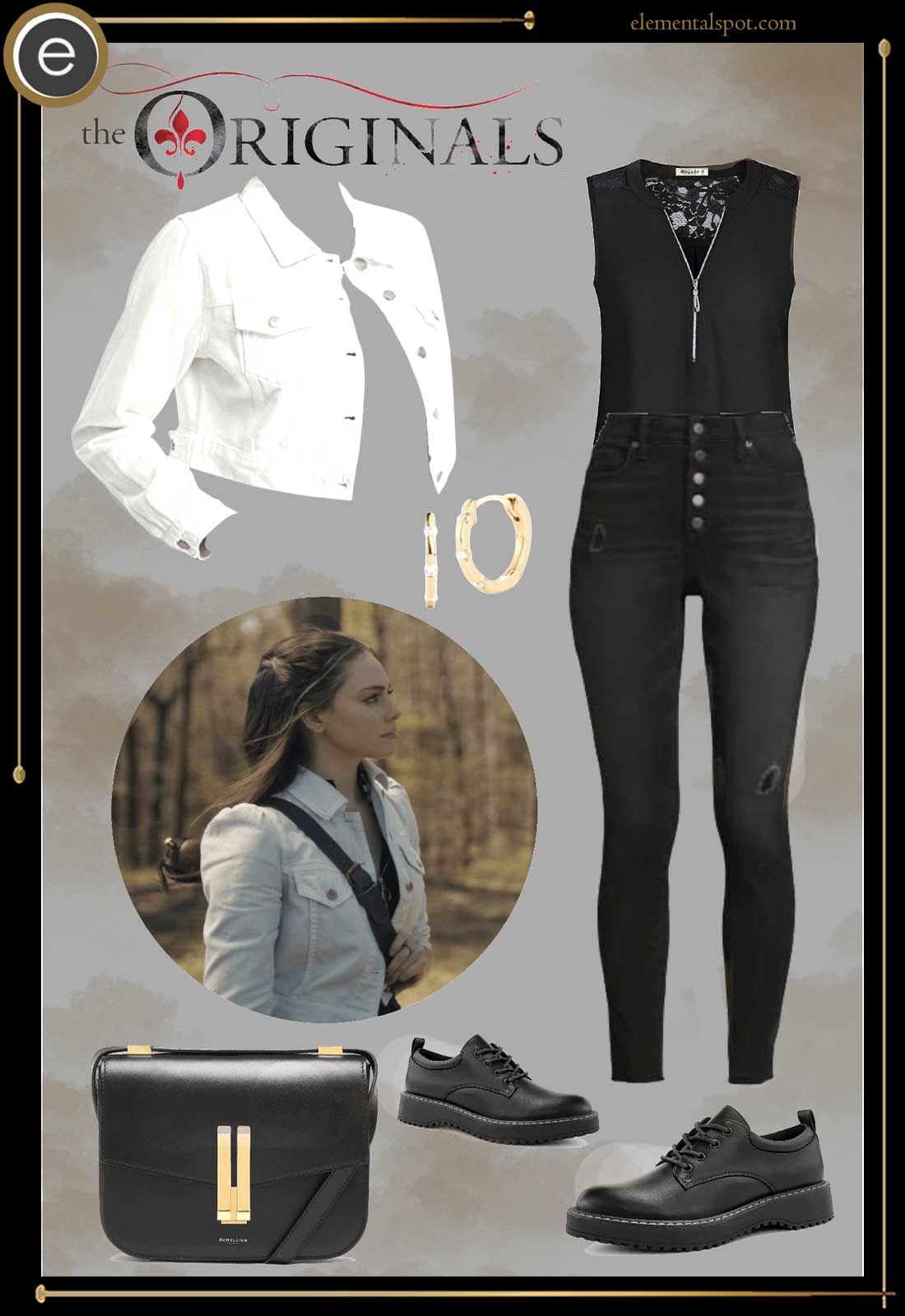 Shopping List for Hope Mikaelson from The Originals Outfit
When The CW network finds a television show that works, they sure know how to capitalize off of its success.  So when the television adaption of L.J Smith's The Vampire Diaries became one of their biggest hits, it wasn't long before they greenlit, not one but two spin-offs starting with The Originals (2013-2018) and quickly following with Legacies (2018-2022). But it was The Originals, with all its dark and brooding vampires, werewolves and witches that got the fashionistas excited. Especially watching the characters' styles develop, and none more so than a Hope Mikaelson The Originals outfit that started with her as just a baby.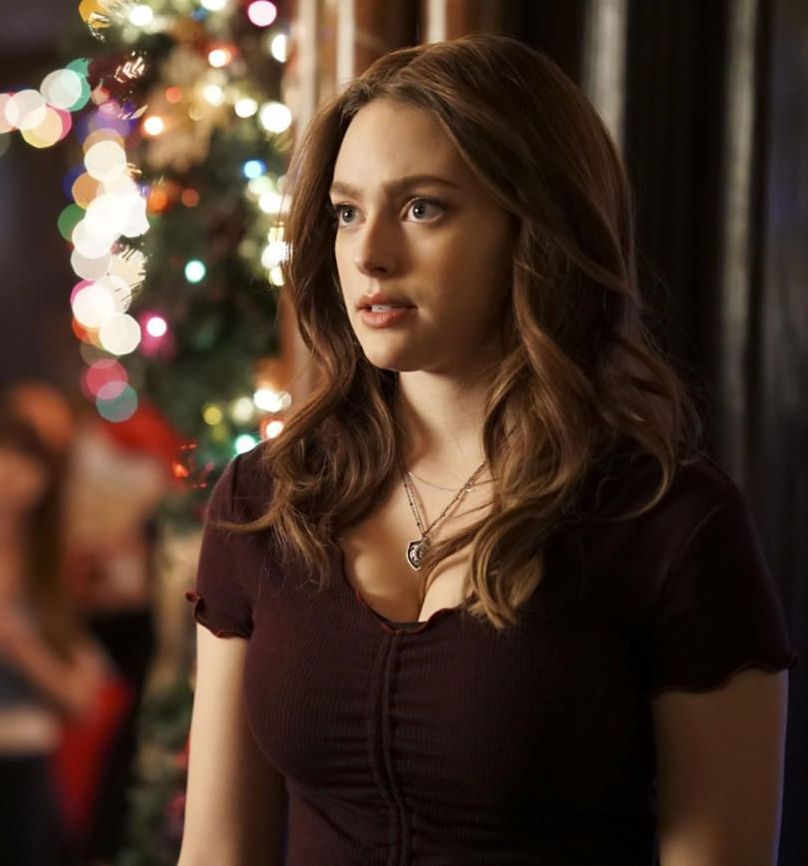 Set in New Orleans, The Originals follows the local supernatural world, including the Mikaelson siblings, the first vampires to ever exist, as their kingdoms collide and sides are picked in war. Particularly when the pregnant werewolf Hayley returns to the city carrying the tribrid daughter of Original Klaus.
Born in the first season of the show, we follow Hope's journey as she transforms from a sweet and innocent child into a stubborn and brave young lady.
A tribrid at birth after inheriting her parents werewolf, witch and vampire lineage, the first and only child born to her parents has immense and devastating power. Something that along with her family's name means she has already got a lengthy list of enemies that would love to see her come to harm.
Relaxed and Edgy: Studying the Hope Mikaelson The Originals Outfit
A child for the first four seasons, it is in the fifth that we first meet Hope as a teenage girl who is just starting to find her feet in the world of fashion. So let's take a peek into her wardrobe and see how costume designer Ellen Falguiere created her Hope Mikaelson The Originals outfit.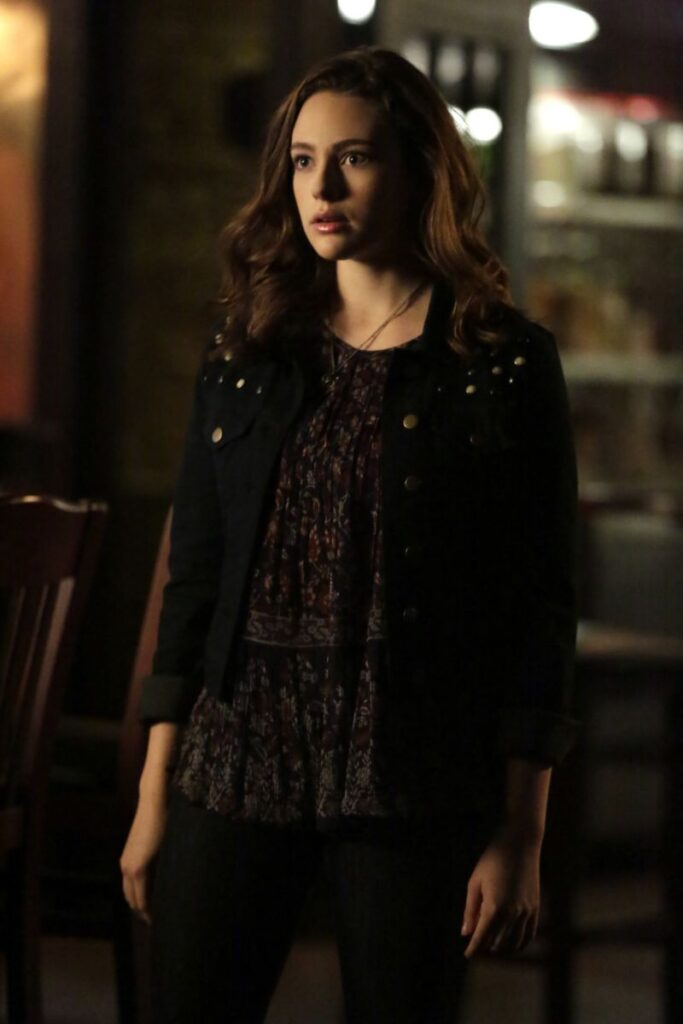 Hope Mikaelson, portrayed as a teenager by Danielle Rose Russell, is a perfect mix of her mothers tough as nails attitude and her fathers tenacity. Falling somewhere in between Hayley's tomboy look and Klaus' modern casual wardrobe when it comes to her own relaxed and edgy closet. 
So it might be no surprise that she favors a wardrobe full of dark and brooding clothes in blacks, browns and reds. Softened only by a few pieces in white, that no doubt are subtle references to her pure white werewolf form. Or the simple floral prints she wears, just like her mother Hayley did before her.
Missing an Outfit Inspo? Submit your idea and we'll make it happen!
With her closet full of casual, basic pieces Hope is most comfortable in her jeans, floral tops and leather jackets. Only occasionally seen in a more feminine dress or skirt, at formal occasions, like a wedding or party. Instead wearing floaty chiffons, silk and cotton jerseys day to day paired with leather, denim or suede to give her look some edge.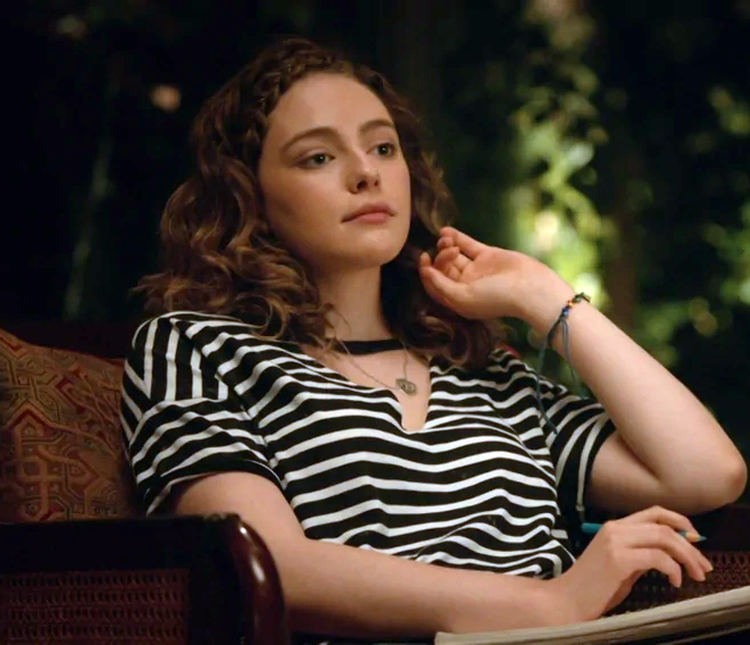 But as she grows and develops so does her style. Although some of the most recognisable traits of the Hope Mikaelson The Originals outfit never change, continuing on with her to spin-off Legacies. Including her heeled boots she uses for some added height, and her love of adding a jacket to give her looks a modern edgy feel, just like her parents do.
Hope's Hair, Make-up and Very Important Necklaces
Just as her wardrobe has developed over the seasons, so has her hair, make-up and styling.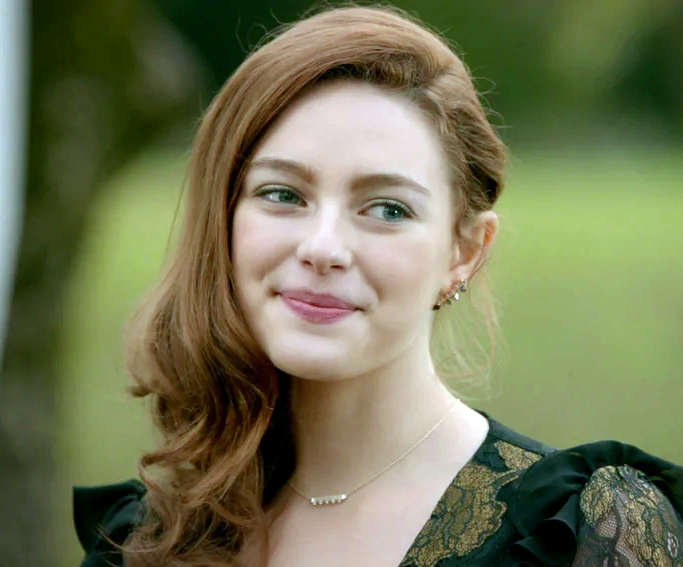 Hope's natural auburn hair is without a doubt one of her defining features from when she was a child. But as a teenager she wears it styled long and loose around her shoulders, most often with a slight curl through the ends. Sometimes even pulling her shining locks back into a styled ponytail or topknot.
However when it comes to make-up Hope chooses not to wear much, keeping it simple to highlight her natural beauty. She adds to her glowing flawless complexion with soft pink cheeks, some subtle eye make-up, mascara and liner before giving her lips a rosy pink color with a splash of a glossy lipstick.
Yet no Hope Mikaelson The Originals outfit would be complete without some jewelry to accessorize her looks. Subtle earrings are a must, but like her father Klaus the necklaces she has received off of her family over the years have that special sentimental value for her. Wearing Hayley's stone necklace, the Mikaelson family crest and her wishbone necklace, to remind herself that family is everything to her.
All Grown Up: Steal Hope Mikaelsons Cropped Jacket and Jeans outfit.
The Hope The Originals outfit featured in our collage above shows her as a more mature grown up young lady, using all her style secrets she has learnt over the years to create the perfect stealable look.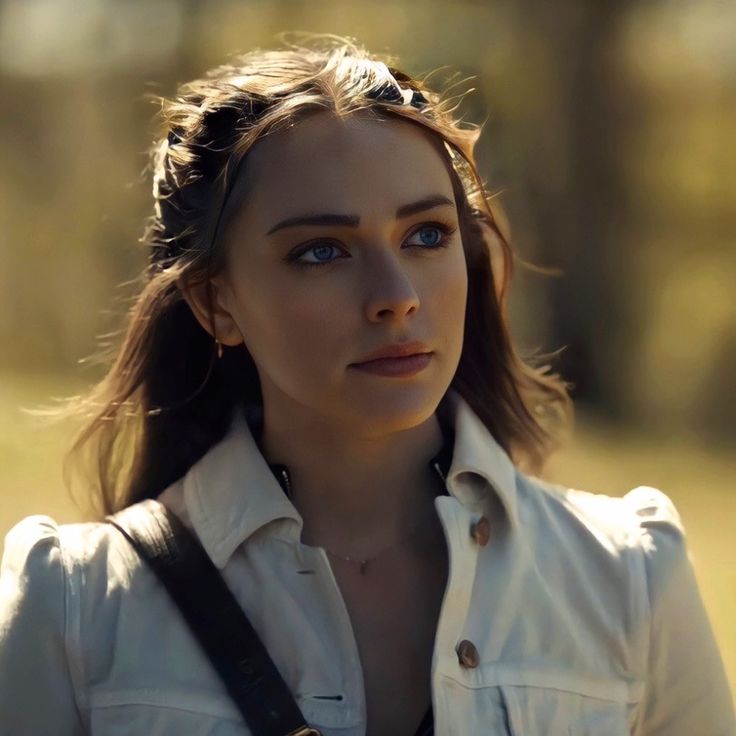 Like most of Hope's outfits this look has that dark and brooding feel that she gets from her color palette of mainly black. While still being the perfect casual and relaxed outfit made up of simple separates that could be paired up with a number of other garments.
To get her more mature look she has paired a simple sleeveless black blouse, featuring a front zipper opening, with some high rise button fly jeans in dark denim with a skinny fit. Staying with her favored black to add some leather oxford shoes with a chunky sole and a matching leather cross body bag.
With a subtle nod to her pure white werewolf form, Hope has contrasted her all black look with a white denim cropped jacket. Playing with some added fashionable details by picking a jacket with a puff sleeve along with some delicate gold hoops in her ears.
Her long hair is loosely curled and pulled back from her face in a half up-do, with the rest of her shiny locks falling around her shoulders. With her flawless complexion highlighted by her simple eye make-up of black eyeliner and full lashes, as well as a rosy pink glow to her lips and cheeks.
As the youngest member of the Mikaelson family, she has taught her sometimes cruel, always vindictive family a lot about unconditional love and loyalty. Learning from them the lengths they will go to protect her, especially her Aunt Rebekah. Who may have even taught her a thing or two about fashion. So if you love this Hope The Originals Outfit then you will definitely want to check out Rebekahs stylish lace top and jeans look.
Monthly Newsletter
Add some spice to your style with movie set-inspired designs.