Steal the Look – Dress Like Valerie Tulle from The Vampire Diaries
Add a touch of cinematic magic to your wardrobe with our roundup of daring and hip movie-inspired outfits. We'll show you how to dress like Valerie Tulle from The Vampire Diaries with our selection of chic and stylish pieces. Slip them on and step into the spotlight like a star with these iconic looks from The Vampire Diaries.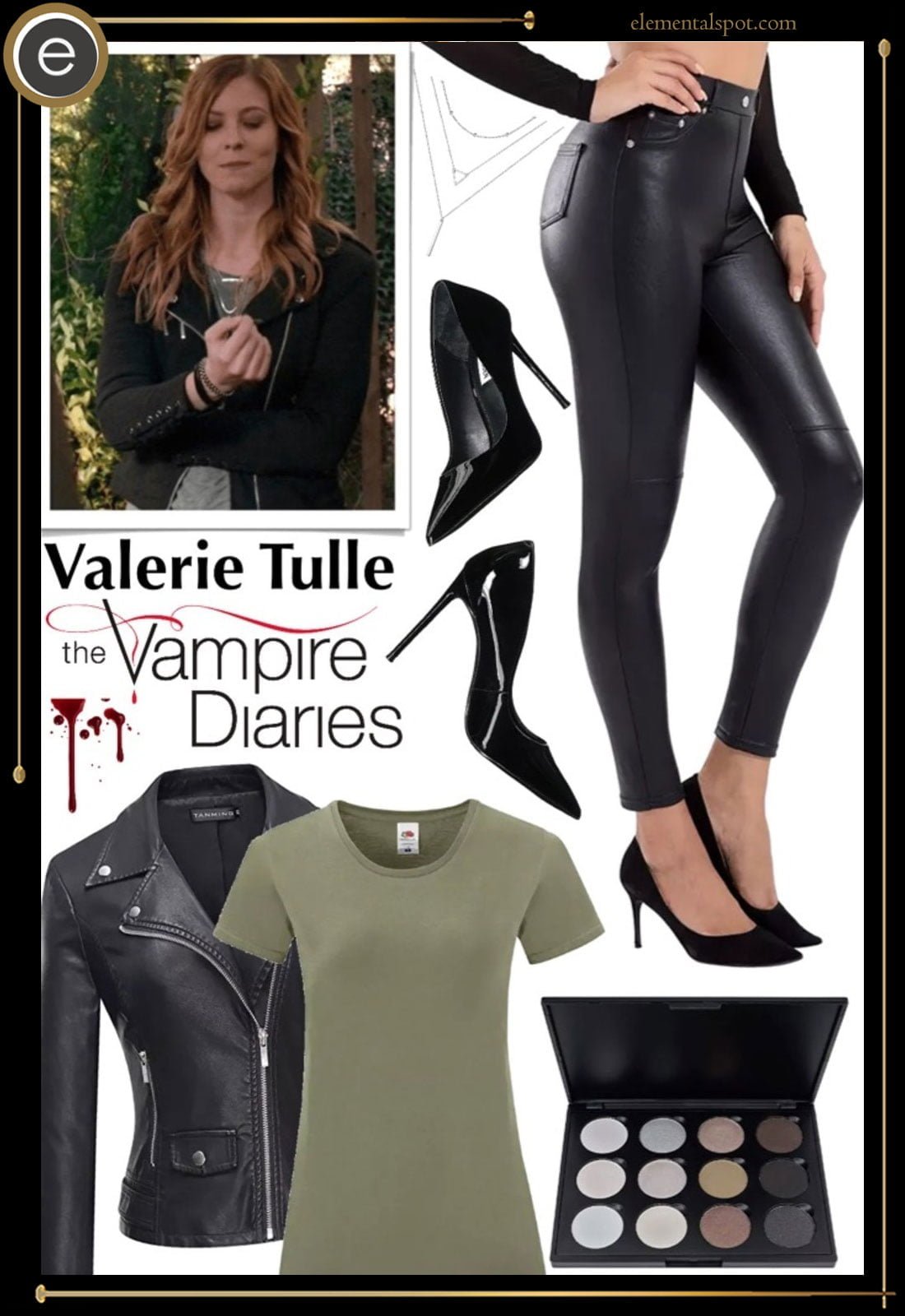 Shopping List for Valerie Tulle from The Vampire Diaries Outfit
The supernatural teen drama The Vampire Diaries, based on the L.J Smith book series of the same name, quickly went on to become a cultural phenomenon. With vampires, witches and even werewolves mixed into small town drama, you couldn't help but be drawn in. Even before you got a look at the dark and brooding costumes of the show's stars, including the dangerous hybrid in her tomboy Valerie Tulle The Vampire Diaries outfit.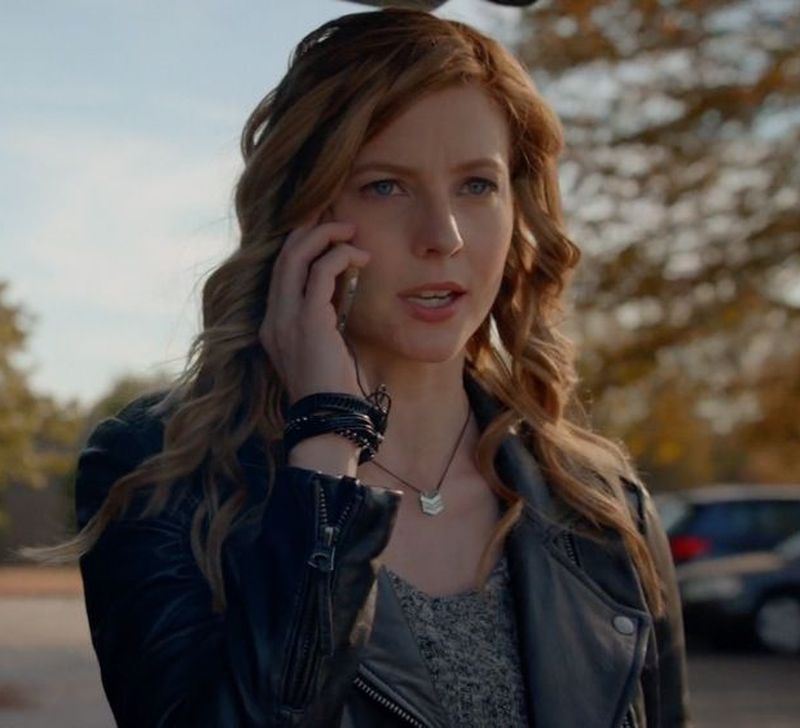 Set in Mystic Falls, Virginia The Vampire Diaries follows the troubled life of Elena Gilbert when she finds herself in the middle of a supernatural world she knew nothing about. Surrounded by other worldly threats, and the quarreling Salvatore brothers, it isn't just her small town that needs protecting.
Valerie Tulle, the siphoner witch-vampire hybrid that is a calculating and dangerous member of the Heretics has been stuck in the Prison World since 1903 when she first appears in the show's sixth season.
Feared for their ability to continue practicing magic despite being turned into vampires, the Heretics are a powerful coven looking for revenge for the wrongs they believe they have faced. But with her dry sense of humor and deep love for Stefan Salvatore, who once got her pregnant before she was beaten to induce miscarriage, Valerie might seem just a little troubled. However looks can be deceiving according to Nora Hildegard (whose style we study here ).
A Dark and Vengeful Heretic: Exploring the Valerie Tulle The Vampire Diaries Outfit
Like many of the supernatural beings on The Vampire Diaries, Valerie has two distinct costume looks that designer Leigh Leverett had to create to tell her story. But it is her darker, modern day hybrid Valerie Tulle The Vampire Diaries outfit that has been used to voice her vengeance seeking character.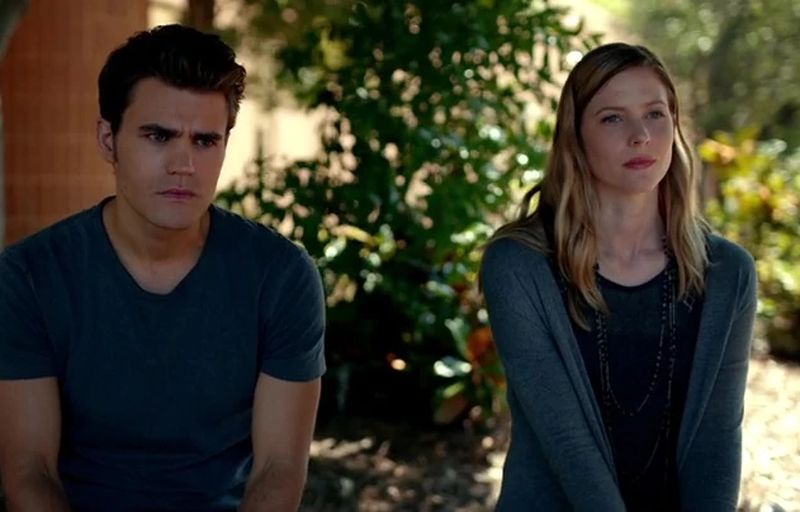 Valerie, played by Elizabeth Blackmore, might have only been in a handful of the 171 episodes that made up The Vampire Diaries, but with her deadpan humor off-setting her life of pain and suffering she quickly became a fan favorite.
With her ruthless attitude contrasting her sense of morality and true love for Stefan, her tomboy wardrobe hints at her forgotten affectionate and lighthearted spirit of her human life.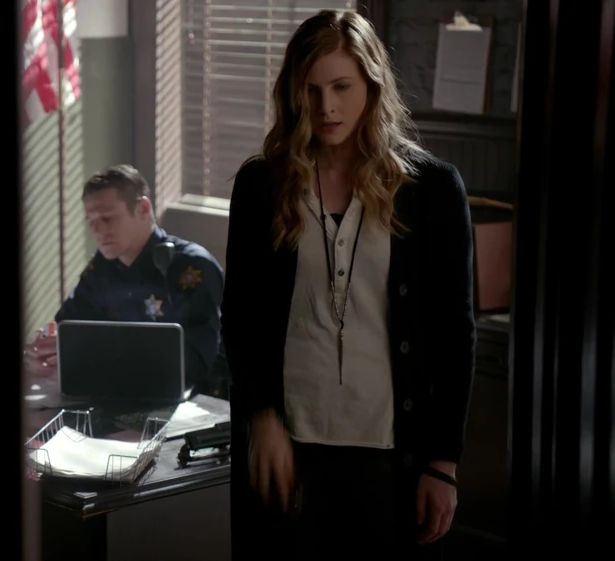 With a style similar to that of werewolf Hayley Marshall (check her looks out here), Valerie sticks to a softer, paler color palette than traditionally seen on a vampire. With her signature wardrobe staples still in dark blue, black and slate gray, it is her use of simple creams, smokey blues and soft grays that define her Valerie Tulle The Vampire Diaries outfit.
Missing an Outfit Inspo? Submit your idea and we'll make it happen!
But with one look at Valerie's effortless wardrobe of jeans, basic t-shirts and simple unfussy shirts, it is easy to see that rather than following the latest fashions she is instead looking for comfort in her tomboy styling. Adding in only the odd feminine fitted skater dress or loose wrap shirt to subdue her tough exterior and calculating devious attitude.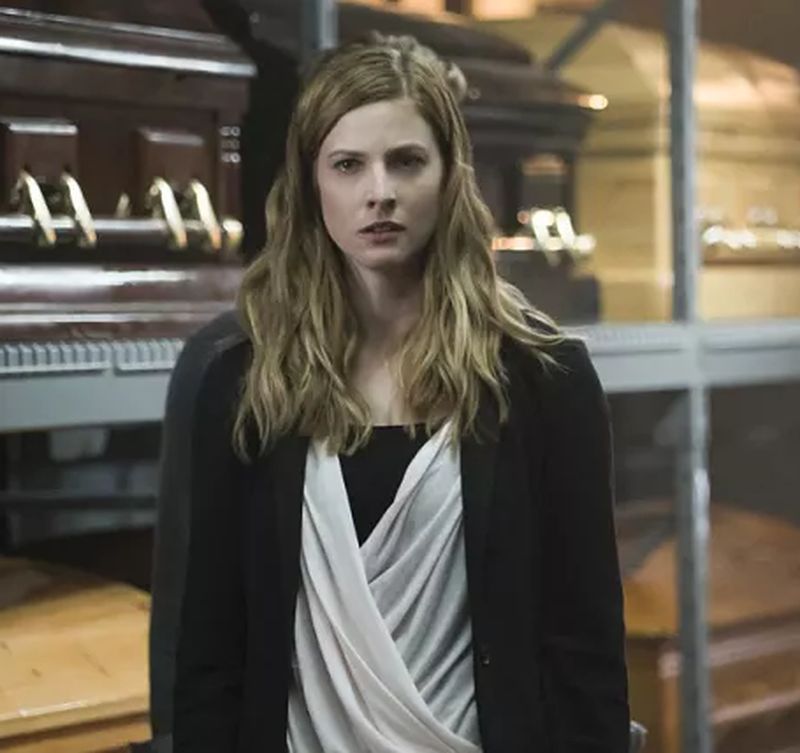 However nowhere more than in the fabrics making up a typical Valerie Tulle The Vampire Diaries outfit, do you see the contrast of her ruthlessness and sense of morality. With her delicate jersey knit cardigans and gentle cotton t-shirts often paired with leather or suede moto jackets, denim jeans and boots to balance the two sides of her personality.
Valerie's Hair, Make-up and Jewelry
Naturally wavy dirty blond hair could be described as one of Valerie's defining features. Worn long below her shoulders and hanging loose framing her face, she likes her hair parted to the left with her side swept bangs pulled across her forehead. Normally styled with relaxed curls, somewhere between ringlets and brushed out, Valerie rarely bothers with extra styling reinforcing her unfussy way of dressing.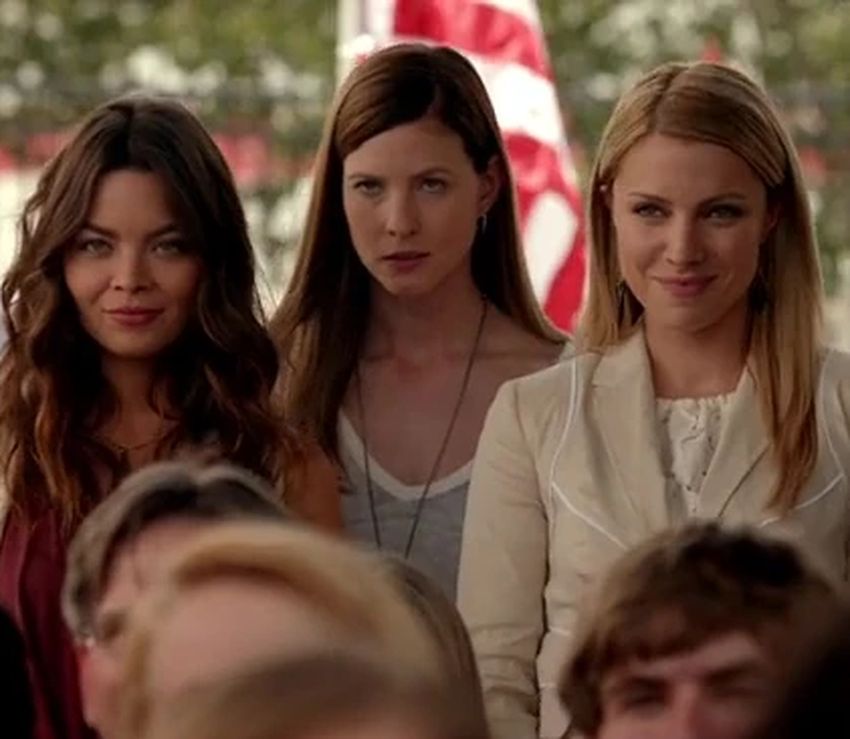 Sticking with her tomboy appearance Valerie normally stays away from any make-up. Only adding a subtle smokey eye of pale brown eyeshadows and a flick of black mascara to her already flawless pale complexion, on the rare occasion. Even favoring a matte pink lip, just a shade darker than her natural color, that could almost go unnoticed.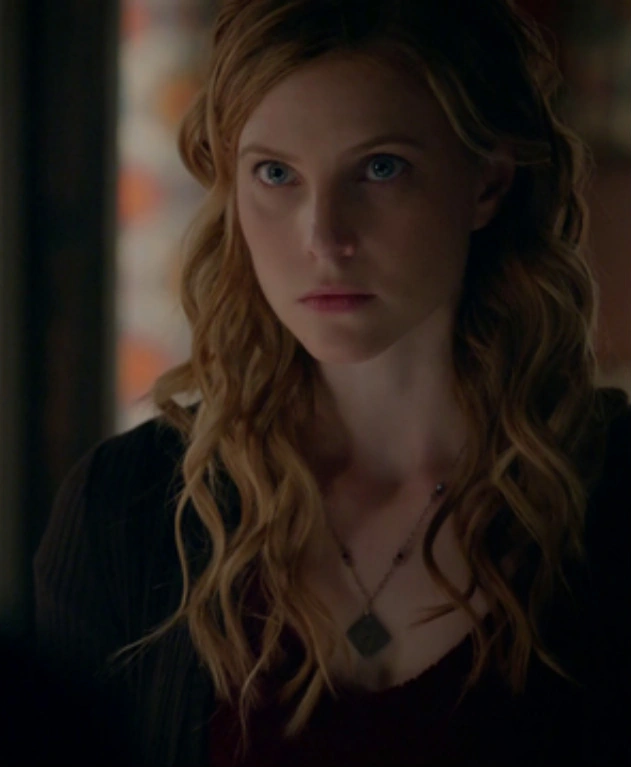 Yet tomboy or not a Valerie Tulle The Vampire Diaries outfit wouldn't be complete without a selection of jewelry to accessorize her looks. With no favorite pieces, she likes to wear a variety of silver or beaded chain necklaces and pendants. Layering them to add some extra wow factor to her looks, and often finishing with an assortment of leather cuff bracelets around her wrist.
A Ruthless and Devious Tomboy: Steal Valerie's Motorcycle Jacket and Black Leggings Outfit
The Valerie Tulle The Vampire Diaries outfit that we have chosen for our collage above works as the perfect representation of her contrasting personality, while still keeping to her tomboy aesthetic.
Like most of Valerie's outfits this one pairs her softer and paler color palette with the traditional black of a typical vampire's wardrobe. While still hinting at a feminine edge that contrasts her ruthless actions.
Recreating the Valerie Tulle The Vampire Diaries outfit
Start with Black Leather Leggings
To recreate Valerie's chic ensemble, start with a pair of black faux leather leggings. Pair them with a basic army green scoop neck short-sleeved t-shirt for a casual yet trendy look.
Add a Stylish Layer: Black Leather Motorcycle Jacket
Layer on a black leather motorcycle jacket to add a touch of edginess to the outfit. Keep it open to maintain a relaxed vibe.
Sultry Edge: Black Patent Leather Heeled Pumps
For a sultry touch, opt for black patent leather heeled pumps. However, heeled ankle boots would also work well, especially if you prefer a more tomboyish styling for Valerie's outfit.
Effortlessly Beautiful: Long Dirty Blond Hair and Subtle Makeup
Valerie's long dirty blond hair is styled in its usual left parting, featuring side-swept bangs and loose curls that fall gracefully over her shoulders, framiner than her natural color. For a final touch of elegance, accessorize with a set of layered silver chain necklaces.
After a life of pain and suffering, including exile, miscarriage and being trapped in the Prison world, it might seem like Valerie is only evening out the score with her ruthless attitude and devious and calculating mind. However poor tortured Caroline Forbes, whose fashionable and dainty style you can steal here, might say otherwise, with her only sin being that she is in love with Stefan.
Monthly Newsletter
Add some spice to your style with movie set-inspired designs.