Steal the Look – Dress Like Caroline Forbes from The Vampire Diaries
Add a touch of cinematic magic to your wardrobe with our roundup of daring and hip movie-inspired outfits. We'll show you how to dress like Caroline Forbes from The Vampire Diaries 1 with our selection of chic and stylish pieces. Slip them on and step into the spotlight like a star with these iconic looks from The Vampire Diaries 1.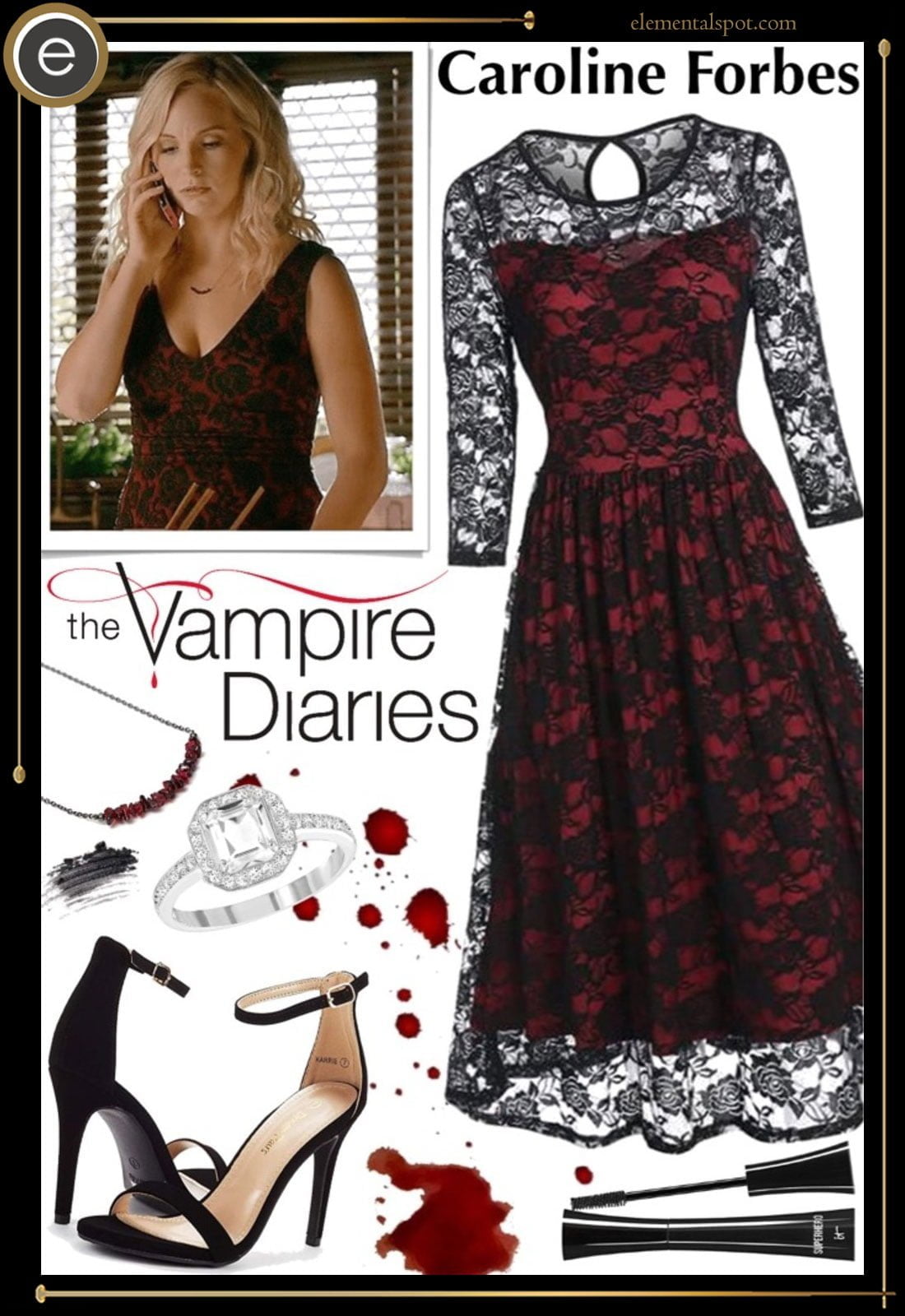 Shopping List for Caroline Forbes from The Vampire Diaries 1 Outfit

The show The Vampire Diaries (2009-2017),based on the L.J Smith book series of the same name, with its vampires, witches and werewolves thrown into a world of teen high school drama, quickly gained cult status. But it wasn't just the love triangles, doppelgängers and supernatural villains that drew its legions of fans in, with a wardrobe department of covetable costumes as well. But not all vampires favor a moody and dark wardrobe, as we see with the Caroline Forbes The Vampire Diaries outfit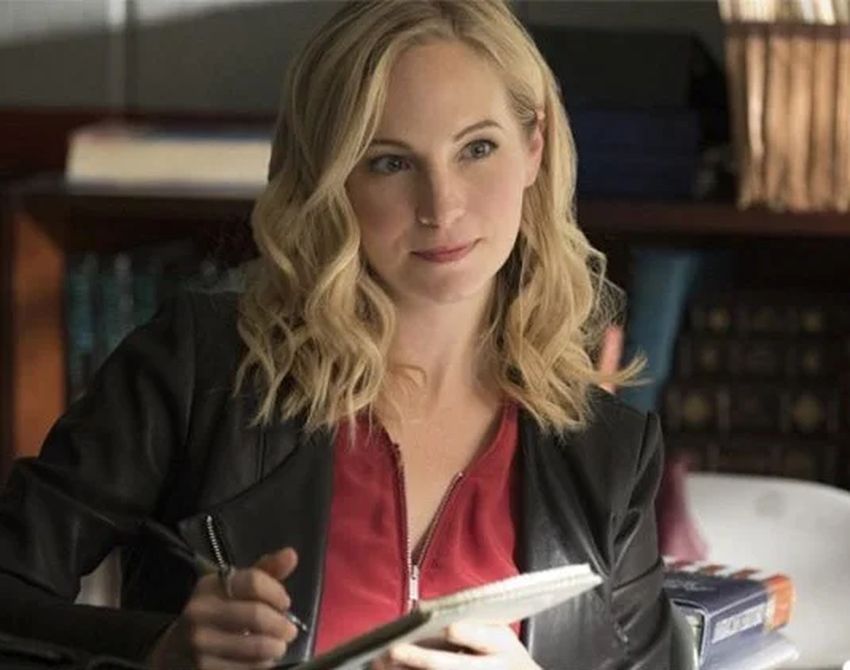 With the story revolving around the fictional town of Mystic Falls and the return of the estranged Salvatore brothers, it wasn't just troubled Elena Gilbert who found herself in a dangerous supernatural world or dating a vampire.
But before Caroline Forbes went on to marry doomed Stefan Salvatore, the popular daughter of the local Sheriff, who was an insecure shallow high school student, starts to see the world in a different light after being turned into a vampire.
No longer bound by trivial human conventions, Caroline along with her best friends Elena and powerful witch Bonnie Bennett, decide to live life to the full. With endless romantic entanglements and with immense strength and self-control for a vampire of her age Caroline leans into her new freedom, becoming more caring and loyal as the show goes on. Even stepping up as the surrogate mother of twins Lizzie and Josie, with a magical helping hand, when her friends need her.
A Whole New Lease of Life: Exploring the Caroline Forbes The Vampire Diaries Outfit
Although, before we can look at how to steal the immortal Caroline Forbes The Vampire Diaries outfit, first we need to explore how costume designer Leigh Leverett used her strong and determined nature to create the perfect wardrobe for this life loving vampire.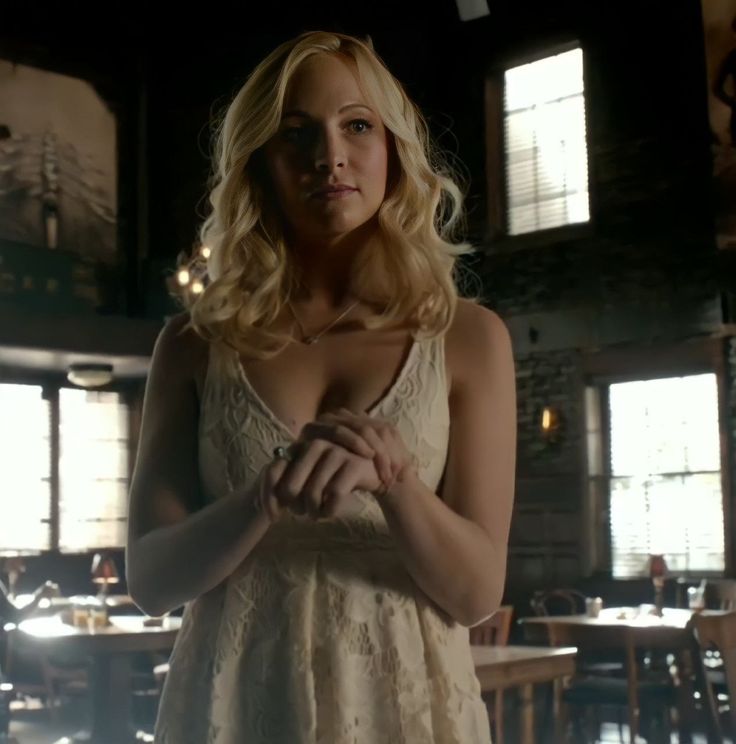 The character of Caroline, portrayed by Candice King, really came into her own once she transitioned into a vampire at the start of the second season. Shedding her human petty jealousies and insecurities, and stepping out from the shadow of her BFF Elena. With a new appreciation for life and no desire for 'the cure' everything about Caroline's life changed.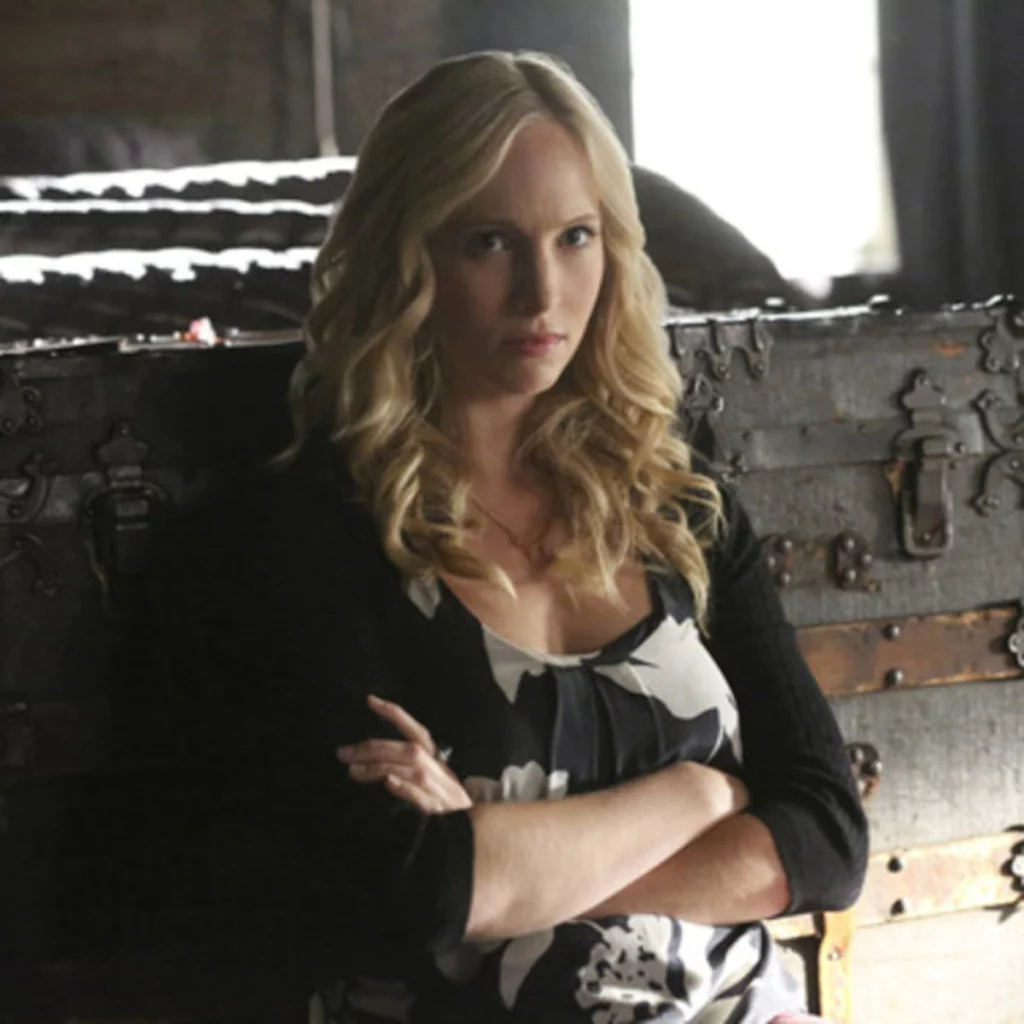 Not disregarding vibrant colors altogether though, Caroline layers her bright tops and floral blouses with dark jeans and jackets to soften their look. Denim and leather, a staple of all the supernatural wardrobes throughout The Vampire Diaries universe, in this case contrast her feminine and delicate cotton, chiffon and knit fabrics perfectly.
With flirty feminine silhouettes, of floral dresses and skirts paired with pretty cardigans and sandals. To pale tees, skinny jeans and heeled boots, Caroline dresses to emphasize her slim athletic figure and loving nature. Although not as shallow as she was as a human, Caroline still takes pride in her appearance, spending time on her looks even if she is trying to seem like it is all just effortless.
Missing an Outfit Inspo? Submit your idea and we'll make it happen!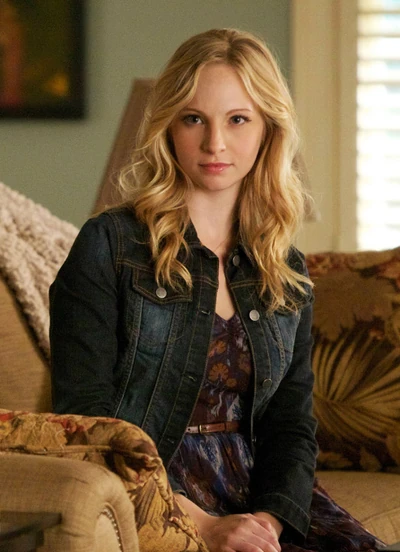 But that doesn't mean that there aren't times when a Caroline Forbes The Vampire Diaries outfit needs to make an impression, and when that is the case there is only one vampire she can rely on. Klaus Mikaelson (whose own style we discuss here).
Klaus, the ancient force of evil who could be considered one of the most dangerous vampires in history, very much loves the 'beautiful, strong and full of light' Caroline. Showering her with his impeccable taste, in gifts of diamond bracelets and exquisite ball gowns. But it is for her prom that he really helps her make an impression.
Shiny Blond Hair and Subtle Make-up
Known for her beautiful young appearance as much as for her shiny blond hair, Caroline's look could be described as one of her distinctive features. Spending as much time styling her hair as she does picking out her effortless wardrobe, Caroline's naturally wavy blond hair is seen worn just below her shoulders normally in loose curls.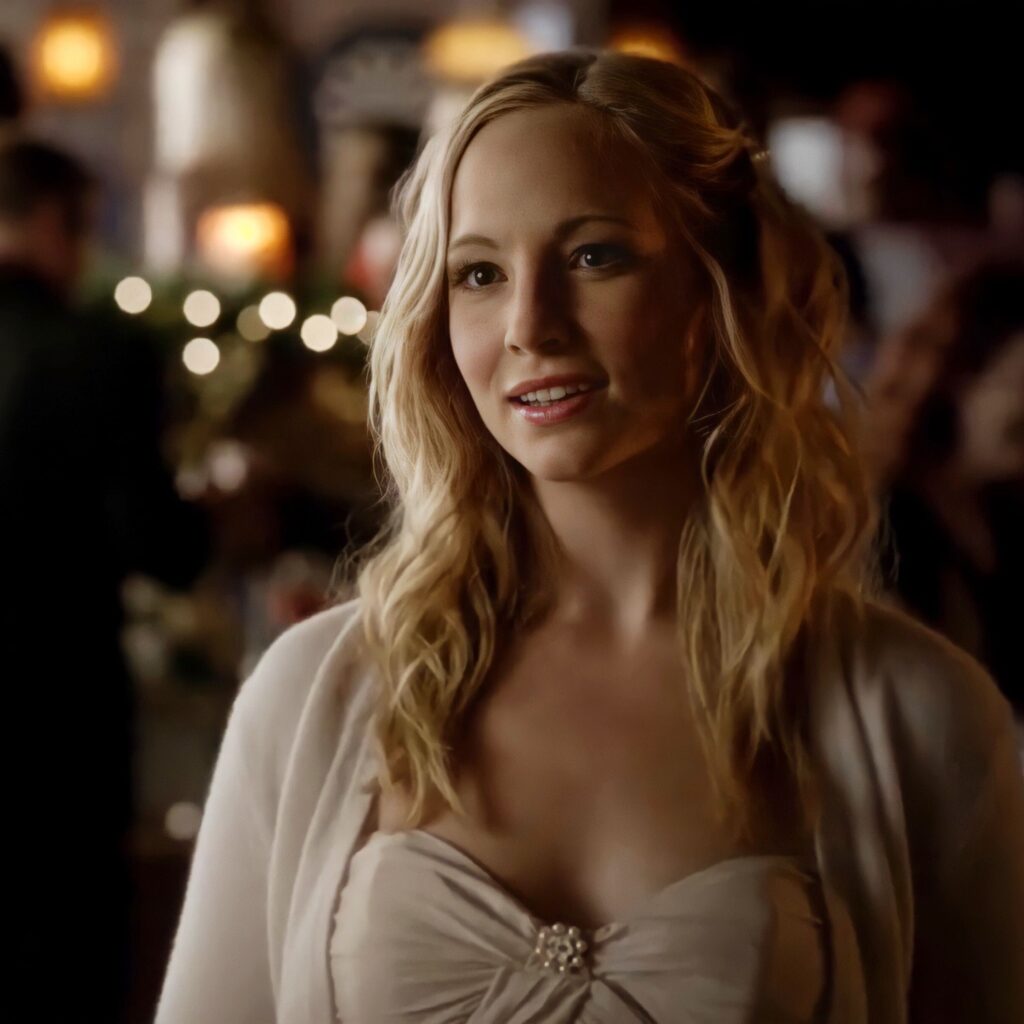 But different looks call for different hairstyles with everything from straight to beautiful up-dos Caroline knows how to make the most of her features. Including when it comes to using make-up to enhance her flawless pale complexion.
In contrast to most of the characters on The Vampire Diaries Caroline's make-up looks get more natural and barely there as the seasons go on. From heavy black eyes and coats of shimmery lip gloss, to softer browns, blushed cheeks and subtle pink lips. Her changing style reflects her becoming more confident and secure in her own body, and not wanting to hide who she is anymore.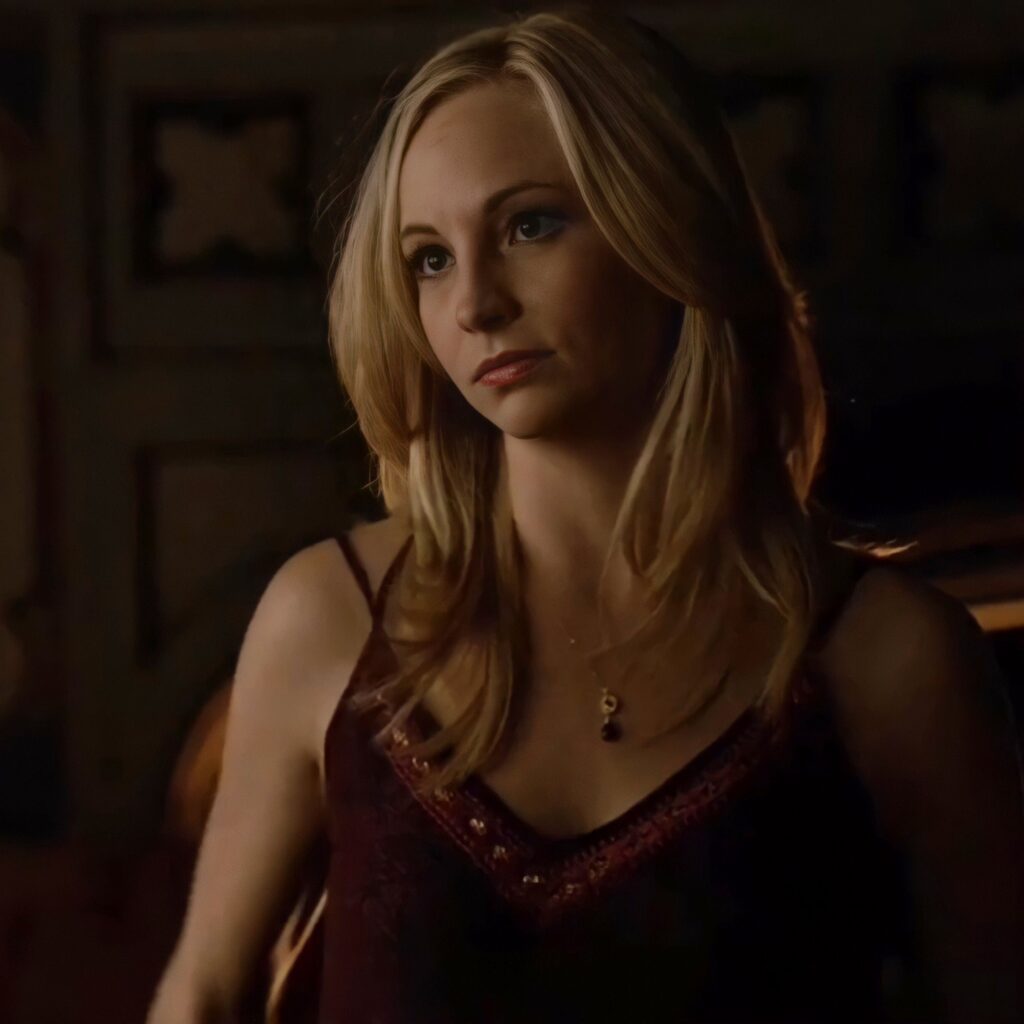 Still a Caroline Forbes The Vampire Diaries outfit wouldn't be complete without some simple accessories like that diamond bracelet from Klaus. Or her slightly less expensive day to day jewelry of subtle stud or dangle earrings along with her delicate chain necklaces. Finished with pendants, gems or even quirky little metalwork designs, which speak to her gentle loving nature.
Romantic and Feminine: Steal Caroline's Red and Black Christmas Eve Dinner Party Outfit
The Caroline Forbes The Vampire Diaries outfit that we have chosen for our collage above is one of her statement looks from the last season of the show, and depicts her romantic and feminine Christmas eve dinner party look.
Like many of Caroline's outfits this one has her paired back color palette of more muted tones and patterns, without losing the characteristics that make up her mature and fashionable wardrobe.
Recreate The Caroline Forbes The Vampire Diaries Outfit
Simply start your Caroline Forbes The Vampire Diaries outfit with her rose print dark and sultry dress.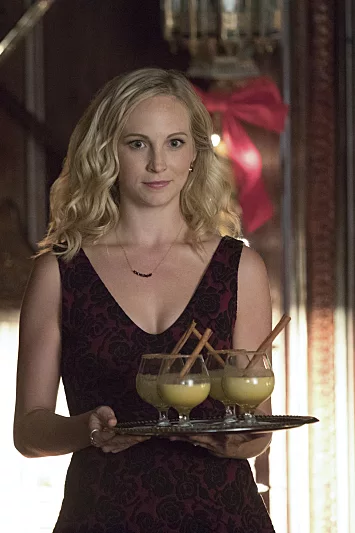 To replicate Caroline's look go for a dress with a skater silhouette of a fitted sleeveless bodice with a v-front neckline and a full skirt that falls to just below your knee. Recreate the black rose pattern by going for a dress with a black lace fabric layered over a deep red under-dress with the same shaping, or even a longer lace sleeve to give you some more coverage.
Adding a pair of black stiletto heeled sandals, with an open toe and thin ankle strap. Before continuing her evening wear look with her hair, make-up and jewelry styling.
In typical Caroline fashion her light blond hair is worn in an off center parting, with loose curls that are falling down over her shoulders and framing her face. Which has been made-up with her delicate and subtle make-up that she uses to enhance, rather than hide, her beautiful features.
Using concealer and foundation to smooth out her flawless pale complexion, Caroline has added a warming pink glow to her cheeks with a hint of blush. Continuing with her subtle make-up look her eyes are soft with light brown shades creating an almost smokey eye effect, finished with a touch of eyeliner and some volumizing black mascara. A splash of a rosy pink shimmer lipstick adds some simple feminine charm.
The last couple of finishing touches to replicate this Caroline Forbes The Vampire Diaries outfit is her beautiful jewelry she has accessorized with. Including the square cut diamond engagement ring she got from Stefan, as well as a very delicate looking garnet crystal chip necklace and matching subtle earrings that truly complete her look.  
In our second guide you can find out how to Steal Caroline Forbes' Prom Night Look from The Vampire Diaries.
Monthly Newsletter
Add some spice to your style with movie set-inspired designs.