Steal the Look – Dress Like Bonnie Bennett from The Vampire Diaries
Add a touch of cinematic magic to your wardrobe with our roundup of daring and hip movie-inspired outfits. We'll show you how to dress like Bonnie Bennett from The Vampire Diaries with our selection of chic and stylish pieces. Slip them on and step into the spotlight like a star with these iconic looks from The Vampire Diaries.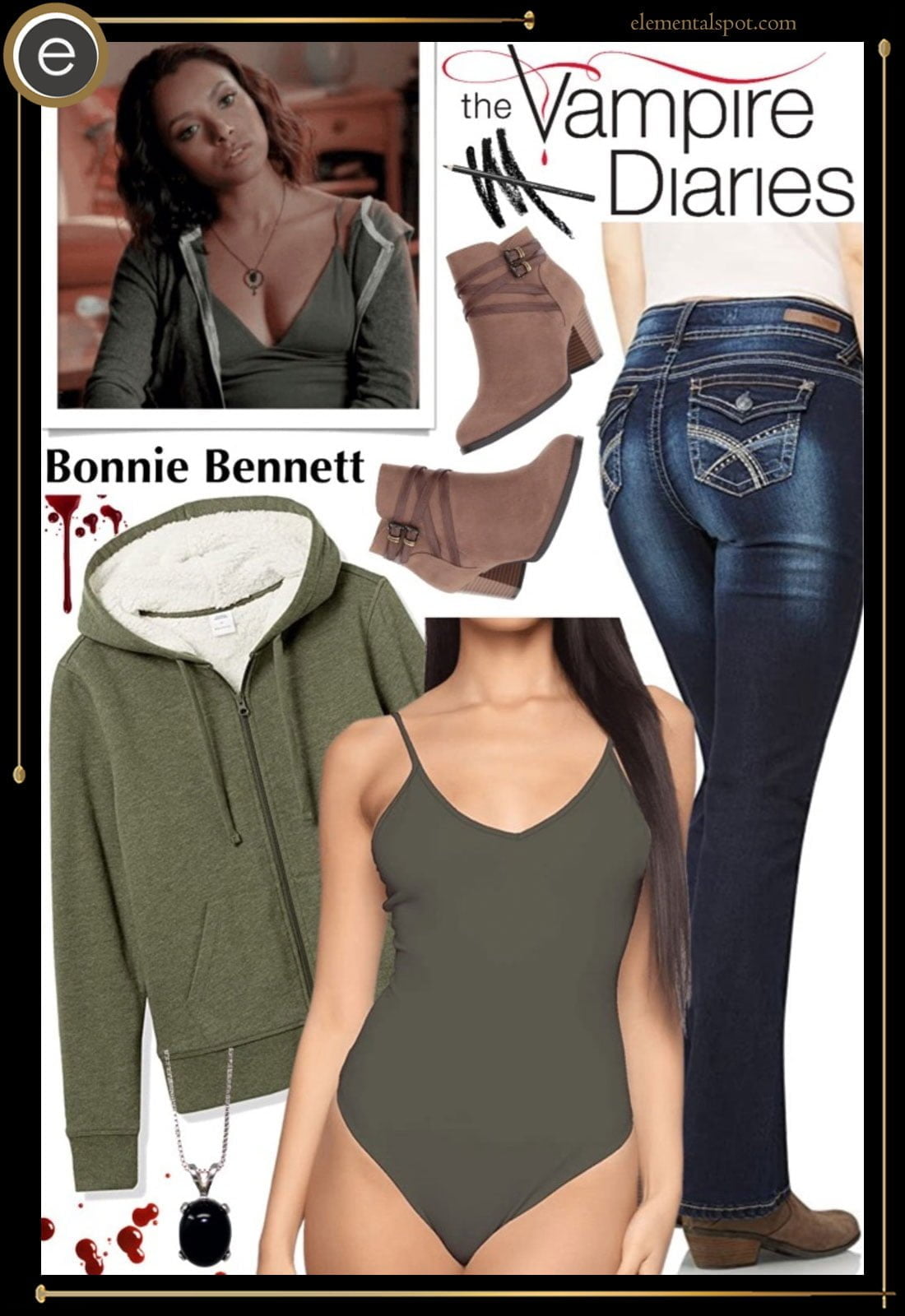 Shopping List for Bonnie Bennett from The Vampire Diaries Outfit
The Vampire Diaries (2009-2017) quickly became a cultural phenomenon. The show, based on the L.J Smith book series of the same name, took vampires, witches and werewolves and threw them into a world of teen high school drama. But along with a cast of strong female leads and powerhouse characters to idolize, there was also their dark and moody costumes. Especially the feisty and empathetic witch of the show, in her Bonnie Bennett The Vampire Diaries outfit.
With the story's plot centered around the fictional town of Mystic Falls, The Vampire Diaries follows the troubled life of Elena Gilbert when the estranged Salvatore brothers return home and she finds herself in a world of love and revenge. But with her small Virginia town also drawn into the dangerous supernatural realm, Mystic Falls and its residents will need a protector and there is no one better for the job than Bonnie Bennett.
The last surviving witch of the Bennett family, who is loyal to a fault, is ready to sacrifice herself for her friends, family and the town she grew up in.
The Resilient Bonnie Bennett: A Bennett Witch's Journey
A confidante and kind-hearted person, who might just be the real heroine of the story, Bonnie deserves all the praise she gets. The powerful witch, expert spell caster and at one point anchor to the Other Side, has died, been trapped in the Prison world and watched her loved ones, including soul mate Enzo, perish. So a little bit of Hellfire won't be able to stop this supreme power.
Casual and Relaxed to Bohemian and Feminine: Exploring the Bonnie Bennett The Vampire Diaries outfit
However, before we can look at how to steal powerful witch Bonnie Bennett The Vampire Diaries outfit, first we need to study how costume designer Leigh Leverett created a wardrobe to reflect the spiritual, caring and loyal heroine of the show.
Reflecting the Spiritual Heroine: Costume Design by Leigh Leverett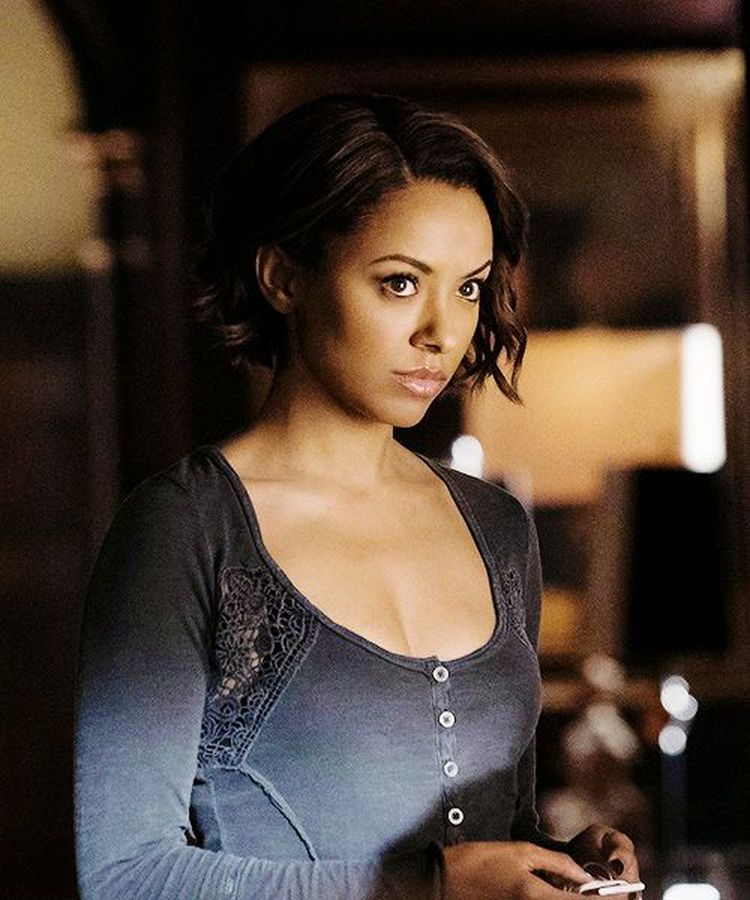 Bonnie, played by Kat Graham, might be the last surviving witch of the Bennett family with immense power and abilities, but when it comes to fashion and dressing she is just like any other young adult. Going from a carefree high school student to a compassionate adult with real world problems, her style adapts and changes as she grows and experiences life.
At one point, with a dreamy bohemian style reminiscent of American Horror Story's Misty Day, or a nod to Elena's relaxed and casual closet, it is a subtle mix of both that her look finally settles on.
Patterns, Colors and Feminine Mystery: Bonnie's Unique Statement Style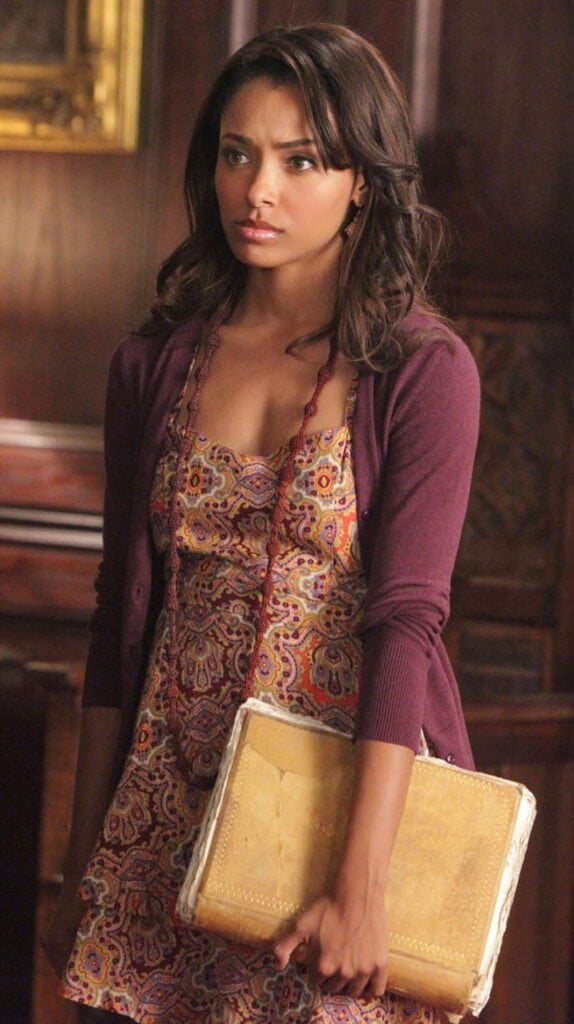 But even with her ever changing style a Bonnie Bennett The Vampire Diaries outfit is not afraid of bright color or prints. Mixed with the moody chic shades that the show is so well known for, Bonnie adds rich bold colors giving a feminine and dreamy spin to her wardrobe. Shades of green, burgundy and soft pinks and white lift her darker blacks, blues and grays, to create her unique statement style.
Missing an Outfit Inspo? Submit your idea and we'll make it happen!
With her abstracted patterned tank tops and knitted cardigans, to floral prints and beaded embellishments, Bonnie's style carries an air of feminine mystery. Picking colors and silhouettes that suit her bubbly and fun loving spirit, while still complimenting her petite frame.
Effortlessly Blending Casual Chic, Feminine Allure, and Soft Edge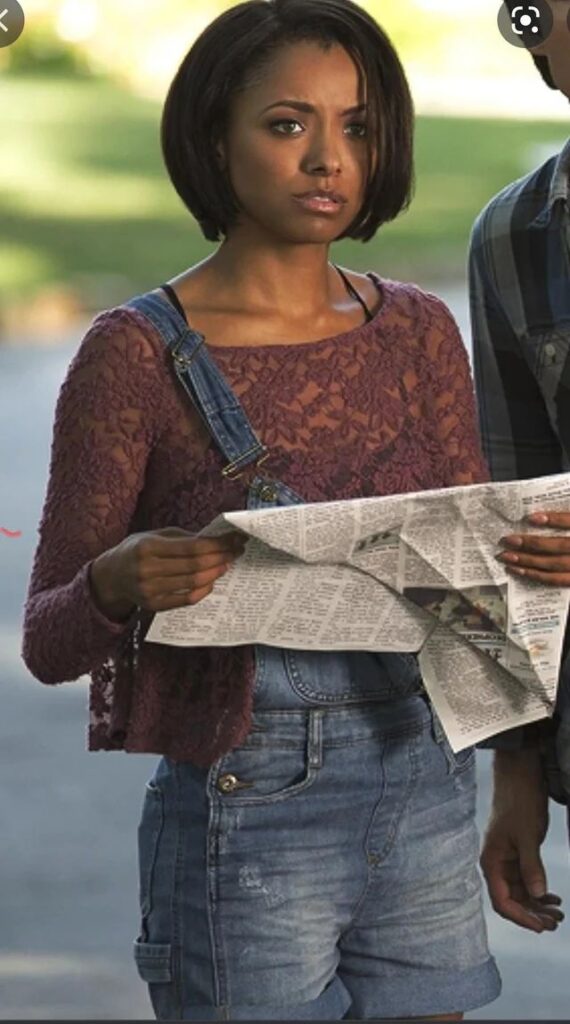 Going for casual wardrobe staples of jeans, t-shirts and button-down shirts, with trendy bohemian sleeveless blouses, lace tops and flare cardigans a Bonnie Bennett The Vampire Diaries outfit doesn't emphasize her prowess or power. Staying away from a typical dark and dangerous look like Lucifer's Mazikeen (whose wardrobe secrets are here) Bonnie's lace fabrics and beaded embellishments hide her strength and heroine tendencies behind femininity and a soulful beauty.
But Bonnie's favored statement heeled boots and leather or suede jackets in darker grays and blacks are the show's way of hinting at the self-sacrificing witch's true power. Occurring more as the seasons progress and her true skills are revealed and tested, she never loses that soft edge in her wardrobe, that is the true representation of her power.
Bonnie's Changing Hair and Make-up Styling
Young and beautiful, Bonnie's wavy dark brown hair is one of her most recognisable features and just like her clothes changed and adapted as she matured, so does her hair and make-up.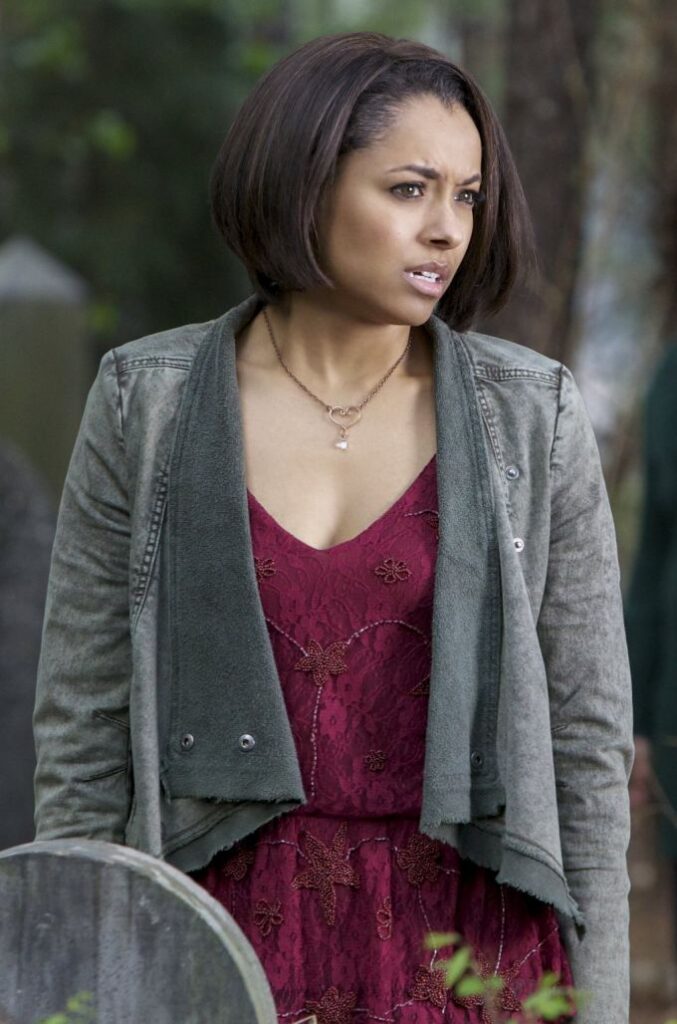 Whether she has it cut into a sleek chin length bob of straight dark hair or worn long falling below her shoulders with soft loose curls, the shiny well cared for locks always make a statement. More often or not left down parted to the side to frame her warm and caring face.
Not one to hide her natural beauty behind heavy layers of make-up, a typical Bonnie Bennett The Vampire Diaries outfit rarely has any on at. Always wearing more on special occasions, though as she grows up Bonnie does add some more striking make-up looks to her outfits. Always doing a darker eye, using gray eyeshadows, black eyeliner and mascara she keeps the rest of her face soft and neutral. Even doing a simple nude brown lip.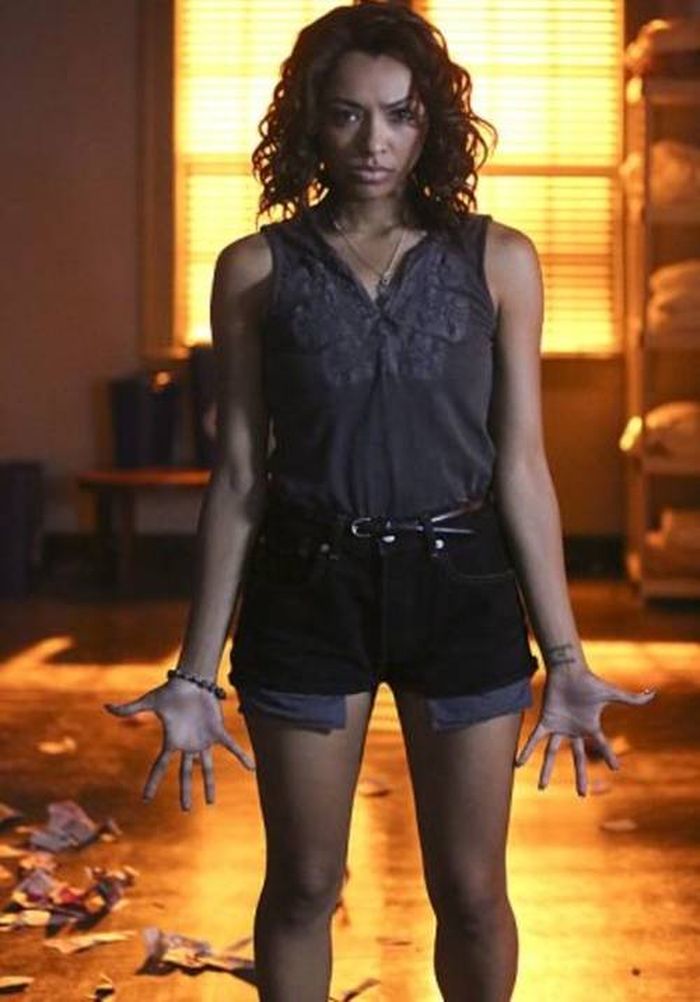 But her look would never be complete without the added accessories of a selection of jewelry. Small and dainty dangle earrings with crystals and gemstones, paired with her long chain necklaces and pendants add to her bohemian magical vibes. Mixed and matched, and with no favorites, she doesn't layer her necklaces, instead opting for a paired back look that adds some subtle sophistication.
Casual with a Hint of Feminine Charm: Steal Bonnie's Bodysuit, Jeans and Hooded Jacket Outfit
The Bonnie Bennett The Vampire Diaries outfit that we have chosen in our collage above shows off a more relaxed and casual side to her wardrobe. While losing none of her feminine charm that usually appears in her dreamy bohemian looks.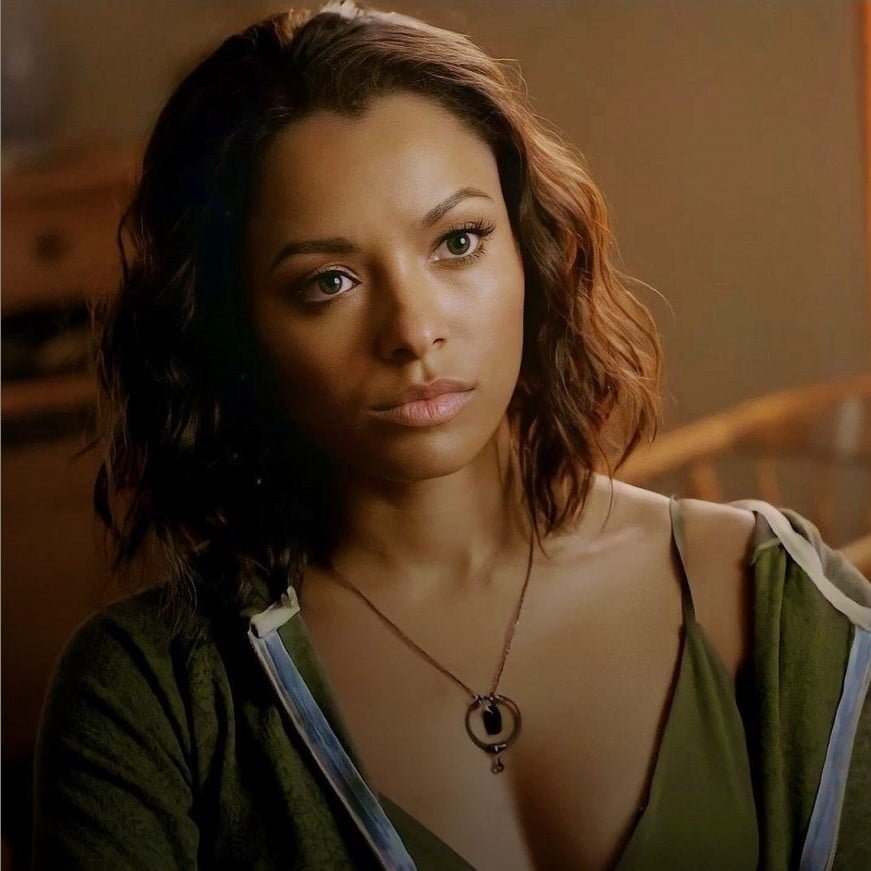 Like a lot of Bonnie's outfits this one pairs softer colors and fabrics with the show's more traditional looks of moody chic denims and leather. While giving her a very mature fun-loving young feel that perfectly reflects Bonnie's personality and characteristics.
Recreate the Bonnie Bennett The Vampire Diaries outfit
Start with a matching khaki green bodysuit and zipper jacket. Go for a tank top bodysuit with a low v-front neckline to show a bit of skin and front zipper hoodie jacket in a soft cotton fabric with front pockets and long sleeves.
Layer some medium wash slim fitting bootcut jeans over the bodysuit, adding the hooded jacket over the top, left open and unzipped. Along with a pair of brown leather or suede heeled ankle boots.
For this season eight look Bonnie's dark brown hair is worn shoulder length in its usual off center parting, with loose softly brushed out curls. Gently pushed back, but with no additional styling, the curls fall framing her simply made-up face and emphasize her casual relaxed appearance.
There is no heavy make-up hiding Bonnie's natural beauty, instead she has enhanced her flawless complexion with a hint of blush on her cheeks and a darker, more statement eye. Grays and blacks create a very subtle smokey look, that is finished with black eyeliner above and below the eye and a few coatings of mascara for some added volume.
Replicate her outfit in the show with a soft nude brown lip and the black onyx crystal necklace on a silver chain that she has on around her neck.
This simple casual Bonnie Bennett The Vampire Diaries outfit stays away from her bohemian style of dressing, while still encompassing her feminine charm we are so used to seeing in her wardrobe. Similar to her BFF Caroline Forbes, who has a wardrobe of girly and romantic clothes, including her Black and Red Lace Dress we show you how to steal here.
Monthly Newsletter
Add some spice to your style with movie set-inspired designs.