Steal the Look – Dress Like Misty from American Horror Story
Add a touch of cinematic magic to your wardrobe with our roundup of daring and hip movie-inspired outfits. We'll show you how to dress like Misty from American Horror Story with our selection of chic and stylish pieces. Slip them on and step into the spotlight like a star with these iconic looks from American Horror Story.
Shopping List for Misty from American Horror Story Outfit
When Ryan Murphy and Brad Falchuk came up with the idea for a television show of self-contained miniseries, with the same actors returning in different roles, people were skeptical. But still running over ten years later, all true fans of American Horror Story (2011 – Present) have their favorite season. With it being no surprise that fashionistas are drawn to the third, Coven, full of sharp tongued, sharply dressed witches. The chic black clothing broken only by the spiritual wonder of a Misty American Horror Story outfit.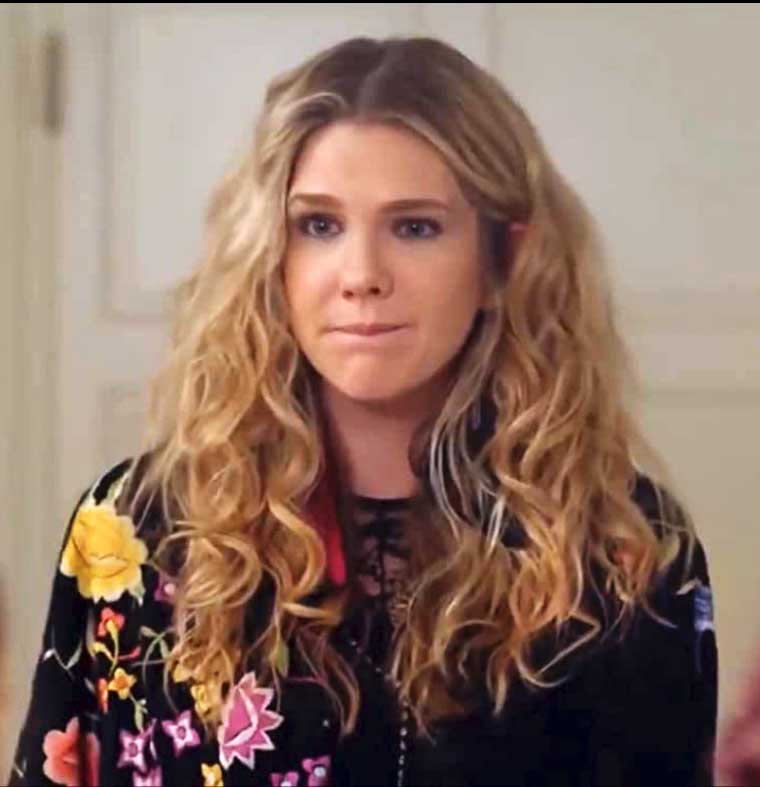 Misty Day is a powerful witch with the natural ability for resurrecting dead souls. Lonely and living amongst the healing nature of the Louisiana swamps, Misty wanders to find her people and her coven. American Horror Story: Coven, Fox.
Set in New Orleans in 2013, the third season of American Horror Story subtitled Coven follows the young witches of Miss Robichaux's Academy. As the Salem descended witches come into their magical powers their new coven teaches them how to survive in the modern world and control their abilities.
Misty Day, the most spiritual of the witches, has the natural gift of resurgence and can resurrect the souls of the dead, including herself when she is burnt at the stake. Spending her time in the Louisiana swamp, meditating and using its healing abilities in her magic, attending Miss Robichaux's Academy is an adjustment for her. Softened only by the appearance, and shared music, of her favorite white witch, Stevie Nicks.
Boho Chic: Studying Misty's American Horror Story: Coven Closet
Before we even look at what it would take to steal a Misty American Horror Story outfit, first we need to take a peek into how designer Lou Eyrich creates her effortless boho chic look through her clothes, hair and make-up.
Misty Day, played by Lily Rabe in her third appearance in American Horror Story, is a young nature loving witch desperately looking for her own group to call her coven. Her spiritual temperament means that, out of all the witches she is most likely to stray from a wardrobe full of black clothes that most witches are known for. Instead often seen wandering through the swamp, at one with nature in her paler, more earthy toned garments of greens, pinks and whites.
With a style that most closely represents the boho chic look, Misty has a never ending collection of floaty dresses and skirts to choose from. Easily layered, her garments work to give her an eccentric feel to her character, and create a softness that represents her nurturing nature and abilities of resurgence.
Missing an Outfit Inspo? Submit your idea and we'll make it happen!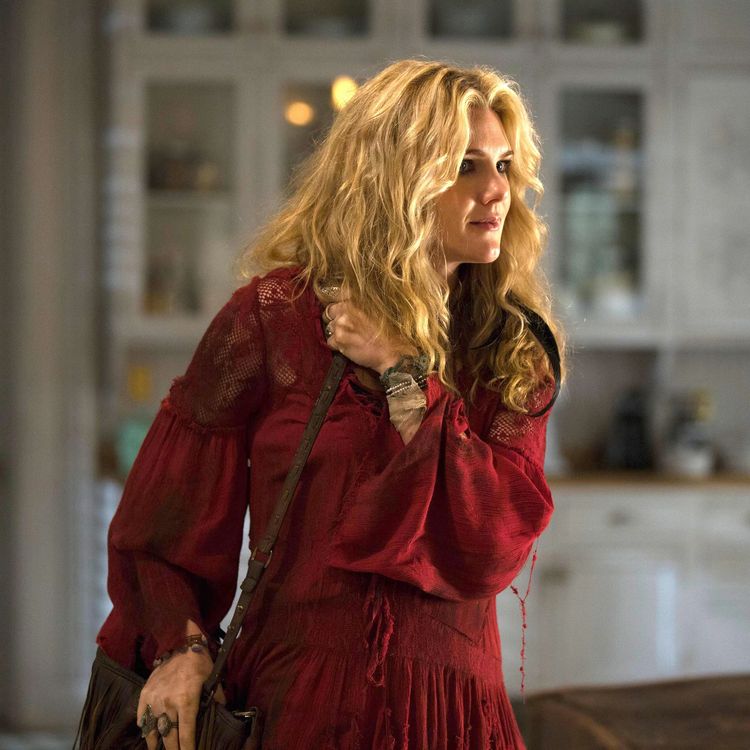 Made of delicate laces and flowing cottons, her skirts, tops and dresses are known for having long handkerchief hems, tie details and even the odd bit of fringing, reinforcing that bohemian feel. Overlaid with flower embroidered shawls and jackets, Misty's look always seems to be thrown together from lots of clashing pieces, but our gentle witch effortlessly carries it off.
Blond curls, dark smokey eyes and lots of jewelry
Without a doubt Misty's natural blond hair will be recognised as one of her defining features. She wears her long shiny pale hair loose and down around her shoulders, with a beautiful soft curl through the strands to give her hair some volume and thickness. Parted down the middle and framing her face, she leaves her locks natural and a bit tousled with no styling.
Throughout the third season of American Horror story, and her cameo in Apocalypse, Misty's make-up focuses mainly on her eyes. With her delicate features and flawless pale complexion, she creates a contrast by doing a smokey eyed look with dark eyeshadows, black eyeliner and mascara. Before adding a deep rosy pink lipstick, with a slight glossy shimmer to her lips.
But a Misty American Horror Story outfit wouldn't be complete without a selection of jewelry layered on top of her clothes. With no favorite pieces, she often wears a wide selection from crystals on chains around her neck, to amulets and charms, and even a few feathers. She doesn't seem to believe you can wear too much jewelry at once and will happily have rings on all her fingers, bracelets, necklaces and a pair of earrings as part of the same outfit.
Get the Bohemian vibe: Steal Misty's Maxi Skirt and Crochet Top Outfit
The Misty American Horror Story outfit featured in our collage above is a typical look for our nature loving witch. Being made up of a number of separate pieces that could be mixed and matched into some of Misty's other looks.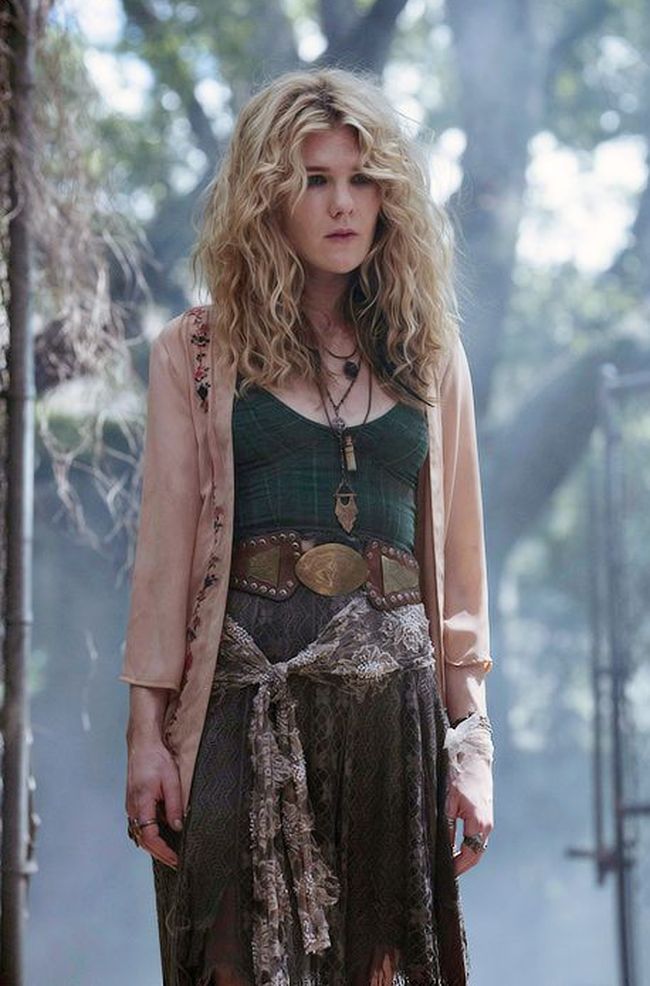 Like most of her outfits this one also has that bohemian feel to it, that gives Misty her floaty and slightly eccentric appearance. She has paired an earthy green toned crochet top with a long dark coloured, black or blue, maxi skirt, before adding a brown leather belt around her waist.
Sticking to her favored soft and delicate color palette, she has layered a pale pink kimono jacket over her top and skirt, with a light coloured lace scarf tied around her hips. Finishing the look with some brown boots to go under her skirt, with either a chunky block heel or no heel at all. 
As expected her thick blond curled hair is loose around her shoulders and she has transformed her features with her dark eye make-up and soft pink lipstick, before adding some jewelry. Some layered necklaces, earrings and not forgetting a selection of rings across both hands, keeps the look very bohemian and eccentric just like Misty herself. 
If this Misty American Horror Story outfit is a bit too pale and innocent for the witchy vibes you are trying to go for, you could always check out Miss Robichaux's Academy headteacher, and eventual supreme, Cordelia Goode's floral skirt and turtleneck outfit.  Or if you're captivated by Misty Day's enchanting bohemian style in 'American Horror Story' have a look at Marianne's eclectic and vintage-inspired outfits in 'You,
Monthly Newsletter
Add some spice to your style with movie set-inspired designs.