Steal the Look – Dress Like Cordelia from American Horror Story
Add a touch of cinematic magic to your wardrobe with our roundup of daring and hip movie-inspired outfits. We'll show you how to dress like Cordelia from American Horror Story with our selection of chic and stylish pieces. Slip them on and step into the spotlight like a star with these iconic looks from American Horror Story.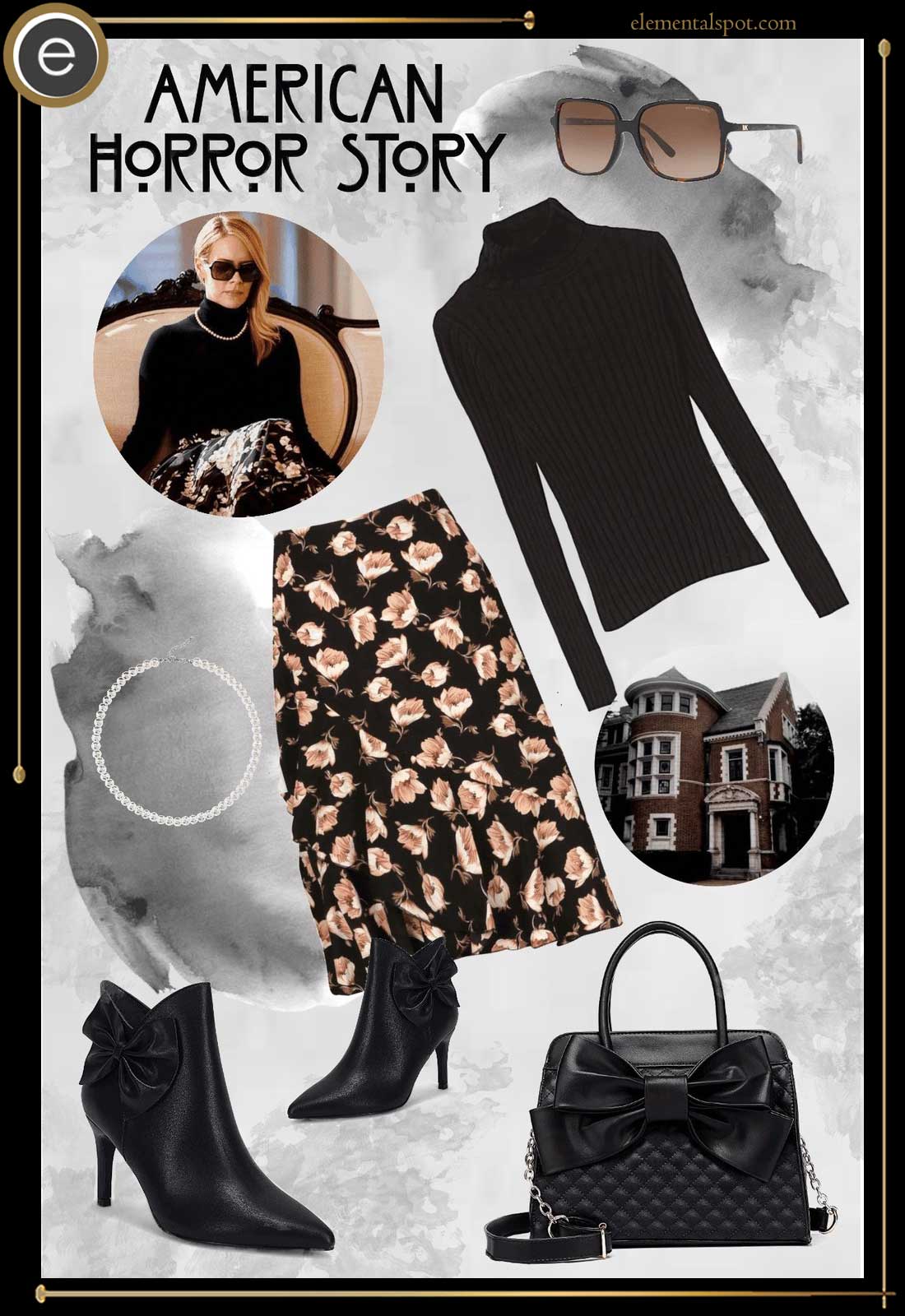 Shopping List for Cordelia from American Horror Story Outfit
It is no surprise that the third season of Ryan Murphy and Brad Falchuk's American Horror Story (2011 – Present), the television show of self-contained miniseries, is the favorite among the world of fashionistas. Subtitled Coven, with many of the characters reprising their roles in the later season Apocalypse, the chic and unique black filled wardrobes of the witches has created some unforgettable costumes. None more so than the Cordelia American Horror Story outfit, of the reigning Supreme. 
Set in New Orleans in the year 2013, the third season of American Horror Story follows the young witches of Miss Robichaux's Academy. An all-girls boarding school set up to protect, teach and nurture the young descendants of the Salem witches.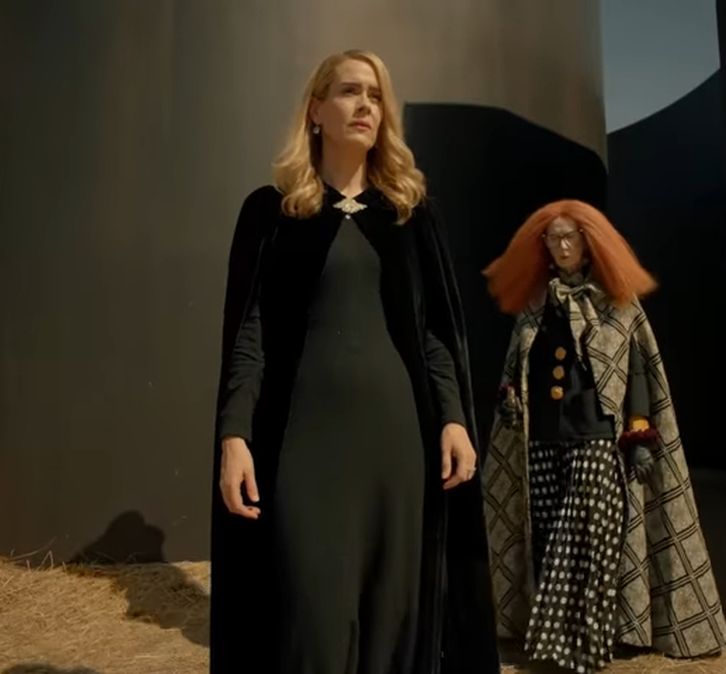 Cordelia Goode is the gentle and caring headmistress of Miss Robichaux's Academy, where she had also grown up after being left by her mother as a teeneager. Going on quite a journey, Cordelia gains the gift of Sight (visions) when a set of witch hunters blind her with acid. Possessing her powerful new ability, the fiercely protective witch goes to great lengths to keep it and complete the Seven Wonders to ascend to the position of Supreme of the Salem descendants.
Straight-laced to powerful Leader: A Look at the wardrobe of Cordelia Goode
To learn her secrets, and steal a Cordelia American Horror Story outfit, first we need to explore the clothes and style created for her by costume designer Lou Eyrich.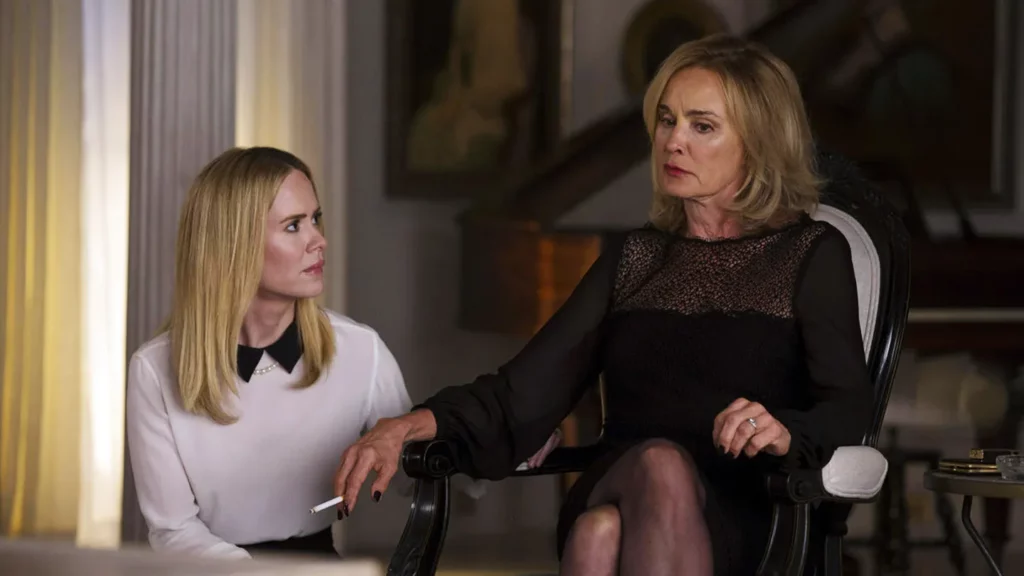 When we first meet Cordelia, portrayed in the show by Sarah Paulson, the often overlooked daughter of the powerful Supreme, Fiona Goode, has faded into the background and spends her life trying to please other people. Wearing the typical black clothes that are expected of someone who is a witch, she doesn't draw attention to herself, instead focusing on her students. 
But with the use of her clothes, the costume department on the show has managed to depict Cordelia's kind and nurturing nature perfectly. With lots of soft knits and delicate lace fabrics. As well as her very prim and proper silhouettes of high necklines and long skirts, Cordelia has a gentle and trustworthy feel.
However as Cordelia eventually steps out from her mothers shadow, and works to develop her own powers and abilities, we start to see her wardrobe reflect the change. Subtle hints of color through floral prints, stark cream blouses and bolder fashion choices indicate her growing confidence.
And by the time we see her again in season eight, Apocalypse, the now powerful Supreme, a Cordelia American Horror Story outfit has become one of sharp tailoring and statement pieces.
Hair, Make-up and Sunglasses: Cordelia's Styling Secrets
Known for her prim and proper way of dressing, the same could be said about her hair and make-up styling. Cordelia's dark blond hair, shiny with the care and attention she gives it, is always styled precisely. Worn long and straight below her shoulders, she has it parted to the side and leaves it down to frame her face. With her only styling being a rare curl through the end of the strands as her look develops.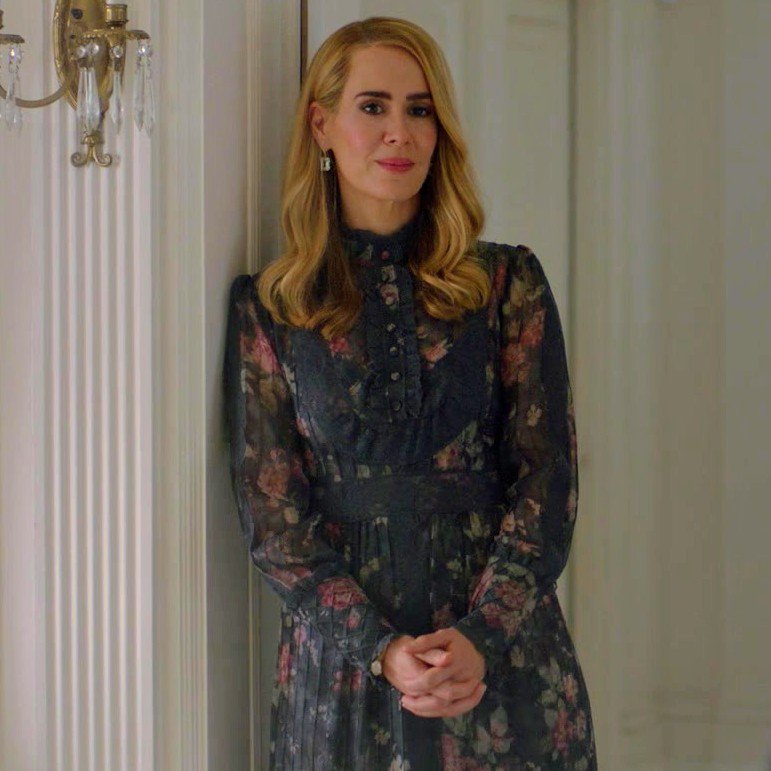 Throughout Cordelia's seasons on American Horror Story her make-up has stayed the same and compliments her gentle and nurturing nature. Relying on her flawless complexion to work with her smokey eye make-up to carry her look. The contrast of the darker eyeshadows, eyeliner and mascara paired with a pale pink glossy lip give her delicate features a subtle confidence.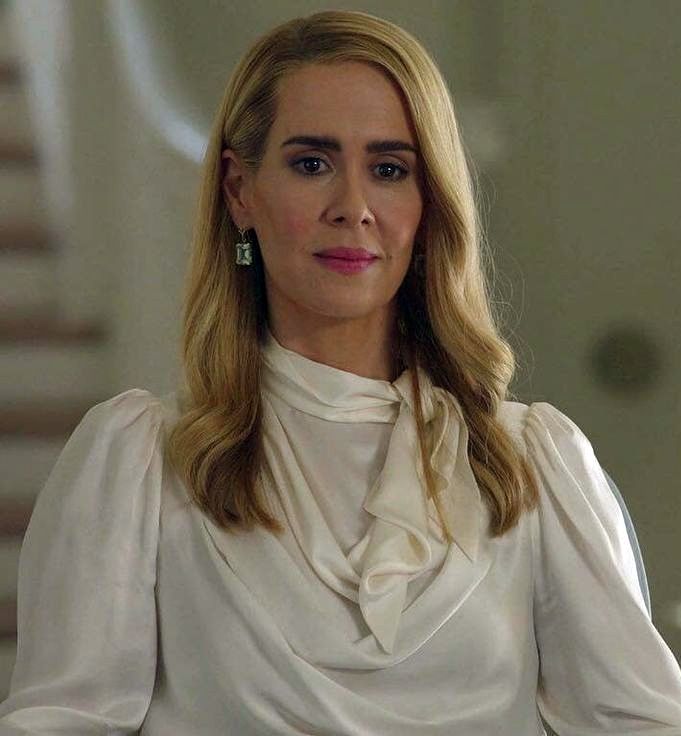 However a Cordelia American Horror Story outfit wouldn't be complete without her simple accessories. The black sunglasses only become one of her main accessories, after her eyesight has been taken from her. But her pearl necklace, that sets off her black clothes and reinforces her prestige and personal strength, along with some large square earrings have always featured in her outfits.
Prim and Proper: Steal Cordelia's Turtleneck and Floral skirt outfit
The Cordelia American Horror Story outfit featured in our collage above is a typical look for our straight-laced head teacher.
With most of Cordelia's outfits showing her soft and gentle nature, and respectable approach to dressing, this outfit feels different. Giving off the no-nonsense vibes that eventually allowed Cordelia to become the Supreme, taking over the role from her cruel yet powerful mother.
She has paired her usual elegant black knitted turtleneck sweater with a bold black floral skirt, stopping just below her knee, before adding some thick black tights to the outfit.
Black ankle boots with a side bow detail and stiletto heel, are the perfect mix of pretty and assertive that Cordelia is going for. Adding a matching black handbag with a bow feature to finish off her outfit.
Her long blonde hair, as usual, is parted to the side and has been swept over her left shoulder to fall around her face with a gentle curl. Her polished look is completed with some delicate earrings, a beautiful pearl necklace and her large square framed black sunglasses to hide her damaged eyes.
If this Cordelia American Horror Story outfit is a bit too prim and proper for the witchy vibes you are going for, you could always check out Miss Robichaux Academy student, and quite the fashionista herself, Madison Montgomery's leather skirt and furry jacket outfit.
Monthly Newsletter
Add some spice to your style with movie set-inspired designs.