Steal the Look – Dress Like Madison from American Horror Story
Add a touch of cinematic magic to your wardrobe with our roundup of daring and hip movie-inspired outfits. We'll show you how to dress like Madison from American Horror Story with our selection of chic and stylish pieces. Slip them on and step into the spotlight like a star with these iconic looks from American Horror Story.
Shopping List for Madison from American Horror Story Outfit
When the third season of Ryan Murphy and Brad Falchuk's American Horror Story (2011 – Present) announced it was about witches the fashion world went into a frenzy. Everyone knows that the on screen magic of a witch comes as much from a wardrobe full of gothic inspired clothes as it does their supernatural abilities. But with Coven taking a different approach, the modern 70's inspired fashion quickly became every fashionista's obsession. Especially when talking about the closets full of the sassy perfection that is a Madison American Horror Story outfit.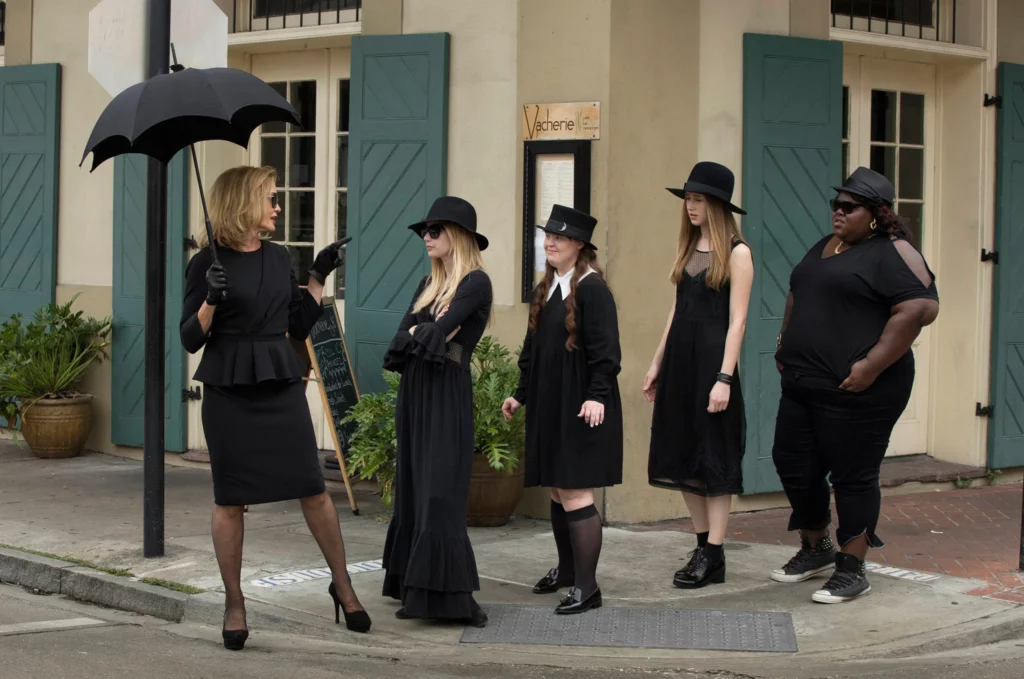 Set in New Orleans, we first meet Madison as a student at Miss Robichaux's Academy for Exceptional Young Ladies. The all-girls boarding school, of Salem descended witches, protects, nurtures and guides them in their new acquired abilities while teaching them how to navigate the modern world.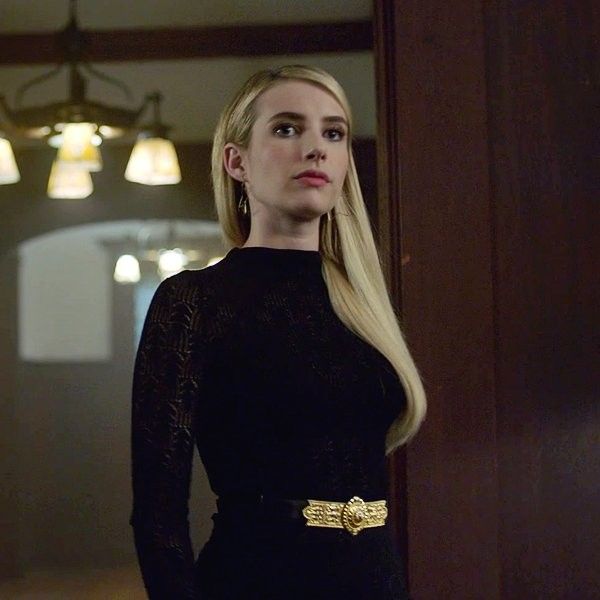 Madison Montgomery, the 17 year old sharp-tongued powerful telekinetic witch, is used to getting things her own way. But when she is left at Miss Robichaux's Academy because her powers are drawing unwanted attention to her, she learns she can't always get everything she wants. No matter how many snide comments or verbal jabs she throws, this time she might have just met her match in her fellow sister witches.
A Modern Witch: Exploring the Designer Wardrobe of Madison Montgomery
Before we look at what it takes to steal a Madison American Horror Story outfit, first we need to study how costume designer Lou Eyrich created the confident and self-centered witches flawless wardrobe of name brand pieces.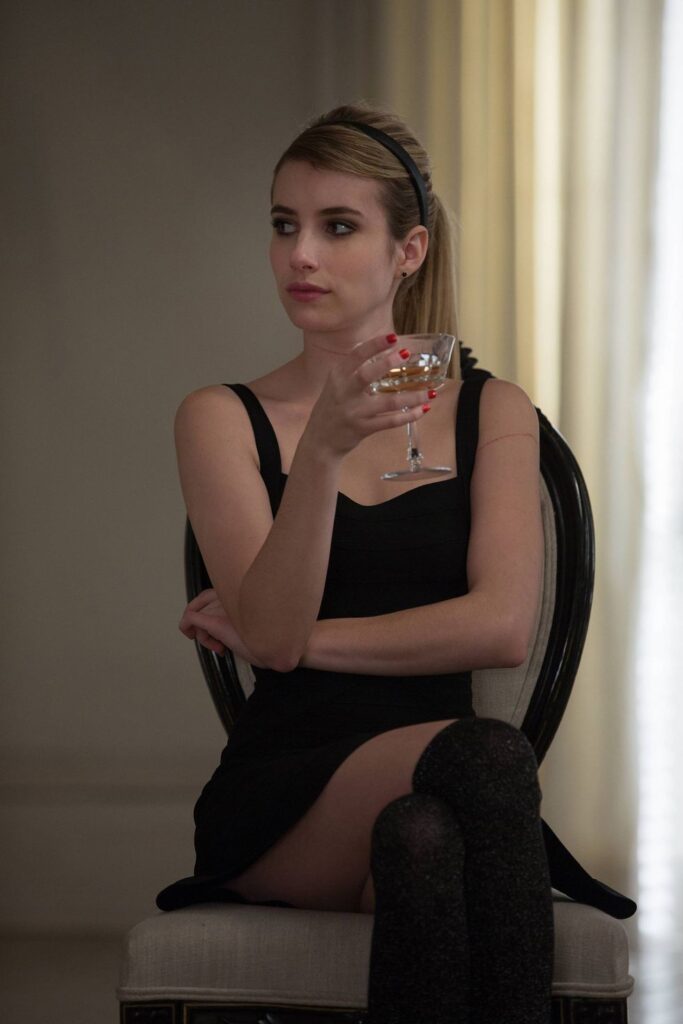 Madison Montgomery, played by Emma Roberts, is a young child star whose partying and demanding ways have gotten out of control. Her vain and self absorbed attitude, along with her love of expensive fashion means she is happy to conform to a wardrobe full of black clothes, but only if it is on her terms.
Perfect for the modern witch look that the costume department were going for with their 70's inspired designs. Lou Eyrich described Madison's look as 'high-waisted short shorts and a lot of fur' when interviewed by W Magazine before the release of season eight, Apocalypse.
With everything from lace to fur and sequins to leather, as long as it is designer and modern Madison will wear it. Almost always in a witches signature black, her clothes are short and tight to fit her slender figure and make sure all eyes are on her. Nothing is a no go, with her wardrobe featuring skirts and dresses just as much as chiffon blouses and pants.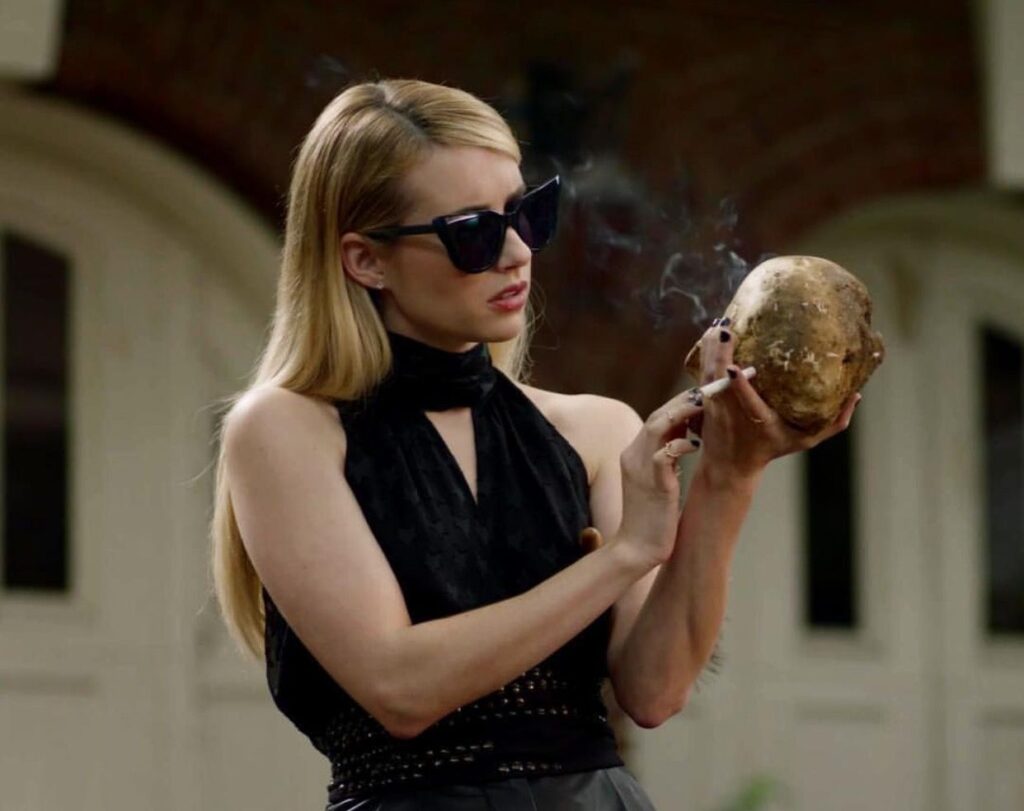 No Madison American Horror Story outfit is complete though without a killer pair of heels. So our sassy witch spends just as much time, and money, on picking the perfect footwear to compliment her clothes. High end designer boots and dangerously high platform stilettos are her go to, and with her vain attitude the more painful they look to walk in the better. 
Missing an Outfit Inspo? Submit your idea and we'll make it happen!
If you're a fan of Madison Montgomery's edgy and glamorous fashion choices, then you won't want to miss the equally fashion-savvy wardrobe of Chanel Oberlin from 'Scream Queens'. Discover how Chanel's outfits perfectly blend high-end fashion with a touch of mean-girl attitude in our article on her unforgettable style
Once a star, always a star: Madison's Flawless hair, Make-up and Accessories
A striking beauty, the young blond witch makes sure her hair and make-up are flawless. She wears her long immaculate blond hair loose and down around her shoulders. With a slight wavy texture that she has styled with front side swept bangs to soften her face. She has even been known to add a cute headband, or to pull it all back into a ponytail if an outfit required it.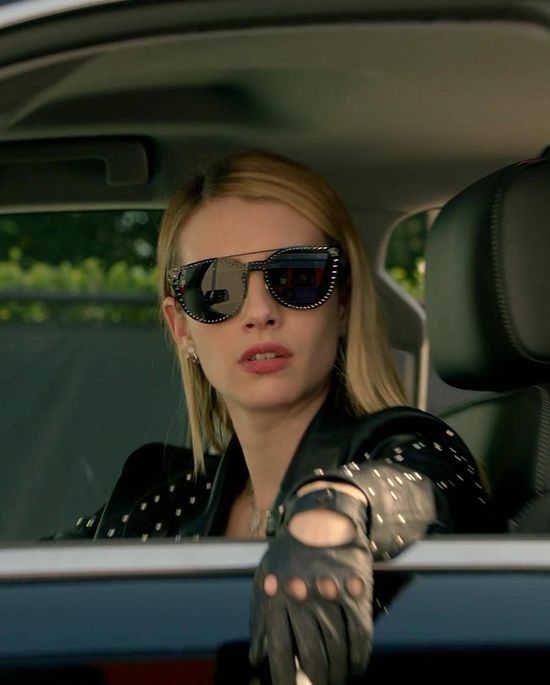 Unlike the other witches of her coven, Madison wears make-up to stand out and be seen, just like she does with her designer outfits. Using her flawless beauty and pale complexion to draw attention to her eyes, where she has created the perfect dark contrast with eyeshadow, eyeliner and mascara. Before adding a slight blush to her cheeks and a rosy tint to her lips.
But a Madison American Horror Story outfit needs a few accessories to make sure she is looking her best. Once a star, always a star, Madison favors the 'look at me' discretion that a big hat and black sunglasses can give, which if anything just makes her more alluring. A few expensive and delicate pieces of jewelry add to her high end look, as do some designer handbags. But it is those big dark sunglasses she can't live without.
High End Perfection: Steal Madison's Fur Jacket and Leather Mini-skirt Outfit
The Madison American Horror Story outfit from our collage above is a typical look for our one time starlet and snide witch, especially since she wears it when burying fellow coven sister Misty alive.
As with all of Madison's outfits this one also has that high end designer feel, that gives our sharp-tongued witch her vain and self-absorbed appearance. Choosing to pair a maroon leather skater mini-skirt with a sleeveless snakeskin top, before adding a statement black fur jacket to the look.
Sticking with her signature black to accessorize the outfit, she has pulled on some knee-high black and white polkadot socks to go under her chunky ankle boots.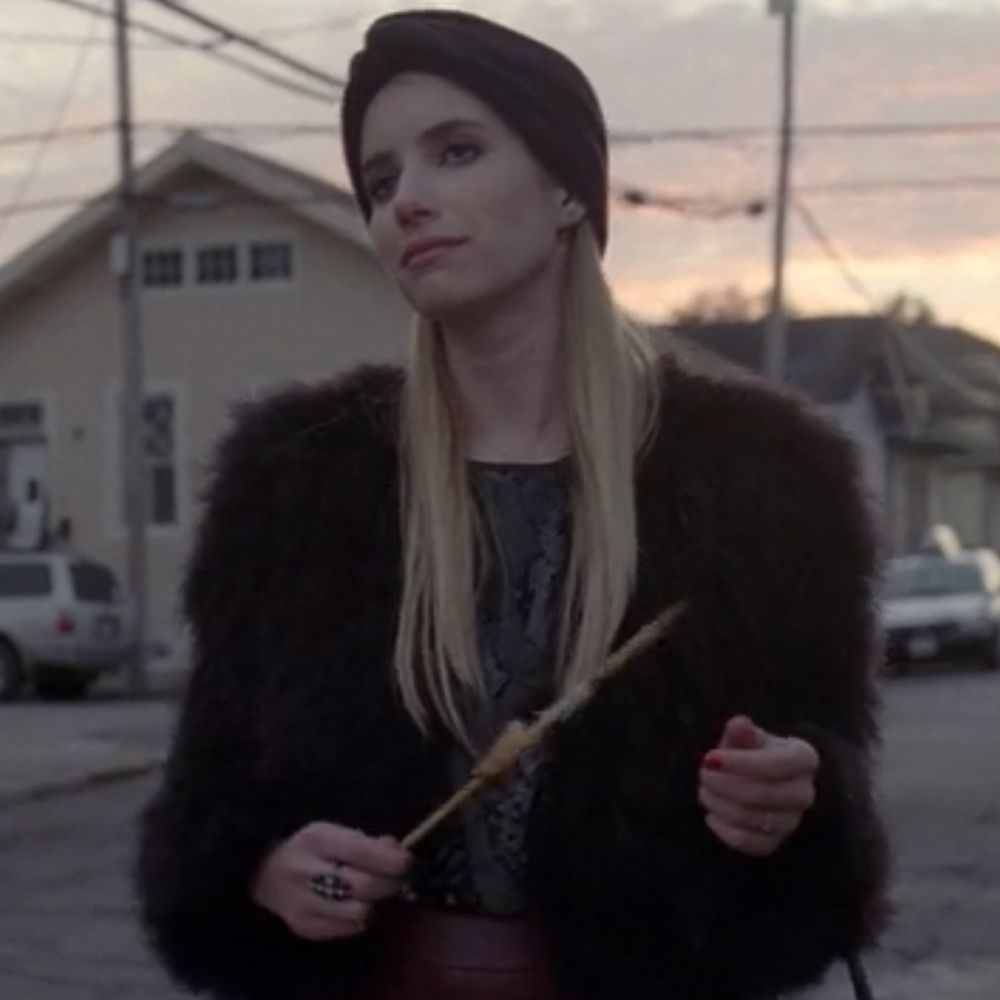 Like most of Madison's looks, her long blond hair is loose and down falling over her shoulders, but this time she has added a large black twist headband. Using it to push her blond locks away from her face. Which is no doubt made up flawlessly with her pale complexion, dark eye make-up and rosy pink lips.
A black shoulder bag worn across her arm, some delicate earrings and a couple of rings on her fingers finished Madison's look to high end perfection.
But we can't all be as 'look at me' as a Madison American Horror Story outfit is, and so maybe her look is a bit too dark for your wardrobe. If you prefer a more innocent, nature loving witchy vibe, why not have a look at the queen of boho chic, and steal Misty's maxi skirt and crochet top outfit.
Monthly Newsletter
Add some spice to your style with movie set-inspired designs.