Steal the Look – Dress Like Chanel Oberlin from Scream queens
Add a touch of cinematic magic to your wardrobe with our roundup of daring and hip movie-inspired outfits. We'll show you how to dress like Chanel Oberlin from Scream queens with our selection of chic and stylish pieces. Slip them on and step into the spotlight like a star with these iconic looks from Scream queens.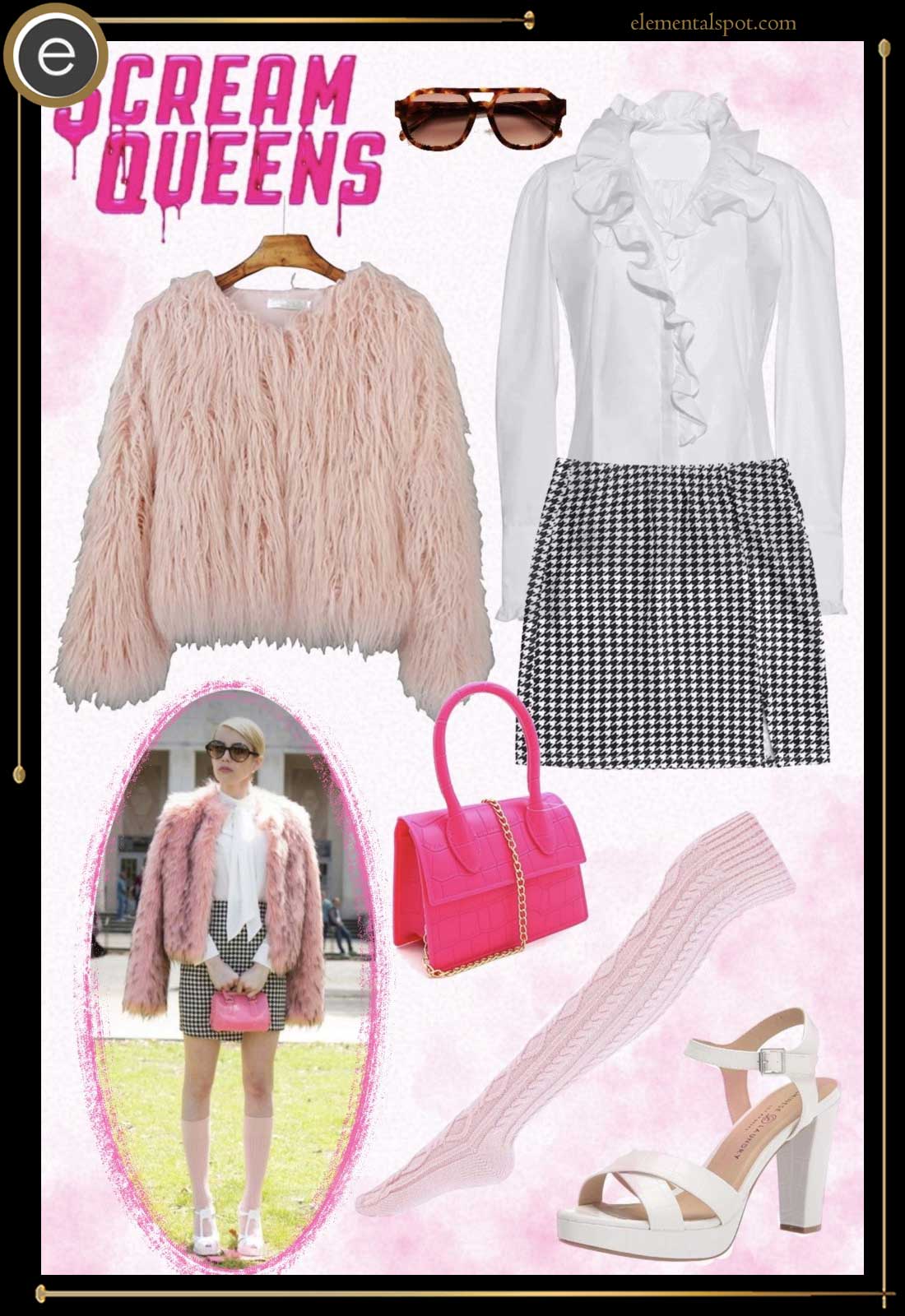 Shopping List for Chanel Oberlin from Scream queens Outfit
If you're a true lover of odd genre combinations, Scream Queens (2015 – 2016) is what you're looking for. It's a horror-comedy slasher TV show by Ryan Murphy, Brad Falchuk and Ian Brennan, and it actually first premiered at the 2015 Comic-Con! However, we're not here to give you a full history of the show, but focus on the cutest villain you've ever seen – let's look at some Chanel Oberlin outfits.
And oh, don't be fooled by her beautiful face and her fashionable exterior – she is one mean and merciless villain. If you've always enjoyed "the mean girl" character arc, you'll love Chanel. Her name is the best introduction to who she is and what she wears. We don't know about you, but we're expecting lots of girl patterns and lots of pink.
Chanel Oberlin Outfits – Queen of Fashion and The Princess of Evil
Scream Queens is a pretty dramatic show overall, which is why Chanel Oberlin's outfits are often pretty extravagant. She used to be a president of Kappa Kappa Tau, a sorority full of like-minded girls who actually just wish to be like Chanel. She's the true "you either want to be her or be with her" kind of girl, and her fashion just proves she knows her worth.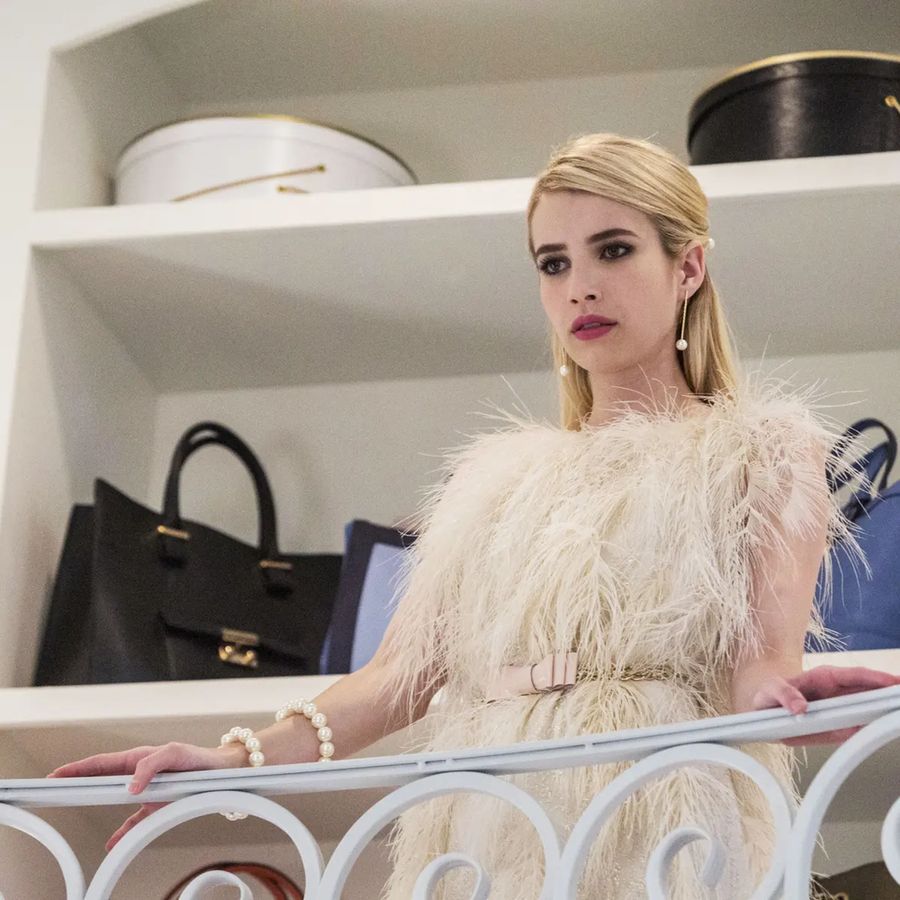 All Chanel Oberlin outfits have one thing in common – they all scream (no pun intended) rich. She typically wears pearly necklaces, fur, silk, cashmere and expensive wool, so if you're trying to recreate her look, steer away from pocket-friendly materials. Played by Emma Roberts, Chanel is a character with many backup plans. She mostly wears dresses, skirts, and jumpsuits, and it's actually quite tough to catch her wearing pants.
Her favorite colors include pink, white, and pastel shades, which goes really well with her pale complexion and her long, blonde hair. A perfect clothing item for Chanel would be anything decorated with fur, feathers, bows, pearls, and sequins. She frequently flirts with the fashion concept of "the more, the merrier", which is why she also wears lots of accessories.
To really grasp how mean, yet fabulous Chanel is, you have to watch this YouTube edit by a fan. It's simply iconic.
She pays attention to detail and color-coordination is very important in her feminine looks. Her thin figure does well with tight dresses, but she often covers those with blazers and cardigans. Stay away from jeans, t-shirts and sneakers – that's not the game Chanel plays.
Missing an Outfit Inspo? Submit your idea and we'll make it happen!
The More, The Merrier – Best Accessories For Chanel Oberlin Outfits
We've mentioned that accessories play a huge role in her style, but we have to be more specific if we want to replicate Chanel Oberlin outfits truthfully. Let's be honest – it takes some confidence to play this rich and self-absorbed beauty. After all, when accused of being an awful person, she responds "Maybe, but I'm rich, and I'm pretty, so it doesn't really matter."
Pearl necklaces, bracelets, and earrings are a must-have for this mean girl, and she's no stranger to chunky jewelry either. Chanel also wears fur hats and fashionable gloves, which are accessories we don't see too often on the screen. It's almost as if her villain costume consists of high-fashion pieces, which is not only ironic, but kind of terrifying too.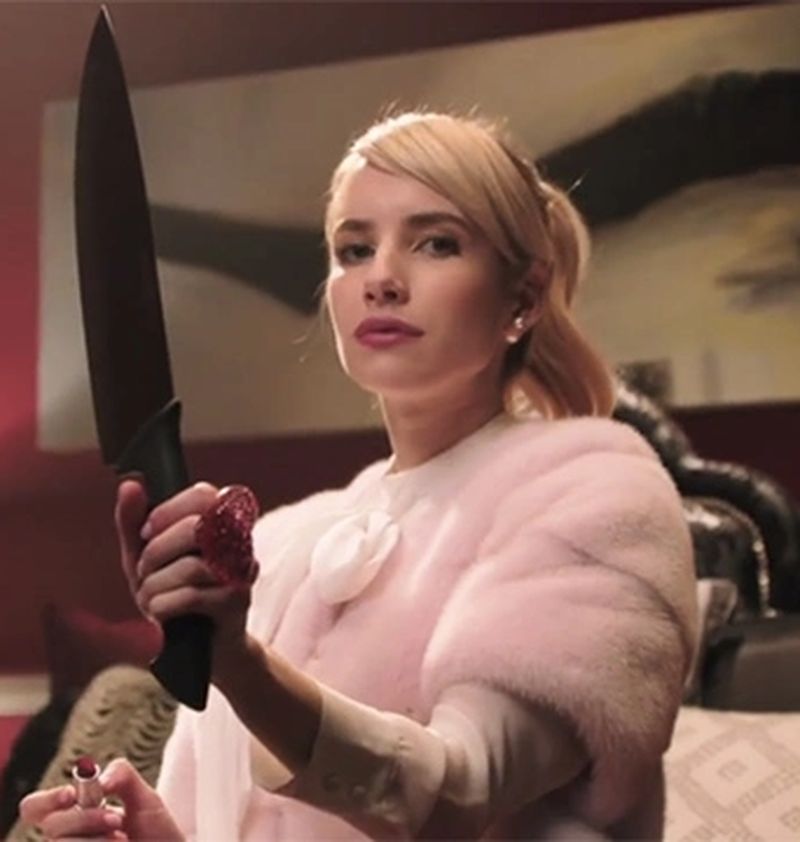 Whether you choose pearls or diamonds, it's important that you have two pieces of jewelry on you at all times! She also loves big sunglasses that cover her eyes as she gives every judgy look, and bags are a must-have as well. Chanel Oberlin outfits are always topped with a small bag, but don't worry, there are no chihuahuas emerging from the pockets.
Let's not forget knee-high pink socks, stilettos, platforms, and fancy belts – the ultimate secret is to put a thin belt around your waist while you wear a pink dress. Girly, fancy, confident, and queen-like are just some of the words that describe both Chanel's outfit and her attitude. Don't forget to make sure you're the center of attention at all times.
Sleek And Elegant – Hair And Makeup For Chanel Oberlin Outfits
No outfit is complete without hair and makeup, right? Chanel Oberlin is the first person to swear by this, so let's take a look at her favorite ways to accentuate her style via her hair and makeup. When we take a look at her hair, we see that she most often wears it the same way. Her long, blonde strands sit at her back, exposing her pearly necklace.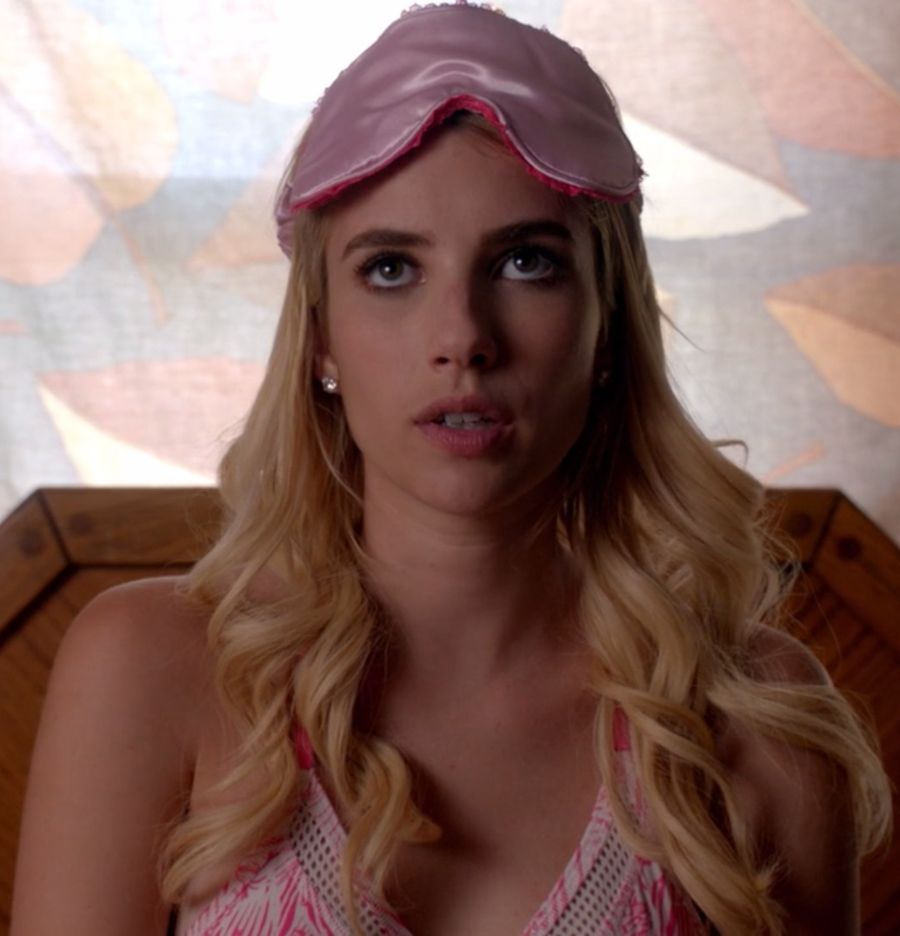 She mostly does a side part, and sometimes has a half updo, but you won't go wrong with any sleek, straightened and well-brushed hairstyle. Her makeup is also pretty straightforward – she likes to accentuate her eyes, and her lips, while leaving her complexion fairly pale. The pink lipstick and blush tie together all pink outfits, while light smokey eyeshadow brings out the dangerous look.
Although she doesn't overdo the makeup, she is never seen without it, as this would be criminal! If you want to create perfect outfits inspired by Chanel Oberlin, you cannot skip the makeup and the hair. This barbie-inspired character may look similar to Camille from Emily in Paris, but the two have completely different personalities.
Our Favorite Chanel Oberlin Outfit – The Mean Girl
In the end, we want to present you with our absolute favorite Chanel Oberlin look. We think this one really showcases who Chanel is, and you can easily assess her "vibe" from this single look. We start by combining a fancy white blouse with ruffles and a short skirt with the famous houndstooth duotone pattern. This combination alone screams elegance, but would be considered a bit too corporate for Chanel, so she added some girly-girl accessories.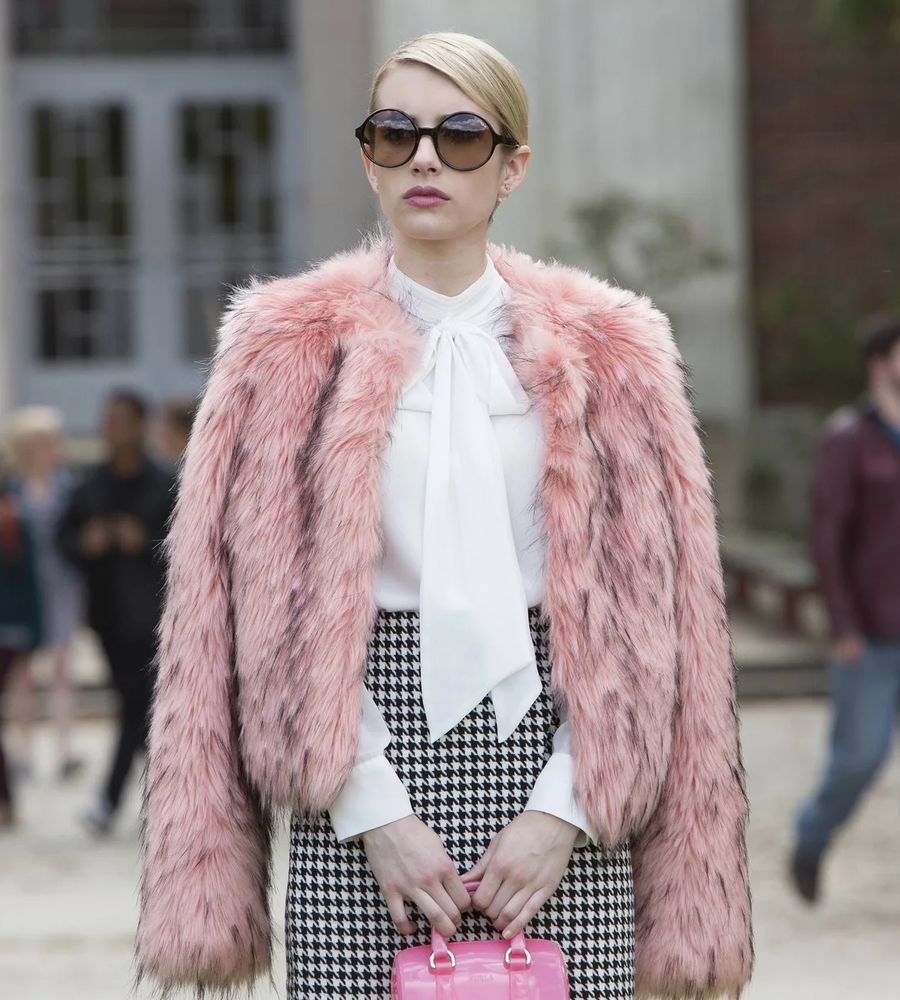 A pink jacket covered in fur, a small pink leather bag, and a pair of white open-toe sandals work perfectly together for this fun look. However, to make it a bit more feminine, Oberlin puts on some pink knee-high socks. Pop on some sunglasses, and a pretty set of pearly earrings, put your hair in a slicked-back bun, and you're done! Chanel Oberlin outfits may all look similar, but the queen of fashion never wears the same thing twice.
Monthly Newsletter
Add some spice to your style with movie set-inspired designs.