Steal the Look – Dress Like Camille from Emily in Paris 2
Add a touch of cinematic magic to your wardrobe with our roundup of daring and hip movie-inspired outfits. We'll show you how to dress like Camille from Emily in Paris with our selection of chic and stylish pieces. Slip them on and step into the spotlight like a star with these iconic looks from Emily in Paris.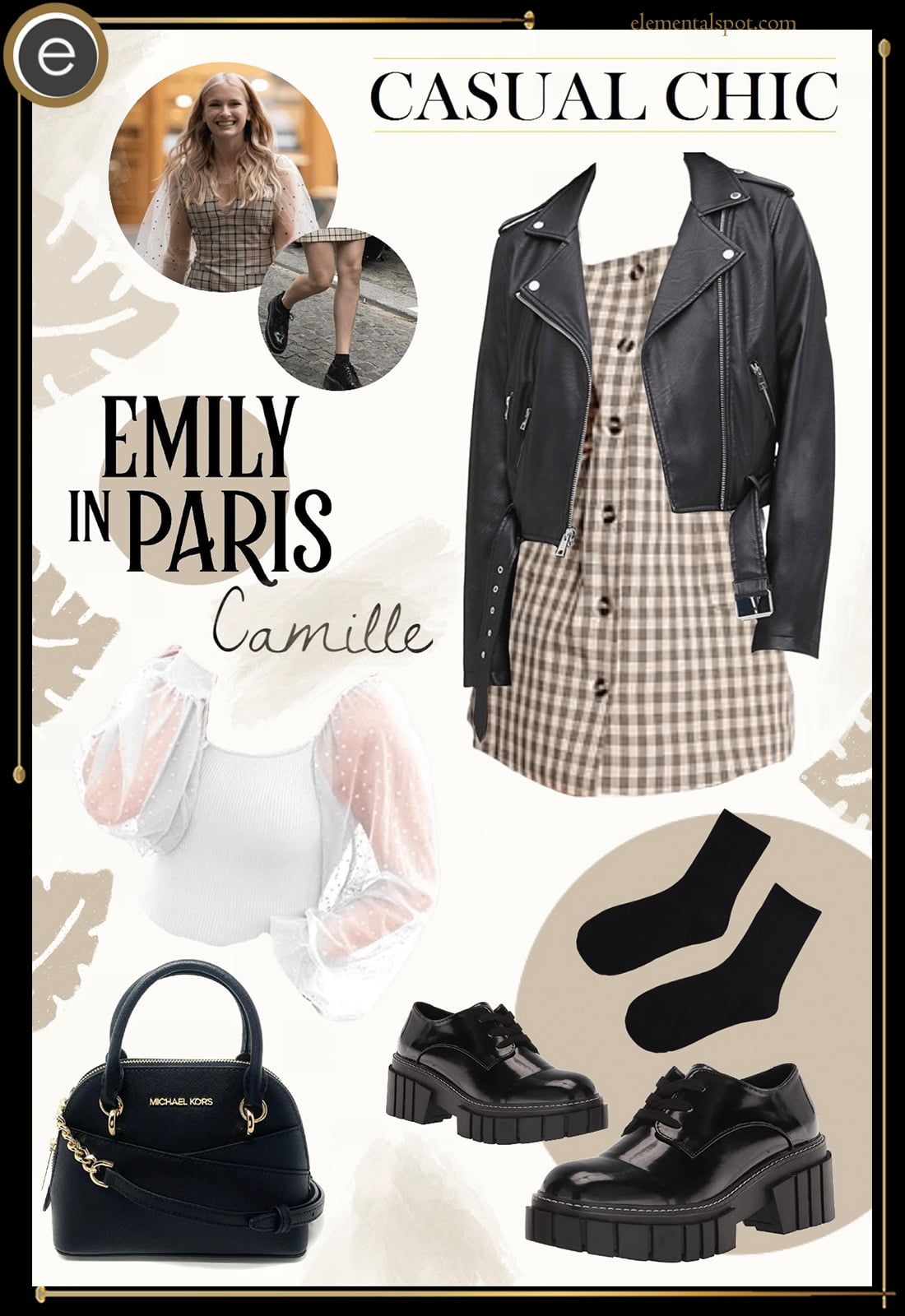 Shopping List for Camille from Emily in Paris Outfit
Many people have reported that Emily in Paris (2020-running) has completely stolen their hearts, but also emptied their wallets. How would it not, with all the great fashion combinations and choices? Our favorite characters have been styled by the fantastic Marylin Fitoussi, and today we dive deep into the Camille Emily in Paris look.
Camille is what you'd call a socialite, but she isn't rude or condescending at all! On the contrary, she is one of the sweetest and most honest characters on the show. Her parents own a champagne company, but you maybe wouldn't be able to guess that simply from her clothes. Although Camille, played by the beautiful Camille Razat, loves the chic look, she doesn't wear tacky, luxurious pieces.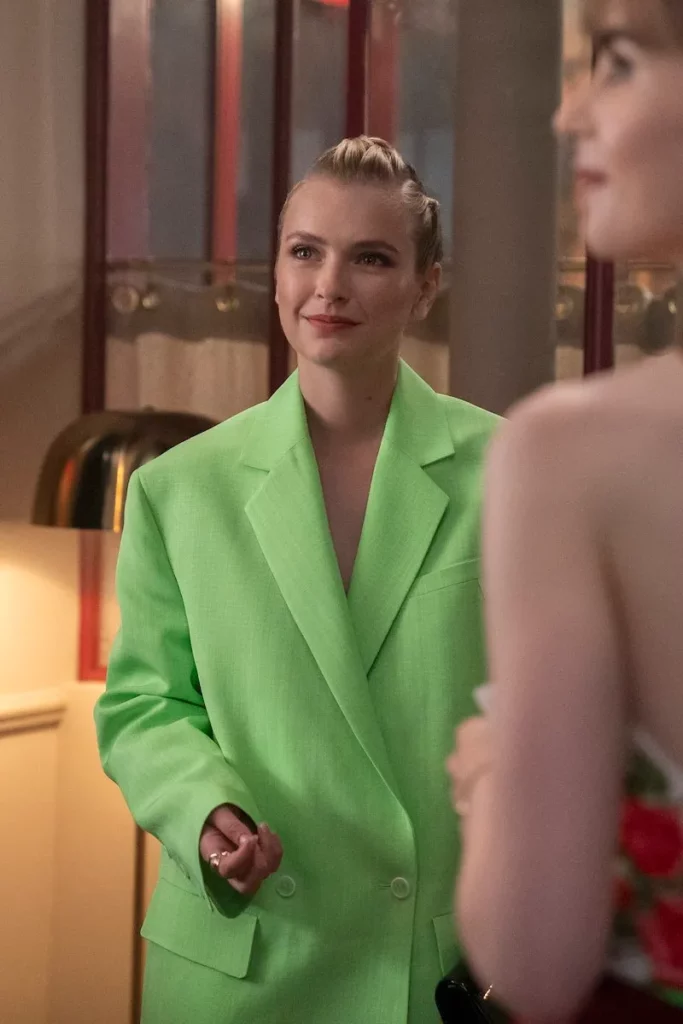 How To Dress Like Camille from Emily in Paris
You know how some people brag about statement pieces? Camille would definitely brag about staples – instead of buying extravagant clothing pieces, she is most definitely sustainable and buys classic pieces that she can combine endlessly. She enjoys a few dresses and blouses that are out of the ordinary (such as her famous polka dot dress), but most of her clothes follow a pattern – pun intended.
She mostly enjoys shades of white, black, gray, red, and brown. Her favorite materials include denim and cotton, although she sometimes experiments with wool and chiffon. A great thing about Camille's closet is that you can copy the Camille Emily in Paris look just by diving deep into your closet and combining the things you already have – you must have some staples too!
Warning – skip this paragraph if you haven't watched season two! Camille is what you'd call a classic beauty, and we're very interested to see what type of maternity looks might be in store for season three. We loved the dramatic ending of season two where we find out Camille is pregnant. The actress has stated that "it was such a drama queen moment", the season finale.
Recreate Camille's Capsule Wardrobe
Do you know what a capsule wardrobe is? We're very happy to share our thoughts with you. Upon examining Camille's style and fashion, we've concluded that she most definitely has a capsule wardrobe, and that we should go over this idea to help you build one as well! Let's get started! Oh, and let's not forget – capsule wardrobe definitely does not imply boring wardrobe.
What's a capsule wardrobe? It's basically the type of wardrobe where you have limited choices, but they all fit well together. Your goal is to buy classic and customizable pieces, so you can easily combine them into well-curated outfits. That way, you don't have to worry too much about what you're going to wear because everything fits well with everything.
We'd say most of Camille's capsule wardrobe is inspired by autumn and winter – either that or people in Paris really love blazers and jackets! What are some classic pieces that you might want to put in your cold-inspired wardrobe? A black blazer, a white tee, a black one as well, some beige trousers, loafers, a classic black tote, a beige shoulder bag, some gold jewelry, white sneakers perhaps… Straight jeans are always a good choice too!
Missing an Outfit Inspo? Submit your idea and we'll make it happen!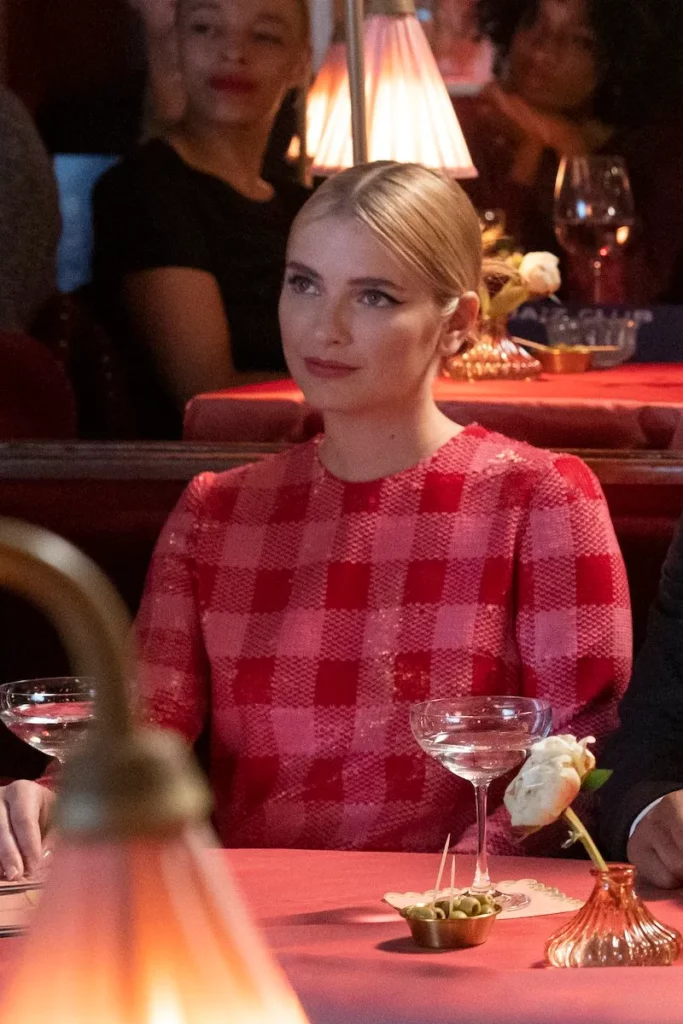 Steal Camille's Look from Emily in Paris
If you're still somewhat confused about how complicated a classic look should be, we want to share with you one that we particularly love, and one that fits great with the idea of a capsule wardrobe. Look at all the neutral colors, as well as some black staples! You can really never go wrong with such pieces.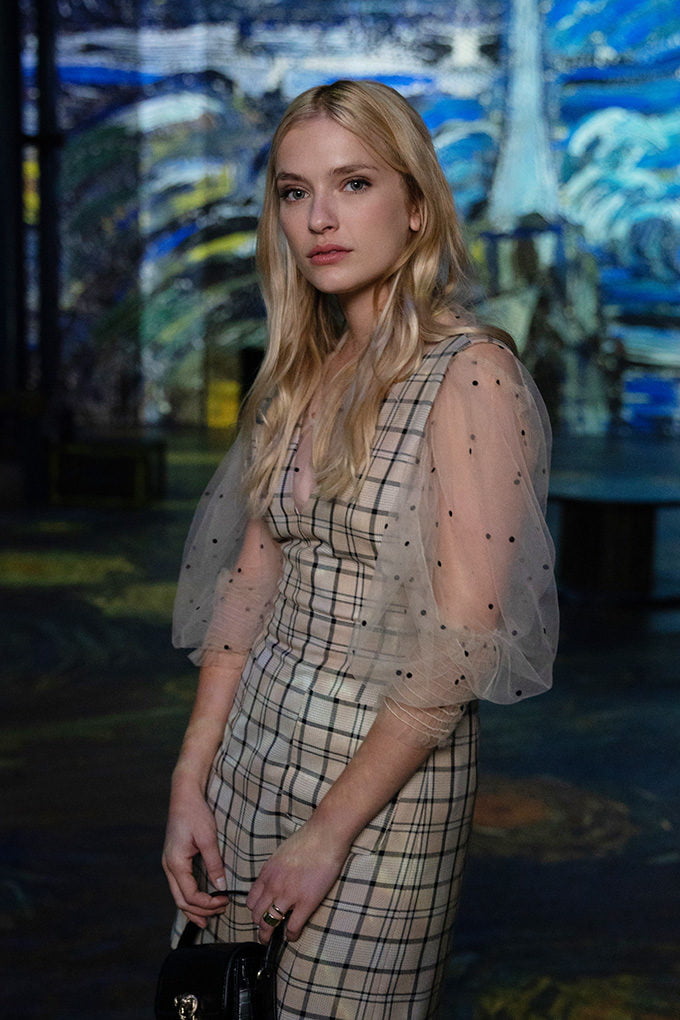 In this look, Camille represents a casual chic vibe. She has a checkered beige dress that might look a bit too girly, so we combine it with a black leather jacket to make it more casual. You could definitely switch the leather jacket for a black blazer if you're going for a more mature look, though! We've talked about mature looks from Emily in Paris when we discussed Sylvie and her style!
She also has sheer sleeves that we have imitated with a sheer blouse that you can wear underneath the dress! Capsule wardrobe is all about becoming creative with what you already have, and that's why layering your clothes becomes a big deal!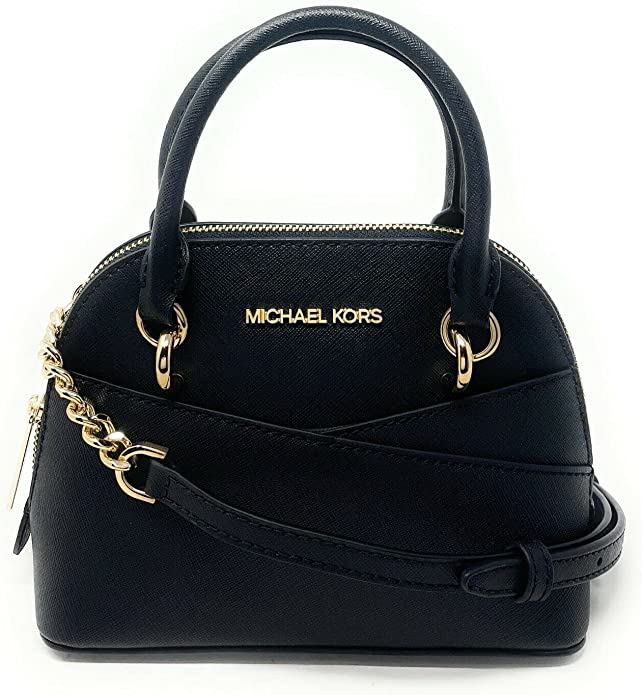 Michael Kors Crossbody Bag worn by Camille Razat in Emily in Paris
She spices up her look with some classic black loafers and black socks – we know, such a teenage-angst vibe! A classic black bag is what you need to finish off the look, and since we're so Paris-inspired, Michael Kors is a great choice – he was the first designer for Celine.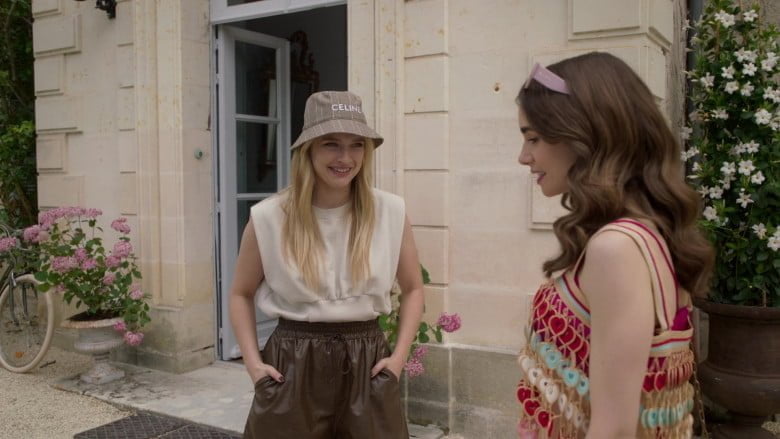 Some simple makeup and a flowy hairstyle will finish off our Camille Emily in Paris look. We hope you loved it as much as we did.
Monthly Newsletter
Add some spice to your style with movie set-inspired designs.