Steal the Look – Dress Like Camille from Emily in Paris
Add a touch of cinematic magic to your wardrobe with our roundup of daring and hip movie-inspired outfits. We'll show you how to dress like Camille 2 from Emily in Paris with our selection of chic and stylish pieces. Slip them on and step into the spotlight like a star with these iconic looks from Emily in Paris.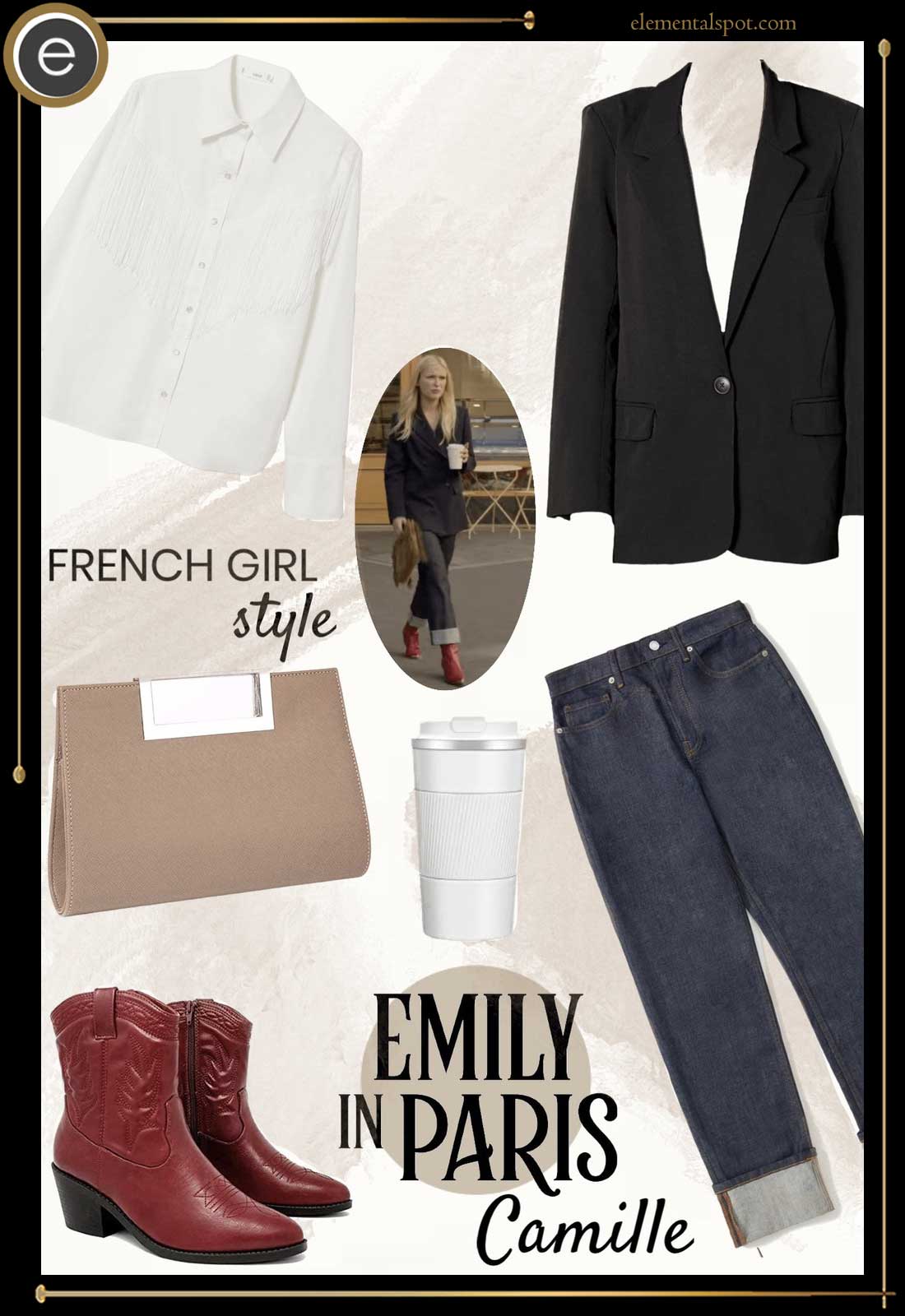 Shopping List for Camille 2 from Emily in Paris Outfit
Once again, Emily in Paris (2020-running) is the perfect choice for fashionistas who also like interesting plots and sketchy love interests! The TV show created by Darren Star, the creator of Sex and The City, features young women who are building their careers in the city of fashion and love – Paris. Naturally, we usually focus mostly on the characters with the most screen time, but today we dive deep into the Camille Emily in Paris project.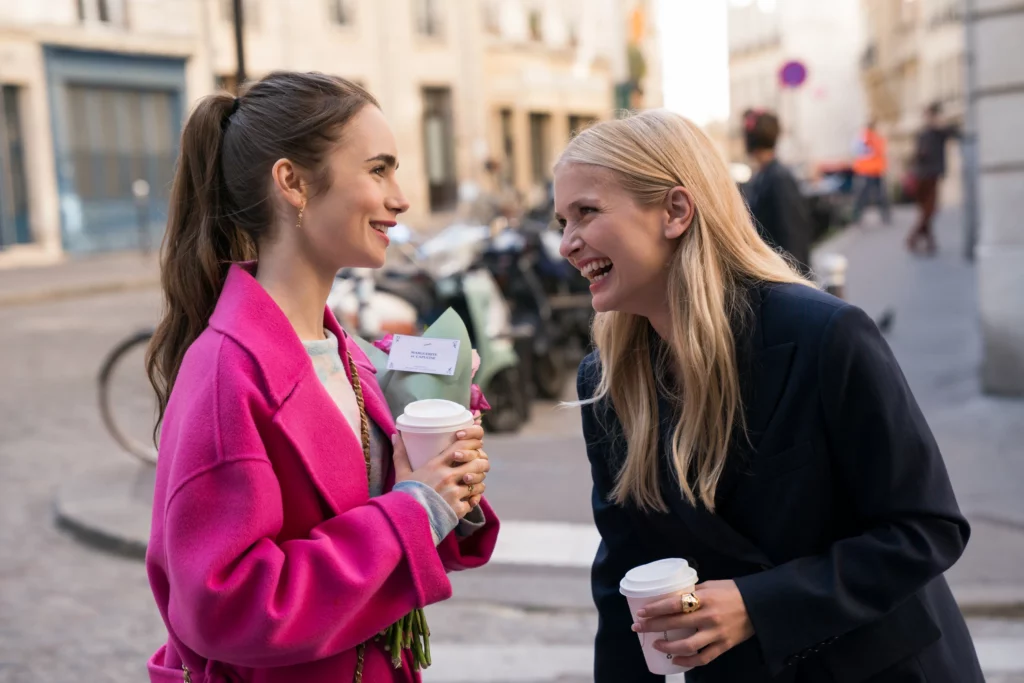 Who is Camille? Well, she is what you'd call a true Parisian girl. She might look stuck up and distant because of her high-fashion choices inspired by the aesthetic of old money, but she is truly sweet and friendly. She takes care of Emily when she first arrives in Paris – good thing she knows her way around the city due to the fact that her parents own a luxurious French champagne company. Although she has had a pretty easy-going life, that doesn't mean she can't give Emily advice on her hardships.
How To Dress Like Camille from Emily in Paris?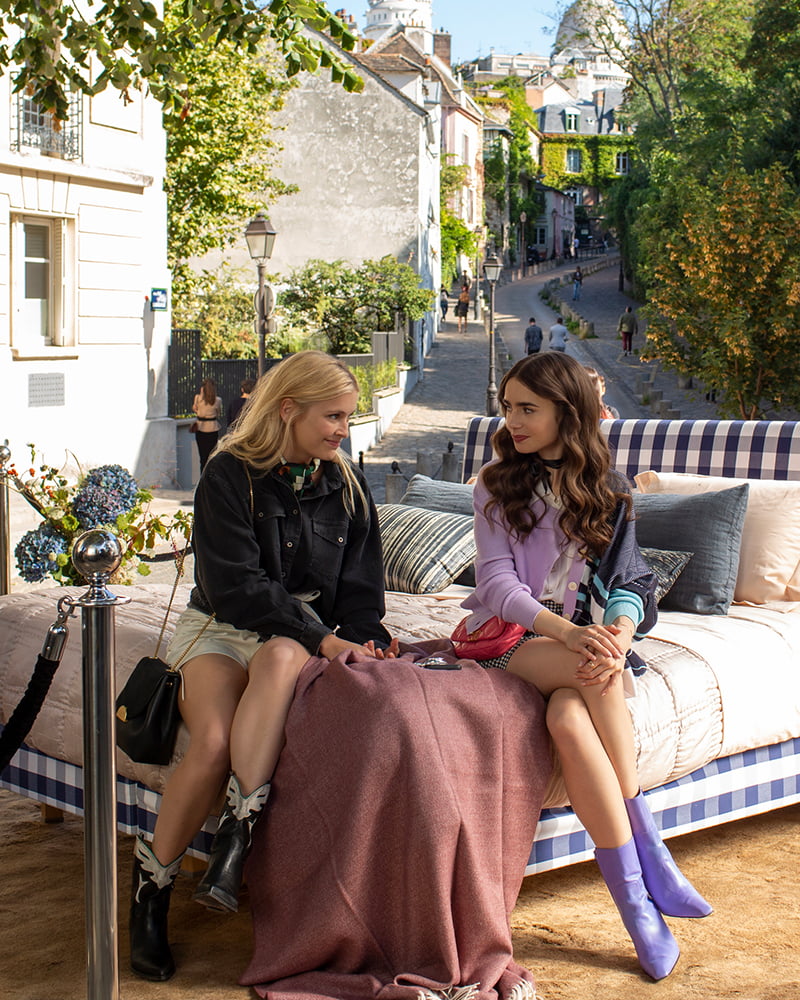 When Marylin Fitoussi created the outfits intended for Camille, she must have had Camille Razat in mind already. Yes, the actress that plays Camille is also named Camille – no coincidences here, right? The outfits all fit perfectly with the delicate and angelic look of our blonde socialite. Her fashion is mostly inspired by some all-time classics such as the red lip, the black-and-white look, the minimalistic approach to high-fashion. We'd say she's the very opposite of the protagonist, Emily Cooper.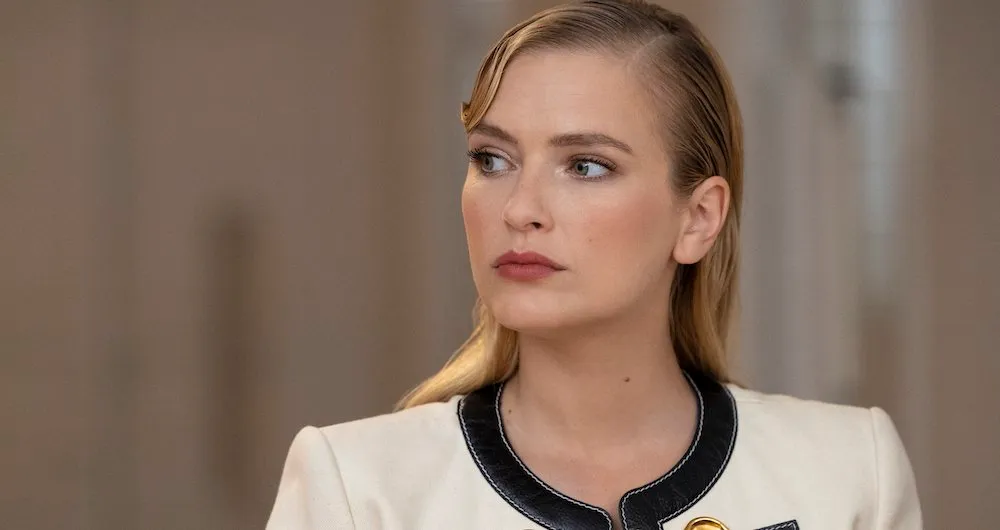 Camille is all about the chic life – red, white, black, stripes, chiffon, and denim inspire her to wear her evergreen outfits. She enjoys an oversized blazer, a tight skirt, a V-neck blouse, as well as the classic black coat look. For Camille, not much is needed to accentuate the simplicity and the luxury. That's good news for us because most of her statement pieces are actually very plain (therefore mostly affordable), and she just carries them with this confidence that seems to be her best accessory.
All in all, don't shy away from fashionable pieces, but make sure to always look as if you'd fit in any fashion time era – that's our rule of thumb when it comes to the Camille Emily in Paris guidebook. (We wrote here about Camille's capsule wardrobe)
Camille's Hair and Makeup from Emily in Paris
If you've read our other work on Emily in Paris (2020-running), you can notice a pattern – most of the characters in the show don't wear bold makeup, since their fashion already makes a statement. Same goes for Camille. She often wears her hair down, and rarely really puts it up. Sometimes she curls it lightly, but most of the time, she's just rocking the classic middle-part look.
Her makeup is simple – when she's dealing with casual situations, she mostly has nude makeup and a bold red lip. When glammed up, she wears slightly more makeup and a more prominent eyeshadow shade, but she never really goes for the colorful look. Many say that her natural beauty is her biggest strength, but we'd also add that her smile helps a lot!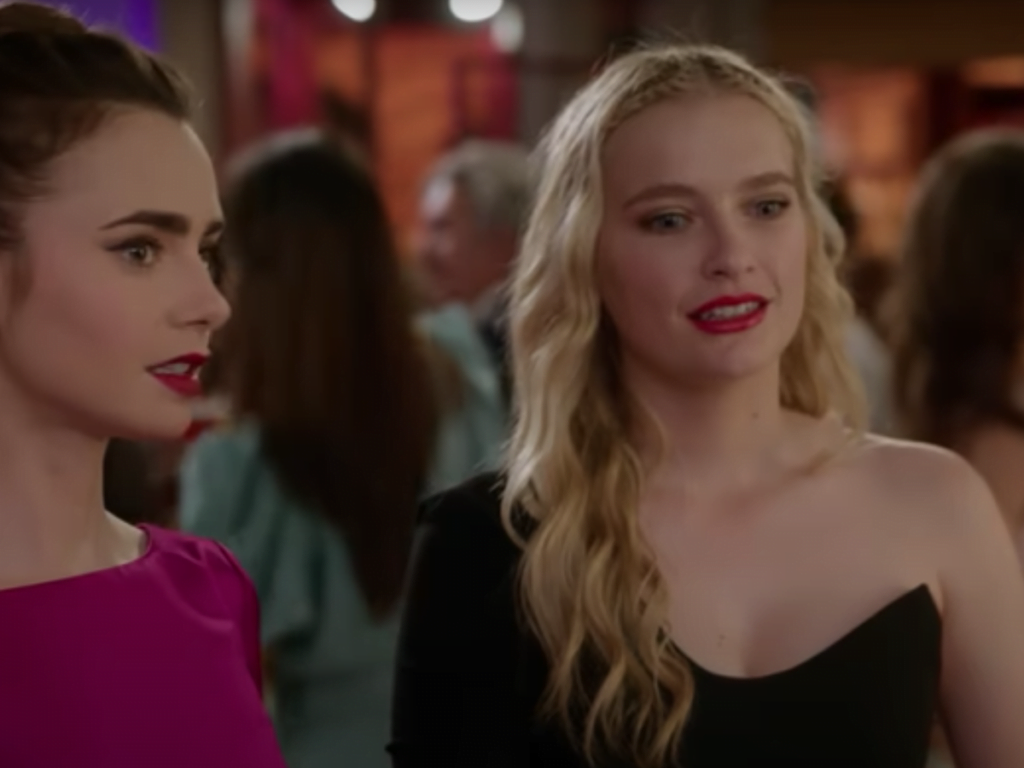 When it comes to accessories, Camille mostly chooses rings. She is famous for wearing a chunky ring occasionally, as can be seen in the scene where she and Emily met. The duo kicks it off pretty quickly, and all due to Camille being so open-minded and helpful with Emily's bad French. All in all, no big accessories needed.
Missing an Outfit Inspo? Submit your idea and we'll make it happen!
the Oversized Blazer Look by Camille from Emily in Paris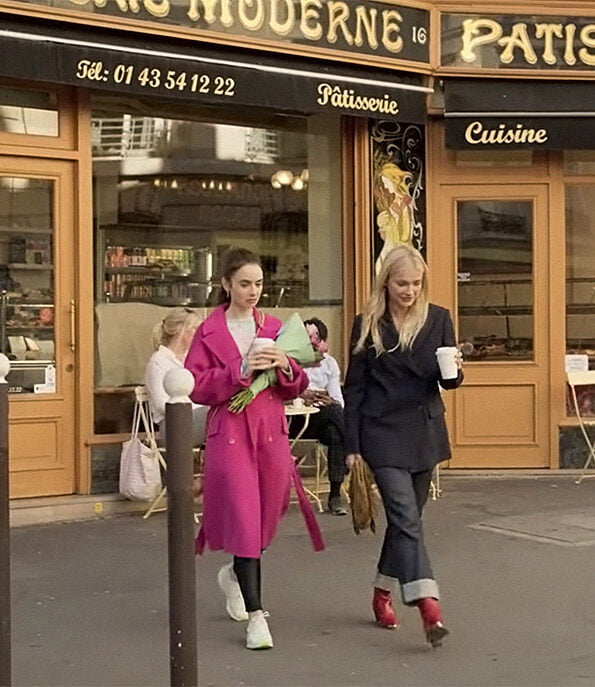 One of our absolute favorite looks on the show is this one, a true classic. While some might find it boring, we think it's absolutely genius. It's so simple that it looks effortless, yet any fashionista will notice how well the details fit together. Camille wears a black oversized blazer, and it's up to you what type of blouse you'll wear underneath it. We went for a sheer white shirt to play it safe.
She cuffed her straight jeans for more dimension and put on her red cowboy boots to give the look a little bit of a fun twist. Her simple beige bag gives us the "I got ready in five minutes" vibe, but the coffee is what ties it all together – look at how simple, yet fashionable she looks. It's almost as if anyone with this outfit would instantly be followed around by cameras. This is what we think of when we think of a person so rich and glamorous that they know they don't have to put in the work.
We hope you enjoyed the Camille Emily in Paris look breakdown as much as we did. If you're looking for more of a feminine look, instead of the neutral vibes Camille often goes for, you should check out Mindy's fashion look.
Monthly Newsletter
Add some spice to your style with movie set-inspired designs.