Steal the Look – Dress Like Mazikeen from Lucifer
Add a touch of cinematic magic to your wardrobe with our roundup of daring and hip movie-inspired outfits. We'll show you how to dress like Mazikeen from Lucifer with our selection of chic and stylish pieces. Slip them on and step into the spotlight like a star with these iconic looks from Lucifer.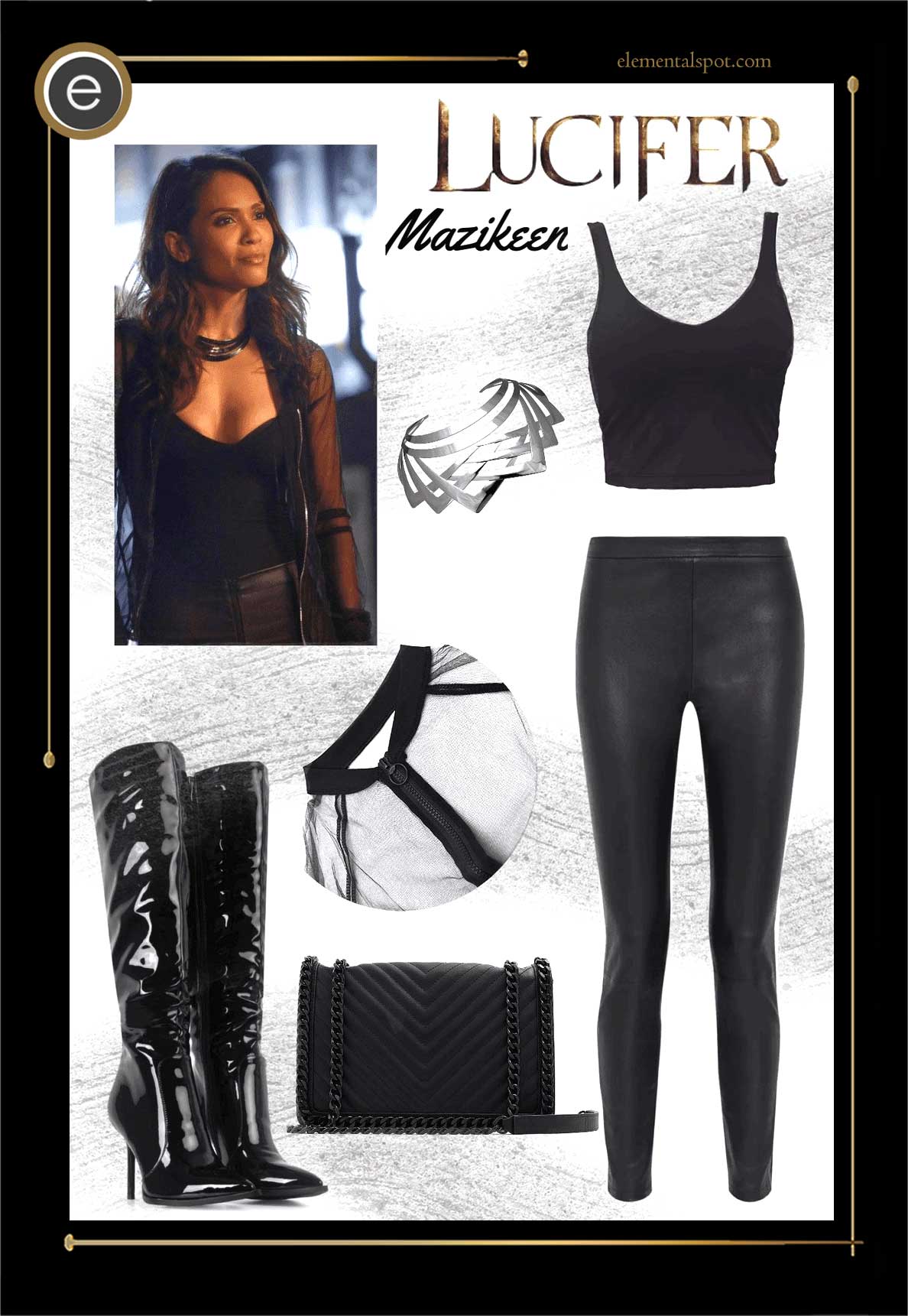 Shopping List for Mazikeen from Lucifer Outfit
Lucifer (2016 – 2021) the Fox/Netflix fantasy inspired by Neil Gaiman's DC comic book character, takes us from the underworld of Hell to the nightclubs and Police department of the city of Los Angeles. Like most dark and brooding dramas, the show doesn't hold back when it comes to fashion. Particularly when talking about the wardrobe of the Lord of Hell's 'right-hand' woman, and the wickedly intimidating Mazikeen Lucifer outfit of every antagonist's dreams.
Mazikeen of the Lilim is one of Lucifer Morningstar's most loyal lieutenants, and Hell's most decorated torturers. But when summoned to Earth to help Lucifer on his mission to punish the worst of humanity, she has to hide her demonic nature. Lucifer, Fox.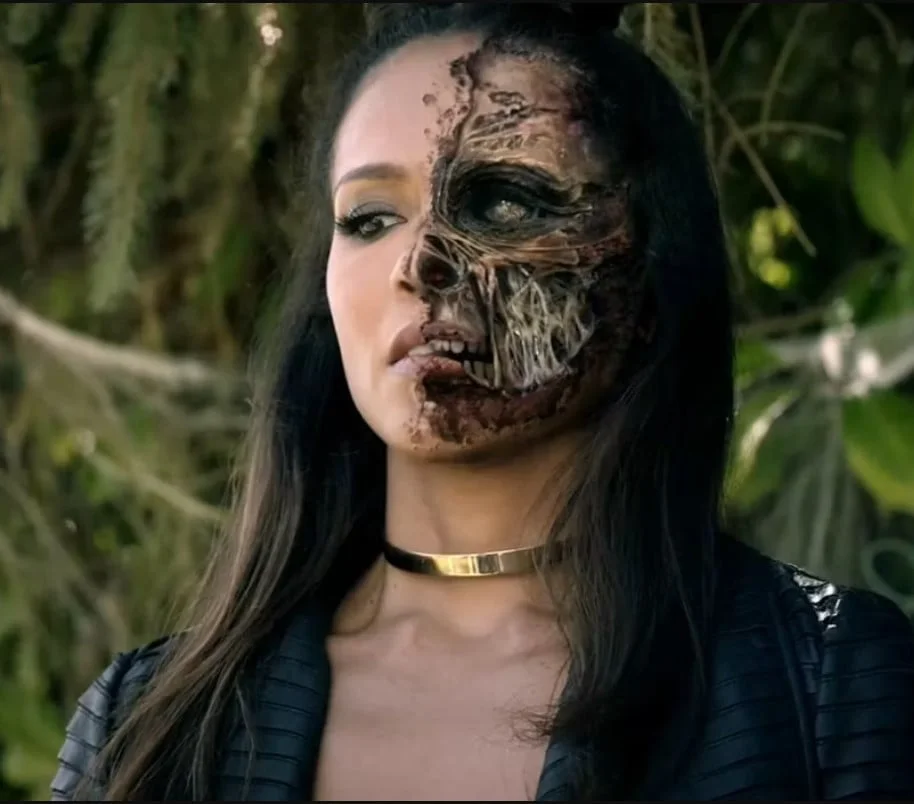 When the Lord of Hell, Lucifer Morningstar, abandons the underworld to run a nightclub (Lux) and liaise with the Los Angeles police department, we follow our Devil's journey to punish the worst of humanity through good old fashioned law and order.
Introduced to us in the Pilot episode, Mazikeen of the Lilim, is an ancient demon from hell who takes the form of a young woman. One of Lucifer's most trusted lieutenants and servants, he summons her to Los Angeles for a little bit of help with some torturing and pain, knowing both of them are her speciality. Eventually persuading her to stay and reluctantly build a life on Earth.
Leather and a Bad Girl Attitude: A Sneak Peek in Mazikeen's Lucifer Closet
Before we can look at how to steal a Mazikeen Lucifer outfit, first we need to see how costume designer Agata Maszkiewicz styles our demon to ooze that bad girl attitude of hers.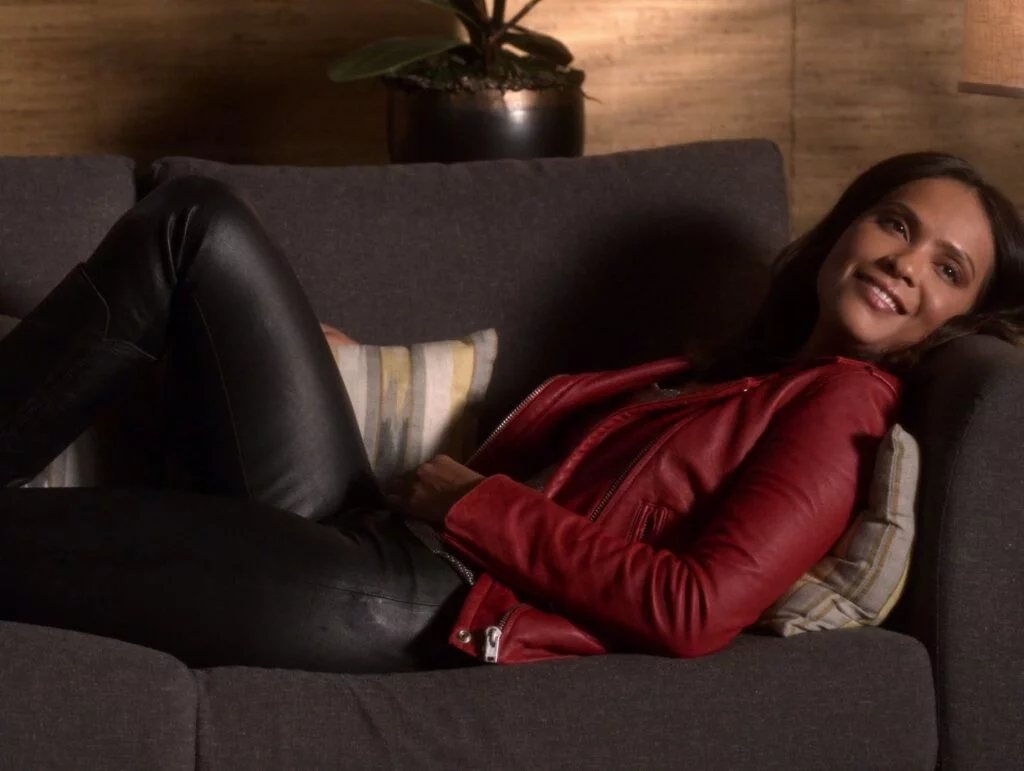 As you would expect from an underworld demon, Mazikeen portrayed in the show by Lesley-Ann Brandt, is the definition of dark and brooding. Staying away from colors and prints, instead sticking to a wardrobe of almost exclusively black clothes, which she uses to her advantage to radiate her power.
However, when you really study her style, as we have done, you will notice that although black is the dominant color she punctuates it with a little bit of silver, burgundy and red. Knowing what works for her and sticking to it, she favors tight fitting leather outfits that give her a sexy edge and appeal.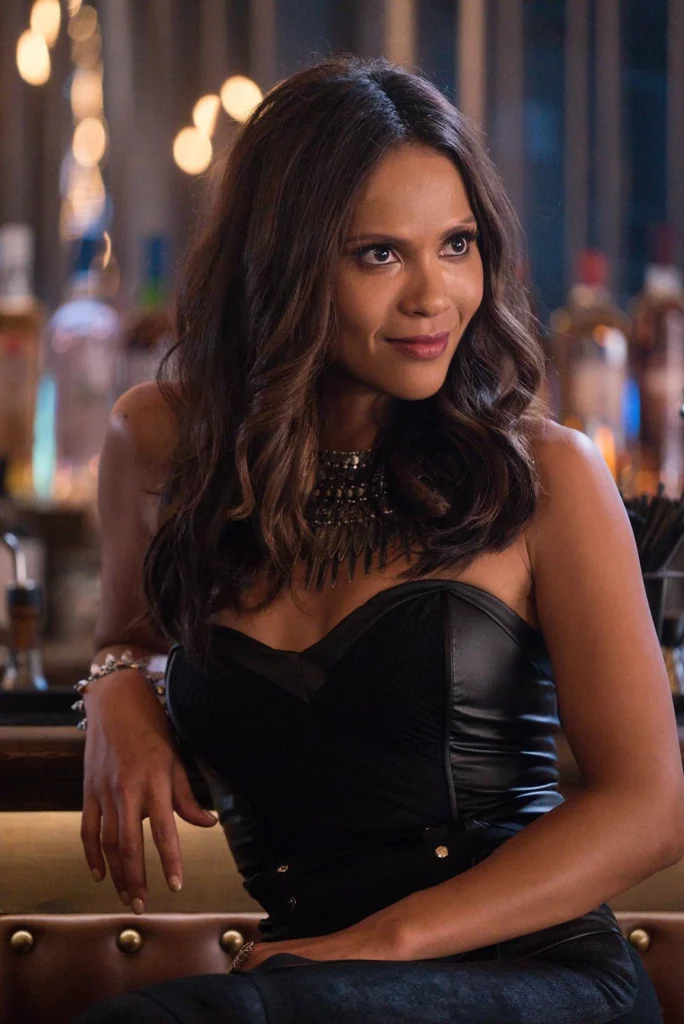 With her wardrobe full of leather pants and slim fitting jeans, Mazikeen is consistent in her clothing choices, always dressing to please herself and no one else. Nothing is off the table, even the odd dress isn't out of the question as long as she looks alluring and irresistible, and can still fight when the need arises.
Missing an Outfit Inspo? Submit your idea and we'll make it happen!
It is no surprise though, that a show that put the Lord of Hell in impeccably tailored suits, covets jackets. With a Mazikeen Lucifer outfit being no exception to the rule. From studded vests to moto style jackets, leather plays a big part, and works as an easy way of adding pops of color to her outfits.
Mazikeen's Hair and Make-up Style Secrets
Mazikeens long naturally dark hair is without a doubt one of her defining features, with her spending time perfecting it so that it compliments her outfits.
However she does like to experiment and wear her shining black hair in a number of different styles. Everything from down and straight, with volumizing curls or even up in a high pony-tail, Mazikeen takes pride in her hair and getting the full stylized look for her outfits.
But just as much as she likes to try new things with her hair, Mazikeen enjoys changing up her make-up to emphasize her darkness and power. She focuses on using make-up to get her eyes to pop against her fresh perfect complexion. One of her favorite, and most seen looks, is a dark smokey eye highlighted with full black lashes and lots of dark eyeliner on the upper and lower lids.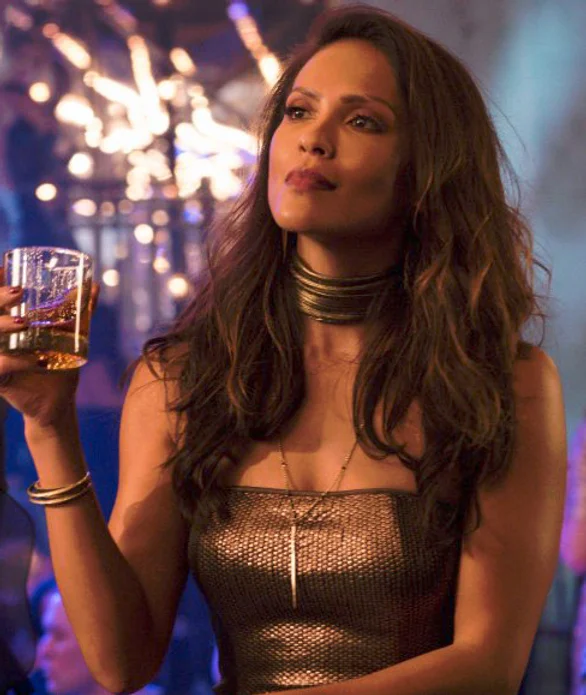 Yet one of the most important parts of a Mazikeen Lucifer outfit is without a doubt her selection of weapons and fighting skills. But unless when you steal her look you also steal her lifestyle, it might be best to stick to accessorizing her looks with some jewelry. She doesn't have any special pieces she likes to wear, instead she shows her love of necklaces, with chains and elaborate chokers, paired along with some earrings, rings and the odd bracelet or two.
Subtle and Sexy: Steal Mazikeen's Leather Trousers and Sheer Bomber Jacket Look
Mazikeen knows what suits her, and even though she will occasionally add a hint of red or a little bit of silver to her looks, it can't be denied that she always goes back to black when she really wants to make an impact.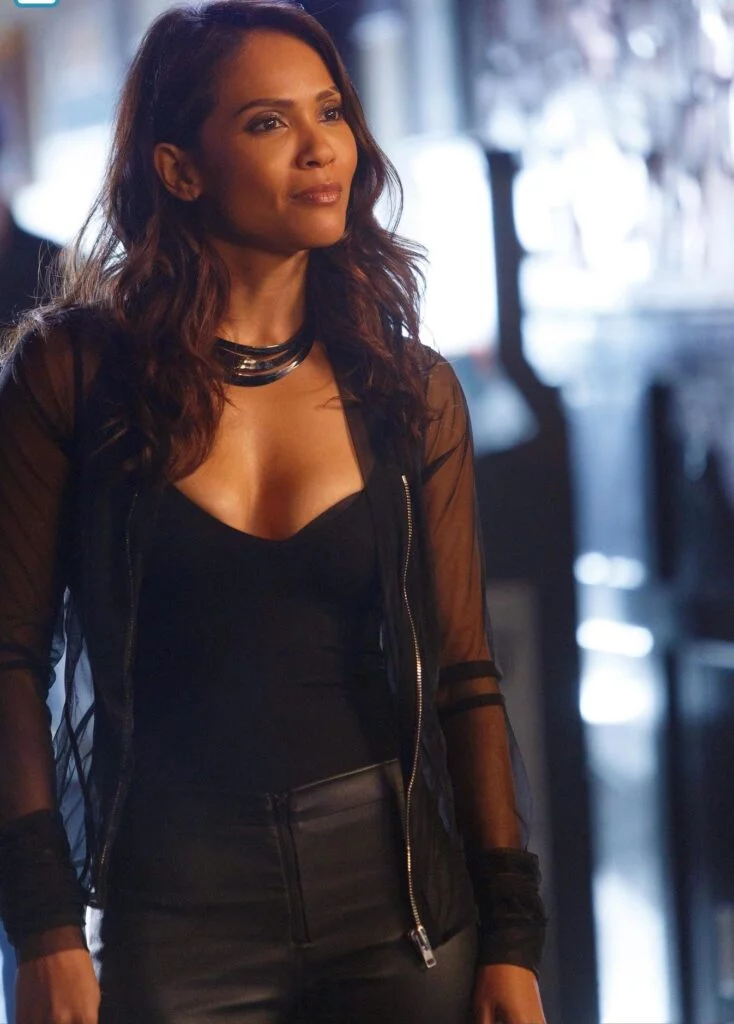 The Mazikeen Lucifer outfit featured in the collage above is one of her more subtle looks, but no less sexy, making it perfect to steal her style with some pieces you can mix and match to create her other looks.
Like most of Mazikeen's outfits this one also has that dark and brooding vibe to it, that gives Mazikeen her bad girl attitude. She pairs a black fitted tank top with a low v-neckline, with a pair of slim fit black leather pants.
With the only flash of any color coming from the intricate silver choker around her neck. She stays with the black and finishes her look off with some added knee high black boots, a black cross body bag and a fashionable sheer bomber jacket, to give her simple look some power and sex appeal.
Her usual dark and smokey eye make-up, flawless complexion and long dark hair loosely curled down around her shoulders completes her outfit. Before she adds a soft pinky brown shimmer to that irresistible smug smile of hers.
But if this Mazikeen Lucifer outfit with her dark and brooding attitude seems like it might be a bit too much for the look you are going for in your wardrobe, you could always soften the black and check out LA Police Detective Chloe Deckers Biker jacket and jeans outfit.  
Monthly Newsletter
Add some spice to your style with movie set-inspired designs.