Steal the Look – Dress Like Chloe Decker from Lucifer
Add a touch of cinematic magic to your wardrobe with our roundup of daring and hip movie-inspired outfits. We'll show you how to dress like Chloe Decker from Lucifer with our selection of chic and stylish pieces. Slip them on and step into the spotlight like a star with these iconic looks from Lucifer.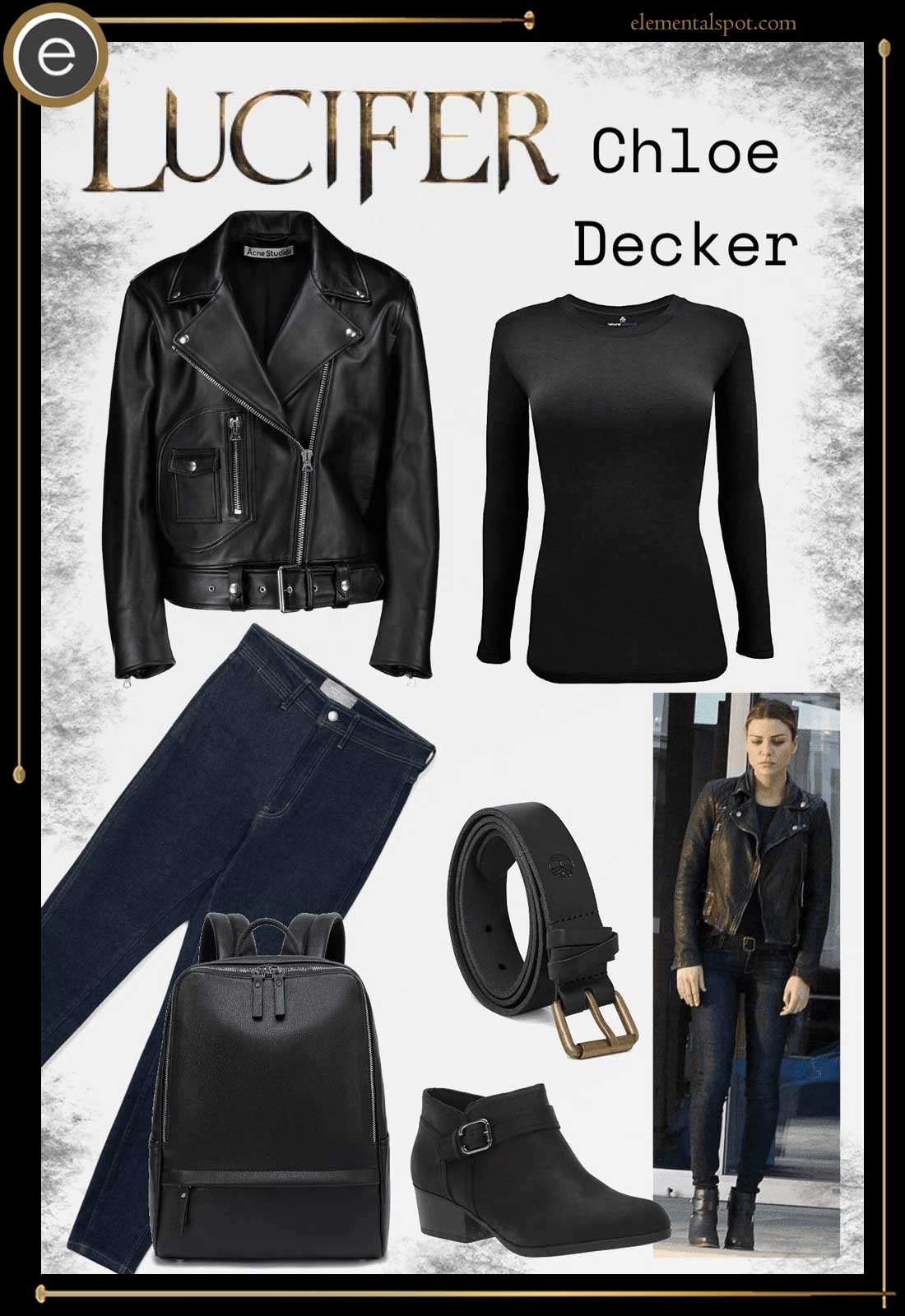 Shopping List for Chloe Decker from Lucifer Outfit
When looking for a show that has some serious fashion credentials, the first choice on your list probably should be the dark and brooding drama that is Lucifer (2016 – 2021). Inspired by Neil Gaiman's DC comic book character, the show takes us from Hell to Los Angeles, via a nightclub and the LA Police department. With the result a show full of strong female characters and a wardrobe department full of stylish costumes, and none more so than a Chloe Decker Lucifer outfit.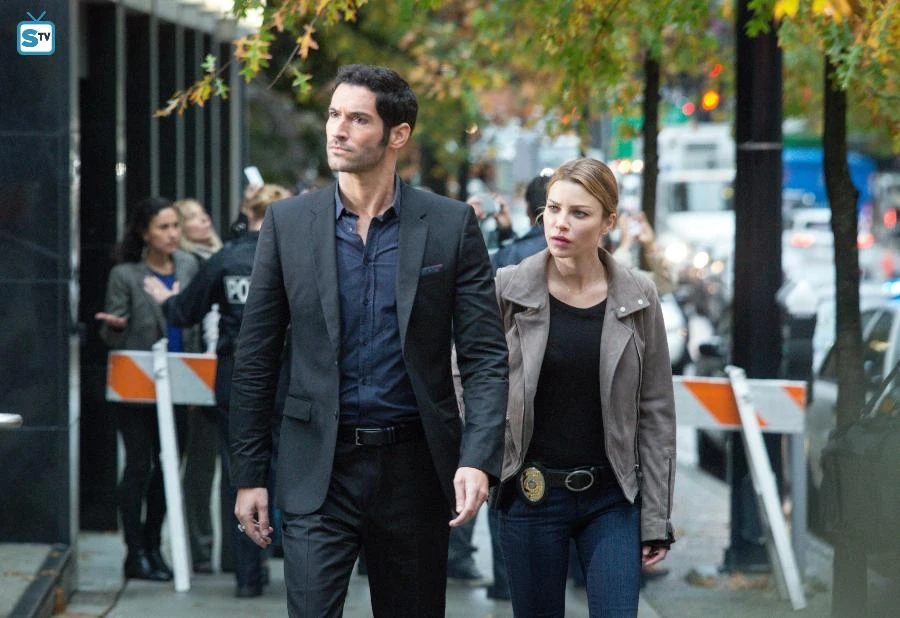 When the Lord of Hell, Lucifer Morningstar, abandons the underworld to run a nightclub (Lux) in Los Angeles, a murder brings him face to face with the local Police department. Intrigued Lucifer uses his underworld skills as a Police liaison, to punish the worst of humanity with some good old fashioned law and order.
Chloe Decker, L.A.P.D homicide detective and mother to Trixie, first meets the Lord of Hell in his Lux nightclub while investigating the murder. Despite a rocky start the duo pair up to solve crimes, while working through some friendship, relationship and moral issues that arise when Chloe learns Lucifer really is the Devil.
A Modern Detective: Studying Chloe Decker's Lucifer Wardrobe
Before we look at what it takes to steal a Chloe Decker Lucifer outfit, first we need to study how costume designer Agata Maszkiewicz created the intelligent and by-the-book cops uniform of professional attire.
Chloe Decker, played by Lauren German, is a young mother and strong willed detective who believes in through Police work and finding the truth. A career woman at heart, when dressing she likes to keep a level of professionalism appropriate for her job title of homicide detective.
Staying away from bold colors and prints, she prefers to stick with darker shades of black, navy and gray in her working wardrobe. Reserving the lighter and brighter colors, like cream, green and even a bit of red, for her homelife and special occasions.
Wearing the typical Detective uniform of blazers, shirts and suit trousers when we first meet her, Chloe's wardrobe develops and changes through the seasons. Letting her clothing choices become more casual and relaxed, as she grows more confident in her own abilities and in the team she has built around her.
Happiest in jeans, she dresses them up with plain t-shirts, knitted sweaters or a few subtle patterned blouses, before adding one of her many different jackets seen throughout the show. Blazers and bombers, to trenches and leather moto jackets, Chloe's wardrobe has one to suit all occasions.
Missing an Outfit Inspo? Submit your idea and we'll make it happen!
Buns, Blush and Bullets: Chloe Deckers Styling Secrets
Chloe's naturally dirty blond hair could be described as one of the character's defining features. Worn long and straight below her shoulders, she is often seen with it styled in a pony-tail or bun, particularly when working. However when she does wear it loose and down over her shoulders, a slight curl through the strands helps to give her hair some thickness that softens her look.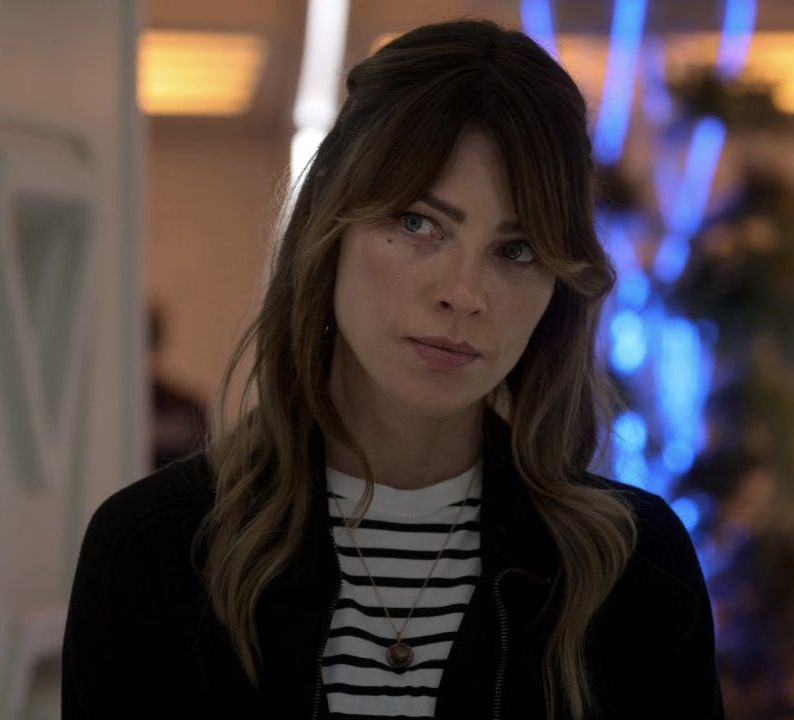 Yet when it comes to make-up Chloe chooses to wear very little, giving her a fresh faced and youthful look. Leaving her flawless complexion alone, she adds some blush and soft brown eyeshadows to draw your attention. Finishing her typical make-up with black eyeliner, bold mascara and a touch of pink lipstick.
Known for the bare minimum when it comes to jewelry also, a Chloe Decker Lucifer outfit needs no fancy rings or bracelets. With a simple pair of earrings being the sum of all the jewelry she wears day to day.
The only exception to the rule is the necklace she receives off of Lucifer for her birthday, consisting of a gold chain mounted with the bullet she shot him with. A reminder of his vulnerability with her and a shield for her to hide her feelings towards him behind.
Sticking to Black: Steal Chloe's Leather Moto Jacket and Jeans Look
Now that we know our Devil loving homicide detective's style secrets we can go ahead and steal the Chloe Decker Lucifer outfit that we have featured in our collage above.
Like most of her outfits this one also has that relaxed professional feel that makes up Chloe's working wardrobe, and gives her a down-to-earth natural authority.
In typical Chloe fashion she has paired some of her classic dark colored skinny jeans, with a long sleeved black round neck T-shirt with a black leather moto jacket over the top.
Sticking with her all black look she accessorizes her jeans and t-shirt with black block heel ankle boots, a black leather belt and a matching leather backpack to throw over her shoulder. Before finishing the look with her dark blond hair pulled back into a pony-tail and her bare minimum make-up look.
Some delicate earrings, and Chloe's perfect mix of professional and casual working wear is complete.
But if this Chloe Decker Lucifer outfit feels like it might be lacking a bit of color and cheer for the look and feel you are going for in your wardrobe, you could always steal notorious hug giver Ella Lopez's graphic t-shirt and jeans outfit.  
Monthly Newsletter
Add some spice to your style with movie set-inspired designs.