Steal the Look – Dress Like Ella Lopez from Lucifer
Add a touch of cinematic magic to your wardrobe with our roundup of daring and hip movie-inspired outfits. We'll show you how to dress like Ella Lopez from Lucifer with our selection of chic and stylish pieces. Slip them on and step into the spotlight like a star with these iconic looks from Lucifer.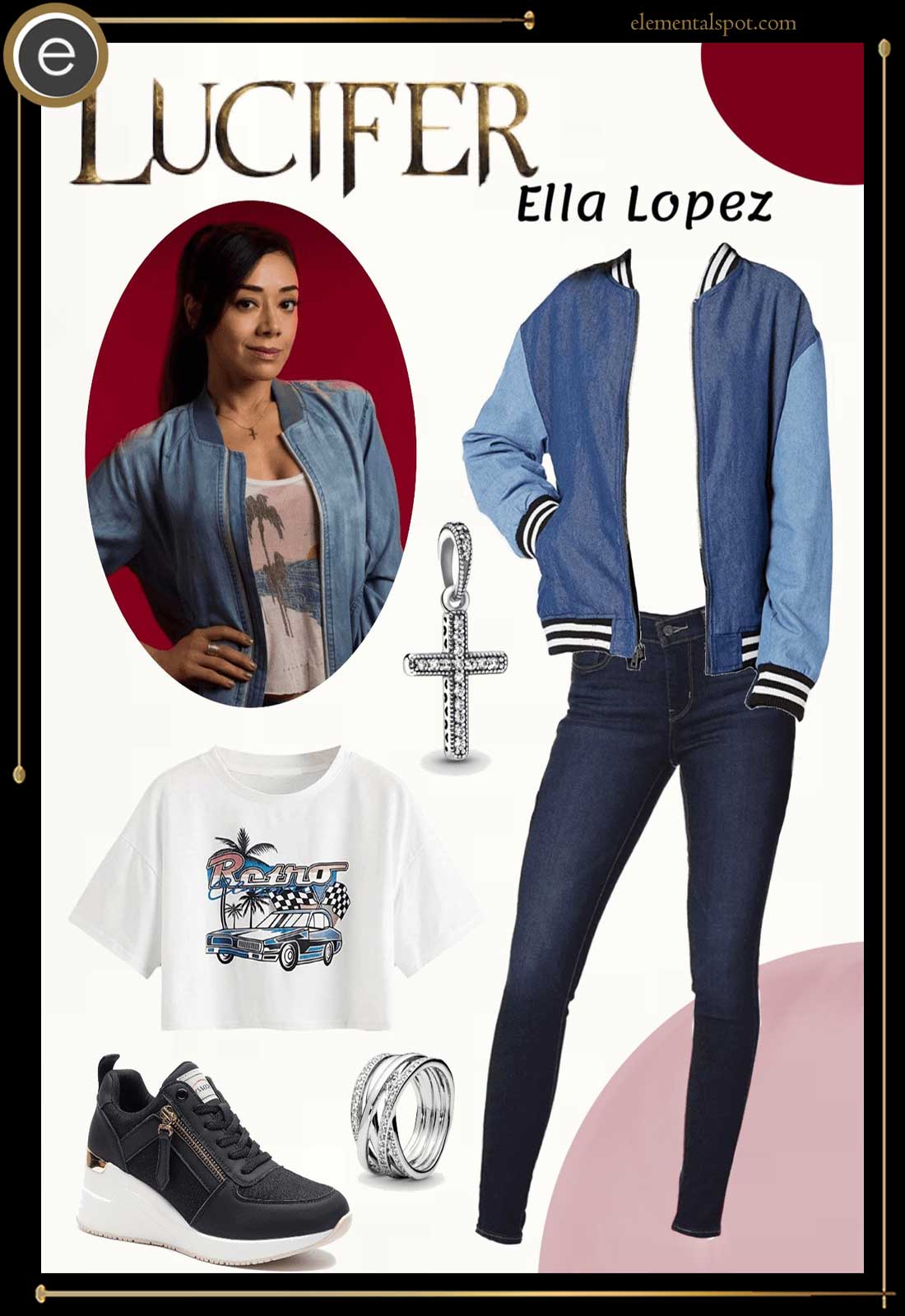 Shopping List for Ella Lopez from Lucifer Outfit
Lucifer (2016 – 2021), the show inspired by Neil Gaiman's DC comic book character, takes us from the underworld of Hell to the streets of Los Angeles. Following the story through nightclubs and the LA Police Department, the dark and brooding fantasy is full of strong female characters and a wardrobe department that is any fashionista's dream. But amongst the darkness and celestial demonic beings is the colorful beating fashion heart of the show, in the form of an Ella Lopez Lucifer outfit.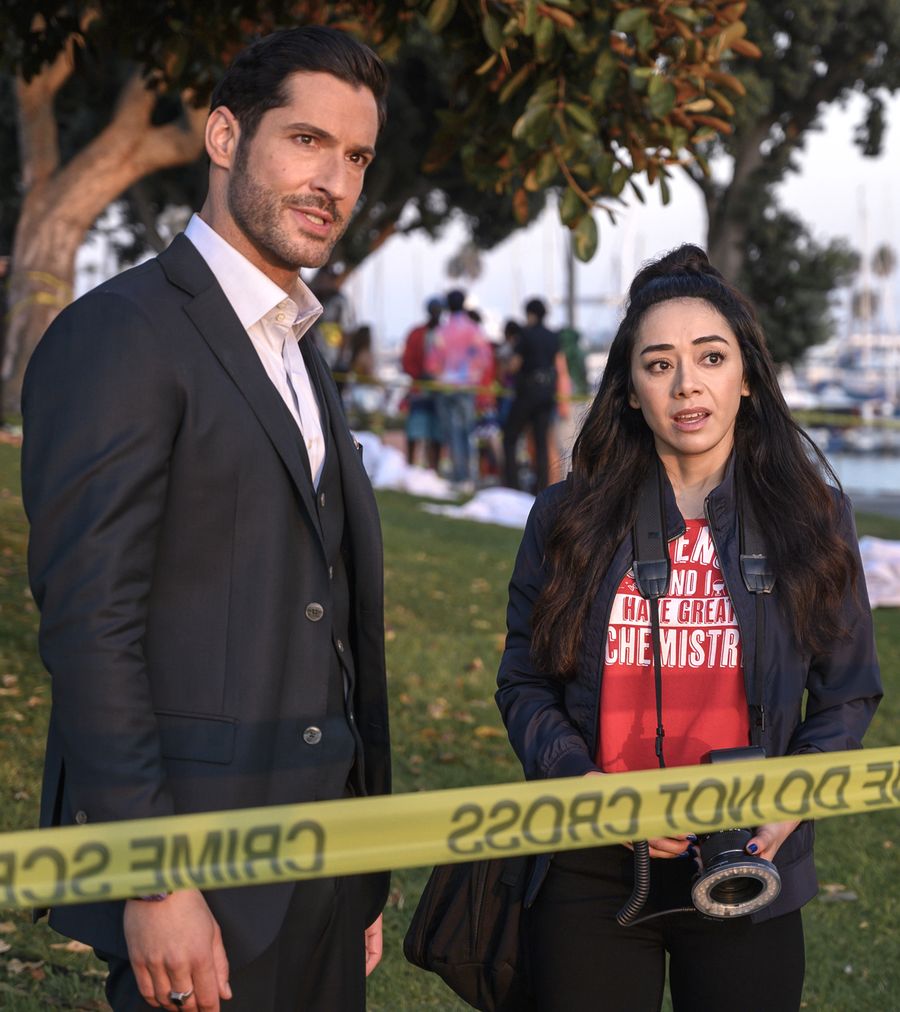 After coming face to face with the local Los Angeles Police department, when a murder is committed in his nightclub (Lux) the Lord of Hell, Lucifer Morningstar works his way into the L.A.P.D to use his underworld skills for good as a Police liaison. While punishing the worst of humanity with some good old fashioned law and order, he meets the very human new Police forensic scientist, Ella Lopez.
The endlessly bubbly and cheerful scientist is always quick to trust in people and greets everyone with a famous Lopez hug, even the Devil himself. Taking it in her stride when confronted with the truth of the celestial nature of her friends, including Rae-Rae, her Guardian Angel of Death. Her faith in God, even if questioned and tested, allows her to see the good in everyone, even when she struggles to find her own good qualities.
Slogan T-shirts and Jeans: An Examination of Ella Lopez's Lucifer Wardrobe
Before we look at what it takes to steal a Ella Lopez Lucifer outfit, first we need to examine how costume designer Agata Maszkiewicz created the easy-going and religious forensic scientist's quirky look.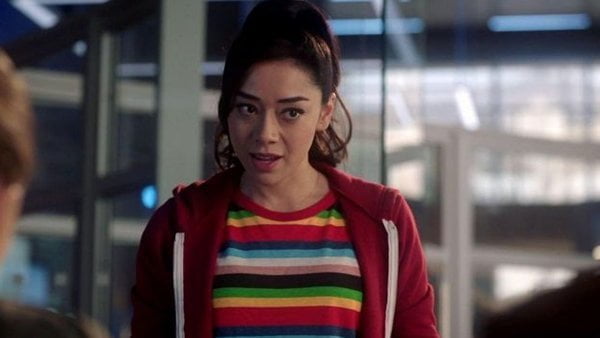 Ella Lopez, played by Aimee Garcia is a young woman of faith, and a curious and quick thinking scientist who never gets deterred by dealing with people on the worst day of their lives. In complete contrast to almost all of the rest of the characters in Lucifer, when picking her clothes Ella likes to fill her wardrobe with joyful colors that reflect her bubbly and kind nature.
She never shies away from bold colors or prints, but it is her love of quirky t-shirts with humorous slogans and animations that an Ella Lopez Lucifer outfit is known for. In all the bright colors and with sayings such as 'i love science' and 'mornings suck' it is fitting that when she visits Detective Chloe Decker's daughter, Trixie, they realize they are both wearing the same t-shirt. 
To be in keeping with her outfits of fun slogan t-shirts, Ella carries on her casual look by pairing them with skinny fit jeans and sneakers. Before adding a Lucifer wardrobe department staple of a jacket.
Going for a more youthful and fun approach, she prefers a denim or bomber jacket to the leather look of say a Mazikeen outfit. And loves the ultimate comfort of a hoodie, paired with her jeans, t-shirt and sneakers.
Jaunty Ponytails and Cross Pendants: Ella's Hair and Jewelry Styling
Known for her naturally dark hair, it is the styling of it in a high ponytail that actually makes it a defining feature of her character. Worn long below her shoulders with a slight curl at the ends, Ella has been seen with it worn down or even tied up into a bun, but more often than not it is pulled back into her usual ponytail. Finished with her side swept bangs on the right, softening and framing her face.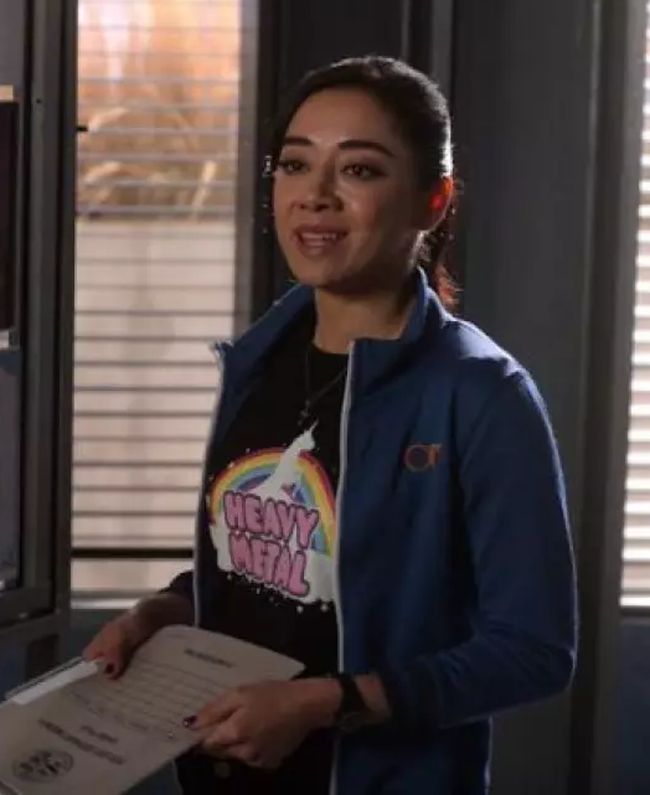 However an Ella Lopez Lucifer outfit wouldn't be complete without some jewelry, in particular her cross pendant. As a woman of faith, even as a scientist and questioner, her belief in the devine has alway been important to her and probably why she easily accepts the truth about Lucifer when told. One of the ways she represents this part of her character is with her chain and cross pendant that she wears around her neck.
Colorful and Fun: Steal Ella's Graphic T-shirt and Jeans Look
Now that we know the fun and joyful style secrets of our resident forensic scientist we can go ahead and steal the Ella Lopez Lucifer outfit that we have featured in our collage above.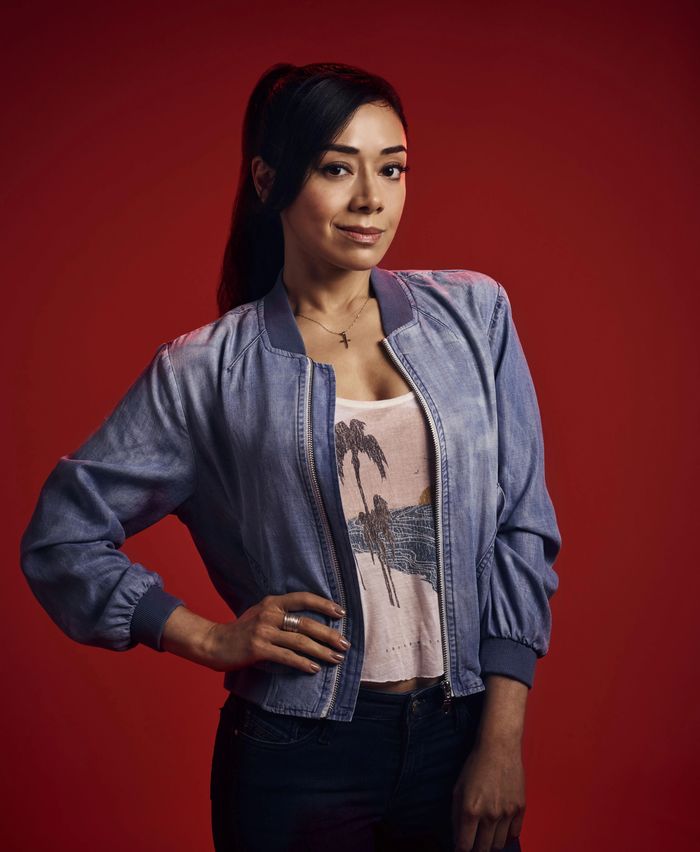 Like all of Ella's outfits this has that bubbly and cheerful feel, with her use of her bright color palette and relaxed dressing. She pairs some dark blue denim jeans, in a skinny fit, with a classic white graphic short sleeved round neck t-shirt.
Ella stays with her familiar fabrics and colors and adds a blue denim bomber jacket with elasticated cuffs, collar and waistband to her outfit. Before finishing the look off by throwing on a stylish, and comfortable, pair of wedge sneakers.
Her long dark black hair is pulled back into her usual high ponytail with her long bangs pushed to the side to frame her face. A silver ring on her finger and her trusty cross pendant hanging around her neck are the finishing touches for Ella.
When looking to Lucifer for wardrobe inspiration though, maybe you were looking for something a bit more dark and edgy than this Ella Lopez Lucifer outfit. Perhaps something a bit more like the Lord of Hell's trusty lieutenant, Mazikeen's look for her black leather pants and sheer bomber jacket outfit.
Monthly Newsletter
Add some spice to your style with movie set-inspired designs.