Dress to Impress: How to Steal Caroline Forbes' Prom Night Look from The Vampire Diaries
Add a touch of cinematic magic to your wardrobe with our roundup of daring and hip movie-inspired outfits. We'll show you how to dress like Caroline Forbes from The Vampire Diaries 2 with our selection of chic and stylish pieces. Slip them on and step into the spotlight like a star with these iconic looks from The Vampire Diaries 2.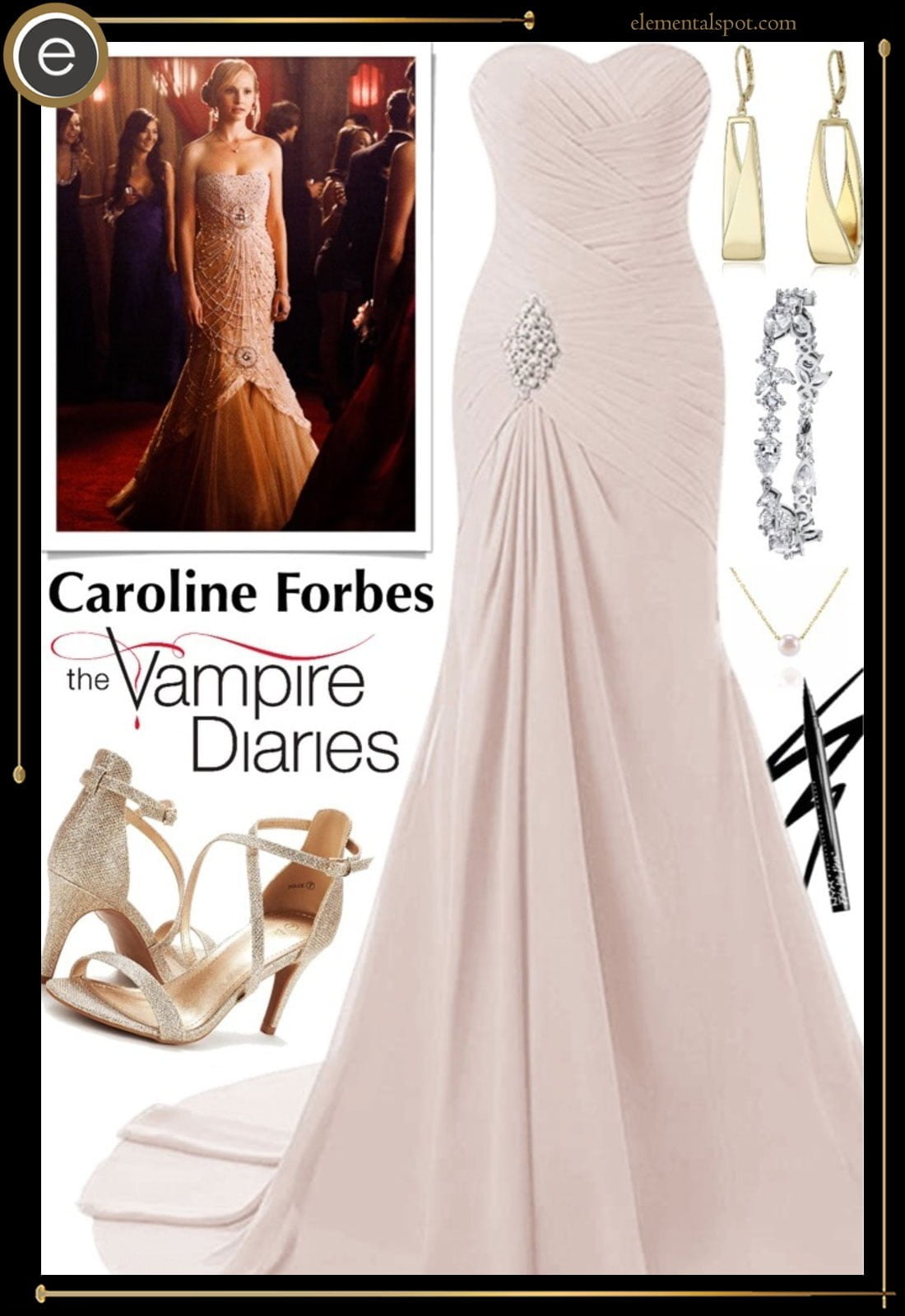 Shopping List for Caroline Forbes from The Vampire Diaries 2 Outfit
Every show has that one character who isn't the protagonist but without them the show would never have been a success. For The Vampire Diaries (2009-2017), its spin-off The Originals (2013-2018) and its follow on Legacies (2018-2022), that character is Caroline Forbes.
For a trio of shows full of ancient vampires, witches and werewolves, it is poignant that the connection between them all is the one time insecure and shallow high school teenager who finds a new lease of life as a vampire.
What's more when it comes to the covetable fashions of The Vampire Diaries Universe a Caroline Forbes The Vampire Diaries outfit can not be beaten. Romantic and mature, while still being fashionable and age appropriate, she is the one character you can rely on to make an impression, just like when she walked out in that prom gown.
Caroline and Klaus
We might be here to talk about Caroline and her prom dress, but there is a good reason why we first need to discuss Caroline and Klaus…
The dangerous ancient Original vampire hybrid, and the once popular high schooler might seem like an odd pairing but their relationship goes across the whole of The Vampire Diaries Universe and is a fan favorite. Never officially a couple, but not for Klaus' lack of trying or the fact that they actually are drawn to each other, Caroline might not believe it but he is wrapped around her little finger.
With impeccable taste, and previously having showered her in expensive gifts of diamond bracelets and a sunning blue ball gown, when Elena steals her prom dress, Caroline knows exactly who to go to for help.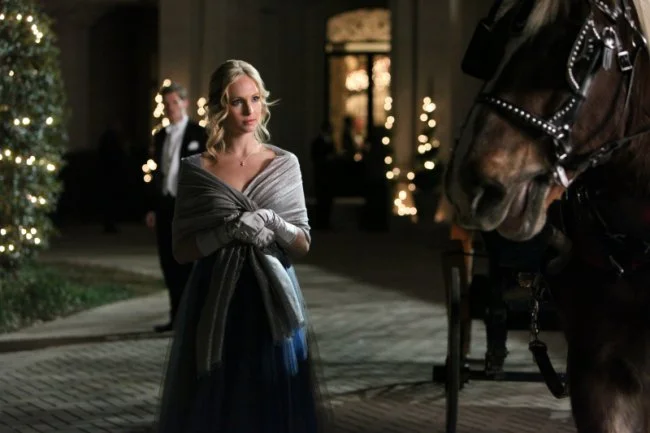 The Show Stopping Prom Dress
In the context of the show it may have been Klaus who picked Carolines exquisite prom dress, but in reality that duty fell to costume designer Leigh Leverett. Working perfectly with the script writers choice to allow Elena to steal her original pretty pink strapless gown, the costume department outdid themself with her replacement, indicating that Elena actually did Caroline a favor in the end.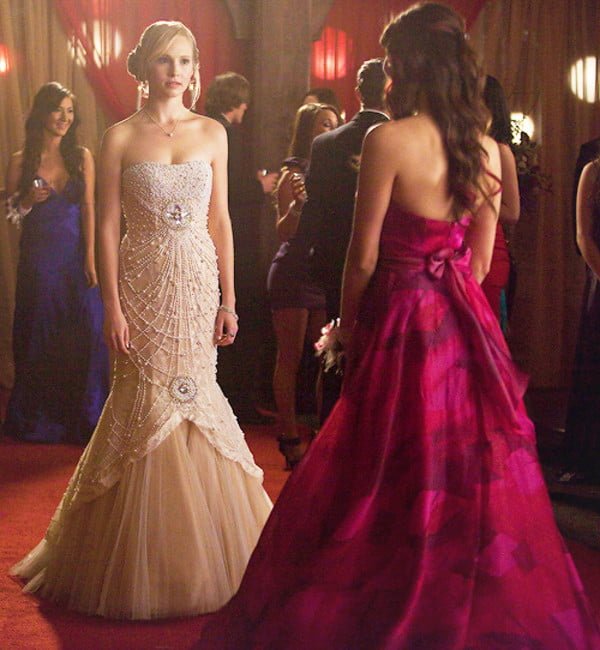 The Sherri Hill dress, style number 2789, was no doubt chosen for its subtle vintage feel and outstanding opulence, that really could have seen Klaus' picking it from his "creepy trophy case of family collectables." The ivory and nude strapless mermaid gown emphasizes Caroline's slim and athletic figure with its fitted bodice and floor length sweeping skirt. Delicately embroidered with a web of enchanting pearl strings and crystal embellishments to give a real statement moment.
Missing an Outfit Inspo? Submit your idea and we'll make it happen!
Finding a similarly intricate dress will be difficult, so instead look for a chiffon gown in the same mermaid cut and strapless silhouette. Go for one featuring delicate pleats across the corseted bodice, to accentuate the fit and the free flowing skirt with a small yet perfect train. If you were feeling really bold you could even embroider on some pearls, crystals and beads to have your own WOW moment.
The Caroline Forbes Prom Accessories
With a statement floor length gown like Caroline's perfect prom moment, the hidden details, like her shoes, are more about adding confidence and that special feeling to the whole look.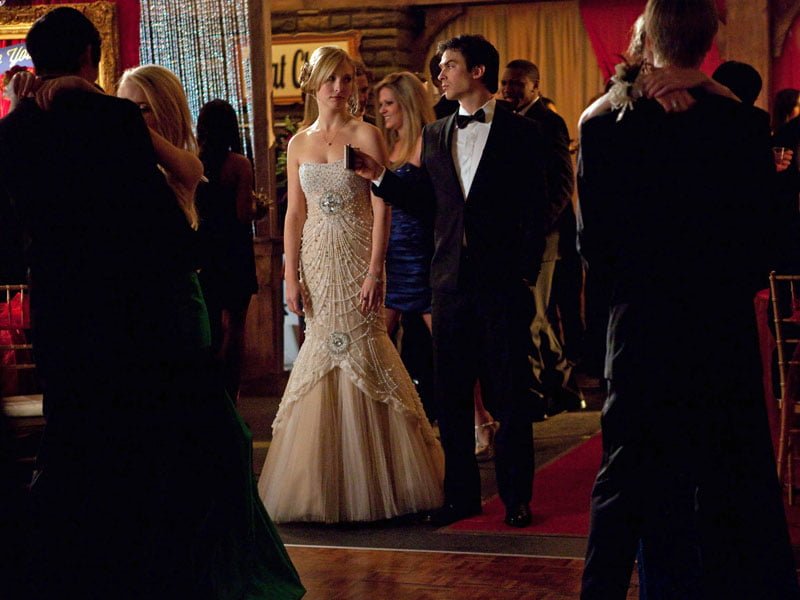 Rather than being a talking point of the outfit, go for simple gold glitter heeled, strappy sandals tucked under that sweeping skirt. Don't forget to choose a heel height you are comfortable walking, or even waltzing around the room in, to make the most of your night.
Even though the dress really does speak for itself in this Caroline Forbes The Vampire Diaries outfit, with those enchanting pearls and crystals in such a pale color, it can't do any harm to add some more glitz and glamor.
A dainty diamond crystal bracelet, which is no doubt the same one Klaus had previously gifted to Caroline, with some gold dangle hoop earrings keep the jewelry simple. Finishing with a single pearl on a gold chain around Caroline's neck as a subtle nod to the intricate dress and not overpowering the soft colors, fabrics or overall feel of the exquisite gown.
The Caroline Forbes Hair and Make-up Styling
Your Caroline Forbes Prom outfit won't be complete or come together fully until you get her hair and make-up just right.
Known for her typically loosely curled blond hair left down framing her face, Caroline instead has gone for a more formal up-do to match her outfit. With a dutch lace braid sweeping around her head and twisted into a low bun below and behind her right ear, it might be easier to follow the Youtube tutorial below to get it just right.
But don't forget a few strands of hair left loose around your face to give you that perfect Caroline prom hair-do. Before trying to capture Candice King's natural beauty with her refined make-up look.
Even on prom night Caroline keeps her make-up look subtle and understated. With her pale complexion flawlessly smoothed out with foundation and concealers, she adds a gentle rosy glow to her cheeks. Soft brown and gold eyeshadows work together on her lids to give a delicate smokey look, only darkened with a hint of black eyeliner and a few coats of volumizing mascara. With a slick of rosy pink lipstick, with a slight shimmer, adding the final finishing touch to her perfect prom make-up.
Stealing the Caroline Forbes The Vampire Diaries prom night look
Now that we have walked you through how to steal Caroline's prom night look, all you need to do is add her confident attitude that quite rightly makes her believe that she is the most beautiful girl in the room. And with that intricate and exquisite dress on, how wouldn't she be the one everyones eyes are on.

So if you are loving this Caroline Forbes The Vampire Diaries outfit and her statement looks, you could always check out some of her other closet pieces and find out how our young vampire uses fashion to enhance her natural beauty and appreciation for life. 
Monthly Newsletter
Add some spice to your style with movie set-inspired designs.