Steal the Look – Dress Like Elena Gilbert from The Vampire Diaries
Add a touch of cinematic magic to your wardrobe with our roundup of daring and hip movie-inspired outfits. We'll show you how to dress like Elena Gilbert from The Vampire Diaries 2 with our selection of chic and stylish pieces. Slip them on and step into the spotlight like a star with these iconic looks from The Vampire Diaries 2.
Shopping List for Elena Gilbert from The Vampire Diaries 2 Outfit
The Vampire Diaries (2009-2017) is one of The CW's most popular shows ever, even going on to spawn the spin-off series The Originals, that people proclaimed might have been even better than its predecessors. But one thing we know that The Vampire Diaries set the tone for was the dark and brooding costumes, that everyone, not just the fashionistas came to love. 
Yet if you were looking for the perfect casual and comfortable grown-up style then the show's leading lady Elena's wardrobe is where you can steal it from.
With her easily paired wardrobe staples, and chic dark color palette this Elena Gilbert The Vampire Diaries outfit from season four when she is now transitioning into life as a vampire, has a more sophisticated look to it.
How to Steal Elena Gilbert's Vampire Style
When costume designer Leigh Leverett joined The Vampire Diaries in season two, she already had two other popular teen dramas under her belt (Dawson's Creek and One Tree Hill). Meaning she was no stranger to designing for teens or creating a show's perfect leading lady.
However when it came to styling Nina Dobrev as protagonist Elena Gilbert, the script called for a much more casual, sporty look than most trend driven popular high school girls have. Going for comfort and wearing hassle free casuals to fit in with her girl-next-door, damsel in distress personality. 
A Mature Elena Gilbert The Vampire Diaries Outfit
This more sophisticated version of the Elena Gilbert The Vampire Diaries outfit still relies on the darker color palette that she normally bases most of her wardrobe staples on. Look for indigo colored jeans, with a looser straight leg fit than Elena's typical skinny jeans, pairing them with a simple fitted white camisole top.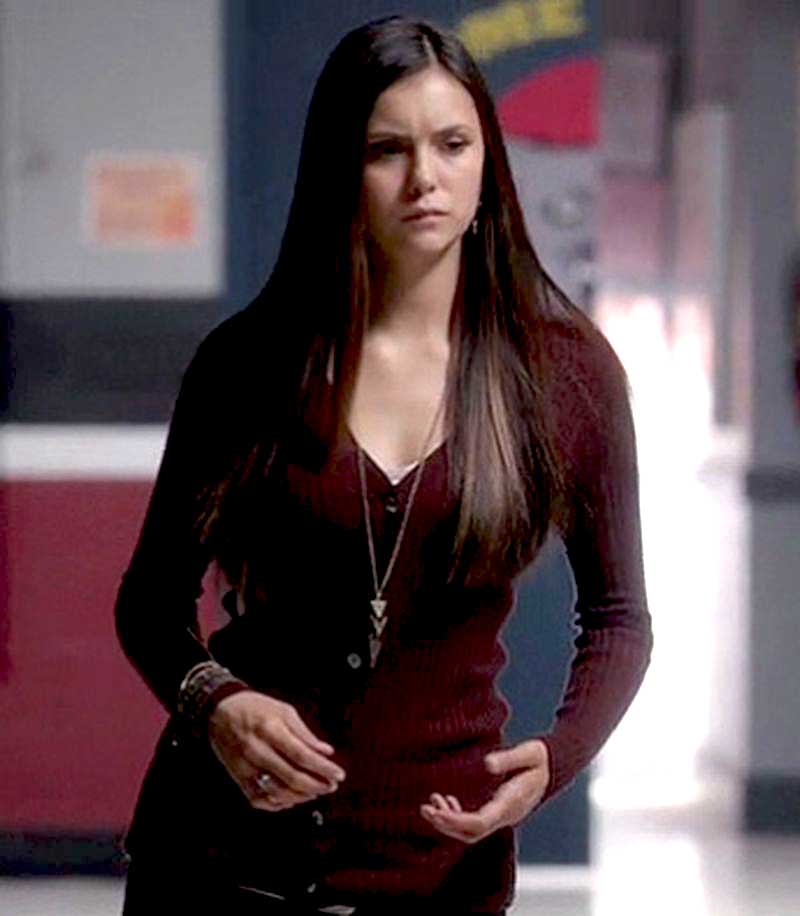 Nina Dobrev as Elena Gilbert in The Vampire Diaries. The CW.
Add a pop of dark and brooding color with a jewel toned burgundy cardigan, with a button-up front, long sleeves and a v-neck line. The cardigan is made of a delicate fabric giving an easy slim fit, perfect for the casual comfort and lowkey dressing that an Elena Gilbert The Vampire Diaries outfit is so well known for.
The Elena Gilbert Accessories
Gone are the comfortable Converse high top sneakers that so many of Elena's earlier season outfits are comprised of and instead she has opted for a more formal pair of boots.
Missing an Outfit Inspo? Submit your idea and we'll make it happen!
Vampire or not, Elena has still taken into consideration her desire for comfort and easy fashionable wardrobe staples when picking her heeled ankle boots. In her typical shoe color of black, the short little ankle boots have a very slight block heel to elevate them from casual to mature and grown-up.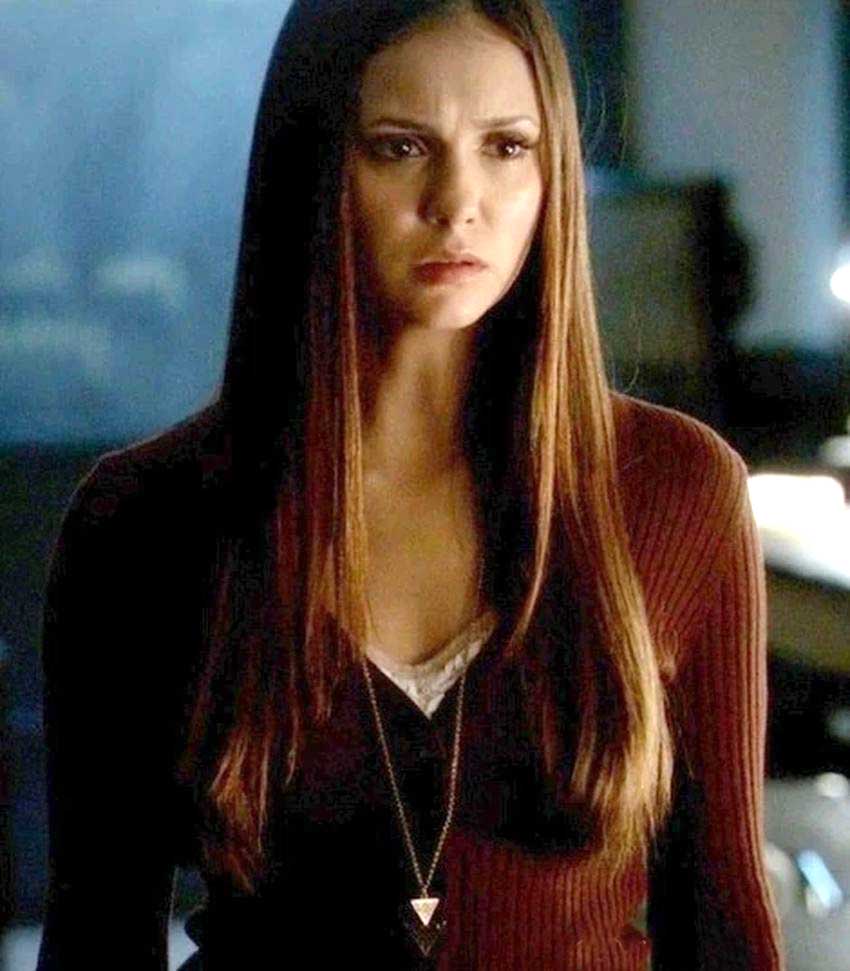 Now Elena is a vampire she can accessorize her looks with more jewelry, including this long gold arrow pendant necklace.
However, now with the freedom to accessorize her Elena Gilbert The Vampire Diaries outfit our leading lady has dipped into her jewelry box and added some additional pieces to finish her overall look.
Apart from her Lapis Lazuli daylight ring she has to wear to protect her from the sun's rays, Elena has also added a stack of bracelets placed over her cardigan sleeve around her wrist. As well as some delicate dangle earrings and a long gold arrow pendant necklace around her neck.
Elena Gilbert's Casual Hair and Make-up Styling
With her girl-next-door appearance still playing a part in her outfits, even after being turned, this Elena Gilbert look has no fancy hair or make-up.
Instead her beautiful and shimmering long brown hair is worn in her usual style, down and straight. Parted slightly off center to the left side her perfectly straight strands of hair fall gently over her shoulders with no styling other than a few pieces tucked behind her left ear.
A similar story with her barely there make-up. Her usual foundation, concealer and rosy pink blush work together to give her a glowing youthful complexion, with just the slightest hint of eyeshadow on her eyes. Stick to soft browns on the lid, going slightly darker in the crease to add some depth. Finishing with plenty of black mascara to give the lashes some volume, and a tinted lip balm to give the lips a hint of color.
Steal Elena Gilbert's Casual and Sophisticated Look from TVD Season 4
If you have read the article then you will see that it isn't hard to steal Elena's casual and sophisticated burgundy cardigan and indigo jeans look from the fourth season of The Vampire Diaries.
So if you are loving this Elena Gilbert The Vampire Diaries outfit and her comfortable hassle-free attire, even as a newly transitioned vampire, you could check out some of her other casual looks and finding out how our leading lady's wardrobe changes as she matures and learns some tough life lessons.
Monthly Newsletter
Add some spice to your style with movie set-inspired designs.