Steal the Look – Dress Like Damon Salvatore from The Vampire Diaries
Add a touch of cinematic magic to your wardrobe with our roundup of daring and hip movie-inspired outfits. We'll show you how to dress like Damon Salvatore from The Vampire Diaries with our selection of chic and stylish pieces. Slip them on and step into the spotlight like a star with these iconic looks from The Vampire Diaries.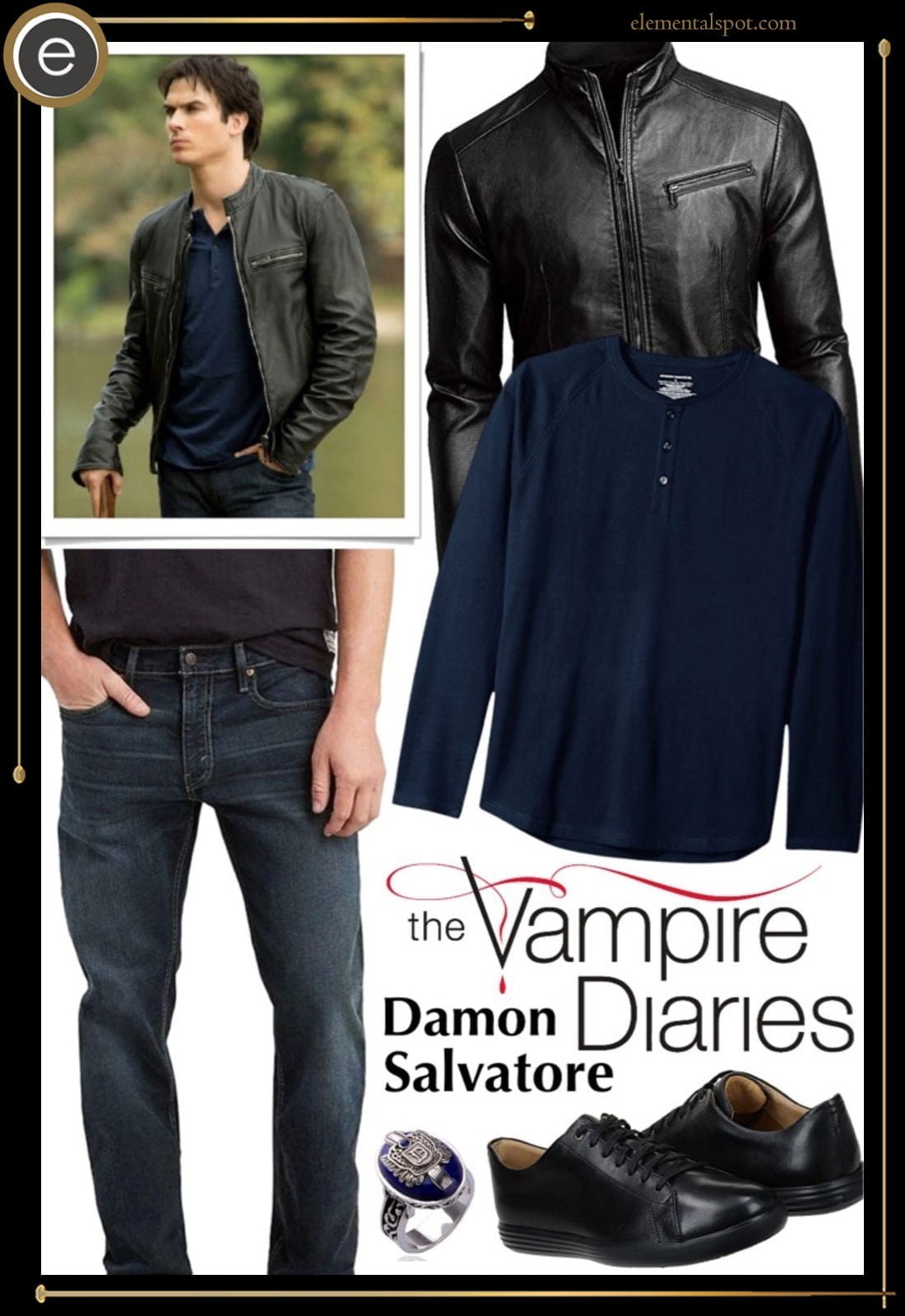 Shopping List for Damon Salvatore from The Vampire Diaries Outfit
Airing 171 episodes over eight seasons and and even producing a spin-off show, The Originals (2013-2018), The Vampire Diaries still to this day has legions of loyal fans. Caught up in the story of love triangles, doppelgängers and supernatural villains, played out against a background of high school teen drama the dark and brooding costumes only added to the suspense. One element that heightened the show's suspense was the dark and brooding costumes worn by its characters. Among them, Damon Salvatore's iconic outfit stands out as one of the most beloved looks. As the show's bad-boy, Damon Salvatore's fashion sense has garnered significant admiration from fans seeking to capture his irresistible style.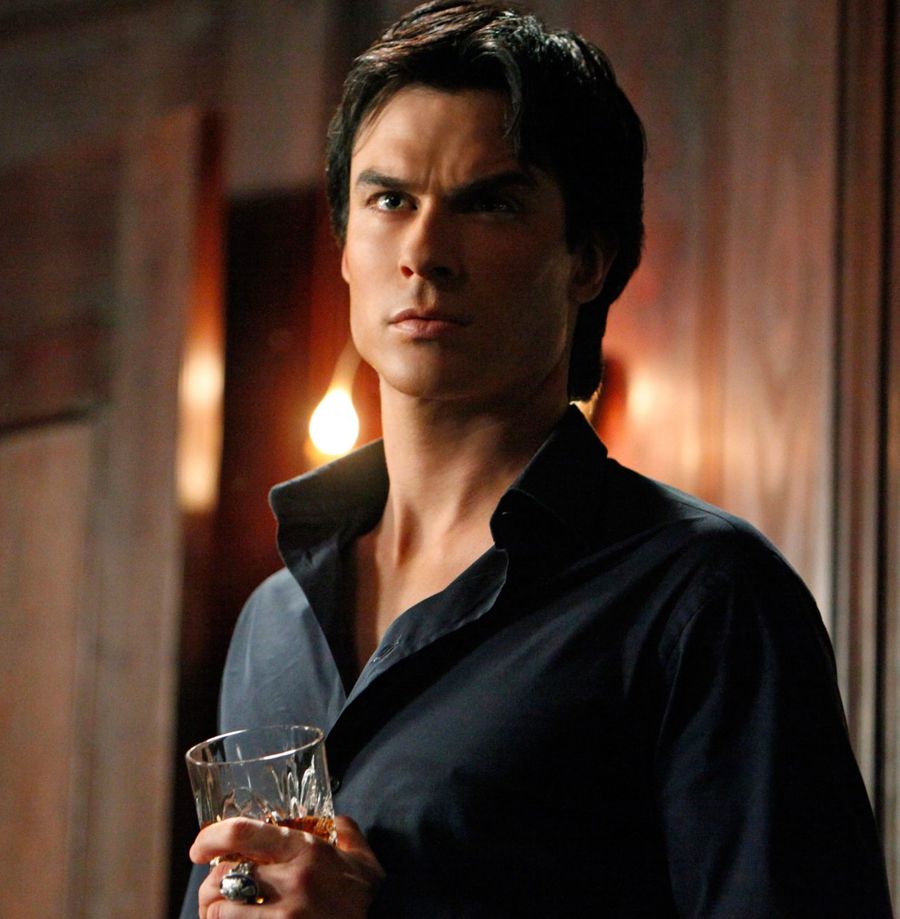 With the story centering around the fictional town of Mystic Falls, the show focuses on the life of Elena Gilbert who is thrust into the world of the supernatural. Once home to the quarreling Salvatore brothers, they have returned to the Virginia town, where Elena becomes a pawn in their game of love and revenge.
Damon, the impulsive and self-destructive vampire, who was sired by Katherine Pierce along with his brother Stefan, has come back to Mystic Falls to free her from her tomb of imprisonment.
The fact she was never in there, and has lived her life without him, leaves him enraged and devastated. Allowing his deep love for her to fade and his feelings for Elena to grow, even if as Katherines ancestor and doppelgänger they are identical. But with a devious, sarcastic mind and cruel intentions towards his brother and humans in general, Damon has to put his petty taunts and anger to the side to ultimately protect and save the ones he loves.
A Vampire's Code of Dressing: Studying the Damon Salvatore The Vampire Diaries outfit
Before we can steal a Damon Salvatore The Vampire Diaries outfit, first we need to study how costume designer Leigh Leverett took the typical vampire look and created the statement style of one of the show's main antagonists.
Clothing Recommendations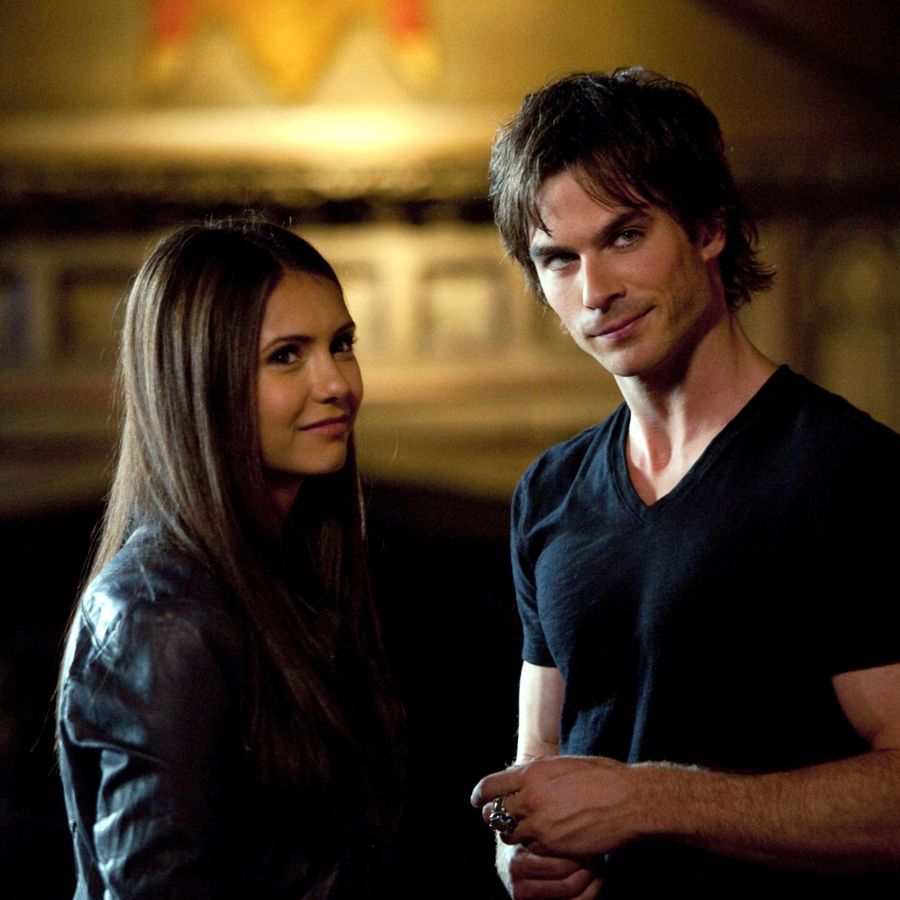 Born in the 19th century, Damon has lived through decades of changing style, but unlike some vampire's (Rebekah Mikaelson for example with her stylish wardrobe) being fashion conscious is of no importance to this Salvatore brother. Instead gone are the dress shirts and suspenders, waistcoats and cravats of Damon's human life, preferring a more modern and casual way of dressing that mirrors everyone's favorite vampire teen heartthrob Edward Cullen.
Sticking to what could be considered the male vampire code of dressing, Damon portrayed in the show by Ian Somerhalder, stays away from most patterns and colors. Instead choosing clothes in the typical blacks, dark blues or subtle slate grays, that comes with the territory of dark and menacing.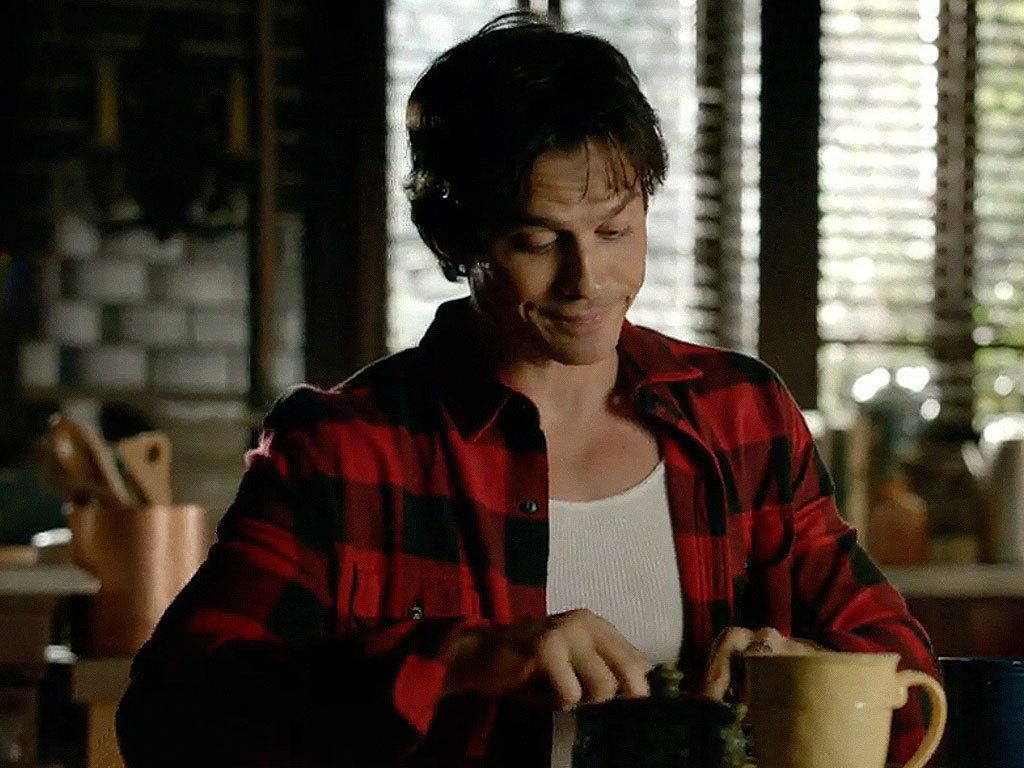 Yet as the seasons go on he starts to add a hint of color and pattern into his wardrobe from his, out of character, plaid shirts. Giving his Damon Salvatore The Vampire Diaries outfit more of a lumberjack feel than the devious, sarcastic supernatural villain that we met in the pilot episode on his return to Mystic Falls.
Missing an Outfit Inspo? Submit your idea and we'll make it happen!
Key Elements of Damon Salvatore's Style
However with a wardrobe full of black t-shirts, shirts and dark denim jeans, with a tuxedo or two in the back of the closet for special occasions, Damon's look is consistent with his outfits changing only slightly throughout the show's run. Using clothes less as a fashion statement, except for a few pieces from his favorite designer John Varvatos, and more to invoke a feeling of power and unpredictability.
But one of Damon's defining outfit features is his black leather jackets, that he layers over all of his wardrobe staples to finish his looks. From zipper embellishments to moto style, a Damon Salvatore The Vampire Diaries outfit is rarely seen without a jacket or indeed a pair of black boots tucked under the leg of a pair of equally dark colored trousers.
Damon's Accessories and Hairstyling Tips
Known for his young handsome appearance of only 25, and that bad-boy smile, the strikingly blue eyed, dark haired vampire can compel almost anyone to do his bidding. With no regard for human life, the self proclaimed 'eternal stud' uses people drawn to his beauty as his personal playthings.
"It's cool not growing old. I like being the eternal stud."–

Damon Salvatore. The Vampire Diaries, Family Ties

With his dark brown hair worn neither short nor long, falling just over his ears, and paired with his light complexion Damon has a naturally unfussy grooming routine to go with his casual outfits. His hair more often styled in a tousled look of disarray, than gelled into some sort of special occasion look. Which seems to work to reinforce this over 170 year olds boyish charm.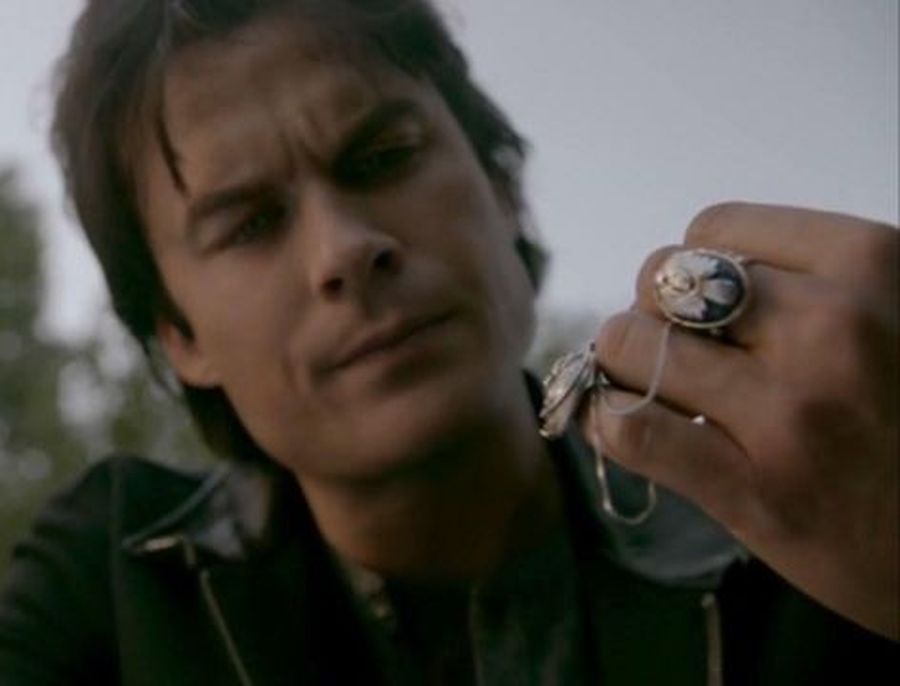 However no Damon Salvatore The Vampire Diaries outfit would be complete without his large signet ring. Made of Lapis Lazuli, the daylight ring that was enchanted by one of Bonnie Bennetts (steal her style here) ancestors allows the vampire to walk around in the sunlight without coming to harm. Stylishly featuring the Salvatore crest and embedded with a 'D' the ring is without a doubt one of Damon's most prized possessions, that he literally couldn't live without. 
A Dark and Dangerous Vampire: Steal Damon's Leather Jacket and Jeans Outfit
When it came to choosing a Damon Salvatore The Vampire Diaries outfit to steal, there were endless modern and casual looks to pick from. However the look from the collage above also portrays the dark and dangerous side of the devious and sadistic vampire.
Like many of Damon's outfits this simple but impactful look only requires a few garments that could also be mixed and matched to create a number of his other casual looks. While still being the perfect impulsive vampire outfit to steal with his dark color palette and extensive use of black.
Recreate the Damon Salvatore The Vampire Diaries outfit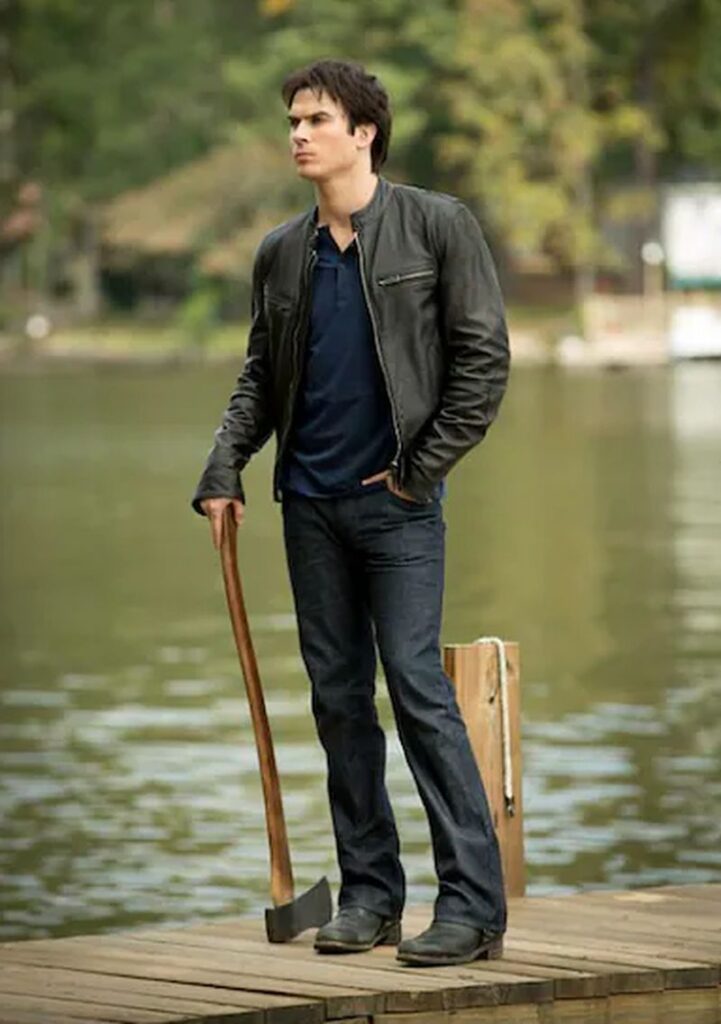 This Damon Salvatore The Vampire Diaries outfit has his typical dark and dangerous feel from his pairing of casual pieces in fabrics like denim and cotton, layered with more structured materials like leather.
Start your Damon look with his navy blue henley shirt, a favorite of Klaus Mikaelsons wardrobe also, paired with some dark blue denim jeans. Look for a long sleeved easy fitting henley shirt with the trademark button front, and loose fitting men's straight leg jeans.
Staying with his favored dark shades, Damon finishes his outfit with a fitted black leather motorcycle jacket with a zip front and pocket details. Before adding in some heavy duty black shoes. Something along the lines of a chunky sneaker or black worker's boot will be perfect tucked under the straight leg of his jeans.
Don't forget his signature Lapis Lazuli daylight signet ring, that allows him to walk about in the sunlight, and that is embedded with the Salvatore family crest and a simple 'D' for Damon to complete his look.

This Damon Salvatore The Vampire Diaries outfit might be the perfect representation of his dark and dangerous side that normally sees him taunt and treat people with cruelty, but behind it all is a love for his family and friends. Including Elena (whose style you can steal here), the anchor who has kept both Damon and brother Stefan in Mystic Falls even when they hated each other.
Monthly Newsletter
Add some spice to your style with movie set-inspired designs.