Dress Up Like Steve Harrington from Stranger Things
If you are looking for a good Steve Harrington costume for Halloween or a big cosplay event, here's the winning formula for creating the most exciting outfit of the party! Let's see how to dress up as Steve Harrington from Stranger Things.
Costume or Outfit Guide For COSPLAY & HALLOWEEN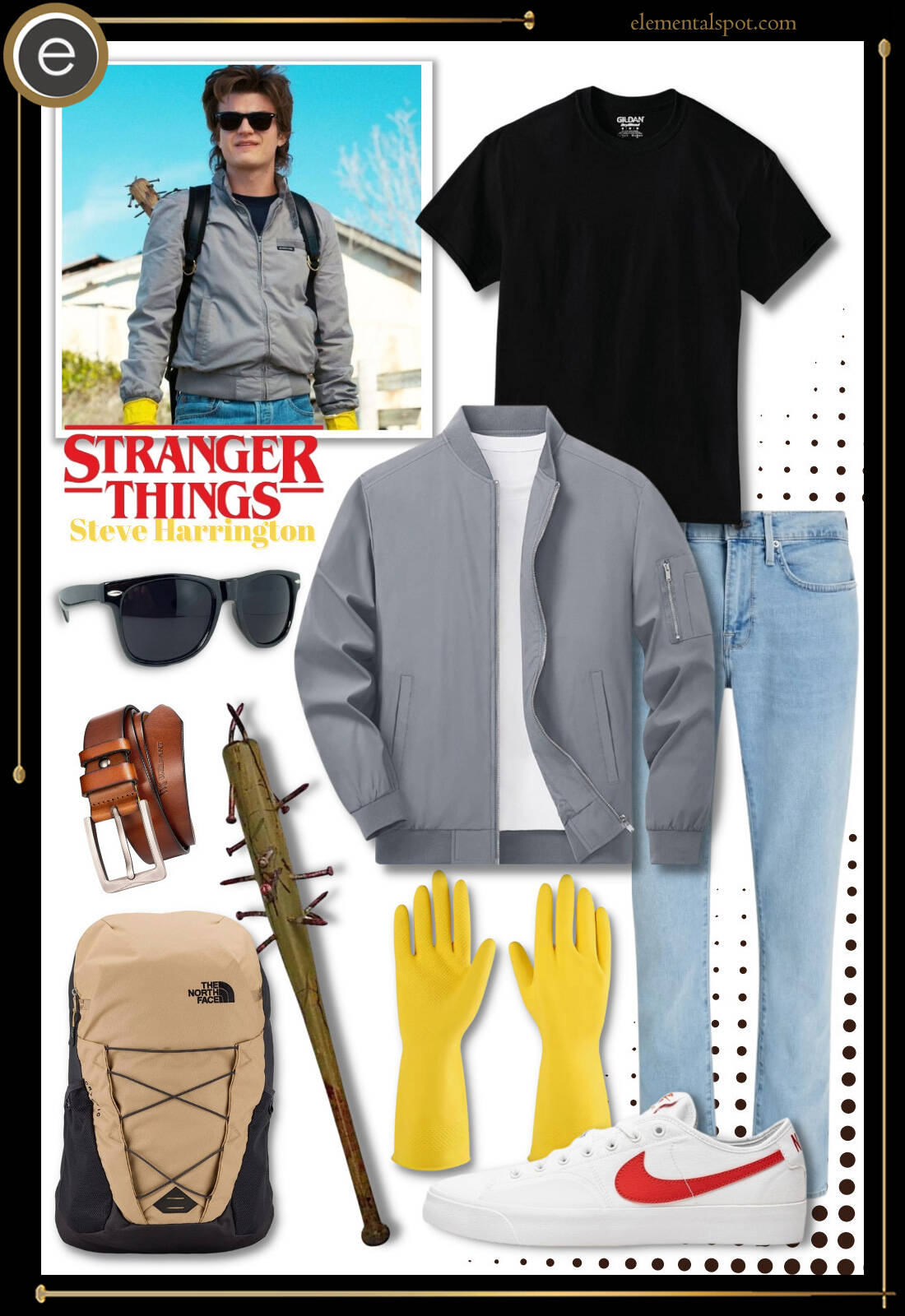 Steve Harrington from Stranger Things Costume or Outfit Guide
Shopping List for Steve Harrington from Stranger Things Costume & Outfit
In 2016 when Netflix brought us the hotly anticipated new drama Stranger Things, the streaming platform hit the jackpot when the show went on to take the world by storm. Since then no Halloween or cosplay event has been complete without at least one character from the streaming smash hit. So follow our guide to create your own Steve 'The Hair' Harrington costume, and get a chance to play the popular high school heartthrob.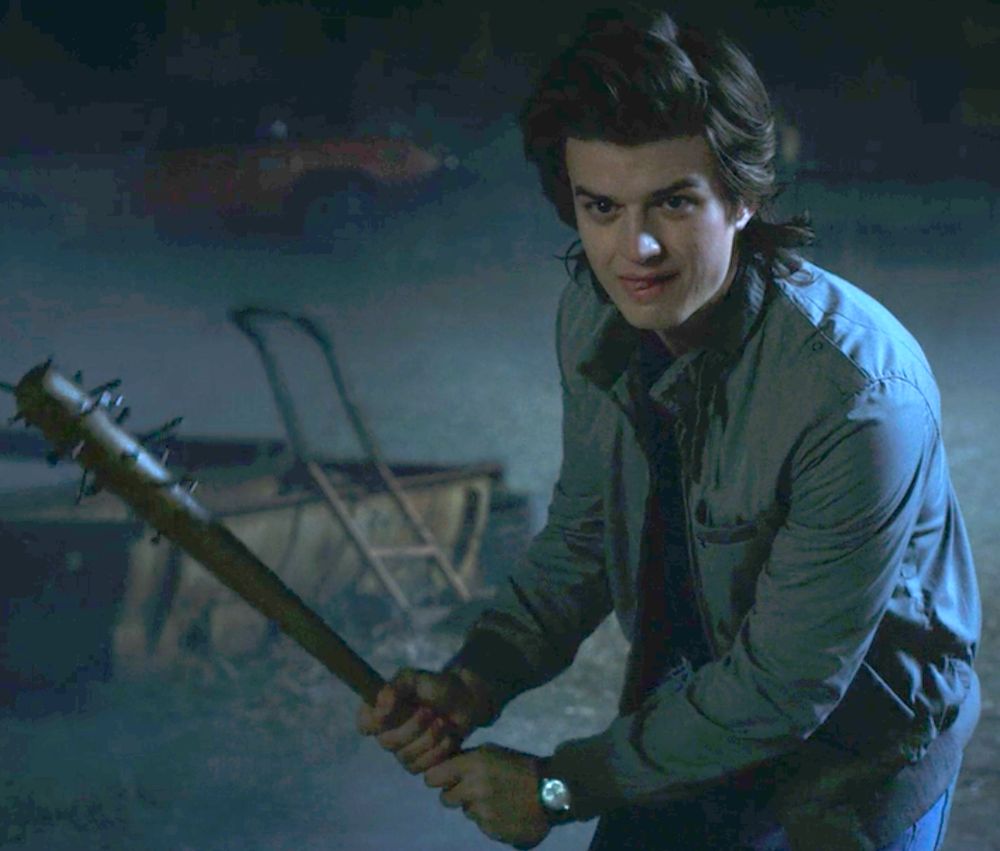 Who is Steve Harrington
Stranger Things, the American science fiction show, is set in the small town of Hawkins, Indiana during the 1980's. When an unusual set of events results in one child going missing, another group has to come together to fight not only the supernatural forces that now seem to be plaguing the town. But also the shady dark government forces that are drawn to Hawkins by the alternative dimension known as the "Upside Down".
Steve Harrington, played by Joe Keery, starts out as the typical popular high school heartthrob and boyfriend of Nancy Wheeler, the aspiring journalist. Too preoccupied with his own life to take any notice of what was going on around him in Hawkins, it isn't until he comes face to face with some of the Upside Downs scarier occupants that he re-evaluates what, and who, is worth fighting for.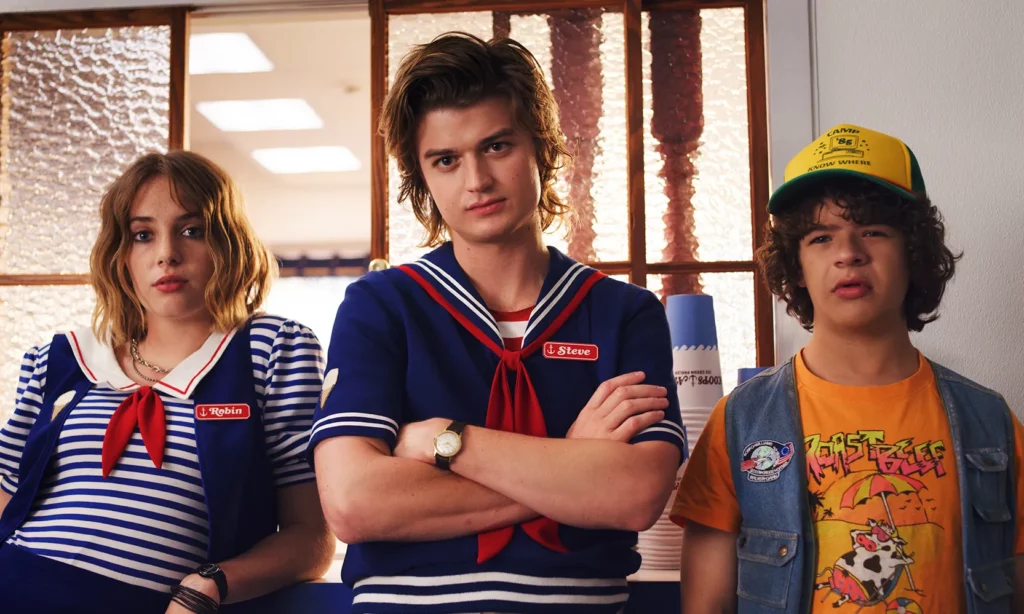 Getting The Steve Harrington look
Being set in the 1980's has called for costume designer Amy Parris to push the fashion boundaries and transport us back in time for the characters' looks.
So when starting your Steve Harrington costume you want to get yourself a pair of straight leg light blue jeans, to add a brown leather belt and a black t-shirt too. Go for a t-shirt with a more fitted shape, round neck and short sleeves, which you will then need to tuck into your jeans.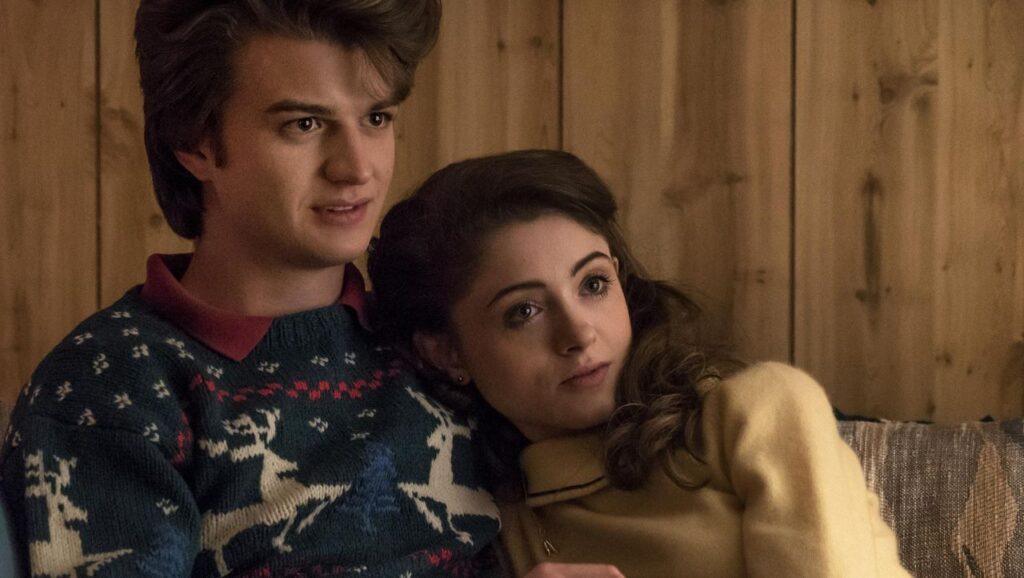 Any white sneakers will do, but Steve does specifically wear white Nikes with a red tick on the side. You could get creative and add your own tick to some plain sneakers, but it is unlikely with all the rest of the pieces of your costume that anyone will even notice your shoes.
Now for the light gray racer, bomber style jacket that we see Steve wearing, particularly in season two. Officially the one on screen is an 80's fashion staple in the form of a Members Only jacket. But really you are just looking for a jacket that has the knitted trim around the cuff and jacket hem as well as the collar strap at the neck in that light gray color.
Don't forget to add in a pair of yellow rubber gloves and a backpack to your Steve Harrington costume to recreate the look accurately.
Styling you Steve Harrington Costume
When it comes to styling your Steve Harrington costume you will have to make sure that you get his hair right. Known for many things throughout the different seasons, the one thing that's endured all of them is the talk of Steve's perfect hair.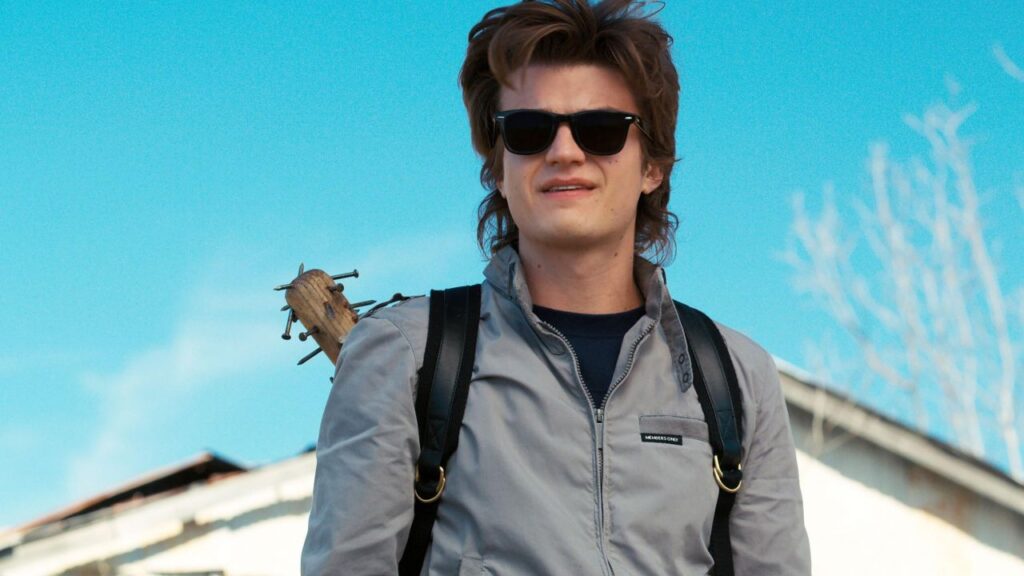 To make it easy to recreate, purchase a wig in the right dark brown shade, that has some volume at the front and top, and also has a bit of added length at the back.
Last couple of finishing touches and your Steve Harrington costume will be complete. First you will need a pair of black plastic framed sunglasses to wear, and secondly a baseball bat spiked with nails. You aren't really going to be fighting any creatures from the Upside Down so a fake bat with fake nails would be more appropriate. Then slip it into your backpack and you are ready to go.
Missing an Outfit Inspo? Submit your idea and we'll make it happen!
Monthly Newsletter
Subscribe and get your Halloween costume ideas from us each year.