Dress Up Like Suzie from Stranger Things
If you are looking for a good Suzie costume for Halloween or a big cosplay event, here's the winning formula for creating the most exciting outfit of the party! Let's see how to dress up as Suzie from Stranger Things.
Outfit Guide For COSPLAY & HALLOWEEN
Suzie from Stranger Things Outfit Guide
Shopping List for Suzie from Stranger Things Costume & Outfit
Who doesn't love Suzie, Dustin's geeky girlfriend from Stranger Things? Her signature style makes a perfect outfit for a costume party or cosplay event. Here's how to create the perfect Suzie from Stranger Things costume!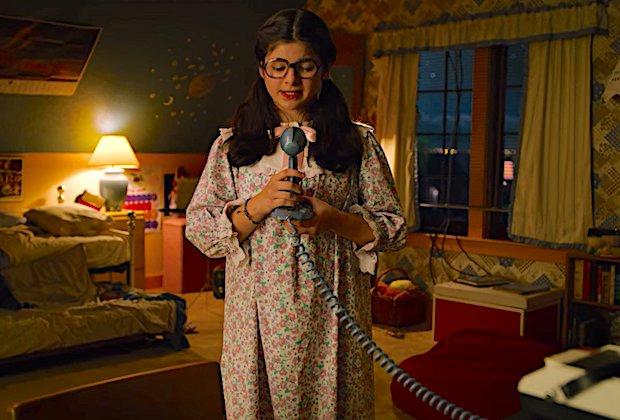 Who is Suzie?
In the third season of the hit Netflix series Stranger Things, Suzie meets Dustin Henderson at a summer camp for "nerds" called Camp Know Where, and the two become a couple. The lovers have a favorite song that they sing to each other several times, called Never Ending Story.
This nerdy, lovable character is part of a very large family and lives with her father in Salt Lake City. Her intelligence is by far her greatest asset, as she is a mathematician and computer genius. Argyle, Mike, Will, and Jonathan will call on her services to decode NINA's coordinates and find Eleven's whereabouts. She's also a talented clarinet player.
Fun fact: Judging from certain objects in her room, Suzie appears to like certain movies and fandoms that are considered for younger children, owning a The Wizard of Oz poster, a The Muppet Movie poster, and a Strawberry Shortcake mug.
Suzies Outfit from the " neverending story" scene
In Stranger Things season 3, Dustin's girlfriend Suzie Bingham is seen wearing this iconic floral nightgown. The delicate pink flowers on the white background add a touch of femininity and romance to the garment.
Not only is the nightgown beautiful, but it also serves as a symbol of Dustin and Suzie's relationship. The nightgown represents their youth and innocence, as well as the pure and sweet love they share.
In a show filled with dark and intense moments, Suzie's floral nightgown provides a welcomed breath of fresh air. It reminds us of the beauty and innocence that still exists in the world, even amidst the chaos.
It adds a touch of romance and femininity to the show, and serves as a reminder of the pure love between Dustin and Suzie.
Suzies Outfit from Seazon 4
In season 4 of Stranger Things, Suzie's glasses and clothes perfectly reflect her playful and fashionable personality, and add to her charm on screen. Her signature glasses are a pair of round, dark frames that complement her bright and bubbly personality. She also wears a variety of vintage-inspired clothing consisting of a mix of retro prints and pastel colors, giving her a playful and vintage-inspired aesthetic.
Suzie's fashion choices are playful and fun, and they reflect her energetic and outgoing personality. She is a refreshing and fashionable addition to the Stranger Things cast, and we can't wait to see what she wears in future episodes.
Quiksilver is an advertising partner of Netflix's Stranger Things. The special Stranger Things Collection consists of lots of clothes identical to those worn in the series.
Suzie's costume and accessories
In order to slip into this kooky nerd's skin, you'll need to put on a long floral nightgown.
Divide your hair in two ponytails with little pink hair ties, and put on a pair of pearl stud earrings.
The accessories are essential when it comes to Suzie, so you'll have to invest in a falcor plush, a pair of oversized round glasses, and a CB microphone. Why not also carry around a funko pop Dustin figure?
Walk around in this outfit, breaking off into song every few minutes, and everyone will be amazed by your incredible Suzie from Stranger Things costume!
Missing an Outfit Inspo? Submit your idea and we'll make it happen!
Monthly Newsletter
Subscribe and get your Halloween costume ideas from us each year.