Dress Up Like Eleven (Romper Look in Season 3) from Stranger Things
If you are looking for a good Eleven costume for Halloween or a big cosplay event, here's the winning formula for creating the most exciting outfit of the party! Let's see how to dress up as Eleven from Stranger Things.
Outfit Guide For COSPLAY & HALLOWEEN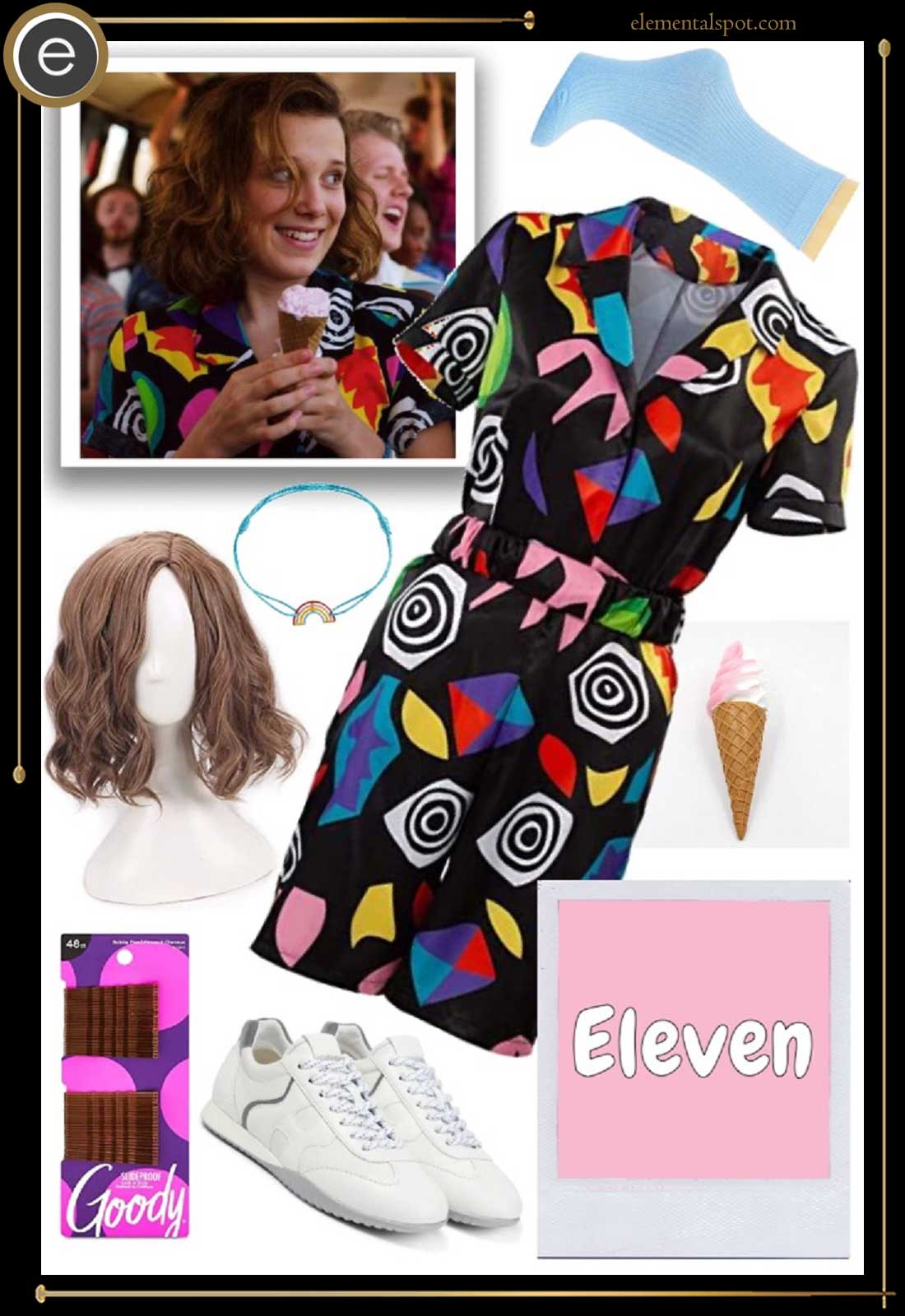 Eleven from Stranger Things Outfit Guide
Shopping List for Eleven from Stranger Things Costume & Outfit
Since smashing on to the streaming platform Netflix in 2016, sci-fi drama, Stranger Things has been taking the world by storm. No character more so than Eleven who has been on quite the world saving journey so far. But season three saw our heroine push her style boundaries and try new things, thanks to costume designer Amy Parris.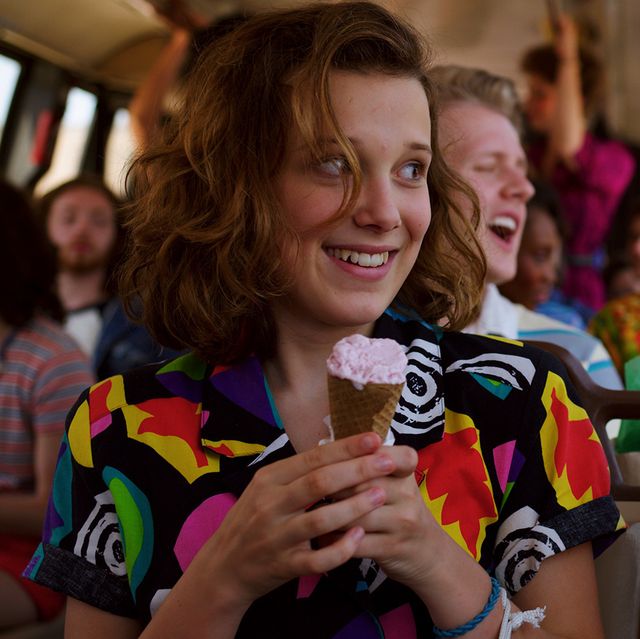 By season three we have hit the mid 80's and Eleven has decided to up her fashion game, helped by the opening of the new Starcourt Mall in town. This meant we would get one of the best looks of the show so far when Eleven wears the geometric print romper. To recreate Eleven's costume you need to start by getting your own romper. It was such a big fashion moment on the show that it is easy to find versions for children and adults online for purchase, without any hassle.
Eleven Romper costume DIY
To get the look from the show Eleven styles her romper with a pair of pale blue ankle socks and white Reebok trainers. Although Reebok were the trainers of the moment, just use any brand of white trainers you have for your Eleven Romper costume as long as you pair them with blue ankle socks.
Like everything else in the show, Eleven's hair style has had an upgrade and she is trying to look more grown up. Her shoulder length brown hair is simply curled at the ends and brushed out to give a relaxed look. Tuck a few strands up at the front and bobby pin them in place above the ear. Of course if you don't have brown hair you could buy a wig to help in your flawless recreation of the look.
Even super powered teenage girls dabble in a little bit of make-up. Keep the look fresh faced. A little bit of eyeshadow, with a touch of shimmer, a stroke of mascara and a little bit of lip gloss to give you that young and innocent appearance.
Finish the look with a string bracelet, something with a little charm on it. A rainbow would work well, especially with all those bright colours in the geometric romper print.
The romper look was at a point in the season when Eleven could live an almost normal teenage life; her and her friends couldn't see all the evil bubbling away under the surface of the Starcourt Mall. So to fully embrace the Eleven Romper costume you're going to have to draw on some teenage memories of shopping at the mall, long summer days and hanging with your friends to bring the easy charm Eleven had in these scenes. 
Missing an Outfit Inspo? Submit your idea and we'll make it happen!
Monthly Newsletter
Subscribe and get your Halloween costume ideas from us each year.