Twilight: Bella Swan Outfits, Looks and Style
Not every movie holds its position in people's "best movie series to binge on" list after 14 years of its release. But Twilight is an exception to the case, the credit for which goes to the lead character Bella Swan's commendable sense of style.
In this post, we will share the top Bella Swan outfits to restyle. Let's get started, shall we?
Bella's Plaid Buttoned ShirtS, Backpack and Rings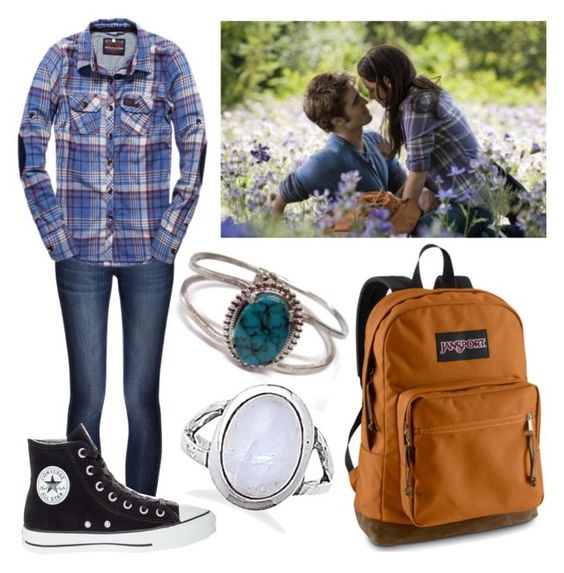 Get!
Get!
Get!
Get!
Bella Swan (Kristen Stewart) outfit with a plaid shirt, Converse shoes, Bella Ring and Backpack in The Twilight Saga Eclipse
Bella has a tomboyish look in Twilight, and she effortlessly styles plaid shirts to match her personality. We especially love this blue plaid shirt with hints of white.
She styles often her front-open shirts with a gray t-shirt and blue jeans and accessorizes it with a chunky bracelet. You can also style this shirt as it is with jeans, tucking it from the front for a more stylish look.
Full-length sleeves are a must in Bella's outfits. Not only do they look stylish, but they also give a margin for styling and innovation, all while maintaining a casual vibe.Bella styles this outfit with the vintage vampire ring and some beadle bracelets. But you can go for a more chic look by wearing skin-fitted jeans and a poncho.
Bella's Embroidered Peasant White Blouse
Bella has a casual yet elegant style that says, "I have more important things to do than spend my time dressing up." She can be spotted pulling off several different styles throughout the series; this particular blouse is from her bohemian collection.
She pairs this cute yet chic embroidered floral peasant blouse with a green top and blue jeans. We have spotted a similar item online with embroidery patches on the sleeves with similar elastic fitting as in Bella's blouse.
Bella's Engagement Ring
We can't end Bella Swan's outfit inspo list without mentioning her iconic engagement ring. According to the book, this ring has a family history – Edwards' father gave it to his mother; given the vampire context, this ring would date to the 1890s.
The writer Stephanie Meyer describes Bella's ring in the book as "Long and oval, the face was embellished with sloping rows of sparkling round stones. The exquisite, slender band was made of gold. The diamonds were encircled by a delicate gold web." Safe to say that the movie makers did a great job in bringing Stephanie's words to life. Our Amazon find has a set of two rings: Bella's engagement ring and the moonstone ring her mother gave her.
Bella Swan's Fisherman Cable Style – Gray Thermal Shirt
Being married to a vampire doesn't make you immune to the cold weather. Bella dons several different styles of coats and jackets throughout the movie, and we are in love with this basic fisherman cable long-sleeve shirt.
Although most of her lumberjack collection is colored, usually brown, yellow, red, or green, this thermal pull-on sweater has a neutral tone. We have found a similar gray sweater with a round neck. We suggest pairing it with skinny dark blue jeans like Bella.
Bella's Front Open Crop Cardigan
Crop cardigans are never not in style. Bella Swan proved that you could carry a simple woolen crop cardigan with style. She wears a cute retro-vintage style knitted cardigan with V-neck and long sleeves.
There are endless ways in which you can style this simple clothing item. You could either go for a basic, laid-back style like Bella and pair it with a knotted top and jeans, or aim for a fancier look and style it with a dress or long skirt.
Striped Long-Sleeved Shirt Inspired by Bella
You must have established by now that Bella dresses like the typical 21st-century teenager. She has a variety of long-sleeved shirts, although you won't spot her wearing bright colors as much.
Take a look at this maroon striped shirt; you will notice it to be quite pale despite the color being a bold one. If you don't like the laid-back style, you can check out this classic black and white striped t-shirt we spotted on Etsy. The key to copying Bella's striped t-shirt and jeans look is to stay casual.
Bella's Green Plaid Hoodie
We have another plaid item from Bella's collection, but it's not a shirt this time – it's a hoodie! This one is for those ladies who don't like hiding their outfits under coats and jackets.
You can now flaunt your favorite outfit without exposing yourself to the harsh, cold weather. We have found a similar zip-up hoodie to the one Bella wears. You can style it with a t-shirt or a turtleneck for a more sophisticated look.
Bella's First Day of School Outfit – Green Bowling Shirt
We all loved Bella's first day of school outfit. The green bowling shirt paired with Bella's signature style, full-sleeved t-shirt, and jeans gave the most casual yet stylish look.
She accessorized the outfit with a headband and bracelets on both wrists. You can also style the shirt with loose jeans, khakis, or athletic yoga-style pants – the options are endless!
Which of These Bella Swan Outfits Are You Restyling?
This brings the end of our Bella Swan-inspired styling guide. All that's left is for you to restyle these Twilight-inspired outfits. Tip – here you can find Dress Up Like Alice Cullen from Twilight