Dress Up Like Alice Cullen from Twilight
If you are looking for a good Alice Cullen costume for Halloween or a big cosplay event, here's the winning formula for creating the most exciting outfit of the party! Let's see how to dress up as Alice Cullen from Twilight.
costume Guide For COSPLAY & HALLOWEEN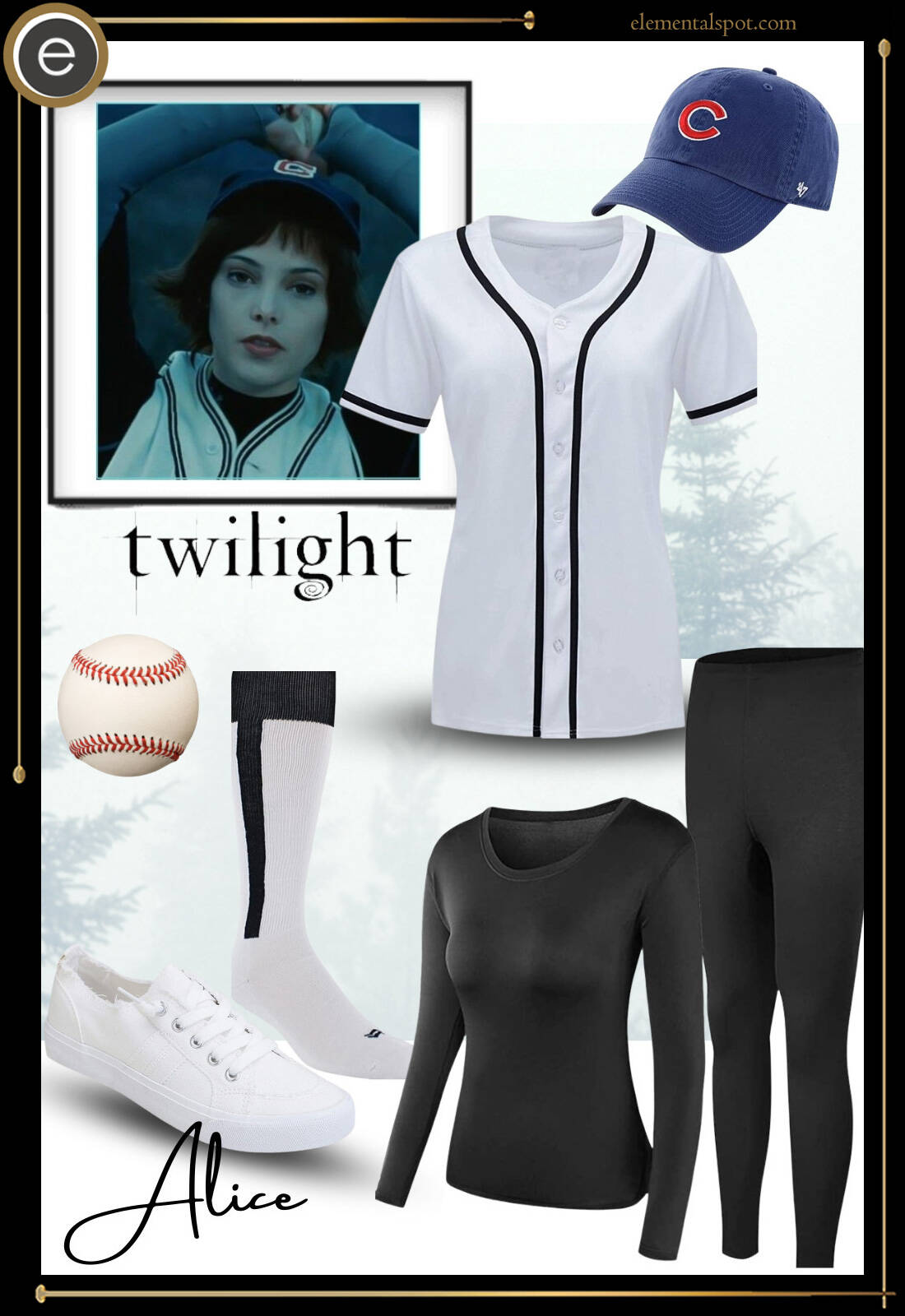 Alice Cullen from Twilight costume Guide
Shopping List for Alice Cullen from Twilight Costume & Outfit
What costume party is complete without a modern day vampire such as those from Twilight? Today you will see what it takes to dress the part of Alice Cullen in the baseball scene from Twilight.
Alice Cullen in the baseball scene in Twilight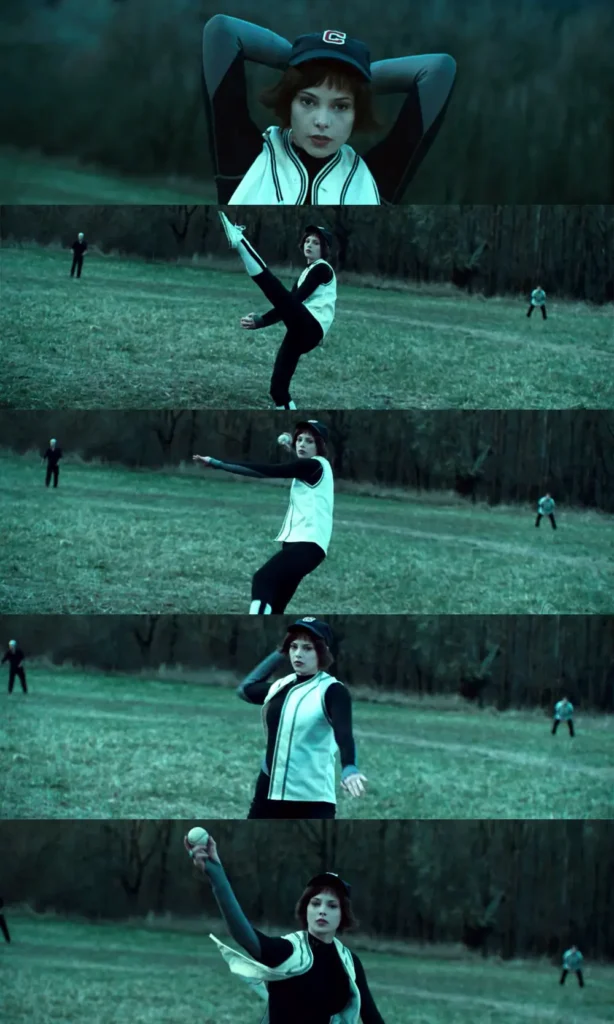 Alice Cullen is a character in The Twilight Saga, a series of 5 fantasy romance vampire films based on the novels published by author Stephanie Meyer. Alice lives a "vegetarian" vampire lifestyle and it's easy to forget she is a vampire while reading or watching her throughout the series. She's very stylish and even earns a degree in fashion design during college. Even during the baseball scene of Twilight Alice looks very well put together and has a sense of fashion that seems easy and natural. Her dainty, good looks combined with that fashion sense creates a great character to imitate at your next dress up event.
"The short girl was pixie-like, thin in the extreme, with small features. Her hair was deep black, cropped short and pointing in every direction."

BELLA ON SEEING ALICE FOR THE FIRST TIME -Twilight by Stephanie Meyer
Alice Cullen Twilight costume – baseball outfit
To dress like Alice Cullen in the baseball scene of Twilight you'll need black leggings, a fitted, long sleeve t shirt, tall baseball socks and a white button up baseball jersey topped with a baseball cap with the letter C on it and some white sneakers. To finish off the look add some white face powder and a short pixie cut wig under your hat and your Alice Cullen costume will be a homerun hit for whatever the occasion.
Alice Cullen hair
Alice Cullen, the fictional character from the Twilight Saga, has been known for her signature hairstyle that perfectly complements her vampiric features. In this article, we will take a closer look at Alice Cullen's hair and how to recreate her hairstyle. We will also include a tutorial video that you can follow to achieve Alice's signature look.
Alice's hairstyle is a layered pixie cut with a tousled, textured finish. The length of her hair is just above her shoulders, with shorter layers framing her face. Her hair color is a rich, dark brown with subtle highlights. To achieve Alice's hairstyle, you will need to have a similar haircut with layers that frame your face. If you have long hair, you can opt for hair extensions to achieve the desired length and style.
The second video tutorial:
To recreate Alice's hairstyle, follow these steps:
Step 1: Start with clean, dry hair. Apply a heat protectant spray to your hair to protect it from heat damage.
Step 2: Use a 1-inch curling iron to curl your hair in small sections. Curl your hair away from your face to create volume and texture.
Step 3: Use your fingers to tousle your hair and create a messy, textured finish. You can also use a texturizing spray to add more volume and texture to your hair.
Step 4: Use a small amount of hair wax or pomade to define the layers around your face. This will create a more polished and finished look.
Step 5: Finish with a light-hold hairspray to keep your hair in place.
With these simple steps, you can achieve Alice Cullen's signature hairstyle. Remember to keep the hair tousled and textured for a more natural and effortless look. You can also experiment with different hair colors and highlights to personalize the hairstyle to your own liking.
Alice Cullen's Stylebox -her Best Outfits
If you're a fan of Alice Cullen's style and are looking to recreate her looks, you're in luck! This video i a good guide to some of her most iconic outfits, with all the garment details you need to know.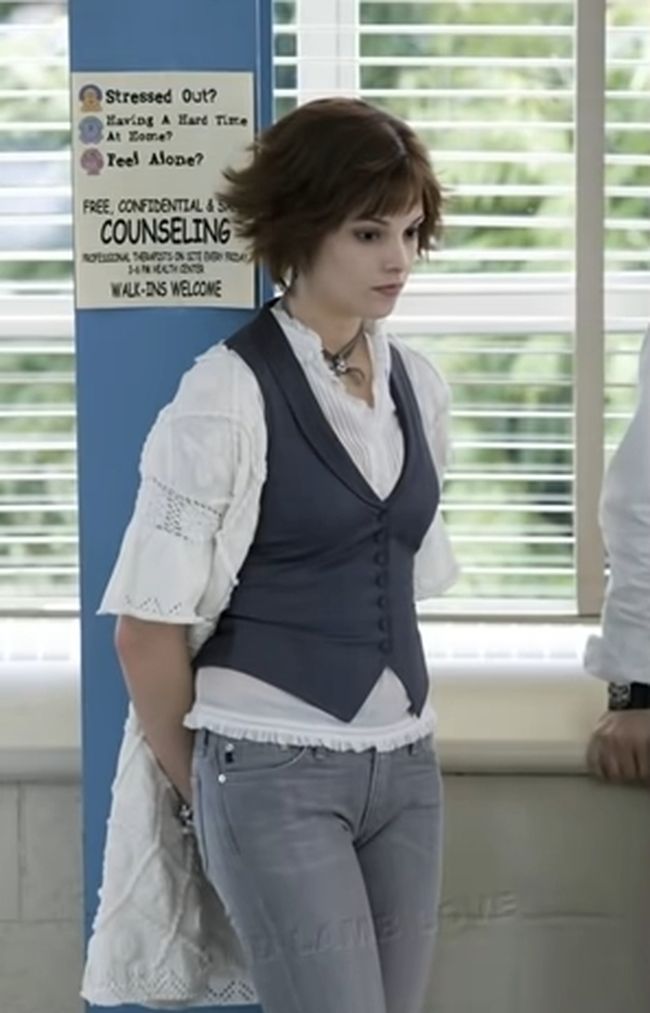 Ivory Flared-Sleeve Cardigan
Alice Cullen's ivory flared-sleeve cardigan is a standout piece in her wardrobe. The cardigan is from Anthropologie, Knitted & Knotted and is called the Limehouse cardigan. This piece is perfect for creating a bohemian look and can be paired with a variety of different outfits.
Waistcoat
Alice's waistcoat is a must-have in any Alice Cullen-inspired outfit. The waistcoat is from H&M and has a satiny collar and 7 fiddly buttons. While the original waistcoat is grey, the one worn by Alice is blue, so keep an eye out for this color option.
Frilly White Shirt
The frilly white shirt worn by Alice is by Scarlet Darkness and can be found on Amazon. This piece adds a touch of femininity to any outfit and can be paired with a waistcoat or blazer for a more polished look.
Velvet Sleeveless Blazer
The velvet sleeveless blazer worn by Alice is from BCBG Maxazria and can be paired with a variety of different outfits. The velvet skirt that was paired with it is believed to be originally from Debenhams.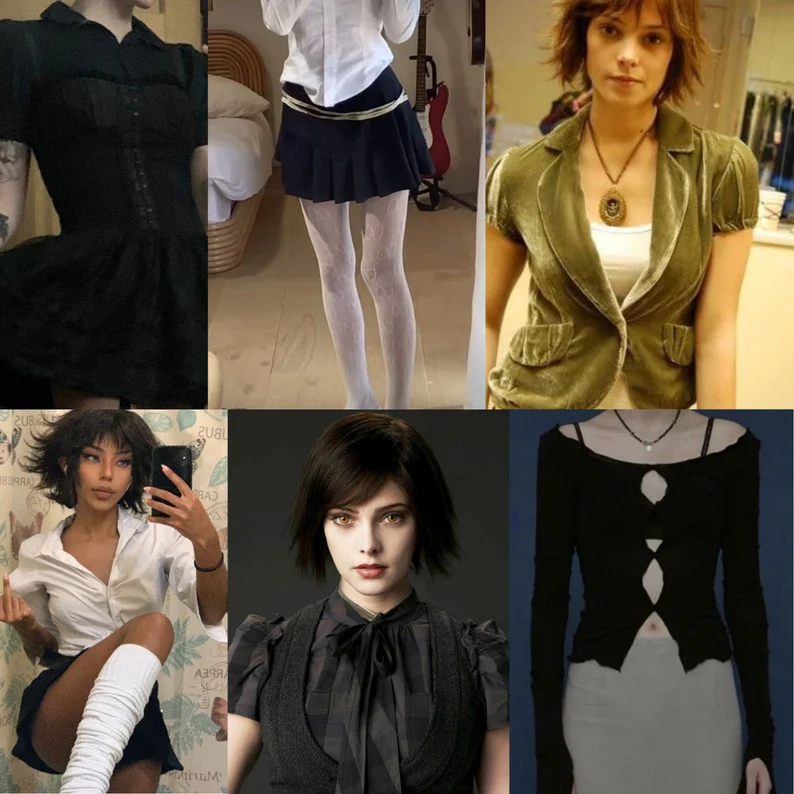 Ivory Tunic and Waistcoat Outfit
Alice's ivory tunic and waistcoat outfit is another standout look in her wardrobe. The tunic is from Joe Browns, but since it's an older piece, you might have to hunt for it on eBay. The waistcoat is from Punk Rave via Fantasmagoria, and they still sell it.
Dusty Rose Chiffon Blouse
The dusty rose chiffon blouse worn by Alice is from Forever 21. This piece adds a touch of romance to any outfit and can be paired with a skirt or jeans.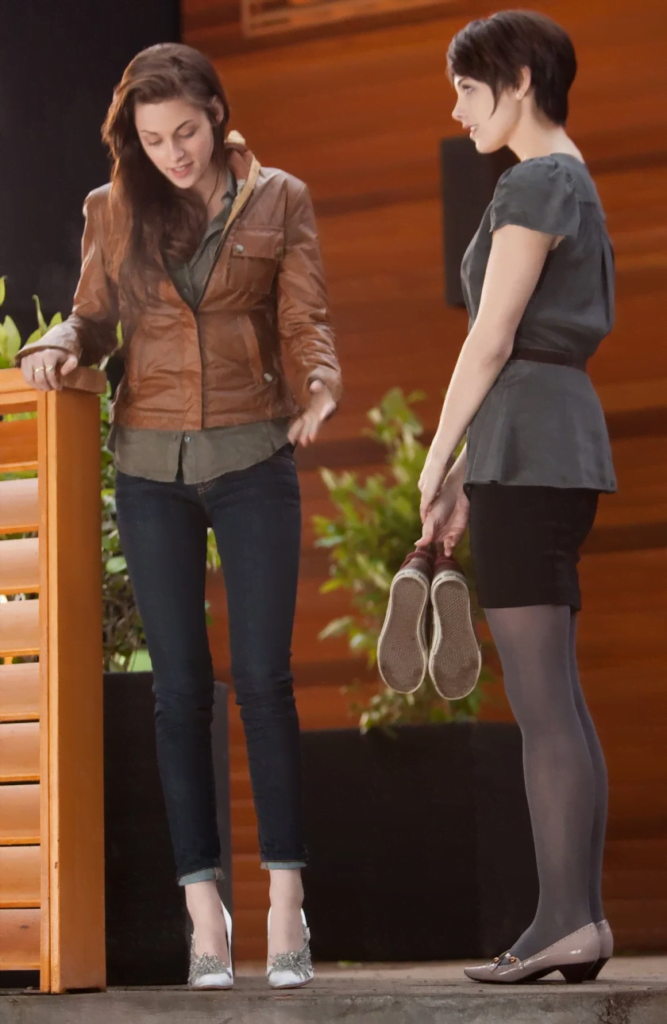 Boots & Shoes
Alice is often seen wearing boots, and luckily, her boots are not expensive designer pieces. The same applies hor her shoes.
Sleeveless Green Tunic Coat
Alice's sleeveless green tunic coat has no label, but it's believed to be handmade. If you're lucky, you might be able to find a similar piece on eBay.
Brown Leather Battle Jacket
Alice's brown leather battle jacket is from Banana Republic, but hers is modified to have rounded collar points. However, every other detail remains correct. Her choker can easily be found on eBay.
Grey Dress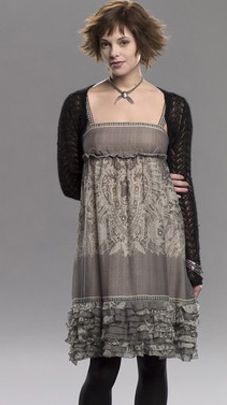 The beautiful grey dress worn by Alice is by Diane Von Furstenburg.
If you're looking to recreate this look, pair the dress with a black shrug. You can find a perfect knitted replica, along with Alice's gloves, Bella's chunky mittens, and several other cool pieces, in the book/Kindle edition of Vampire Knits by Genevieve Miller.
Accessories
Alice is known for her attention to detail when it comes to accessories. Her 1920s/30s felt hat was thrifted, originally by Peacocks. For her contact lenses, she prefers high-end brands like 9mmsfx and avoids FXEyes.
Another important point to note is the wig that the blogger mentions. She says that her wig is either from Uniqso or Youvimi and that she had the fringe shortened and feathered out. Wigs can be an excellent way to achieve a character's look, especially if you're not willing to cut or dye your hair. There are many cosplay wigs available online that you can purchase to achieve Alice Cullen's hairstyle.
In conclusion, achieving Alice Cullen Twilight costume and outfits can be a fun and rewarding experience for any Twilight fan. With a little bit of effort and some online shopping, you can replicate her iconic style. Just remember to pay attention to the details, like the brand of the waistcoat, the style of the collar, and the buttons on the shirt. And don't forget to complete the look with the right accessories, like Alice's choker and gloves. With these tips in mind, you'll be ready to step into Alice Cullen's shoes and become a vampire fashion icon in your own right.
Missing an Outfit Inspo? Submit your idea and we'll make it happen!
Monthly Newsletter
Subscribe and get your Halloween costume ideas from us each year.