Steal the Look – Dress Like Haley from Modern Family
Add a touch of cinematic magic to your wardrobe with our roundup of daring and hip movie-inspired outfits. We'll show you how to dress like Haley from Modern Family with our selection of chic and stylish pieces. Slip them on and step into the spotlight like a star with these iconic looks from Modern Family.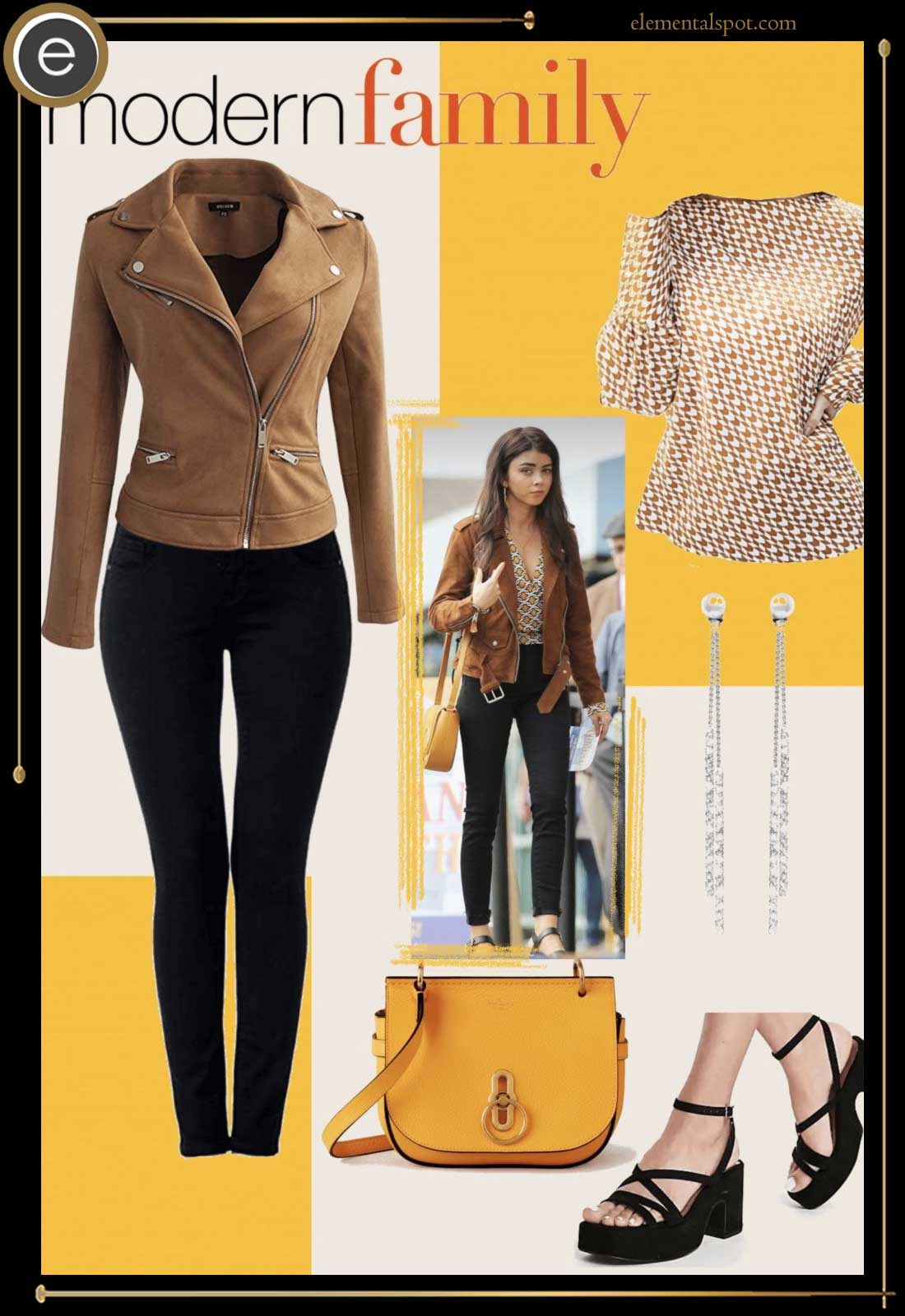 Shopping List for Haley from Modern Family Outfit
When Christopher Lloyd and Steven Levitan came up with the idea for a family sitcom, presented as a mockumentary with the characters breaking the fourth wall to give interviews straight to camera, people were unsure. But eleven seasons, 22 Emmy awards and legions of fans later, Modern Family (2009 – 2020) has given us some of comedy's greatest characters.
Full of big laughs, relatable family drama and a wardrobe department we all wished was our own, the show's young resident fashionista couldn't help but stand out with her typical Haley Modern Family outfit.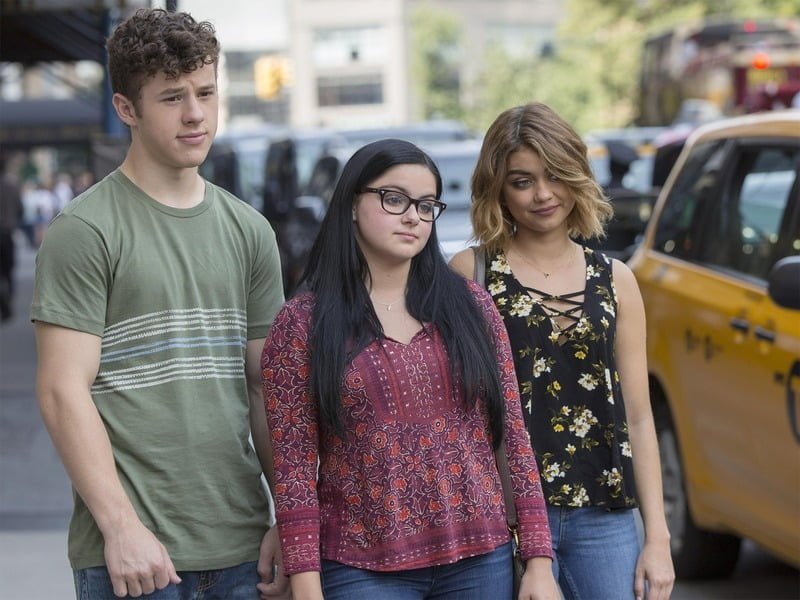 Set in suburban Los Angeles, the eleven seasons follow the lives of three families all related through the show's wealthy patriarch Jay Pritchett. With each family having a different dynamic, Jay's blended family, his daughter Claire's nuclear family and his son Mitchell's same-sex family, the episodes explore at great comedic value how this new Modern Family deals with everyday occurrences.
Haley Dunphy, the oldest child of Phil and Claire, is the cool popular high school girl portrayed as a ditzy, sociable teenager who might struggle academically but has enough street-smarts to manipulate the people around her, particularly her parents. Spending her time having fun sneaking out to parties, breaking curfew and partaking in a fair amount of underage drinking, the rebellious teen takes after her mother.
A Ditzy Personality and a Ditsy Print: Rifling Through Haley's Modern Family Closet
Before we even look at what it would take to steal a Haley Modern Family outfit, first we need to take a peek into how the costume designers Alix Friedberg, who did the earlier seasons, and Pamela Chilton who came in at season six, created her fashionista credentials through her wardrobe and styling.
Haley Dunphy, played by Sarah Hyland, is a young irresponsible, fun loving teen in season one who gradually matures bit by bit, into a married mother of twins. Coming full circle just like her own mother, who neither wants to admit she is just like.
A popular high schooler, with a passion for fashion, Haley knew how to dress herself to be on trend while still standing out from the crowd. Not afraid of color or prints, both featured heavily in her wardrobe, with no colors being out of the question.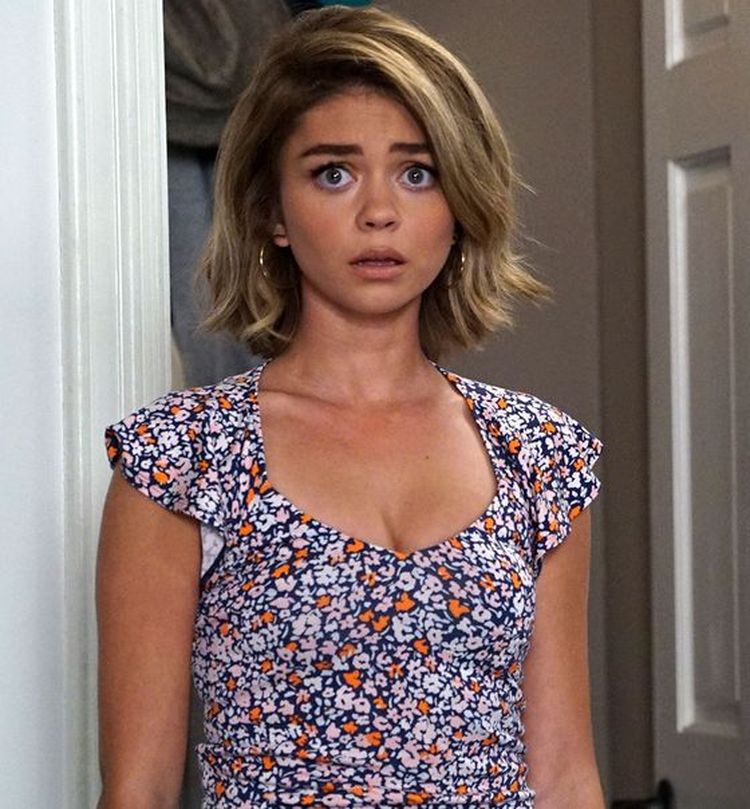 With her rebellious and ditzy character image to play up to, the costume designers used the introduction of small floral prints, often described as ditsy print, to emphasize that personality trade. To make sure they didn't become too cutesy the florals were often paired with low necklines and short hems, to give the appropriate level of flaunting herself but still being acceptable by her parents standards.
Missing an Outfit Inspo? Submit your idea and we'll make it happen!
Using a real LA feel for Hayleys wardrobe her clothes are made up of a lot of tank tops, short sleeved mini dresses and casual jeans. With even a few pairs of denim shorts that Daisy Duke would be a fan of. But as Haley matured, her flower prints became noticeably larger and her hems dropped just a bit longer. 
Still there are one or two features of her wardrobe that never change and that is her love of skinny jeans and her use of cardigans or jackets to layer over her outfits. A fan of layering with cozy cardigans, floaty kimonos or even a suede jacket or two Haley always knows what will have her one step ahead of the latest fashion trends.
Haley's Hair and Make-up Styling
In one of the most realistic aspects of a show following a character over a long period of time, Haley's hair color and style regularly changes, as she tries out new things. From long, to shoulder length then back to long again, she uses her hair as part of trying to find her signature style as she grows and matures.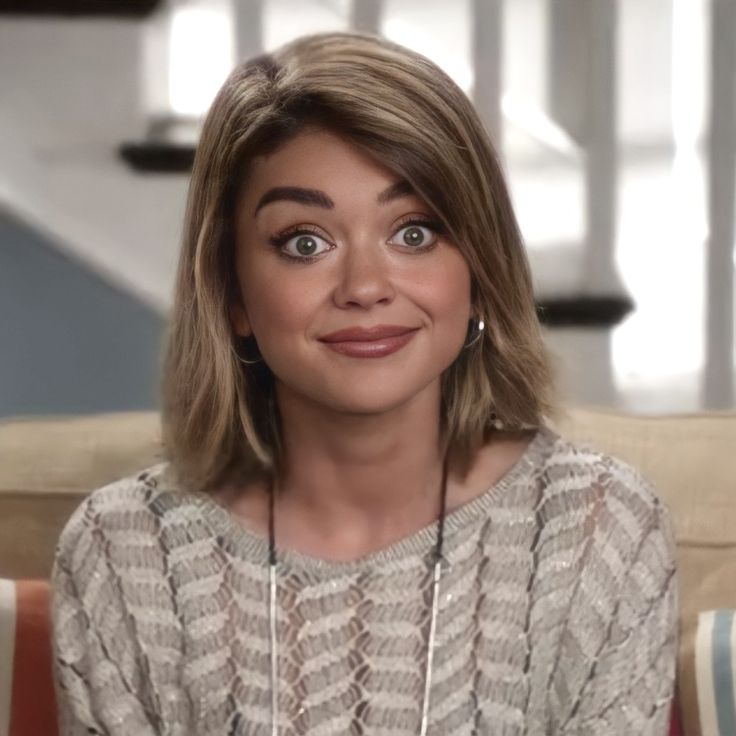 Haley's hair goes through a number of style and color changes on the show, including this shoulder length cut. Modern Family, ABC.
Even going through different colors from a dark brown to a dirty blonde, her shining hair is always neat and perfectly styled most often with big loose curls.
Like most popular teenage high school girls (check out Betty Cooper from Riverdale outfit for example) a Haley Modern Family outfit wouldn't be complete without some make-up.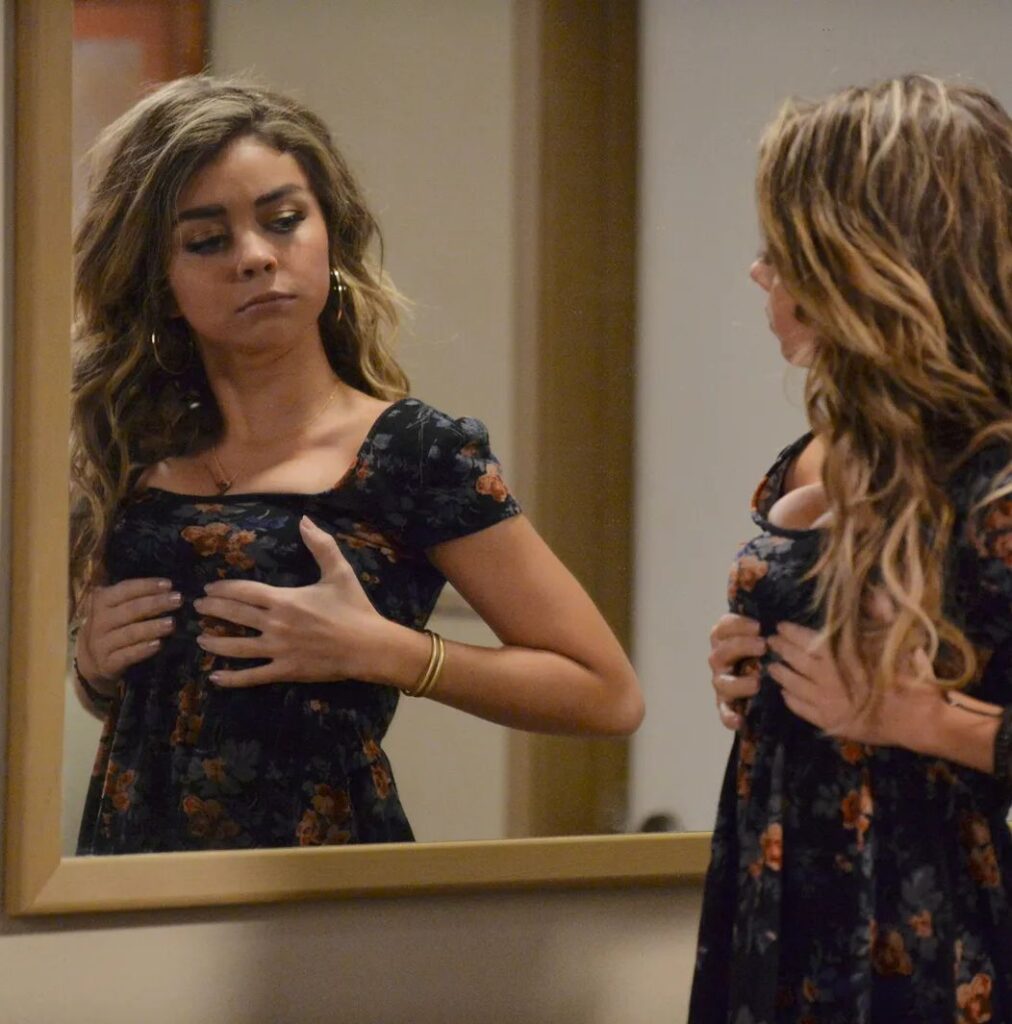 Always aiming for a fresh faced and youthful look, she focuses on her eyes to make them stand out against her flawless complexion. Using soft eye shadows along with eyeliner and mascara to give her the desired effect she is looking for. Before making sure her brows are perfectly shaped and darkened to frame her face.
A Mature Haley: Steal Her Jeans and Suede Jacket Look
The Haley Modern Family outfit featured in our collage above is a typical trendy look for the show's resident fashionista. One of her more grown up outfits, it is made up of a number of separate pieces that would work great in some of Haley's other popular looks.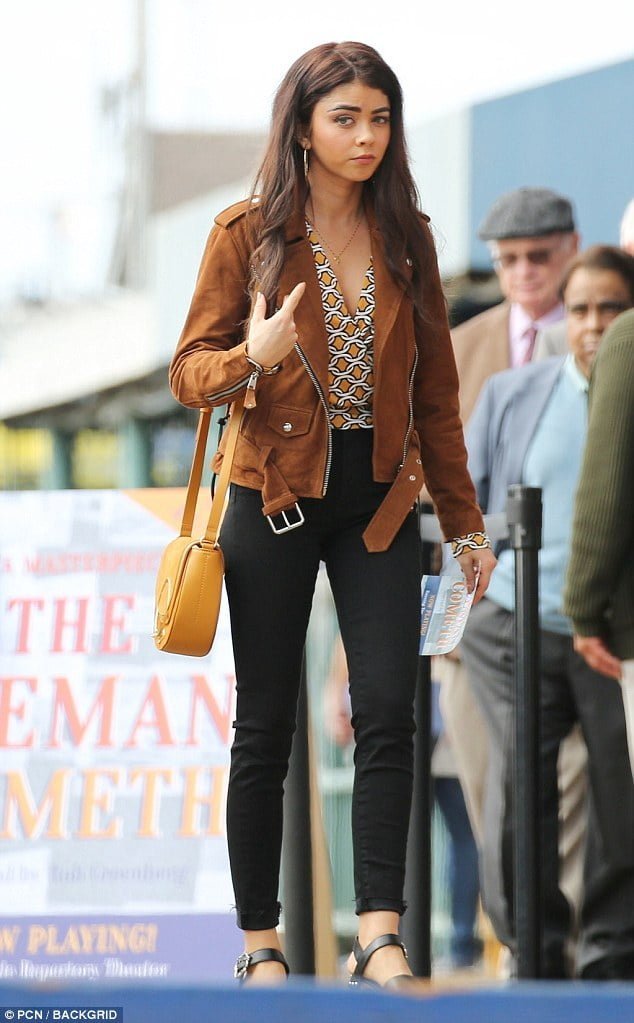 Like most of her outfits this one also has that stylish feel to it, that gives Haley her trendy just walked off the pages of a fashion magazine appearance.
She has paired some dark skinny jeans with a pale cream and golden brown long sleeved print blouse.
Sticking with the brown color picked out in the blouse, she compliments it by layering a tan colored suede moto jacket worn open over her top and denim jeans. Before adding a pair of chunky block heel black strap sandals, and a yellow leather satchel bag to complete her look.
As always, her hair is perfectly styled to give her outfit a polished finish. Her long brown locks are parted to the side and loosely curled falling over her shoulders.
She has used some subtle eye make-up, rosy pink lipstick and her dark thick brows to frame her face, adding some drop earrings to keep her look young, modern and chic.    
With a reputation for short skirts, tight dresses and low cut tops, this look has the feel of a more mature and grown up Haley Modern Family outfit. But just as fashionable and on trend, she will certainly still turn heads on the street or in her stylish office.    
Monthly Newsletter
Add some spice to your style with movie set-inspired designs.