Margot Robbie's Barbie Fashion: Bringing the Famous Doll to Life
With an explosion of magenta pink, big bows and endless gingham dresses hitting the shops over the summer of 2023, it could only mean that it was finally time to step back into our childhoods and through the doors of the Barbie Dreamhouse for the movie event of the decade. But before you rush out to get yourself a pink convertible, first let's look at the Margot Robbie Barbie outfits that inspired the craze.
Brought to life before our eyes, by the Barbie loving director Greta Gerwig, who is a true powerhouse at bringing female coming-of-age stories to the big screen. Barbie, suffering an existential crisis, leaves the safety of perfect 'Barbie Land' to venture into the world of humans to uncover the truth about herself.
The movie's headliner Margot Robbie, who is no stranger to being a style icon in real-life or on screen, if her Naomi Lapaglia Wolf of Wall Street wardrobe is anything to go by, might have actually been born to play this role. With her long blond hair, dazzling smile and sunny disposition, she is the definition of the 'barbiecore' trend.
Barbie's Pink and White Gingham Dress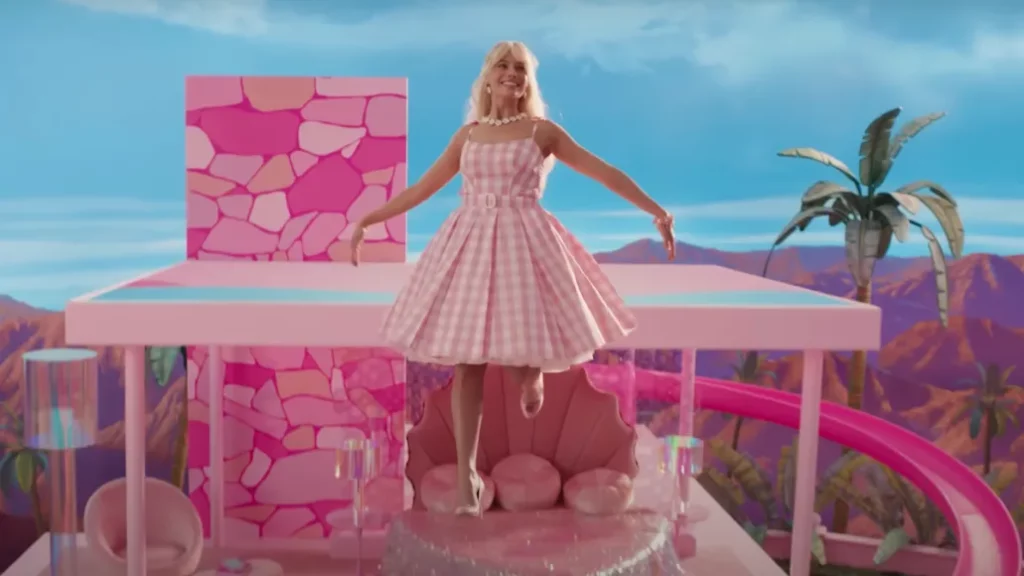 Margot Robbie looks effortlessly stylish in her 1950's inspired gingham dress as she floats from her Dreamhouse to her convertible Corvette. Barbie, Warner Bros. Pictures.
It seems only right to start with the pink and white gingham dress from the movie's trailer, that gives us our first glimpse of Margot Robbie's Barbie clothes. Setting the tone for the looks to come as she floats serenely from her Barbie Dreamhouse to her car.
With a fitted bodice, layers of tulle underskirts and matching belt and hairbow, this cotton candy colored gingham dress has a real 1950's influence and a hint of more innocent times. Finding exact matches for Margot Robbie's Barbie wardrobe will be nearly impossible with all the vintage Chanel and custom designed costumes in the movie, but with the 'barbiecore' trend having a real moment replicas will be everywhere.
Barbie's Reimagined Black and White Swimsuit for the Barbie Movie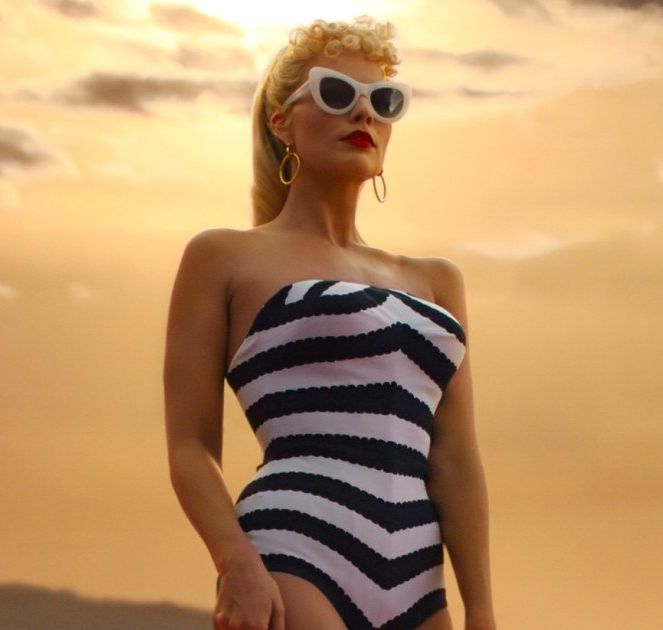 Although Barbie has become best known for her love of the color pink, as the movie's costume designer Jacqueline Durran noted when she spoke to British Vogue "it's not 100% of her wardrobe."
So it was fitting then that the movie honored the earliest Barbie doll from 1959, by adding to the Margot Robbie Barbie outfits a replica black and white zebra striped swimsuit. The figure-hugging strapless one-piece pairs perfectly with a matching set of white cat-eye sunglasses and gold hoop earrings to allude to the history of the doll.
Baby Pink Shell Earrings and Necklace Worn by Margot Robbie in the Barbie Movie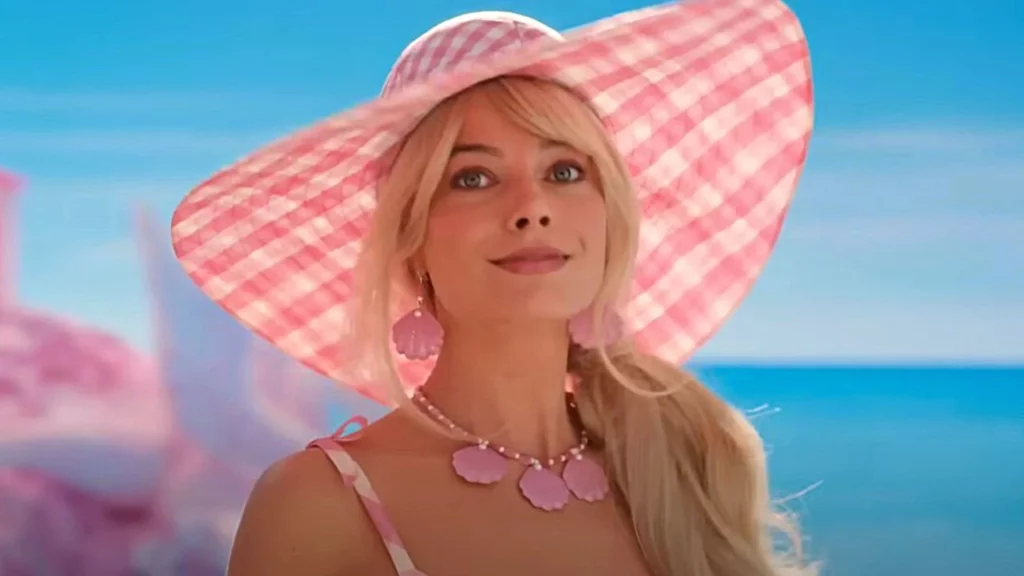 The Margot Robbie Barbie clothes in the movie aren't just about being dressed in the perfect outfit for the task at hand, they are also about flawlessly accessorizing the looks as well. Therefore there is nowhere better for Barbie to wear her chic baby pink sea-shell earrings and matching necklace than for a stylish day out at the beach with the other Barbies and Kens.
That Sparkling Party Jumpsuit From the Barbie Movie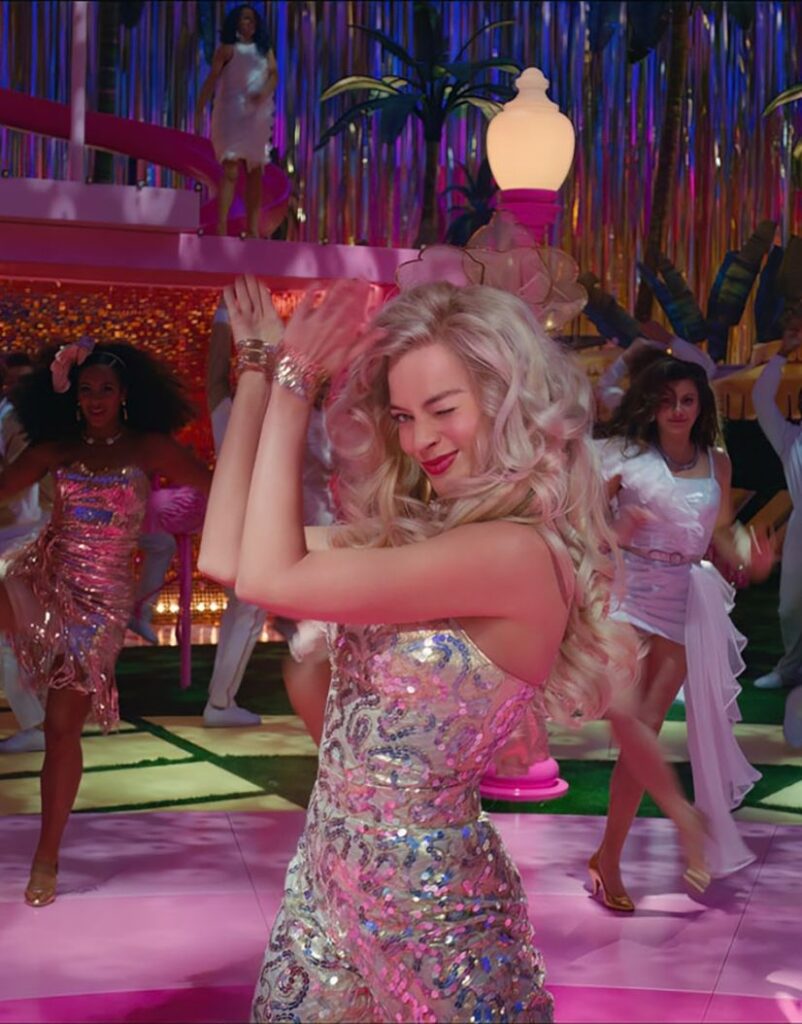 A giant blowout party, tick. Planned choreography, tick. A bespoke song, tick. A sparkling jumpsuit fit for any Barbie, tick.
Covered in sequins and spotted glittering under the disco ball lights, it is no wonder Barbie's perfect party jumpsuit made her stand out from the crowd. The fitted bodice and wide leg trouser silhouette, along with an intricate pattern of sparkling sequins, would look just as good captured in your social media pics, as it does spinning around the dancefloor in Barbie Land.
Plus as a real stand out movie moment it won't be hard to steal the look with a Barbie inspired sparkly jumpsuit of your own.
Barbie's Pink Beret Hat For Going to the 'Real World'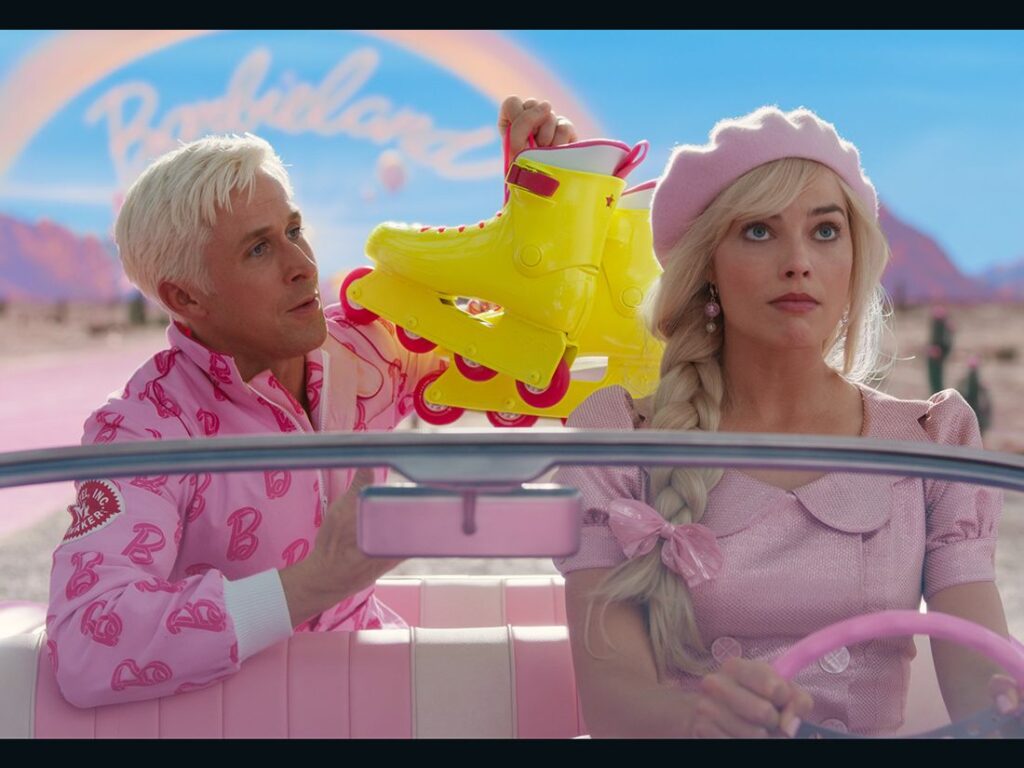 Always ready with a stylish accessory to finish her looks, Barbie pairs a soft fluffy pink beret with her car traveling outfit. Barbie, Warner Bros. Pictures.
With more flawless looks and accessories for her trip to the 'Real World,' Barbie has expertly matched her fluffy pink beret and hairbow to her car, as well as her outfit. Highlighting her beautiful blond hair, worn braided to the side, with her beret balanced perfectly on top.
A simple way to add a little bit more barbiecore to your life, berets are easily available and in a range of colors. But stick with the pink to closer replicate the Margot Robbie Barbie outfit.
The Hot Skatin' Barbie and Ken Moment From the Barbie Movie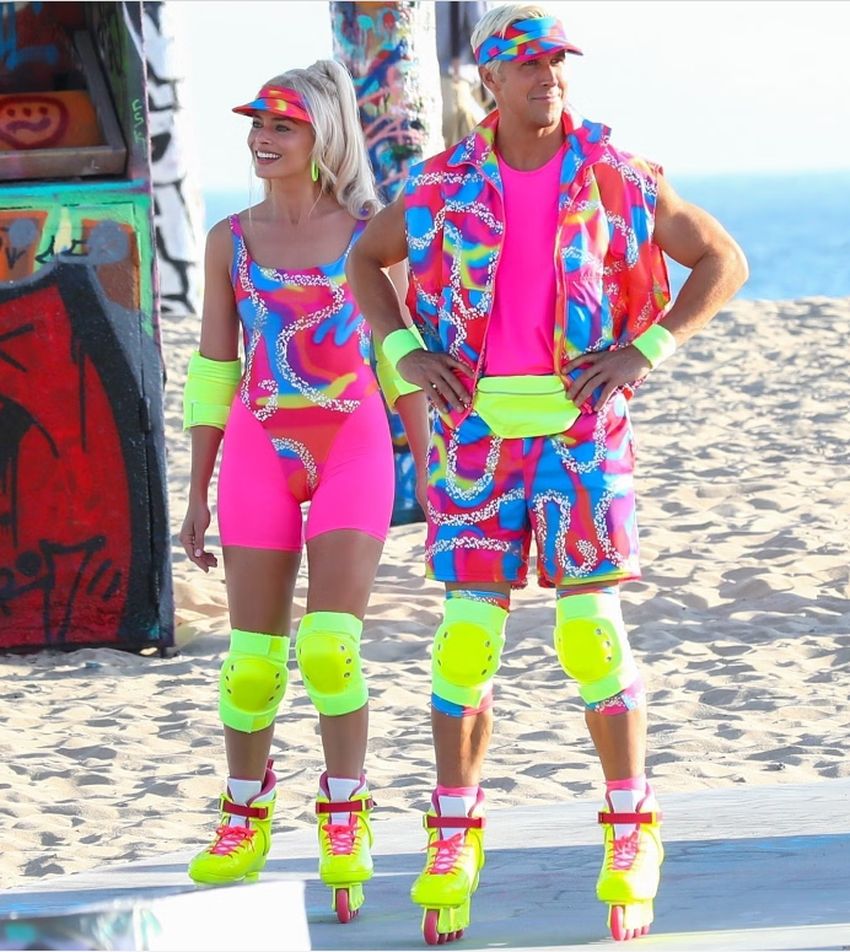 Back in 1994 Mattel, the company who created the Barbie doll, took inspiration from the decade and made the Hot Skatin' Barbie. Fitted with a pair of yellow rollerblades and a multi-color splashed pink bodysuit, she was as trendy as they came.
But to give the look a modern twist for the Margot Robbie Barbie skating outfit the colors are neon, the bodysuit is a one piece style tank over cycling shorts and a neon wearing Ken is along for the skate.
Barbie's Hot Pink Cowgirl Look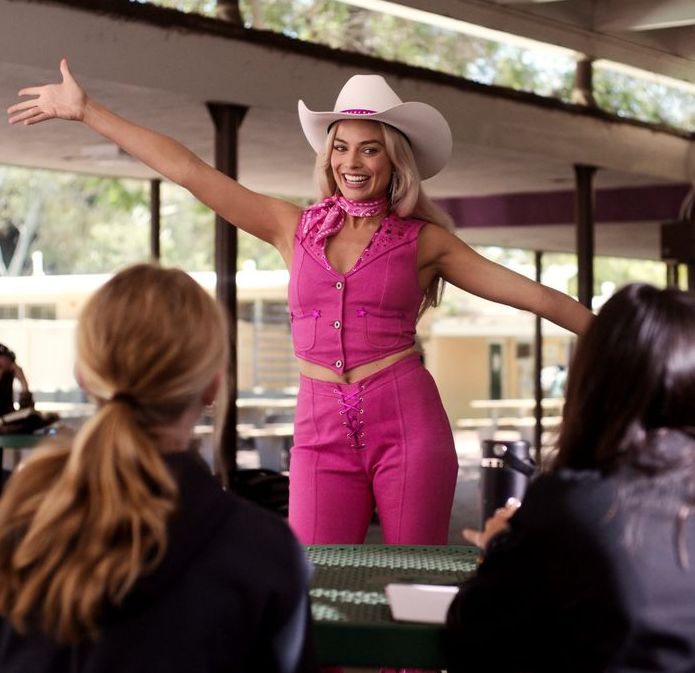 It would be no surprise if some of the most show stopping Margot Robbie outfits from Barbie struggle to become everyday fashion staples, even in the wardrobes of the biggest 'barbiecore' fans. With her matching cowgirl hot-pink button-up waistcoat and flared trouser look being one of them.
Finished with a pink neckerchief and white cowboy hat, it definitely screams Barbie with her fun fashion sense and love of dressing up. But it doesn't stop this look being bold, so maybe just add the cowboy hat to your wardrobe and try to replicate her cheery confident Barbie attitude.
The Barbie Foot Scene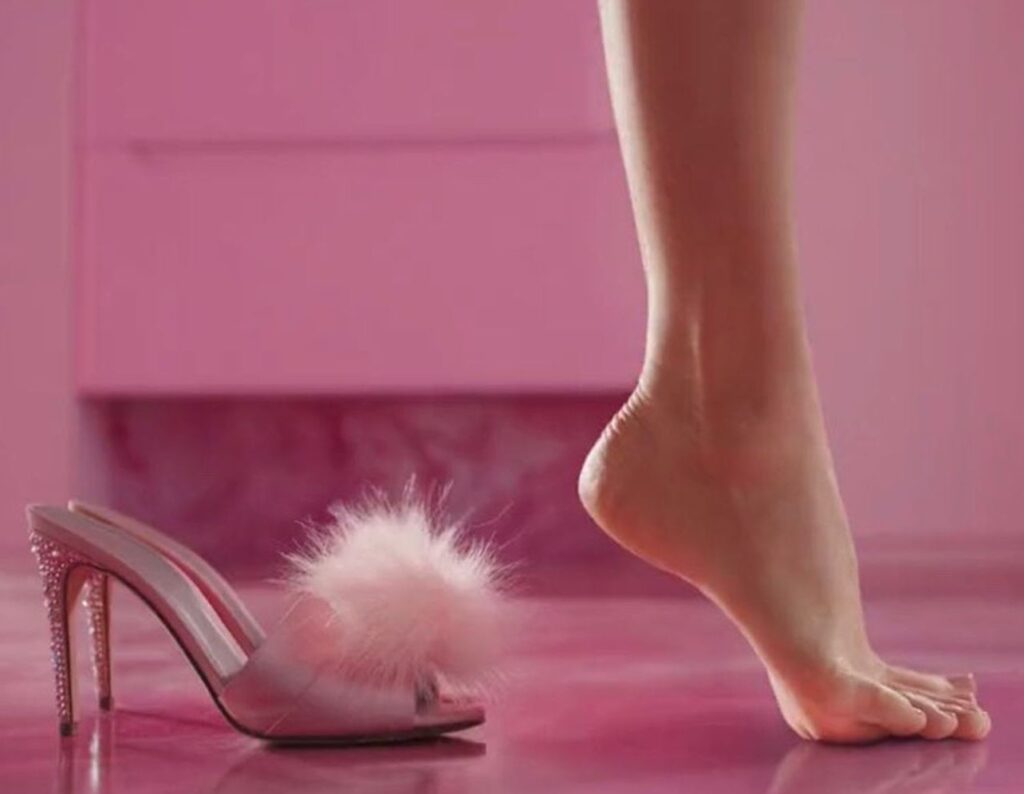 Before the movie even hit the big screen, the trailer had been streamed endlessly with everyone watching that one scene over and over again.
The scene in question doesn't have anything more than a pair of fluffy stiletto heels walking across the floor of the Barbie Dreamhouse. But when Margot Robbie stepped out of those shoes to reveal the famous dolls arched feet, the internet nearly broke.
Barbie is Everything, He's Just Ken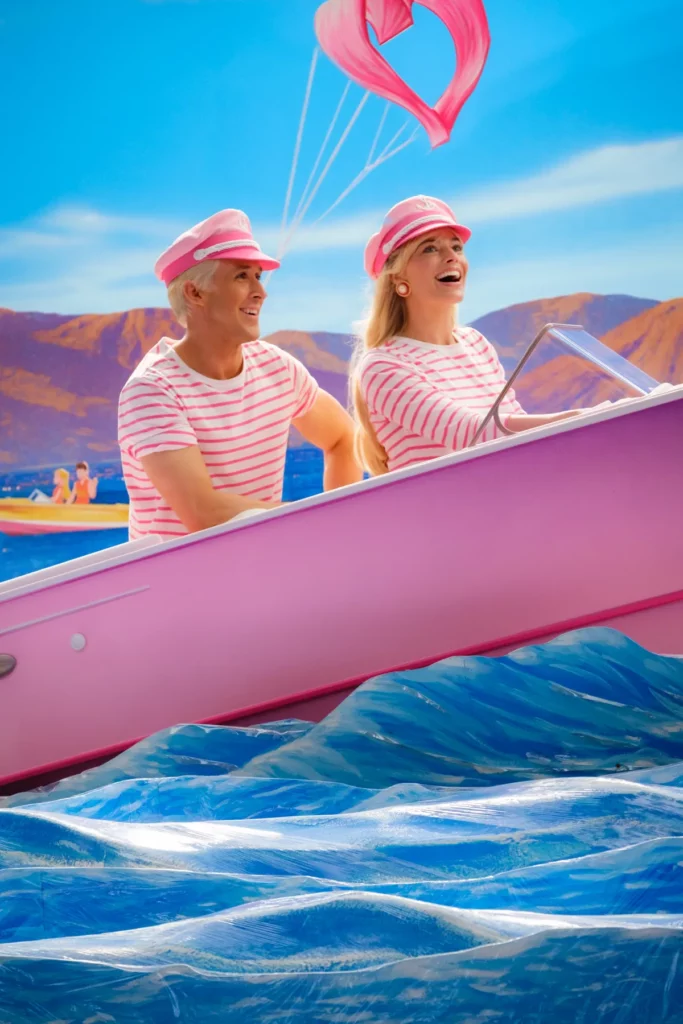 Although Ken has a wardrobe full of clothes, it is nothing compared to Barbie. But even being an afterthought he always still manages to make sure he matches Barbie. Warner Bros. Pictures.
But Barbie's biggest accessory without a doubt is Ken.
Like Margot Robbie, Ryan Gosling who plays Ken in the Barbie movie, has had plenty of roles in his career that have created some stylish fashion moments (remember Crazy, Stupid Love, we do) but being a Ken calls for a new set of fashion skills.
While the Margot Robbie Barbie clothes favor pinks and matching accessories, Ken's wardrobe is an afterthought. His main job, other than just 'beach,' is to match Barbie and follow her lead. It really is Barbie's world, and Ken is just living in it.
Even with a beach or dance floor full of Barbies, Kens and Allans, in some of cinema's most stylish looks, it is hard not to be drawn to the effortless Margot Robbie. With the plot centered as much on her Barbie clothes, shoes and accessories as it is the existential crisis she is going through.
But if you want to perfect your own Margot Robbie Barbie outfit stick to pink, go for fun garments and accessories, and always do everything with a dazzling smile on your face.