Ryan Gosling's On Screen Style – Crazy, Stupid, Love.
Without fail when people talk about actor Ryan Gosling, the conversation always comes back around to his two most well known parts. First his tear-jerking portrayal of Noah Calhoun in the movie adaption of Nicholas Sparks novel The Notebook. And more recently his work as a fashion doll come to life, playing Ken opposite Margot Robbie's Barbie in 2023's summer blockbuster hit movie, Barbie.
But when it comes to his onscreen fashion and styling, it can't be denied that the actor has had the opportunity to work with some of Hollywood's best costume designers throughout his career. Including Dayna Pink, who was incharge of the Ryan Gosling Crazy, Stupid, Love outfits for the 2011 rom-com. A movie best known for the famous Gif that it spawned, Ryan Gosling going shirtless and it's focus on mens fashion. With his character Jacob having no less than 36 wardrobe changes.
Jacob's Crazy, Stupid, Love Casual Gray Polo Shirt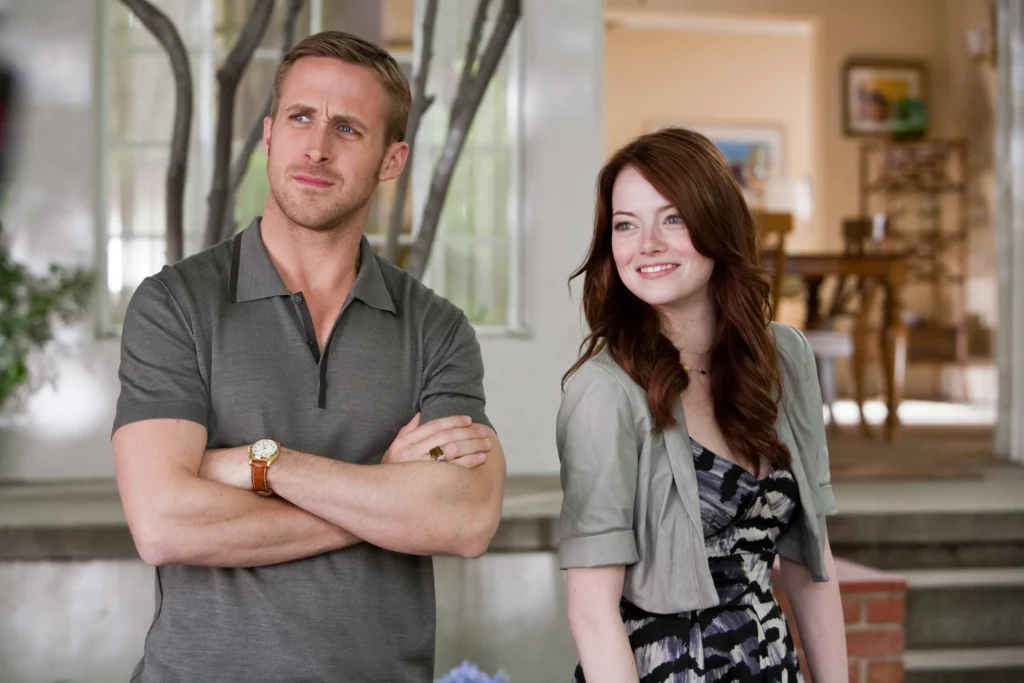 Initially described as a rom-com, the 2011 hit Crazy, Stupid, Love also plays around with the classic movie makeover storyline, giving the tried and tested plot a twist with this idea of it almost being a 'How to Dress' guide for men.
So when it came to analyzing the Ryan Gosling Crazy, Stupid, Love outfits the first thing to note is how important the garment fit is to getting the right look. Even when his character Jacob is going for a more casual dressed down look with his simple gray button-up polo shirt, the emphasis falls on getting that perfect figure skimming shape that elevates his appearance.
Ryan Gosling's Marble Print Shirt in The Nice Guys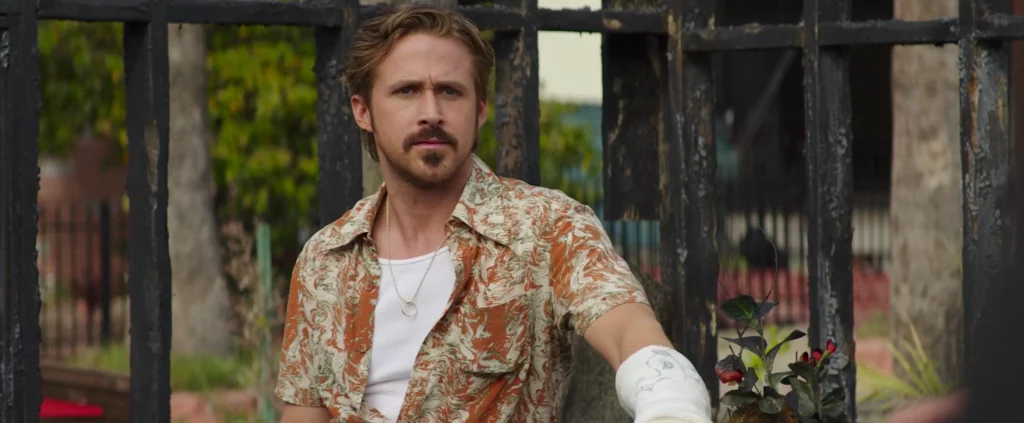 If you found yourself drawn to the effortlessly tailored shirts that Jacob wears throughout Crazy, Stupid, Love then you weren't alone. However when it comes to finding that perfect patterned shirt, it might be worth checking out Ryan Gosling's The Nice Guys wardrobe, with its relaxed 70's vibes. Especially with pieces like this eye-catching vintage inspired Anto custom made shirt he wears in a marble print to use as inspiration.
That Crazy, Stupid, Love Shirtless Scene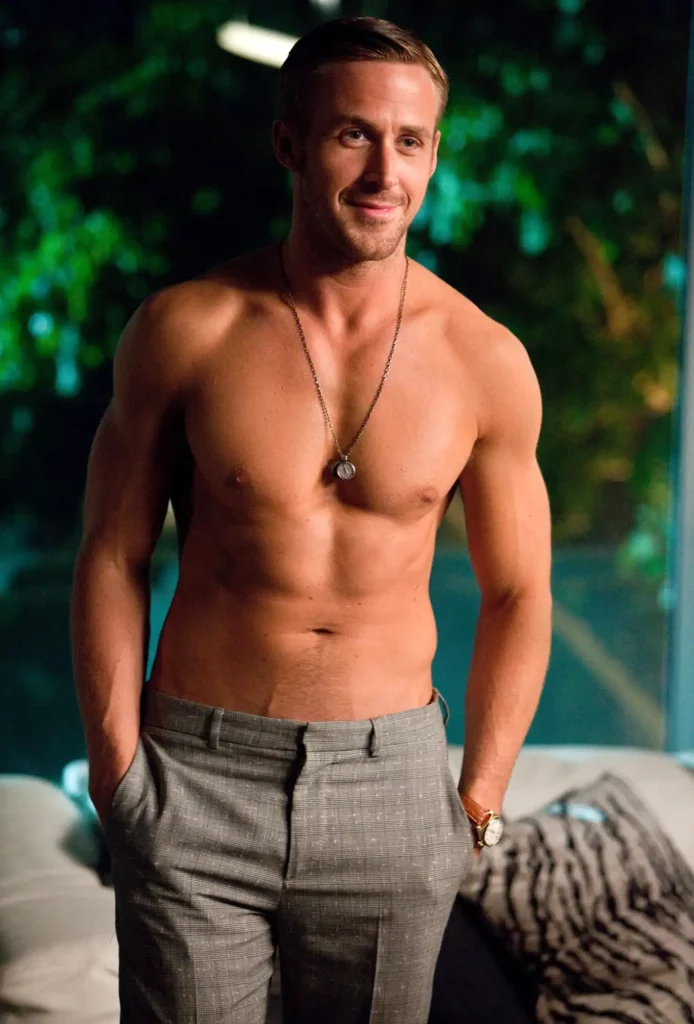 Amusingly, for a movie that could be described as all about men's fashion, the look that is most remembered from the Ryan Gosling Crazy, Stupid, Love outfits is the scene where he is shirtless. But without his flawlessly tailored shirts and perfect simple jumpers distracting us, we can focus our attention on what he actually pairs them with. Once again sticking to his rule about getting the perfect fit, Jacob has also used a simple check pattern on his fitted dress pants to add some subtle interest and stop his look from being too boring.
The White Quilted Bomber Jacket Ryan Gosling Wore in Drive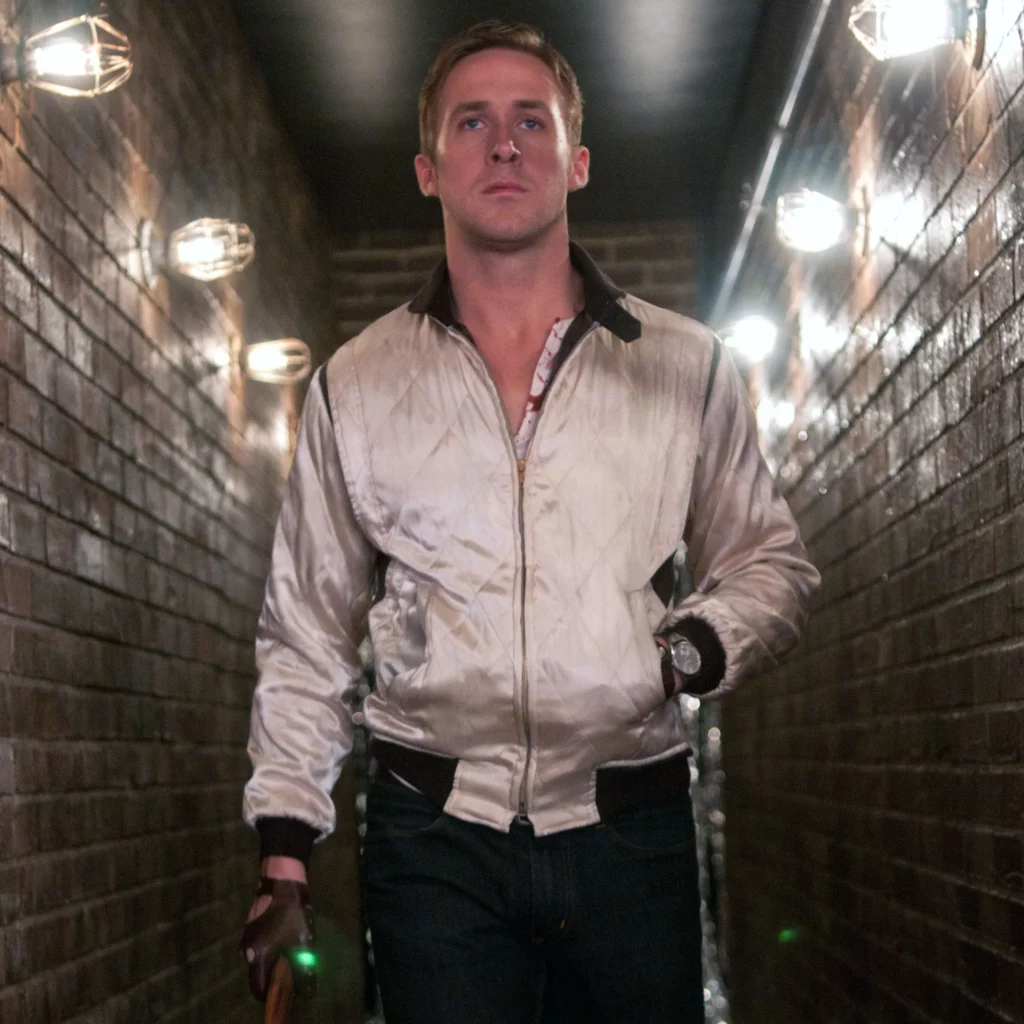 Even though there is a classic white bomber jacket in Jacobs Crazy, Stupid, Love wardrobe, when you compare it to the scorpion adorned quilted jacket from the Ryan Gosling Drive outfits there is no comparison.
One of Ryan Gosling's most well known onscreen looks, the white satin jacket is used to symbolize The Drivers armor and is part of the ritual he has created. Maybe seen as an odd choice in such a pale color, it is safe to assume the use of white and the delicate satin fabric is meant to be ironic. Playing against the idea of the mysterious Driver, his silent loner ways and the shady jobs he moonlights at.
Maroon Two Piece Suit from Crazy, Stupid Love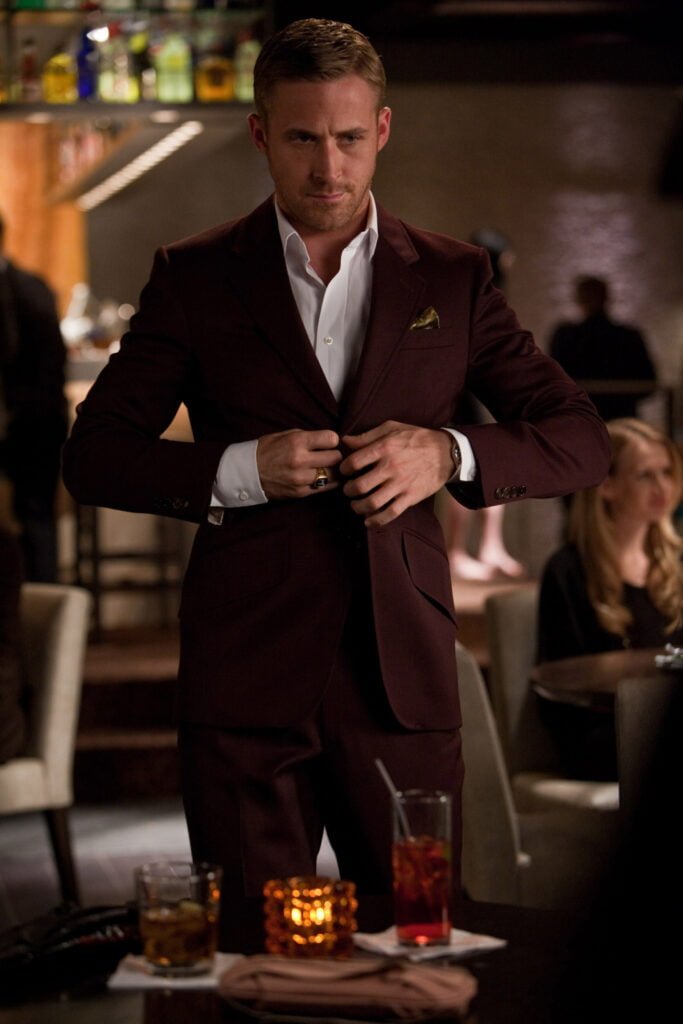 Every man's closet needs a classic suit, and when it comes to the womanizing Ryan Gosling Crazy, Stupid, Love wardrobe there is no shortage of the fashion staples to choose from. With Jacobs maroon two piece becoming one of the most recognizable and replicated looks from the movie. Highlighting the fact that a great suit doesn't need to stick to black or navy to make an impression, as long as you pay attention to the fit, aiming for something that looks like it was made just for you.
Tag Heuer Watch Ryan Gosling wears in The Gray Man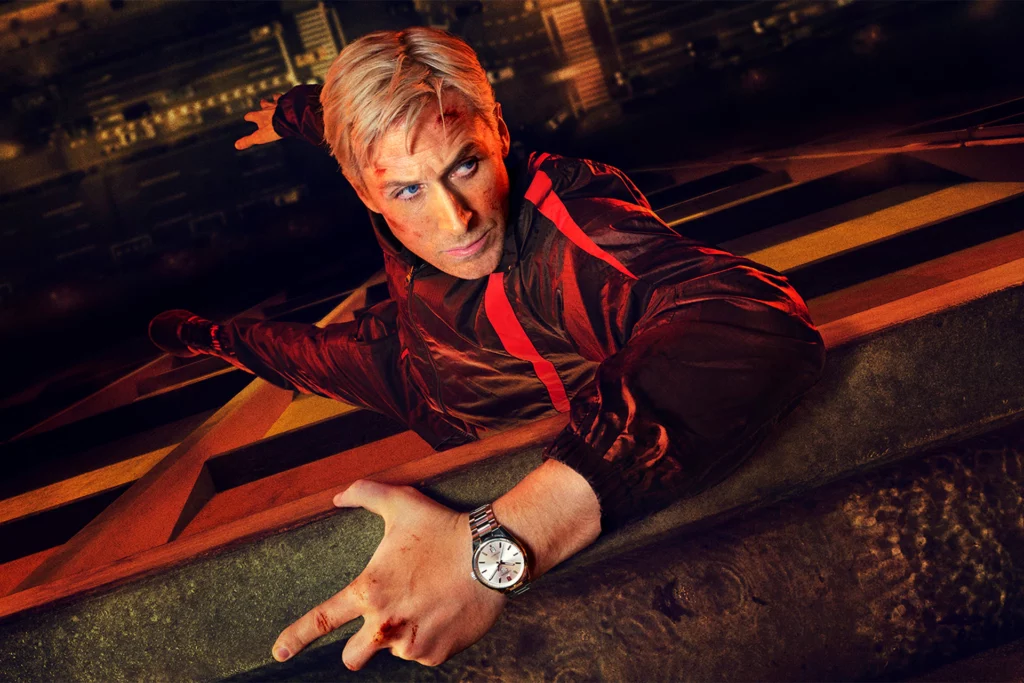 As brand ambassador it made perfect sense for Tag Heuer and Netflix to team up on Ryan Gosling's The Gray Man movie, to find the perfect watch for the assassin. ©Tag Heuer.
Jacob might have chosen a luxury leather strapped Rolex for his wrist in Crazy, Stupid, Love, but when it came to accessorizing the Ryan Gosling The Gray Man outfits, he needed something that was a bit more suited for high-speed.
With everyone agreeing on the Tag Heuer Carrera as the perfect choice. Especially since Ryan Gosling is their brand ambassador, and their company motto is conveniently 'don't crack under pressure.' So why not grab your own Carrera Three Hand watch, with a choice of straps and colors to suit everyone's wardrobe, and show off your own assassin skills of timekeeping.
Jacob's Plain Black V-Neck Sweater in Crazy, Stupid, Love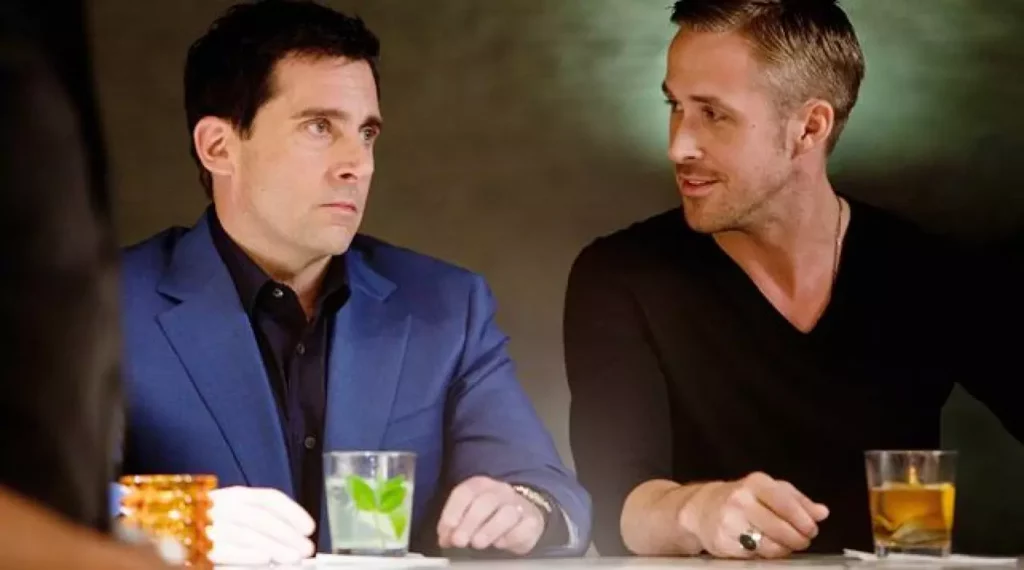 If you are looking at Jacob's wardrobe in the movie as a lesson in getting that suave styling just right, then one of his most important tips is that not everything you wear has to be complicated. Take for example this simple Ryan Gosling Crazy, Stupid, Love outfit with Jacobs plain black V-neck sweater. The uncomplicated look relies on a quality fabric to give it a great fit, with the sweater working for all occasions and allowing it to be easily added into any man's wardrobe.
Selima Chad Sunglasses Ryan Gosling Wore in Crazy, Stupid, Love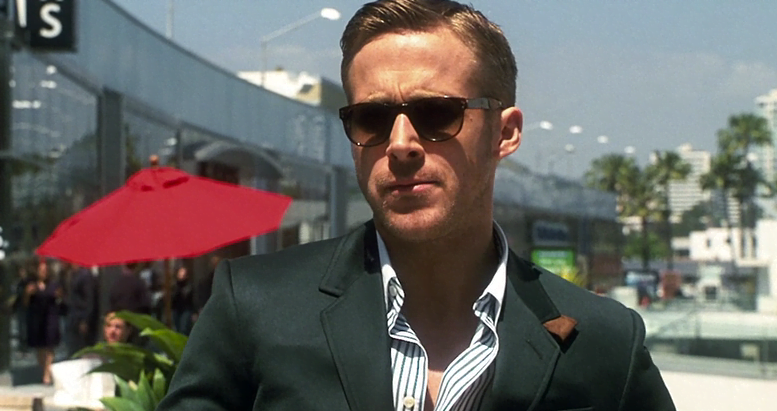 The last detail that lothario Jacob needed to finish off his suave and sophisticated Crazy, Stupid, Love wardrobe was a pair of sunglasses. Yet this womanizer, who has an impeccable taste in clothes, knows exactly how to appreciate timeless beauty. With no easier way to symbolize that in the movie than with a pair of Selim Optique Chad shades. Taking him from just any man, to the one that can get all the girls' heads turning.
Although many of Ryan Gosling's movies have produced enviable wardrobes full of garments that any man would strive for, the Ryan Gosling Crazy, Stupid, Love outfits can't help but catch the eye. With Jacobs' simple lessons in style, to the shopping mall makeover he gives Cal, it is hard not to want to steal his look for your own closet. But to make Jaccob's style work in your life; it might be worth toning down some of his lothario ways.