Steal the Look – Dress Like Maddy Perez from Euphoria 2
Add a touch of cinematic magic to your wardrobe with our roundup of daring and hip movie-inspired outfits. We'll show you how to dress like Maddy Perez from Euphoria 2 with our selection of chic and stylish pieces. Slip them on and step into the spotlight like a star with these iconic looks from Euphoria 2.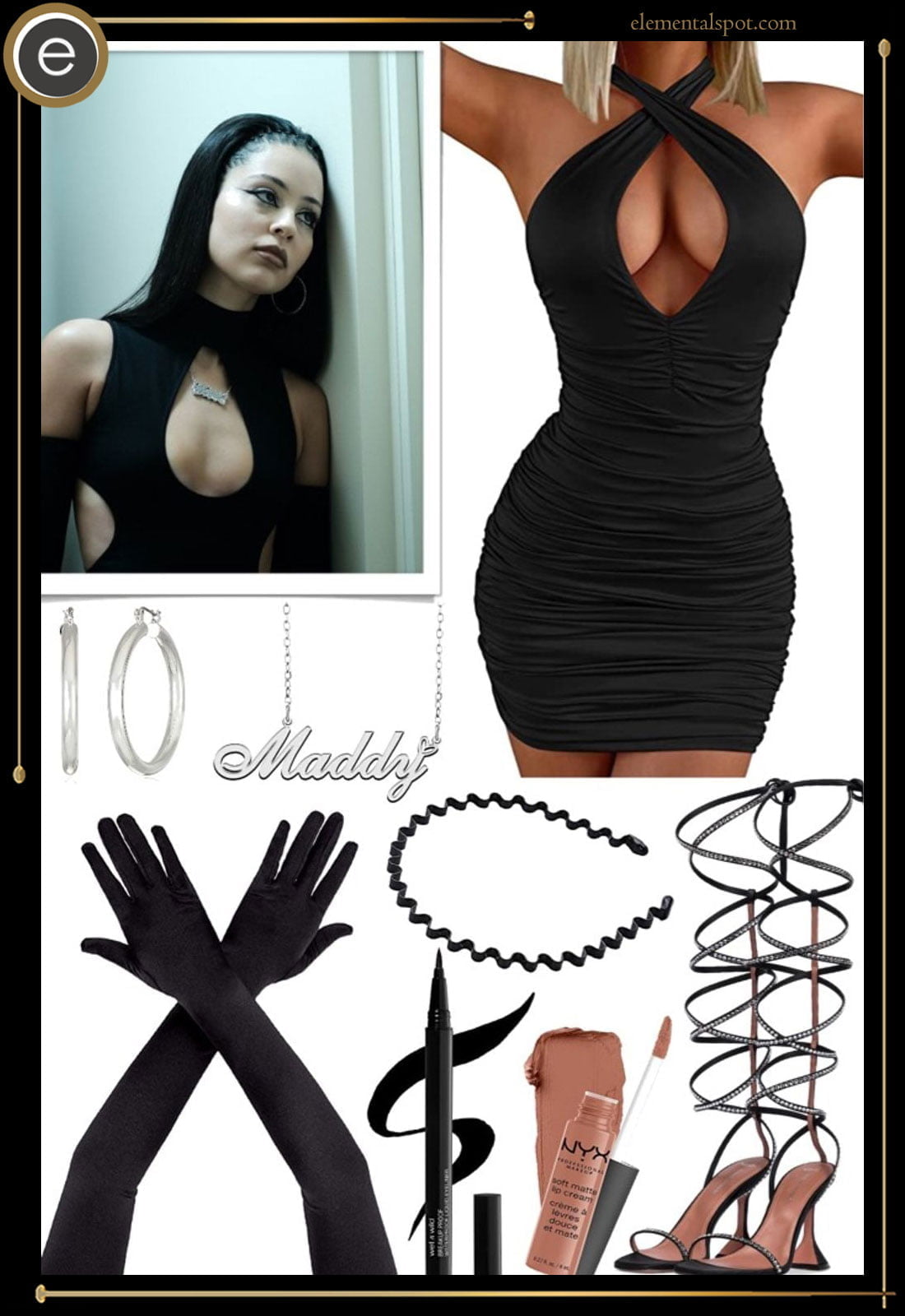 Shopping List for Maddy Perez from Euphoria 2 Outfit
Euphoria (2019 – Present) is one of HBO's most watched shows ever, and with a costume department full of gorgeous colors, fabrics, and flawless looks, its popularity among the fashionistas is absolutely no surprise. Yet if you are looking for that perfect simple but impactful outfit that will have everyone talking, then Maddy's New Years Eve dress from season two is the place to start.
It is hard to imagine how so few pieces can create such a WOW moment, but between the dress, accessories, hair and make-up this Maddy Perez Euphoria outfit will definitely have all eyes on you.
Maddy Perez Outfit: That Black Dress
It was the show's costume designer Heidi Bivens, along with some input from Maddy Perez actress Alexa Demie, that came up with the vampy all black look for the New Years Eve Party. Describing the outfit to Popsugar, as more mature and a moment of mourning for her relationship with Nate.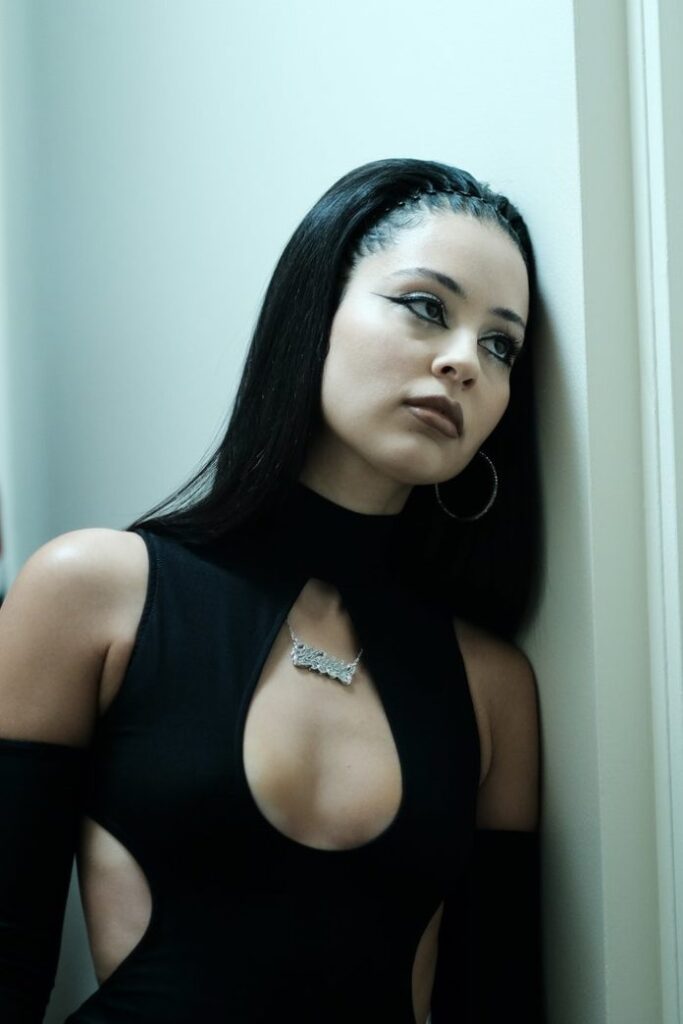 The AKNA custom-made dress, stitched from a 4 way stretch fabric, hugs every inch of Maddy's curves, and accentuates her features. So look for a body-con mini-dress in a pure black fabric with some stretch that allows the dress to fit your body like a glove. Go for one featuring a front keyhole neck opening as well as a few side panel cutouts, to really replicate the look and get that sexy feel. 
Add in some matching black opera gloves that finish just above the elbow and give a mysterious and sophisticated look to the daring and confident dress. Suggesting that maybe there is more skin on show than covered, to make this Maddy Perez Euphoria outfit the bombshell moment that it is.
The Maddy Perez Accessories
But this statement look is more than just a daring and sexy dress, particularly when you see the show stopping shoes that Maddy has on. Picked no doubt for their impact, the expensive Amina Muaddi sandals featuring hundreds of encrusted crystals give a real moment of sparkle.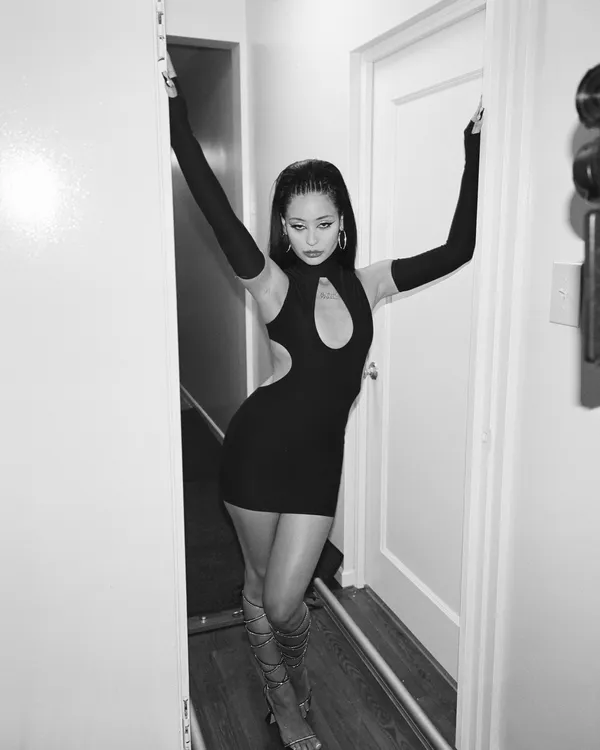 Yet the most important feature of the shoes is in fact not those crystals but instead the gladiator style straps that wrap around and tie up the leg. Even the heel height isn't important in comparison to making sure the leather and crystal encrusted straps criss-cross around your calves as they travel up your leg stopping just below the knee with a delicate knot.
However to finish the look and accessories before styling your Maddy inspired hair and make-up, first you need some jewelry.
Missing an Outfit Inspo? Submit your idea and we'll make it happen!
Let the dress and shoes speak for themself in this Maddy Perez Euphoria outfit and add only some large hoop earrings and a silver nameplate necklace. Reminiscent of Carrie Bradshaw's famous Carrie necklace from Sex and the City, and worn by Euphoria's equally stylish Queen Bee sitting perfectly in the keyhole front of her dress.
The Maddy Perez Hair and Make-up Styling
Your Maddy Perez New Years Eve outfit won't fully come together until you get her hair and make-up styled.
So when it comes to getting Maddy's avant garde party accurate make-up look, all dreamt up and created by Euphoria's talented make-up department head Doniella Davy, it might be easier to follow a youtube tutorial like the one below. 
Staying true to the very 90's aesthetic of the look, start with some foundation and a little bit of contouring to create a glowing, flawless complexion before delving into her full on eye make-up. Dark navy creases and shimmering lilacs and silver layered eye-lids are contrasted with black eyeliner and heavy mascara. 
Before finishing with her signature Maddy Perez winged eyeliner, described by Doniella as "always the sharpest wing," so don't be too dainty, and really go for it. A slick of a nude brown glossy lipstick and your Maddy Perez Euphoria outfit needs only one final finishing touch.
Known just as much for her black hair as she is for her winged eyeliner, Maddy is normally seen with her long hair styled in anything from down around her shoulders to a high ponytail with perfect edges. But to add drama to her outfit this time she has used a black hairband to slick her hair back from her face, to fall straight down over her shoulders and frame her face.
Stealing the Maddy Perez Euphoria Outfit
Now that we have walked you through how to steal Maddy's New Years Eve look, all you need to do is add her confidence and sexy attitude to completely pull off her daring outfit. But don't worry if you aren't naturally confident, like Maddy says, you can just choose to be as nobody knows if it is real or fake anyway.
So if you are loving this Maddy Perez Euphoria outfit and her Queen Bee attitude, you could always check out some of her other looks by clicking here and finding out how our young fashionista uses fashion as a weapon of confidence and manipulation. 
Monthly Newsletter
Add some spice to your style with movie set-inspired designs.