Steal the Look – Dress Like Kat Hernandez from Euphoria 2
Add a touch of cinematic magic to your wardrobe with our roundup of daring and hip movie-inspired outfits. We'll show you how to dress like Kat Hernandez from Euphoria 2 with our selection of chic and stylish pieces. Slip them on and step into the spotlight like a star with these iconic looks from Euphoria 2.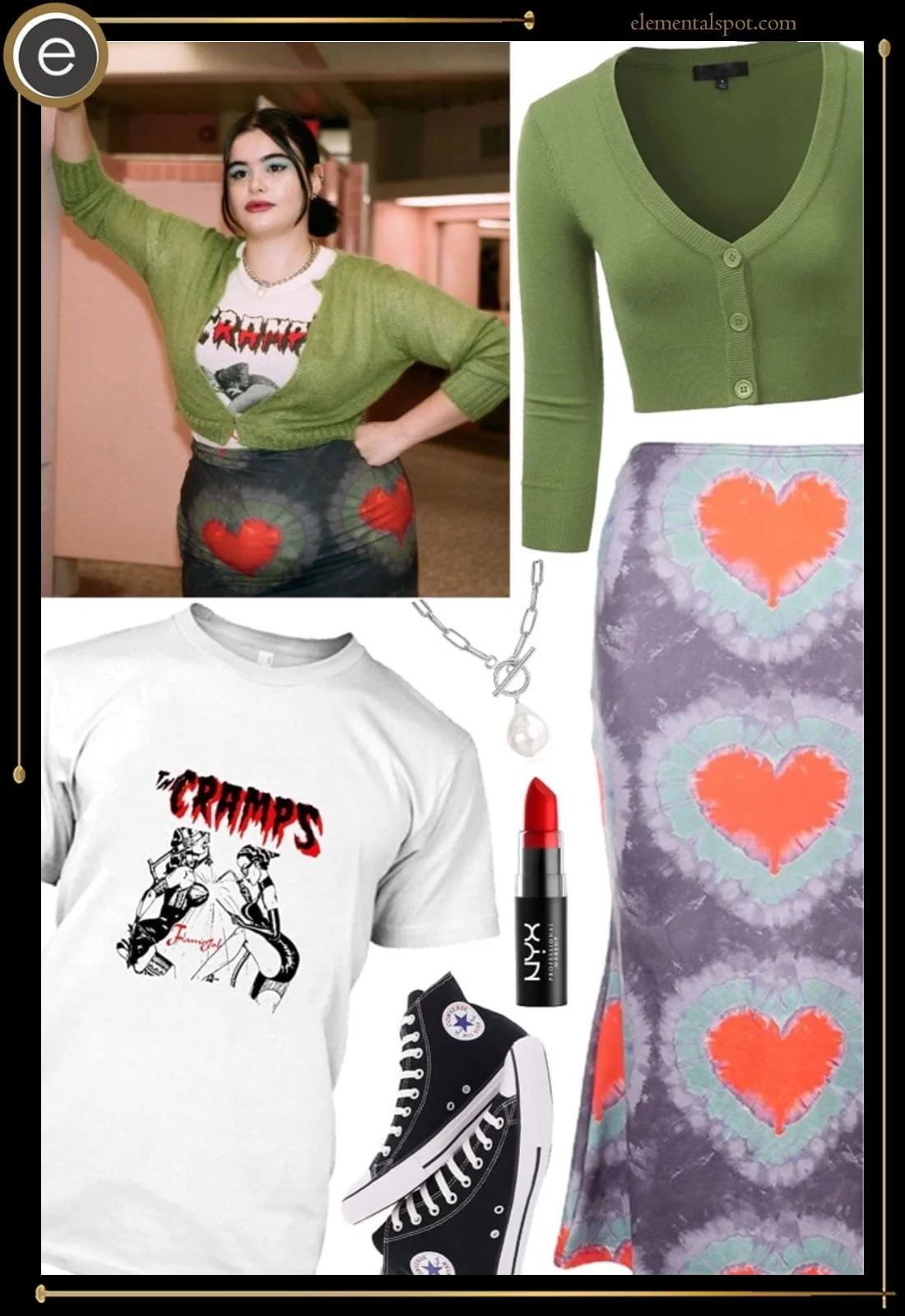 Shopping List for Kat Hernandez from Euphoria 2 Outfit
If you're a fan of Euphoria, you've probably taken note of the show's unique fashion choices. One character in particular, Kat Hernandez, has a style that is bold, edgy, and full of personality. In season 2 of the hit show, Kat is seen wearing a standout outfit that is both retro and modern at the same time. Here's how to recreate the look.
How to Recreate the Retro-Modern Style of Kat Hernandez from Euphoria 2
The heart print high-waisted skirt is the centerpiece of this outfit. Look for a skirt with a bold, red heart print on a black background. Pair the skirt with a white Cramps band t-shirt for an edgy, rock and roll vibe. The t-shirt should be oversized and slightly tucked in to the skirt.
To add a pop of color, opt for a green cropped cardigan. This will add some depth to the outfit and also keep you warm on cooler days. As for footwear, black Converse high top sneakers are a must. Not only are they comfortable and practical, but they also give the outfit a bit of a grunge edge.<h2>Make a Statement with the Bold and Edgy Fashion of Kat Hernandez</h2>
To accessorize, add a chunky silver chain pearl necklace. This will add a touch of sophistication to the outfit and draw attention to your neck and collarbone. Lastly, finish the look with Nyx red lipstick. This bold lip color will tie the outfit together and make your lips pop.
Overall, the Kat Hernandez outfit is perfect for those who love to make a statement with their fashion choices. It's edgy, bold, and full of personality. With just a few key pieces, you can recreate this iconic look and make it your own. So, go ahead and add these items to your shopping list and get ready to turn heads with your fashion sense.
If you're looking for more inspiration from Kat Hernandez's unique style on Euphoria, be sure to check out our guide on her wardrobe choices throughout the show.
Monthly Newsletter
Add some spice to your style with movie set-inspired designs.