Steal the Look – Dress Like Jules Vaughn from Euphoria
Add a touch of cinematic magic to your wardrobe with our roundup of daring and hip movie-inspired outfits. We'll show you how to dress like Jules Vaughn from Euphoria with our selection of chic and stylish pieces. Slip them on and step into the spotlight like a star with these iconic looks from Euphoria.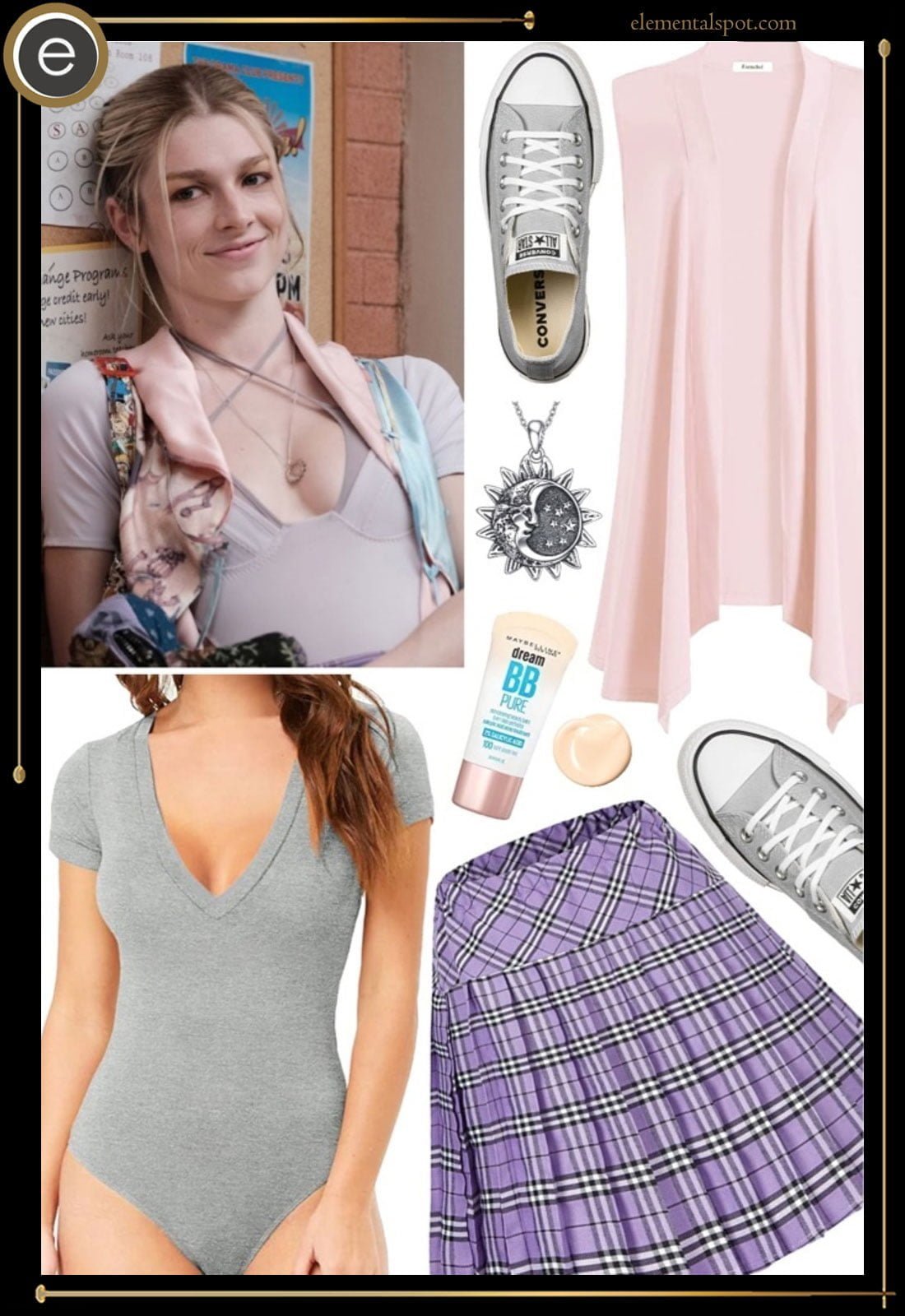 Shopping List for Jules Vaughn from Euphoria Outfit
When people talk about Euphoria (2019 – Present) the HBO Sam Levinson teen high school drama, based on the Israeli miniseries of the same name, the first thing that comes to mind is the raw depiction of life as a teenager. Dealing with issues of drugs, sex and violence, in a world of social media and unfiltered internet access.
The second would be the flawless wardrobe department full of bright colors, gorgeous fabrics and stealable looks. With each character's story told as much through their clothes as their actions, and none more so than a typical Jules Vaughn Euphoria outfit portraying her free spirited journey of self acceptance.
Introduced as the new girl to town in the Pilot episode, Jules Vaughn moves to East Highland, California with her father after her parents divorce. Instantly mesmerizing, the show's protagonist and narrator, Rue Bennett, and gradually becoming more than just friends.
Struggling with gender dysphoria and a rocky relationship with her alcoholic mother, it is Jules' father who steps up to love and support her as she begins transitioning at the age of just thirteen.
However, the free spirited and kind teen, who always seems cheerful and bold, is the first to help others with their problems no matter what is going on in her own life. But her journey to self acceptance and her impulsive nature, has left her romantically vulnerable, letting herself get hurt by men just because she wants to feel loved.
Sailor Moon to Grunge: Scrutinizing the Jules Vaughn Euphoria Outfit
To follow in her fashionable footsteps and recreate the perfect Jules Vaughn Euphoria outfit first we need to know all her style secrets, and scrutinize how costume designer Heidi Bivens developed her wardrobe of delicate, feminine looks.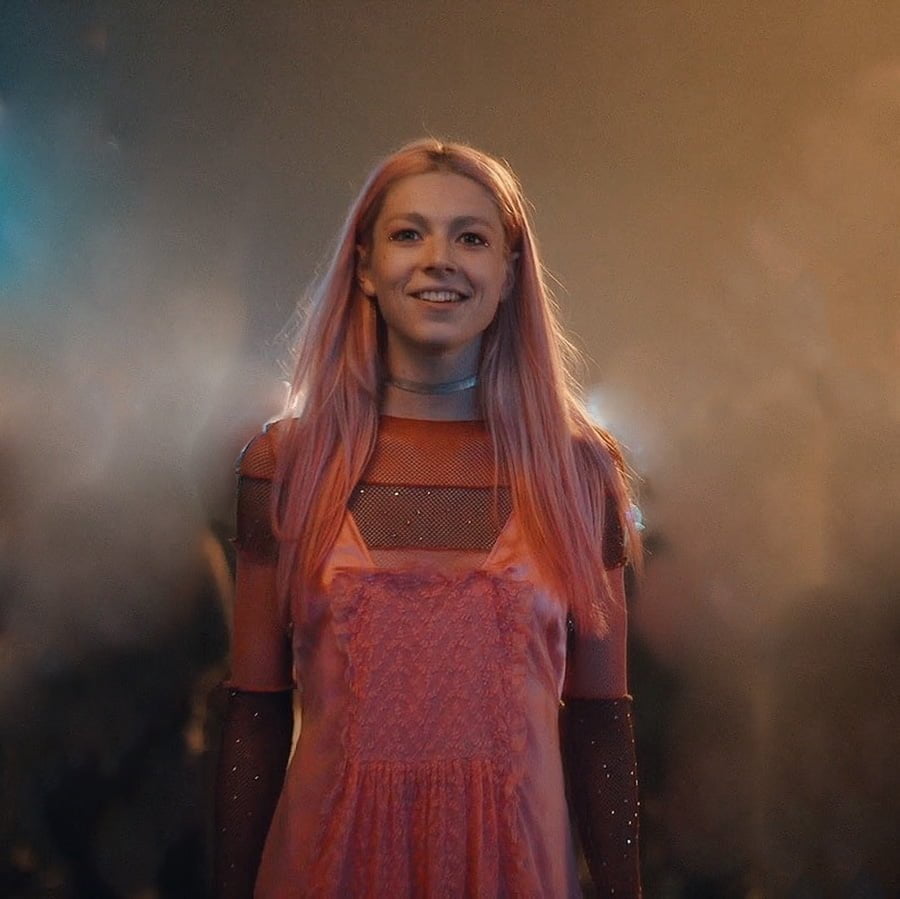 In the same way to the costumes on the show Riverdale, each of Euphoria's characters was given a signature color that was used to represent their personality. Yet when it came to telling the story of Jules, the eclectic and vulnerable new girl, the costume department needed a whole range of colors to do her story justice.
Missing an Outfit Inspo? Submit your idea and we'll make it happen!
Starting out with a palette of super feminine candy colors, like pastel pinks, baby blues and lilacs, gave the season one Jules Vaughn Euphoria outfit a Sailor Moon aesthetic. With soft colors and fabrics, delicate silhouettes and bold prints, Jules, played by Hunter Schafer, uses fashion and her girly looks as a way to attract the male gaze.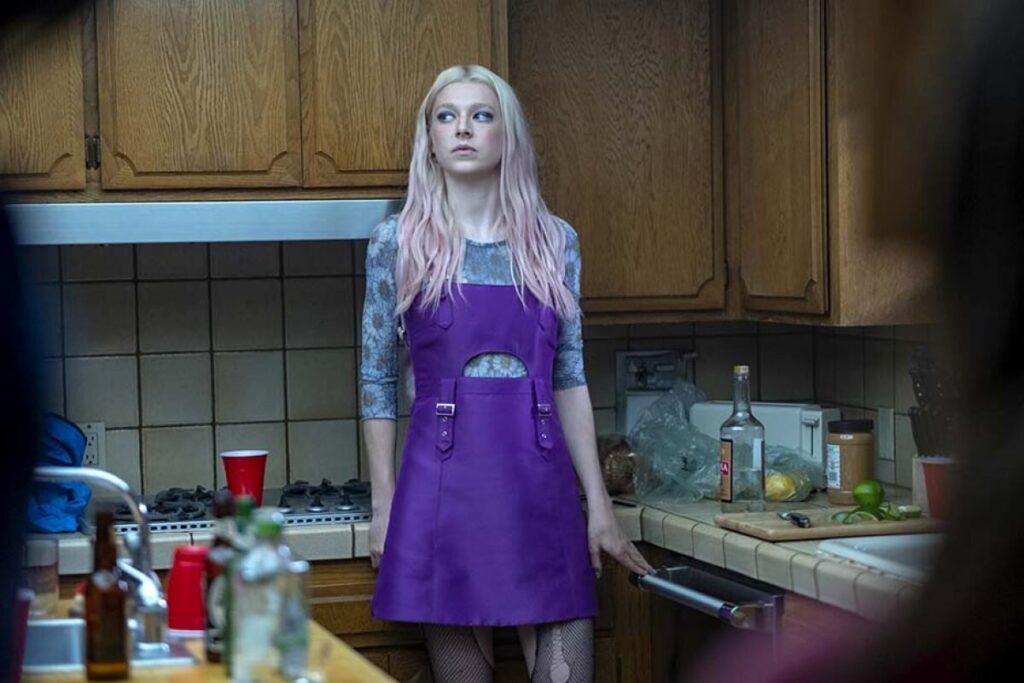 With her wardrobe initially made up of her typical tennis skirts, figure hugging shirts, baby doll mini-dresses and long sleeved mesh tops, her looks were all about layering.
Contrasting fabrics and colors paired together to add a nod to her true emotions. Particularly favoring sumptuous velvets and silks over more transparent mesh tops, giving a covered yet revealing look to echo the parts of herself she kept hidden.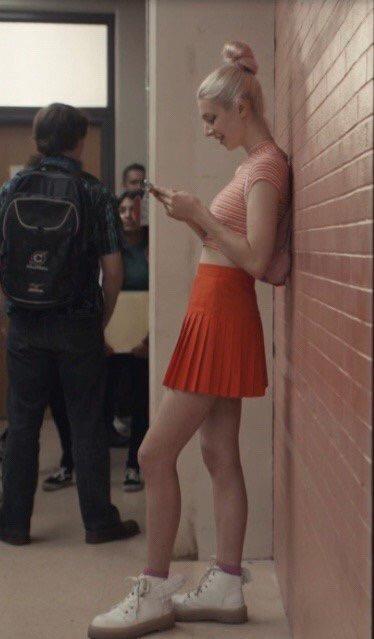 But as her story develops Jules becomes less focused on pleasing men, and less caught-up with the idea that it is sexy feminine looks that attract their attention. Transitioning into a neon color palette away from the pastels, and taking a page out of Rue's wardrobe of casual comfort, to wear a more athleisure look with a hint of grunge to it.
Darker and less girlie, her mesh patterned tops are paired with more androgynous cargo pants and graphic t-shirts, and even the odd hoodie. However, not losing all the typical traits of the Jules Vaughn Euphoria outfit, the tennis skirts, fishnet stockings and platform shoes, which could be considered her signature style, never fully disappear.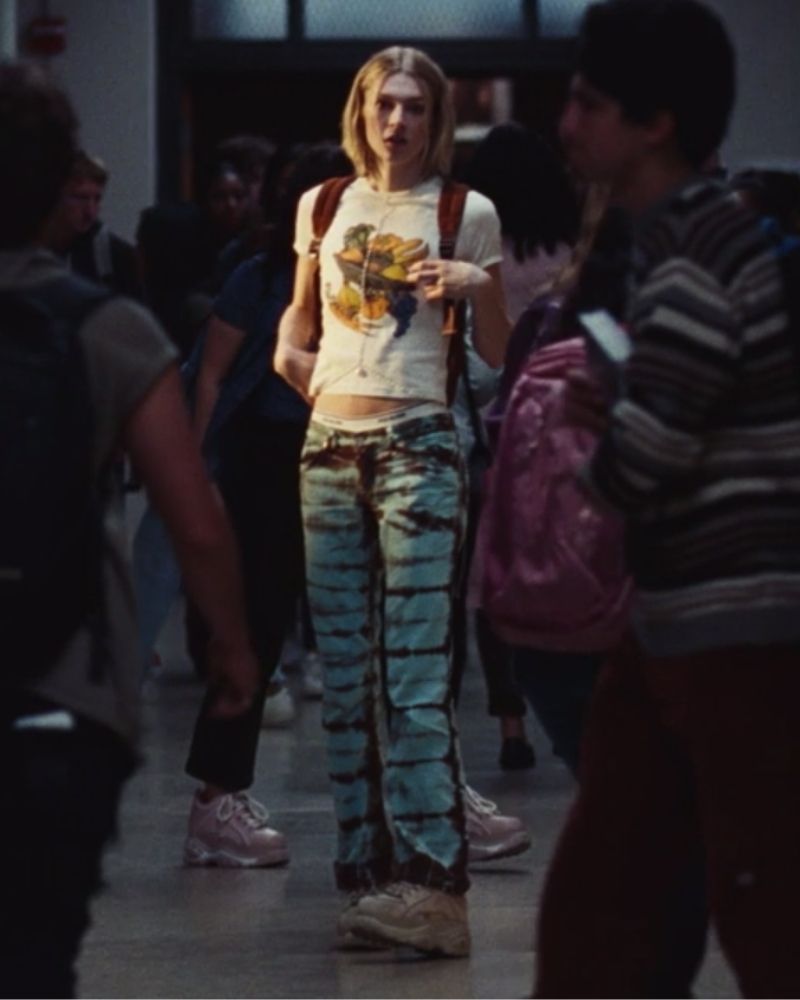 Challenging the Beauty Norms: The Jules Vaughn Hair and Make-up
Just like her wardrobe of pastels to neons, Jules hair and make-up looks change as her character develops to help convey her true emotions and feelings. Known mostly for her long platinum blond hair, even emulated by Cassie Howard (click here to read more about her style) when she tries to entice Nate, it is a shock when she cuts it into an edgier chin length bob.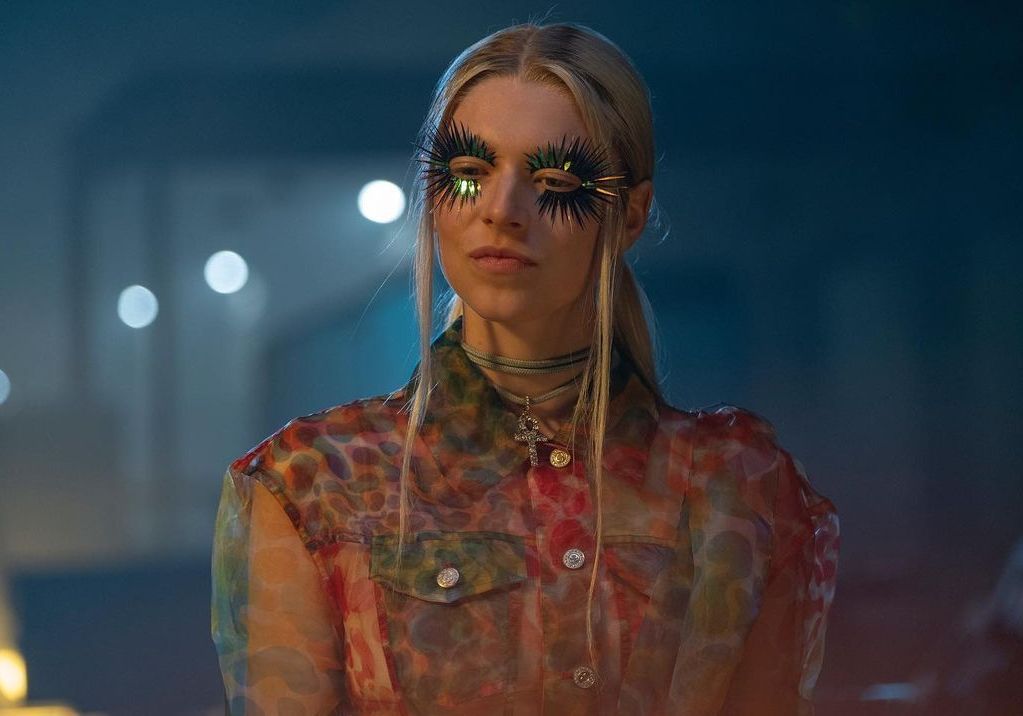 Normally wearing her blond locks in styles ranging from down and straight to loosely curled and tinged pink. Or even up in double buns and simple ponytails, Jules always leaves two strands at the front to fall gently over her face to frame her flawless bold make-up looks.
With a more artistic feel to her looks, Euphoria's make-up department head Doniella Davy, has gone for high fashion instead of the structured precise look that is worn by Maddy Perez (whose style we discuss here). With Jules pushing the boundaries and challenging the beauty norms we all follow.
With an element of experimentation and self expression, Davy told Interview Magazine that the make-up looks for the Jules Vaughn Euphoria outfit are a mood ring to her emotions. With neon bright eyeliners and pastel blue eyeshadows, Jules make-up looks always focus on her eyes leaving the rest of her face simple and understated.
Girly and Feminine in Pastel Shades: Steal Jules' Bodysuit and Plaid Mini-skirt Outfit
When it came to choosing a Jules Vaughn Euphoria outfit to steal, the season two, episode three look in our collage above stood out. Featuring that feminine and girly feel that we had become accustomed to seeing from Jules throughout the first season .
In her typical style this Jules look has a very eclectic and fashionable feel, with her color and texture mixing. Along with the simple pieces that she has layered to give her a covered yet revealing look to her outfit.
Recreate the Jules Vaughn Euphoria Outfit
Going back to her pastel color palette of soft pinks and lilacs, rather than her bolder neon shades, she starts this look with a gray short sleeved bodysuit. Look for one in a simple plain fabric with a bit of stretch, so that the bodysuit is nice and figure hugging with a low v-front neckline to show a bit of cleavage and skin.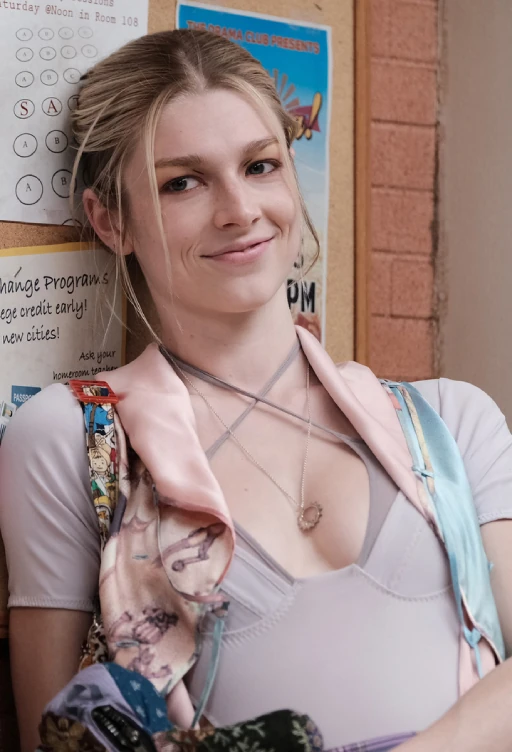 Staying with the light colors add in a purple plaid pleated mini-skirt, layering both the skirt and bodysuit with a baby pink flowy cardigan vest. A front waterfall edge to the cardigan will give a nice drape and the sleeveless vest leaves her arms bare.
Simple gray converse sneakers keep the look comfortable, allowing her jewelry to make a statement. Always one for adding a little something extra to her outfits, be it a choker or intricate silver body chain, this time Jules has got herself a delicate Sun and Moon pendant to hang around her neck on a silver chain.
Her shiny blond hair is parted in the middle and pulled back into an updo. Styled into either a low bun or simple ponytail would work perfectly. Just remember to leave a few loose strands around your face, just like Jules to highlight her surprisingly easy make-up.
Normally a fan of high fashion looks, instead Jules has gone for fresh faced make-up with products like a BB cream foundation to even out her skin complexion and a faint blush to highlight her cheeks. Before doing a soft pale eyeshadow and black eyeliner look, with some light pink natural lips.
This might be the perfect Jules Vaughn Euphoria outfit to steal to create her effortless fashionable feminine look, with her pastel color palette and layerable garments. Here you can also check out her angelic outfit. But when looking to Euphoria for style inspiration maybe Jules less than innocent friend, who is also on a journey of self acceptance, Kat Hernandez in her graphic t-shirt and skirt might be more to your liking. 
Monthly Newsletter
Add some spice to your style with movie set-inspired designs.