Steal the Look – Dress Like Rue Bennett from Euphoria 2
Add a touch of cinematic magic to your wardrobe with our roundup of daring and hip movie-inspired outfits. We'll show you how to dress like Rue Bennett from Euphoria 2 with our selection of chic and stylish pieces. Slip them on and step into the spotlight like a star with these iconic looks from Euphoria 2.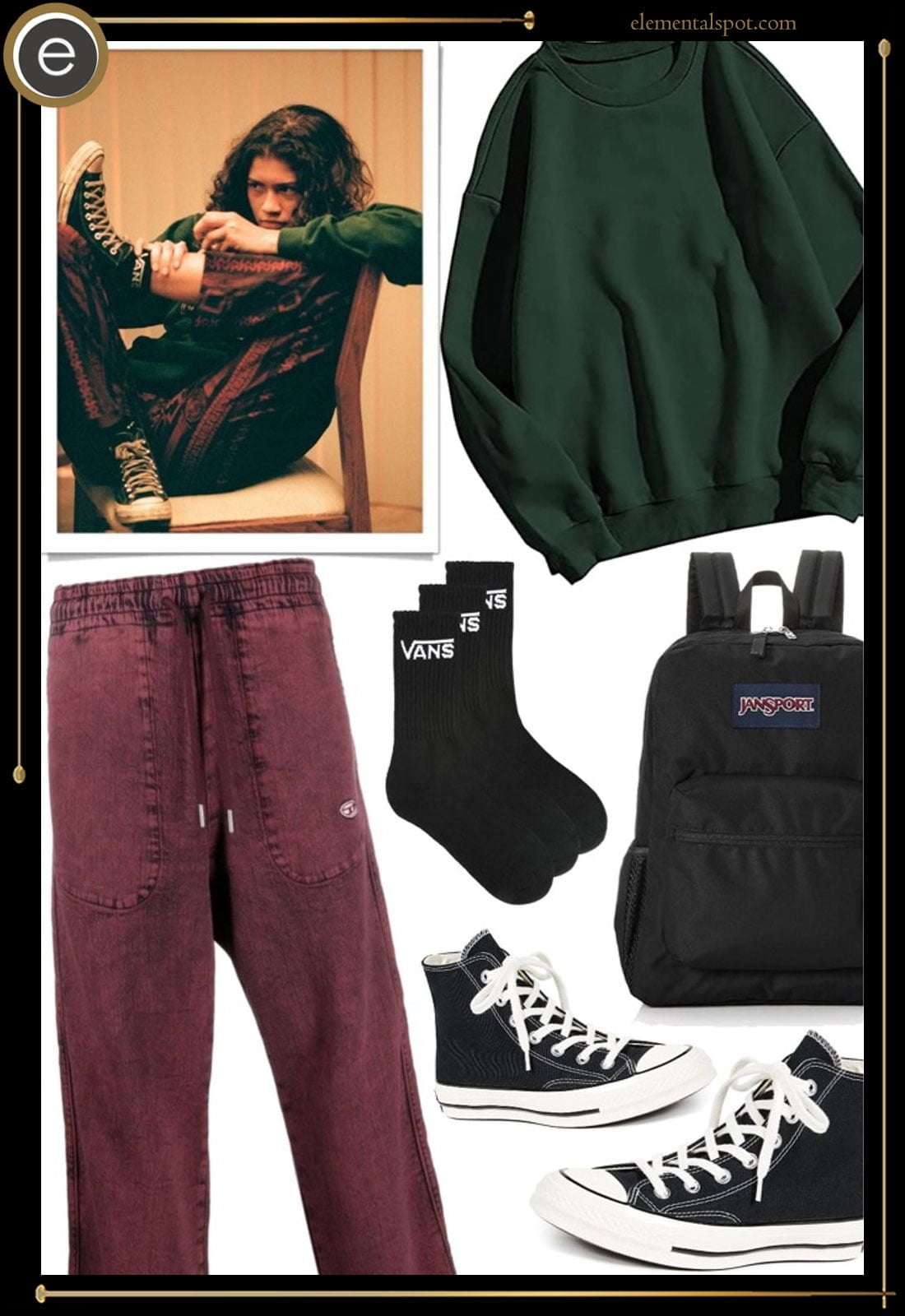 Shopping List for Rue Bennett from Euphoria 2 Outfit
With drugs, sex and violence it is no wonder that Sam Levinson's high-school teen drama Euphoria (2019 – Present), based on the Israeli miniseries of the same name, has gained so many critics. Their argument; that the content is unsuitable for a show about teenagers for teenagers. But where there are critics there are always fans, and when the show became one of HBO's most watched ever it would appear that the good outweighed the bad.
The raw representation of life as a teenager in a world of social media and unfiltered internet is part of the show's appeal. But with a wardrobe department full of matching co-ords, pink camo and Oklahoma inspired looks, the fashionistas were also hooked. However not everything is so trend setting, especially when you look at a Rue Bennett Euphoria Outfit.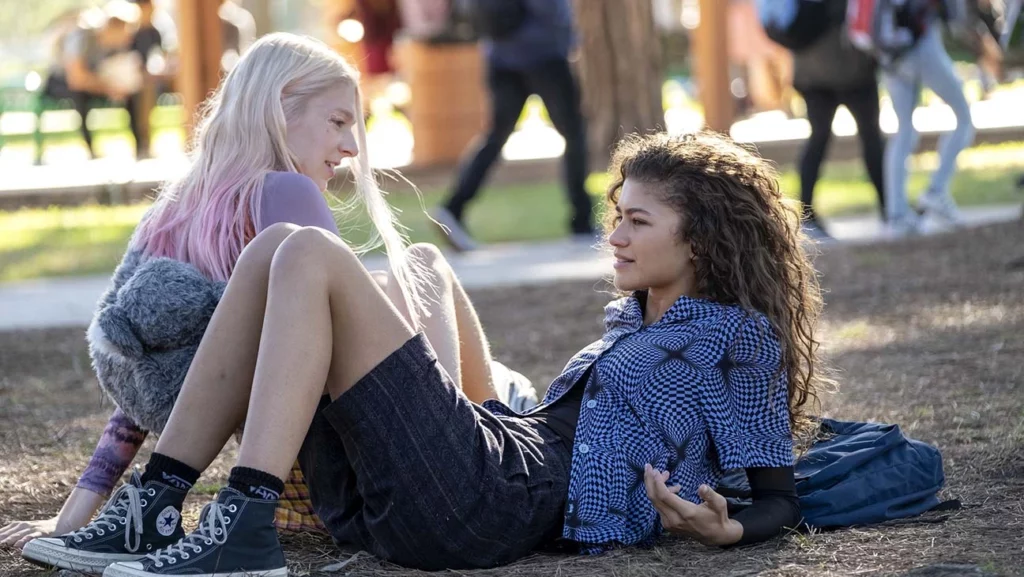 Set in the fictional town of East Highland in California, Ruby "Rue" Bennett, played by superstar Zendaya, is the damaged teenage drug addict, as well as the story's narrator, of local East Highland High.
Struggling to find her place in the world, particularly after the death of her father to cancer when she was just fourteen years old. Rue has fallen into drugs and alcohol as a coping mechanism for her grief and pain.
But the sarcastic teen, who ended up in rehab after overdosing on her bedroom floor and being found by her little sister Gia Bennett (here we discussed her outfits), hasn't managed to find a reason to stay clean yet. Even with a fierce love and desire to protect her mother and sister, it is her infatuation with the beautiful Jules Vaughn (her outfit) that came the closest to almost saving her.
No Trend Setting: Looking at the Rue Bennett Euphoria Outfit
With a wardrobe of pieces to fit in with her character's journey of self destruction at the hands of drug addiction, we need to find out how she uses her clothes, hair and styling to create her casual and eclectic Rue Bennett Euphoria outfit.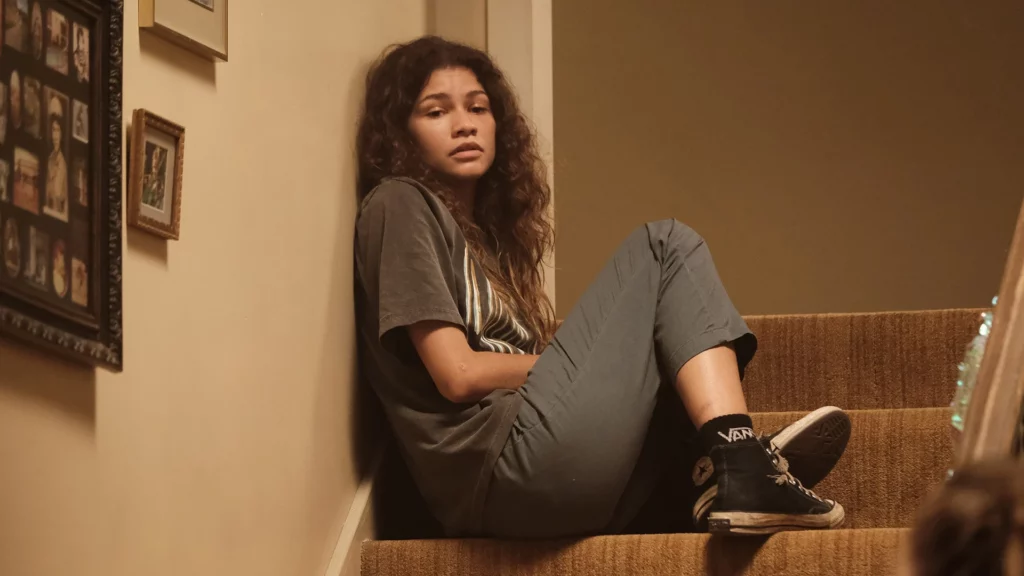 When word got to Euphoria's costume designer Heidi Bivens that Rue would be played by the stylish Zendaya, the team started to imagine a wardrobe of designer-heavy looks based on the star's red carpet appearances. But not working for the damaged teens story, resorting to vintage let them build her look around darker, more casual clothes not focusing on trends.
Rarely varying her looks in the garments she wears or colors they are in, a typical Rue Bennett Euphoria outfit is made up of mostly dark tones and prints. Wearing a lot of dark blacks and blues, Rue likes to go for a hint of color with maroon reds and browns or even the odd tie-dye or hawaiian print.
Missing an Outfit Inspo? Submit your idea and we'll make it happen!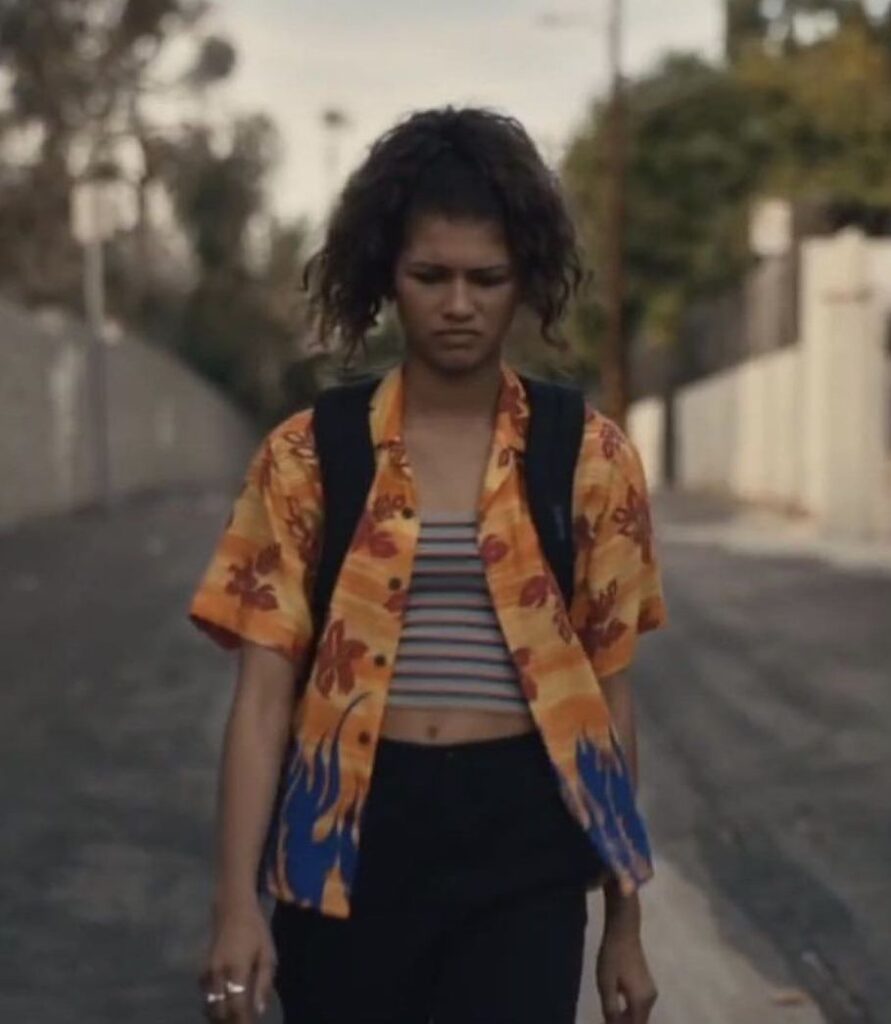 Although each season so far her looks have become darker and more subdued, as they reflect the murky life experiences that she is going through. Staying away from trends and overly put together looks, her wardrobe is stuffed full of oversized graphic t-shirts, slouchy pants and a wide selection of shorts.
Favoring the loose and comfortable fit, much of Rue's wardrobe reflects an element of masculine dressing, even wearing a lot of boys clothes like her button-up shirts and Halloween tuxedo. Which are always too short on her tall frame and instantly add a level of disorder and indifference to her outfits.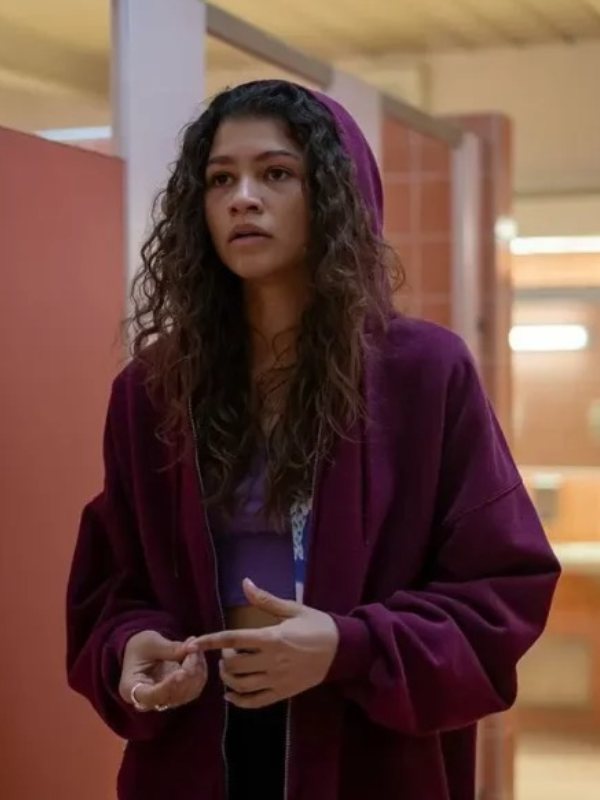 But no Rue Bennett Euphoria outfit is complete without her maroon hoodie and black Chuck Taylor high top converse, which are actually the actresses own. With the oversized zip-up hooded jacket that we first see her wearing in the Pilot episode, being revealed as belonging to her father. Worn as a comfort blanket, even though like the drugs and alcohol she is aware it is just masking her troubles.
The Minimal Hair and Make-up Styling of Rue Bennett
Always dressed in her haphazard way, with a real edge of disorder to her looks, Rue's dark brown hair and make-up is styled in a very similar way.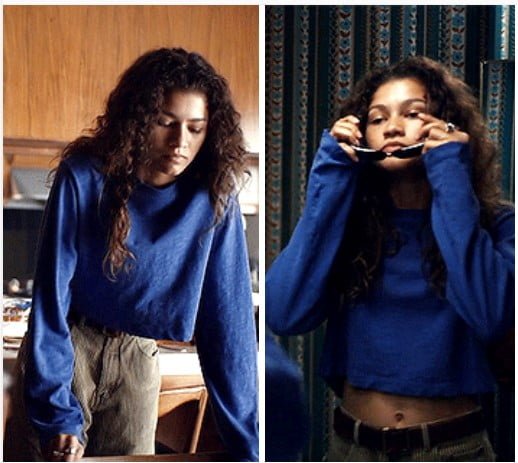 Worn long and wavy, falling around her shoulders, with her untamed curls all over the place. Like her clothes Rue spends little to no time on her grooming routine, wearing her wild hair either down and loose or pulled back into a messy top knot or high ponytail.
With the exact same attitude to her day to day make-up, that consists of nothing to hide her pale skin, dark eye circles or dry cracked lips. But when Euphoria's talented make-up department head Doniella Davy does get to make her over, like for the Winter Formal, the one thing you can guarantee is there will be glitter.
However, maybe even more iconic to the character than the Winter Formal make-up, hair or "deeply uncomfortable" corseted dress, is actually the smudged eyes and unruly hair the next day. With a habit of never removing her make-up a Rue Bennett Euphoria outfit is just as well known for her smeared eyes and days old residue of glitter still on her face, than any of her oversized t-shirts or maroon hoodie.
Oversized and Baggy: Steal Rue's Green Sweater and Joggers Outfit
When it came to choosing a Rue Bennett Euphoria outfit to steal to achieve her eclectic and oversized look, we had a number of great options. However this simple look of only five pieces is the perfect representation of the damaged and troubled teen.
Unlike many of her other looks this one doesn't include her fathers maroon hoodie, like her tie-dye alien t-shirt outfit from the Pilot (that we have shown you how to steal here). But in typical Rue fashion this look has a very relaxed, thrown together feel with none of the pieces being over thought or stylish and trendy.
Recreating the Rue Bennett Euphoria Outfit
This Rue Bennett Euphoria outfit starts with a dark green oversized sweatshirt and a baggy pair of jogger pants. Look for a sweatshirt with a round crew neck finish in a forest green, that is a couple of sizes too big.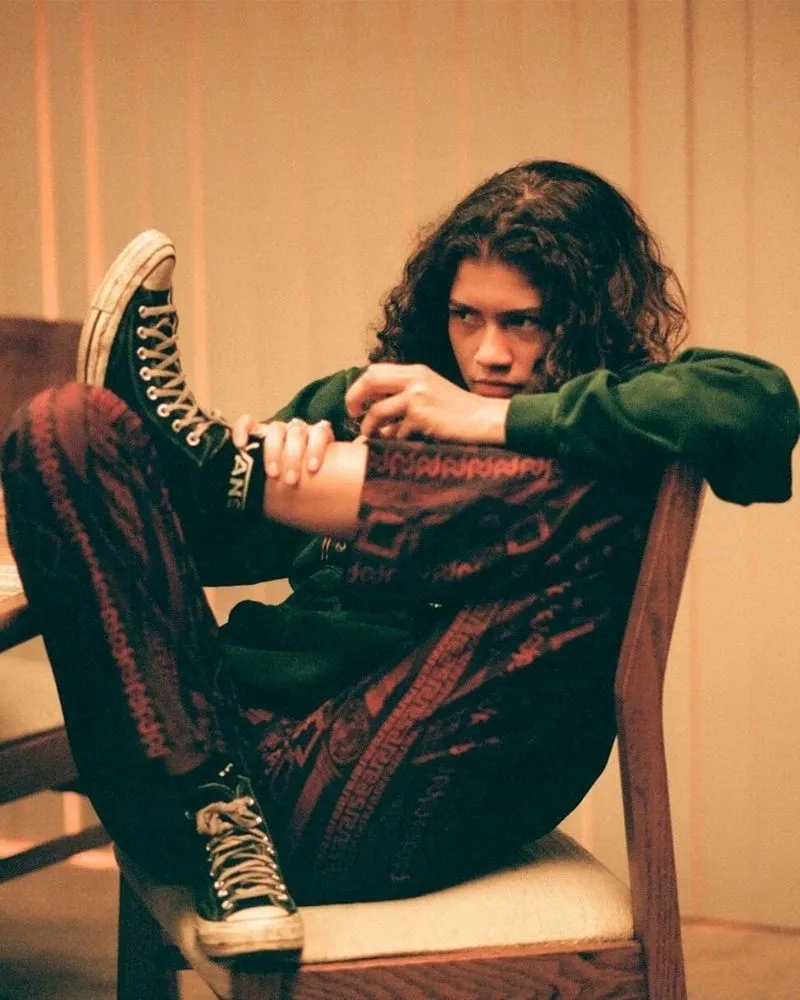 Add in a pair of loose fitting joggers, like the Diesel denim ones from our collage or something in a dark brown color or unusual geometric print. Not forgetting Rue's usual black Chuck Taylor high top converse sneakers and black Vans socks.
Her long dark brown wavy hair is left in its natural unruly state, parted in the center and worn down. Her untamed curls have had no styling and possibly no grooming other than Rue running her fingers through them and pushing them out of her face.
Like her hair, she hasn't spent any time doing her make-up or adding any accessories. Instead leaving her skin pale with dark circles under her eyes, a common look for the troubled drug addicted teen.
However she has added a black Jansport backpack to her outfit so that she can carry her school books and other teenage paraphernalia around, without misplacing it.
She might have some serious issues and struggle with life, but the Rue Bennett Euphoria outfit of masculine oversized vintage pieces might just be the casual and comfortable trend avoiding look you are going for. But if not, maybe her best friend Lexi Howard in her preppy corduroy pants and sweater vest outfit might be more your style.
Monthly Newsletter
Add some spice to your style with movie set-inspired designs.