Steal the Look – Dress Like Lexi Howard from Euphoria
Add a touch of cinematic magic to your wardrobe with our roundup of daring and hip movie-inspired outfits. We'll show you how to dress like Lexi Howard from Euphoria with our selection of chic and stylish pieces. Slip them on and step into the spotlight like a star with these iconic looks from Euphoria.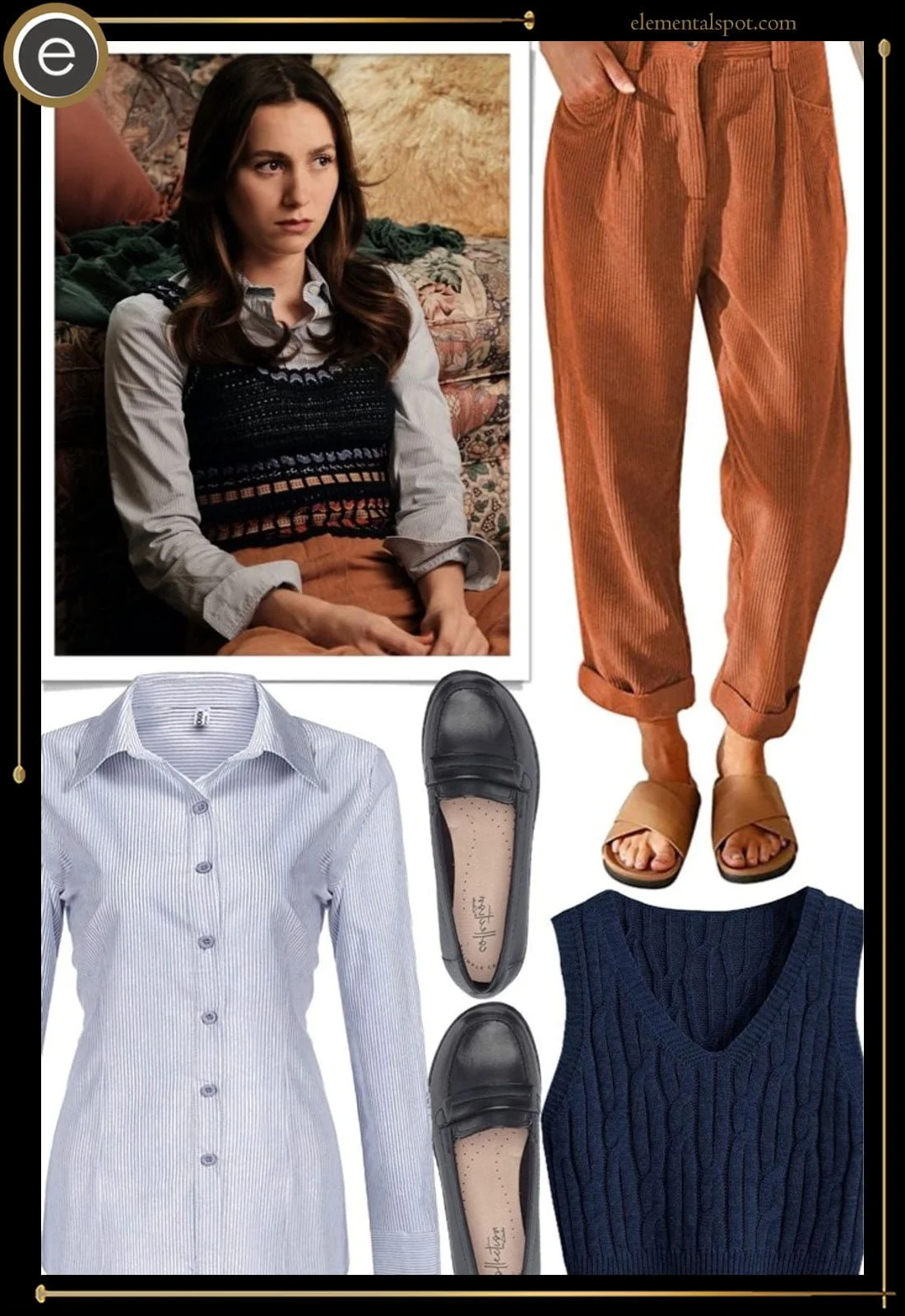 Shopping List for Lexi Howard from Euphoria Outfit
Giving us an insight into the life of a teenager in today's society of endless social media and unfiltered internet access, its many critics think that Euphoria (2019 – Present) is too grown up for the young adult audience it is aimed at. Based on the Israeli miniseries of the same name, the Sam Levinson HBO created high-school teen drama depicts a world of drugs, sex and violence.
But like all teen dramas the fans outweigh the critics, and with a wardrobe department full of everything from neons to pastels and co-ords to tie-dye t-shirts is it any wonder we are all so invested. Especially with costumes like the preppy Lexi Howard Euphoria outfit with its innocent vintage charm.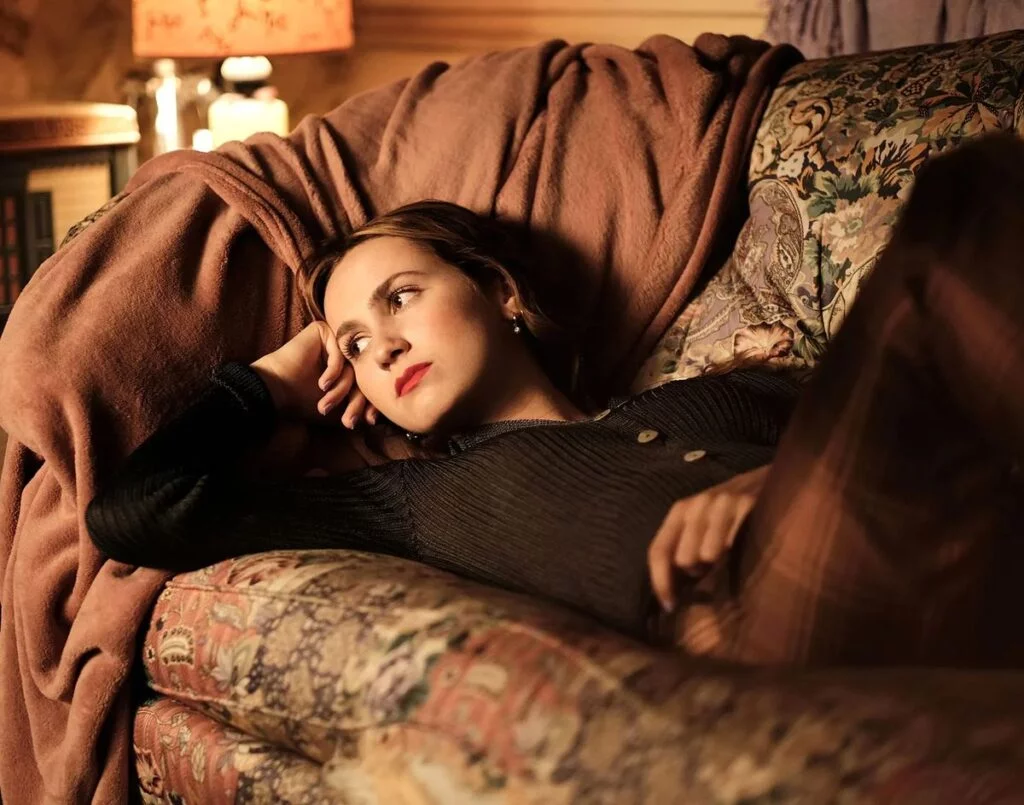 Set in the fictional town of East Highland California, Lexi Howard, played by Maude Apatow, is the ride or die of show protagonist Rue Bennett and younger sibling to East Highland Highs school girl of every guy's dreams Cassie Howard (whose style you can check out here).
Always coming second best to her sister in her parents eyes, she is willing to stand by her drug addicted best friend through anything. But as the loyal and level headed character who is interested in school more than drugs, alcohol or sex, people might think Lexi is naive.
However, always in the wings watching it isn't until she puts on her play 'Our Life' that she gets to take center stage in her own story for once. With everyone realizing how observant she has been, and how far she will go to air everyone's dirty little secrets.
The Vintage Charm of a Good Girl: Studying The Lexi Howard Euphoria Outfit
To steal a Lexi Howard Euphoria outfit we first need to study how costume designer Heidi Bivens has been able to create a retro girl next door vibe for our loyal beloved character. Using her wardrobe, hair and make-up to give her that innocent vintage charm.
Both of the Howard girls, Cassie and Lexi, have been styled with a good girl edge to their outfits in a similar way to Riverdales, Betty Cooper. But none of the three actually fit that title, especially Lexi the smart and perceptive high schooler who makes more enemies than friends when she puts on her play and holds a mirror up to the troubled lives of her friends and family.
Not afraid of color or print, a typical Lexi Howard Euphoria outfit could have anything from soft pastel shades of lilac and mint green to burnt orange or bright fuschia pink. Instead she uses the simple and understated styles of her garments to reinforce her fashion sense, from floral print dresses and bold plaid trousers to her crisp pressed white shirts and her impeccable peter pan collars.
Missing an Outfit Inspo? Submit your idea and we'll make it happen!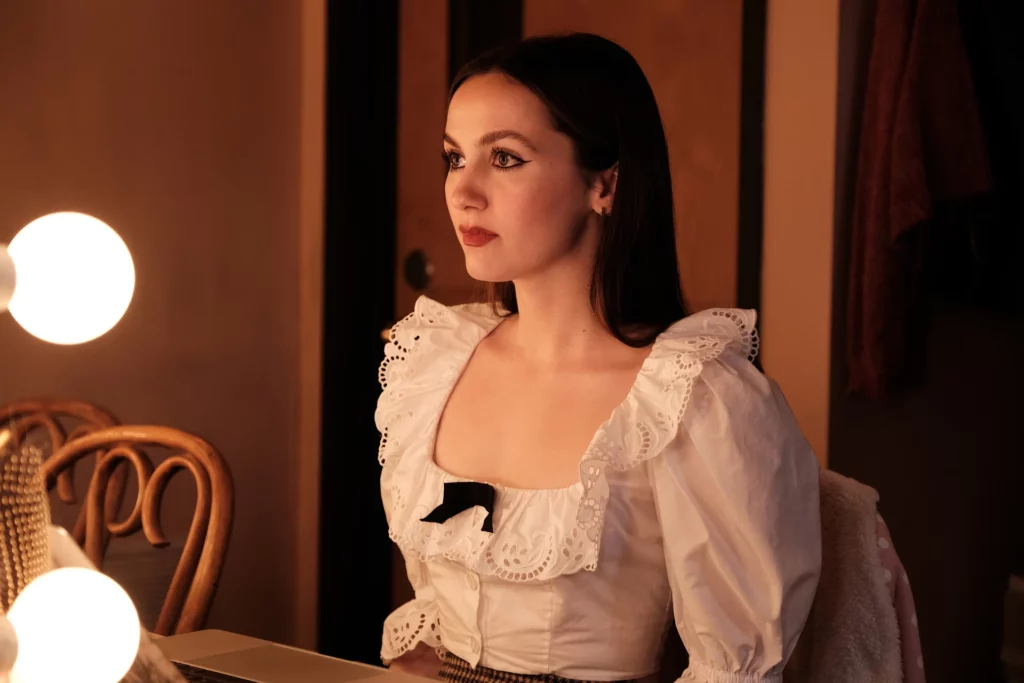 As well as her colorful sweaters with retro patterns and skirts in all styles and lengths, Lexi is always neat and tidy with a pure and innocent charm to her clothes. In complete contrast to best friend Rue's oversized masculine wardrobe of hoodies and shorts.
Comfortable staying away from the sexy or statement pieces of Maddy Perez's wardrobe, the pretty teen lacks confidence still thinking of herself as more childlike than a young adult. Even dressing as lovable painter Bob Ross for Halloween, to her friends despair.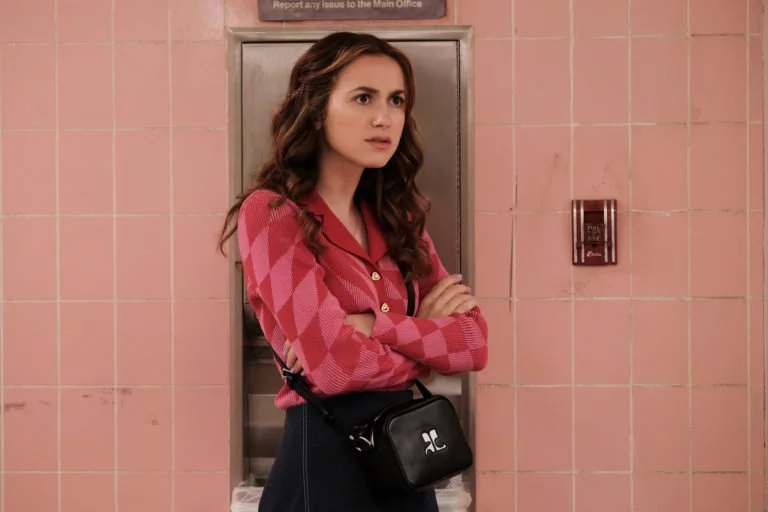 But her simplicity and elegance actually gives her one of the most recognisable styles on the show. Staying away from trendy in fashion looks, a Lexi Howard Euphoria outfit is all about that preppy fashion, that screams bookish, and is accompanied by the old fashioned comfort of sweater vests, collared dressesand her favorite shoe; the loafer.
A Journey of Self-Actualization: Lexi's Hair and Make-up Styling
It isn't her long dark hair that a Lexi Howard Euphoria outfit is known for, instead, just like our favorite teenage witch Sabrina Spellman and her black headband, Lexi could be recognised for her ribbons she wears in her hair.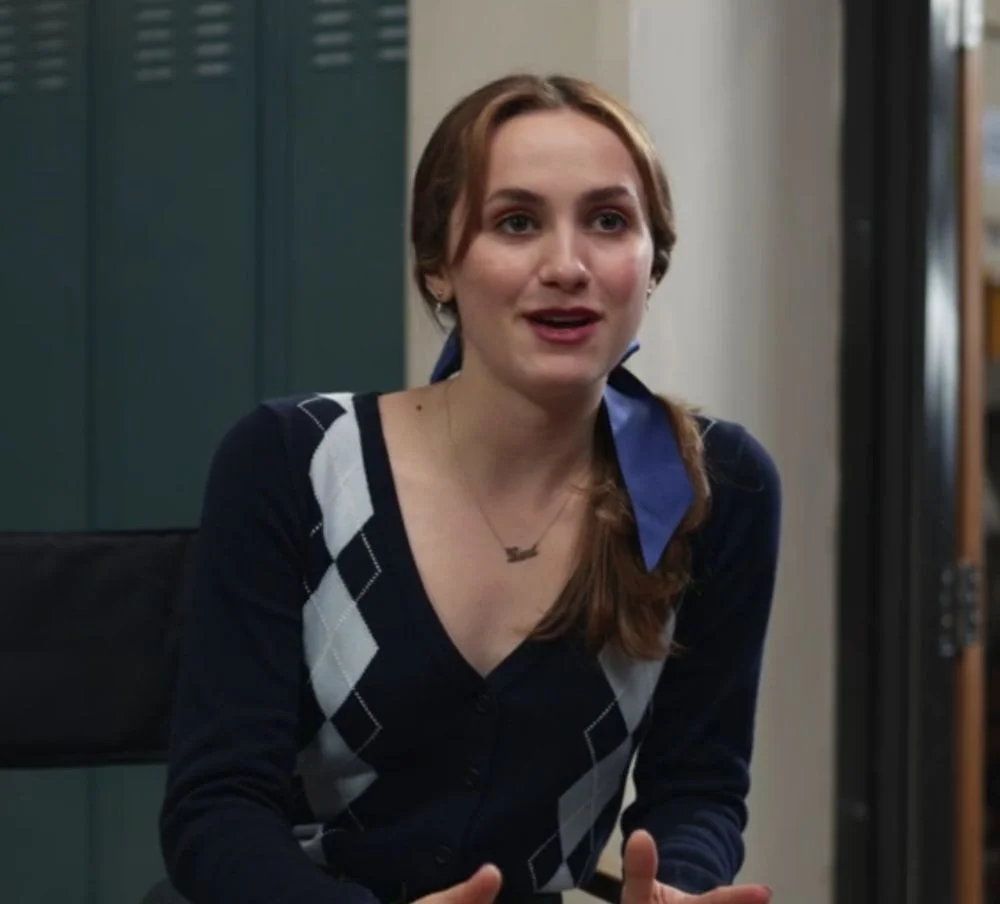 Her dark reddish-brown locks are normally worn straight, wavy or loosely curled below her shoulders, while being styled into common looks like ponytails, low buns or just left down to frame her face. But when she goes back to her half-up, half-down do, with the front strands pulled back away from her face, she always accessories with a cute clip or silky ribbons tied in a bow.
In keeping with her good girl way of dressing, particularly in the first season, it isn't until the second that we see head of Euphoria's make-up department Doniella Davy give Lexi a more prominent look. Calling her transformation a journey of "self-actualization" when she spoke to Byrdie, as they discussed her bolder make-up looks.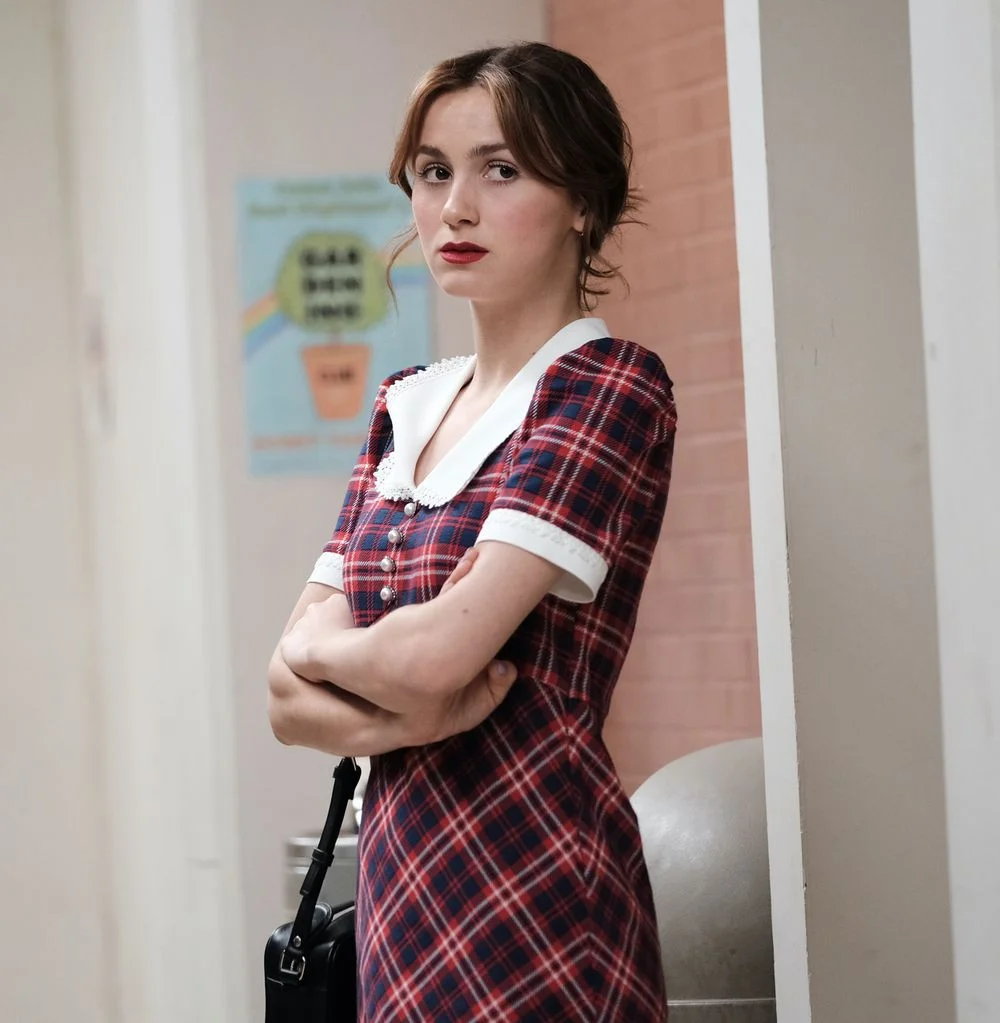 Going from fresh faced and natural to bold eye make-up completed with black eyeliner and lots of mascara. She also played around with deeper red lipsticks, a visual nod to her growing confidence and perfect to reflect the typical Lexi Howard Euphoria outfit of vintage charm.
Preppy and Bookish: Steal Lexi Howards Sweater Vest and Corduroy Pants Outfit
When it came to choosing a Lexi Howard Euphoria outfit to steal, there were just so many great looks to choose from. However the season two look from our collage above has just the right amount of retro, vintage charm to make a statement with only four pieces.
In typical Lexi style this look has a very preppy and bookish feel to it, with her color and pattern mixing. Along with the simple pieces that stay away from trends and instead embody her desire for comfort.
Recreate the Lexi Howard Euphoria Outfit
Going with a muted color palette and a typical Lexi crisp pressed shirt, she starts with a long sleeved, button-up with a pinstripe pattern. Look for a shirt with thin and delicate lines, in a pale blue on a white background. Before unbuttoning and turning the sleeve cuffs up and leaving the first few buttons at the neckline open.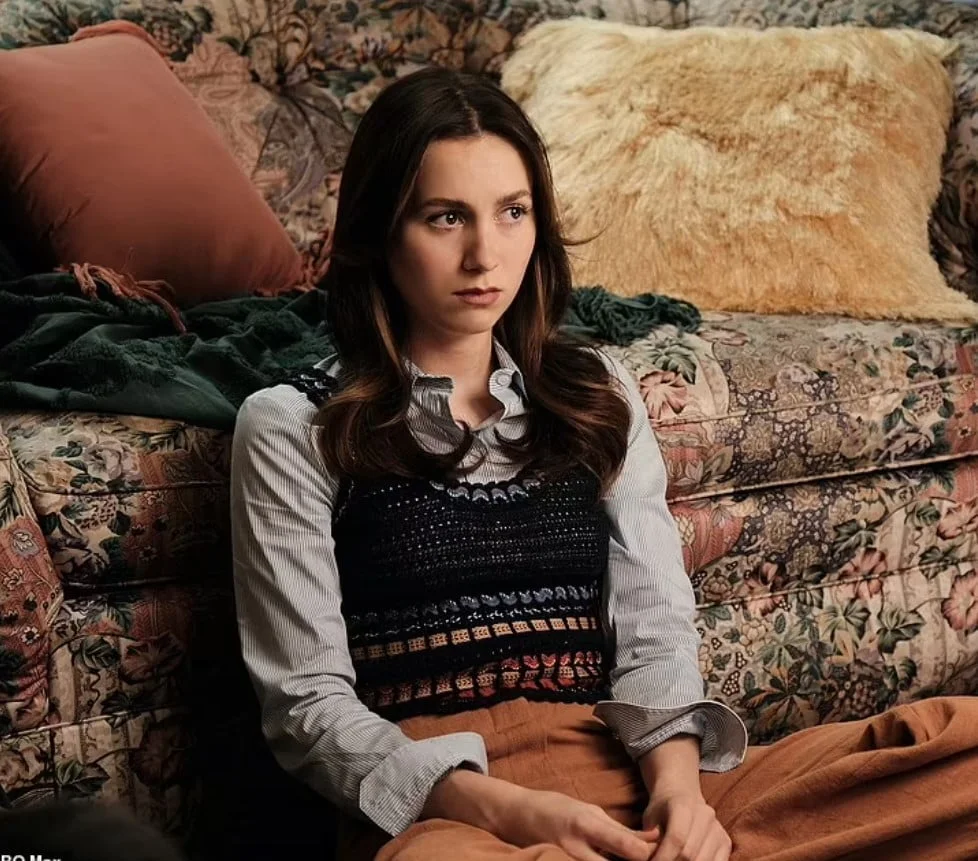 Staying with the blue, but this time going for navy, add in a cropped sweater vest to go over your pinstripe shirt and a comfortable pair of navy leather loafers. A low scoop neckline on the knit vest will allow the collar and top of the shirt to sit nicely, then contrast everything with a pair of burnt orange straight leg corduroy pants.
Her beautiful shiny reddish-brown hair is loosely curled at the ends, and is worn down around her shoulders with no accessories or extra styling. Instead the parted in the middle locks frame her face that once again has a fresh faced and natural look to it.
A soft foundation evens out her face, paired with a delicate rosy blush to add a flawless look to her complexion. But her eye make-up is kept simple with no bright or bold colors and just a hint of black eyeliner across her top lash line and a flick of mascara.
Even her lips are kept gentle with a mauve brown matte lipstick finishing her look.
This might be the perfect Lexi Howard Euphoria outfit to steal with only four pieces that still manage to create her preppy innocent vintage charm. You can also check our guide on how to steal her other outfit. But if you were looking to steal the style of someone on Euphoria who is a little bit less innocent, then there is no better place to start than by studying our guide on the wardrobe of Kat Hernandez.
Monthly Newsletter
Add some spice to your style with movie set-inspired designs.