Steal the Look – Dress Like Rue Bennett from Euphoria
Add a touch of cinematic magic to your wardrobe with our roundup of daring and hip movie-inspired outfits. We'll show you how to dress like Rue Bennett from Euphoria with our selection of chic and stylish pieces. Slip them on and step into the spotlight like a star with these iconic looks from Euphoria.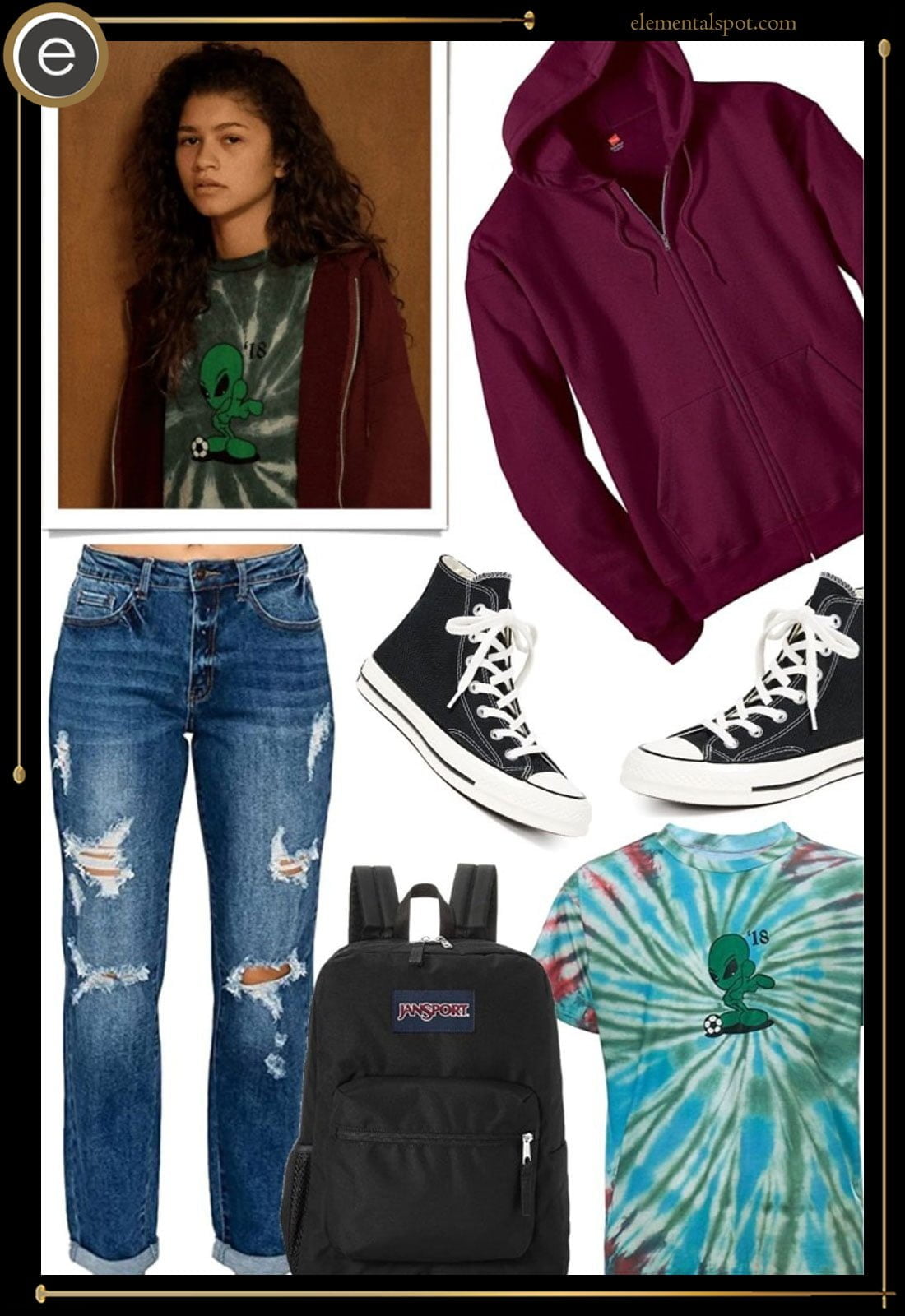 Shopping List for Rue Bennett from Euphoria Outfit
It didn't take long for the Sam Levinson teen high school drama Euphoria (2019 – Present) to become one of HBO'S most watched shows ever. With a generation of young adults seeing themselves represented on screen, with the realities of social media through to addiction presented alongside gorgeous make-up and flawless outfits. Yet if you were actually looking for the perfect casual and comfortable style to blend into the crowd Rue's wardrobe is where you will find it.
With her soon to be fashion staples of loose and baggy clothes, this look from the show's very first episode sets the tone for a Rue Bennett Euphoria outfit, and will definitely make sure you can slip through the background unseen, just like our protagonist.
A Typical Rue Bennett Euphoria Outfit
When costume designer Heidi Bivens found out that teenage drug addict and the show's protagonist Rue Bennett would be played by superstar Zendaya, she told Fashionista she had hoped to style the character based off of the star's designer-heavy looks.
However, not working for Rue's journey of destruction at the hands of drugs, the team chose to bring in a more vintage inspired wardrobe focusing less on pretty put together looks and more on casual comfort. Like her tie-dye t-shirt and jeans from the pilot episode, when she returns from rehab only to relapse before the night is out.
The oversized short sleeved, round neck t-shirt featuring an alien with a football and a bright all over tie-dye pattern, swamps the skinny frame of Rue. So pair your own baggy t-shirt with some distressed denim jeans in a looser boyfriend fit, to create that casual masculine feel that really is the epitome of every Rue Bennett Euphoria Outfit.
Her Most Important Garment – Her Hoodie
Unknown to the audience in the Pilot episode, Rue's hooded jacket would become one of her wardrobe staples as the show went on. Holding a lot of sentimental value for the troubled teen, it is revealed bit by bit that it belonged to her father, who died when she was fourteen.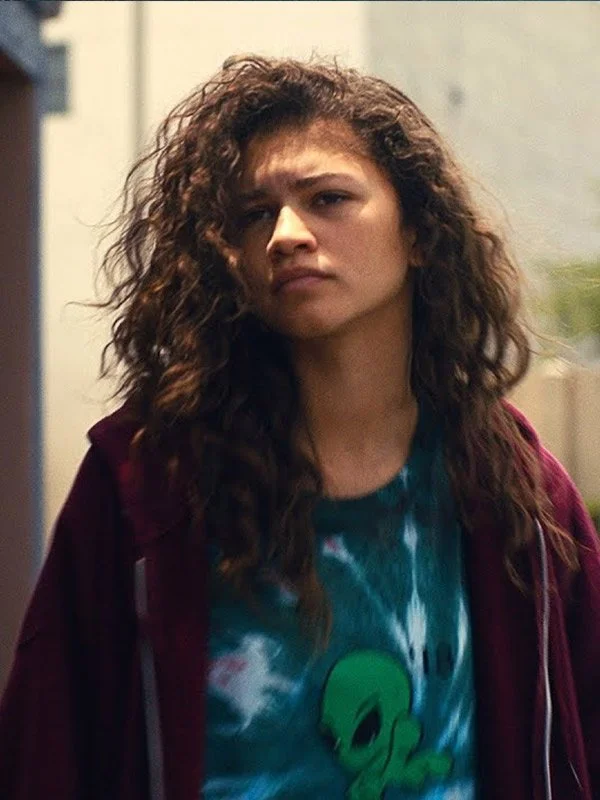 So look for a hooded jacket with a zip closure, in Rue's signature baggy oversized style to finish her look. Go for one in a color somewhere between a berry red and dark maroon, and layer it over your tie-dye alien t-shirt and boyfriend fit jeans.
The Rue Bennett Accessories
But for all the talk that the Rue Bennett Euphoria outfit is not styled off of actress Zendaya's designer filled red carpet wardrobe, the same can't be said for her off duty day to day looks. With a distinct feel of a slightly more stylised Rue look in her real life wardrobe.
Missing an Outfit Inspo? Submit your idea and we'll make it happen!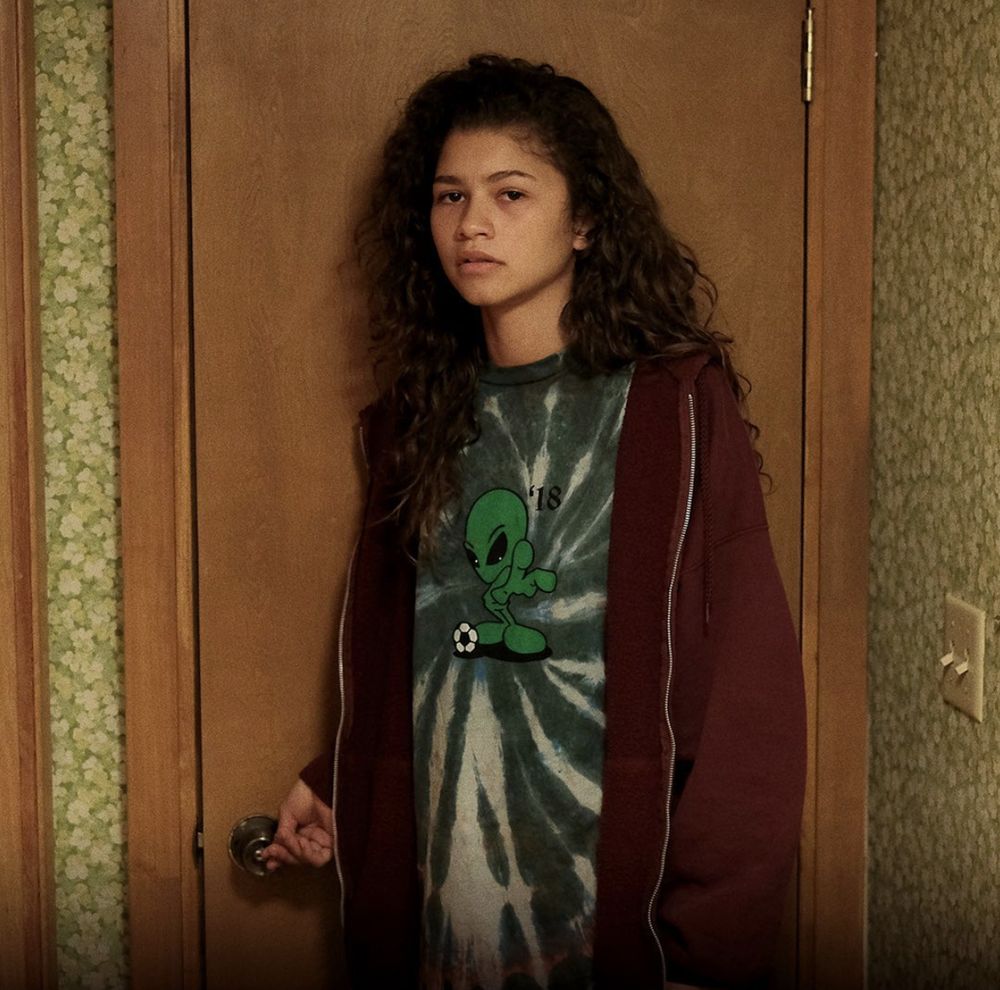 So much so that Rue's trademark Chuck Taylor black high top Converse are actually the stars own that she brought with her to the shoots. Simple comfortable shoes that fit Rue's overall look perfectly, so don't change anything and add a matching pair of black high tops to your own look. Along with her Jansport black backpack.
We wouldn't see it over the shoulder of a Queen Bee like Maddy Perez or carrying the sweet and naive Cassie Howards school books, but it is the perfect fit for Rue and her distinctive masculine casual look.
Rue Bennett's Casual Untamed Hair
Your Rue Bennett Euphoria outfit, is as casual with its hair and make-up styling as it is with the rest of the outfit so it won't take much to replicate.
Like a lot of people struggling in life Rue doesn't spend any more time than she needs to on her grooming routine. Meaning her long wavy brown hair is often left loose and untamed falling around her shoulders. The messy curls representing her lack of control over her life are pushed to the side and contrast the paleness of her skin as they tumble over her face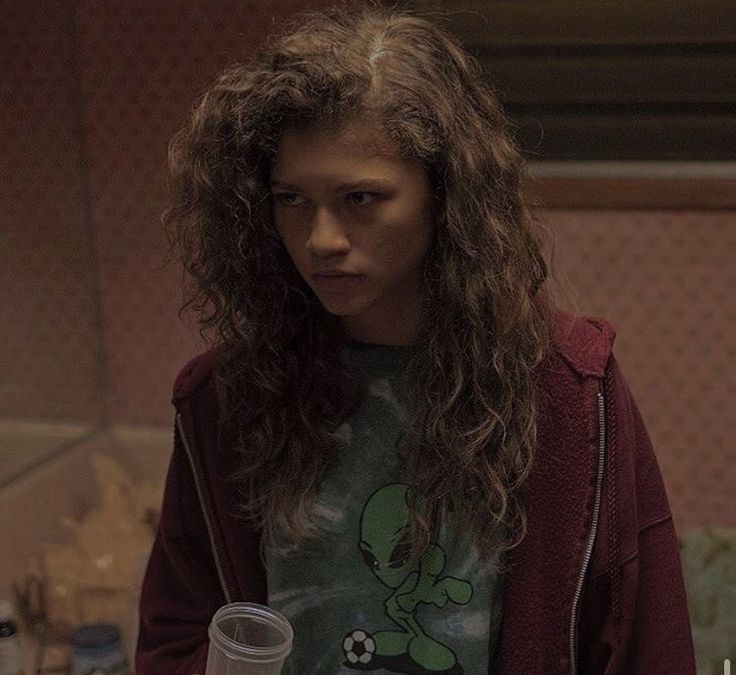 Although Euphoria's talented make-up department head Doniella Davy, has got to create some amazing looks for Rue, like her glitter teardrops, this outfit doesn't need any make-up to finish it off. With Rue sticking with her return from rehab bare faced no make-up look, when the urge to find drugs becomes too overwhelming for her and she starts her cycle of destruction again.
Steal the Rue Bennett Euphoria Outfit
Now that we have shown you how to steal Rue's comfortable and casual tie-dye t-shirt and jeans look from the Euphoria Pilot, all you would need is a few more t-shirts, pairs of jeans and some shorts to have a whole mix and match-able Rue wardrobe.
So if you are loving this Rue Bennett Euphoria outfit and her relaxed oversized attire, you could always check out some of her other looks and finding out how our young troubled drug addict uses her clothes to express the dark things she is going through.
Monthly Newsletter
Add some spice to your style with movie set-inspired designs.