Dress Up Like Owen from Total Drama Island
If you are looking for a good Owen costume for Halloween or a big cosplay event, here's the winning formula for creating the most exciting outfit of the party! Let's see how to dress up as Owen from Total Drama Island.
Costume or Outfit Guide For COSPLAY & HALLOWEEN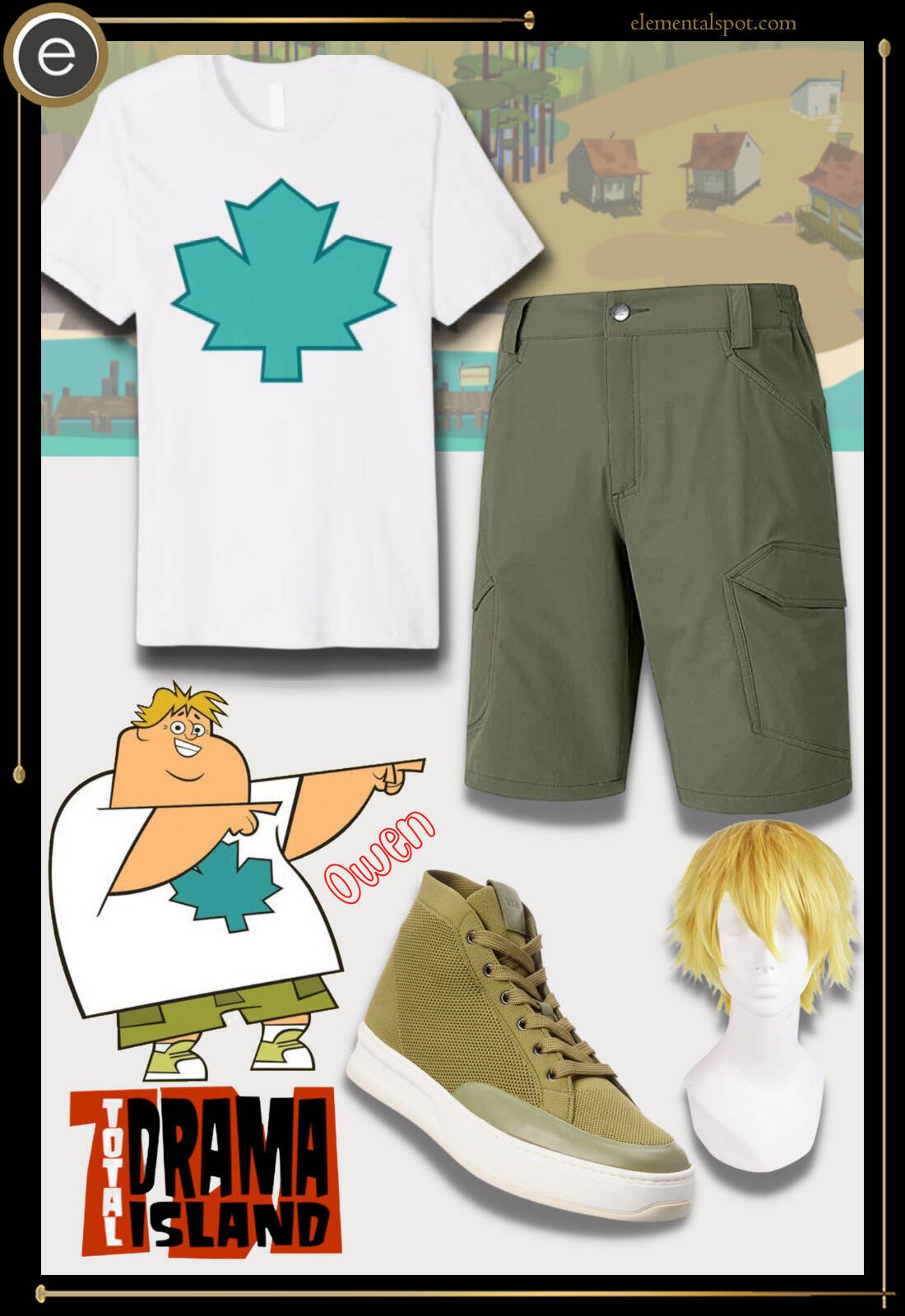 Owen from Total Drama Island Costume or Outfit Guide
Shopping List for Owen from Total Drama Island Costume & Outfit
Looking for a fantastic and unique costume idea for your upcoming dress-up party? Well, look no further than transforming into Owen from the popular series Total Drama Island! This endearing character is renowned for his outgoing nature and one-of-a-kind fashion sense. In this step-by-step guide, we'll help you put together an outfit that's guaranteed to make you the life of the party.
Who is Owen from TDI?
Let's start by delving into the character of Owen before we dive into creating the costume. Owen is an incredibly affable, upbeat, and fun-loving contestant on Total Drama Island. His friendly, passionate, and optimistic demeanor sets him apart from the rest of the competitors. Owen's primary motivation for participating in Total Drama is not the grand prize but the sheer enjoyment of it all. He's widely regarded as one of the show's most popular contestants, thanks to his cheerful disposition, unwavering optimism, and knack for seeing the best in others. He's even managed the seemingly impossible feat of befriending Chris.
However, his unbridled niceness occasionally blinds him to the fact that not everyone reciprocates his affection. Despite his physical and mental limitations, Owen consistently strives to help his team win challenges. While he often starts with great enthusiasm, his efforts often culminate in humorous mishaps, including occasional bouts of nudity and farting.
Owen's TDI Costume Guide
Now, let's move on to creating his iconic outfit. Here are the essential items you'll need:
Owen T-Shirt: You can either purchase an official Owen T-shirt or get creative by making your own using iron-on transfer paper.
Green Sneakers: Hunt for a pair of green sneakers (have a look at the shopping list above)
Green Cargo Shorts: that will complete the look.
Blonde Men's Wig: You can acquire a blonde men's wig Alternatively, you can experiment with temporary hair dye to achieve Owen's signature hairstyle.
To truly nail the look, consider adding accessories such as a watch or sunglasses. Embrace your inner Owen and let your creativity shine!
For the sixth season and revival of the same name, see Total Drama Island (2023).
We trust that this comprehensive DIY costume tutorial has been a valuable resource for you. Now, have a blast as you dress up as Owen, and be sure to share your fantastic photos with us!
For all TDI fans, here is the list of TDI costumes. Follow the DIY guide and whether it's for a costume gala, a thrilling cosplay event, or simply for the sheer fun of it, we're here to guide you.
Missing an Outfit Inspo? Submit your idea and we'll make it happen!
Monthly Newsletter
Subscribe and get your Halloween costume ideas from us each year.