Dress Up Like Beth from Total Drama Island
If you are looking for a good Beth costume for Halloween or a big cosplay event, here's the winning formula for creating the most exciting outfit of the party! Let's see how to dress up as Beth from Total Drama Island.
Costume Guide For COSPLAY & HALLOWEEN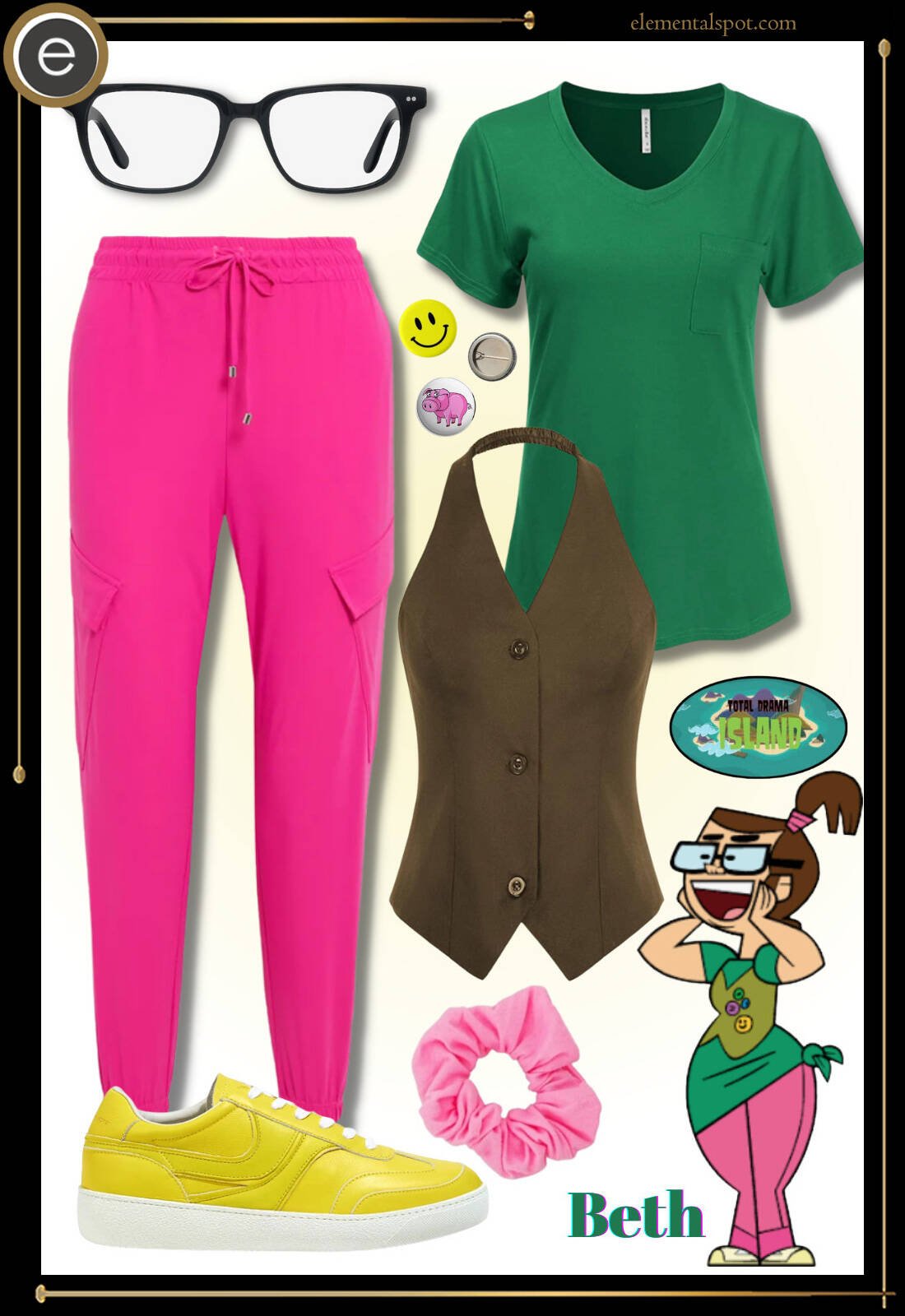 Beth from Total Drama Island Costume Guide
Shopping List for Beth from Total Drama Island Costume & Outfit
Becoming Beth: Your Total Drama Island Transformation Guide
Are you ready to dive headfirst into the uproarious world of Cartoon Network's Total Drama Island? Do you have a burning desire to embody one of the show's most beloved characters? Well, hold onto your hats, because we're about to unveil the secret recipe to becoming Beth, a standout contestant from the Total Drama Island universe.

Unearthing Beth's Origins
Before we plunge headlong into the delightful intricacies of the costume, let's take a moment to peel back the layers of Beth's character. Beth emerged as a contestant in the inaugural Total Drama Island series on Cartoon Network. She traversed the game's challenges while being part of memorable teams like the Screaming Gophers and the Killer Grips. Raised on a farm, with her primary companions being animals, Beth's social skills took an intriguing trajectory. Despite her initial lack of confidence, she managed to defy the odds and endear herself to fans across the globe
Capturing the Essence of Beth
Beth may not be the flashiest character when it comes to appearances, but her heartwarming traits set her apart. Renowned for her sweet and dependable nature, Beth's journey from a farm where her closest friends were farm animals to competing on a reality show is a captivating one. Now, let's dive into creating your own Beth persona, starting with her signature wardrobe:
Beth's Must-Have Costume Elements:
Olive Green Vest: Secure an olive green vest, the anchor of Beth's distinctive style.
Happy Face Pin: Add a dash of cheer with a happy face pin proudly gracing your vest.
Pig Pin: Pay homage to Beth's unbridled affection for pigs by adorning an endearing pig pin.
Green Cotton Shirt: Slip into a green cotton shirt, tied in a knot at one hip, mirroring Beth's signature flair.
Pink Scrunchies: Incorporate playful pink scrunchies into your hairstyle or outfit, capturing Beth's whimsical spirit.
Pink Pants: Complete the lower half of your ensemble with a pair of vibrant pink pants.
Yellow Sneakers: Step into a pair of eye-catching yellow sneakers, a nod to Beth's colorful personality.
Black Frame Eyeglasses: Don black-framed eyeglasses to emulate Beth's distinctive eyewear.
In Conclusion
Stepping into the shoes of Beth from Total Drama Island is a brilliant choice for any costume gala or cosplay extravaganza. By following our unique DIY costume guide and immersing yourself in Beth's origins and character quirks, you're on the path to effortlessly bringing her vibrant personality to life. So, embrace your inner Beth, embark on an adventure filled with whimsy, and let the magic unfold!
Remember, it's the personal touch and a sprinkle of creativity that will set your Beth transformation apart. Enjoy your journey as Beth from Total Drama Island, and make it a cosplay experience that's uniquely yours!
For all TDI fans, here is the list of TDI costumes. Follow the DIY guide and whether it's for a costume gala, a thrilling cosplay event, or simply for the sheer fun of it, we're here to guide you.
Missing an Outfit Inspo? Submit your idea and we'll make it happen!
Monthly Newsletter
Subscribe and get your Halloween costume ideas from us each year.