Steal the Look – Dress Like Sarah Cameron from Outer Banks
Add a touch of cinematic magic to your wardrobe with our roundup of daring and hip movie-inspired outfits. We'll show you how to dress like Sarah Cameron from Outer Banks with our selection of chic and stylish pieces. Slip them on and step into the spotlight like a star with these iconic looks from Outer Banks.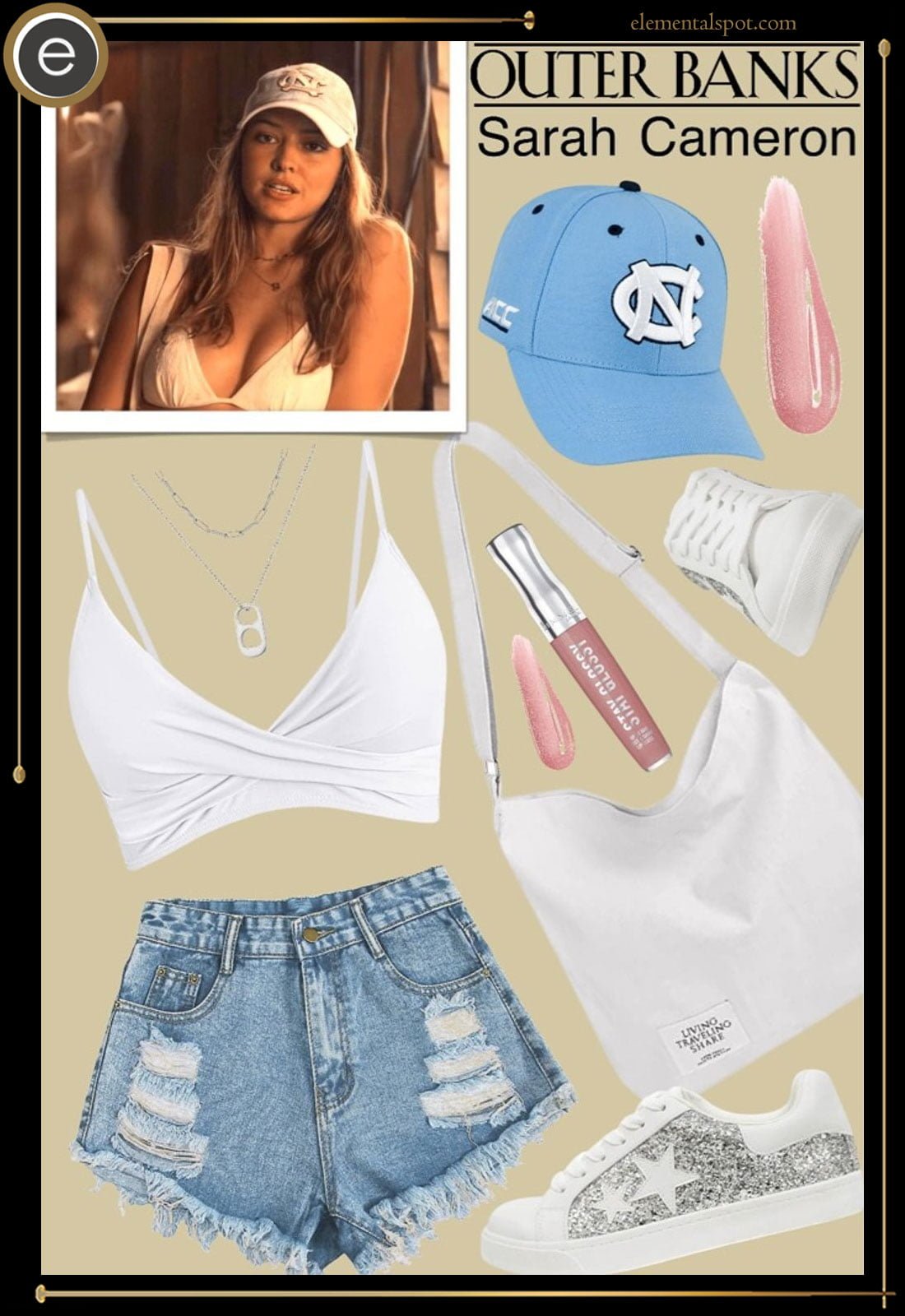 Shopping List for Sarah Cameron from Outer Banks Outfit
When Outer Banks (2020 – Present) sailed on to Netflix in April 2020 the world was in desperate need of the escapism that it brought. Watching one episode after another, full of sun-kissed skin, salty hair and the perfect summer beach wardrobes gave us all hope for life after lockdown. Plus who didn't want to be Sarah Cameron. With her family's money, her handsome boyfriend John B. and her flawless Sarah Cameron Outer Banks outfit she is the envy of every teen fashionista, and rightfully so.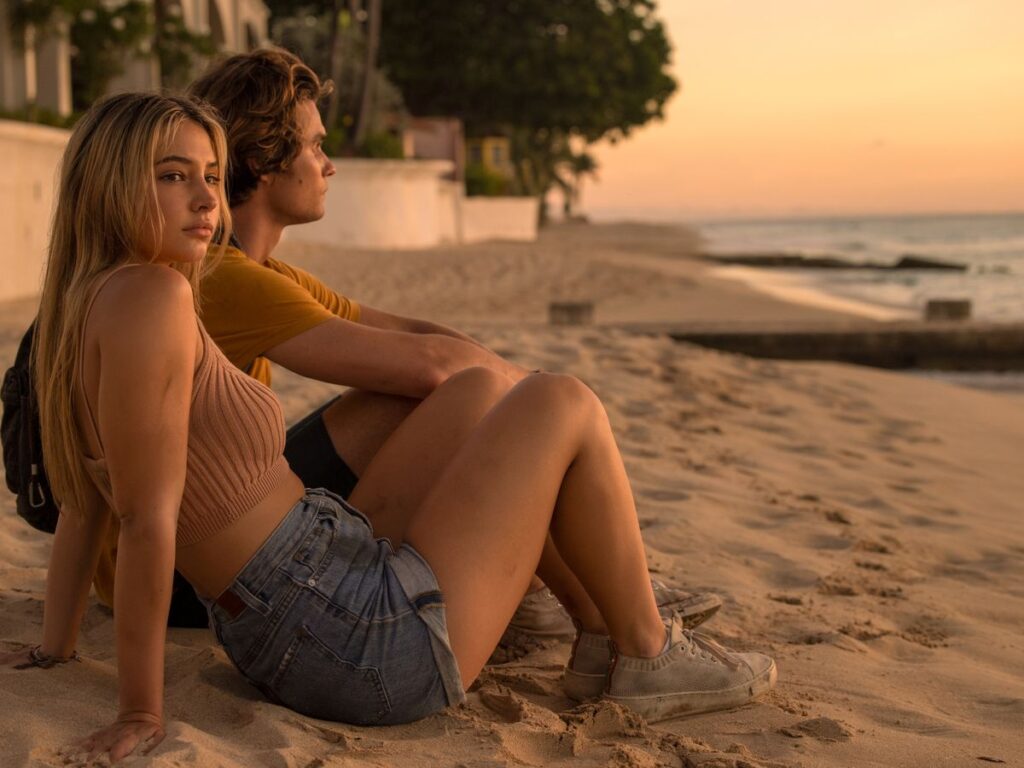 Set in the Outer Banks of South Carolina, also known as OBX, the Netflix smash hit follows the conflict between the Kook's and the Pogues. One the wealthy seasonal residents, who can afford to have it all, the other the local working-class who have nothing.
A popular, quick witted and kind hearted girl, Sarah looks like she has it all under control and could have anything she wants as a wealthy Kook. But her false confidence is only to hide her insecurities and vulnerabilities, often caused by her family.
Nicknamed the Kook Princess Sarah Cameron, raised on Figure Eight island, is the daughter of the wealthy self-made entrepreneur Ward Cameron. But when she falls in love with the leader of the Pogues, John B. she might just have to choose where her loyalties lie, with her family or with her friends.
A Kook Princess: Studying The Sarah Cameron Outer Banks Outfit
Before we look at how to steal the perfect Sarah Cameron Outer Banks outfit, first we need to find out how costume designer Emmie Holmes created the easy-going and fun-loving princess of the Kooks wardrobe of beach-ready pieces.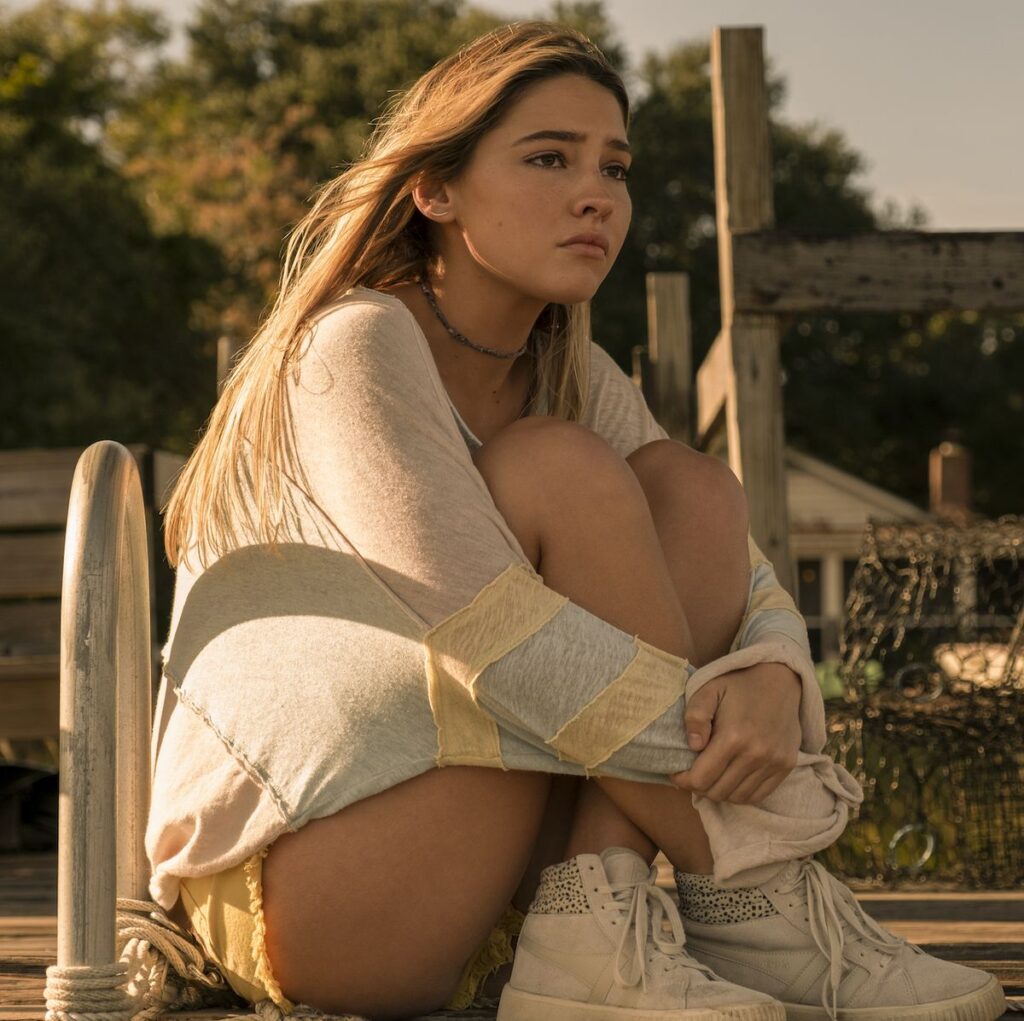 With the on-going conflict between the wealthy and poor, the Kooks and Pogues, it is no surprise that the costume department has chosen to lean towards an innocent girl next door vibe for the Sarah Cameron Outer Banks outfit. Similar to how Layla Keating, also the daughter of a wealthy father, is styled in All American.
Favoring a more neutral color palette and dainty prints, like florals, gingham and stripes, to fit in with her Kook lifestyle. It is the added little pops of color where we see Sarah, played by Madelyn Cline, show off her rebellious side that eventually sees her become one of the Pogues.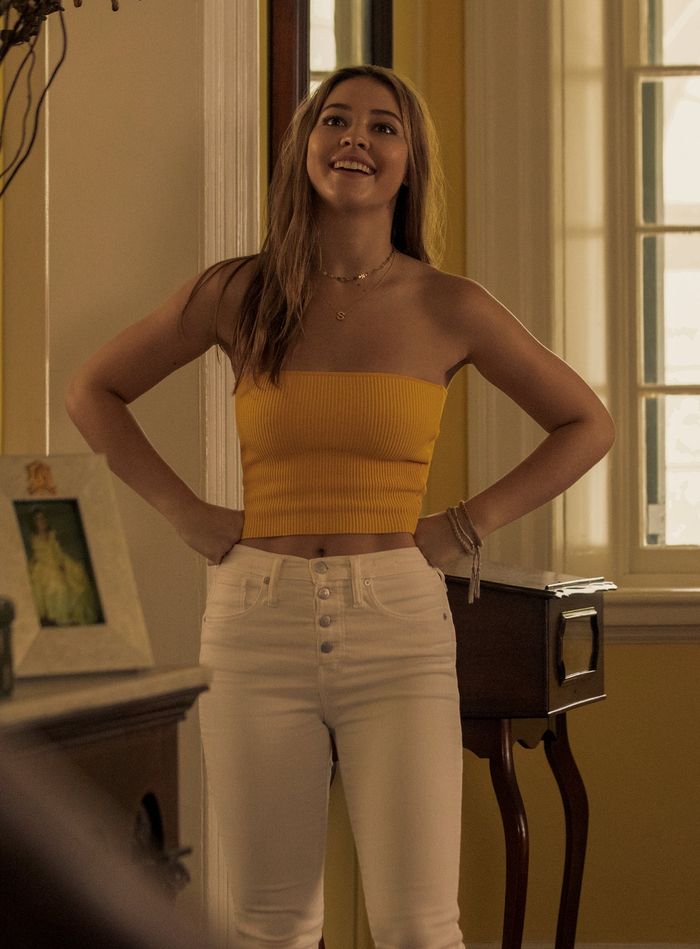 Shades of yellow and green, along with bright blues and reds have been mixed with her more subtle whites, grays and lilacs to create her effortless style. With a little bit of everything in her closet from floral dresses to jeans, and knitted cardigans to tank tops. Although Sarah is most comfortable when she is in her denim shorts, crop tops and bikinis.
Missing an Outfit Inspo? Submit your idea and we'll make it happen!
But as the seasons go on and Sarah has less access to her closet full of her cute beach-ready pieces, she starts to create looks with clothes she borrows from Kiara and John B. Giving the character a more natural transition into the Pogue world, and away from her sweet and innocent wealthy girl style. While giving us the picture perfect boyfriend shirt stealing moment.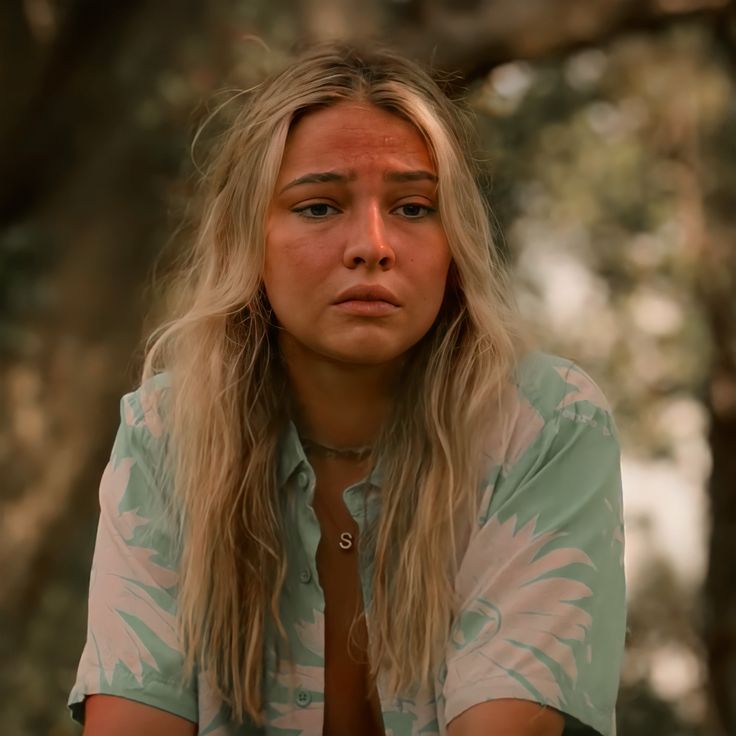 Sarah Cameron's Hair and Accessories
Sarah's naturally dark blond hair is one of her character's defining features, and works well with her beachy-ready image. Worn long and loose around her shoulders, she likes to wear her typically straight hair parted in the center and left down. Rarely styling it into any fancy up-do's, not even a simple ponytail.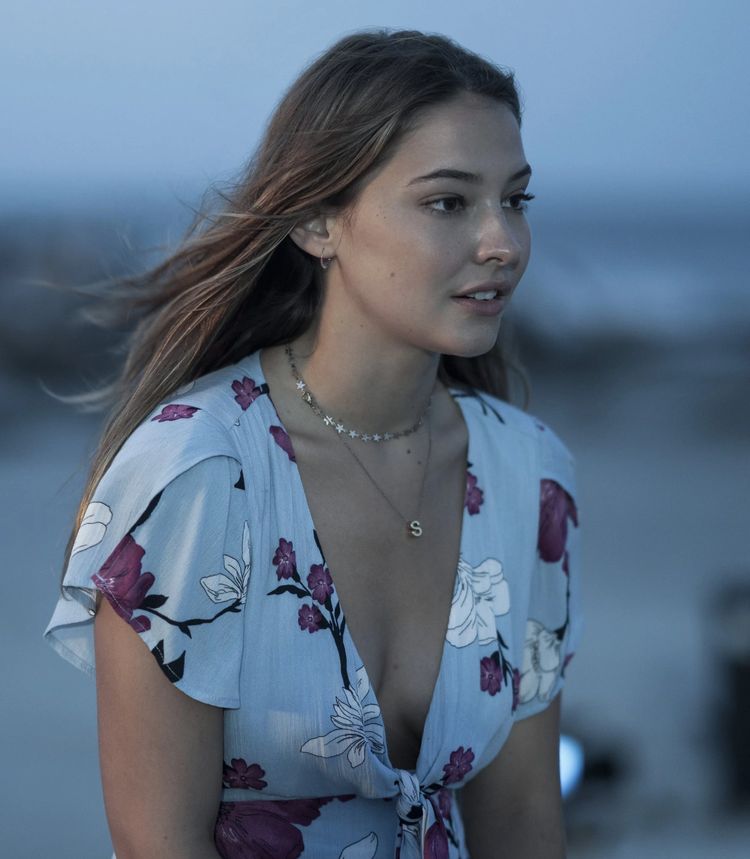 Just like her hair when it comes to make-up Sarah likes to keep it simple and modest. Choosing not to wear anything more than lip gloss or a little bit of mascara to enhance her natural beauty. In a similar way to a lot of the Outer Banks characters including her best friend Kiara (learn more about her fashion style here)
Instead a Sarah Cameron Outer Banks outfit relies on her accessories to style her looks, particularly her bicycle with its cute wicker basket that she uses to get around OBX. Or her selection of jewelry she is rarely seen without.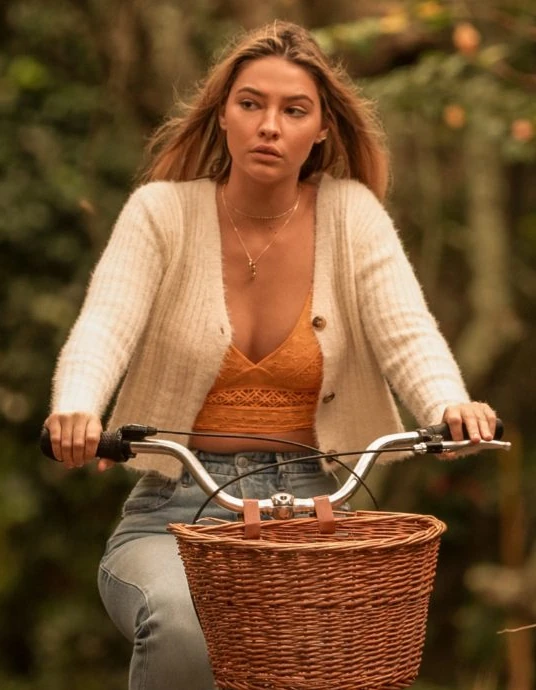 Earrings, bracelets and shell necklaces always make an appearance in Sarah's looks, but there are three pieces in particular that she returns to over and over again. Those being her dainty star choker, her S for Sarah initial necklace and her favorite chain with the soda can tab on it. All in gold and mixed and matched on top of each other to give a subtle layered look.
Easy-Going and Beach-Ready: Steal Sarah Cameron's Bikini and Jean Shorts Outfit
The Sarah Cameron Outer Banks outfit featured in our collage above is a typical beach-ready look for our Kook princess. One of her more easy-going outfits, it is made up of a number of separate pieces that could be mixed and matched to create a lot of Sarah's looks.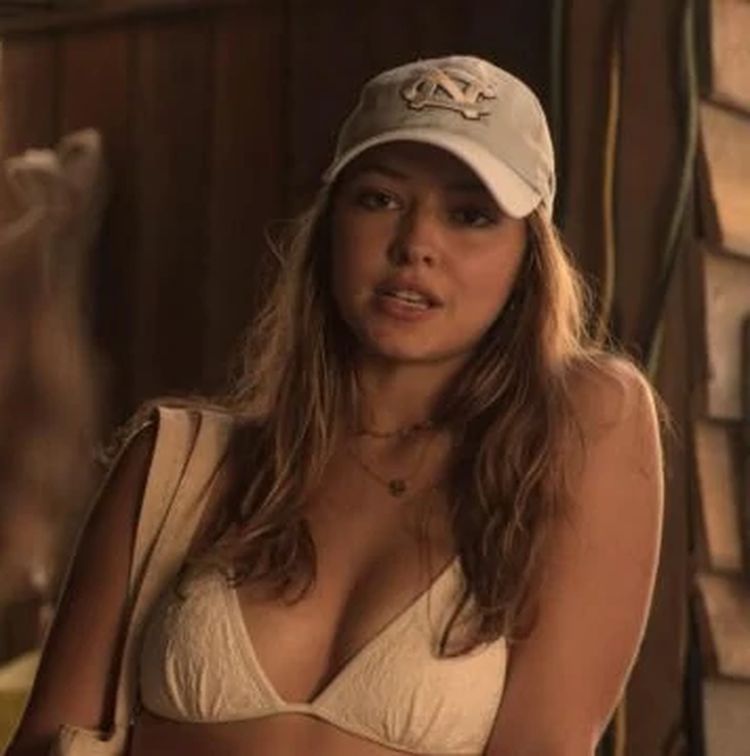 But unlike most of her outfits this one is less about that girl next door feel than her usual looks, with no dainty prints or soft delicate fabrics. Instead this is a more grown up look for Sarah, while still sticking to a very neutral color palette of whites and blues.
Recreating The Sarah Cameron Outer Banks Outfit
This Sarah Cameron Outer Banks outfit gets its easy-going feel from the pairing of a simple classic white bikini top with some of her usual denim jean shorts. White and silver glitter sneakers, sticking to her pale color palette, gives a nod to her youthful and innocent side with the whimsy of glitter as an adult.
Like most of Sarah's looks, her long dark blond hair is loose and down falling around her shoulders, but this time she has added a pale blue baseball cap. Using it to accessorize her blond locks and keep them out of her face. Which has been left natural except for a splash of rosy pink on her lips from some gloss.
A white canvas tote bag over her shoulder along with a couple of layered necklaces, including her favorite soda can tab on a chain which she regularly wears, finishes Sarah's look perfectly.
If this Sarah Outer Banks outfit is exactly what you were looking for to add into your closet, then why not check out our guide on how to steal her little sister Wheezies similar look of youthful innocence.
Monthly Newsletter
Add some spice to your style with movie set-inspired designs.