Steal the Look – Dress Like Kiara Carrera from Outer Banks
Add a touch of cinematic magic to your wardrobe with our roundup of daring and hip movie-inspired outfits. We'll show you how to dress like Kiara Carrera from Outer Banks with our selection of chic and stylish pieces. Slip them on and step into the spotlight like a star with these iconic looks from Outer Banks.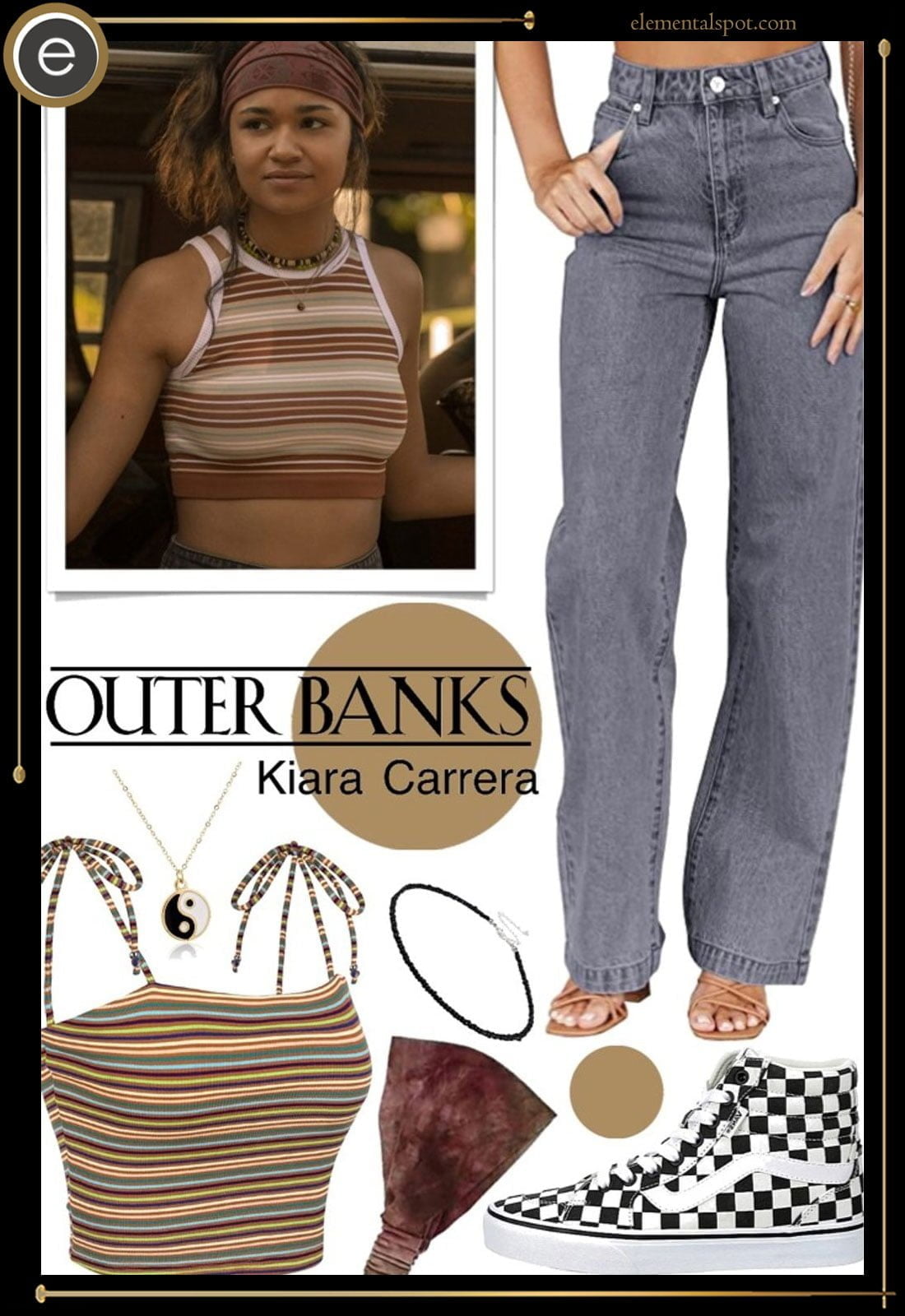 Shopping List for Kiara Carrera from Outer Banks Outfit
Before Outer Banks (2020 – Present) arrived on Netflix in April 2020, the trailer sold us the story of conflicts, murder mysteries and treasure hunting. But when the inevitable binge watching started it might actually have been the endless summer days of sun, sea, and sand, along with those beach-ready wardrobes that kept us coming back for more.
Now a cultural phenomenon, everyone knows the stories and characters and has their favorite. But the show's resident hippy in her perfect Kiara Carrera Outer Banks outfit isn't just a fan favorite, she has quite the fashionista following too.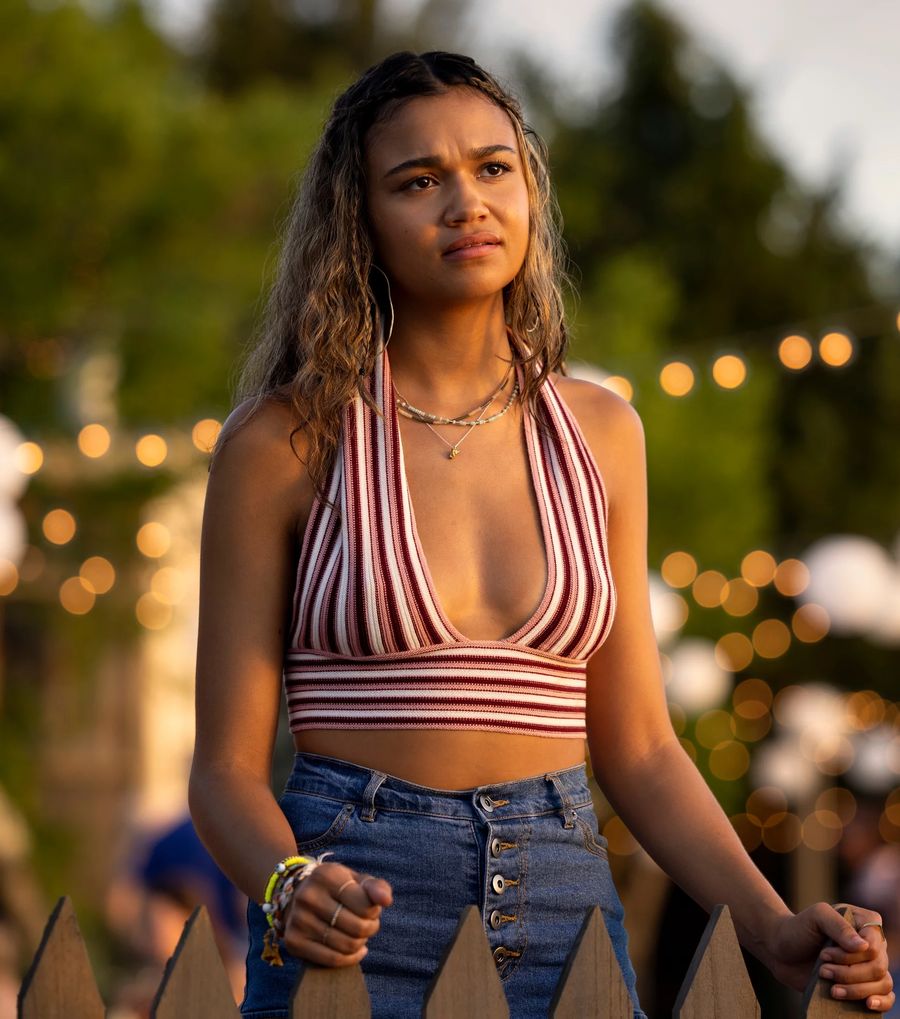 With the story following the conflict between the Kooks and The Pogues in the Outer Banks of South Carolina, also known as OBX, it is no wonder the rich-poor divide causes resentments to spill over. One half of the island is full of wealthy seasonal residents, who have everything, while the local working-class on the other side have nothing.
Kiara Carrera, the daughter of a wealthy Kook mother and a hardworking Pogue father, has upset the status quo in OBX and rebelled against a life as a kook.
Raised on Figure Eight island, Kiara never fitted in with the wealthy kids she grew up around, no matter how hard her parents tried to force her too. Much happier living a Pogue life with her friends. Her chilled vibes, fighting streak and thirst for adventure, has seen each of the Pogue boys fall a little bit in love with her, playing right into her parents fears that she will always choose that lifestyle over them.
A Dash of Hippie: Examining the Kiara Carrera Outer Banks outfit
When it came to creating the perfect Kiara Carrera Outer Banks outfit, costume designer Emmie Holmes wanted to give her a dash of hippy to go with her tomboy athletic attitude.
So before we can steal her style first we need to study her clothes, hair and accessories to see how they created her look.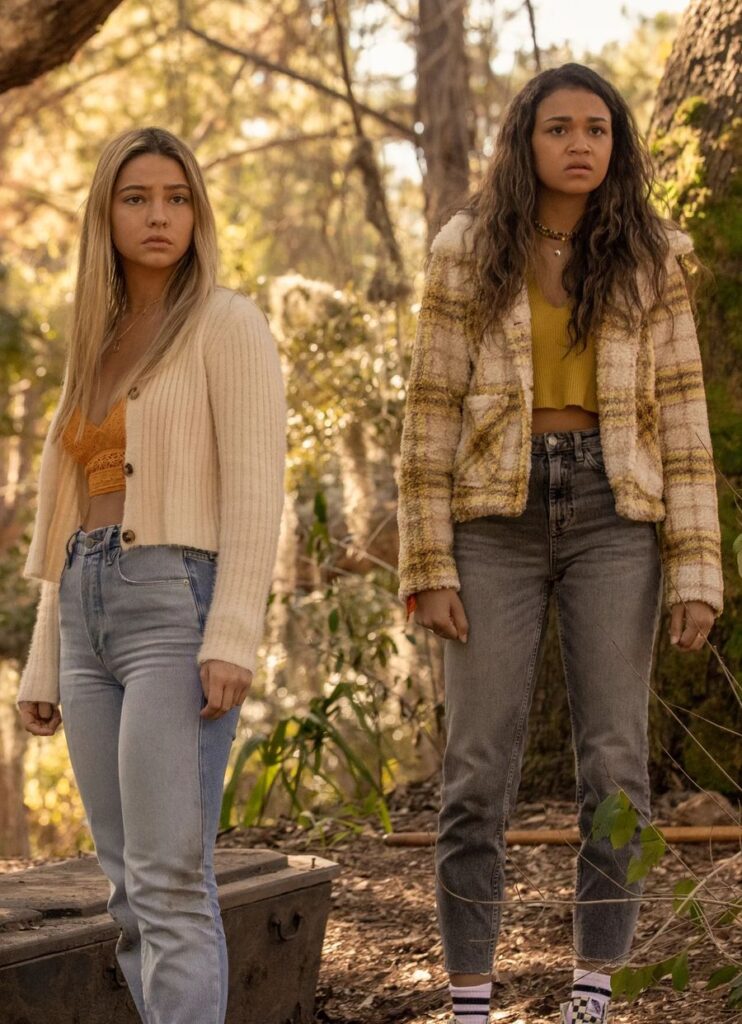 Our environmentally friendly Pogue might be the most responsible member of the group in Outer Banks, often shooting down the boy's stupid and dangerous ideas, but she loves the thrill of the adventure just as much as the rest. A surfer and skateboarder, the laidback tomboy has a real Max Mayfield feel to her effortless wardrobe, with just that dash of a bohemian hippy flair to change it up.
Missing an Outfit Inspo? Submit your idea and we'll make it happen!
A lover of color and prints, her desire to reflect her fun and zen personality through her closet means she wears as many muted tones of browns and beige as she does of bright yellows and orange. With patterns of stripes and tie-dye giving us summer wardrobe goals, not forgetting those floral twists she adds, her laid back look never stops being youthful in its hippie desires.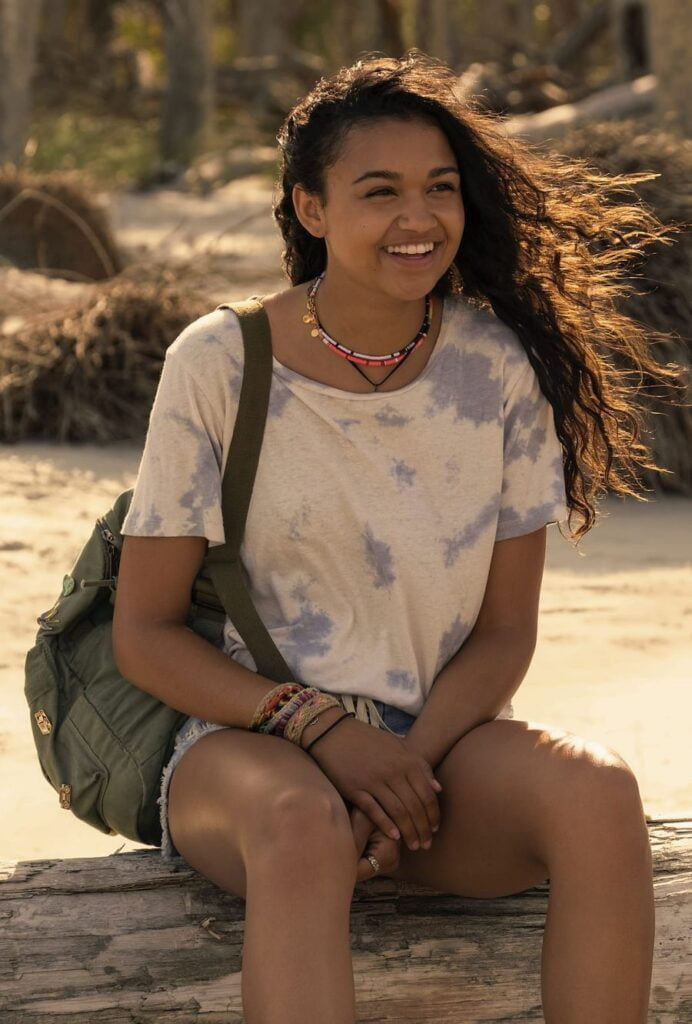 Full of easy down to earth pieces, a Kiara Carrera Outer Banks outfit has a little bit of everything while still favoring her more casual tomboy aesthetic. With everything from floral board shorts, denim cut offs and slouchy cargo pants being paired with her graphic tees, crochet tank tops and flannel shirts.
Although no OBX or surfer girls closet would be complete without the mandatory swimwear and figure skimming bikinis.
A loyal and caring friend, as well as a social justice fighter, Kiara, played by Madison Bailey, thinks the earth deserves 100% of our efforts to save it. So no doubt our resident hippy finds most of her clothes in thrift stores, looking through the rails searching for those bargains overlooked by the other Kooks and Pogues.
Headbands, Chokers and Yin and Yang: Kiara Carreras Styling
Without a doubt Kiara's natural brown hair and patterned fabric headband will be recognised as one of her character's defining features.
Worn long and loose around her shoulders, with its natural curl throughout she loves to try new styles and accessories. Down and loose, in braids or in a high ponytail, with the added headband giving her a casual unstyled feel while still having that bohemian flair she is aiming for.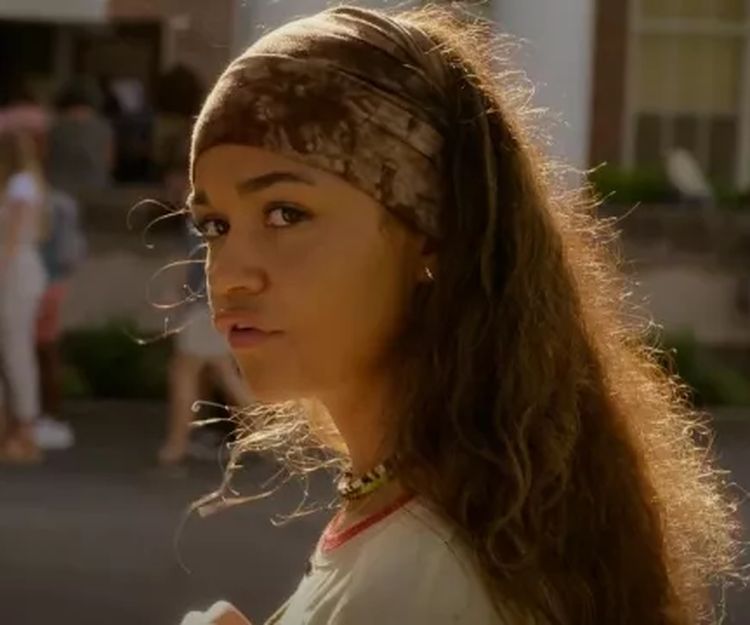 Just like her one time friend to enemy and back to friends, Sarah Cameron the Kook Princess (here more about her fashion style) when it comes to make-up Kiara keeps it simple and in most cases doesn't even bother.
Instead she styles her Kiara Carrera Outer Banks outfit with accessories, such as her selection of necklaces she is rarely seen without. Her first season look according to costume designer Emmie, in Popsugar, differs from the following seasons.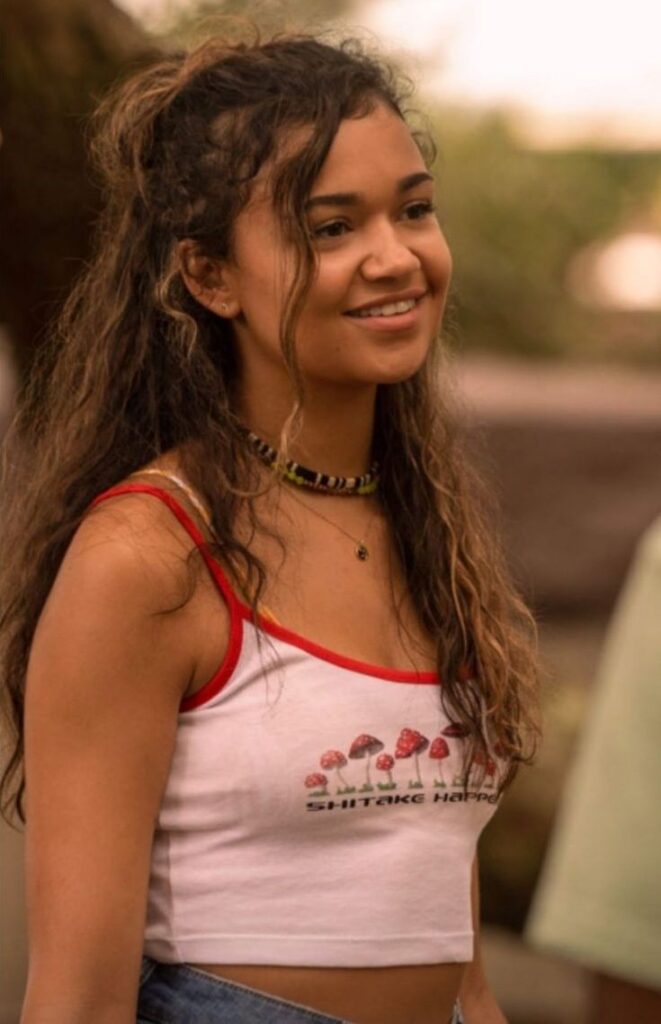 Starting with two beaded chokers from Elsie Frieda, and an added long stone pendant when we first meet the hippie surfing tomboy. By the second season she is wearing a duo of similar chokers from brand Head High Club, with more muted tones paired together with a gold yin and yang necklace.
A Bohemian Surfing Tomboy: Steal Kiara Carrera's Striped Crop Top and Jeans Outfit
This second season Kiara Carrera Outer Banks outfit featured in our collage above is a typical effortless bohemian look for our tomboy Pogue.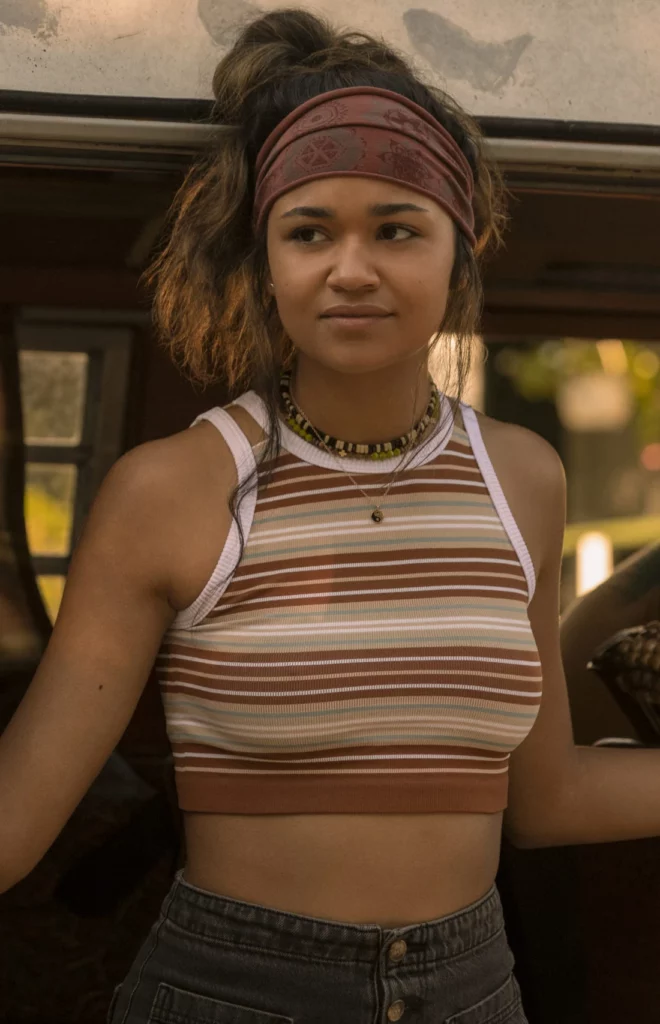 But unlike most of her outfits this one is less about being beach-ready, with no bikinis or board shorts, while still having that surfer-girl style she loves to pair with her boho vibe.
Recreating the Kiara Carrera Outer Banks Outfit
With a muted softer color palette and simple pieces that could be mixed and matched, start with a pair of high waisted button fly jeans with a straight leg fit. Adding in a striped crop top in that muted palette of browns, creams and white, before pairing them both with some high top Vans sneakers in a checkerboard pattern.
Like a lot of Kiara's looks, her long dark curly brown hair has been styled with one of her tie-dye print headbands and pulled up into a high messy ponytail. Leaving her face natural and instead finishing her look with jewelry.
Such as some delicate stud earrings and a few fabric bracelets around her wrists. Along with her season two necklaces that we know consist of two beaded chokers in green, gold, and brown tones as well as her gold yin and yang chain.
This might be the perfect Kiara Carrera Outer Banks outfit to steal, showing how she manages to create a surfer style that stays true to her tomboy feel as well as giving her a perfect little dash of bohemian vibes. No wonder all the boys have fallen for her, especially JJ Maybank (more about his outfits here).
Monthly Newsletter
Add some spice to your style with movie set-inspired designs.