Steal the Look – Dress Like John B. from Outer Banks
Add a touch of cinematic magic to your wardrobe with our roundup of daring and hip movie-inspired outfits. We'll show you how to dress like John B. from Outer Banks with our selection of chic and stylish pieces. Slip them on and step into the spotlight like a star with these iconic looks from Outer Banks.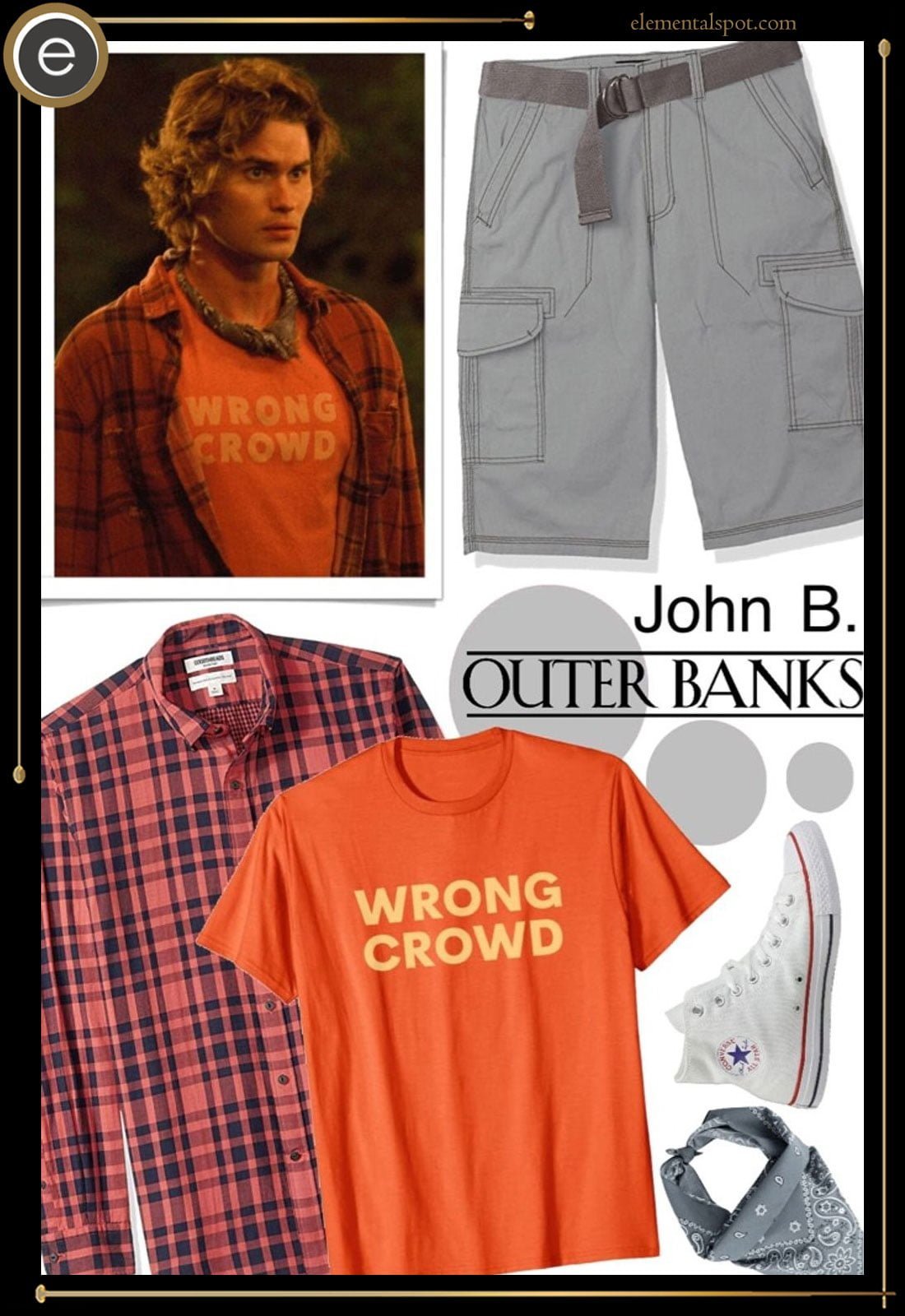 Shopping List for John B. from Outer Banks Outfit
2020 the year of covid-19 lockdowns, working from home and binge watching Netflix, couldn't have been a better time for the escapism that Outer Banks (2020- Present) promised. No show had us dreaming of sunny getaways more than this cultural phenomenon that pairs surfing, treasure hunting and a murder mystery, with a killer casual beach style. So is it any wonder that every teen girl wishes their boyfriend looked as laid back and cool in a John B. Outer Banks outfit as our captain of HMS Pogue does.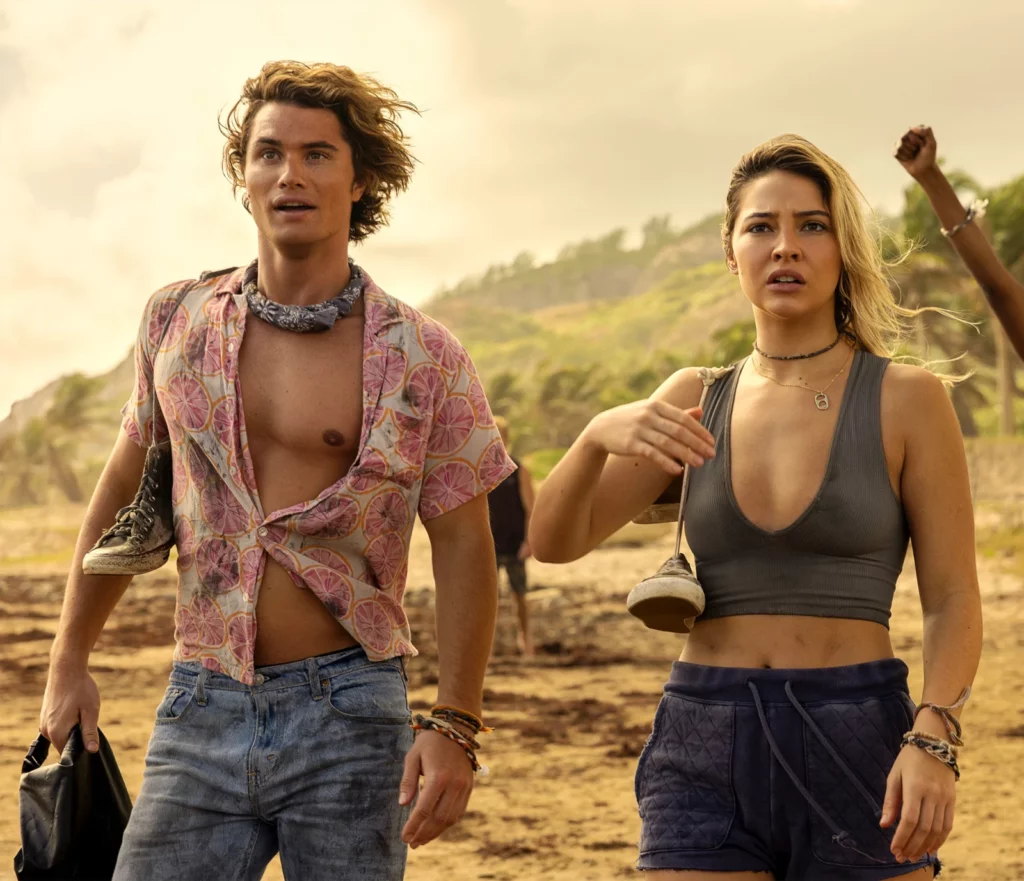 Set in the Outer Banks of South Carolina, often abbreviated down to OBX, the Netflix smash hit follows the conflict between the island's wealthy seasonal residents and its local working-class. One has it all and the other has nothing, and in OBX that makes you either a Kook or a Pogue.
John Booker Routledge, the 17 year old self proclaimed leader of the Pogues and captain of the gang's Carolina Skiff, will need all his charisma and charm to come out on top when he faces off against the Kooks.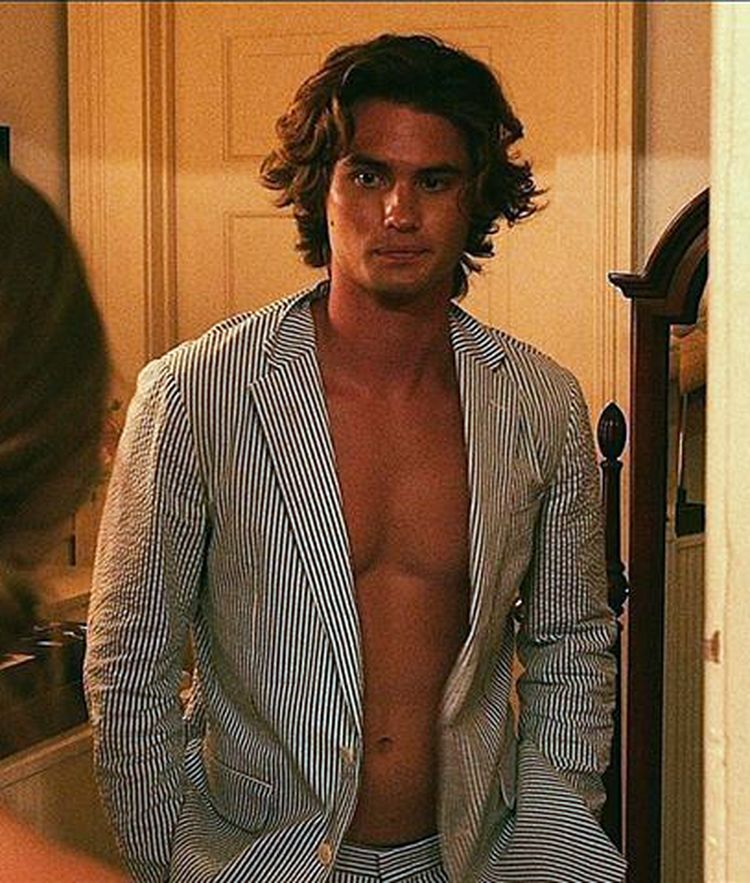 Left alone after his father goes missing while salvaging a sunken ship, John B. is convinced that there is more to the story and that maybe his father is actually still out there. But the only way to find out for sure; convince your three best friends and the Kook princess, Sarah Cameron, to embark on a summer adventure to search for your father and the legendary treasure that started all this.
A Little Surfer: Studying the John B. Outer Banks outfit
Quoted in Popsugar, Outer Banks costume designer Emmie Holmes says she would describe the show's beachy vibes as "a little surfer, a little southern, a dash of hippie and a whole lot of wear and tear."
So let's take a look and see how that translates into the perfect John B. Outer Banks outfit.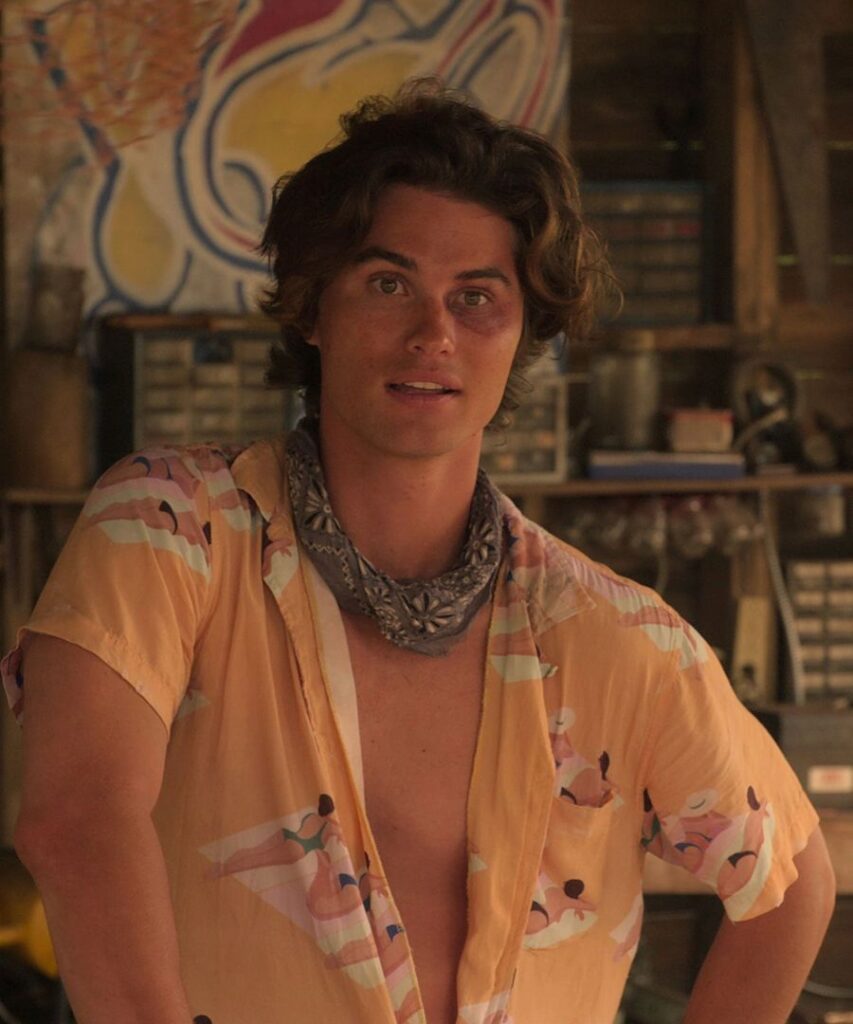 John B, played by Chase Stokes in his breakout television role, was born and raised a Pogue on the poor side of Outer Banks in The Cut. Abandoned by his mother at three and raised by his father, he isn't afraid of hard work, and years of manual labor have given him a very desirable physique and tan. Perfect paired with the bright colors and patterns he loves to wear.
With his laid back effortless beach style reflecting his love of surfing, sailing and life in OBX, John B. has a wardrobe full of bright and patterned Hawaiian shirts. You could even call him South Carolina's answer to Ace Ventura, just without the animals.
Missing an Outfit Inspo? Submit your idea and we'll make it happen!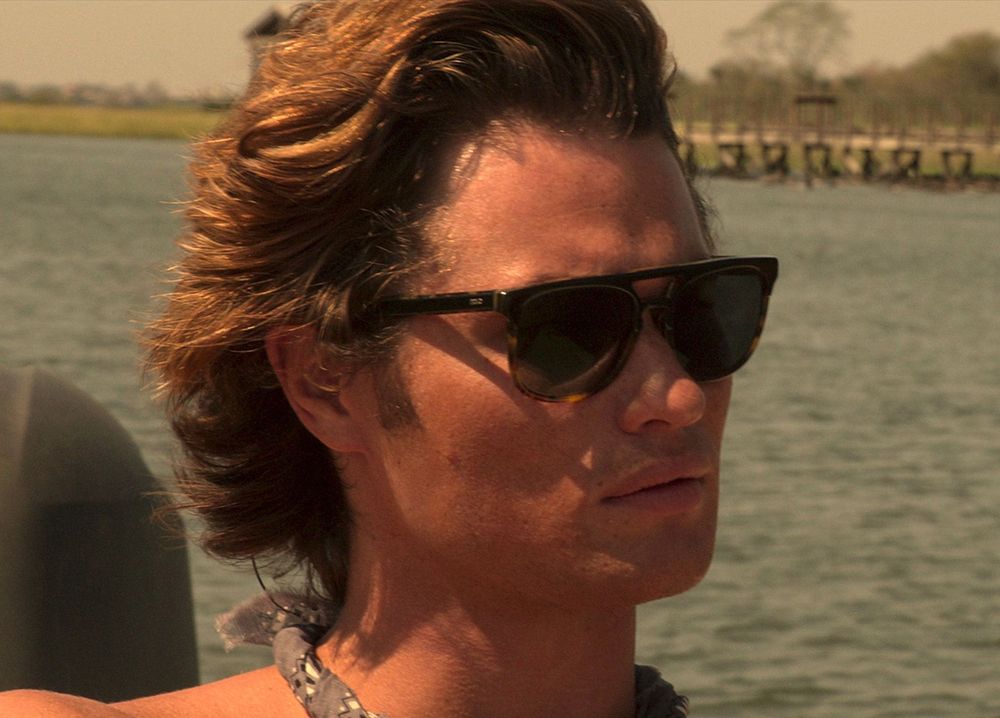 Left open or mis-buttoned his vivid short sleeved shirts, from brands like Duvin and Katin, have everything from palm prints to sunbathing ladies on them and elevate his enviable casual coolness. Paired with round neck t-shirts, board shorts and jeans, John B. is the definition of 'a little surfer' when you look through his closet.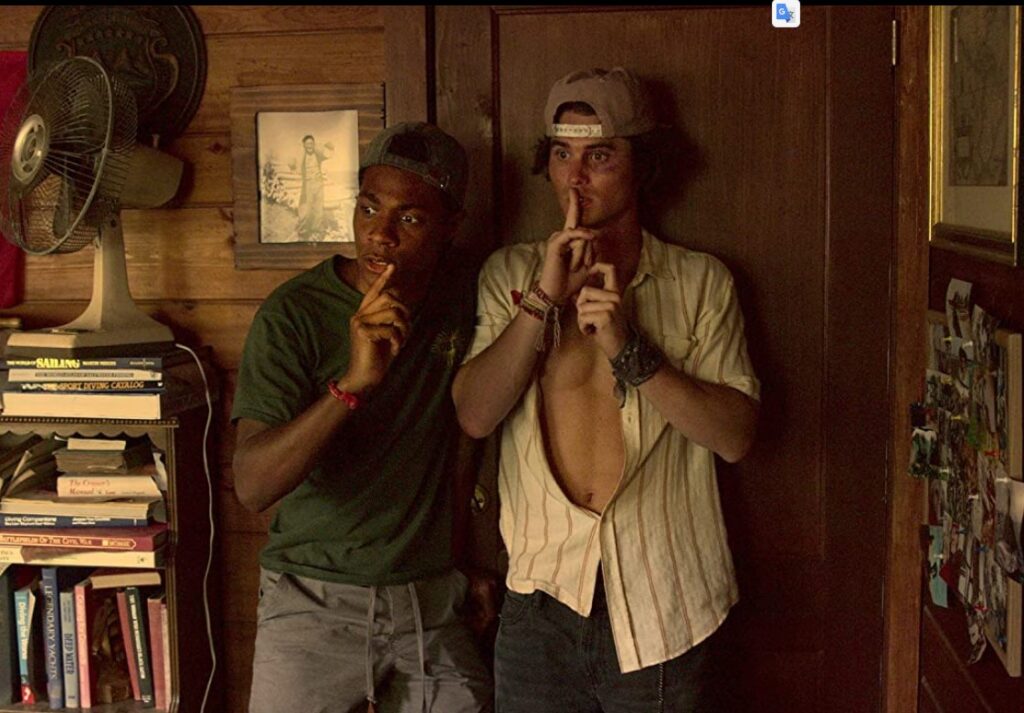 Yet you could say a John B. Outer Banks outfit is as much about comfort as it is effortless style which can be seen nowhere more than in his love of simple converse sneakers. Nothing fancy for our Pogue, instead a plain white classic converse leaves a blank canvas for a few well placed doodles when he's bored and never over complicates his look with added colors.
Floppy Sun-kissed Hair and Bandanas
Not much of a jewelry wearer, John B. uses accessories and his floppy sun-kissed hair to style his Outer Banks outfits. In a similar fashion, and cut to the one we see Steve Harrington from Stranger Things sporting, but with a little less perfect styling.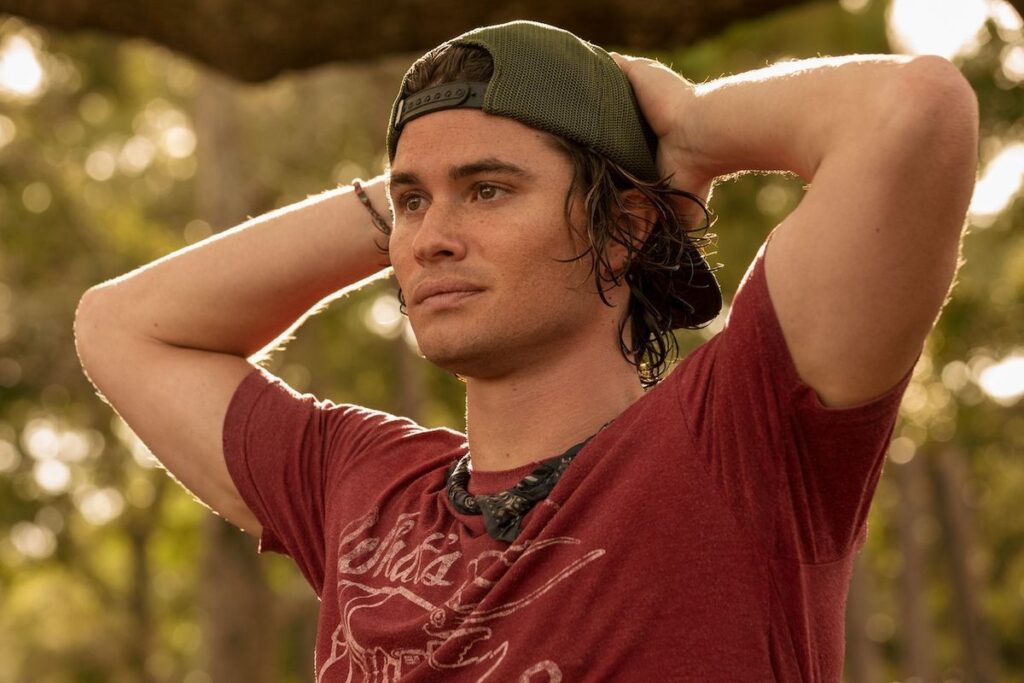 The John B. haircut has his thick brown hair worn long around the top of his head with plenty of layers and texture, and an ever so slight wave throughout. Put together with those streaks of sun-kissed light brown the undone hairstyle allows for a tousled and surf-ready look, that is perfect with a cap thrown over it or damp around the edges after a session in the surf.
But when it comes to accessories there is one piece no John B. Outer Banks outfit would be complete without, and that is his blue bandana. Given to him by his father Big John, he is rarely without it, seen with the sweaty bandana normally twisted and tied around his neck. Or wrapped around the latest injury of one of the Pogues.
Beach Vibes and Nineties Grunge: Steal John B's Cargo shorts and Plaid Shirt Outfit
The John B. Outer Banks outfit featured in our collage above, is a typical look for our surfing Pogue. Made up of bright colors and patterns, the pieces can be mixed and matched to create a number of John B. outfits.
Like most of his outfits this one also has that effortless beachy vibe, with just the slightest hint of nineties grunge, that gives John B. his relaxed and casual surfer appearance. Starting with him pairing his orange 'Wrong Crowd' slogan t-shirt with some light gray cargo shorts in a loose fit.
John B. stays with his grunge look and layers a red plaid long-sleeved button down shirt, worn open over his t-shirt and cargo shorts.
Before adding in his classic white high top converse for comfort more than style.
His textured brown hair is left tousled and unstyled with its natural thickness and wave giving it an easy beach vibe. No caps or accessories are needed to complete his look, other than his twisted blue bandana around his neck, which is less an accessory than an outfit staple!
For every John B. there is a Sarah Cameron worthy of a strip of a sweaty old bandana, in her classic wealthy beach goer wardrobe. So why not check out our guide to steal Kook princess Sarah's white bikini and denim shorts look to match this perfect John B. Outer Banks outfit.
Monthly Newsletter
Add some spice to your style with movie set-inspired designs.