Steal the Look – Dress Like Emily Cooper from Emily in Paris 3
Add a touch of cinematic magic to your wardrobe with our roundup of daring and hip movie-inspired outfits. We'll show you how to dress like Emily Cooper from Emily in Paris with our selection of chic and stylish pieces. Slip them on and step into the spotlight like a star with these iconic looks from Emily in Paris.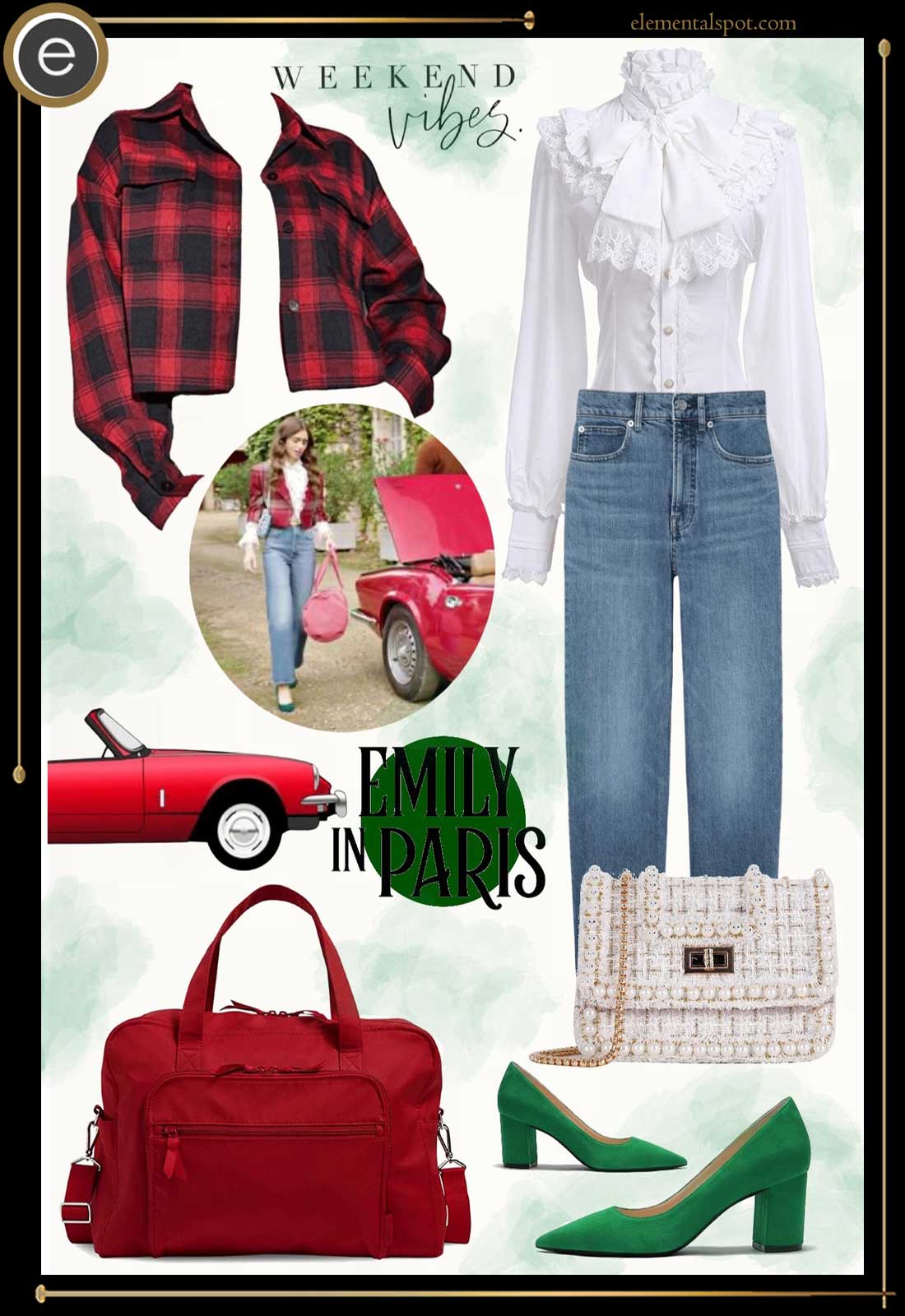 Shopping List for Emily Cooper from Emily in Paris Outfit
If you're interested in chic, feminine, and youthful fashion, you're truly going to adore these Emily in Paris outfits. This romantic comedy (2020-running) is famous for the looks the bold Lily Collins wears while working her way up in the city of Paris. Besides working in marketing, she is adapting to a whole new world that she got introduced to when she landed a new job – she works for Sylvie, who is a true fashion inspiration, but also an inspiring boss lady.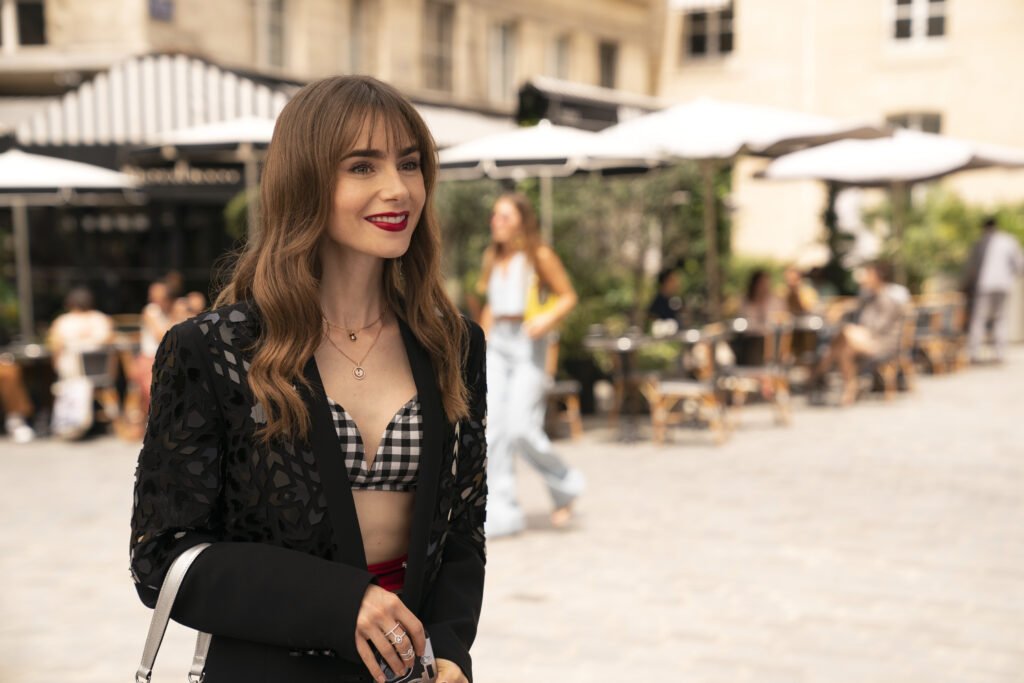 Marylin Fitoussi is the person behind the genius style of Emily Cooper, and she had the challenge of presenting her in her true nature. The costume designer told People how exciting it was for her to play around with clothes while breaking the codes of fashion. She really enjoyed how creative she was allowed to be with Emily's outfits, since Emily is still discovering her goals, aspirations, and, well, style! She is a modern, yet avant-garde fashionista, and if you'd like to live like that too, we think you'll love our tips and tricks.
Tips and Tricks for Capturing Emily's Quirky and Bold Fashion Sense
Before moving on and comment on one of our favorite Emily in Paris looks, presented in our collage above, we want to give you some general guidance on how to dress more like our quirky protagonist.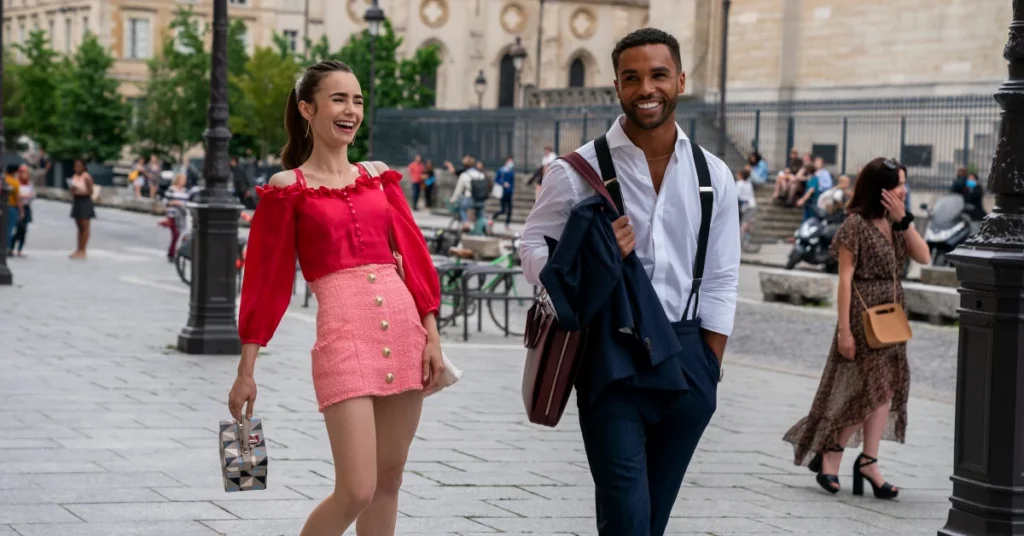 Emily is a girl in love with fashion, yet she seems to make up her own rules – there are no forbidden colors, forbidden textures, nor are there forbidden accessories. Well, there are probably some things you won't feel bold enough for, but you'll grow into them!
It's almost like she tries to capture several different fashion styles, but she makes them her own. Naturally, you shouldn't shy away from colorful clothes, checkered materials, geometric shapes, and bold tops. Most of the time, Emily wears heels and boots, but she can be seen in sneakers when she runs. When you run into shoes that you like, ask yourself – what story do these tell?
As you can see in today's look, she is a practical woman who always dresses up for the occasion, but she makes sure she's missing nothing. She loves to layer clothes, and she often accentuates her shoulders with padded blazers, oversized jackets and blouses with ruffles and feathers. However, that works for the slim body of the main actress, whose body type you can learn more about if you want to adapt these outfits for yourself.
Emily Cooper's Chic Beauty Secrets and the French Touch
Emily is quite simple when it comes to hair and makeup – she usually lets the fashion do the work. Her minimalistic approach to makeup is a way for Emily to showcase her clear skin. That's why we'd argue that proper skincare, possibly using some luxurious French brands such as Lancôme, is a great way to start off the "new and chic American girl in Europe" look.
Her hair truly reflects her character – it's flowy, dynamic, and bouncy. Emily might have some life troubles, but trouble with hair is surely not one of them! Make sure to take proper care of your long hair, and curl it every once in a while to imitate Emily Cooper. Just make sure that these waves are as voluminous as possible, which can often be achieved with the Dyson Airwrap machine.
Missing an Outfit Inspo? Submit your idea and we'll make it happen!
Stealing Emily's Look: Mixing and Matching Styles
Today's outfit is proof that fashion rules obviously don't apply to everyone. A chic Victorian blouse with accentuated ruffles is something many would never wear with a plaid shirt, but here we are!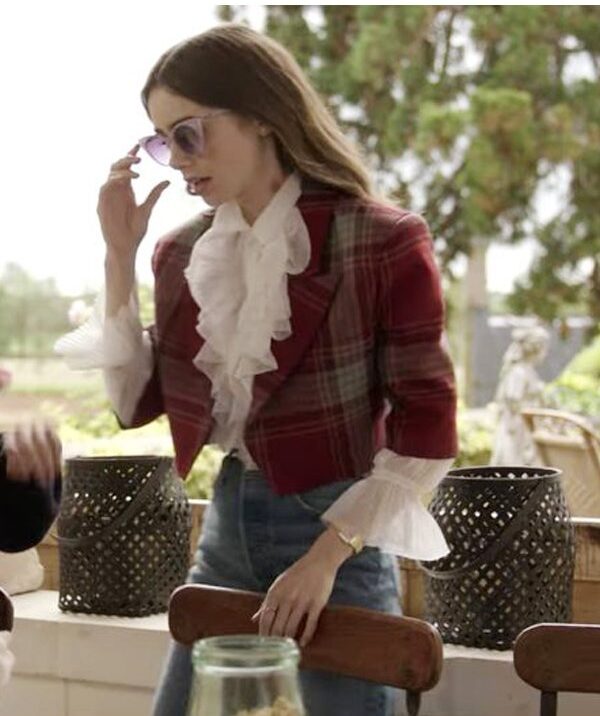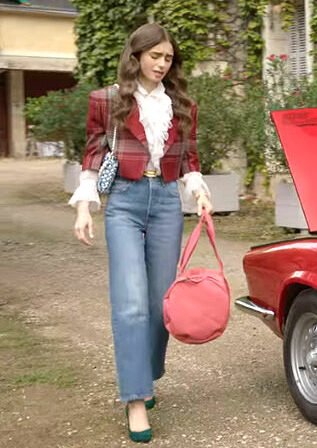 It's truly a way to make a classic look more youthful. If you add some straight jeans to the look, it might start feeling a bit informal, which is why we pretty the whole thing up with some green pumps.
Emily has both a fashionable bag and a sports bag, but naturally, her sports travel bag is simply there because it's functional.
All in all, we love the colors in this look – the red and the green create a great contrast, while the pearly white bag and the white blouse dilute the whole look a bit.
To top the whole look off, Emily created a bouncy, wavy look on her hair, and we think it's something anyone with a good curling iron can imitate.
All in all, this isn't a look for everyone, but it truly represents what Emily is all about. What do you think – would you be bold enough to wear some of these Emily in Paris outfits or not?
Monthly Newsletter
Add some spice to your style with movie set-inspired designs.