Emily Cooper Fashion: The way the S1 outfits seem weirdly "tame" in comparison to the rest of series
Fashion has always been a powerful medium of self-expression, and the character of Emily in the popular series "Emily in Paris" is a perfect example of that. Throughout the series, we see her fashion choices evolve and grow, from conservative outfits to over-the-top statement pieces, In this article, we will delve deeper into Emily's fashion choices and how they have changed throughout the series, inspiring us to be more daring and adventurous in our own fashion choices.
S1 Emily in Paris Outfits – very clearly not Parisian but still nothing too crazy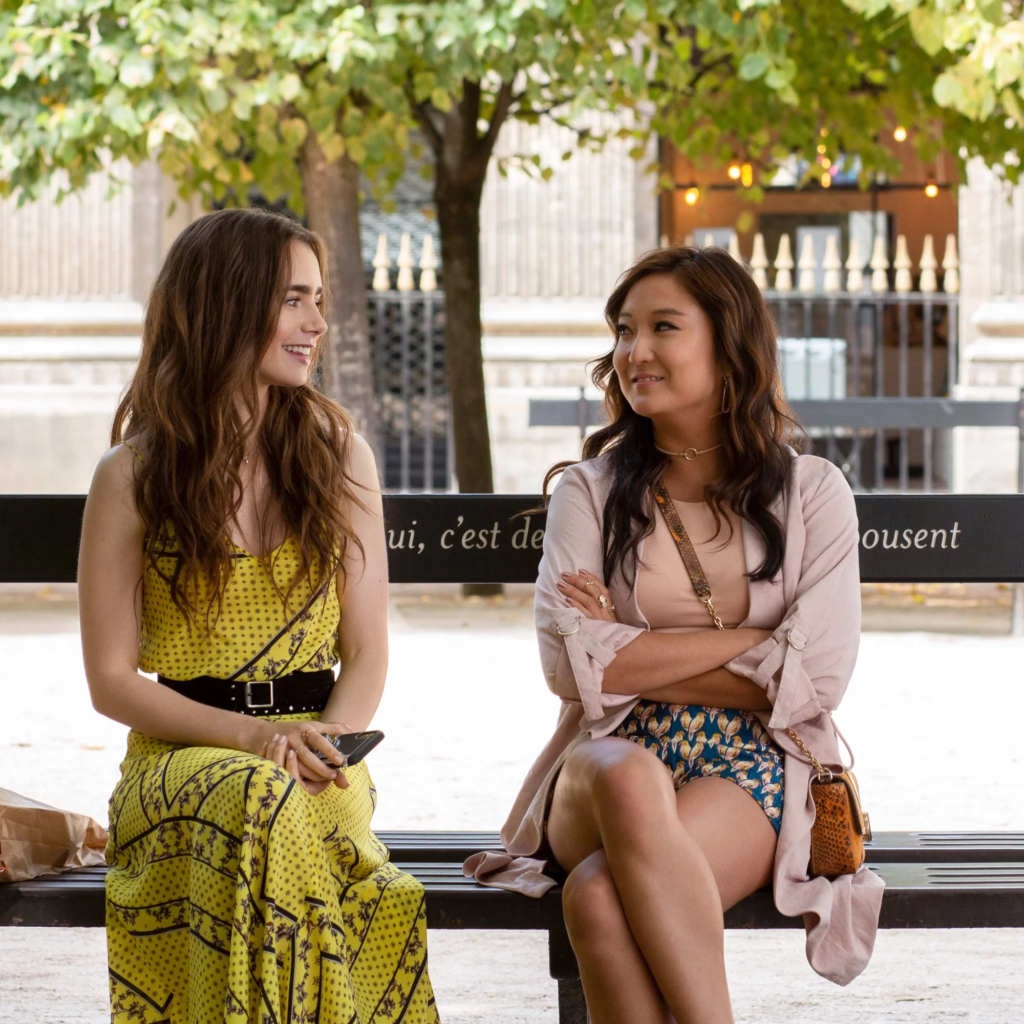 In the first season of Emily in Paris, Emily's dressing style is fairly normal and not over the top. In the image where she is wearing a yellow dress with a black pattern and a black belt, sitting on a bank with Mindy, her style is quite stylish yet still traditional. The yellow dress is a bold color choice, but it is paired with a simple black belt and pattern which balances out the look. Overall, Emily's style in the first season is a mix of classic pieces with a touch of trendiness, but it never veers into being too extravagant or over the top.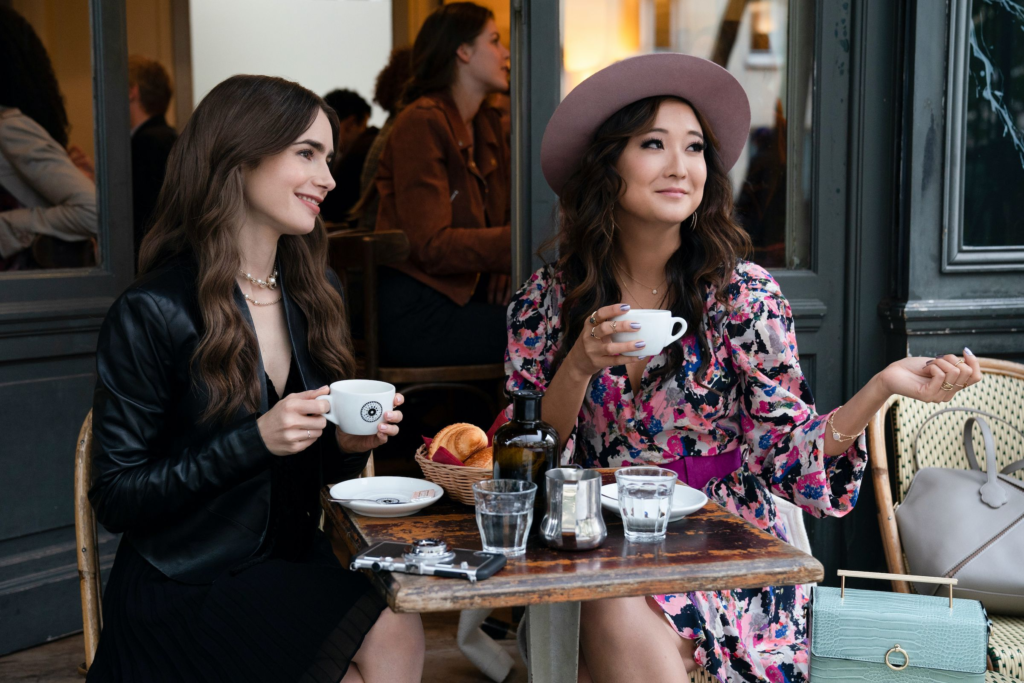 By the way, we recreated this Mady Pink Hat and floral dress look in detail in a separate Mindy's outfit Inspo.
The stereotypes about high fashion in Paris are abundant. But this outfit with black and white plaid shirt-blazer and red classic beret cap in authentic vintage 1940s style are almost evergreen, and actually can be integrated into everyday fashion outside Paris as well. you can even wear a hoodie instead of a blazer, and you will not lose any charm, on the contrary.
Classic American tourist in 🇫🇷ance
Some Parisians have argued that the show portrays the city as a playground for wealthy tourists and ignores the realities of life in the city.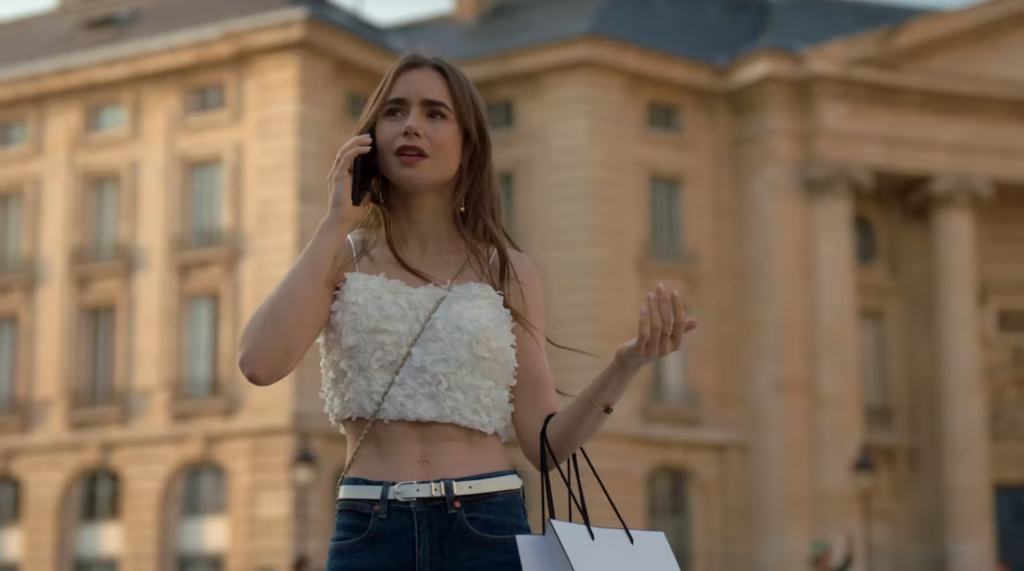 Like where are you wearing this to?
S2 Emily in Paris Outfits- okay we're entering tacky territory…
In the second season of Emily in Paris, Emily's fashion style becomes more daring and less connected to everyday fashion trends. Whereas in the first season, her style was more traditional and classic, in the second season she is seen wearing more bold and statement-making pieces. For example, she is often seen in bright colors and patterns and incorporates more avant-garde and edgy elements into her outfits.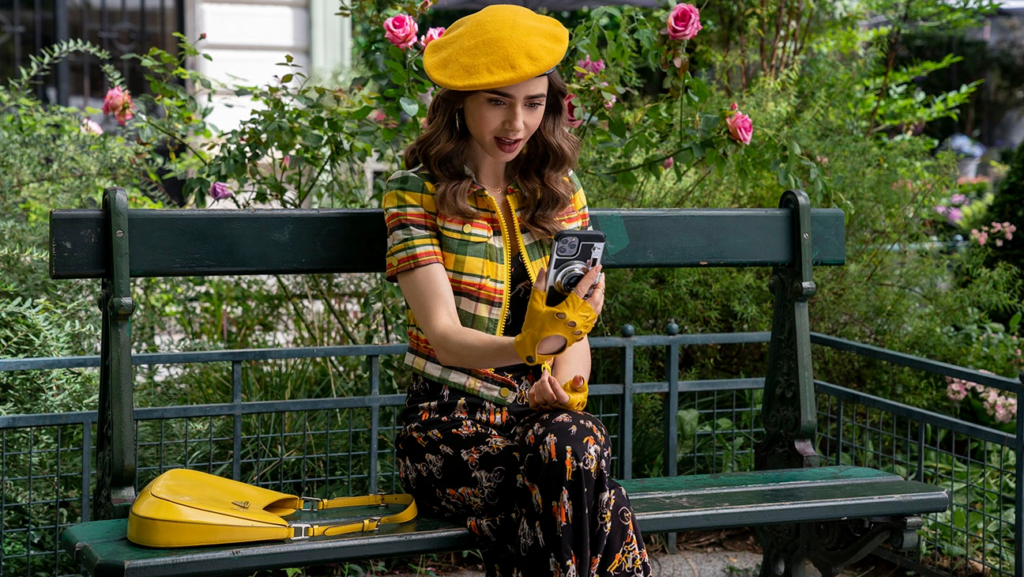 This shift in her style reflects her growing confidence and willingness to take fashion risks, as well as her increasing influence and success in the fashion industry. However, some may argue that her style in the second season is less relatable and more disconnected from the average person's fashion choices.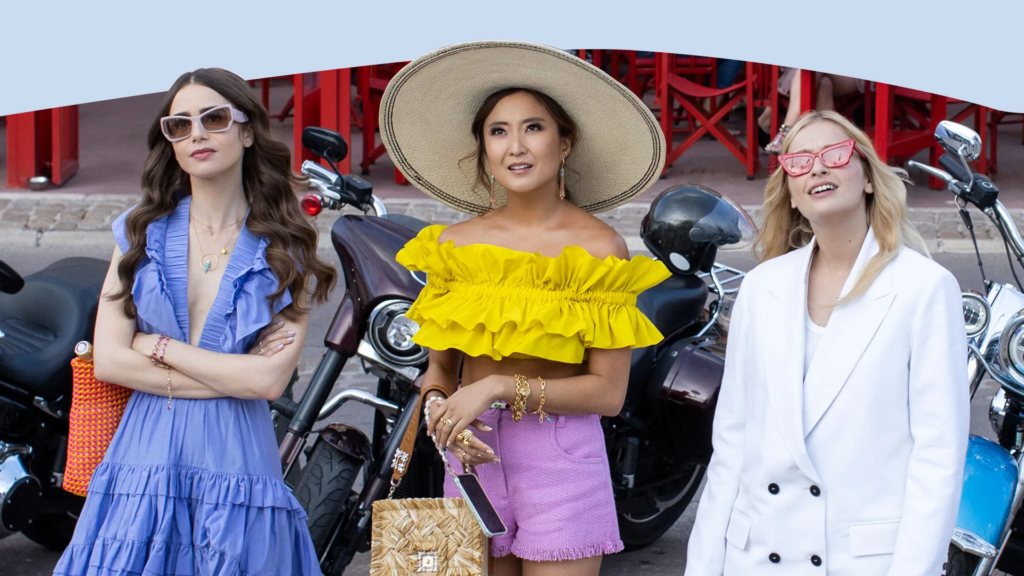 Okay I actually loved the outfits on this trip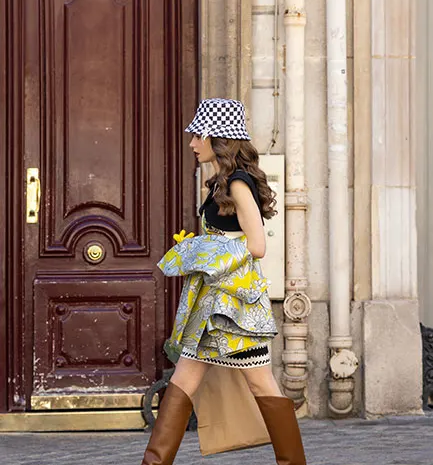 Dear Emily, where are you wearing this to?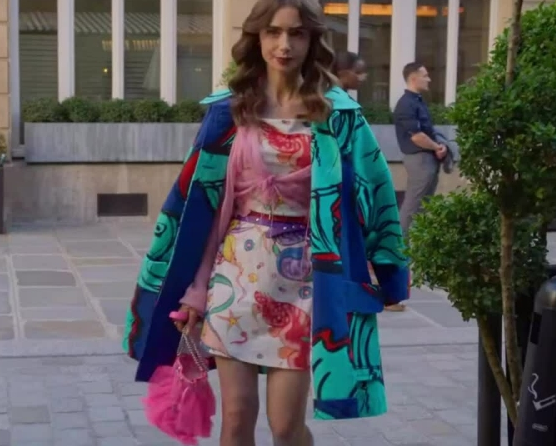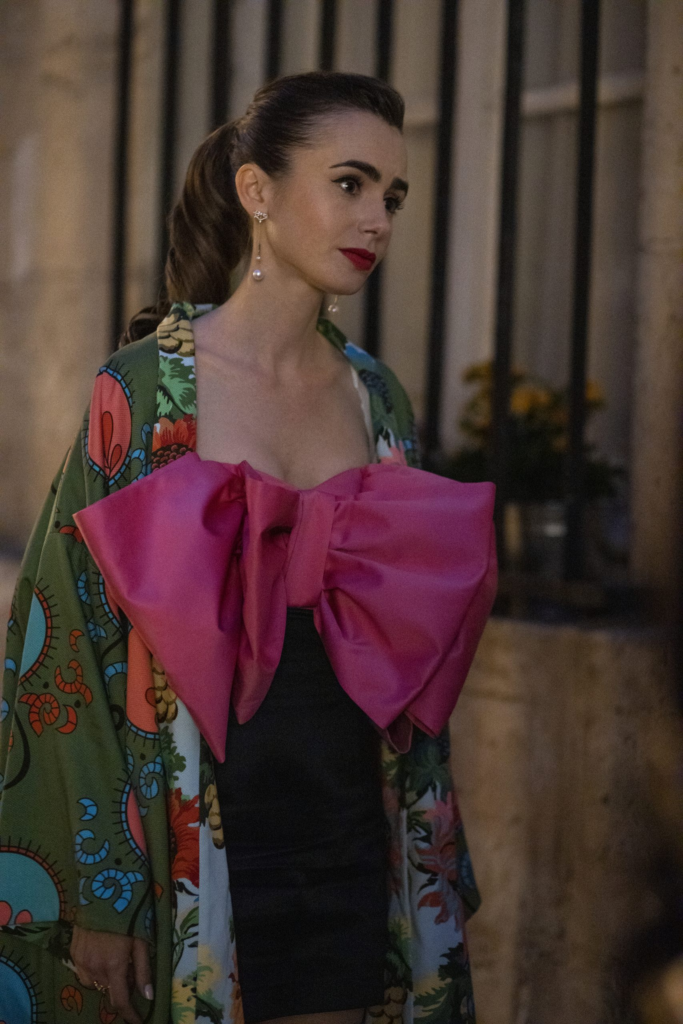 S3 Emily in Paris Outfits
Designer Patricia Field has revealed that sustainability will be a key focus in the third season of Emily in Paris. Field stated that all of the clothes used in the show will be second-hand or vintage, with new garments and accessories only being used in emergency situations. Additionally, the show will eliminate the use of plastic packaging for clothes on set and will reuse garments from the first season in new combinations to avoid repetition.
Overall, it seems that the third season of Emily in Paris will continue to prioritize sustainability (the same case with this Sylvie's outfit) and upcycling, building on the work done in the first and second seasons.
I actually don't hate these next few. outfits..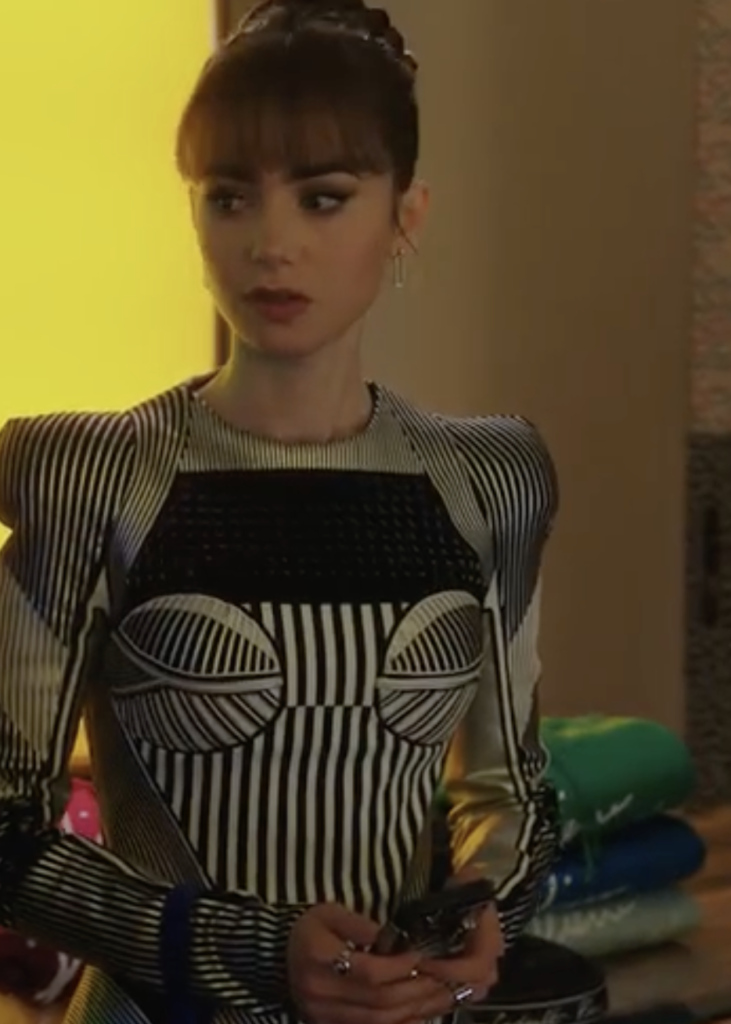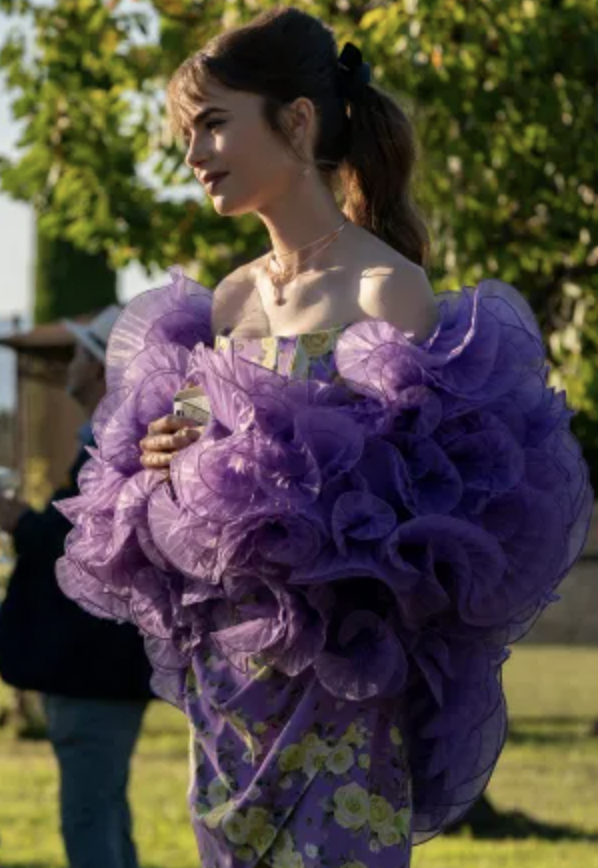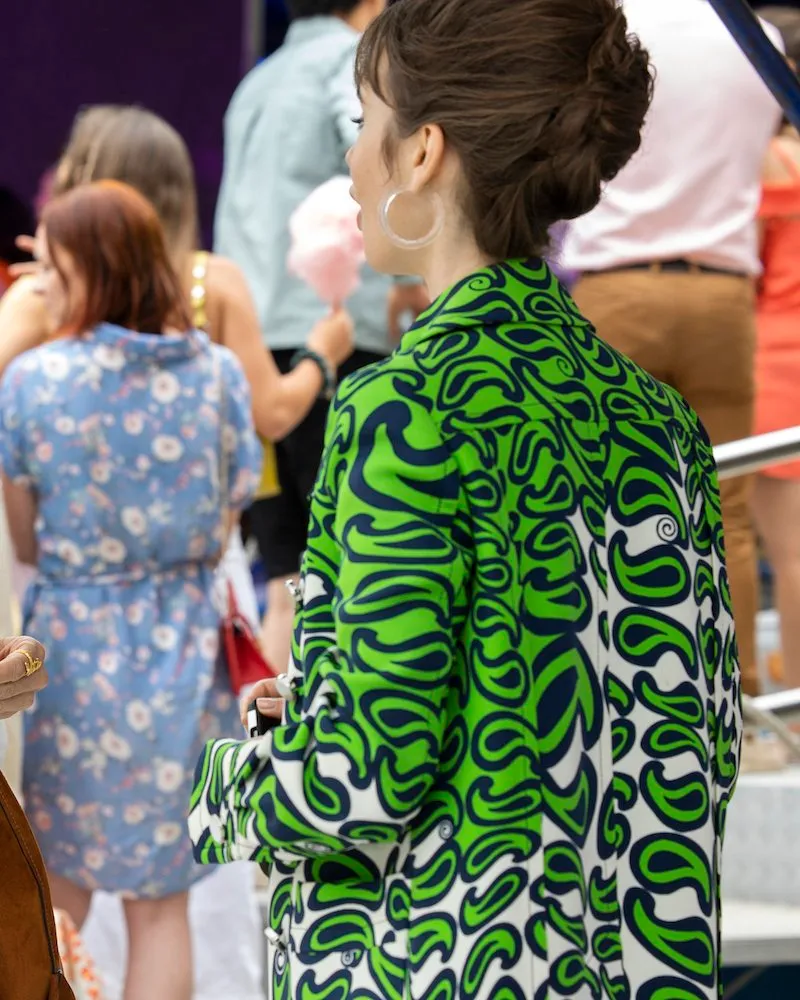 But that's all I can say…
Emily's Metalic Boots Looks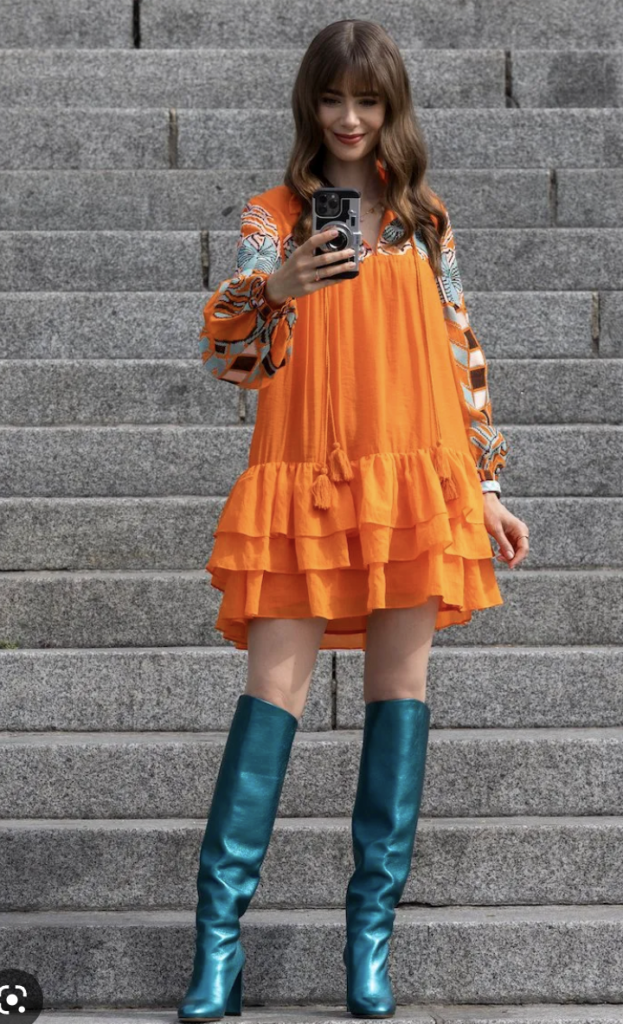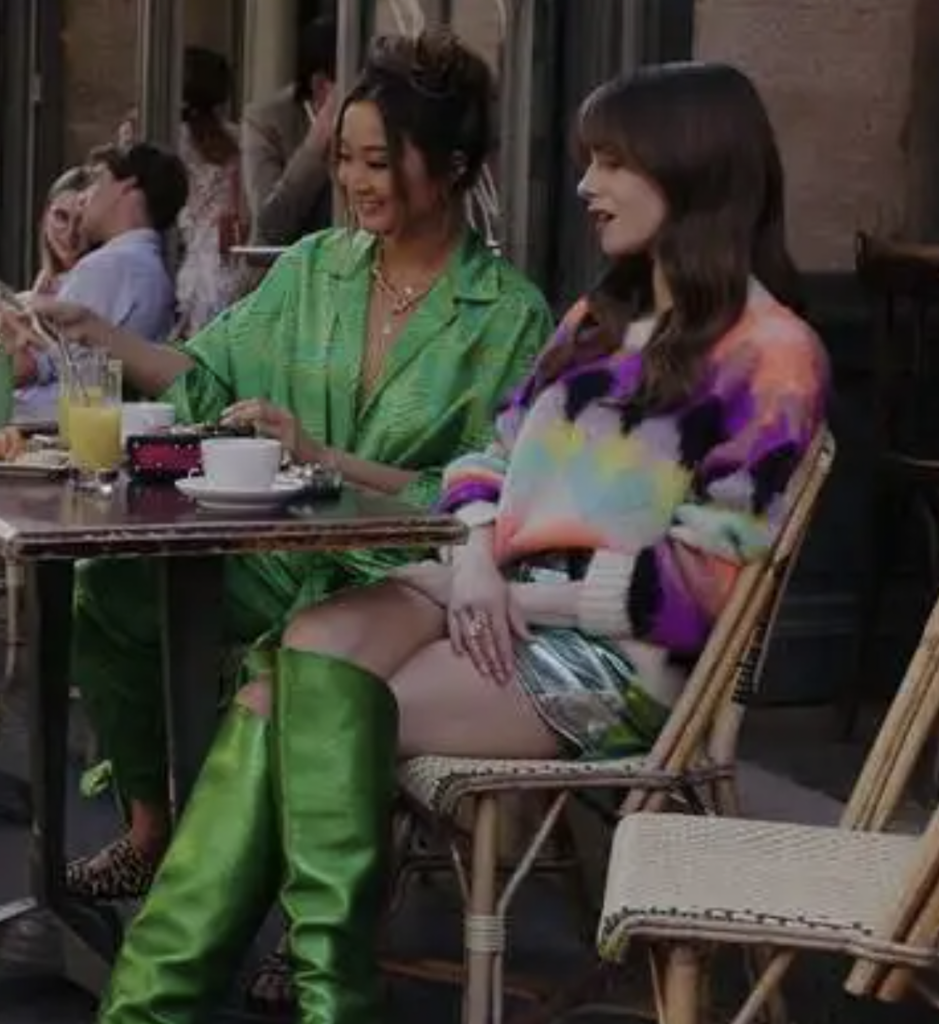 Emily in Paris certainly pushes the boundaries with her fashion choices, particularly with her use of metallic boots. While these boots may be considered a "weird bit" by some, they do add a striking and unique element to her outfits. However, it can also be argued that they may not be the most practical or appropriate choice for everyday wear and may not resonate with everyone's personal style preferences. Overall, Emily's use of metallic boots showcases her willingness to take fashion risks and make bold statements, but it may not be a trend that translates well to the everyday wardrobe.
Emily's Cherries and Dots Looks
Emily's cherry-covered jacket and dot-covered pants and turtleneck shirt showcase her playful and whimsical fashion sense. These bold prints and patterns are certainly eye-catching and add a fun and unique element to her outfits. However, they may not be the most versatile pieces in her wardrobe.
Emily Cooper fashion evolution
As the series "Emily in Paris" progresses, we witness a gradual metamorphosis in Emily's fashion choices, from a seemingly harmless caterpillar to a flamboyant butterfly. From her initial conservative and conventional wardrobe, we see her evolving into a fashion daredevil, sporting metallic boots, cherry-covered jackets, and dot-covered ensembles with aplomb. Whether one is charmed or befuddled by her fashion choices, it is undeniable that her sartorial choices are a reflection of her growing confidence and self-expression. It's a reminder that fashion, like life, is a journey of experimentation, and the most important thing is to always be true to oneself. And as for the rest, let them be bewildered by your choices.